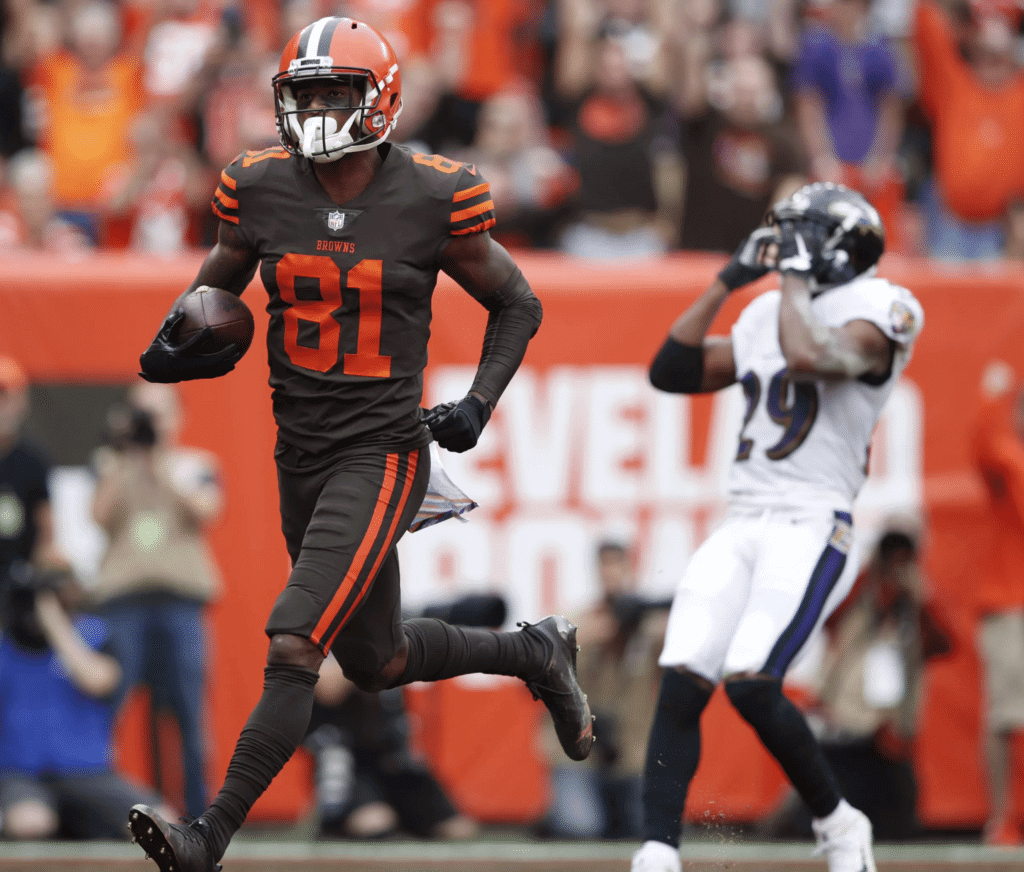 In a move that had been teased, hinted at, and widely expected, the Browns announced yesterday that the NFL had granted their request to wear their Color Rash uni as their primary colored look this season.
A few thoughts on this:
• The Browns originally asked the league about this way back in April. Did the league really wait until the opening week of the season to get back to them? Or have the Browns known about this for several months and waited until now to tell us about it? (I asked a Browns spokesman about the status of the request two weeks ago, when I was working on my NFL preview, but got no response.) Whatever the answer is, I'm sure it has nothing whatsoever to do with the team's desire to sell a few more months' worth of the remaining stock of the original primary brown jersey, which is now obsolete.
• I totally get why Browns fans like the Rash jersey better than a jersey with high school-style chest lettering and embarrassing top-stitching that supposedly represented Cleveland's blue collar work ethic (or whatever the tortured rationale supposedly was). Similarly, I can also understand why Browns fans — or any sentient human — would prefer the Rash pants over pants with a big, honking wordmark on the side.
That said, however, I do not understand the apparent affection for the full-on Rash uni. Part of it is that I don't care for mono-color football uniforms, but the bigger part is the brown-on-brown looks awful and a half. Mono-turd? Honestly, I think I'd rather see the Rash jersey with the regular white pants, big honking wordmark and all.
• Speaking of which: When they wear the non-Rash white jersey, will they pair it with the Rash pants? That would definitely be an improvement over this.
• It's also worth noting that the Browns won't necessarily wear brown socks with the brown jerseys and pants — they might wear orange socks (or, conceivably, white). Or at least that's the possibility suggested by this photo that they posted yesterday:
The orange hose help to mitigate the full-on turd effect, but it's still too much brown for my tastes.
• Let's take a moment to appreciate the genuinely amazing announcement of all this on the Browns' website, written by one Andrew Gribble, Senior Writer. It's so good, I have to share the entire piece with you, including the headline:
From Color Rush to Primary Colors, Browns to regularly wear popular uniforms in 2019

Some of the Browns' best moments from the 2018 season came when the team donned its popular Color Rush uniforms. That wasn't lost on Browns players, coaches or the thousands of fans who scooped them up whenever and wherever they became available.

In 2019, Color Rush is no more. Instead, the popular uniform that features brown jerseys with orange numbers and orange stripes and brown pants with those same orange stripes will be the Browns' Primary Colors presented by Sherwin-Williams.

After petitioning the NFL, the Browns have been granted approval to switch their Color Rush designated uniforms to primary uniforms. To kick things off the right way, the Browns will wear their Primary Colors on Sunday in the season opener against the Tennessee Titans.

Stay tuned for a full, week-by-week breakdown of when and where the Browns will wear their Primary Colors in 2019.
Gee, ya think Andrew mentioned "Primary Colors" often enough? But tsk-tsk — only one mention of the full "Primary Colors Presented by Sherwin-Williams." S-W's not gonna like that.
Can you believe this shit?
• • • • •
• • • • •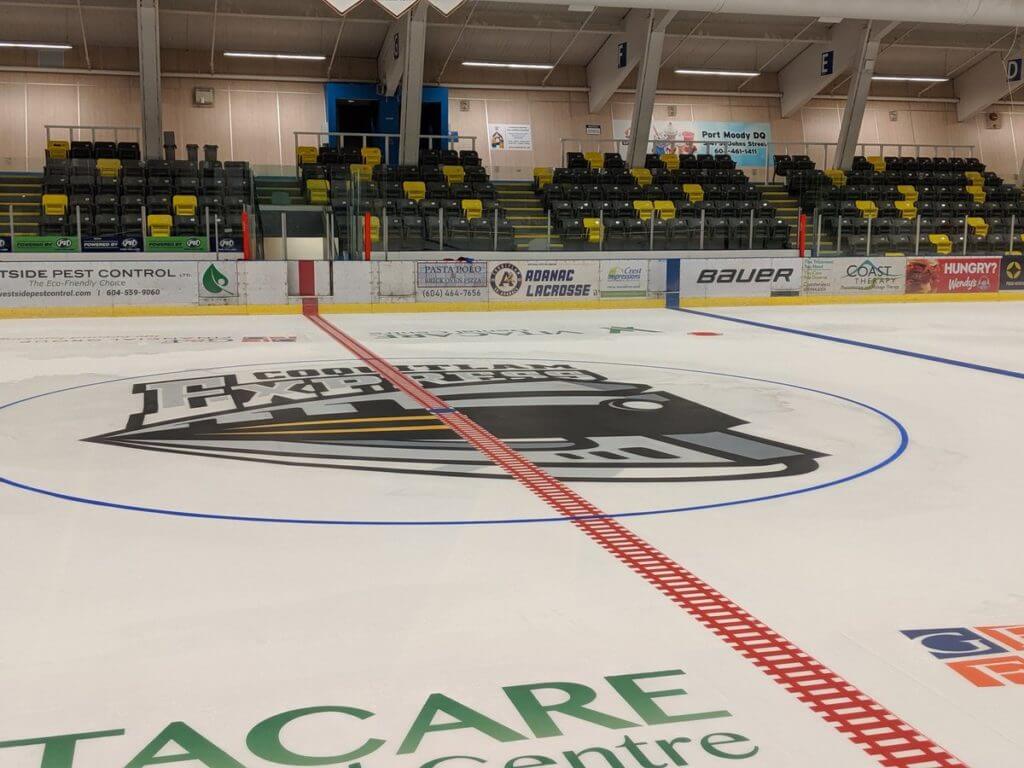 Click to enlarge
Track marks: There are so many custom-designed red lines in hockey nowadays, but I don't think I've seen one as good as the railroad track pattern being used by the BCHL's Coquitlam Express, a Junior "A" team in British Columbia. So simple, so good!
(Big thanks to Jim Wooley for this one.)
• • • • •
• • • • •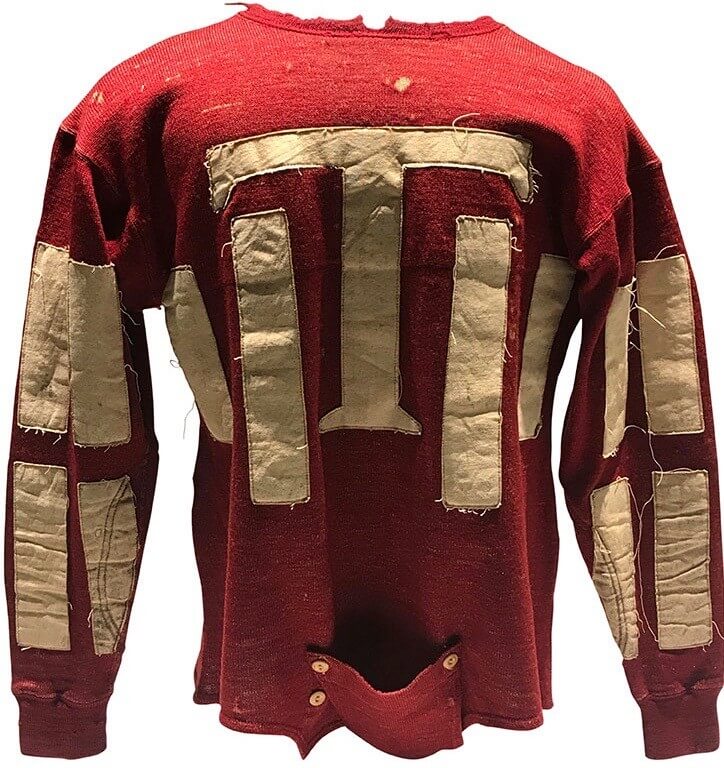 Click to enlarge
Object lessons: Oh man, how great is that jersey? It's an Ironton Tanks jersey from 1920, and it's part of a slideshow of artifacts from the Pro Football Hall of Fame that help tell the story of the NFL's first hundred years. You can see the whole slideshow here (WaPo link) — recommended.
• • • • •
• • • • •

Click to enlarge
Mini-helmet update: Phil has now added his signature to reader Kurt Sutton's helmet, which I had signed the day before. Kurt's helmet is now on his way to him — enjoy!
You can get your own mini-helmet — with or without our signatures — here.
• • • • •
• • • • •
The Ticker
By Paul

'Skins Watch: An Ohio high school whose sports teams are called the Redskins was vandalized by people who apparently want the team name to be changed (from David Sonny).
.

Baseball News: The Braves will wear red "Los Bravos" jerseys tomorrow night (from Austin Perry). … Mets reliever Seth Lugo pitched a full inning with his jock tag exposed the other night.
.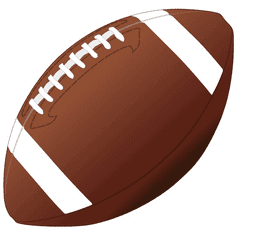 Pro Football News: Here's something that wasn't covered in my NFL Season Preview: The Chiefs have now decided to wear their 60th-season logo as a helmet decal. A team spokesman had told me last week that this was possible but not yet definite. … Here's the logo for the Super Bowl LV host committee (from @Balden303). … I still call it Mile High. … Bills DL Ed Oliver wore a T-shirt with "Chip" printed on the shoulder, I guess to show how badass he is or something simlarly eye-roll-y. I'll give a dollar to whoever sneaks up behind him with a Sharpie and writes "Chocolate" or "Micro" or "Abandon" on there (blame @MrMichael21). … The Antonio Brown helmet soap opera appears to have finally reached a conclusion, but I suspect we may see reruns in syndication. … Noah Sidel reports that the CFL's Montreal Alouettes have been promoting green throwback jerseys for the past week, although it's unclear whether they actually plan to wear them tomorrow.

College Football News: This guide to college football fight songs is pretty great (from The Tugboat Captain). … Interesting article about USC's use of the same uni numbers by multiple players (from Rick Loomis). … Here's a bunch of new info on South Carolina's "Black Magic" alternate. … Here are this week's uniforms for Nevada, Washington State, Vanderbilt, and Virginia. Note that the UVA tweet refers to a "jersey combo," which is an oxymoron (from Zach Simms, our own Jamie Rathjen, and Phil). … Penn State will wear "Thon" stickers decals to support pediatric cancer awareness this weekend (thanks, Phil).

Hockey News: The AHL's Colorado Eagles will unveil a new alternate jersey on Sept. 23 (from Zeke Perez). … Here are some thoughts on what a new Penguins alternate uni should look like. … If you've been waiting for a limited-edition Alex Ovechkin breakfast cereal, today's your lucky day (from Max Weintraub). … Here's a nice case of a facility reverting to a non-corporate name: The Prospera Centre in Chilliwack, British Columbia, which is home to the BCHL's Chilliwack Chiefs, will now be called the Chilliwack Coliseum (from Jim Wooley).

NBA News: Good: With the Warriors decamping for San Francisco, Oracle Arena is is going back to being Oakland Arena (rare non-UNC item from James Gilbert). … Here's a good look at what appears to be the Warriors' new throwback.

College Hoops News: New yellow uniforms for South Dakota State (from Nick Hartness). … New uniforms for Notre Dame women's. "They're using campus imagery for their shorts design this year," notes Julie Streeter.

Soccer News: New 150th-anniversary kit for Scottish club Kilmarnock (from Denis Hurley). … Two items from our own Jamie Rathjen, both concerning English women's teams: Tottenham released their player numbers for this season, and new second-tier team London City Lionesses' first-ever kit is mono-white and appears to be ad-free. "Haven't seen pictures of the second kit except in black and white (it's dark-colored, probably dark blue), but it would only be needed against one other team in the league," says Jamie. … As usual, you can keep up on additional soccer uni developments by checking out Josh Hinton's Twitter feed.

Grab Bag: An internet conspiracy theory posits that New York Gov. Andrew Cuomo rigged the vote (NYT link) to select the state's new license plate design. … Tennis pro Mike Bryan was fined $10K for pretending to shoot a U.S. Open line judge with his racket (from @wahlbergLines). … Interesting look at the history of American prison uniforms. … Here's a piece on the history of BMW's logo. … We've seen lots of logo mash-ups for all of a city's teams, but how about a mash-up tattoo? (From Ryan Redbeard.)
• • • • •
Friendly reminder: I'm still accepting questions for the next round of Question Time, the AMA-style segment where you get to submit questions to me and I do my best to answer. If you'd like to submit a question, send it here One question per person, on any topic. Thanks.