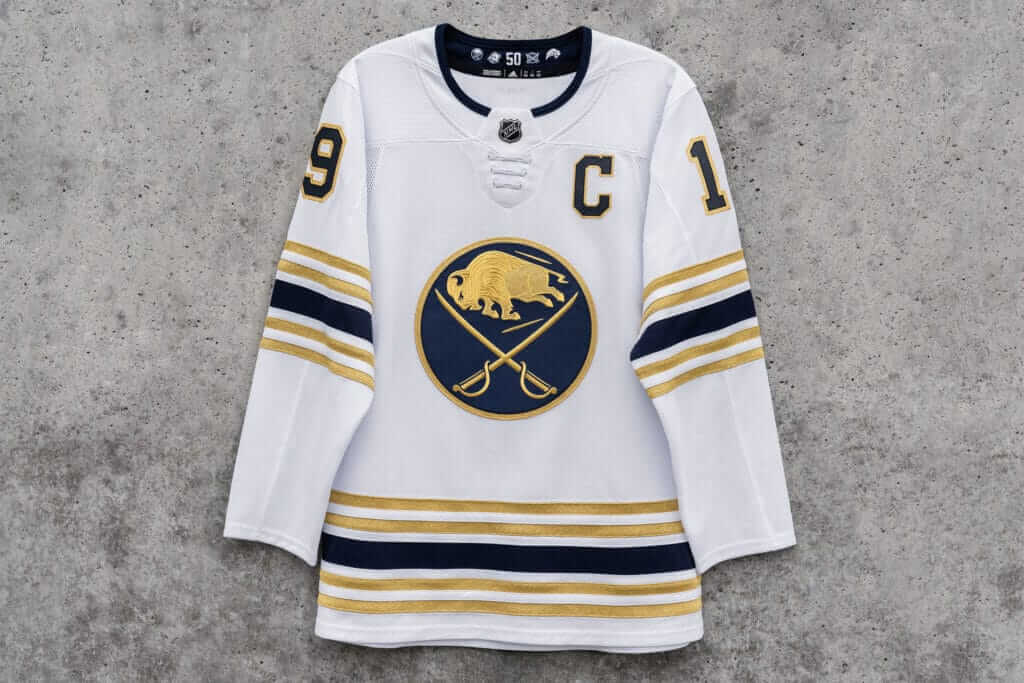 By John Ekdahl
The Buffalo Sabres will be wearing their "Golden Jersey" for select home games next season, celebrating 50 years of professional hockey in Buffalo. The jersey will go on display today for FanFest, and will be available for purchase one month from today on September 17th at The Sabres Store. More info and photos here.
Hometown fans will once again have the chance to see their team take the ice in a white-based jersey, adorned with the iconic Sabres crest in fluorescent gold and navy blue. Five stripes representing each of the franchise's decades are embroidered on both sleeves as well as the jersey's bottom.
+ + + + + + + + + + + + + +
A tease from the XFL. Let the wild speculation begin.
👀

Our first clues. The big picture is coming soon.#XFL pic.twitter.com/Mi6eTNb0Jr

— XFL (@xfl2020) August 16, 2019
+ + + + + + + + + + + + + +
Here's a fun story from the folks over at Ebbets Field Flannels.
Great little story from the @twins if you have a minute to read. We recently sent a special delivery to the whole team of our Tabasco Plataneros ballcap so they could surprise their manager Rocco Baldelli. Read Twins pitcher,
Kyle Gibson's note below: "Yeah it was really funny! So our manager Rocco Baldelli had been wearing this same hat every road trip, every day, everywhere he went…..and we couldn't figure out what it was. Well one day Jason Castro was looking online for a hat, and he ran across the Tabasco hat! And the debate started about if Rocco had the fitted or the adjustable (just stupid debates between grown men!) haha and then it turned into, "ok he wears this thing everywhere….what if we get them for the whole team and we show up one trip without him knowing and we are ALL wearing the hat!!!" So this past trip we were going from Milwaukee to Texas, and on the bus ride to the airport we passed them out so that as we got off the bus he was blindsided by 50 other guys and gals wearing the same hat! This is his first year as a manager and this is the first time we have done anything to "prank him" and he thoroughly enjoyed it!!!! Thanks for making this happen!" Thanks #mntwins for including us in this great prank. Look forward to more pics to come! Glad we could be a part of it.
If you're looking for the hat, we have more stock coming in mid Sept. Sign up for an alert under the size choices and you'll be emailed as soon as they're back!
+ + + + + + + + + + + + + +
🚨🚨🚨 Number zero alert 🚨🚨🚨
According to the NBA Store, D'Angelo Russell (@Dloading) will wear No. 0 for the #Warriors. #NBA @UniWatch pic.twitter.com/JZficgI8dG

— Etienne Catalan (@EtienneCatalan) August 16, 2019
+ + + + + + + + + + + + + +
Here are the new kits for Utah State.
New Kits, who dis? 😎🔥 #AggiesAllTheWay pic.twitter.com/5zrCJd68aS

— USU Soccer (@USUsoccer) August 14, 2019
+ + + + + + + + + + + + + +
Just down the road from me, the Jacksonville Jumbo Shrimp will become the Jacksonville Frozen Shrimp next weekend in a cross-promotional deal with the hockey team across the street, the Jacksonville Icemen. This isn't the first time the two teams have worked together in a marketing partnership. Last year the Icemen suited up as the Jacksonville Frozen Shrimp as well.
One week from tomorrow (Saturday, August 24) we take the ice errrr field as the Jacksonville Frozen Shrimp as a nod to our neighbors & buds the @JaxIcemen

Jerseys will be auctioned off during the game. Hats will be for sale in our souvenir store. #OldTimeHockey #LaceEmUp pic.twitter.com/KF0Eo4qWoh

— Jacksonville Jumbo Shrimp (@JaxShrimp) August 16, 2019
+ + + + + + + + + + + + + +
From Paul, here is some news out of Baylor.
Baylor's new uniform set, part of the school's university-wide athletics redesign. pic.twitter.com/0uUKDacGtj

— Paul Lukas (@UniWatch) August 16, 2019
New turf design for Baylor. pic.twitter.com/AGfnYoaZye

— Paul Lukas (@UniWatch) August 16, 2019
+ + + + + + + + + + + + + +
More from Paul, here's a look at Oregon State's new unis.
Good look at Oregon State's new uniforms. pic.twitter.com/J1aRBXutm0

— Paul Lukas (@UniWatch) August 16, 2019