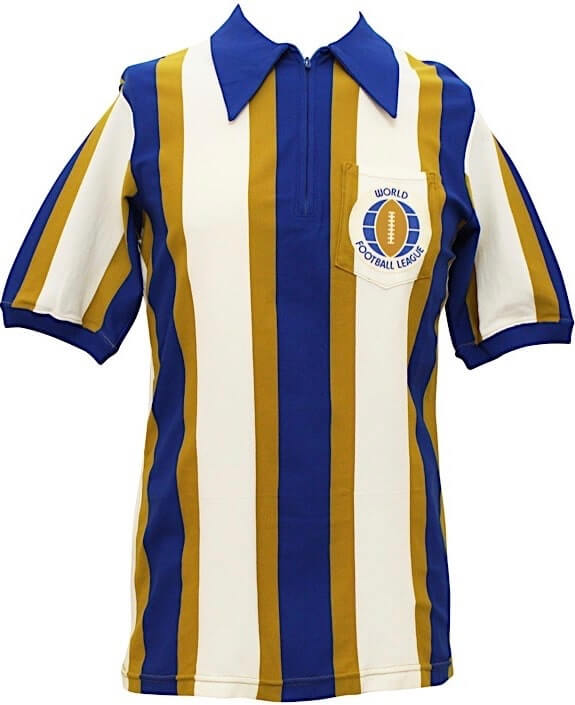 As you may have noticed in the left sidebar, our friends at Grey Flannel Auctions are running another catalog auction. Here are some of the items that have caught my eye:
• I always like leagues that deviate from the standard black/white zebra-striped officiating uniforms. The World Football League's blue/gold jerseys (shown at right, click to enlarge) are a prime example. Bid on it here.
• Love love love the striped collar on this 1891 (!) Cy Young baseball card. Scroll over the thumbnail to get the full effect.
• With Willie McCovey's recent death, a bunch of his memorabilia is now up for auction. McCovey was left-handed, so it seems odd that this trophy for his 500th home run shows a right-handed batter figurine (and a righty glove to boot).
• Speaking of McCovey, I really like this 1971 All-Star Game platter. Never seen that type of item before!
• One last McCovey entry: The Giants usually styled his NOB with a raised "c," as seen here, here, and here, but this one has a base-aligned "c."
• I never really noticed before how the Astros' 1972 road jerseys had matching radially arched chest lettering and NOBs, while the '73 design had matching vertically arched chest lettering and NOBs.
• This 1980 Reds jacket design, with the team logo down toward the bottom, is one of the oddest jacket formats I've ever seen.
• Speaking of jackets, check out this 1967 Earl Monroe College Division championship beauty.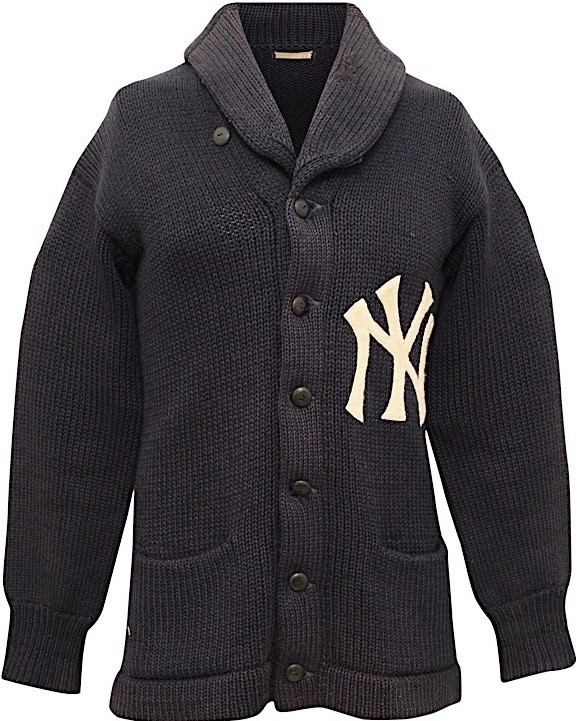 • Oh baby, it doesn't get much better than this century-old Yankees dugout sweater!
• It's rare enough for a MLB team to have TV numbers on one sleeve. But in 1979 and '80, the Cardinals had them on both sleeves!
• Attention, Brinke Guthrie! We don't often see tennis gear come up for auction, but here's a 1991 autographed Jimmy Connors warm-up top.
• I love everything about the lettering styles on this mid-1970s 76ers warm-up jacket.
Want to see more? You can click through all of the auction listings — more than 500 of them — here.
• • • • •
• • • • •
Click to enlarge
All-Star stuff: We got our first look yesterday at some of this year's MLB All-Stars in their completely absurd ASG socks. Yes, the design shows a batter about to swing a guitar. (Speaking of which, here's an article about how the guitar became the all-purpose Cleveland symbol.)
As you can also see there, the players also have All-Star belts this year. Pretty sure that's a first. Along with the two-tone and uni-numbered belts we've seen this year, this appears to be MLB's latest attempt to turn this accessory into a piece of merchandise, or at least a point of interest. Here's how they look from the back: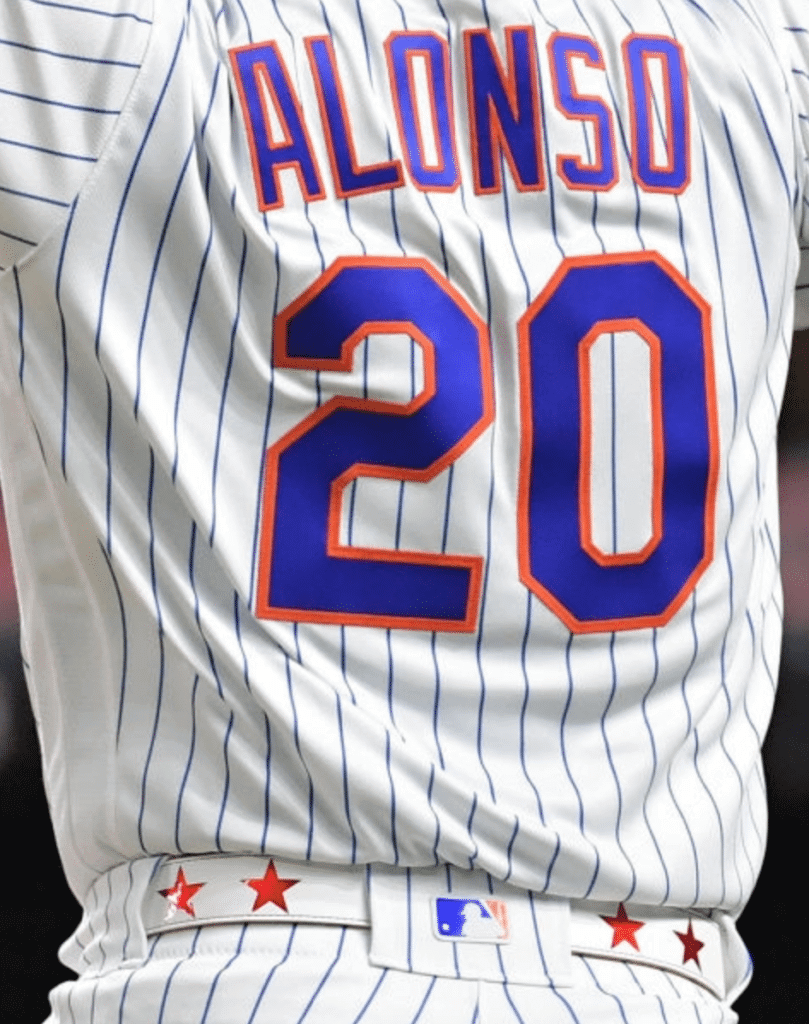 Meanwhile, in last night's Home Run Derby:
• I don't know if Dodgers outfield/first baseman Joc Pederson is doing acupuncture or if he's a cyborg or what, but he's got something very weird on the back of his neck: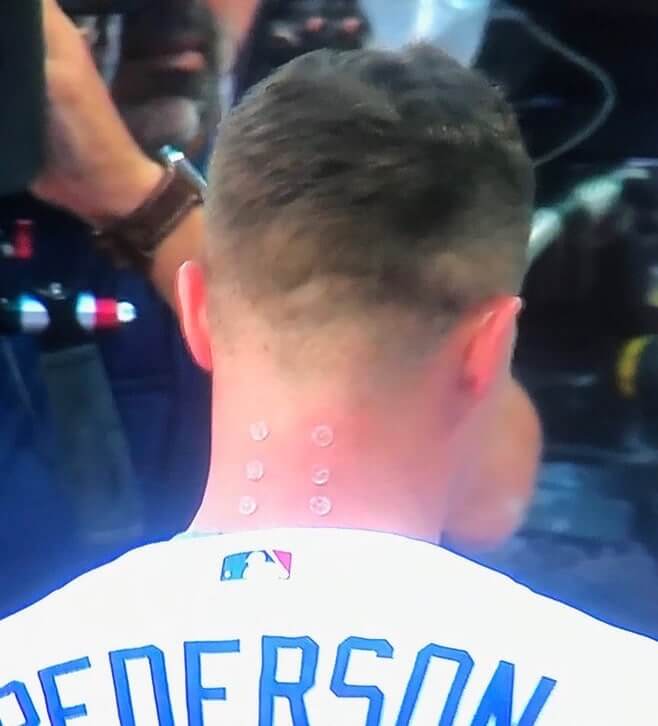 • Most of the players wore their regular team caps, but Blue Jays third baseman Vlad Guerrero Jr. wore a Jays bandana: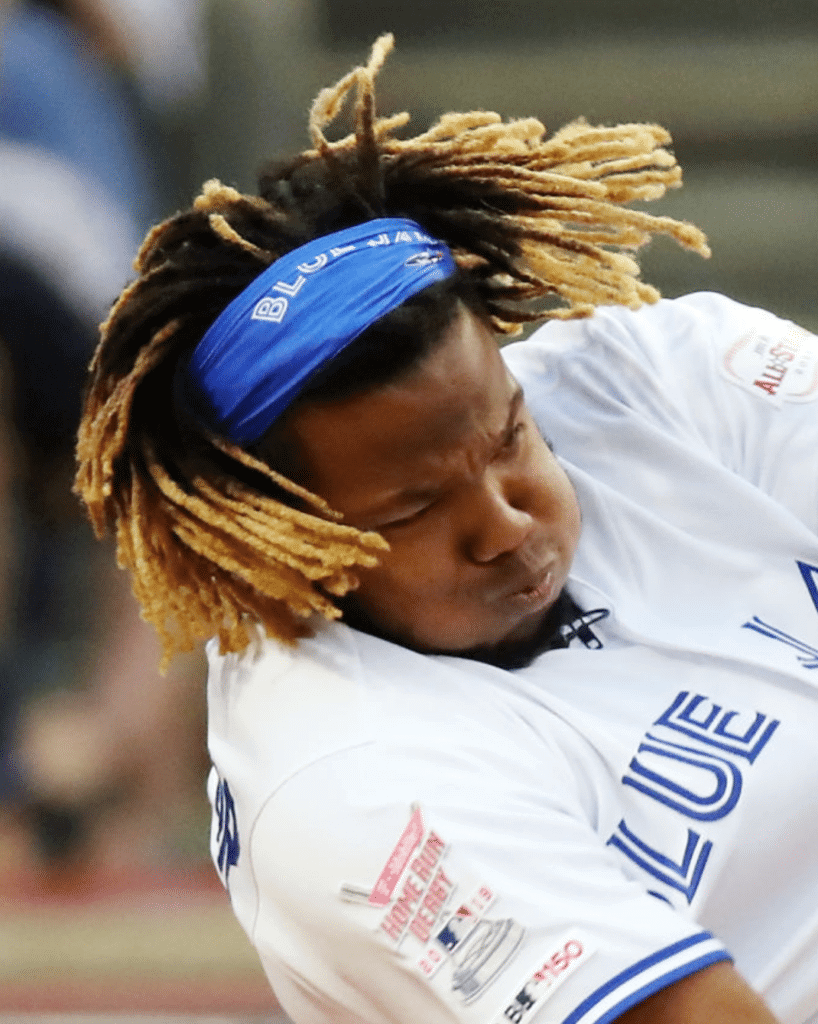 • I'm pretty sure this photo is from a day or two earlier, but Pirates first baseman Josh Bell's Derby pitcher, Jonathan Schwind, was channeling some Buccos history with a Dave Parker throwback T-shirt:
Luv this ode to Dave Parker by @JBell_19 & his HR Derby pitcher, Jonathan Schwind! But how cool would it have been had Schwind rocked The Cobra-style hat too?🤣 @BeautyOfAGame @JPosnanski @MLB @MLB_PLAYERS @JayHarrisESPN @MLBONFOX @Pirates @GregProops @MLBNetwork @MrChuckD RT pic.twitter.com/HFn8G3ou05

— negroleaguesmuseum (@nlbmprez) July 9, 2019
(My thanks to Brian Hansen and our own Alex Hider for their contributions to this section.)
• • • • •
• • • • •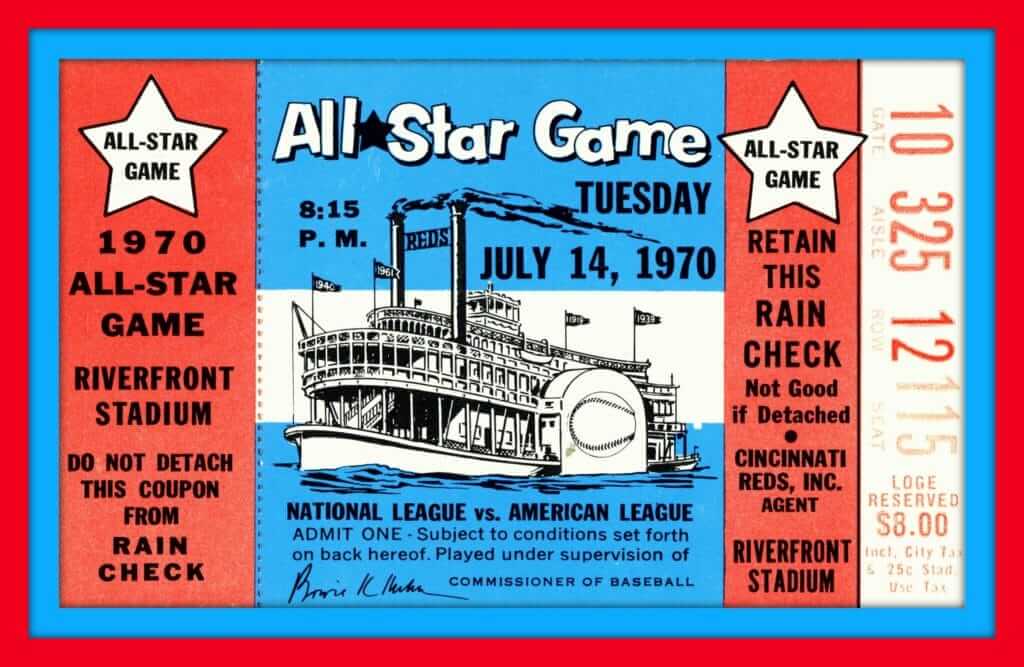 Click to enlarge
Collector's Corner
By Brinke Guthrie
Tonight's the night for the 2019 MLB All-Star Game in Cleveland. As of this writing, standing room tickets are $235 — and that's with an obstructed view! So let's go back to July 14, 1970, when the Midsummer Classic was played at a different Ohio venue — then-new Riverfront Stadium in Cincinnati. This ticket stub says you could get a seat in the upper reaches of the stadium for just eight bucks! One puzzling detail: The flags on the steamboat show the years 1919, 1939, 1940, and 1961. The Reds won the World Series in 1919 and 1940, but the other two years don't match up with Cincy championships or with the city's previous All-Star hosting years. Anyone know what those flag dates mean?
One other thing about that 1970 ASG: When I said Riverfront was new, I meant it was really new. The first game had been played there on June 30, just two weeks earlier! Not only that, but this website says the ASG's location wasn't even announced until June 1! Atlanta was standing by in case the new ballpark wasn't ready in time. Can you imagine that happening now?
Now for the rest of this week's picks:
• In keeping with the 1970 All-Star Game theme, this eBay seller is offering a set of then-Commissioner Bowie Kuhn's business cards.
• This auction is for a 1970s Baskin-Robbins MLB helmet display board, and you get 21 helmets with it. "Two-scoop sundae in a mini helmet. THE HELMET IS FREE!"
• This 1970s-1980s Phillies sweatshirt was made by Velva Sheen of Cincinnati. If you lived there back in the day, the VS outlets were the place to go for T-shirt seconds.
• When I lived in Dallas, there was a 7-Eleven right up the street. So I'd hop on my bike and go get one of these baseball cups with a Slushee or Slurpee or Icee or whatever they were called. Always a mix of cherry and cola if I could get it. Even back then at age 10, I Got It™, because I didn't like how there were no logos on the caps!
• The seller of this Wilson-made satin Atlanta Braves dugout jacket says it's "team issued."
• This custom-made DIY Pittsburgh Steelers rug has been rolled up in storage since the late 1970s.
• Just wanted to include this "Vintage Bengals Helmet 1960s-1970s" because it's, well, so sad-looking.
• Good golly Miss Molly, straight from Sears NFL Shoppes, how about this 1970s Dallas Cowboys bulletin board, with helmet pins included.
• Here's a set of 28 NFL helmet vending machine stickers. The seller dates them from the late 1970s-1990s.
• Never seen one of these before; a 1970s Green Bay Packers zip-front pullover made by Allison. Team logo on the front by the zipper, city on the back.
Seen an item on eBay that would be good for Collector's Corner? Send any submissions here.
• • • • •
• • • • •
Uni-versary patch reminder: In case you haven't seen, the Uni Watch 20th-anniversary logo is now available as an embroidered patch. The patch was made for us by Stitches, the same shop that does all the sewing for the Mets, Yankees, and Islanders. It measures four inches across and is suitable for sewing onto a jersey or jacket, or just for displaying.
The price is $9.99, plus $1 for shipping (or $2 for shipping outside the USA). To order, send payment to me via Venmo (use @Paul-Lukas-2 as the payee), Zelle (plukas64@gmail.com), or Cash App (plukas64@gmail.com). If you want to use Apple Pay or a paper check, or if you're outside the USA and can only use PayPal, shoot me a note and I'll fill you in.
Once you send payment, be sure to send me your shipping address so I can send the patch on its way to you. Thanks!
• • • • •
• • • • •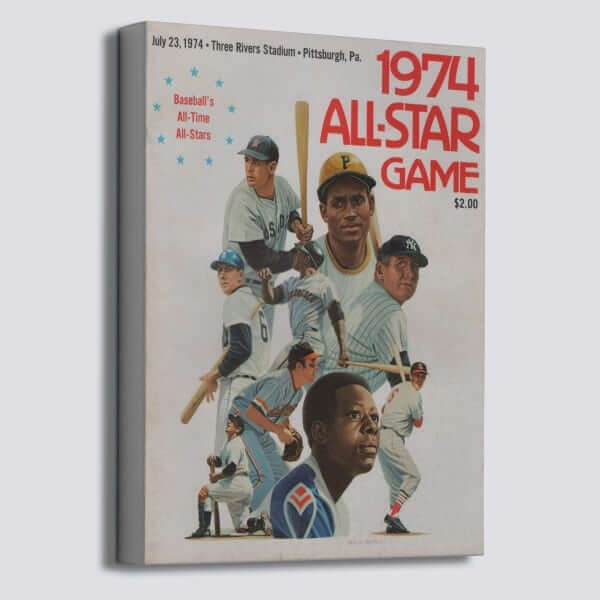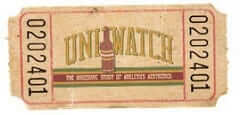 Raffle reminder: Our friends at Vintage Brand are once again letting a lucky Uni Watch reader choose anything from their broad range of retro-minded offerings. With the MLB All-Star Game taking place tonight, this 1974 ASG program cover canvas would be a good choice, or maybe this 1961 ASG cutting board, or anything else. Your choice does not have to be ASG-related!
To enter, send an email to the raffle address by this Thursday, July 11, 8pm Eastern. One entry per person. I'll announce the winner on Friday. Good luck!
• • • • •
• • • • •

Bengals contest reminder: In case you missed it last week, I'm teaming up with Sports Illustrated for a Bengals-redesign contest. Full details here.
• • • • •
• • • • •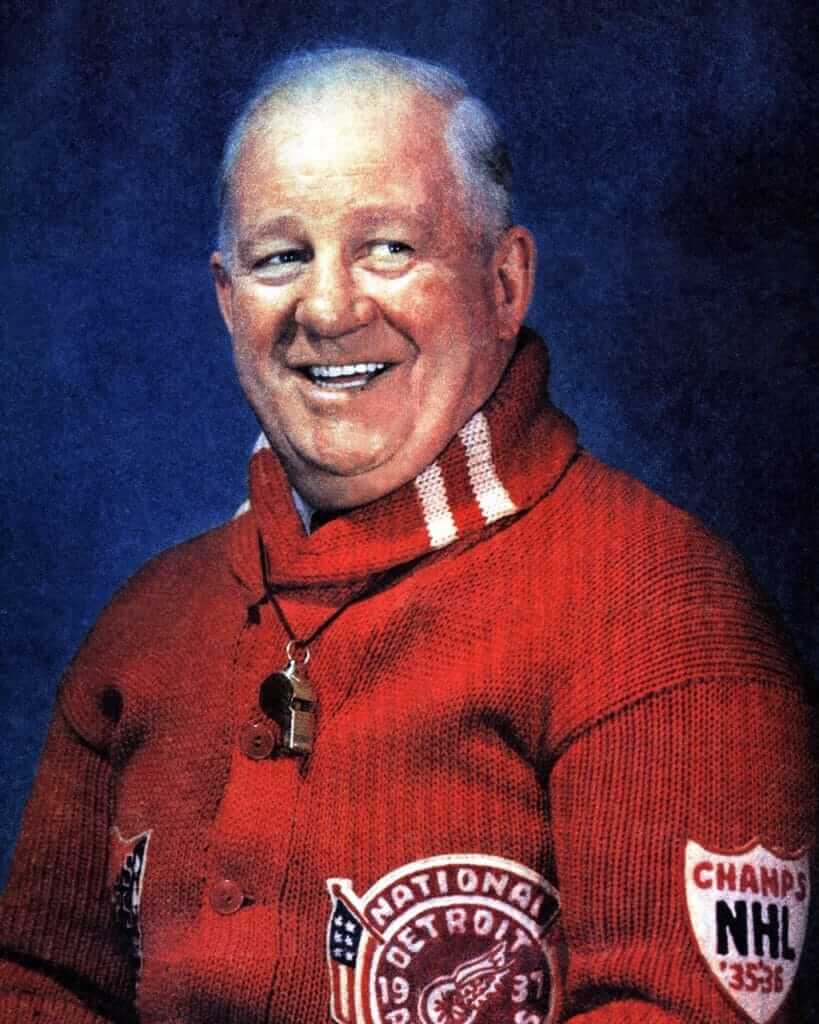 Click to enlarge
Too good for the Ticker: Oh man, check out this spectacular photo of former Detroit Red Wings GM Jack Adams! The striped hood, the patches, the texture — even the whistle looks Just Right. Uni Watch's highest rating!
(Big thanks to Fred Teigen for this one.)
• • • • •
• • • • •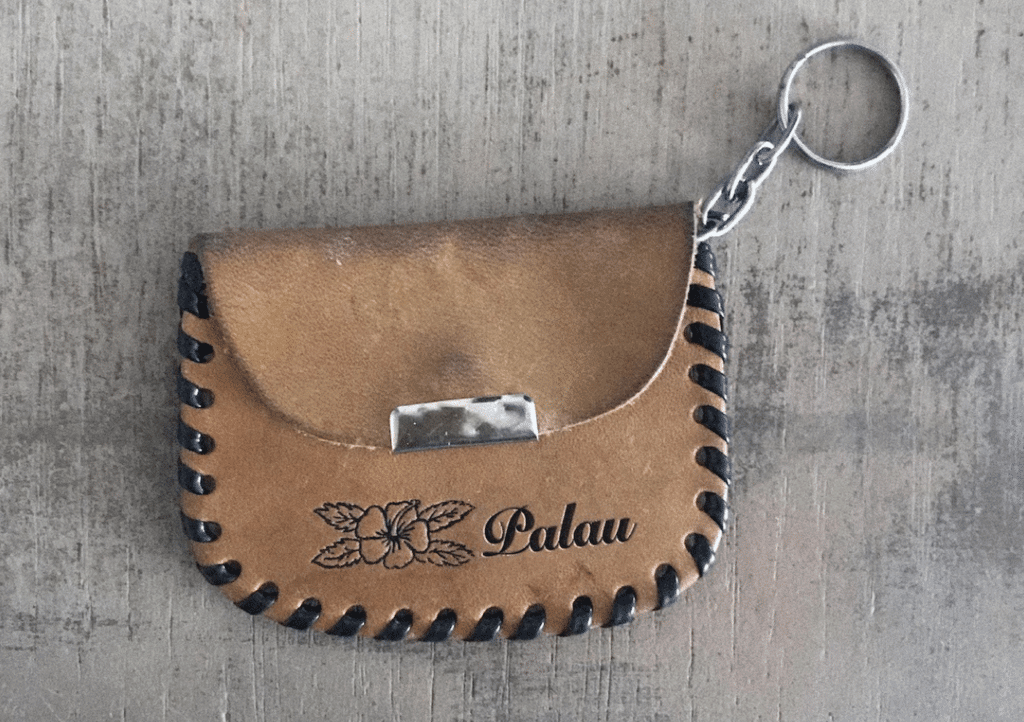 KRC update: The latest installment of Key Ring Chronicles involves a tropical island, a fashion model, a load of drugs, and some very bad air quality. Check it out here.
• • • • •
• • • • •
The Ticker
By Paul

'Skins Watch: A junior hockey team in Ontario that for the past 85 years has been called the Redmen is changing its name to the Reds (from many readers). … In addition, two other junior hockey teams are scrapping their indigenous-based logos (from Mike Golley). … At the recent Indigenous Bowl — a high school football game featuring Native American and First Nations players from all over North America — a player from Winnipeg wore face paint to bring attention to the large number of missing and murdered indigenous women and girls in Canada (from @ohhhsourry).

Baseball News: The Charleston RiverDogs are taking dumb minor league uni promotions to their logical conclusion with Dumbest Night of the Year Night on Aug. 12 (from @TheBenJye). … Oops: All-Star Game banners all over Cleveland feature Phillies OF Bryce Harper — who, as it turns out, didn't make the National League roster (from Mike Chamernik). … Want to see Ted Kluszewski wearing sleeves? Here he is in a suit and tie, along with a bunch of his 1956 Redlegs teammates, on an old segment of What's My Line? (nice find by Bob Moon). … Here's Cleveland's record so far this season broken down by uniform. … Not uni-related, but in case you missed it over the holiday weekend, ESPN ran a fun piece of "What If?" fiction about how the Home Run Derby supplanted regular baseball as the national pastime. It's entertaining and semi-plausible — recommended. … Here's what Corvallis Knights wore for their recent "futuristic" game against the Portland Pickles. " The inspiration behind our uniforms was 7-on-7 football, because baseball in the year 2050 will be sleeker and faster," explains team spokesman Derek Buchheit. … William Yurasko has written a piece in which he argues that the Nats should wear Senators throwbacks, not Expos throwbacks. … The Single-A Aberdeen IronBirds have some weirdly truncated pants striping (from Blue Burke). … Think the Home Run Derby is cool? Check out its polar opposite: the Korean bunting contest! (Big thanks to James Gilbert.) … Back in 1984, The Pittsburgh Press ran a pretty good article on the Pirates' clubhouse managers (from Jerry Wolper).

NFL News: A recent episode of The Loudest Voice had an era-inappropriate Jets helmet. … Speaking of the Jets, check out this recently unearthed archival concert footage of the Velvet Undergound with drummer Mo Tucker wearing a Jets sweatshirt! (Big thanks to Patrick Reynolds.)

College Football News: For the first time since 2015, Florida will have players wearing No. 1. … Arkansas will apparently unveil new uniforms today (from Matt Snyder).

Pro Basketball News: Instead of listing all of the new NBA uni number assignments, I'm going to recommend that you just check out Etienne Catalan's Twitter feed. … Former NBAer Glen "Big Baby" Davis was ejected from a BIG3 game the other day, whereupon he removed his uniform and tossed it into the crowd.

College Hoops News: North Texas is letting fans vote on the school's new court design (from @profjimmyc). … New logo and hashtag for the Horizon League 2020 championship.

Soccer News: The USWNT has added a fourth star to their crest. … Pretty weird number/NOB font for Mexico. … New kits for Portuguese side Boavista (from @mikeDfromCT). … Budweiser is now the official beer advertiser of the NWSL (from our own Jamie Rathjen). … Also from Jamie: New second kit for the Republic of Ireland. "The 3 on the front is an ad that appears on retail versions, not a number," says Jamie. … The daily download from Josh Hinton: AS Roma's new away shirt is available for sale in Hong Kong even though it hasn't been officially released yet; OKC Energy's reserve side is switching to Adidas, even though the senior team wears Under Armour; and new kits for Aston Villa, Crawley Town, Stade de Reims, Darmstadt, Torquay United, AFC Leopards, Caykur Rizespor, MSV Duisburg, Charleroi, AC Milan (leak), Coventry City, Cercle Brugge (home and away), Norrköping, Heracles Almelo, Cardiff City, and VfL Wolfsburg. … Meanwhile, Ed Zelaski has Viktoria Plzeň's new home/road kits and goalkeeper kits; new kits for Bournemouth, Arka Gdynia, and Brondby.

Grab Bag: Oklahoma's license plates are getting a redesign. … Trentino in the Italian men's volleyball league is letting their fans vote for the team's next libero jersey (from, of course, volleyball maven Jeremy Brahm). … Interesting article on the history and symbolism of American flag-themed clothing (from K.C. Kless). … New uniforms in the works for the Vermont Army National Guard.