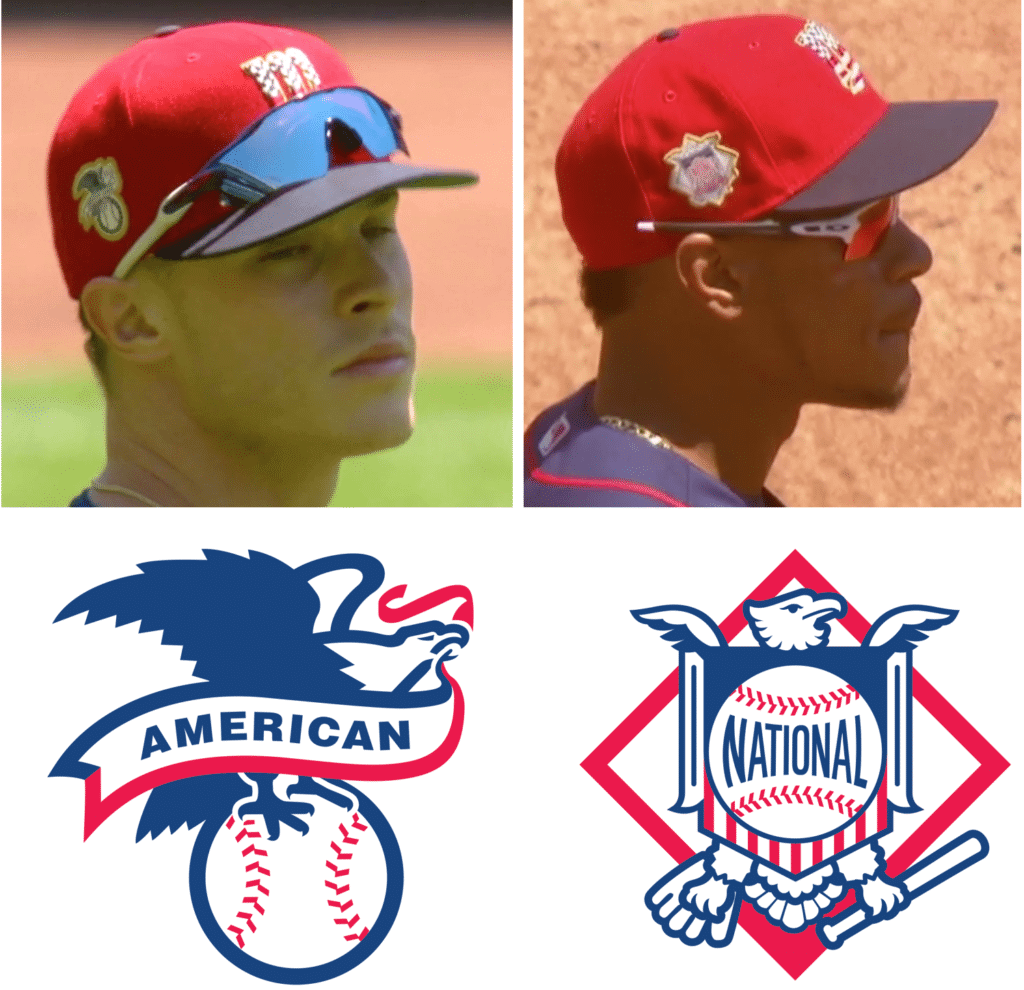 Click to enlarge
If you asked most baseball fans — maybe even most Uni Watch readers — I'm fairly certain they could not identify the American League and National League logos. Indeed, Major League Baseball has done its best over the past two decades to diminish or even eliminate the separate league identities. There are no more separate league offices, no more separate league presidents, no more separate league umpiring crews (and, lest we forget, no more separate league umpiring uniforms), and so on. Yet for some reason MLB and New Era felt the need to put league logos on this year's stars/stripes flag-desecration caps. You can't even see these league logos clearly on TV, so the logos, like the caps themselves, were strictly a retail gimmick. "Hey, if we slap another bumper sticker on there, even more chumps will buy this!"
Fittingly, this gimmick blew up in MLB's face yesterday, as several Twins players had the National League logo on their caps. According to an in-game report from the game broadcast, all of the size 7-1/4 caps had the wrong logo. Oops!
Unfortunately, the Twins will have plenty of time to fix this mistake, because MLB has turned Independence Day into Independence Four-Day Festival, with teams continuing to wear the flag-desecration caps today, tomorrow, and Sunday. Sigh.
The caps had retro/throwback logos, which led to some unusual looks. It was particularly odd, for example, to see the Marlins' original logo with their current uniform: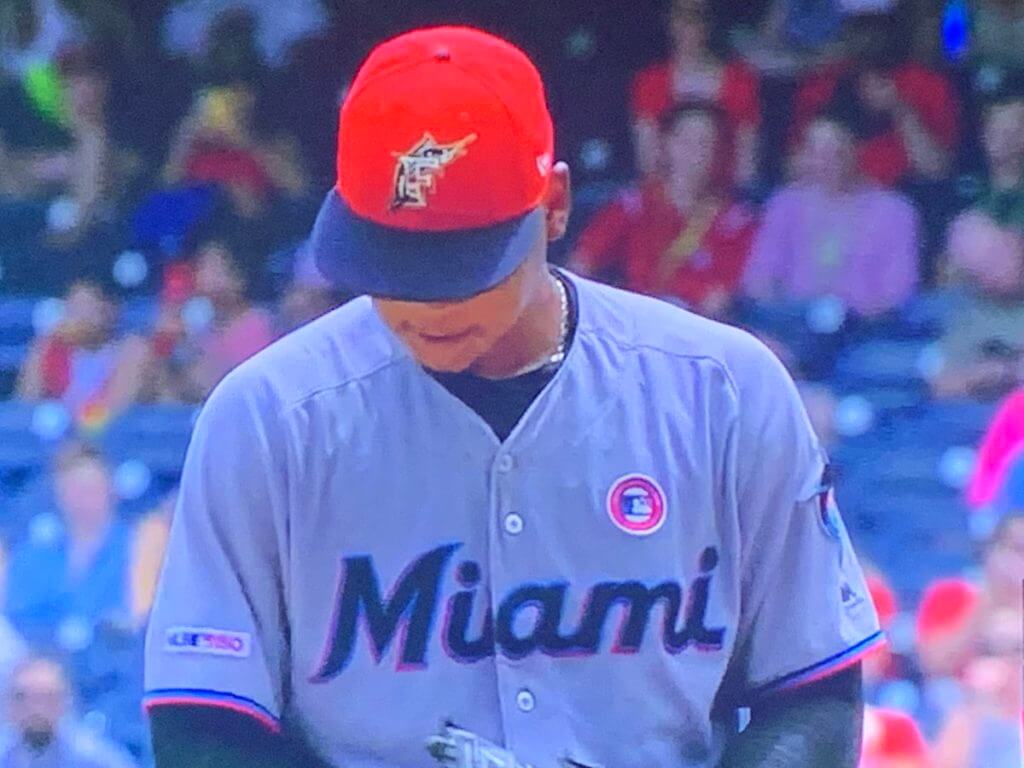 Similarly, it was weird to see the Nationals wearing a different "W" on their caps than the one on their chests/sleeves: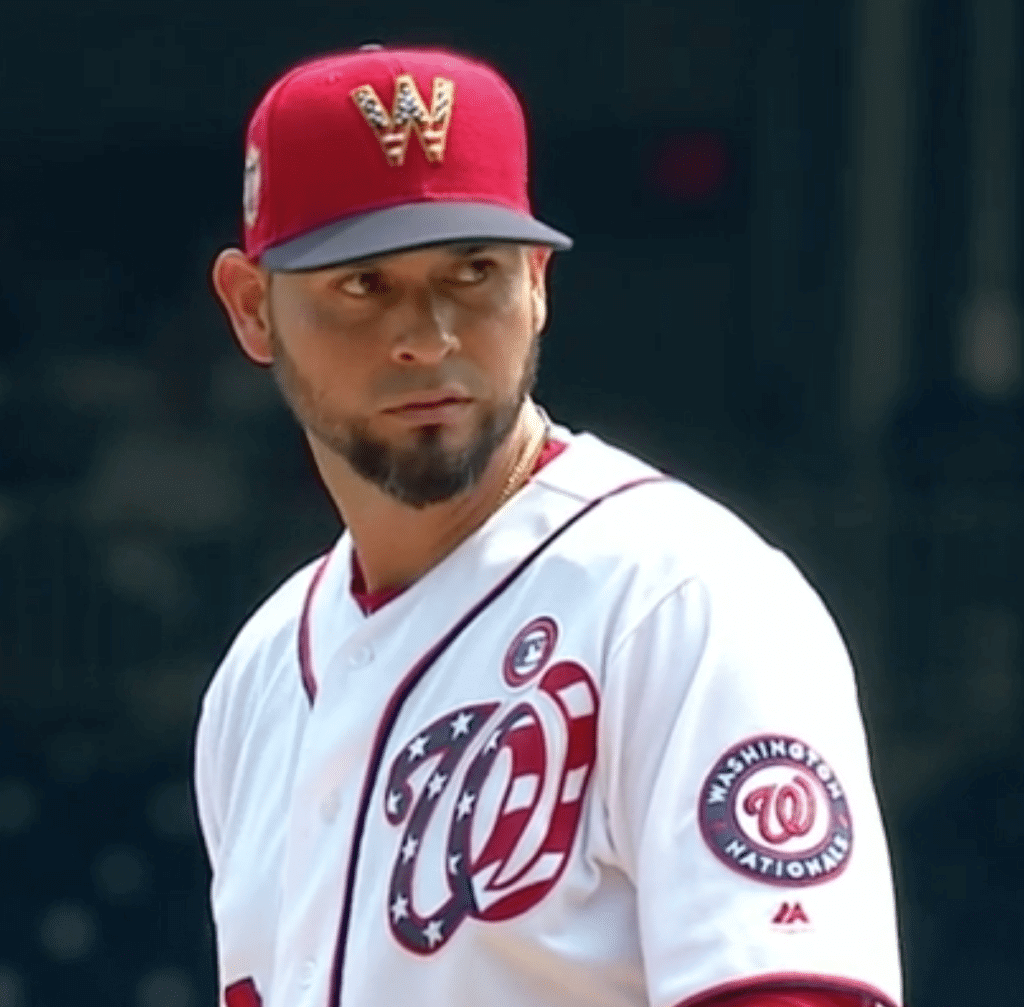 As usual, for better or worse (a bit of both, I'd say), the Brewers once again went the extra mile and had their batting helmets match their caps: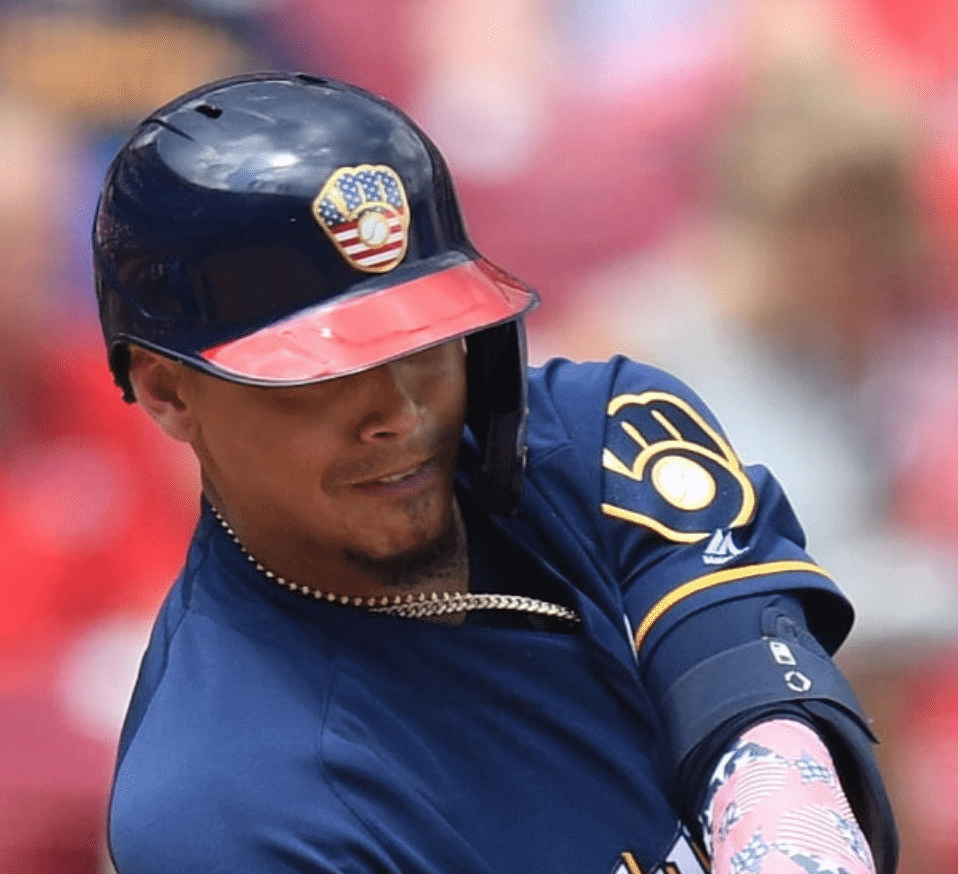 Three more days of this, wheeee!
(My thanks to the many readers who brought the Twins situation to my attention.)
• • • • •
• • • • •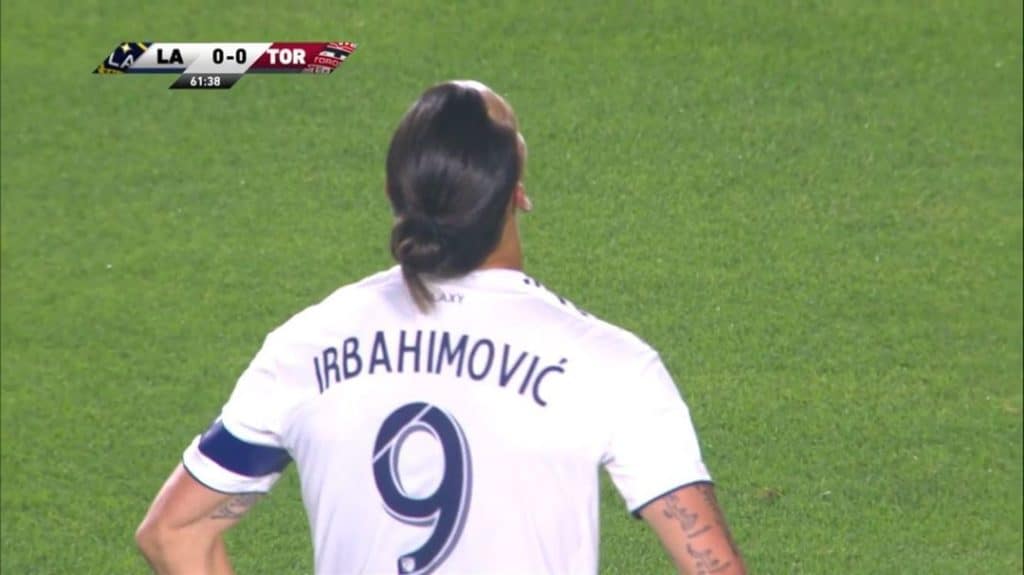 Click to enlarge
Oops, continued: MLB wasn't the only one with quality-control issues yesterday. In MLS action, LA Galaxy forward Zlatan Ibrahimović — one of the top players in the world (even a soccer-clueless guy like me has heard of him) — was saddled with an NOB typo. D'oh!
And while this next item isn't exactly uni-related, it seems worth noting: The Mets' Single-A affiliate, the St. Lucie Mets, set off fireworks after their game. Unfortunately, the pyrotechnics ended up igniting a fire in the trees beyond center field:
The Port St. Lucie Class A Mets July 4th fireworks went as well as expected last night. Photo courtesy @BillyOreGolf. Trees beyond center field caught fire. Oops @UniWatch @PhilHecken pic.twitter.com/Yjexlc9Pwh

— StevieW (@StevieW1971) July 5, 2019
Some more pictures of the Mets fireworks fire in Port St. Lucie from a friend that was there pic.twitter.com/vTWXxknZsp

— Brody Logan (@BrodyLogan) July 5, 2019
Incredibly, this isn't the first time this has happened. The team had a similar fireworks mishap a little over two years ago. So the next time you hear someone describe the Mets as a Dumpster fire, tell them, "Nuh-uh — brush fire."
(My thanks to the many readers who brought both of these situations to my attention.)
• • • • •
• • • • •
ITEM! Uni-versary patch finally available: After a few production glitches (don't ask), I'm happy to report that the Uni Watch 20th-anniversary logo is now available as an embroidered patch!
The patch is four inches across. The price is $9.99, plus $1 for shipping (or $2 for shipping outside the USA). To order, send payment to me via Venmo (use @Paul-Lukas-2 as the payee), Zelle (plukas64@gmail.com), or Cash App (plukas64@gmail.com). If you want to use Apple Pay or a paper check, or if you're outside the USA and can only use PayPal, shoot me a note.
Once you send payment, be sure to send me your shipping address. Thanks!
• • • • •
• • • • •
What Paul did last night: The block on our street to our immediate south is a dead end. It's just a few dozen yards from our house, but it's a completely different world, in part because dead ends are their own little worlds, their own little subcultures. On a dead end, for example, you can block off the lower part of the block on the Fourth of July and spend the night setting off fireworks in the street, which is precisely what our neighbors were doing last night:
It looked better in person, honest. Eventually, of course, the cops came. They made some perfunctory noises along the lines of "Break it up" and "You're all done now, right?" and then went on their way, at which point the fireworks show resumed. To my knowledge, no fires were started, so maybe the Port St. Lucie Mets could hire these guys.
The fireworks show was the culmination of a really good day, which included a picnic in the park and a barbecue at our favorite local bar. Today we plan to take the ferry to Rockaway. However you're spending your holiday weekend, hope it's a good one!
• • • • •
That's it for today. Sorry, no Ticker, because the entire Uni Watch team had the day off. Phil will have his usual weekend content tomorrow and Sunday, and I'll see you back here on Monday. — Paul