For all photos, click to enlarge
Welcome to Vol. 2 of the Okkonen Files, as we continue to explore the work and legacy of pioneering baseball uniform researcher Marc Okkonen, who died in late May.
Last time around we heard from Baseball Hall of Fame curator Tom Shieber, who described how he used the artwork from Okkonen's seminal 1991 book, Baseball Uniforms of the 20th Century, to create the "Dressed to the Nines" uniform database on the Hall's website.
But Shieber wasn't the only one who made good use of Okkonen's uniform mock-ups. In 1990, a year before Okkonen's book was published, the retro sports company Mitchell & Ness came out with its first mail-order catalog (the cover of which is shown above). The catalog's pages were dotted with Okkonen's now-familiar illustrations:
Okkonen was credited in the catalog's acknowledgments, as follows:
Mark [sic] Okkonen is a prominent baseball historian specializing in uniform styles. His work has appeared in numerous publications, including Sports Illustrated and the yearbooks of several major league teams. Mark has graphically portrayed over 4000 major league uniform designs; examples of his work appear throughout this catalogue.
The connection between Okkonen and Mitchell & Ness is also evident in Okkonen's book, which includes the following credit: "Original uniforms and authentic replica uniforms on the front cover supplied by Mitchell & Ness Nostalgia Co."
The man who transformed Mitchell & Ness from a sporting goods shop into a retro apparel powerhouse, Peter Capolino, is a longtime friend of Uni Watch. I recently spoke with him to learn more about his relationship with Okkonen. Here's an abridged transcript of our conversation:
Uni Watch: How did you know Marc Okkonen?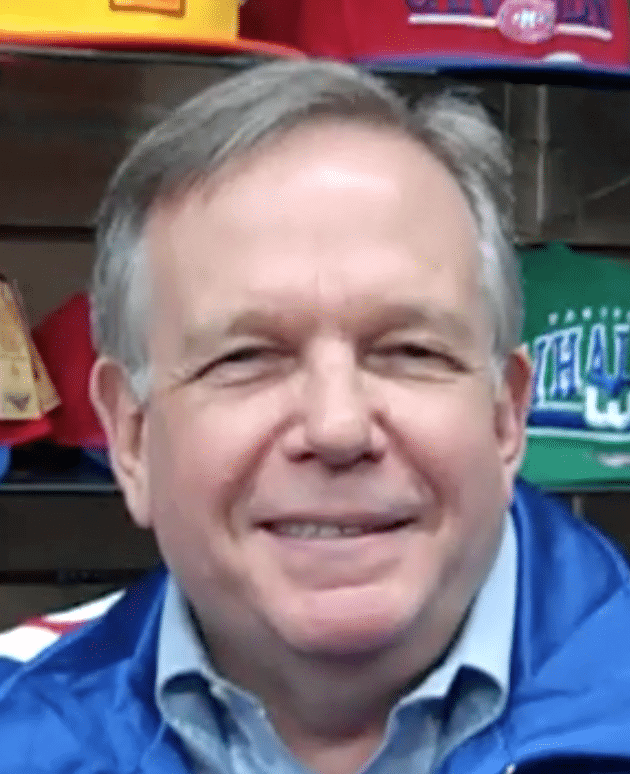 Peter Capolino [shown at right]: My connection with Marc goes way, way back. I began researching the history of baseball uniforms in 1984. By the time 1987 rolled around, Sports Illustrated had done a story on us in their "One Day in Baseball" issue.
UW: On Mitchell & Ness?
PC: Yes, on how we created all these vintage uniforms that I was selling at the shop. And I think that's how Marc discovered me. He had been building up this huge bank of research that was in much greater depth than anything I was capable of doing. And we became phone friends. We talked regularly for years about sharing research, and how we did our research.
UW: Did he make the first contact? He reached out to you?
PC: Yes, probably in 1987, right after that Sports Illustrated article. And I knew there were a lot of people out there who knew more about these uniforms than I did — they were correcting the jerseys as I was offering them. And I thought that was a great asset and a wonderful thing for me, to be able to improve the authenticity. Marc was very, very valuable in that regard.
I in turn provided him with some interesting research. At Mitchell & Ness, our shop was in a building that also had, in the floor above us, the largest collection of dated periodicals in the world — 1,600,000 magazines. That collection included every single issue of Sports Illustrated, every issue of an earlier magazine that had also been called Sports Illustrated, every issue of Sport magazine, every issue of The Sporting News, all the way back to the 1920s. So I had access to things that could help Marc with his research.
UW: Now, this was all before you had your first mail-order catalog, right?
PC: Yes.
UW: So you were producing these retro jerseys just to sell at the shop?
PC: Yes.
UW: Did you have a license from MLB, or was it under the radar..?
PC: It was under the radar until that Sports Illustrated story. When that story came out, I had to hire a commercial phone bank, because we took over 3,000 calls in two days. People had never seen anything like this before and didn't even realize someone was doing it.
UW: Right, and the first throwback game hadn't yet taken place, and jersey retailing was still in its infancy, so you were really pioneering something new.
PC: Yes, especially with the original fabrics. Anyway, getting back to Marc, I had access to that magazine archive, and that was a help to him.
He also told me about his research methods. Marc would go to the Library of Congress, or libraries at major cities all over the country, and he'd go to the newspaper microfiche. He would read the sports section from Opening Day and also the day before and the day after. On at least one of those three days, it was inevitable that they'd write about the home team's new uniforms. Prior to 1938, there was no color photography, so we focused a lot on those newspaper reports.
So he helped me by teaching me about that. We were friends. And he was very interested that I wanted to do it correctly, and he wanted to help me in areas where I was going a bit astray. He was great. And as we did this research, one thing that both of us were very surprised and disappointed by was how little the teams knew about their own histories. They were eager to learn, but most of them really had no idea.
UW: Did you ever meet Marc in person?
PC: No, I never did. Our entire relationship was over the phone.
UW: What was your impression of him?
PC: He was the nicest man. He was not materialistic. He knew that I had a commercial business and that i was doing this, really, for two reasons: First, I really loved it. And second, it seemed like a way to make a living — I was struggling at the time.
In 1988 I did get a license from Major League Baseball, and when I came out with my first catalog in 1990 — well, we produced it in 1989, but we printed it and sent it out in 1990 — I paid Marc to use his uniform mock-up artwork.
UW: The same ones that would end up in his book.
PC: Yes. And by the time this catalog came out, I had researched and manufactured about 900 different uniforms. It was getting enormous, because it was so much fun to do, and people kept responding positively to it, and they were hungry for more and more.
Now, it's a little-known secret, but I don't know a huge amount about baseball compared to guys like you. My main sports are football and basketball. For baseball, I knew about what I researched and what I manufactured, but that was about it. I'm not a SABR member or a huge historian. So if someone told me they wanted an old jersey of a certain team or a certain player, I'd research it, make sure I could do it correctly, then I'd talk to Marc, and off I'd go. It was like a snowball going down a mountain.
Meanwhile, I was also in touch with all these other guys who buy and sell and collect real game-used jerseys, and they were another source of research for me. And those guys, they're often very protective of their knowledge. And the things that they knew were the things that Marc didn't know. He didn't know fabrics; he didn't know the different types of trims; he didn't know tailoring or constructions of garments.
And there's no reason he should have known — he was a graphic artist, it wasn't his job to know how to put together a piece of clothing. But some of the other guys who deal with real jerseys all the time, they knew a lot. So I would combine what I knew, what Marc knew, and what these other collectors knew, and put it all together so the product I put out was as close to the real thing as I could get. Marc's great role in that was understanding timelines. What was the last year a team wore a certain logo? When did they change to this script? He was a great asset in terms of timelines.
And he was — I don't know exactly how to describe Marc. He was quiet. He was, I thought, somewhat passive.
UW: How do you mean?
PC: He wasn't trying to monetize or cash in. His goal was just to do the research.
UW: So for him, the research was its own reward.
PC: Yes, I think it was. And for me, of course, it became a monetary reward. When I started this, I didn't realize how big it was going to get. I had no idea.
UW: And then when he did his book, you provided the uniforms that appear in the photo on the front cover.
PC: Yeah, everything on the cover was from us.
UW: What, if anything, did you know about his professional career as a commercial artist?
PC: Zero. He never talked about it. Until I read the obituary, I had no idea.
UW: When you say he wasn't in it for the money, did you ever propose a more active partnership with him, where he'd get a cut, or a royalty? Did you ever have, like, a business proposition for him?
PC: I really didn't, and I really didn't think of it. I gave him — I forget how many thousands of dollars I gave him to use his artwork in the catalog. But other than that, there was no money back-and-forth that we talked about.
Also, my licensing agreements at the time in some ways precluded me from doing certain things like that. They're very, very tricky agreements when you're dealing with MLB and the licensing world.
UW: As you know, he published a second edition of his book in 1993 and then kind of moved away from baseball uniform research after that. Did you remain in touch with him?
PC: In 2003, the Chicago Bears called, and they wanted a George Halas Yankees jersey from 1919. I had no idea that George Halas played baseball for the Yankees. So the first thing I did was call Marc.
I got him on the speaker phone, and we had this very vague, faded photo of Halas with what appeared to be a red, white, and blue stripe on his sleeve, which the Yankees wore in 1918. And we discussed it, because Halas played for the Yankees in 1919 — just 12 games — but the photo showed him in a 1918 uniform. So we sort of came to the conclusion that he was wearing the previous year's uniform during spring training, which I had learned was a common thing and of course Marc knew that.
So I made the jersey, and we sold a few, and the first one we made is on display at the Bears' training facility.
UW: What were your thoughts when you heard Marc had passed away?
PC: I felt terrible. Probably the last time I talked to him was 2003 or 2004. And I knew he had become a bit disgruntled. By that point he did start to feel that he deserved something monetarily for all of the research he did.
UW: From Mitchell & Ness?
PC: No, not from me. But from the clubs, from publishers, from the leagues. Because all of these vintage collections, they all relied heavily on his book to create those. And as he got older, I think he wished he had monetized it more — I did sense that. And I felt bad for him, because he was sort of tired of doing baseball research and wasn't going to do it anymore.
———
That's a melancholy note to go out on. Still, it's fascinating to learn about Peter's relationship with Marc, and I especially love the bit about looking up the sports sections around Opening Day.
I'll have several more installments of the Okkonen Files in the weeks to come. You can see all of the installments we've done so far here. Meanwhile, if you had any dealings or communications with Marc Okkonen that you'd like to share, feel free to contact me.
• • • • •
• • • • •

Bengals contest reminder: In case you missed it on Thursday, I'm teaming up with Sports Illustrated for a Bengals-redesign contest. Full details here.
Incidentally, my negative assessment of the Bengals' uniforms caught the attention of The Cincinnati Enquirer, which is pretty funny. My thanks to Cincy's own Patrick O'Neill for letting me know.
• • • • •
• • • • •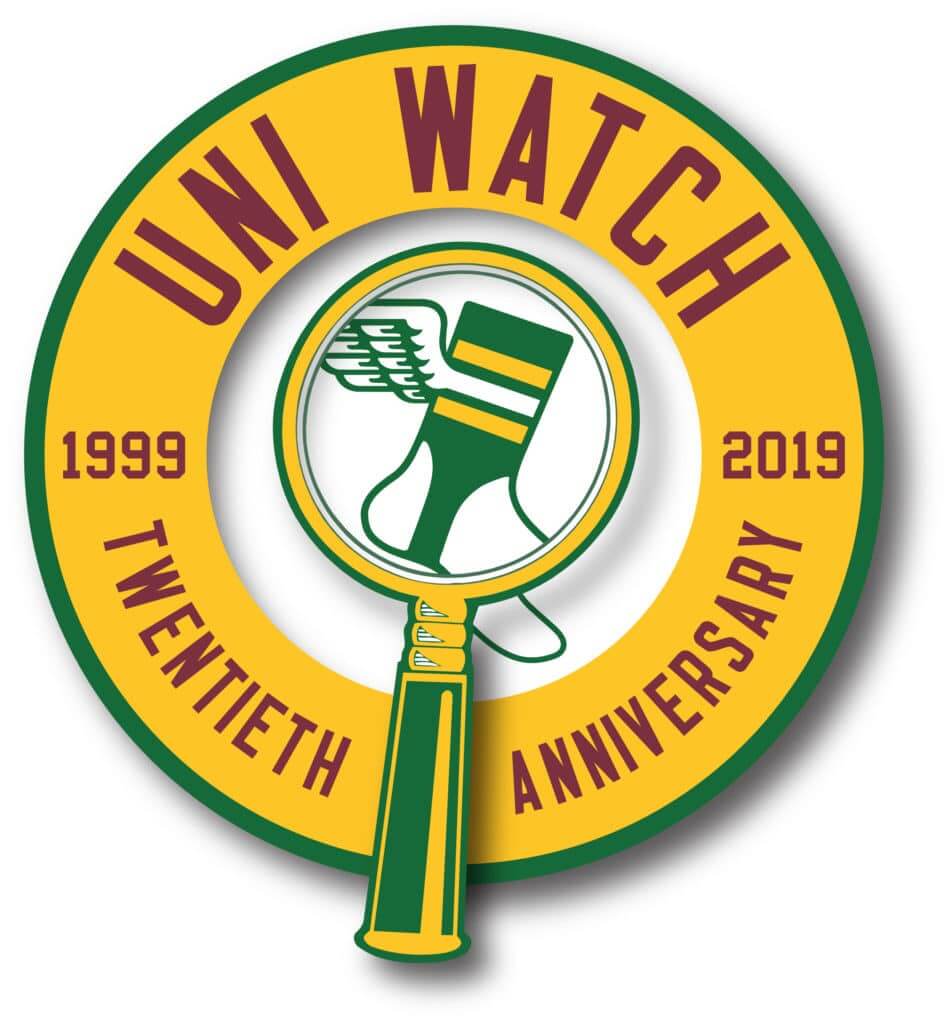 Final uni-versary party countdown: Gatherings to celebrate Uni Watch's 20th anniversary will be taking place around the world tomorrow! But T=the Paris Party already took place yesterday — here are a few photos. Note that they used the #UniWatch20 hashtag, which everyone should use when posting their party pics to social media channels. Or you can email your photos to Brinke Guthrie (be sure to include your city in the subject line) and he'll get them posted on our Facebook page.
Here are the updated map and spreadsheet showing all of the currently planned gatherings.
It's going to be a really special day. Thanks to everyone who's making these gatherings happen — a happy uni-versary to one and all!
• • • • •
• • • • •
The Ticker
By Paul, pinch-hitting today for Anthony Emerson

Baseball News: Some inside intel from Marc Cavalli: "Attended a Scranton/Wilkes Barre RailRiders game the other day. At the team store, we noticed that the mascot wasn't on many shirts or merchandise. When we mentioned that, the reply was basically 'He's being phased out, just the "R" next year.'" … Sesame Street posted a video of Big Bird teaching the Yanks' and Red Sox's managers to get along — with Big Bird himself wearing a baseball jersey in Uni Watch colors! (From Griffin Smith.) … Speaking of Sesame Street, the Cookie Monster was at Wrigley yesterday. Lots of Twitter debate over whether his NOB should have been just "Monster." … When the Phillies wear their powder blue throwbacks, as they did yesterday, they swap out the team logos on the seats behind home plate. … The Mets have announced plans to put a Tom Seaver statue outside their ballpark. … Here's a look at the College World Series-winning jerseys since 1975 (from Aaron Eshelman). … Remember how Astros 2B Craig Biggio used to wear a Sunshine Kids pin on his cap, at least until MLB made him stop doing it? That pin is depicted as part of his retired number (from @patte33). … Former Pirates C Manny Sanguillen explained on Twitter how he got his distinctive flocked batting helmet (from Jerry Wolper). … Hilarious article about how a minor league team got upset with a local fan who suggested that they change their name to the Humpback Chubs (from @aircornell). … Mariners 2B Dee Gordon wore stirrups with grey sannies yesterday (from Jakob Fox).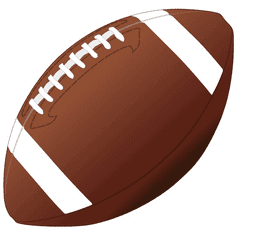 Football News: CFL teams will have red/white merch — er, sideline apparel — for Canada Day. … Iowa is bringing back the banana peel shoulder wings as part of a new yellow alternate uniform, which will be worn on Oct. 12 (from many readers).

Hockey News: Here's the logo for the 2020 AHL All-Star Game (from @TheLAKnight).
.
.

NBA News: Here's a surprise, at least to me: Lakers F LeBron James is giving up No. 23 so newly acquired teammate Anthony Davis can wear it. It appears that LeBron will switch to No. 6, which he wore with the Heat and has continued to wear during practices. … Here's the court design for the Jazz's Summer League games (from @100pctAkronite). … Kareem Abdul-Jabbar is going to design a pair of giveaway caps for the Bucks (from Brian Kerhin). … The Hornets' new esports team now has a name and logo.

Soccer News: New kits for Scottish League One teams Stranraer and Raith Rovers (from our own Jamie Rathjen). … Also from Jamie: New 25th-anniversary third kit for Scottish Championship team Inverness Caledonian Thistle. "No ad, at least on the front," note Jamie. … New warm-up tops for the San Jose Earthquakes (from Chris Avila). … The daily download from Josh Hinton: New kits for Werder Bremen, FC Augsburg, and Nottingham Forest. … And the competing haul from Ed Zelaski: New advertiser and logo for the Polish Cup, and new kits for Club Brugge, 1860 Munich, and Napoli. … A promo video for Arsenal's new home kit has leaked (from @mrjpowers).

Grab Bag: Throwback Aussie football guernsey for Fremantle (from Jeremy Brahm). … The U.S. Army has a new Army Green Service Uniform (from Tim Dunn). … Here's a writer who argues, somewhat sensibly and persuasively, that presidential candidates campaigning in the summer heat should be allowed to wear T-shirts instead of dressing more formally. … The NCAA has changed wrestling rules to allow competitors to have longer hair and to choose between wearing traditional singlets or a T-shirt and shorts (from Kary Klismet).
• • • • •
[adrotate group="2″]
• • • • •
Click to enlarge

What Paul did last night: On the last Thursday of each month, I usually go see my friends Susquehanna Industrial Tool & Die Co. at their long-running residency at Otto's Shrunken Head. In the middle of last night's show, the band surprised me by calling me up onstage and giving me a trophy to commemorate Uni Watch's 20th anniversary.
Here's a closer look (click to enlarge):
Yes, it's a women's soccer trophy. The green ribbon is a nice touch, no?
I'll bring the trophy to tomorrow's party at the 773 Lounge. Hope to see lots of you there!