For all photos, click to enlarge
Pirates catcher Elis Díaz got in the spirit of Pa's Day yesterday by wearing a clip-on tie (with logo creep, groan) on his chest protector.
Okay, so that's a fun gag. But did he actually wear that on the field? Yup: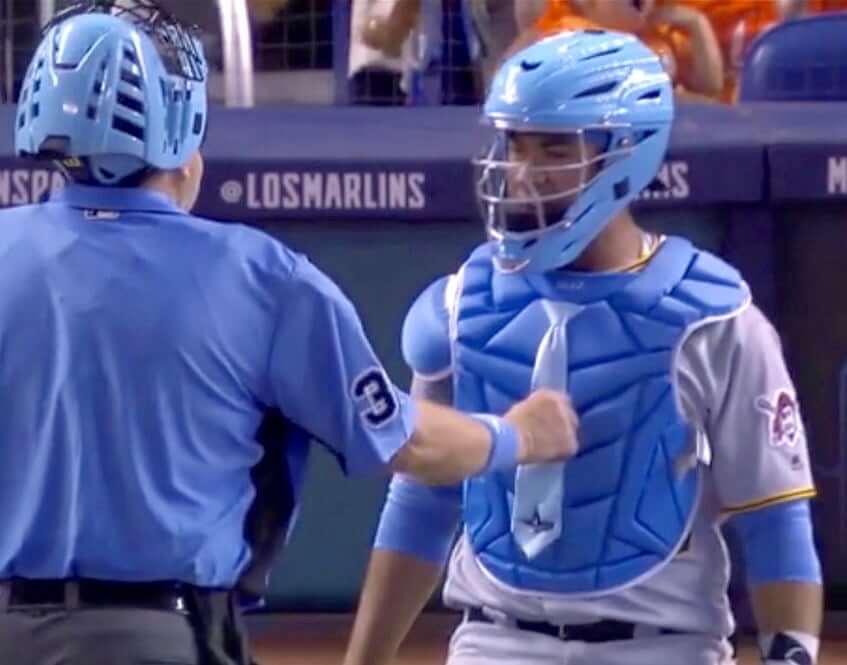 And Díaz wasn't the only one. Royals backstop Martín Maldonado wore the same clip-on accessory (a bit disappointing to see that it was a multiple-player gimmick, not a unique thing for one player), but he scribbled a bunch of names on his:
The inscription appears to be a series of names — Pay, Bimbo, Kojac, Edgar, Efrain, Jon, and Cito, which I'm told are the names of Maldonado's siblings — followed by "Happy Father's Day."
And in case you're wondering, the ties definitely flapped a bit in the breeze:
This HAS to be a first. Martín Maldonado is sporting a tie over his catcher's gear and it's incredible. 😂#AlwaysRoyal | #Royals pic.twitter.com/My74ZhE1Vz

— FOX Sports Kansas City (@FSKansasCity) June 16, 2019
Much like the broadcaster in that clip, I'm a little surprised Díaz and Maldonado were allowed to wear the ties. I mean, I'm not sure which rule they'd be violating (which is how Bill Veeck got away with all sorts of shit back in the day), but it seems a bit suspect, no?
Lots of people asked me if this is the first time a player has worn a tie in an MLB game. And honestly, I'm not sure! It's almost certainly the first time a clip-on tie has been worn. As for neckties, there are lots of team portraits that show 19th-century teams wearing those, but it's not clear to me if those ties were actually worn on the field or if they were just for the portraits. I asked Threads of Our Game historian Craig Brown about this, and he said he suspects some players did wear ties on the field, although he didn't have any readily available photographic evidence. He said he'd look for some — stay tuned. (Either way, it's worth noting that umpires routinely wore neckties until about 1970.)
In other MLB Pa's Day news:
• There was lots of "dad plaid":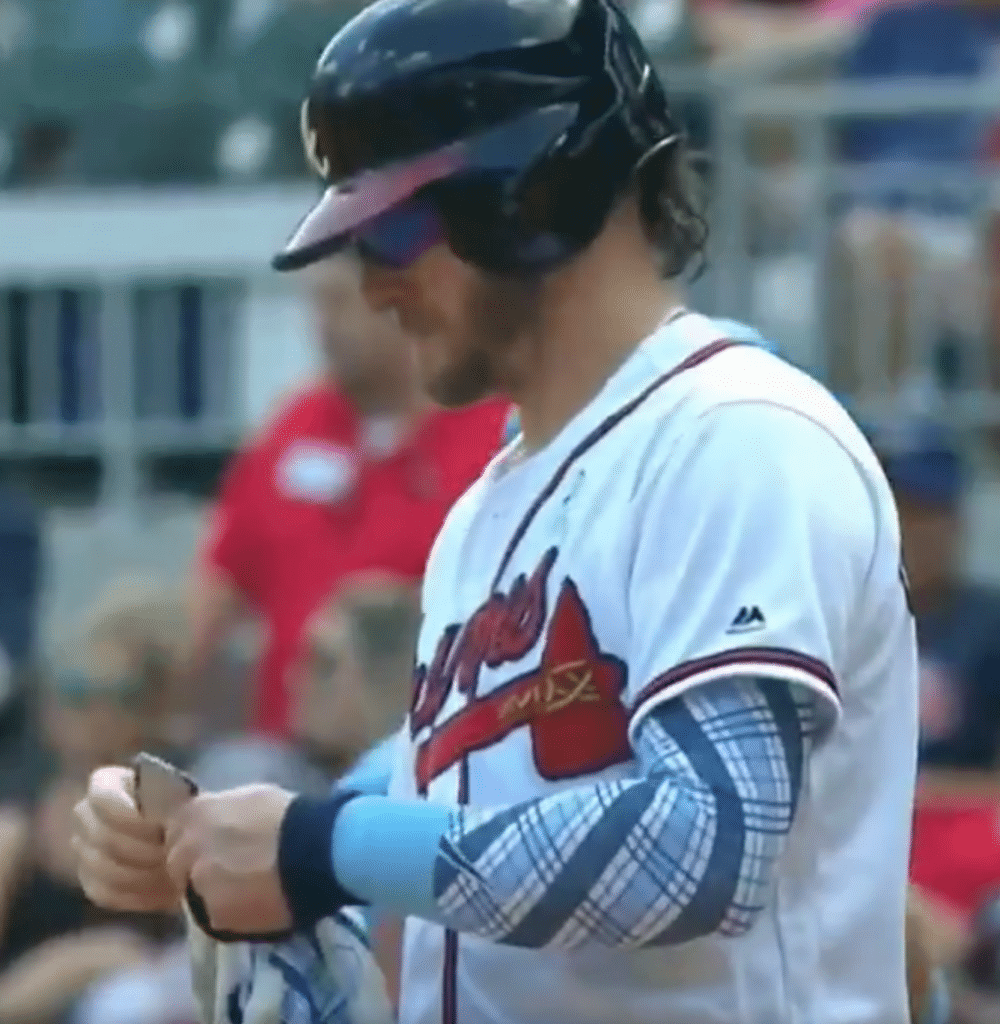 • In a nice happenstance, the Astros and Blue Jays played each other, so Lourdes Gurriel Sr. — father of Jays shortstop Lourdes Jr. and 'Stros first baseman Yuli — threw out the first pitch while wearing a Franken-jersey:
Lourdes Gurriel Sr., father of Lourdes Jr. and Yuli,is throwing out the first pitch at today's Blue Jays-Astros game along with a couple more Astros dads. His loyalty is clearly split down the middle, literally. Happy Father's Day! pic.twitter.com/cLv2VvZ2QE

— Alyson Footer (@alysonfooter) June 16, 2019
@UniWatch @PhilHecken what a great Father's Day for Lourdes Gurriel who got to see both his sons Lourdes Jr and Yuli face off against each other. Lourdes Sr rocking a split frankenjersey of his two boys pic.twitter.com/3taueX3gSW

— Jakob Fox (@JakobLFox) June 16, 2019
• Players wore light-blue "tie-dye" (read: not even remotely tie-dye; more like acid-washed) caps, which mostly looked ridiculous: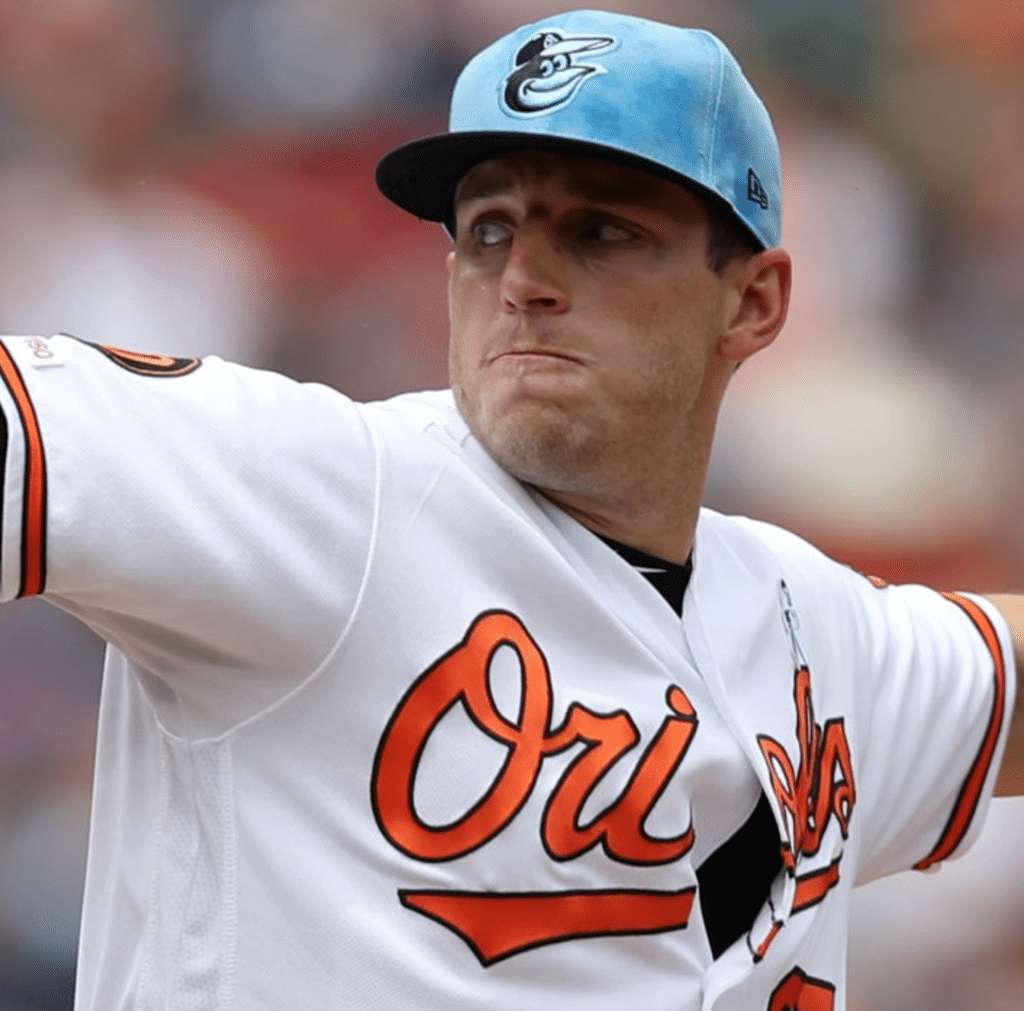 • The Brewers, as per their usual holiday custom, went the extra mile with their batting helmets: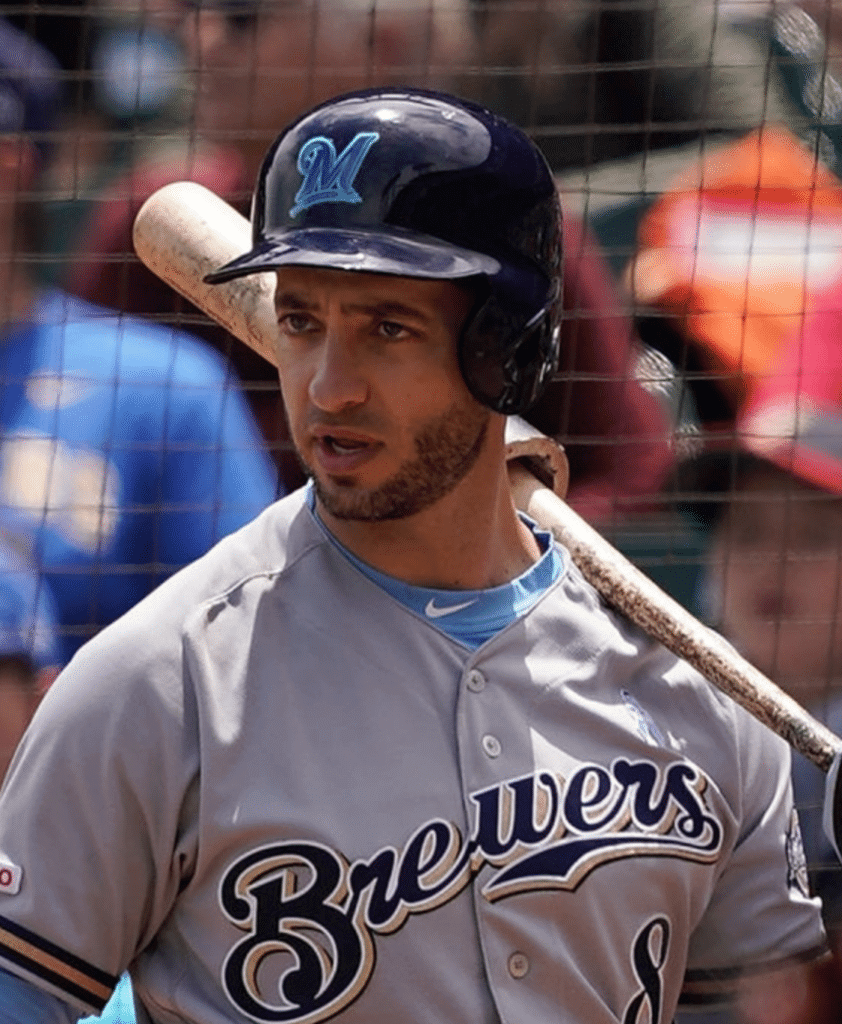 Okay, thank god that's over with. Next up on MLB's holiday calendar: Independence Day Independence Four-Day Festival, during which we'll have have to look at stars/stripes caps for four straight days. Can't wait! Meanwhile, if you want to see some really excellent Pa's Day content, check out Phil's post from yesterday about Uni Watch readers' fathers in uniform. This is an annual Uni Watch tradition that Phil has developed, and it's really special — don't miss.
• • • • •
• • • • •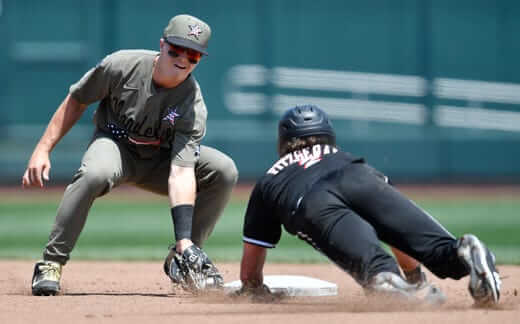 A bad case of mono: Brutal-looking game in yesterday's College World Series opener between Vanderbilt and Louisville, as the Commodores went mono-olive and the Cardinals went mono-black. Pfeh.
As an aside: While I don't follow college baseball myself, I'm definitely noticing a lot more interest in the CWS on social media this year. Way more CWS tweets being sent my way than in years past. Interesting.
• • • • •
• • • • •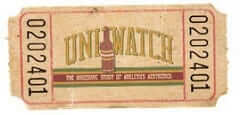 ITEM! Yet another one-day raffle: Reader Paul Bailey has generously purchased a Uni Watch membership for me to raffle off, so that's what we're going to do today.
To enter, send an email to the raffle address by 8pm Eastern tonight. I'll announce the winner tomorrow. Big thanks to Paul Bailey for sponsoring this raffle.
• • • • •
• • • • •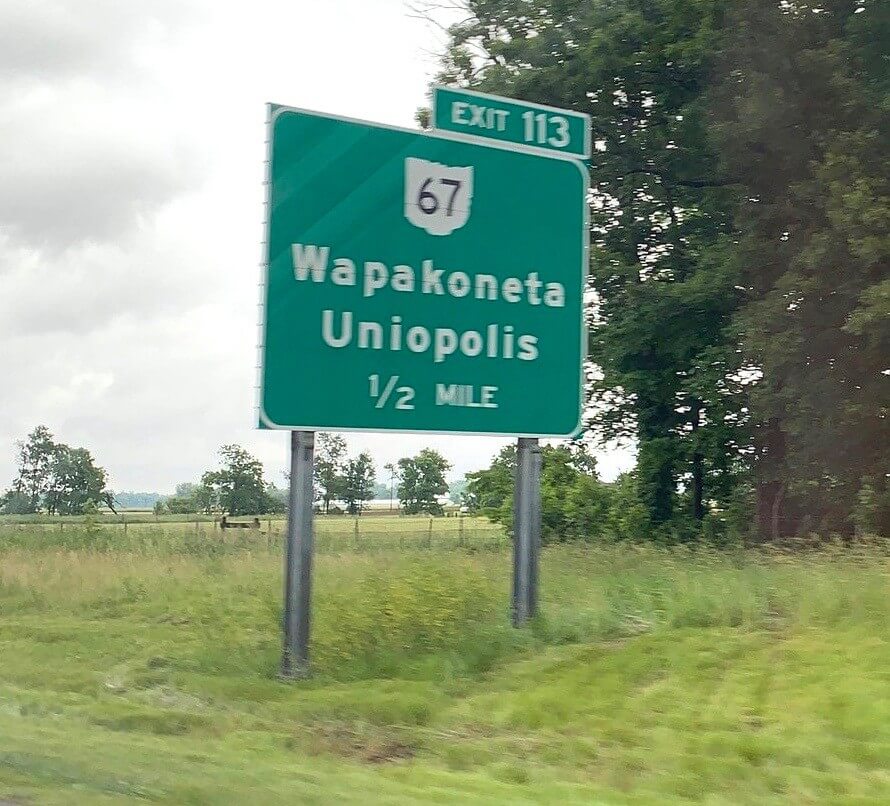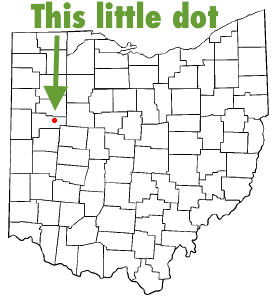 ITEM! Uniopolis update: On Friday I mentioned that there's a small town in western Ohio called Uniopolis and that it would be great to have a Uni Watch gathering there on June 29. About half a dozen readers responded, and it looks like such a gathering may take place — although not Uniopolis proper, because there are no bars there! The nearby town of Lima is shaping up as a likely option.
Remember, if you want to organize or attend a gathering in your city, contact party coordinator JohnMark Fisher. Here's the updated map and spreadsheet showing all of the parties that have been scheduled so far (including a newly added gathering in San Francisco, nice!).
• • • • •
• • • • •
The Ticker
By Jamie Rathjen

Baseball News: A's manager Bob Melvin said that the team no longer has their gold jerseys because they were replaced by the second of the team's two green alternates (from multiple readers). … Many readers told us that Paris Saint-Germain winger Kylian Mbappé threw, or perhaps kicked, out the first pitch at Dodger Stadium on Saturday. He received a No. 10 jersey, which is the number he usually wears for France, instead of his No. 7 for PSG. … Michigan wore white as the away team for the first College World Series game because Texas Tech chose to wear black (from Chris Mycoskie). … Bit of a cap inconsistency yesterday for Auburn. … New powder blues for the Ogden Raptors (from @GRTx3). … The Orix Buffaloes have new black summer alternates (from Jeremy Brahm). … San Diego's Little Italy neighborhood features street banners saluting famous Italian-Americans. The current theme is baseball and one of the featured players is Drew Butera, who's shown in a Royals uniform (he's currently in the Rockies' organization) with a Kansas City Chiefs logo (from Chris Alvarez). … New Genesee Brewery-inspired uniforms for the Rochester Red Wings (from Joe Werner). … Mitch Nathanson has written a piece about the history of No. 33 on the Phillies.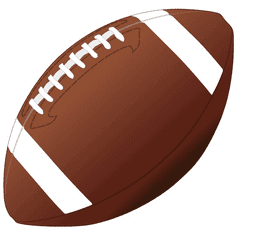 Football News: The CFL's BC Lions added a memorial decal for equipment manager Ken Kasuya, who passed away in the offseason. Coaches wore a button version of the decal, including opponents Winnipeg's coaches (from Wade Heidt). … More from Wade: Calgary Stampeders WR Eric Rogers switched from No. 15 to No. 4 for this season, while CFL officials' hats now have New Era logos. … Greenland High School in Arkansas has managed to poach the Packers' and Buccaneers' logos. … Cross-listed from the baseball section: San Diego's Little Italy neighborhood features street banners saluting famous Italian-Americans. The current theme is baseball and one of the featured players is Drew Butera, who's shown in a Kansas City Royals uniform (he's currently in the Colorado Rockies' organization) with a Chiefs logo (from Chris Alvarez). … Joe Werner found a 1986 shot of Steelers K Gary Anderson wearing a grey facemask. According to the Gridiron Uniform Database, the last time the Steelers wore grey masks was in the 1977 preseason.

Basketball News: Reader Richard Meloy tells us that a sports blogger writing about Australia's National Basketball League mistakenly referred to one of the league's teams, the Perth Wildcats, as the Perth Bandits. The mistake somehow went viral and the fictitious Bandits now have their own Twitter page with logo and uniform concepts.

Soccer News: Let's start with Josh Hinton's section: Trinidad and Tobago signed a kit deal with Capelli which the federation implied is just for the CONCACAF Gold Cup. … Pictures of Manchester City's supposed first and second shirts for next season have appeared. … New kits for German 2. Bundesliga team Hannover 96: red is first, black is second, and green is third. … Turkish team Galatasaray's first shirt is apparently to be released today. … Japanese team Vegalta Sendai released a 25th-anniversary shirt. … The Premier League's match ball for 2019-20 may have been inadvertently released yesterday, because Nike's article on the ball could be Googled but was mysteriously gone. … Sprinter Usain Bolt wore No. 9.58 for an annual charity game put on by UNICEF between England alumni and a Soccer Aid World XI (from Eric Garment and Alex Peck). … Cross-posted from baseball: Multiple readers told us that Paris Saint-Germain winger Kylian Mbappé threw, or perhaps kicked, out the first pitch at Dodger Stadium on Saturday. He received a No. 10 jersey, which is the number he usually wears for France, instead of his No. 7 for PSG. … Costa Rica's first kit for the Gold Cup is black and gold. It has black numbers that you can't see on the back and are not much better on the front. … Chile wore the match info for yesterday's Women's World Cup game against the U.S. on the back of the shirt (from Jakob Fox). … A Twitter-er points out that USWNT right-back Emily Sonnett's number at the World Cup is 14, which is the number of lines in a sonnet. It's unclear if that's intentional or not; she's primarily worn No. 16 at club level and multiple other numbers for the national team. … Crystal Palace became the latest English women's team to remove "Ladies" from their name. … The NWSL's Reign FC wore rainbow numbers this weekend. … New shirts for Scottish Premiership team St. Mirren and a whole kit for Scottish Championship team Dundee. … Wait, two more from Josh Hinton: Watford has a new shirt advertiser and is also accepting submissions for a new fan-designed logo.

Grab Bag: India and Pakistan's cricket teams represent one of the biggest rivalries in world sports — certainly in TV viewers, with a billion people estimated to have watched them play at the Cricket World Cup yesterday — which makes it all the more odd to see Frankenjerseys for the two teams (from @PeskysPole). … A golfer at the U.S. Open, who I assume is Rory Sabbatini, used yellow balls bearing the Slovak coat of arms. Sabbatini is the only Slovak in the field because he changed his citizenship, and his country of representation for international golf, to Slovakia from South Africa at the beginning of this year (from Joe Canales). … Not sure who sent this in a few days ago: The Brumbies, the Super Rugby team based in Canberra, wore a shirt with art from the the Polynesian island groups represented on the team.