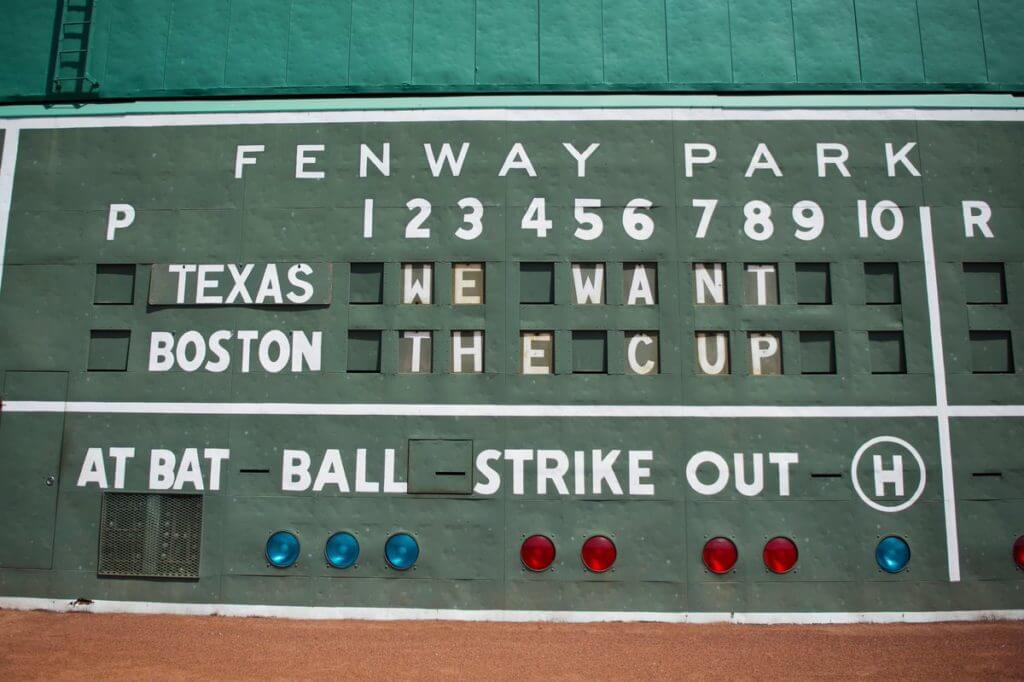 For all photos, click to enlarge
With the deciding game of the Stanley Cup Final(s) taking place in Boston last night, it turned out to be a very good day for cross-sport promotions, beginning with the scoreboard on Fenway Park's Green Monster (shown above), which spelled out a nice "We Want the Cup" message prior to yesterday's Rangers/Bosox game.
Here's how it looked from a greater distance: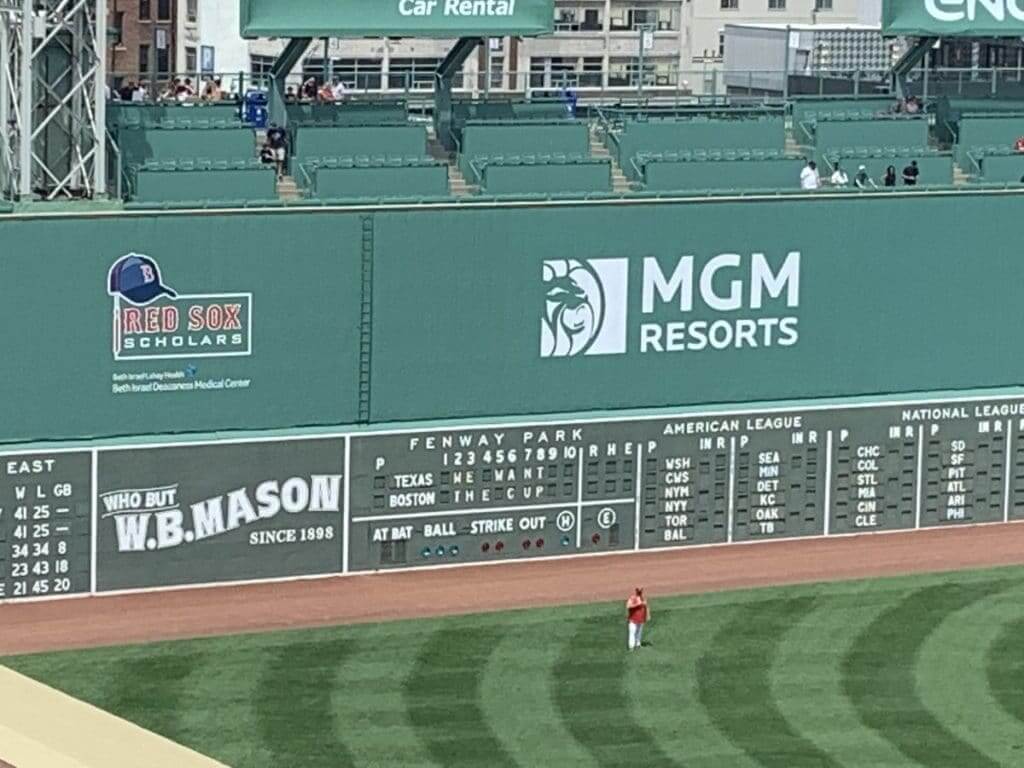 For good measure, the Sox also put the Bruins logo behind home plate: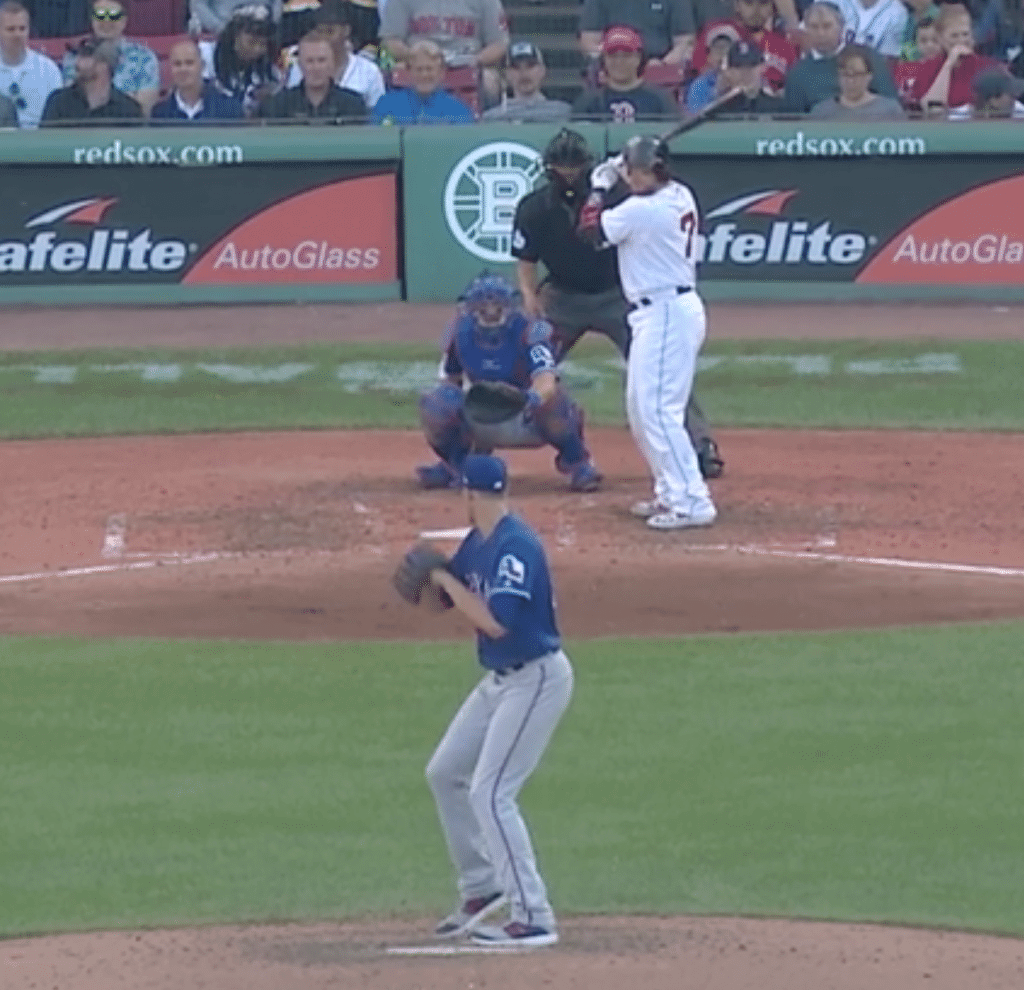 Over at the Bruins' arena, New England Patriots wideout Julian Edelman and Olympic gymnast Aly Raisman, who's from a Boston suburb, whipped up the crowd while wearing Red Sox jerseys with No. 34 — number of former Sox star David Ortiz, who was injured in a shooting earlier this week:
Tonight's honorary flag captains Liam Fitzgerald, @Aly_Raisman, and @Edelman11 have Boston ready to go. pic.twitter.com/uTrz9KLufw

— #StanleyCup Game 7 on NBC (@NHLonNBCSports) June 13, 2019
But the cross-sport gestures weren't limited to Boston. Back in St. Louis, the Cardinals' costumed mascot, Fredbird, supported the Blues by wearing a jersey with the Cards' namesake bird perched on a hockey stick instead of a bat. I really love this: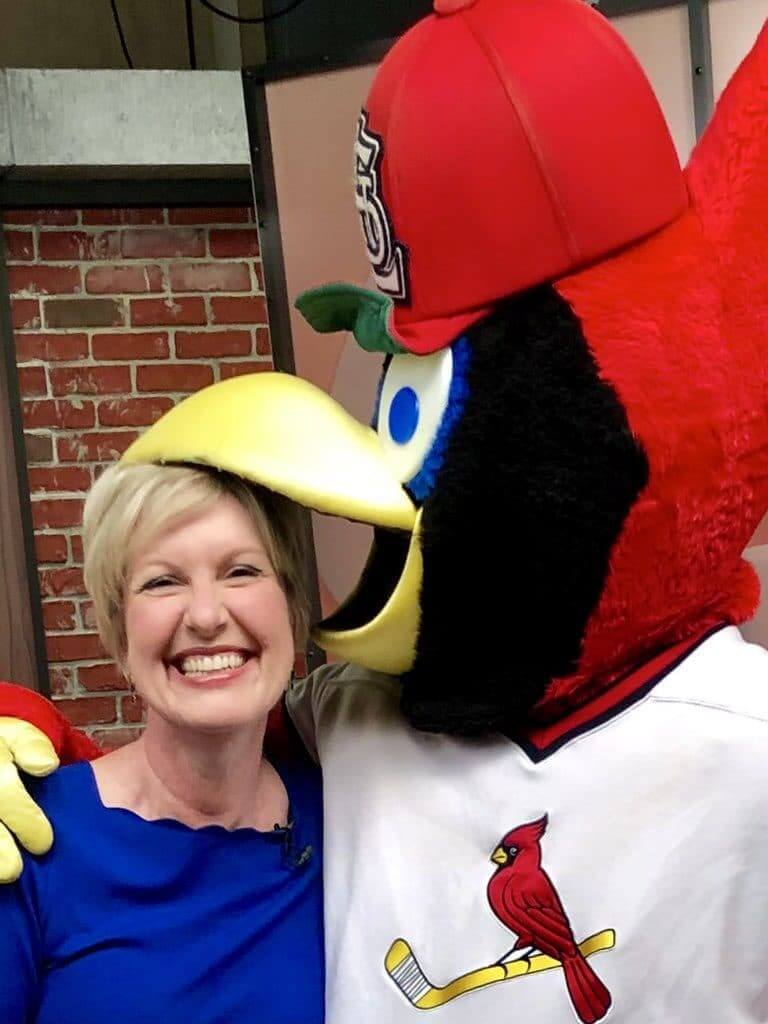 As for the game's outcome, let history record that the first St. Louis Blue ever to lift the Stanley Cup in triumph was captain Alex Pietrangelo: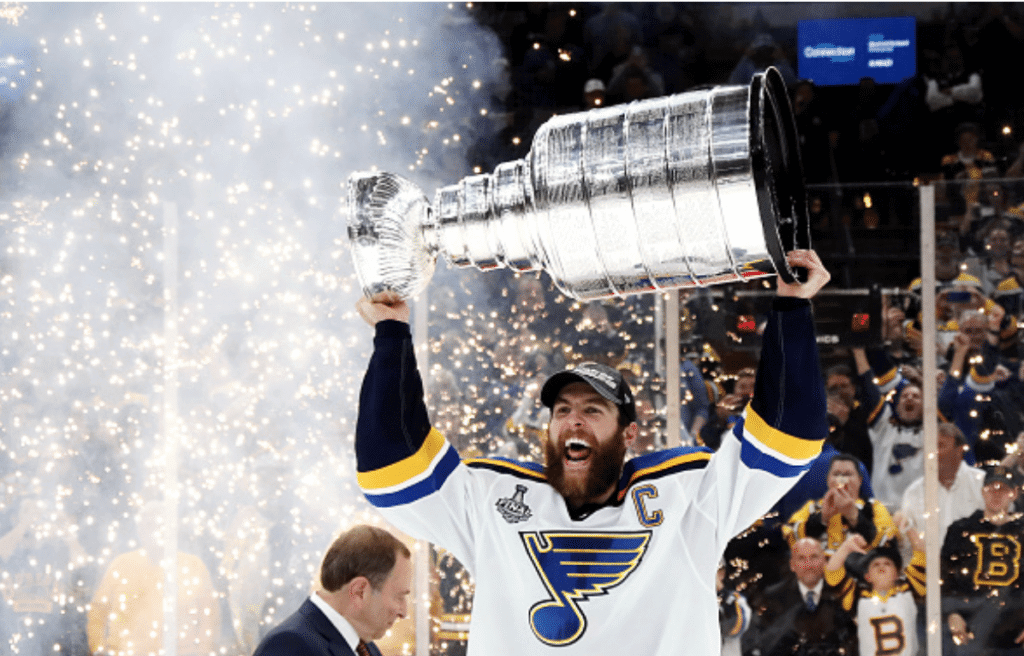 Congrats to the Blues and their fans. Just don't ever try that color guard nonsense again, okay?
(My thanks to Mark LaFountain, @ohhhsourry, Corbin Ceeds, James Beattie, and Phil for their contributions to this section.)
• • • • •
• • • • •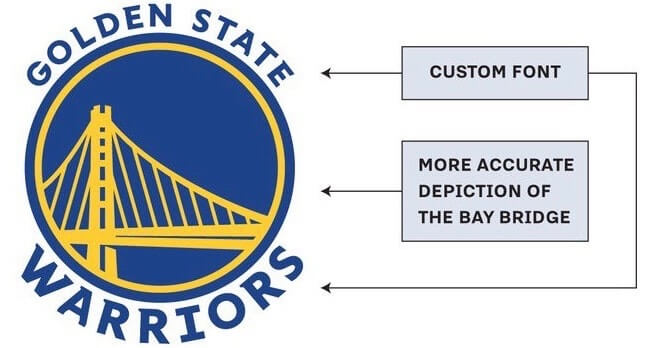 Dubs come clean on new logo: A few days after SportsLogos.net broke the news about trademark filings indicating some upcoming logo tweaks for the Warriors, the team officially acknowledged those changes yesterday.
In addition to the adjustments shown above to their primary logo, the team also distributed a list of additional press notes, which includes the news that the team's shade of blue will be slightly darker. The color change, along with the other adjustments to the primary logo, is evident side-by-side comparison — outgoing logo on the left, new logo on the right: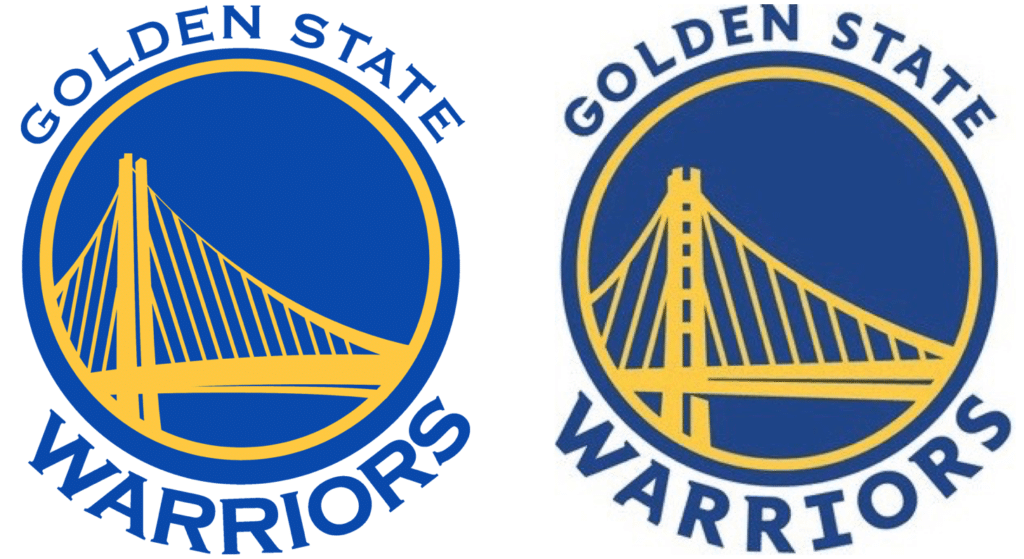 Ditching the Copperplate Gothic font is clearly a plus. The new custom font is nothing special, but at least it passes the "First, do no harm" test. I'm agnostic about the tweaks to the bridge and the new shade of blue (which seems to have been accompanied by a new shade of yellow, although the team didn't specifically announce that).
The one thing I'm really disappointed by is that the yellow circle is now centered within the blue circle. It used to be slightly north of centered, a nice bit of off-registration that I really enjoyed. Ah well.
(My thanks to Ryan Leong for the press notes.)
• • • • •
• • • • •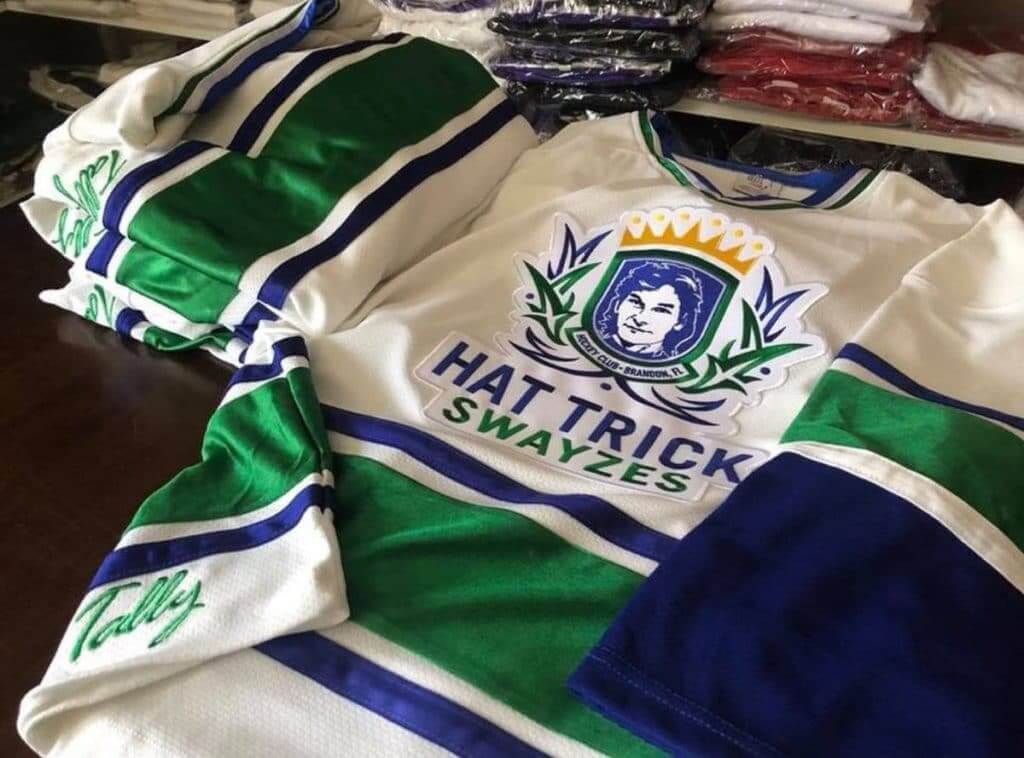 Click to enlarge
Is the green for St. Hat Trick's Day? : So this is pretty great: There's a hockey team in Brandon, Fla., called the Hat Trick Swayzes.
Actually, upon further inspection, there are apparently a lot of teams with that name, so maybe it's one of those hockey clichés that I just missed the boat on. I still like it!
Now we just need a Star Trek-themed hockey team (the Hat Trick Stewarts), a The Prisoner-themed hockey team (the Hat Trick McGoohans), and a basketball-themed hockey team (the Hat Trick Ewings).
(Thanks to Jon Campbell for letting me know about this one.)
• • • • •
• • • • •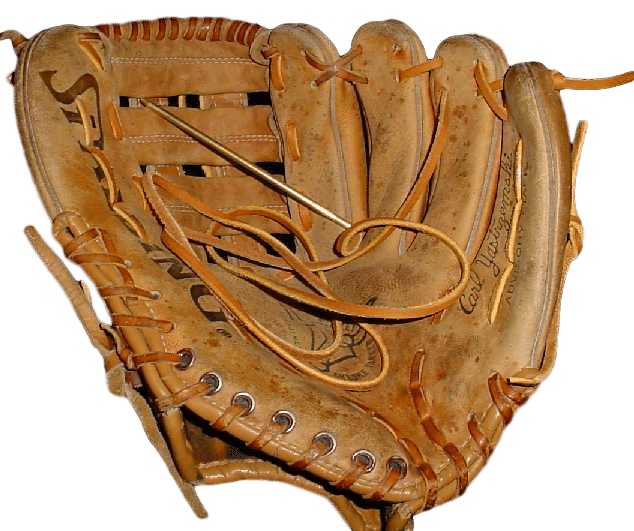 LAST CALL for the glove-repair auction: Today's the last day for this auction. In case you missed it earlier in the week, Jimmy Lonetti of D&J Glove Repair is generously auctioning off a full glove re-lacing and reconditioning, plus a glove-leather wallet, with the proceeds going to Uni Watch.
This is a $150-$175 value, with the bidding starting at just $75 — perfect for Father's Day. Bids must be entered by 7pm Eastern tonight.
For full details, look here.
• • • • •
• • • • •
The Ticker
By Paul

Baseball News: Good story on why baseball stadiums are all a little bit different (from Andrew Cosentino). … Here are this year's Little League World Series uniforms. … As part of "What Could Have Been Night," the Holly Springs Salamanders will become the Hushpuppies on Saturday (from Scott Turney). … Hmmm, anyone ever seen these Astros jerseys before? (From Kenneth Turner.) … The bank that uses the name of the Braves' stadium as a giant advertisement has merged with another bank, and now the new/combined bank has a new name, which will presumably have implications for the ballpark (from Mike Chamernik). … Negro Leagues throwbacks upcoming for the West Michigan Whitecaps, who'll dress up as the Grand Rapids Black Sox on June 25 (from @packjowers). … The Lehigh Valley IronPigs will become the Jawn on July 7. … Yankees OF Clint Frazier likes turning his sneakers into cleats (thanks, Phil). … If there's one thing I like, it's a ballclub with "Fruit Bowl of the Nation" on the back of their jerseys. That's an American Legion team from Yakima, Wash., in 1950 (from Greg Mays). … Pirates C Elías Díaz wore the wrong cap last night. Of course, it would only be visible when he removed his mask, but still.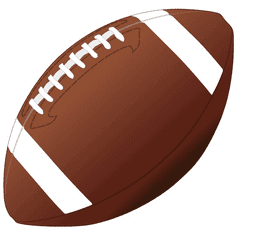 Football News: The Titans will retire Steve McNair's No. 9 and Eddie George's No. 27 at their Sept. 15 home opener (thanks, Phil). … The Broncos have a new 60th-season logo, but a team spokesman tells me that it will only be used for promotion and marketing — not as a jersey patch or helmet decal. (Note that there was a slightly different (and definitely worse) version of this logo circulating yesterday. That version is not the version that the team is using.) … Here's a shot of Bills RB Joe Cribbs wearing a grey facemask in the 1981 playoffs. The team had blue masks at that time (good spot by Johnny Garfield). … Looks like Toledo has new uniforms. "Different striping," notes @msocka29.

NBA News: The Warriors' rally towels for Game Six of the NBA Finals will include a shout-out to injured teammate Kevin Durant (thanks, Brinke).

Soccer News: Queens Park Rangers' stadium is getting a new name, but not because they've sold the name to a corporation. Instead, they've given away the name to a charity (from James Gilbert). … The daily download from Josh Hinton: New leaks for Schalke and Real Sociedad; legit releases from Villarreal Western United FC and Grimsby Town; new sleeve badges for Copa America; and a Thai shoe brand has copied Adidas's Predator Mania 2002 World Cup boots. … Idiocracy writ large, part 37,264: Thanks to a naming rights deal, France's Ligue 1 will be known as Ligue 1 Uber Eats. Yes, really (from rileycakes08). … Here's a thread that provides a detailed critique of Real Madrid's new number font (from @jason3thousand).

Grab Bag: There's a new song about the Astrodome — called, appropriately, "Astrodome" — and its video features all sorts of cool vintage footage from the onetime Eighth Wonder — baseball, football, rodeo, and a lot more. Recommended (from Dave Landesberg). … Good story on Tiger Woods's famous tiger headcover (thanks, Brinke). … New logo for the University of Manitoba. … Amusing article about how men at gyms wear towels over their crotches while working out. … President Trump has said he wants to change the paint scheme of Air Force One, but a Congressional committee may block his ability to do that. … New rugby league jersey for New Zealand (from E.P. Conrad). … Strong piece of media criticism and analysis from Deadspin's Tom Ley, who wrote about how The Ringer further blurred the increasingly fuzzy line between advertising and editorial content by "integrating" State Farm ads into its NBA Draft package. The jaw-dropper, at least for me, is that State Farm "sponsored" the assists statistic for every player listed. Recommended reading (from Ryan Atkinson).
• • • • •
Our latest raffle winner is Richard Hill, who's won himself a Uni Watch TATC shirt. Congrats to him, and my repeated thanks to Jerry Kulig for sponsoring this raffle.