Click to enlarge
[Editor's Note: Today we have an excellent guest entry from longtime reader/contributor Gordon Blau — that's him above, with his wife, Chrysse — who's going to tell us about his recent uni-related observations in Japan. — PL]
By Gordon Blau
Visiting Japan has long been on my list of dream vacations. So when I reached a milestone birthday recently, my wife, Chrysse, and I made the trip a reality. As it turned out, there were many uni-notable highlights.
For starters, there was this soft drink [for all photos, you can click to enlarge]:
This may not be a direct Mets rip-off, but damn close! [As an aside, people have been sending me photos of these cans for over 20 years now, even from before I founded Uni Watch! — PL]
Japanese baseball fans have a reputation of being far more enthusiastic than what we're accustomed to in the States, so I was very curious to experience that for myself. They did not disappoint. Indeed, the entire in-game experience is amazing — more like European soccer than an American baseball game.
First up was a game at the Tokyo Dome, home of the Yomiuri Giants. I'm sure having a dome is convenient, but it felt a bit like the Trop in Tampa Bay:
Buy me some peanuts and Cracker Jack? Not so much. The guy sitting next to us was eating squid jerky and some crunchy snack that smelled exactly like creamed corn:
In America, we get sundaes and nachos in souvenir helmet cups. In Japan, they do noodles:
The entire right field bleachers area was designated as the home team cheering section (there was a smaller section in left field dedicated to the visiting team's fans). There was a cheerleading conductor, a drummer, and horn players, all exhorting the crowd the entire time when the Giants were at bat, all game long.
As great as the fans were in Tokyo, I had heard that fans of the Hanshin Tigers in Osaka were the most enthusiastic in Japan, so that was our next stop. No dome here — Hanshin Koshien Stadium is covered in ivy:
Side note: In the lower-left portion of that photo is the area where they'll pour the beer you have brought from home into cups, so you can bring it into the stadium. Can you imagine doing that in the U.S.? You'd need to smuggle it inside a prosthetic limb!
This time we had seats inside the home team cheering section, which was significantly larger and louder than in Tokyo, stretching from center field to beyond the first base foul pole. The cheering section was so large, they had three sets of cheerleading conductors, drummers, and horn players. And again, they sang and chanted the entire time the Tigers were at bat, right up to the last out. It was an amazing experience. A Hanshin Tigers game should be item No. 1 on any baseball fan's bucket list.
As in Tokyo, there was an entire section devoted to the visiting team, this time the Toyo Carp of Hiroshima. They did this amazing balloon launch (not helium, but the long variety that rockets into the air) in the seventh inning.
The vendors, unlike the surly, slovenly characters we're accustomed to back home, were all enthusiastic girls wearing uniforms reminiscent of the women's league of yore. The beer is dispensed from these jetpack kegs:
The fans wore some interesting gear. Here are some good examples from people who were sitting near us:
We gave our Mets hats to our seat neighbors, who were kind enough to translate our vendor transactions. Plenty of Yankees hats in Japan, since it's more of a fashion item than fan wear, so we figured it was time to spread some love for the Mets:
Next up in our Japan adventure was a day of sumo matches, which was the one thing I was most excited to see. Unlike baseball, sumo is uniquely Japanese. The customs, the ceremony, the thundering collisions of naked flesh — there's really nothing else like it.
As we approached the arena, there were several large gentlemen walking in from the trains, just like the fans. I'm assuming they were either wrestlers from the lower divisions or trainees serving as handlers to the higher-division wrestlers.
The arena itself was not especially big, similar to a small college arena. The top tier had regular stadium seating, and the lower tier had traditional Japanese-style box seats separated by low chrome rails, where you sit on the floor with thin cushions. Shoes off, of course.
The boxes are intended for four people (and are sold as such), but with our older and larger bodies, we decided to keep the two additional spots for ourselves and stretch out a bit. The Japanese gentlemen in front of us managed to squeeze four in with little problem. They were also kind enough to share their shochu (sort of a Japanese vodka) with us.
After the junior divisions finished their matches, the higher-rank wrestlers paraded out to the ring. The aprons they wore inside their mawashi (or loincloths) looked traditional, but many of them contained advertising. Perhaps because we can't read Japanese, it seems less obnoxious than the logos on NBA uniforms.
For some matches in the top division, there will be a parade of banners around the ring as they start to get set for the match. These are more obviously advertising. The bigger the match, the more ad banners there will be:
When each match is over, the ref hands the winning wrestler some envelopes — that's the payment from the advertisers whose banners had just appeared!
As for the action itself, the matches typically were very brief. The actual wrestling was over in a few seconds. The bulk of the time was spent getting set and posturing. They'd smack their bodies and mawashi, throw a little salt, raise their legs high in the air, and get into their squat. But if they weren't perfectly comfortable, they'd break position, return to their corners, do some more smacking and armpit-wiping, and then start the whole thing over again. Usually no offense was taken, but every so often it would annoy one of the wrestlers and he'd stomp off briskly to his corner, smack himself extra-hard, and in one instance, grab a massive handful of salt and whip it high in the air.
———
Paul here. What a sensational travelogue! Big thanks to Gordon for sharing it with us. He left behind this photo, saying, "It's easy to get swept up in the pageantry and action":
• • • • •
• • • • •
• • • • •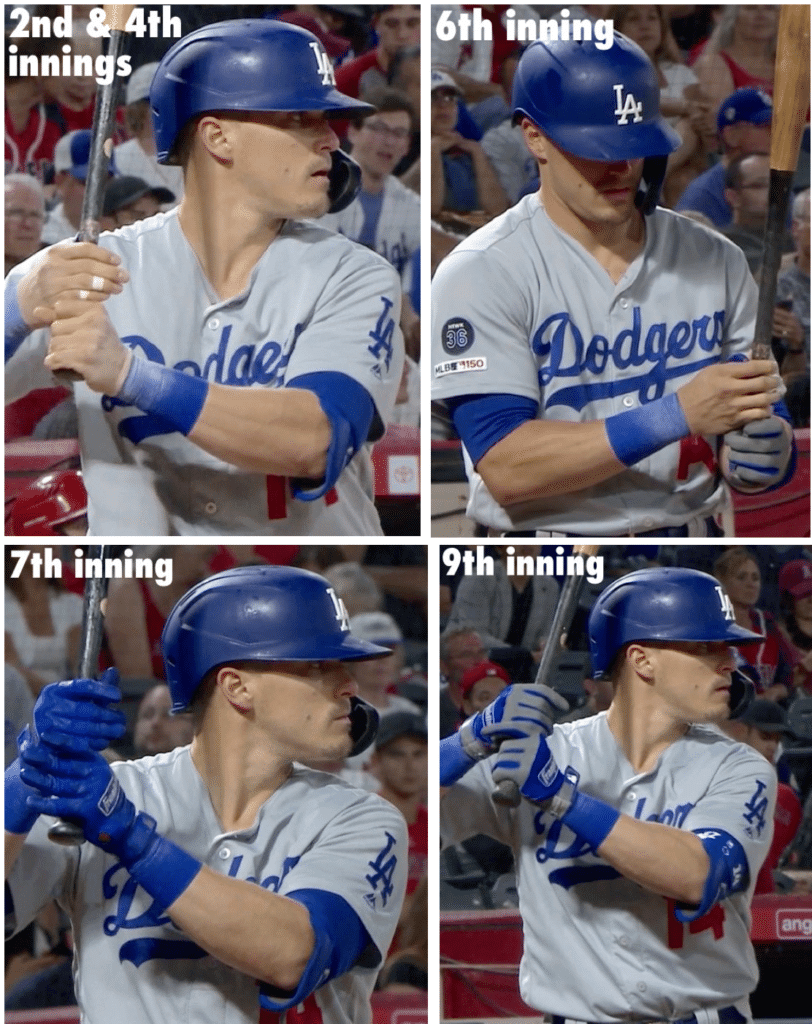 Click to enlarge
Glovely: Weird development in last night's Dodgers/Angels game, as Dodgers infielder Kiké Hernández went with four different batting glove formats (or lack thereof) in five plate appearances. I'm pretty sure I've never seen anything like that before.
Then again, maybe I have seen it and just not realized it — you have to have your uni radar set very high to be attuned to this type of thing. In this case, all the credit goes to Jakob Fox, who spotted this one.
As an aside: Hernández is hitting only .215, so maybe the various glove/gloveless maneuvers are a slumpbuster move.
• • • • •
• • • • •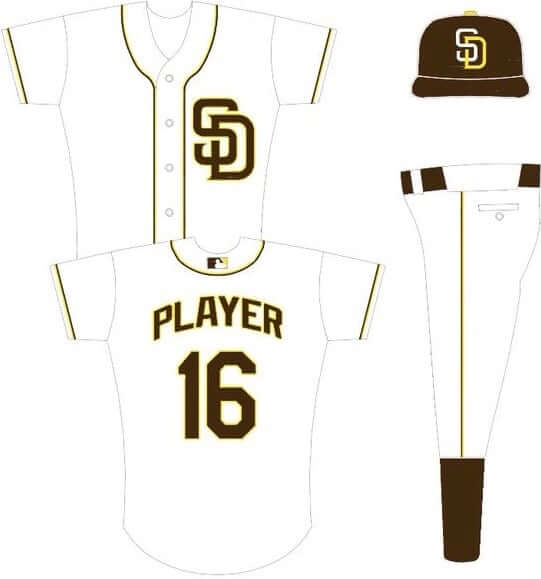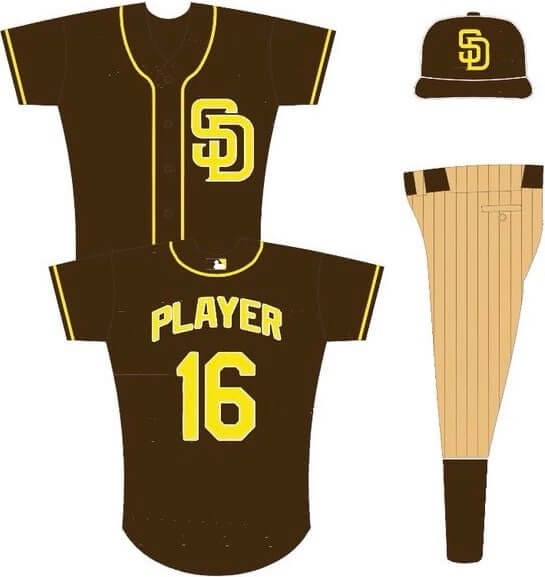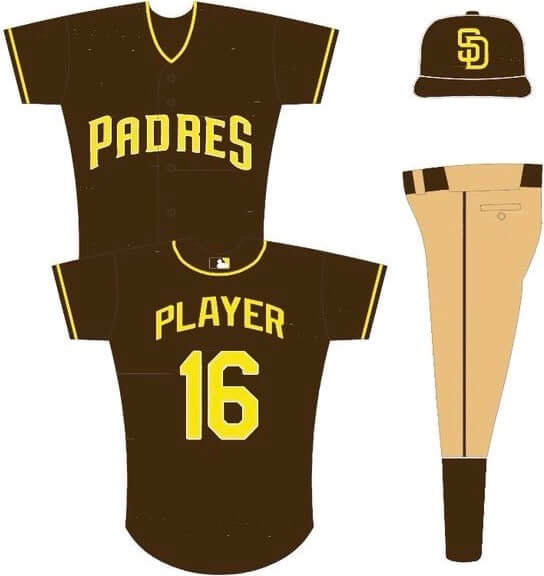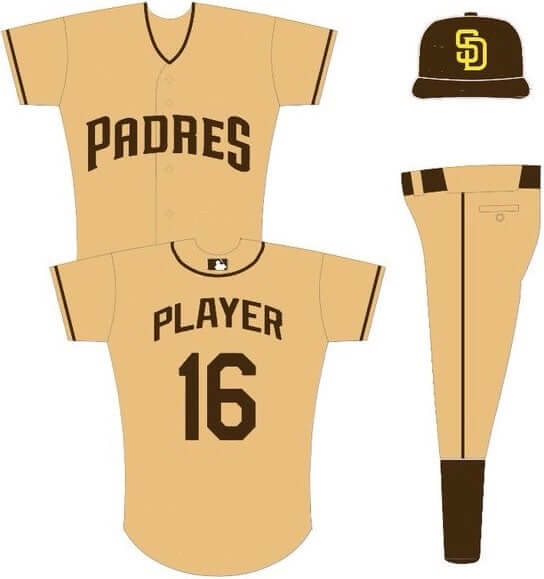 Click to enlarge
Another Padres focus group report: In the wake of Monday's post about a participant in a Padres focus group, I heard from another Uni Watch reader who also participated. He says the renderings above, which he prepared himself, are accurate portrayals of what he saw (aside from the vertically arched lettering, unfortunately).
• • • • •
• • • • •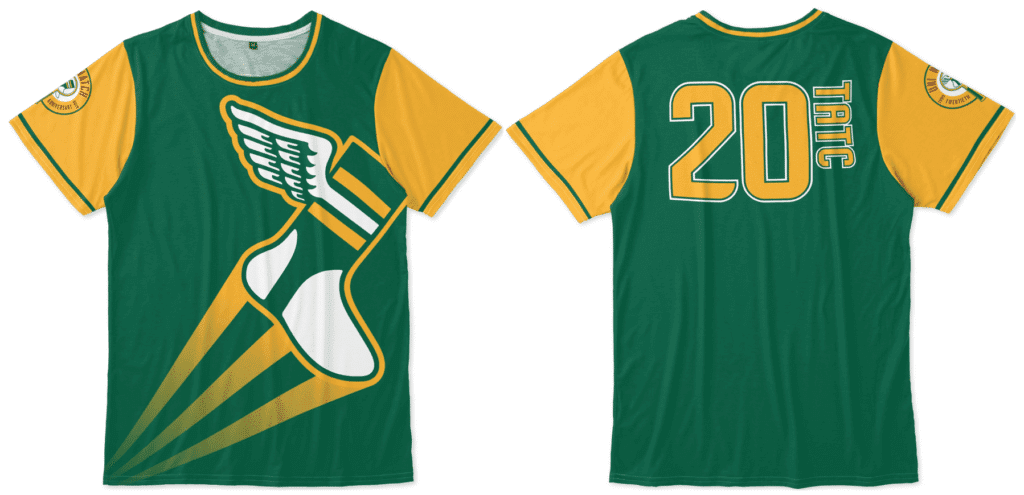 Click to enlarge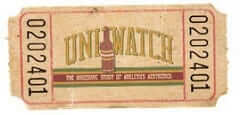 ITEM! TATC shirt raffle: Our TATC shirt, which celebrates the dual 20th anniversaries of Uni Watch and MLB's 1999 "Turn Ahead the Clock" program, has been a big hit. And now, thanks to longtime reader/contributor Jerry Kulig, who's sponsoring today's raffle, you can win one for yourself.
To enter, send an email with your shipping address and size preference (refer to this size chart) to the raffle address by 8pm Eastern today. One entry per person. I'll announce the winner tomorrow.
Big thanks to Jerry for making this possible.
• • • • •
• • • • •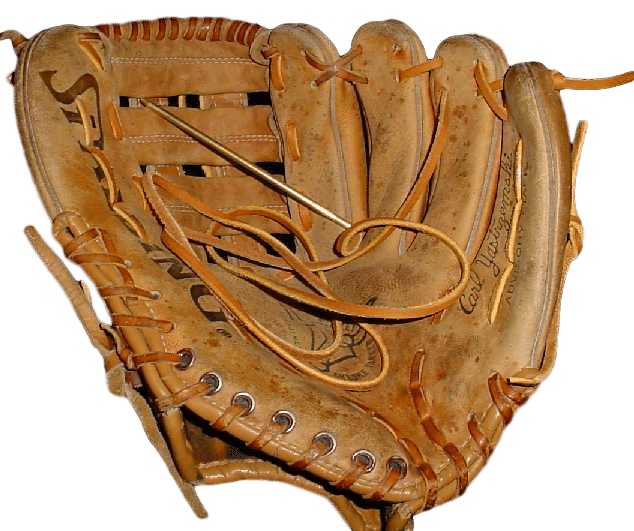 Glove-repair auction reminder: In case you missed it on Monday, Jimmy Lonetti of D&J Glove Repair is generously auctioning off a full glove re-lacing and reconditioning, plus a glove-leather wallet, with the proceeds going to Uni Watch.
This is a $150-$175 value, with the bidding starting at just $75 — perfect for Father's Day.
For full details, look here.
• • • • •
• • • • •
Click to enlarge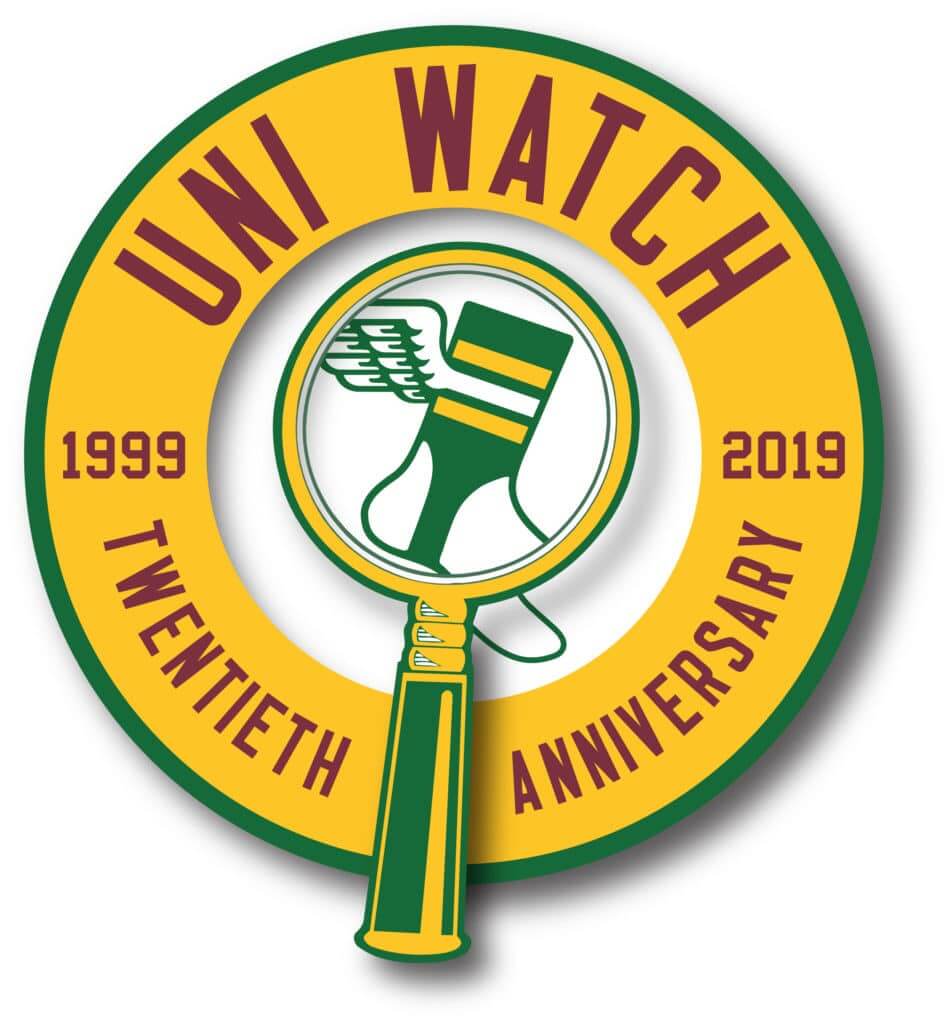 Uni-versary update: Reader Christophe Davy, who's organizing the Uni Watch 20th-anniversary party in Paris on June 27, made this made this custom candy jar for the party attendees! "Of course, the candies inside are green and yellow," he says.
Remember, there's an interactive map of all the gatherings here (click on the party locations for more info), and a spreadsheet of the various parties is here. If you want to organize or attend a gathering in your city, contact party coordinator JohnMark Fisher.
• • • • •
• • • • •
Click to enlarge
Patchwork: It had been a few months since I'd received any orders for the awesome chain-stitched patches that are made for us by master embroiderer Amy Bengtson, but then I suddenly got a few orders last week, so I had Amy make a few more.
The patches are gorgeous and measure about 6″ by 6″ — perfect for sewing onto a jacket or sweater, or just for displaying. Amy makes these by hand, so no two are exactly the same. If you want one, the price, including shipping, is $35 (80% of which goes to Amy). You can send payment via Venmo (use @paul-lukas-2 as the payee), Zelle (plukas64@gmail.com), or Cash App (plukas64@gmail.com). To use Apple Pay or a paper check, shoot me a note. Once you pay, let me know your shipping address. Thanks!
• • • • •
• • • • •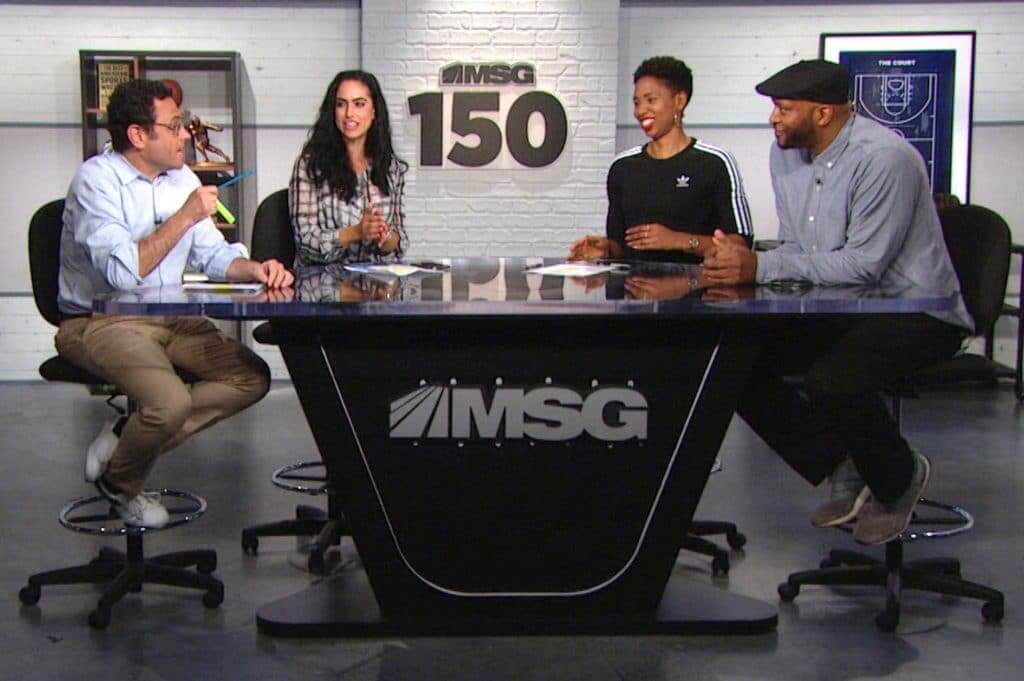 ITEM! I'm on TV tonight: Uni Watch's unlikely 2019 televisual tour will continue tonight. Only this time it won't be one of our caps or shirts appearing on the tube, and it won't be a broadcaster mentioning Uni Watch on the air either — it'll be me appearing on the new-ish MSG roundtable show MSG 150 (that's their usual studio crew pictured above).
I'm told that we'll be talking about the leak of the Nike-fied Yankees jerseys, the Bears' new throwback, the Jets' new set, some bests/worsts, and more. The show airs from 8pm to 10:30pm. We'll be taping in the afternoon, and I'm told that my segment will probably appear sometime around 8:50 or 8:55, although that could change.
I used to do a lot of TV in the 1990s, but not so much anymore. I think this will be my first time on-camera since I went on Olbermann's show in 2013. I'm reasonably comfortable on TV, but I'm not a "natural," so I view every on-camera opportunity as a learning experience, or at least that's what I'm hoping for. It's always interesting.
• • • • •
• • • • •
Father's Day reminder from Phil: Phil here. Sunday is Father's Day, and I'll once again be posting photos of Uni Watch readers' "Dads In Uniform," a tradition that began in 2013 (and has continued in 2014, 2015, 2016, 2017, and last year). This is always a very special day, and I'd love for as many readers as possible to participate — especially those of you who haven't done so before.
To take part in this annual tradition, select one photo of your father in uniform (it can be sports, military, work — as long as it's a uniform) along with a short description of 100 words or less (refer to our prior years' entries to get a feel for the style of the descriptions). Then email the photo — again, only one, please — and text to me (not to Paul) with the subject line "Uni Watch Father's Day 2019" by this Thursday, June 13, midnight Eastern. I'll run all of the submissions this Sunday. Thanks!
• • • • •
• • • • •
The Ticker
By Paul

'Skins Watch: The school board for a Connecticut district whose high school calls its teams the Indians and uses a logo featuring a Native American in a ceremonial headdress will vote on whether to change the team name on June 24 (from John Dankosky).

Baseball News: The Double-A Biloxi Shuckers wore Saints-themed uniforms on Friday. Note that the guy in the last photo managed to mimic the look of NFL socks! (From Robert Hay.) … Lauren Gentry's dog, Sherlock, has uni-themed doggie treats! … The White Sox outfitted their statues with U.S. Women's National Soccer Team jerseys for the Women's World Cup. … Lou Orangeo and his wife play on a softball team called the Trump Train, with intentionally over-the-top Trump-themed jerseys and NOBs. … The Yankee Stadium scoreboard for the first game of yesterday's Mets/Yanks doubleheader showed a badly outdated Mets jersey. They haven't had the black drop shadow since 2011. … In a related item, Mets 3B Todd Frazier wore a black undershirt, instead of the team's usual blue, in the second game (from Chris Nichols). … Brice Wallace found this 1976 photo of Reds 2B Joe Morgan wearing a shin pad under his stirrup. Good look at the National League centennial patch, too. … The Durham Bulls will reference the movie Bull Durham by becoming the Lollygaggers on Friday (from Eric Postlethwait). … Reds 2B Derek Dietrich has hit particularly well while wearing the team's various throwbacks. … Next season's U. of Michigan season ticket holders will get a pretty cool cap (from @run_100mi). … The Norfolk Tides have added a sleeve patch for the Virginia Beach massacre victims (from Kevin Kurz). … The Rocket City Trash Pandas will unveil their new uniforms on June 20 (from Kyle Little). … 1880 throwbacks (!) today for the Worcester Bravehearts (from Lance Harris). … Angels P Félix Peña had one of those pink Mother's Day ribbons on his glove last night.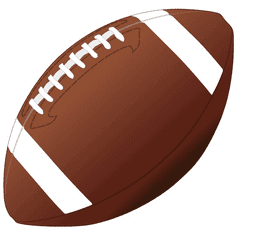 Football News: Trading cards from the now-defunct AAF are still floating around out there. … New Jets GM Joe Douglas showed up at practice yesterday with the team's outdated logo on his pants (from H. Rosengarten and Chris Mueller). … Rut-roh: The Panthers went mono-black for their Media Day pics. That can't be a good sign (from @PathnersUnis). … Here's a rare take: someone praising the NFL's uniform regulations (thanks, Phil). … At the 20:30 mark of this podcast, there's talk of the Browns having a throwback in the works for 2021 (from Tony Crespo). … Speaking of the Browns, here's a long-ish thread about what people do and don't like about Brownie the Elf (from Jim Perry). … "Good golly," says Gene Sanny, "what a mess these newer types of helmets are." … There's a good thread on the Washington Huskies' uni history here.

Hockey News: This photo of the 1929 Bruins is super-tasty. So much texture in the gloves, the pants, the socks! … Interesting article about an 86-year-old Montreal tailor who makes suits for many NHL players (NYT link).

NBA News: Monster Energy is challenging the Raptors' logo trademark, saying it's too similar to the company's own mark (from Ted Arnold). … Here's a pretty adorable video of a six-year-old Golden State fan naming every Warrior's uni number (thanks, Brinke).

Soccer News: The daily download from Josh Hinton: New uniforms for VfB Stuttgart, and Werder Bremen's new home kit has leaked. … Speaking of Werder Bremen, I'm still calling it Weserstadion (from James Gilbert). … Cross-listed from the baseball section: MLB's Chicago White Sox outfitted their statues with USWNT jerseys for the Women's World Cup. … Thailand's light-blue women's kit has made its on-field debut (from our own Jamie Rathjen).

Grab Bag: The city of Richland, Wash., was instrumental in developing the atomic bomb during WWII, so the local high school's teams are called the Bombers. But a Japanese exchange student who grew up near Nagasaki and is currently attending the school isn't too thrilled about the school's logo, which is a mushroom cloud (from @JayJayDean). … Interesting piece on what 2019 college graduates are wearing on top of their mortarboards (NYT link). … Someone at Jeopardy! Gets It™. Reader Michael Trautman was playing the TV's show's app the other night when he came across the category "Gimmick Jerseys." He says, "The first question asked about the camo baseball jerseys from 2016 and which holiday they were worn for. Then there was one about those St. Louis Blues monstrosities that were never worn. I finally thought to get a screen shot of the last question in the category, because this just needed to be shared." … A New Jersey woman could face federal charges for stealing a postal worker's uniform out of a dryer at a laundromat. … Here's an assessment of how corporate logos have changed in 2019. … Mozilla's new Firefox logo, which was teased last week, has now been released. … New logo for the town of West Hartford, Conn. … There's a beach volleyball team in Buffalo — let those words sink in for a minute — that has Hamilton-inspired uniforms (from @zubazshorts). … Here are Australia's and South Africa's uniforms for the Rugby World Cup (from Jeremy Brahm).
• • • • •
I have a complicated day today, with two doctor's appointments (nothing serious) plus the TV thing, so I'll be running around for most of the day. Play nice while I'm away, and I'll see you tomorrow. — Paul