There was an amusing incident on the fourth pitch of last night's Mets/Dodgers game, as Dodgers rookie first baseman Matt Beaty fell into the stands while attempting to catch a foul pop and apparently had a run-in with fan's Dodger dog (or maybe some nachos), because he emerged with uniform pants covered in mustard and ketchup (or maybe cheez).
"Oh no," said Dodgers play-by-play broadcaster Joe Davis, "those pearly-white Dodgers home unis, covered in ketchup and mustard." Gotta love the uni-centric reporting, right? The game was briefly delayed while Beaty used a towel to wipe off some of the offending condiments.
I've been watching baseball for a long time, and I can honestly say that I can't remember ever having seen this before. No word on whether there were any capers involved.
Over in the Mets' broadcast booth, analyst Todd Zeile speculated that Beaty would probably change to a fresh pair of pants after the inning, but Beaty — who was playing in just his seventh big league game — stuck with the stained knickers. As it turned out, his dirty-uni adventures were just beginning, because in the bottom of the second he slid head-first into second base while legging out a double. By the time he stood up, the condiment stains were the least of his worries: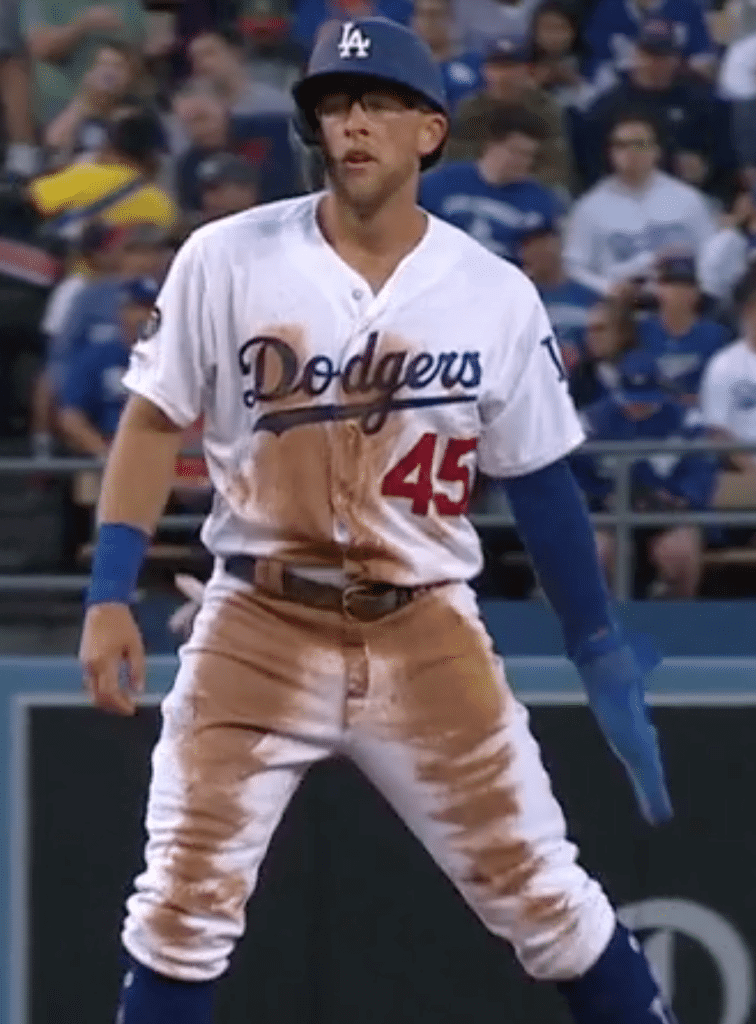 Okay, we've all seen dirty uniforms, but that is a seriously dirty uniform. I like how you can still see the mustard (or maybe cheez) under the dirt on his left thigh. The Dodgers laundry staff definitely had their work cut out for them after this game.
This was the second time in a month that a fan's food or beverage ended up on a Mets opponent's uniform. Back on April 28, Brewers left fielder Ryan Braun attempted to make a catch at the outfield wall and ended up taking a fan's beer on his cap:
Hot dogs (or maybe nachos), beer — we're hitting most of the major food groups here. Now we just need a player to dive into the stands and end up wearing a fan's ice cream — and, ideally, wear the souvenir helmet cup on his head.
• • • • •
• • • • •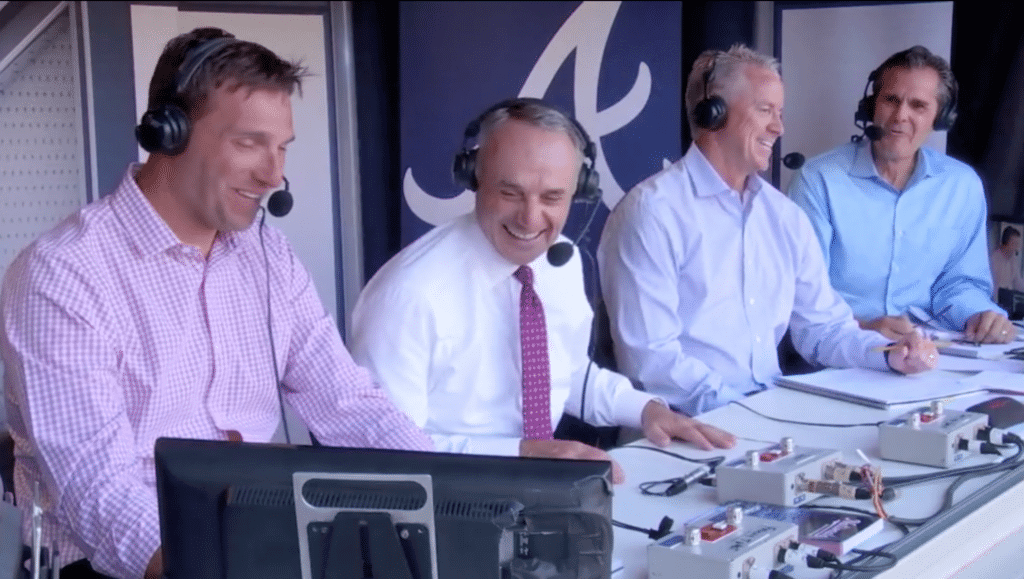 Click to enlarge
Manfred touts logo creep as key to game's growth: MLB officially awarded the 2021 All-Star Game to Atlanta yesterday. Since commish Rob Manfred (second from left in the screen shot shown above) was in town for the announcement, he stopped by the Braves' TV booth during last night's game. At one point the broadcasters asked him about his efforts to grow the sport, and he responded like so:
There's a couple of things that we're working on. Number one, you need third-party partners to support the marketing of the game. You know, next year we're going to have the Nike swoosh on the front part of the jersey — obviously, there's direct economic benefit to baseball from that. But more important, when you have a Nike, a brand like that, marketing your players, supporting that players, that's important.
Of course, Nike could presumably market the players just as effectively if its logo appeared on the sleeve, like the Majestic logo currently does, instead of moving to the chest. (Indeed, Nike appears to have no problem marketing NFL players, despite its logo appearing on NFL jersey sleeves, not chests.) The only difference is that Nike is paying MLB a lot more for the front-facing logo.
In short: Contrary to Manfred's assertion, it's not about marketing. It's just about money.
(My thanks to longtime reader Benji Boyter for bringing this one to my attention.)
• • • • •
• • • • •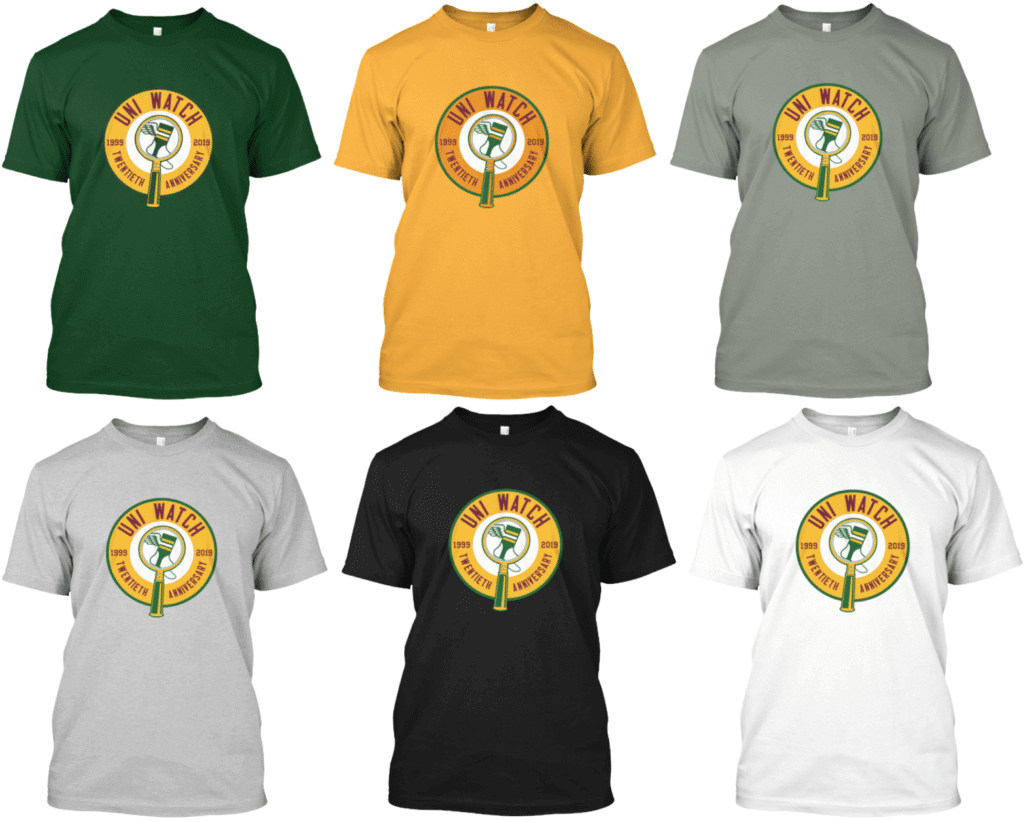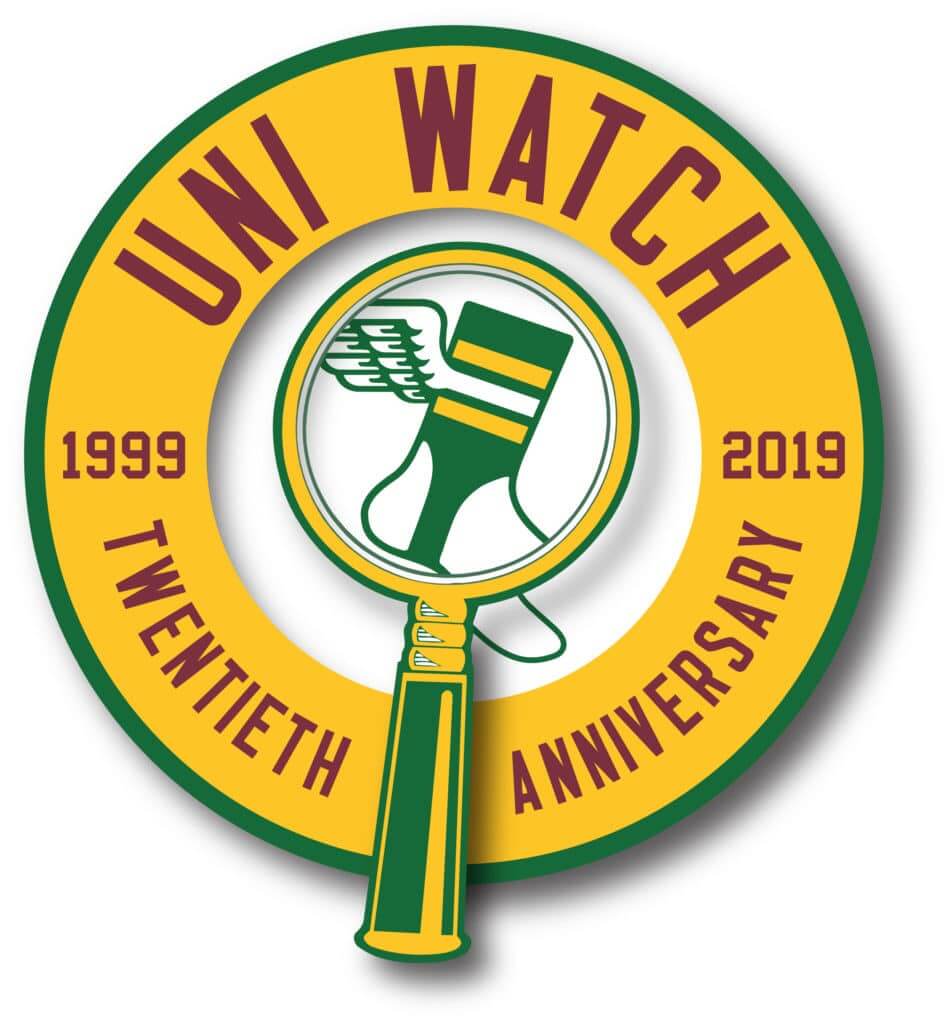 Anniversary update: As you can see above, T-shirts featuring the Uni Watch 20th-anniversary logo are now available and ready for ordering. Long-sleeve tees and hoodies are also available. Here are the links for ordering the green version, the gold version, and various shades of grey, charcoal, black, white, and so on.
In addition, in case you missed it yesterday, the logo is also available as a high-quality die-cut sticker, and you can browse our full range of merch in the Uni Watch shop.
Meanwhile, I'm still looking for a volunteer who'd be willing to keep tabs on the various Uni Watch satellite parties that will take place on June 29. As I mentioned earlier this week, this person would keep a spreadsheet showing all of the party cities, venues, organizers, etc. The spreadsheet could be shared on Google Drive, or something similar, so everyone could see what's going on in their city. People who wanted to organize or host a party could get in touch with this party coordinator, who'd then update the spreadsheet and so on.
If you're willing to be this person, please email me so we can discuss. Thanks.
Party coordinator now hired! More details tomorrow.
• • • • •
• • • • •
The Ticker
By Paul

'Skins Watch: Six Tampa-area schools will no longer use Native American mascots, although two others are keeping them for now (from John Jennings). … Students at an Idaho high school are sharply divided (WaPo link) over whether "Redskins" should continue to be the name of the school's teams (thanks, Phil). … Now that Maine has banned public schools from using Native mascots, here's a look at similar efforts in other states (NYT link) and throughout the sports world. … A Rhode Island fire department has sparked controversy by using a stereotypical Native American caricature as a mascot (from Timothy Finnegan).

Baseball News: Mets 1B Dom Smith has worn No. 22 throughout his short big league career but had a 3 on the back of his cleats Tuesday night (good spot by @chiefstevfe_). … The annual Rickwood Classic was held yesterday in Alabama, with the Birmingham Barons and Montgomery Biscuits both wearing throwbacks (from @NikolaiPopusk19). … How do you dress for a 5k? When it's the Baseball Hall of Fame BASERace 5k in Cooperstown, you wear stirrups, of course! That's 10-year-old McKinley Brei, daughter of longtime reader/contributor Doug Brei. … Yesterday's Ticker noted that Twins P Devin Smeltzer wore beautiful logo-emblazoned stirrups while making his MLB debut on Tuesday night. Closer inspection reveals that the logo on his 'rups appeared to have a "TM" symbol, plus he was breathing Ethier (from Craig Van Someren). … Here's a glimpse of the Women's College World Series sleeve patch on Alabama's softball uniforms (from Griffin Smith). … Meanwhile, for the men's CWS, here's the uni breakdown by manufacturer. … The Springfield Cardinals are going G.I. Joke this Saturday (from Tony Hansel).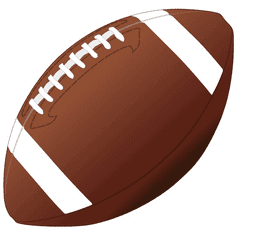 Football News: The Pats have been giving out some position-inappropriate uni numbers. … Naming rights for the new Rams/Chargers stadium apparently won't be as lucrative as originally forecast (from @ThatRodneyGuy). … Here's a time-lapse video showing the installation of new turf, including a new midfield logo, for Southern Illinois (from @MrMichael21).

Hockey News: Instead of soda cases to look like a team logo, how about rolls of colored athletic tape to look like the Bruins' and Blues' socks? (From Marc-Louis Paprzyca.)
.

NBA News: Here's the game-by-game uni schedule, according to LockerVision, for the NBA Finals. Note that Games Four and Six are slated to be color vs. color. … NBA headbands are a thing again (from Pete Svendsen). … Ad creep continues, as the Cavs have now sold the naming rights to two of the entrances at their arena (from Jim Vilk). … The Clippers have reportedly looked into buying the rights to Raptors F Kawhi Leonard's "Klaw" logo from Nike as a way of luring the free agent-to-be to L.A.

Soccer News: The daily download from Josh Hinton: New leaks for Juventus, Celtic, Tottenham Hotspur, Chelsea, Club America, Porto, Lille OSC, and Hansa Rostock, and legit unveilings for KFC Uerdingen, Brighton & Hove Albion, Rotherham United, Preston North End. … A Spanish team is combating racism by using racist slurs that the players have been called as NOBs, including "Monkey," "Nigger," and "Slave." … A Brazilian team has developed a retail jersey with technology that allows fans to hide the jersey's emblem as they leave the stadium, thereby avoiding violent run-ins with rival fans. Perhaps it would be a simpler solution to simply dress like a normal person instead of wearing a jersey. … Atlanta United wore white instead of their "five stripes" kit at home vs. Minnesota United (from Brian Henke). … New uniforms for West Ham United. "You can buy them without the ad on the front, but even the 'unsponsored' version still has the sleeve ad, so they couldn't even do that right," notes our own Jamie Rathjen.

Grab Bag: New uniforms for the Burnaby Lakers and the Victoria Shamrocks of the Western Lacrosse Association (from Wade Heidt). … The construction equipment maker Caterpillar has sent a cease-and-desist order to a California coffee shop over the shop's name, which includes the word "Cat" (from Max Weintraub). … The growth of e-sports has led to larger and larger arenas (NYT link), although many remain skeptical about the industry's future (second link from Trevor Alexander). … In a related item, Walmart is now selling e-sports jerseys. … Delta Airlines employees say the airline's new uniforms are making them sick. … Here's a list of seven corporate logos that caused controversies due to their similarities to other companies' logos. … Warner Bros. Records is now simply Warner Records. The new name comes with a new logo. Additional info here. … The athletics program at Columbia College Chicago is getting a new logo. … A Texas sheriff's deputy has been accused of making a drug deal while in uniform. … A WWII veteran's uniform has been returned to his family in Kansas. … Roger Federer's French Open shoes celebrate his 2009 French title with an apostrophe catastrophe (from Chris Perrenot). … According to The Seattle Times, capers "bring zippy flavor and nutrients to any meal," yet somehow there's no mention of putting them on hot dogs! (Big thanks to Matt Busch.) … New logo for the NLL's Rochester Knighthawks. This is an expansion franchise, as the previous incarnation of the team moved to Halifax (from @AuzzyEli and Jack Goods).
• • • • •
Our latest raffle winner is frequent Ticker contributor Ignacio Salazar, who's won himself a Uni Watch membership card (and who, if his Ticker submissions are any guide, will almost certainly choose a Houston-based design motif for his card). Congrats to him, and big thanks to Marc Cavalli for sponsoring this raffle.