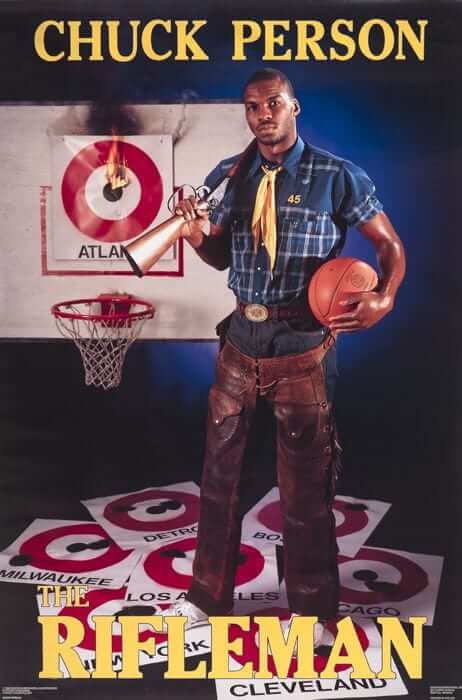 [Editor's Note: Today we have a guest entry from longtime reader Daniel Tarrant, who's going to talk about some uni-notable posters from the 1980s. Enjoy. — PL]
By Daniel Tarrant
If you grew up a sports fan during the 1980s like I did, there's a good chance that at some point your bedroom walls were adorned with what we might call "high-concept" posters featuring the top players of the era.  Instead of action shots from games, these posters would usually play off an athlete's nickname (or at times assign him a new one) and have him pose "in character" in front of something akin to a movie set, with props in hand to complete the image. Sometimes anonymous vanquished opponents would appear face-down in the background to further illustrate the star's dominance.   
Perhaps the most well-known poster of the time featured the "Bash Brothers" — Oakland A's sluggers Jose Canseco and Mark McGuire — dressed in Blues Brothers-style suits, fedoras, and sunglasses and posing with oversized bats and a police cruiser.
These posters were the epitome of 1980s awesomeness. But of course, what is considered awesome in one era may be perceived as goofy or even inappropriate a few decades later (a number of the posters, for example, employ gun-related themes or what could be deemed cultural insensitivity). Today, many of the posters seem kitschy at best and cringeworthy at worst, although many of the images had a self-aware tongue-in-cheek element that remains endearing today — a reminder of a time when sports weren't taken quite as seriously as they are now.
From a uni-watcher's viewpoint, it appears that the various poster companies did not always have the proper licenses in place to show the proper logos and uniforms. Much of the time, they got around this by simply having the player dress in a costume that fit in with the poster's theme or the player's nickname. But at times, the stars were given generic or even somewhat surrealist uniforms that would never be seen in game action or found for sale at your local mall.
One favorite of mine is the getup worn by an obviously embarrassed Vinnie "The Microwave" Johnson. Instead of his Detriot Pistons jersey, he wore a tank top with a Spinal Tap-like dial indicating that "Vinnie Johnson" is one setting above "High":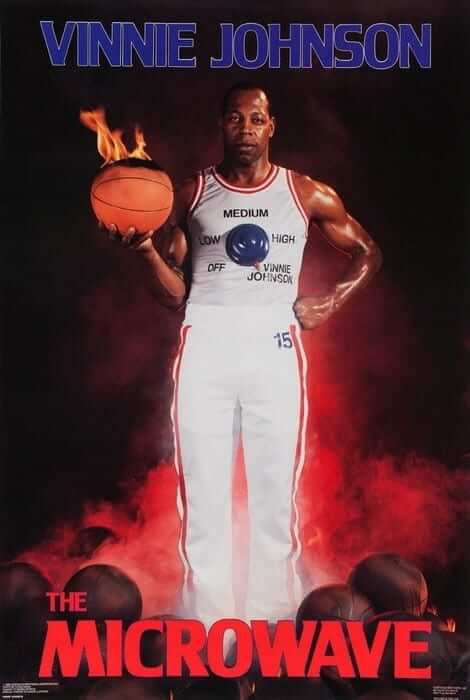 Dominique "The Highlight Zone" Wilkins was featured in a personalized jersey that got his Atlanta Hawks colors correct but for some reason didn't include his number 21: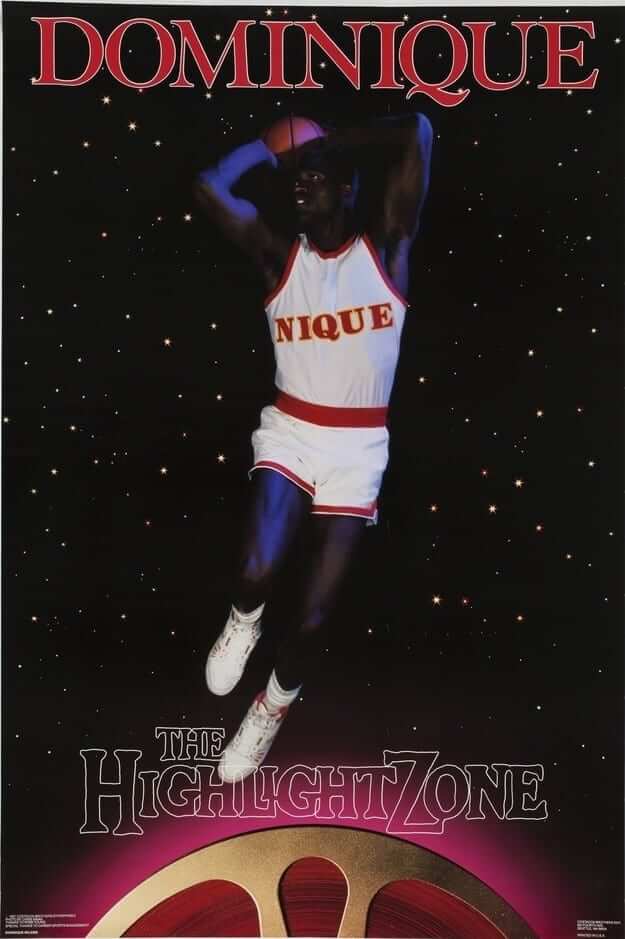 A number of posters simply attempt to put the player in a generic replica of his actual uniform, without the trademarked team names and logos. Note that in this poster of Andre "The Hawk" Dawson, not only does he have a black Cubs uniform, but the photo is framed so that the Wrigley Field marquee in the background just barely leaves the word "Cubs" out of the shot: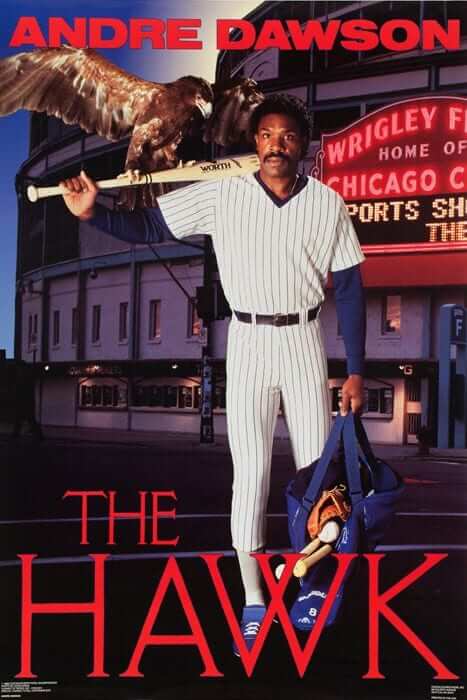 Charles Barkley and Moses Malone were also both given blank versions of the Sixers jerseys of the era: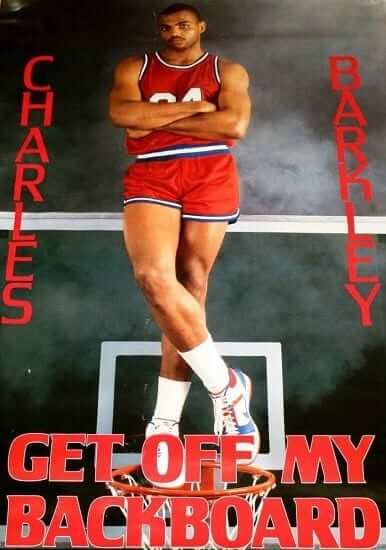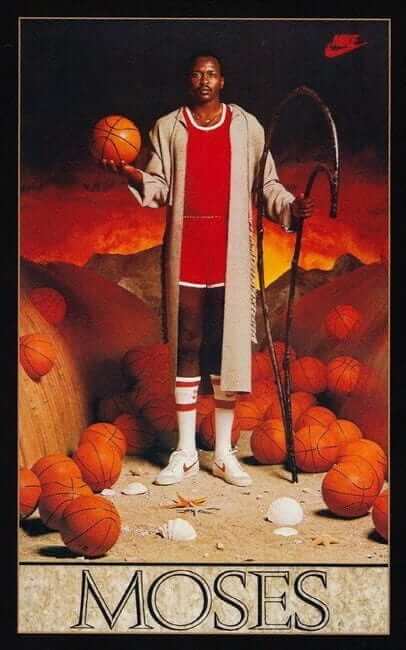 One of the better ways of working around the licensing problem is shown in this poster of James "L.A. Law" Worthy, who wore a business suit while a Lakers game jersey was folded on a nearby desk to reveal only the number. Bonus points for the color-coordinated law books, but minus a point for the blatant product placement: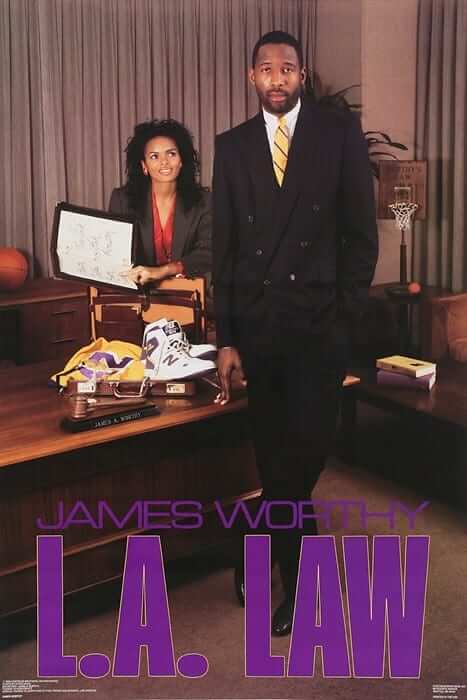 I chuckled a bit at this faux-movie poster showing two Cleveland Browns defensive backs, wearing hybrid football/superhero uniforms, star in a motion picture presented by "Corner Brothers":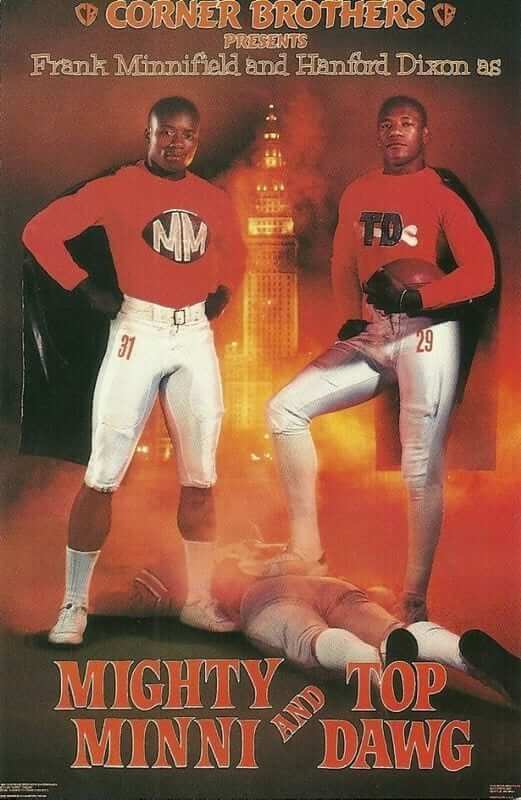 In one of the stranger examples, three Chicago Bears linebackers posed as lifeguards, looming over a player in a generic uniform obviously meant to represent the Green Bay Packers. It's not clear if they just pulled him out of the water or manhandled him on the beach: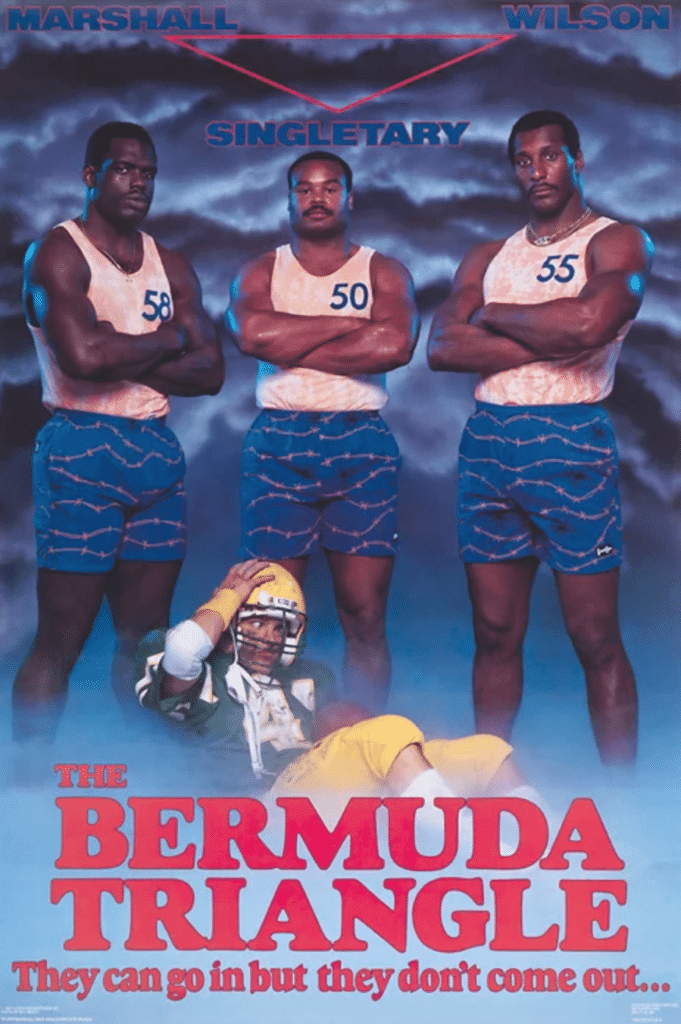 Another creative design features Raiders defensive back Lester Hayes as a judge, presiding over a hapless defendant in a generic (Patriots?) uniform whose nameplate simply reads "W. RECEIVER":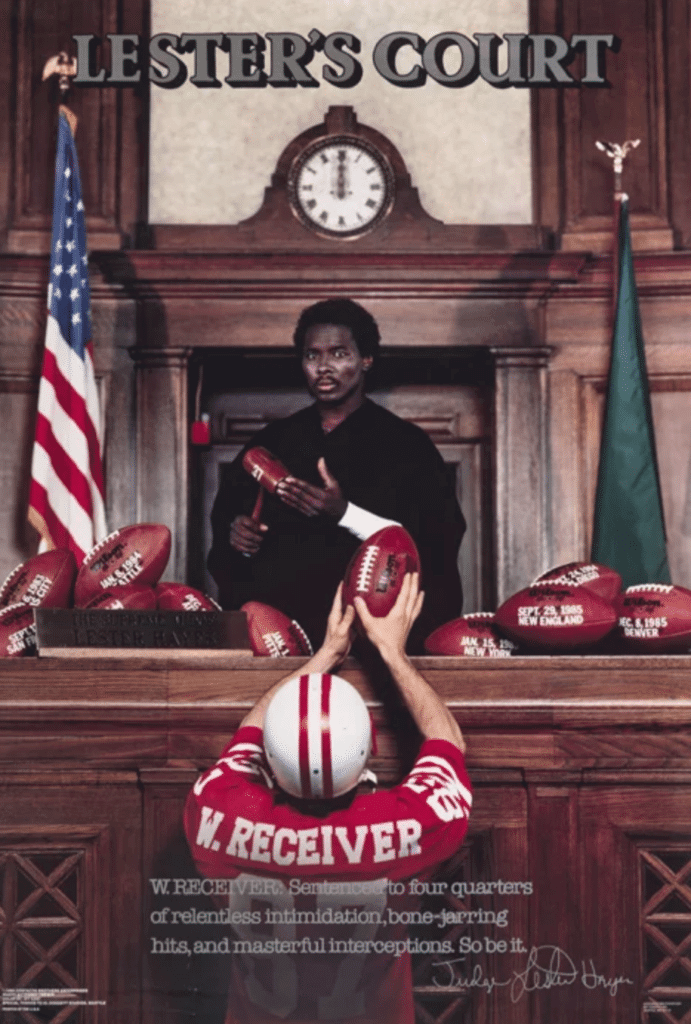 Finishing things up, I don't recall Seattle Seahawks running back Curt Warner ever being known as "The Blade Runner," but that didn't stop him from being depicted in a futuristic football uniform while participating in "Galactic Bowl LIII." I couldn't help but notice that the logo on his helmet calls to mind that of the rock band Weezer, and that apparently in the future, scoreboards will revert back to '80s display technology.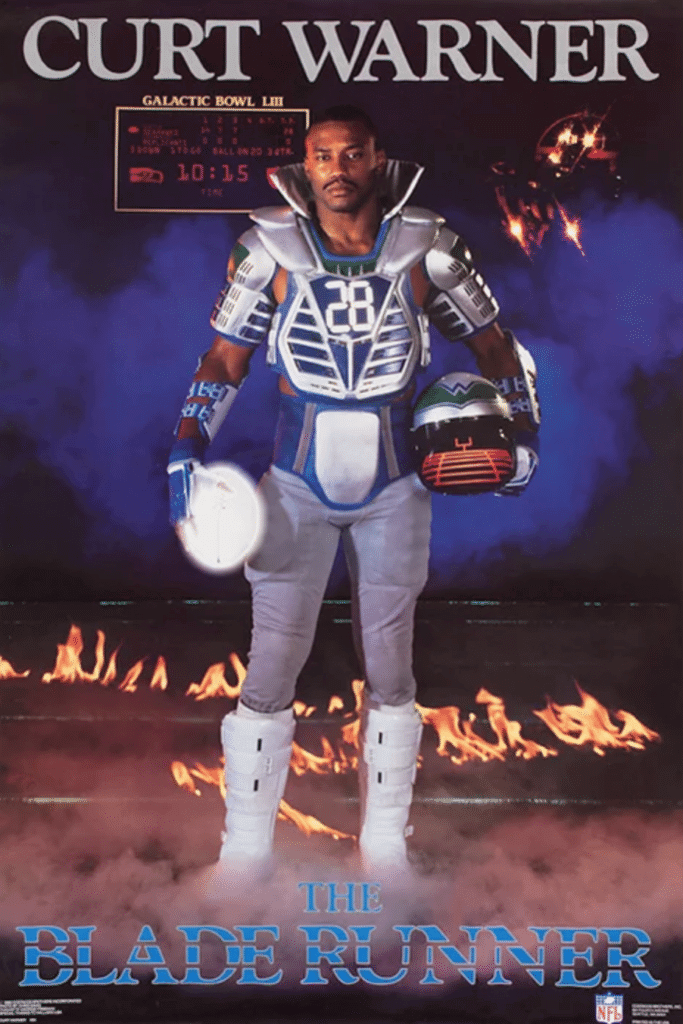 I hope you enjoyed this trip down memory lane.  To see more posters from the era, a couple of pretty good galleries can be found here and here.
• • • • •
• • • • •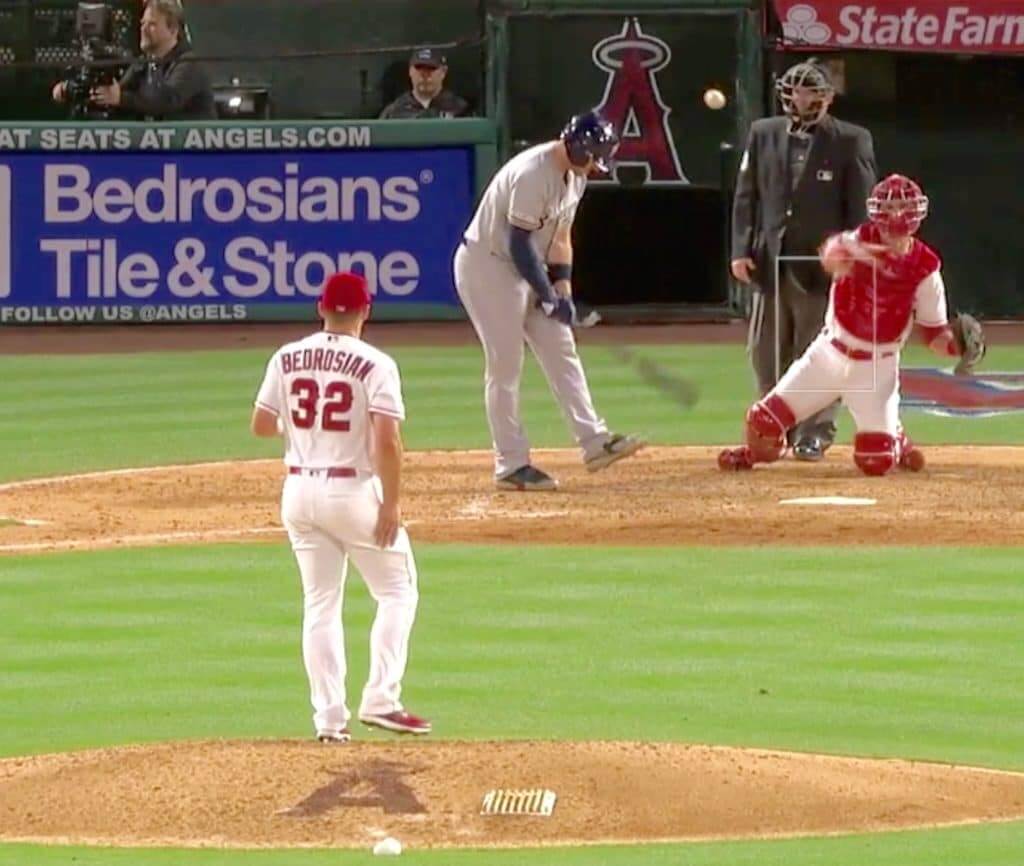 Click to enlarge
Double vsion: Angels reliever Cam Bedrosian entered last night's game against the Brewers in the top of the seventh inning. And lo and behold, an ad for a company that shares his name appeared behind home plate. Coincidence, or player-specific ad campaign?
Bedrosian had pitched in two other home games this season — on April 4 and April 7. As you can see in those photo links, the ads on display during his appearances in those two games bore no resemblance to his name. So maybe last night's ad really was a coincidence — or maybe the company just struck the ad deal a few days ago. Something to watch for the next time Bedrosian appears in a home game.
(My thanks to Brendan Mongey, Mike Monaghan, and @JennieOhMy for bringing this one to my attention.)
• • • • •
• • • • •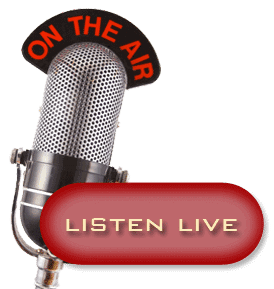 ITEM! Uni Watch on the air: I'll be appearing on the Buffalo radio show One Bills Live today at 1pm Eastern. I'm told that we'll be discussing NFL uniforms in general and the Jets' new set in particular. I believe you can listen to the live stream here, and I'll post a link to the archived audio tomorrow.
One of the hosts of the show is former Bills player Steve Tasker. Maybe I'll bring up his onetime teammate Mark Kelso's ProCap.
• • • • •
• • • • •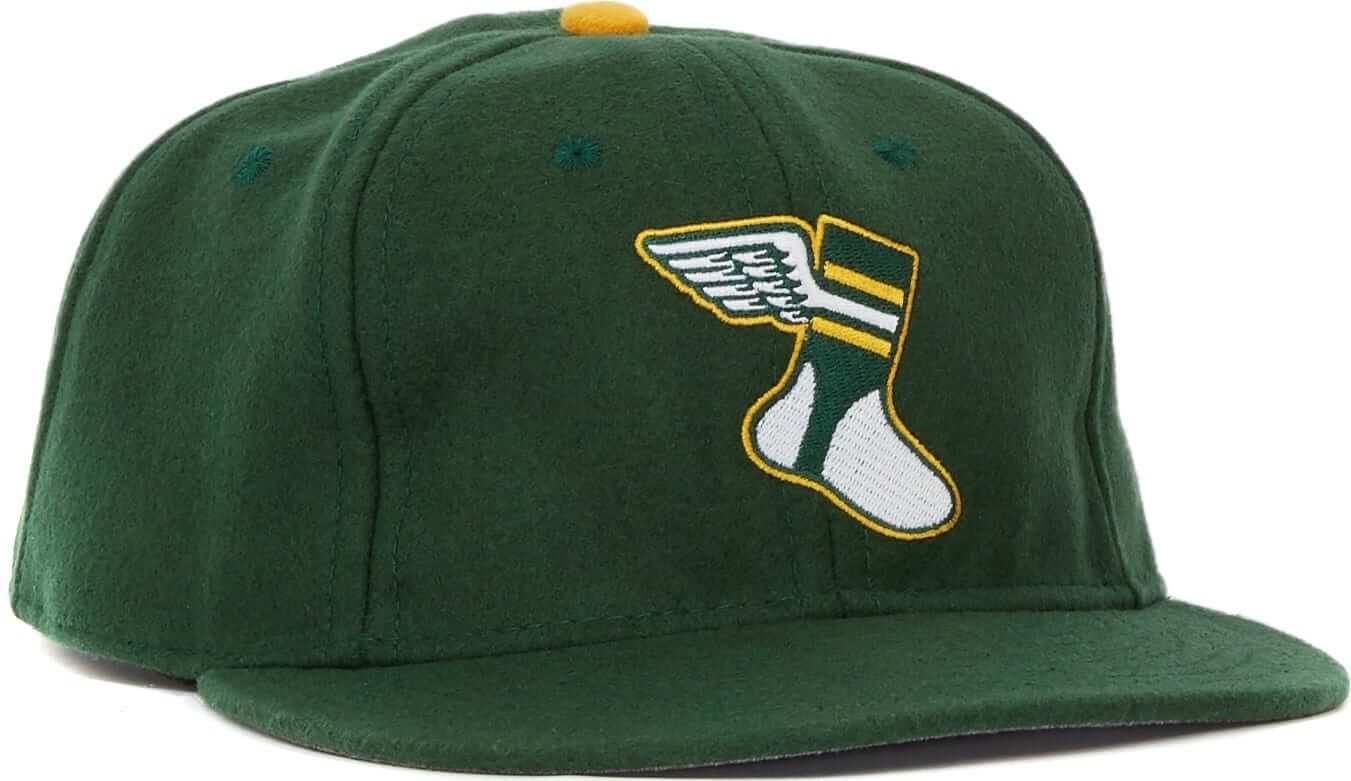 ITEM! Incredibly inspiring cap update: Even since I announced the recent unpleasantness, the Uni Watch community has been pretty amazing at rallying to support the site (and, by extension, me). We've had a big spike in membership sign-ups, plus many people have donated cash or purchased memberships or merchandise for me to raffle off. It's all been pretty amazing to see. And now one of our readers has really gone above and beyond.
Here's the deal: As you may recall, last Friday I mentioned that Ebbets Field Flannels will no longer be selling the Uni Watch Classic Cap (although they'll still be manufacturing it), and that I was going to take over the sales and shipping myself. At the time, I wrote, "I'll have to stock up on cardboard mailers, buy some storage bins for the various cap sizes, and figure out where I'm going to keep all of that stuff in a small NYC apartment. Plus I'll have to start making a lot more trips to the post office."
Later that day, I got an email from card-carrying reader/member Mark LaFountain. He said (I'm paraphrasing here), "I live in a big house, I have a reasonably clean basement, and I'm semi-retired, so I have plenty of time. Want me to handle the packing and shipping for you?"
Is that incredible or what? An extraordinarily generous offer! After a bit of back-and-forthing, I've decided to take him up on it. So our inventory of caps, which Ebbets was going to send to me, is instead on its way to Mark. I've also purchased storage bins, a return-address rubber stamp, a postal scale, and everything else Mark will need to get started in his new role as Uni Watch Cap Fulfillment Manager.
And it gets better: Yet another generous reader, who works in the corrugated box biz (and prefers to be anonymous, so I won't name him here), is creating some mailer boxes for us, gratis. He'll be sending those to Mark shortly.
The upshot of all this is that caps should once again be available for ordering, in all sizes from 7 through 8 (plus adjustable), by the middle of next week. I'll let you know when we're open for business. I'm not yet sure what the price will be, but it'll likely be less than the $49 that Ebbets was charging.
I can't even begin to express how grateful I am for this assistance and support. You people — all of you people — are the best.
• • • • •
• • • • •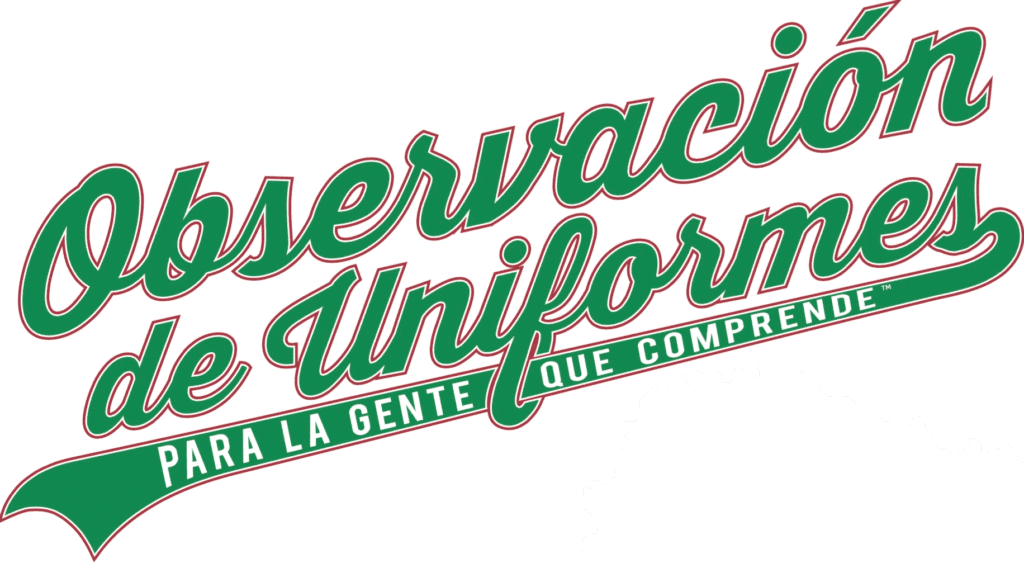 Click to enlarge
ITEM! 'Tis the season: Don't look now, but Cinco de Mayo is just a few weeks away, which means it's the perfect time for our Uni Watch Spanish-language T-shirt, available in a wide range of colors (click to enlarge):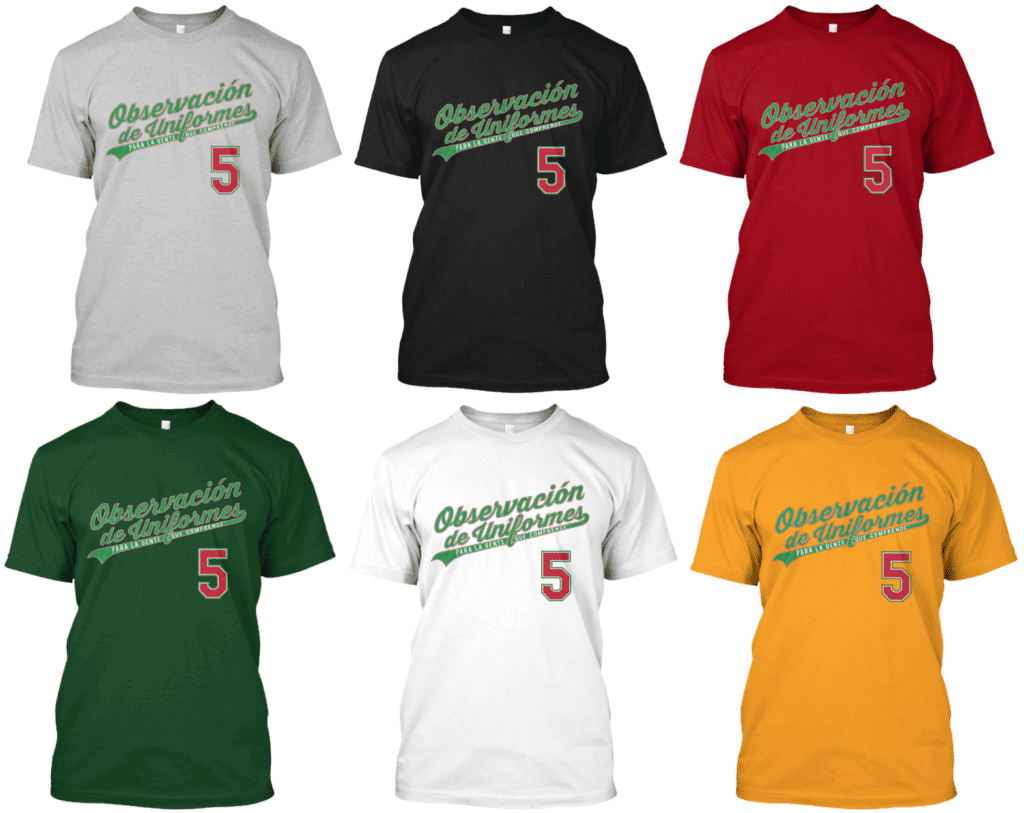 You can order it here.
While we're at it: In case you missed it on Monday, we have a new pair of T-shirts, rendered in the classic Goodyear type font called Wingfoot Sans, and featuring our own winged stirrup instead of Goodyear's winged foot (click to enlarge):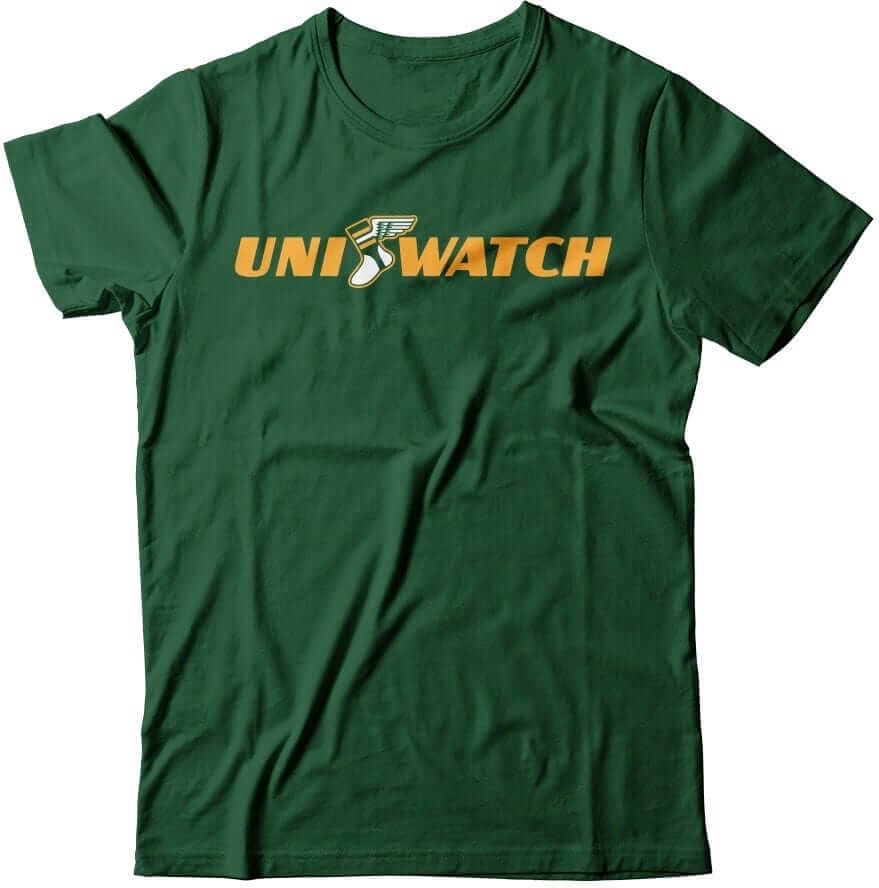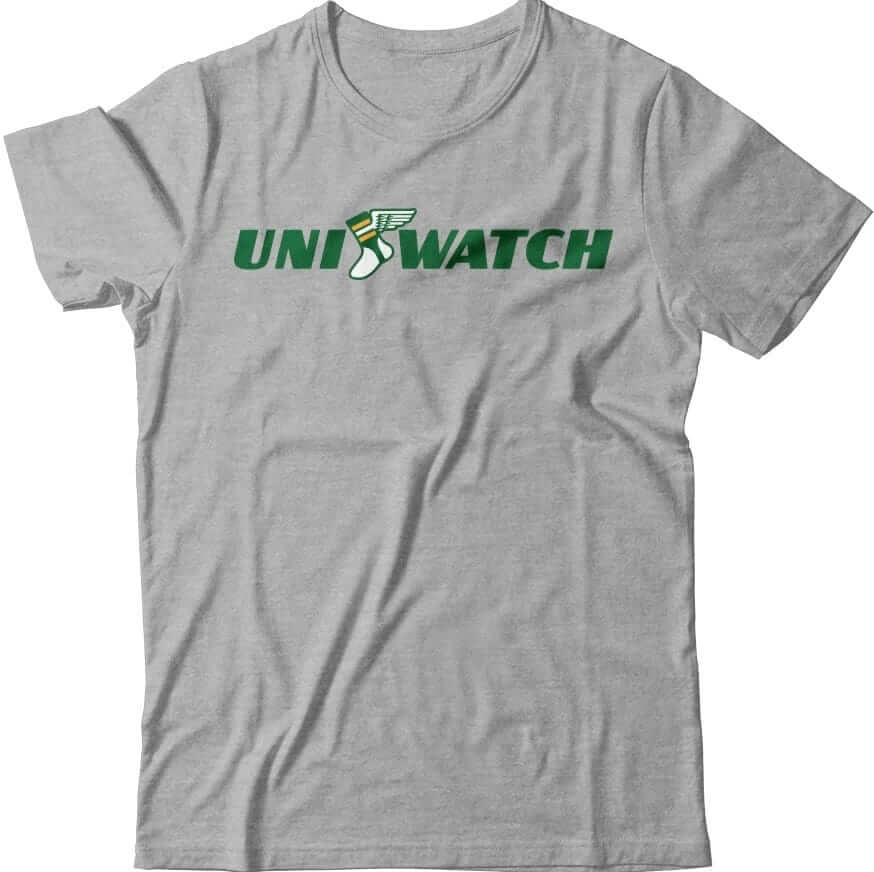 Here's where you can order the green one and the grey one. My thanks, as always, for considering our products.
• • • • •
• • • • •
The Ticker
By Lloyd Alaban

Baseball News: Looks like the Astros have gone to a 3D helmet logo for 2019 (from Noel Tovar). … The Red Sox wore gold-trimmed uniforms and a championship sleeve patch (but not MLB 150 patch) for yesterday's home opener. … Speaking of the Sox, here are the rings they received prior to yesterday's game. More details here (from multiple readers). … Trophy Brewing in Raleigh, N.C., has released a beer with a package design imploring MLB to bring a team to Raleigh (from Will Gad). … MLB is selling a tote in the style of the Phillies' 1974-86 uniforms (from John Cerone). … Color vs. color for Florida and Florida State yesterday (from @fifthquartercfb). … No photos yet, but the Jupiter Hammerheads, Single-A affiliate of the Marlins, will be wearing themed jerseys for Star Wars Night on April 13. … Pitt State and Northeastern State both wore black unis on Sunday for Jake Clark Melanoma Awareness Day. Clark, who was on Pitt State's baseball team, died from melanoma last season. Both teams also wore memorial shirts featuring Clark's No. 10 during warmups (from Ryan Atkinson). … The Avon Police Department in Avon, Ill., is using a logo similar to the logos the Astros wore from 1994-99 (from @johnfauxremus). … Speaking of the Astros, a woman who was hit by a T-shirt cannon while attending an Astros game is suing the team.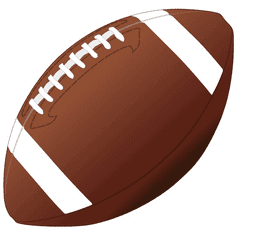 Football News: Yesterday, we reported that Ravens CB Marlon Humphrey would be changing numbers, but didn't have word on what the new number would be. We now know that Humphrey will wear No. 44 after giving up his No. 29 to new teammate FS Earl Thomas. Humphrey chose 44 to honor his father Bobby Humphrey, who wore that number with the Dolphins (from multiple readers). … Here's some of the NFL apparel they're selling in Wales (from Sonny Lee Smith). … The Chiefs announced their preseason schedule with a graphic featuring old-school helmet artwork (from Matt, who didn't give his last name). … Last year, a website called FanJuicer.com ranked every NFL logo based on a marketing research technique called MaxDiff. Now the website's founder is on Reddit asking users to do the same with the league's home uniforms. … Here's a vintage Thanksgiving- and football-themed Saturday Evening Post cover from 1928 (from Rex Henry). … Air Force is running their own bracket to let fans decide their best helmet. … Here's a photo of Clemson's first football team. They've done pretty well for themselves since then (from Scott Rhymer).

Hockey News: Blues G Jordan Binnington received some custom goalie pads from hockey equipment brand CCM in the Blues' alternate colors (from Derrick, who didn't give his last name). … Mike, who didn't give his last name, found these Atlanta Thrashers sticks at a Dollarama in Hamilton, Ont.

Basketball News: With Mavs PF Dirk Nowitzki playing his last home game last night, fans were given a Nowitzki shirt and mask. A commemorative ticket was also available (from multiple readers). … Cavaliers SF/SG Cedi Osman accidentally lost his mouth guard during a free throw attempt last night (from Mike Chamernik). … Pelicans PF/C Anthony Davis, who has been rumored to be leaving the club and has had his name thrown around for Space Jam 2 wore a shirt that read, "That's all folks!" for last night's game, which will presumably be his last home game with the team. … PG Jonathan Gibson will wear No. 8 with the Celtics (from Etienne Catalan). … The Timberwolves are prepping for Sunday's Game of Thrones season premiere by releasing GOT-themed merchandise and renaming their Twitter page after an animal from the show (from multiple readers). … The Sixers are bringing back their Phila Unite campaign for the playoffs. The campaign features the Sixers' "severed snake" alternate logo, stadium branding, and apparel (from Michael Barkann). … The Phoenix Mercury of the WNBA are holding tryouts for their all-male practice squad. Here are the jerseys the men will wear. If you're curious on what a male practice squad on a women's team entails, here's more information (from Andrew Joe Potter). … Yesterday we showed you the WNBA's new logo. Here's what their new draft logo looks like (from @TheSkyShowCHI). … BHeat SG Dwyane Wade received this jersey commemorating his final home game in Miami (from James Gilbert). … Here's the final March Madness uniform bracket (from Brandon Wright-Rowan). … And here's the final March Madness uniform bracket by color (from Alex Gerwitz).

Soccer News: Here's Brazil men's away kit for the Copa America tournament (from Conrad Burry). … Italian soccer club AC ChievoVerona have tweaked their home shirts numerous times this season: Everything from alternating the position of buttons, badges (including a double-badged version), and advertisers (from Alvin Nguyen).

Grab Bag: Syracuse men's lacrosse wore throwbacks last night (from Michael Barkann). … Here's what Army men's lacrosse will wear against Navy on Saturday (from @LaxSportsNet). … Here's what golfer Tiger Woods is wearing at the Masters Tournament this week, along with a clip of him explaining his choice to wear mock turtlenecks (from multiple readers). … In addition, people are apparently freaking out over Woods's new shirt logo (from Douglas Ford). … Here's golf journalist Ron Sirak's 30-year collection of press credentials issued to him at the Masters. … Here is Australia's Cricket World Cup uniform. … Here's a USA Today article on the stories behind America's corporate logos. … This Instagram account calls out celebrity pastors for their pricey sneakers (from Jason Eudaley Brown). … The US Marine Corps is debating on whether or not to allow Marines to use umbrellas with their uniforms, among other uniform additions. … Univision sold a bunch of websites to a private equity firm earlier this week. One of those websites is Clickhole, so a Clickhole writer let Univision have it regarding their logo (from Jason Hillyer). … New Anzac Day uniform for the Aussie football team Collingwood (from Jeremy Brahm).
• • • • •
Congrats to our latest membership raffle winner, reader Blair Hough, and big thanks to reader Judy Adams for purchasing and donating this membership.