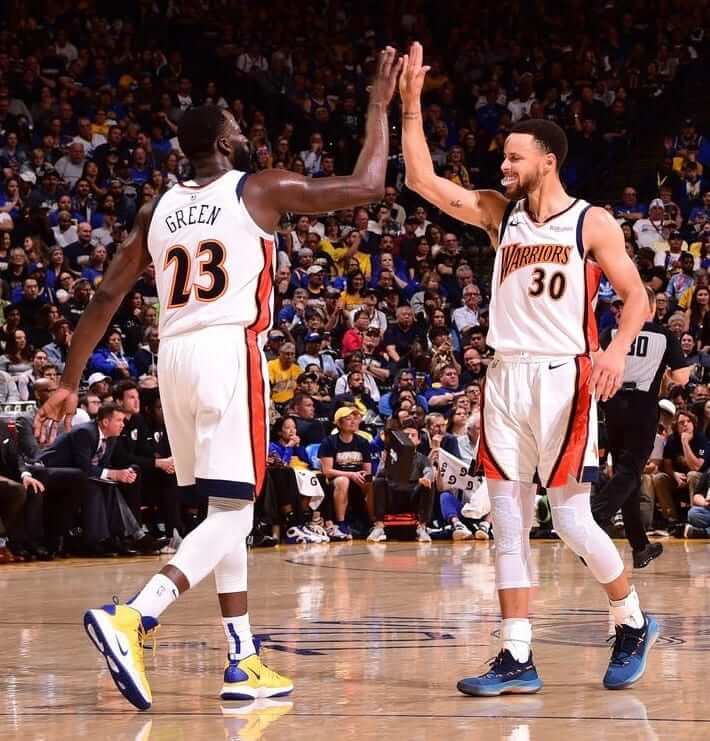 The Warriors are moving to a new arena in San Francisco next season, which means yesterday was their final regular season game in Oakland. Some teams might have worn a jersey patch for the occasion but there's no room for a patch because of the fucking uni ad and maker's mark the Warriors wanted to do something more special than that, so they broke out a set of "We Believe" throwbacks — the uniforms that the team wore from 2001 through 2010 — for their game against the Clippers. Additional pics here.
Honestly, I've never loved this design (it's certainly not as good as the team's current look), although I understand why fans have a soft spot for it. In any case, it was weird to see it with the ad and the manufacturer's logo:
By my count, this makes seven different uniforms that the Warriors have worn during the 2018-19 season (click to slightly enlarge):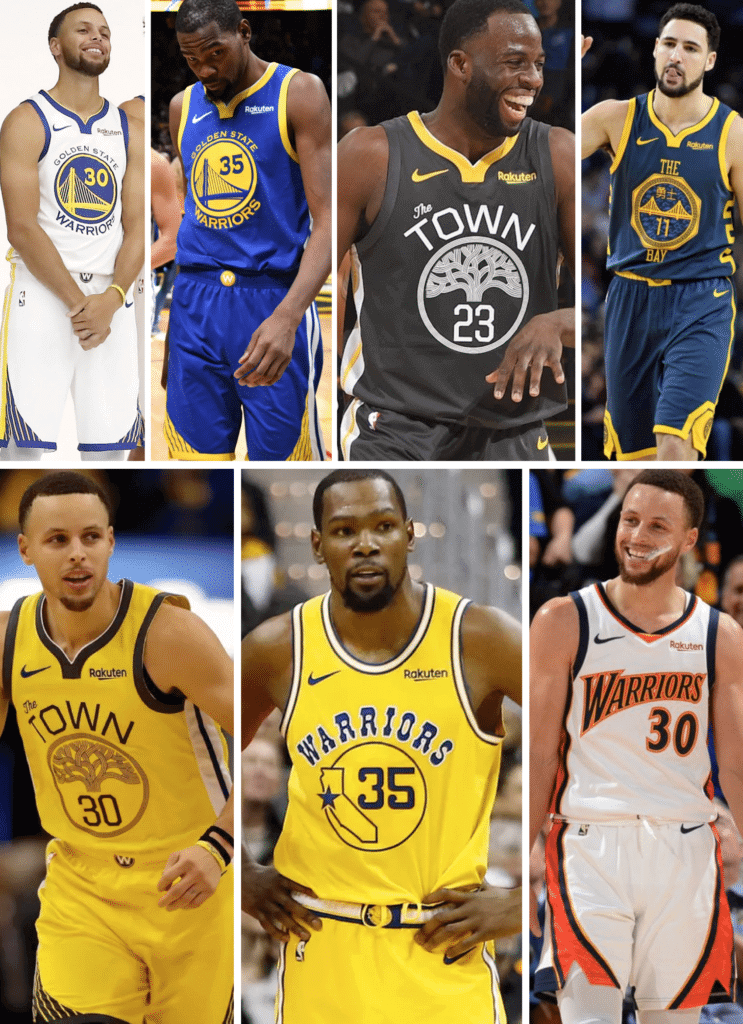 The Warriors also commemorated their 47 seasons in Oakland by raising a "47" banner:
I'm not really a fan of retiring numbers for anything other than players, but this is still a nice gesture to the Oakland fans.
• • • • •
• • • • •
New Pitt designs: In one of the uni-verrse's worst-kept secrets, Pitt revealed new colors, logos, and uniforms for its entire athletics department yesterday. Here are the new logos:
The official new #Pitt logos 🔥🔥🔥 pic.twitter.com/cl7pSfRxwO

— Chris Mueller (@bychrismueller) April 7, 2019
Here's the new look for the football team:
The Reveal: Pitt Football

Our City. Our School. Our Colors.#H2P pic.twitter.com/XoCamwtVxH

— Pitt Football (@Pitt_FB) April 7, 2019
Pitt now has Pennsylvania shaped warning decals on their helmets.@PhilHecken @UniWatch @GreenGridiron pic.twitter.com/YP1JZJSxuy

— Clint Richardson (@Clintau24) April 8, 2019
In addition, there are new uniforms for men's and women's basketball; men's and women's soccer; track and field/cross country; and a lot more.
There are lots of photos of just about every Pitt team's new look here, and there's more about the redesign process in this video:
• • • • •
• • • • •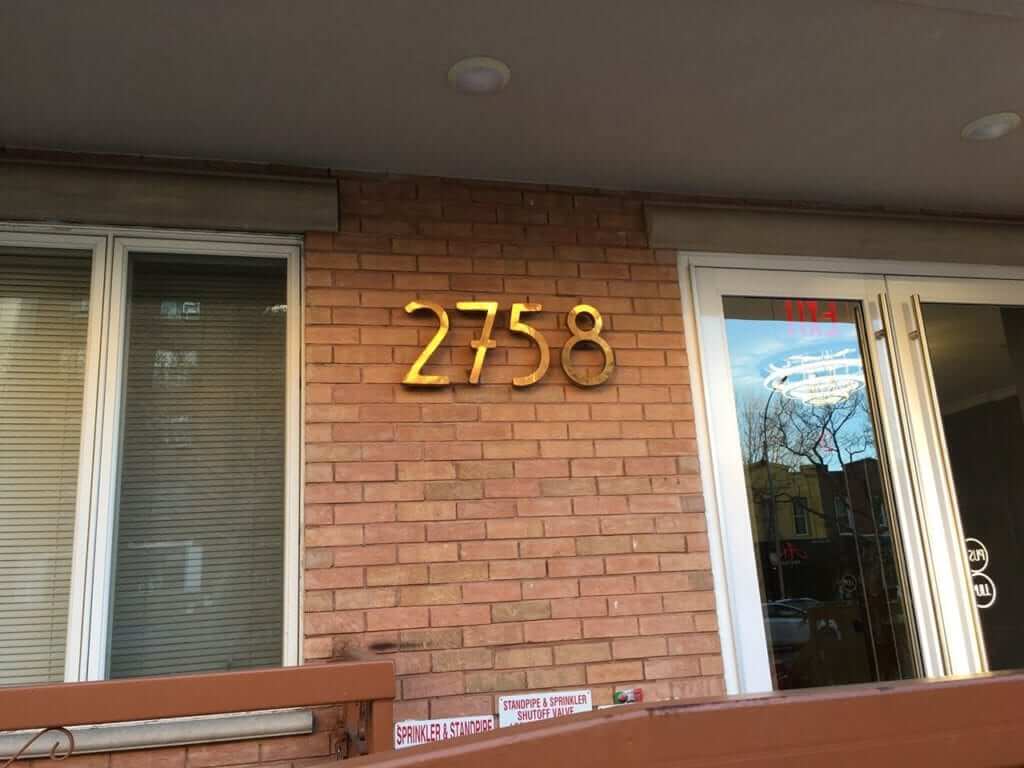 Click to enlarge
Lucky Seven: I was walking around outer Brooklyn on Saturday and saw the house shown above. Pretty sure this is the first time I've ever seen a house number with a European-style 7. Has anyone else out there ever seen such a house? Does anyone out there live in such a house?
• • • • •
• • • • •
ITEM! New T-shirts: I don't know why this hadn't occurred to me before, but I was looking at the Goodyear logo the other day and thinking about how our winged stirrup logo is a lot like their wingfoot logo. It turns out that there's actually a Goodyear font, called Wingfoot Sans, so I had Bryan Molloy, who designed the winged stirrup, come up with these (click to enlarge):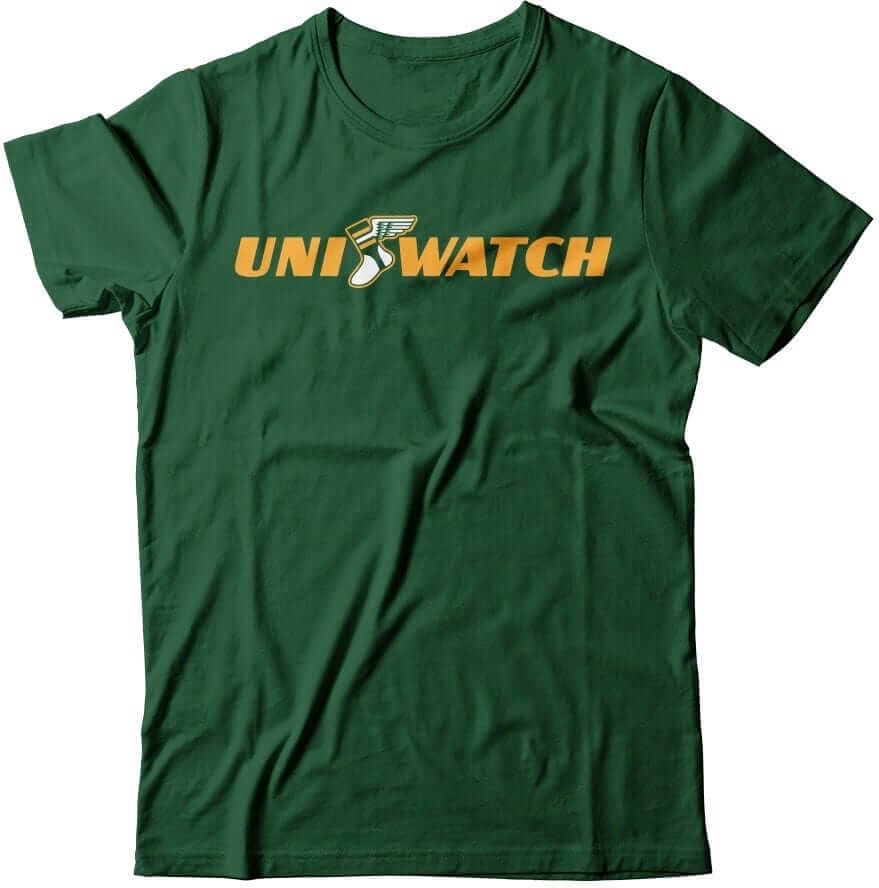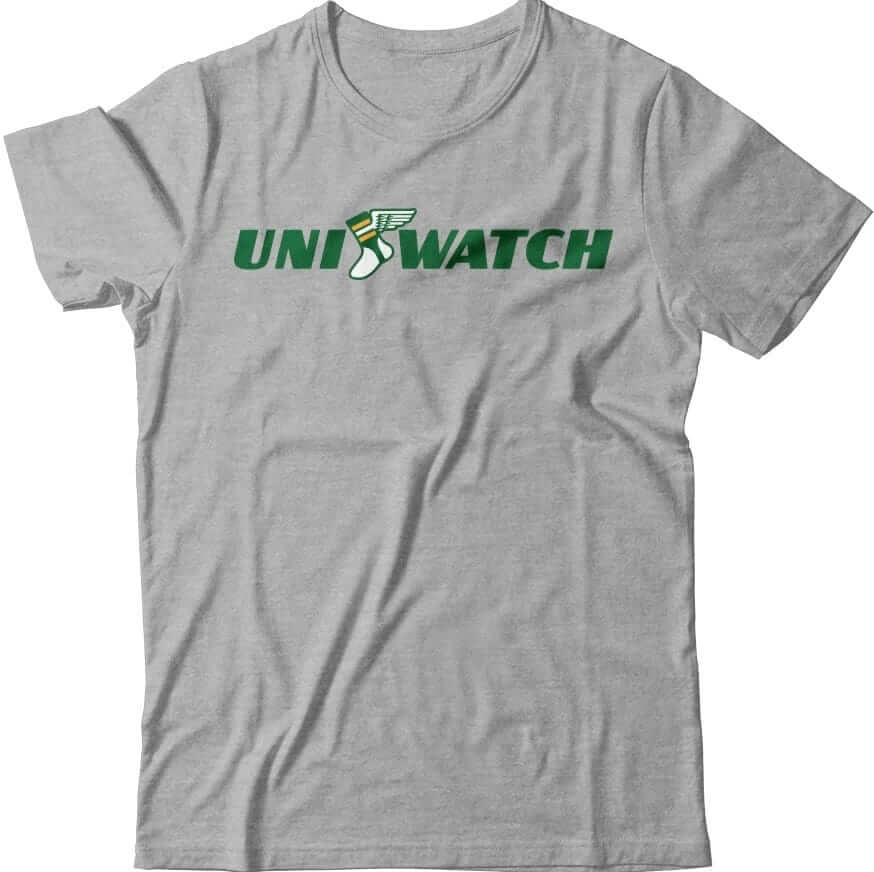 Cool, right? Here's where you can order the green version and the grey version.
As you may recall, we did a blimp-themed T-shirt, designed by the great Sean Kane, two years ago. But that design didn't use Wingfoot Sans (I don't recall if Sean and I discussed it, or if I even knew at that point that Wingfoot Sans existed), and for some reason it also didn't include the winged stirrup (which had debuted earlier that year). I loved Sean's shirt, but I love these new shirts even more.
Again: Green available here and grey available here. My thanks, as always, for considering our products.
• • • • •
• • • • •
The Ticker
By Jamie Rathjen

Baseball News: Indians P Mike Clevinger wants the team to bring back red pants (from Tony Crespo). … Diego Bauzá went to the Mets game yesterday and got an ice cream helmet, which he says now has a squatchee but also a New Era logo (look carefully). … The Astros apparently have new socks for their blue alternates. … We haven't mentioned that Mariners P Mike Leake, who has worn No. 8 for the Cardinals in the past, also does for his current team (from Jeremy Brahm). … The Triple-A Buffalo Bisons wore their Blue Jays-style throwbacks for the first time this season (from Jeremy Shermak). … In this commercial, former Brewers 1B Cecil Cooper is wearing what Chris Rucinski says is a giveaway jersey (the Brewers are having a giveaway of Cooper's jersey in July) with an ad patch on the sleeve. … The Reds wore their red jerseys in Pittsburgh yesterday. "Quite rare to see them wear red on the road," says Ralph Domingo.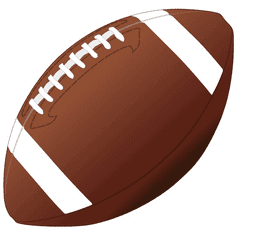 Football News: Reader Gene Sanny is back with another pencil topper helmet (see yesterday's entry for more): a Raiders helmet based on that worn by QB Ken Stabler. … If you happen to want a crystal-covered Notre Dame helmet, the school's bookstore has made it your lucky day (from @therealpiku88).

Hockey News: The city of Denver put up Avalanche NOB/number banners in one of its squares (from Zeke Perez Jr.). … Also posted in Grab Bag: Golfer Corey Conners is Canadian and has a Maple Leafs logo on his yardage book (from multiple readers). … There's a new statue of former heavyweight boxer Chuck Wepner — the inspiration for the Rocky movies — in his hometown of Bayonne, N.J. Oddly, Wepner posed for a photo with the statue while wearing a University of Maine hockey jersey.

Basketball News: Cavaliers PF Channing Frye announced he is retiring, so teammate Kevin Love briefly wore Frye's jersey from Arizona when entering last night's game against the Spurs. "Would not surprise me if this becomes a trend moving forward," says Mike Chamernik. … Michael Frazier will wear No. 5 with the Rockets. … Todd Robison, grandson of former Texas Tech coach Polk Robison, wore his grandfather's old 1950s coaching jacket to the Final Four on Saturday (from Tyler Conway). … The Empire State Building was lit up in the colors of the Final Four teams on Saturday, and will be today in the colors of Virginia and Texas Tech. … Virginia's equipment manager posted a picture of G Kyle Guy's blue jersey with a Final Four patch. It's unclear whether that was a hint that Virginia is wearing blue today. … Wahoowa!

Soccer News: German team VfB Stuttgart wore their 125th-anniversary throwbacks for the second time, but with a message saying "Chest out" — the second half of the German equivalent of "chin up" — "for inclusion." By coincidence, the number font even included a crossed seven, which is less common in typefaces than handwriting (from Josh Hinton). … Scottish team Dundee's pitch was Northwestern-striped both horizontally and vertically this weekend. … FC Cincinnati and Sporting KC both wore blue (from Blake Sjerven). … This video for the French national team's centennial shows many of the team's shirts since the '60s, including the green and white stripes borrowed from a local Argentine team to avoid a clash with Hungary at the 1978 World Cup (from @Ry_Votro).

Grab Bag: Ohio State and Penn State men's lacrosse both wore chrome helmets (from Ryan James). … Cross-listed from the hockey section: Golfer Corey Conners is Canadian and has a Maple Leafs logo on his yardage book (from multiple readers). … Uni Watch ACC tracker Rex Henry found a website with team color codes for the big four sports, NCAA Division I, and some soccer leagues.
• • • • •
Our latest membership raffle winner is reader Jim Ellwanger, who won the free membership that was generously donated by Steve Fidrych. We'll raffle off yet another free membership, donated by yet another generous reader, tomorrow.