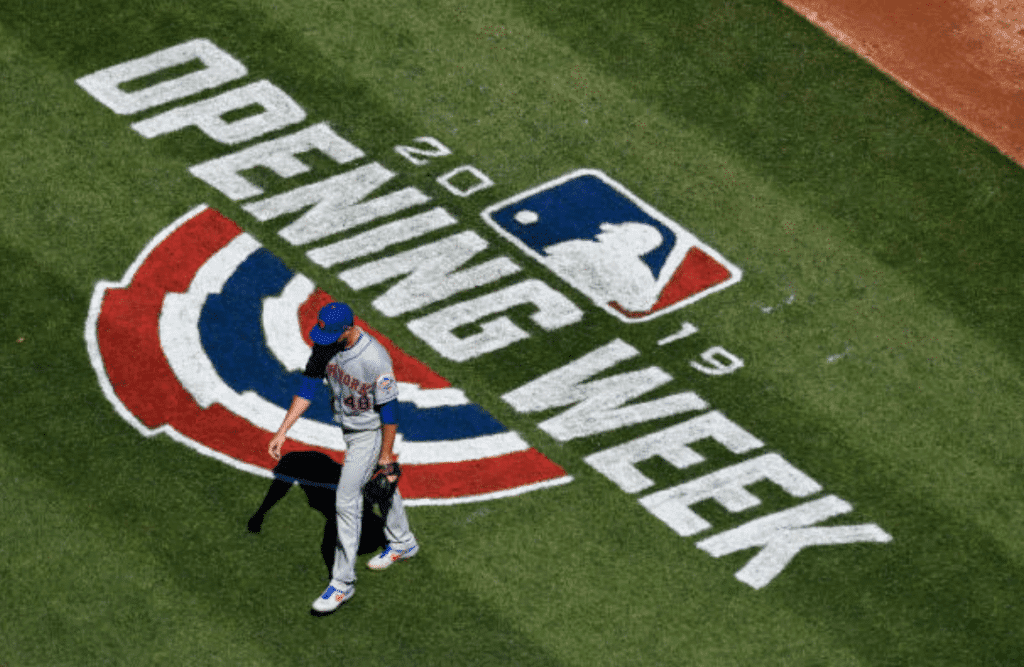 The MLB season, which technically began last week in Tokyo, kicked off in earnest yesterday. As we had been led to expect, all uniformed personnel wore the MLB 150 patch on their sleeves (where it will remain all season long) and their caps (which was only for Opening Day and will not be done again, although I bet we see a few players wearing these caps for additional games, whether due to superstition or just carelessness). Although the A's and Mariners played two games in Japan last week, they did not wear these patches for those games, so this was MLB 150's on-field debut: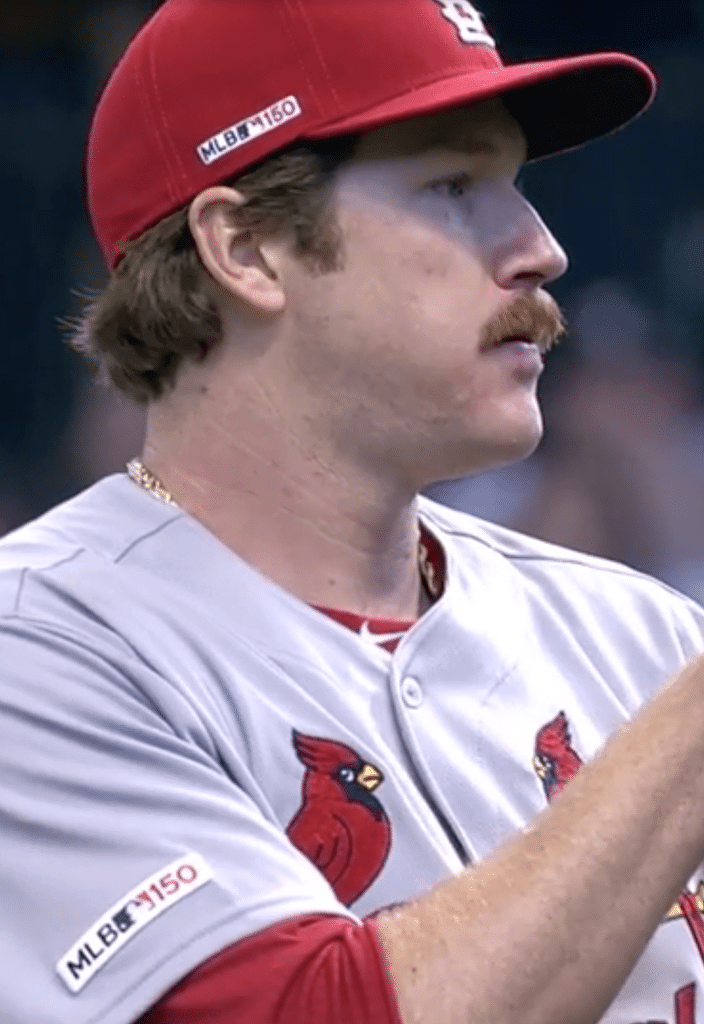 Almost every game featured something uni-notable, so let's take a game-by-game look at yesterday's action around the majors:
Mets at Nationals
The Nats have a new design for their batter's eye (but for some reason still have last year's All-Star Game logo on display):
@UniWatch @PhilHecken new batter's eye at Nats Park #OpeningDay pic.twitter.com/el9ZqOZndP

— Mike Bilder (@Bilder_CEM) March 28, 2019
In addition, the Nats had a nice tribute and a moment of silence for Frank Robinson (the team's first manager in DC). But contrary to what some folks expected, they did not add a one-day memorial patch for him.
Meanwhile: I don't much care about what fans wear, but it seems vaguely noteworthy that a bunch of Nats fans chose to make statements with their overpriced Bryce Harper polyester shirts:
congrats, you got him. you got Bryce. pic.twitter.com/Sr0mjOa1vh

— SNY (@SNYtv) March 28, 2019
Nameplate MNBNOB over sewn on NOB on @Nationals #OpeningDay @UniWatch @PhilHecken #OnePursuit pic.twitter.com/kMfXzfM9zT

— bryanwdc (@bryanwdc) March 28, 2019
This guy is sitting in front of my brother. pic.twitter.com/R1ZOa5OkyY

— Richard B. Rogers (@1995hoo) March 28, 2019
Orioles at Yankees
The Yankees waited until Opening Day to announce that they're adding a black armband for Mel Stottlemyre, who died in January. It will be worn all season long: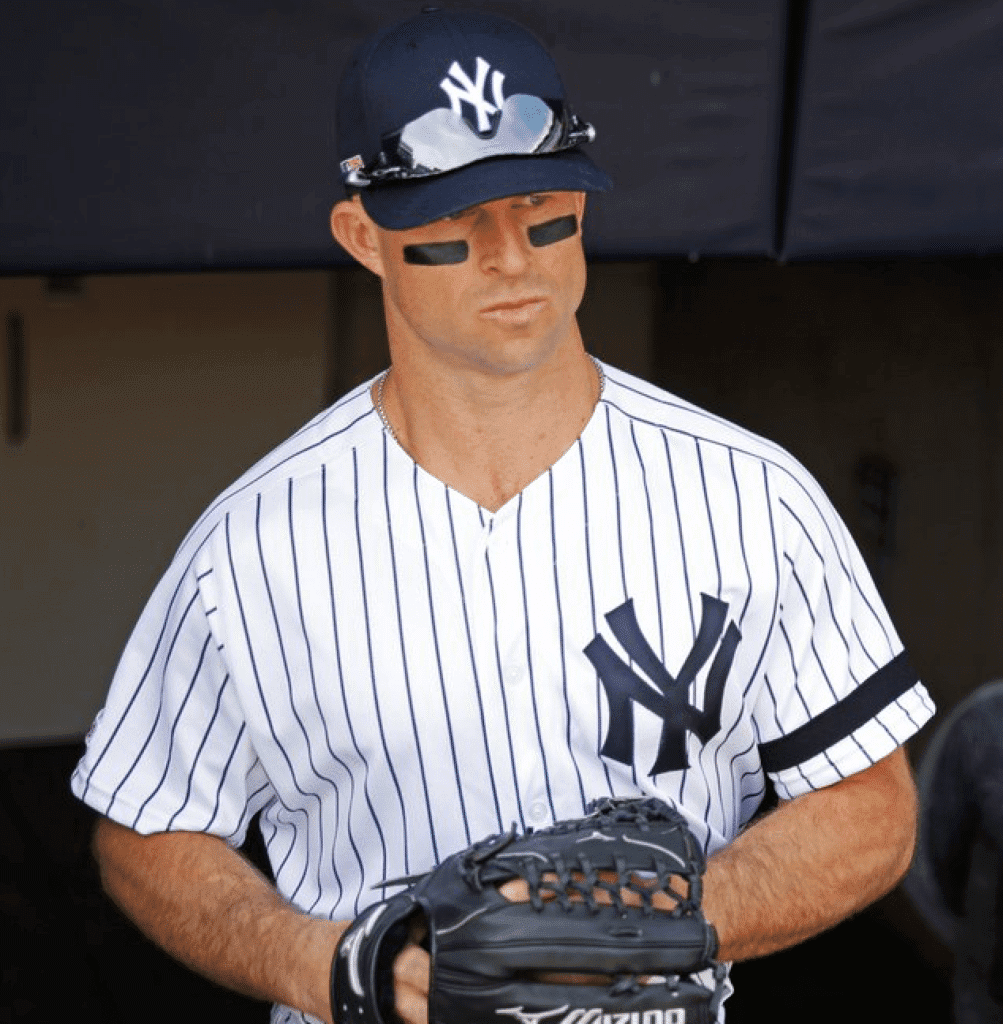 Also: Reliever Adam Ottavino officially became the first Yankee ever to wear No. 0. We've known for months that he'd be doing this, but it still looked jarring: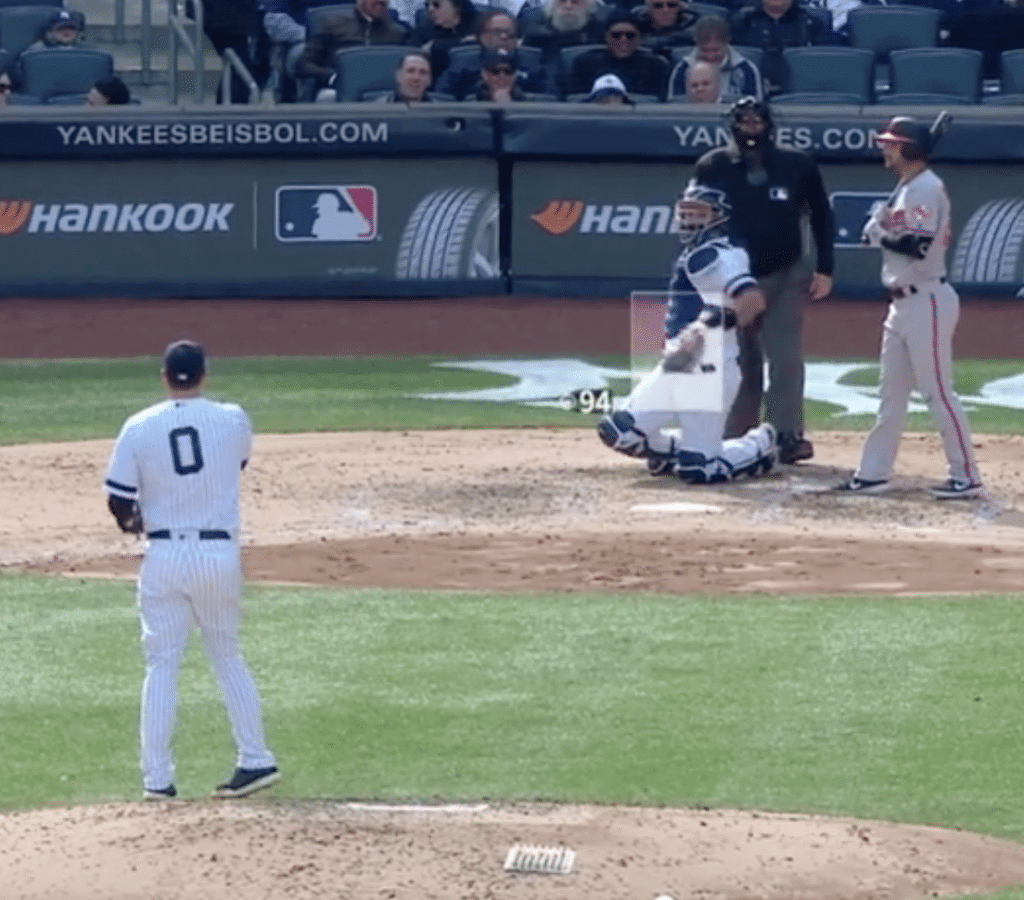 Cardinals at Brewers
Former Brewers greats Robin Yount and Rollie Fingers threw out the first pitches while wearing throwback jerseys — an era-appropriate pullover for Yount but an era-inappropriate button-front for Fingers: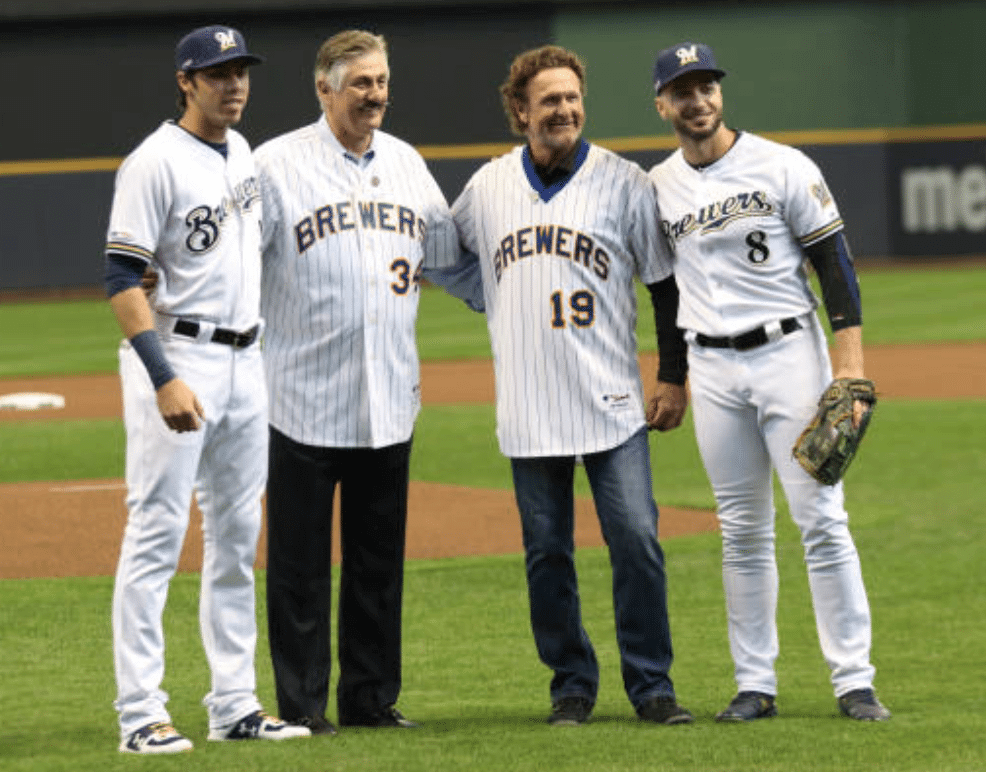 Similarly, Yount's was properly NNOB, while Fingers's jersey had an NOB.
Braves at Phillies
Bryce Harper made his Phillies debut wearing some ugly-ass Phanatic phootwear and stirrups: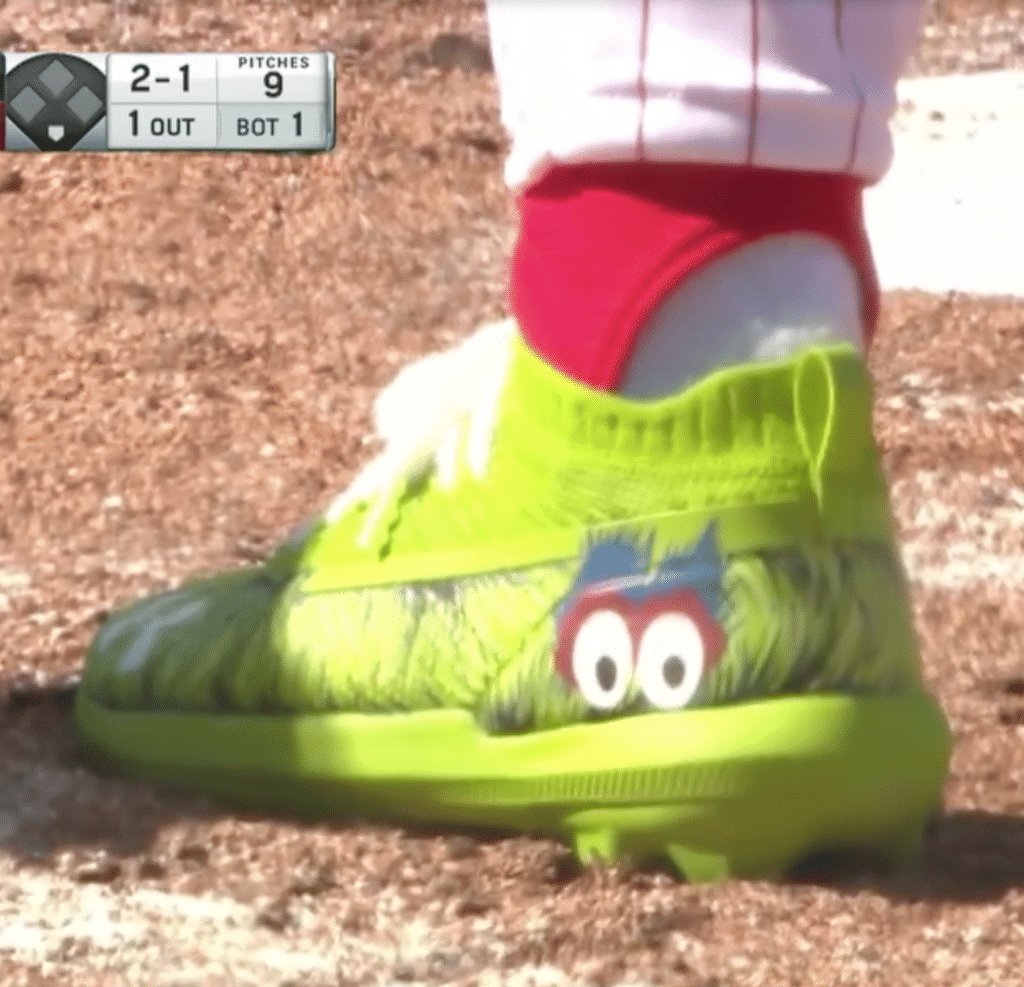 I've never understood that look. If you're going to go to the trouble of wearing stirrups, why not show them off a bit more by going higher-cuffed?
Cubs at Rangers
The Rangers have had a Texas flag sleeve patch for many years. But now it has a gold outline (click to enlarge):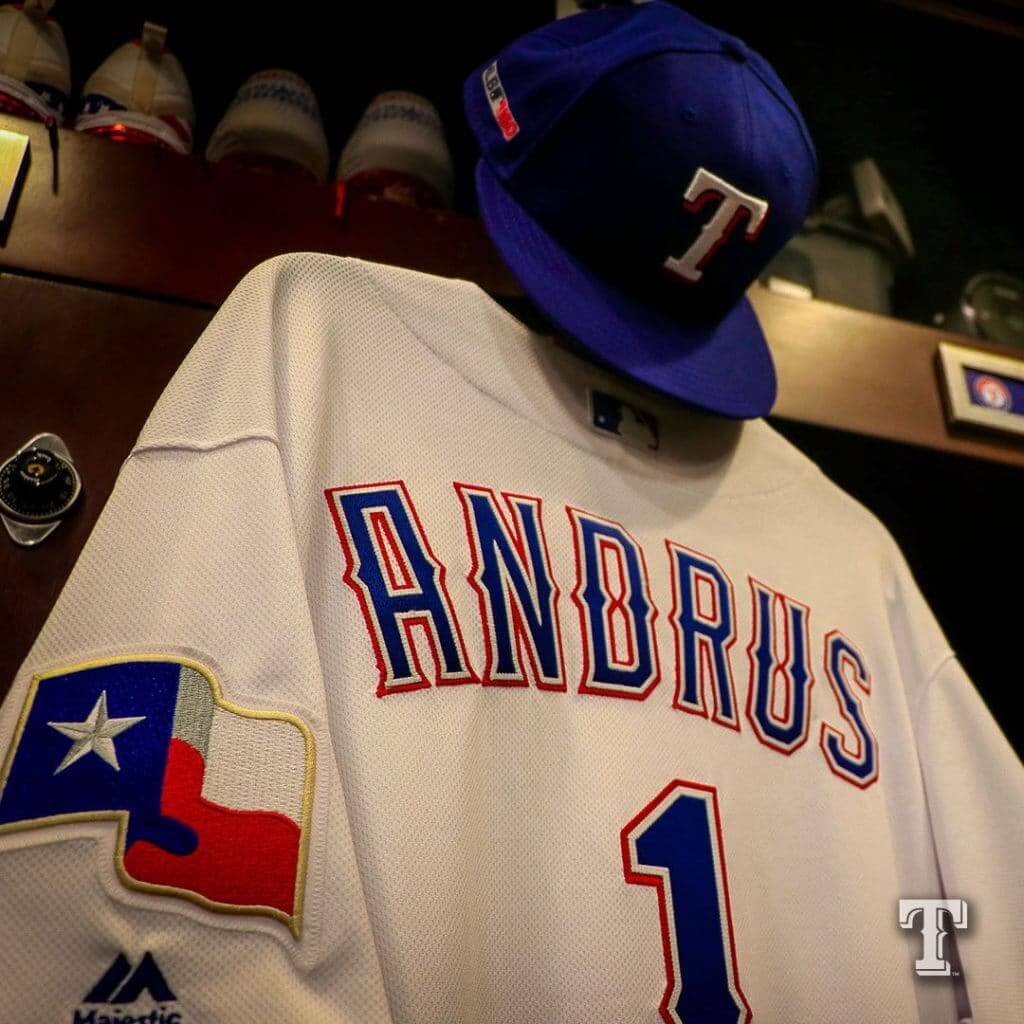 That change is not shown in the MLB Style Guide, and I'm wondering if it might just be an Opening Day thing. We'll see. (It does seem to have been included on their spring training jersey, so maybe it's a permanent change.)
Speaking of the Rangers, they're repeating their ballpark-farewell patch logo on their mound tarp:
@UniWatch Rangers are using a Globe Life Park Final Season mound cover this year. pic.twitter.com/rpUwZBhDeo

— Austin Guill (@theA_Guillotine) March 28, 2019
Pirates at Reds
The Reds debuted their Frank Robinson memorial chest patch. This patch had been announced but not shown: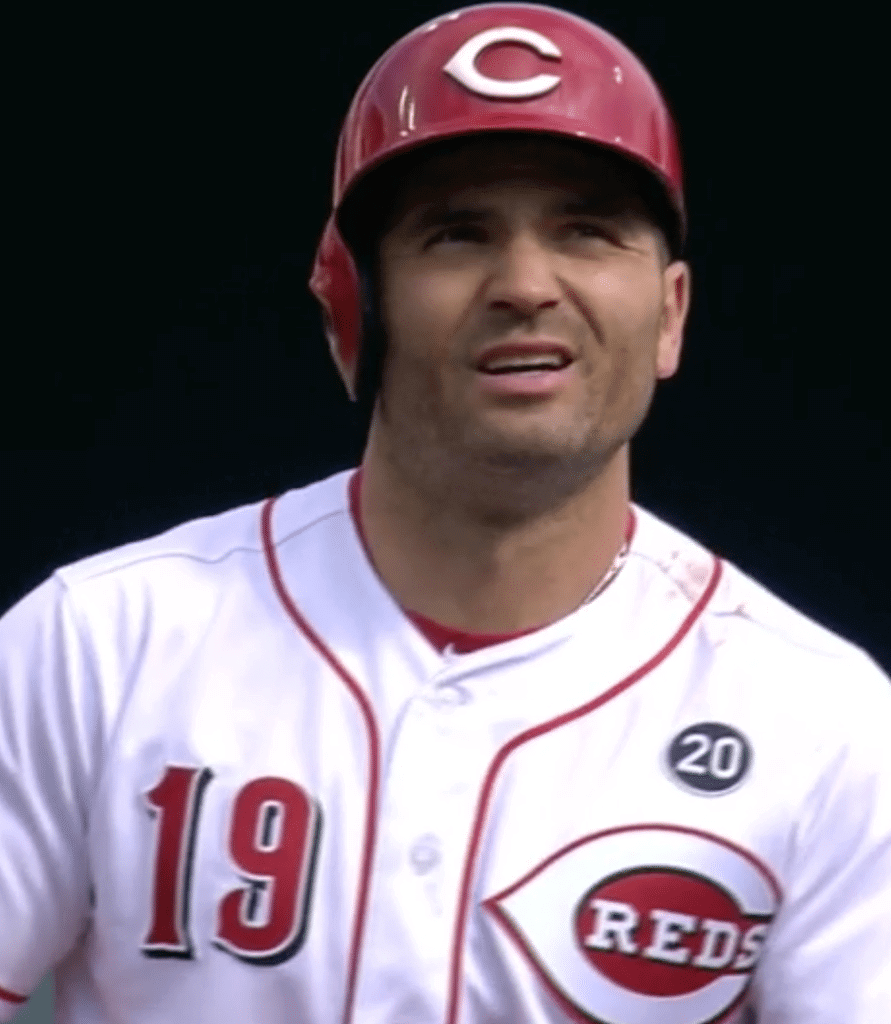 Rockies at Marlins
Most of the Rockies who went high-cuffed wore the team's usual black socks. But shortstop Trevor Story wore purple:
Indians at Twins
The Indians wore their new road alternate jerseys for the first time: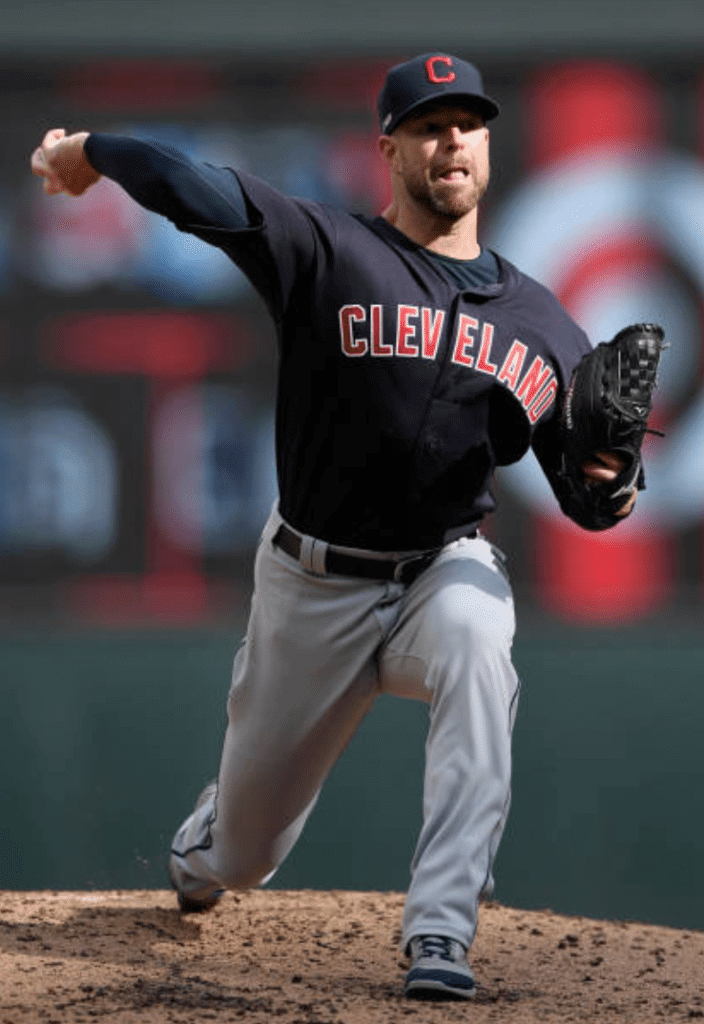 Meanwhile: The Twins have a new 10th-season logo for their ballpark. It isn't being worn as a patch, but it does appear on the outfield wall in right-center: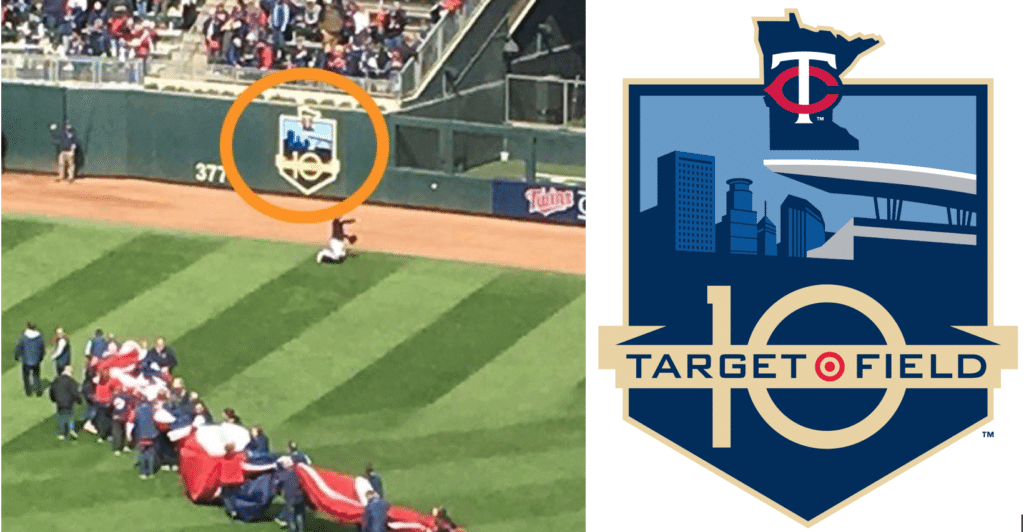 Giants at Padres
The Padres had to fit their MLB 150 cap patch underneath their 50th-anniversary patch: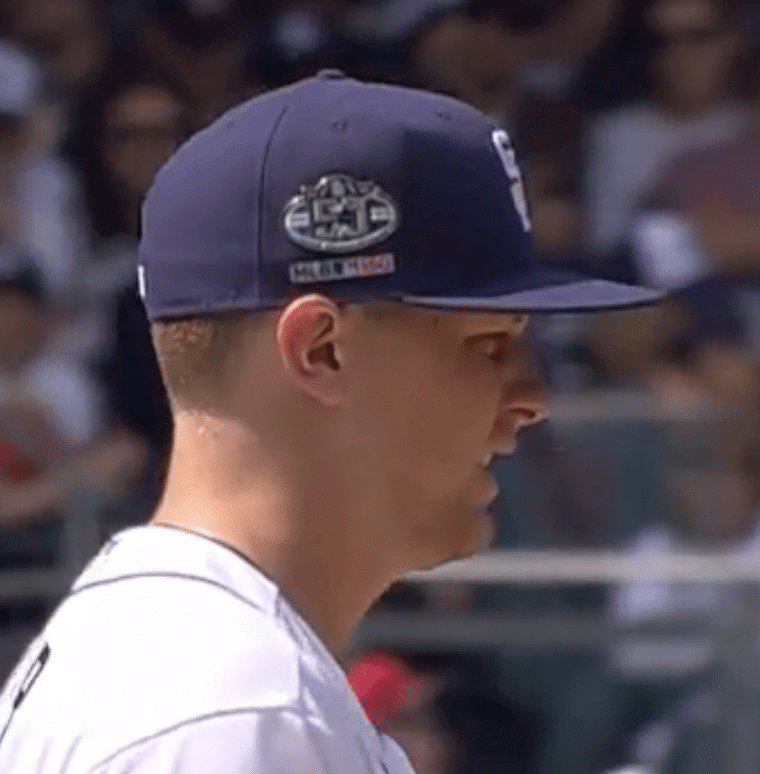 Also: We finally got our first look at the Giants' memorial patches for Peter Magowan and Willie McCovey. These patches had been announced a while back but had not been unveiled until yesterday (and as an aside, I neglected to mention in my MLB Preview that these patches would be coming, a major oversight for which I apologize):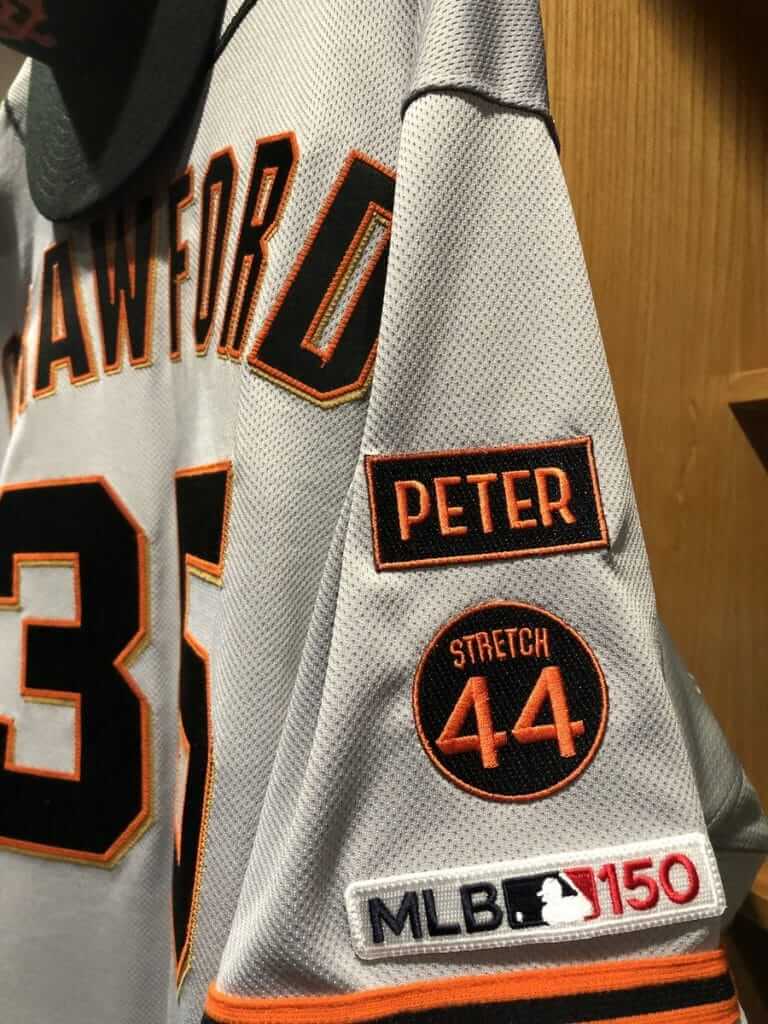 Look at that font on the Magowan patch — so nice!
Diamondbacks at Dodgers
The Dodgers debuted their "36 Newk" memorial patch for Don Newcombe. The design for this patch had been shown, but we hadn't seen the patch on a jersey until yesterday: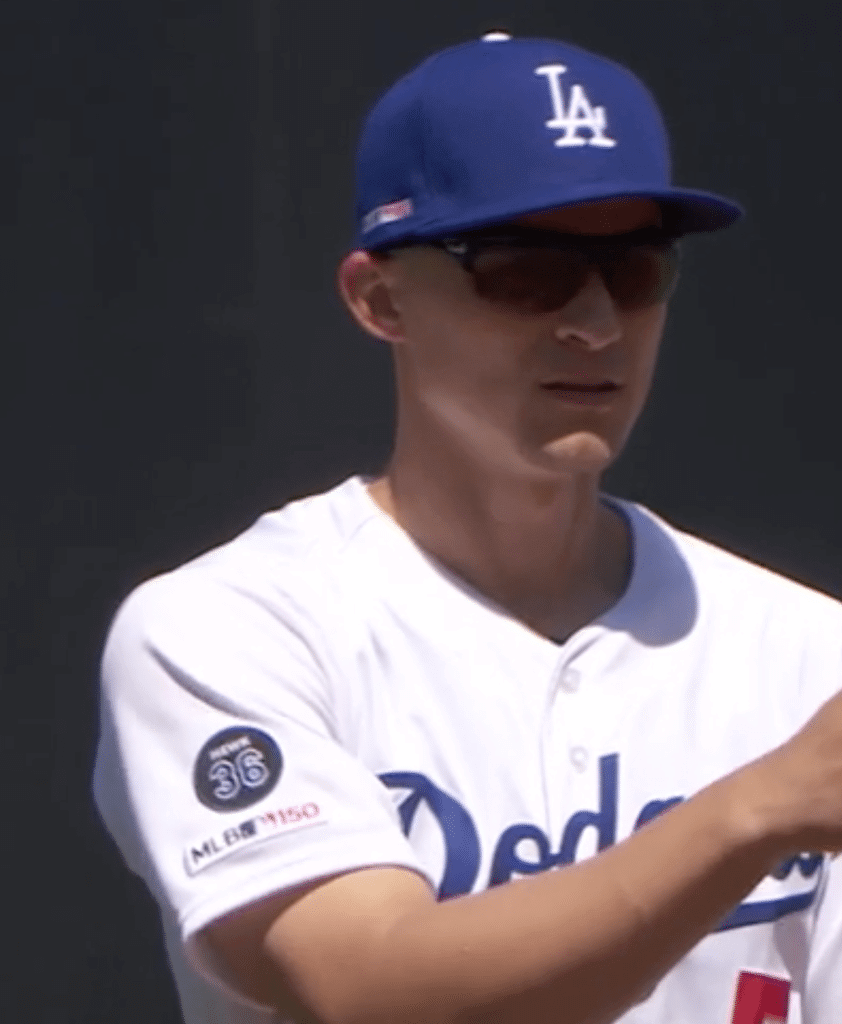 Angels at A's
Prior to the game, A's pitcher Liam Hendriks showed up for a podcast session wearing an A's bath robe:
The player parade continues on A's Cast, but we already have the Best Dressed winner in Liam Hendriks. pic.twitter.com/8RkCG6G9XD

— Oakland Athletics 🌳🐘⚾️ (@Athletics) March 28, 2019
Red Sox at Mariners
Although there's been no announcement that I'm aware of, the Mariners appear to have added 3D logos to their batting helmets:
As expected, the Red Sox went ahead and announced that they'll have gold-trimmed jerseys and caps for their home opener on April 9 (but not yesterday, because they opened the season in Seattle). That got me thinking: Since World Series champs started wearing gold for their home openers, how many defending champs have opened on the road? I haven't had time to look that up — anyone..?
Astros at Rays
Tigers at Blue Jays
White Sox at Royals
To my knowledge, nothing uni-notable happened in these three games. Did I miss anything?
(My thanks to all contributors, including Chad Johnson, Nick Mueller, Stephen Scheffel, Will Shima, Chance Michaels, @OakStadiumWatch, @TheHeelHawks, @SDHatGuy, @hadyngreen, @Jasonsel_sports, and probably several more who got lost in the shuffle.)
• • • • •
• • • • •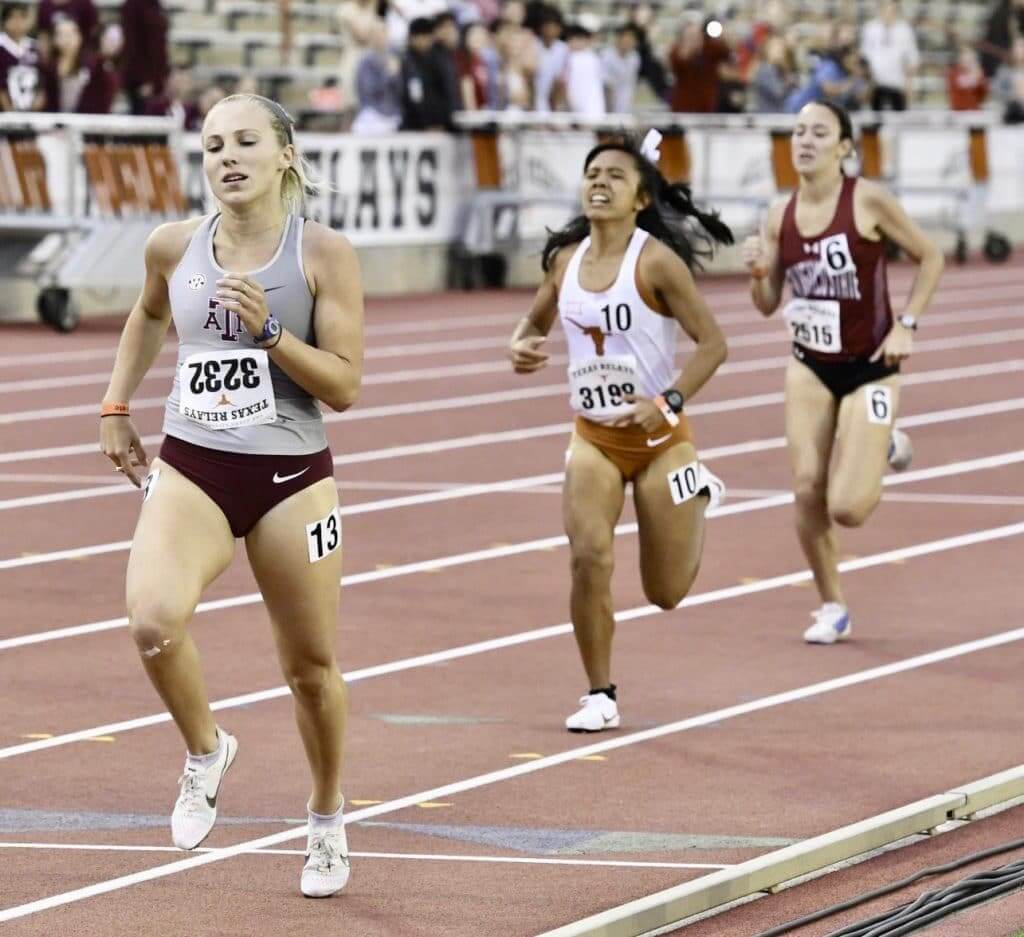 Click to enlarge
A new form of cow-tipping: The Texas Relays are a college track and field tournament that's been held each year since 1925. The University of Texas is the host, so the Longhorns logo appears on each participant's number bib.
This year — and maybe in previous years, I'm not sure — Texas A&M participants turned their bibs upside-down so the Longhorns logo was positioned "horns-down."
I can't decide what I think of this — fun college-rivalry stunt, or a petty example of poor sportsmanship? What do you think?
(My thanks to Chris Mycoskie for bringing this one to my attention.)
• • • • •
• • • • •
ITEM! New one-day raffle: Reader Max Weintraub has very generously offered to purchase one of our new tequila sunrise shirts for a lucky Uni Watch reader. This will be a one-day raffle — to enter, send an email including your shipping address and preferred size (here's the sizing chart) to the raffle address by 11pm Eastern tonight. I'll announce the winner on Monday. Big thanks to Max for doing this!
Speaking of raffles, the winner of the Vintage Brand raffle is Andy Hynds.
We will have yet another raffle next week — stay tuned.
• • • • •
• • • • •
The Ticker
By Yianni Varonis

Baseball News: As you may know, the Yankees and Red Sox will play each other in London with both wearing their home whites. Reader Doug Brei speculates that this might actually make sense to English spectators because they're already used to white-vs.-white matchups in cricket. … In honor of Opening Day, the football helmet manufacturer Riddell created helmet concepts for every MLB team in the AL East, AL Central, AL West, NL East, NL Central, and NL West (from Ben Hatfield). … Apparently four Los Angeles-area high school baseball teams will join the Dodgers in wearing the Don Newcombe memorial patch this season. … White Sox OF Eloy Jiménez is the first player in franchise history to wear No. 74 (from @chicagoooooo92). … Reader Sean Lindsey has an incredibly impressive collection of Diamondbacks jerseys and caps to choose from. … 60 Minutes recently posted a vintage clip of Andy Rooney visiting a Louisville Slugger factory (from Mike Chamernik). … As a part of its Copa de la Diversion celebration, the Lakewood BlueClaws are making this bobblehead available to fans (from John Cerone). … Kentucky wore camouflage caps yesterday (from Griffin Smith). … New pinstriped uniforms for Northeastern (from Eric Anastasi). … Here's color vs. color being taken to a new level. That's Iowa vs. Indiana yesterday, with the Hawkeyes channeling their inner bumblebee-era Pirates (from Kary Klismet).

Football News: The Titans will not give the Texans permission to wear Oilers throwbacks, despite some Houston players lobbying for it (from multiple readers). … 49ers WR Trent Taylor will be switching from No. 81 to No. 15 but wants to help fans who have a jersey with his old number receive the new version (from our own Brinke Guthrie). … Oregon State will unveil new uniforms during its spring game next month.

NBA News: A Croatian artist has made Rockets G James Harden his muse, creating 26 different portraits of Harden (NYT link), and they're all very well done. … Speaking of the Rockets, newly signed PG Trevon Duval will wear No. 0 (from Etienne Catalan). … The numeral "2" in the Spurs' retired number banners doesn't match the "2" on their jerseys (from @70srejoin).

College Hoops News: Michigan and Texas Tech went ketchup vs. mustard in the Sweet 16 last night. … Former Purdue coach Gene Keady was spotted wearing a Jerry Tarkanian pin on his cap last night (from Trent Dolby). … With Kentucky and Louisville facing each other, a soap manufacturer has created a jersey to unite the state of Kentucky (from Josh Hinton).

Soccer News: In a tribute to its 1919 squad, Brazil will wear white at this year's Copa America (from Kevin O'Reilly). … FC Cincinnati has chosen the architect to build its new stadium, the same firm that designed Major League Soccer's last two stadiums. … Columbus Eagles FC has unveiled its home, away, and keeper shirts. … Here's a look at Austin Bold FC's newly completed stadium (from Josh Hinton). … Belarusian club FC Isloch Minsk Raion has a new shirt (from Ed Zelaski).

Grab Bag: The California Horse Racing Board has begun the steps toward abolishing the use of whips during races except in rare cases where the safety of jockeys or horses is at stake. … Reader Andrew Cosentino found a backpack in Mexico with a mashup of three Houston professional team logos. … Really good video about Muslims who serve in the U.S. armed forces while wearing a hijab (from Jason Hillyer). … The University of Central Arkansas Feminist Union is hosting an exhibit featuring items of clothing that females were wearing when they were sexually assaulted. … Amazingly, a Flickr user has photographed himself while standing in front of the university name sign at more than 500 universities (from Gerry Dincher). … We've written that Cuyahoga Community College (Tri-C) adopted a triceratops as its new logo and asked the community to vote on its mascot's new name. The winner was "Stomp." … Glendale, Ariz., has a new logo and its city council isn't very happy about the design. … Massachusetts-based companies Dunkin' and Saucony teamed up to make Dunkin'-themed shoes ahead of the Boston Marathon (from Jacob Weintraub). … Here are the "surprising" stories behind some of the most famous logos in fashion (WSJ link). … This article discusses the trend of rainbow-palette fashion as a means of adding joy in "a joyless time." … The expansion of Chicago O'Hare International Airport will feature a nature motif with a wood beam ceiling resembling trees, real trees along the halls, and patches of grass on the floor. … USA Field Hockey has new umpire jerseys (from our own Jamie Rathjen).