Click to enlarge
Today is my birthday. March 21st, 3-2-1. I've always loved how that bookends my father's birthday of January 23rd, 1-2-3.
Speaking of my father, and with apologies to those who've already heard this story, here's my annual birthday tale: Forty-six years ago today, when I turned nine years old, my outdoor birthday party was rained out and I was pretty inconsolable. My father, thinking quickly said, "Oh, don't you know? Rain on your birthday is a sign of good luck in the year to come!" — a very sweet lie that he made up on the spot. He was really good at saying Just the Right Thing at moments like that.
Ever since then, with one exception (2008), no matter where I've been on my birthday, it has rained. Or snowed (which it did last year). And one time it hailed (which was actually quite exciting, because I figured it meant extra-good luck). And sure enough, you can see what sort of weather we're due to have here in New York today. I couldn't be happier.
Despite the nasty weather, I'll be out and about today. The Tugboat Captain is taking me to this amazing-looking exhibit at the Guggenheim, and then if there's time we'll also check out this exhibit at the Museum of Sex. Later on we'll meet our friend Carrie for drinks, and then we'll meet up with about a dozen pals for a celebratory feast at an Asian seafood restaurant. (One thing about having shitty weather on your birthday is that you really appreciate how great your friends are when they trudge through the crummy conditions to celebrate with you.)
As for how old I'm turning, if you look closely at today's entry you might be able to figure it out. Most people say I look much younger than my age. As I always tell them, it helps to be very immature. (It helps even more, I'm pretty sure, to work at home and not have any kids.) More importantly, I feel younger than my age. Happily, there's a good jersey photo for that as well: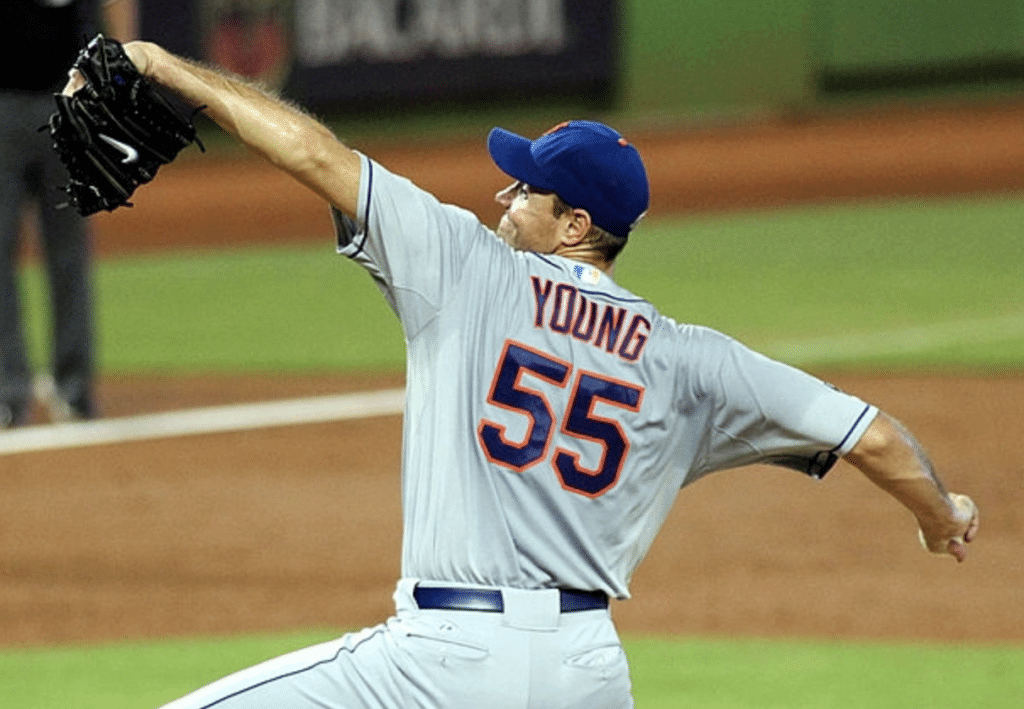 • • • • •
• • • • •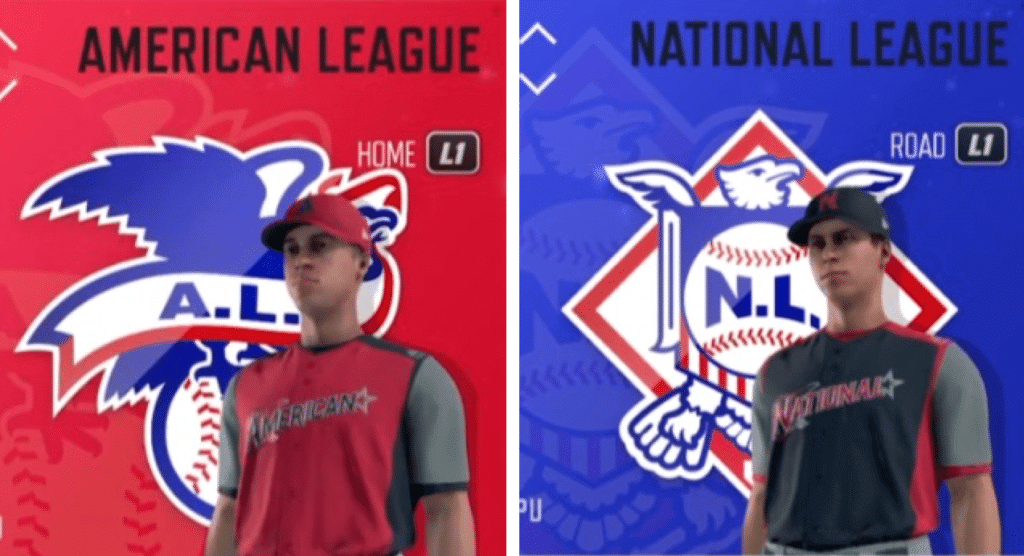 It happens every year: It's a pretty well-established annual tradition for the MLB All-Star Game BP jerseys to leak via a video game right around this time of year. And sure enough, that appears to be the case this year as well.
If anyone can provide larger/high-res images, please do.
(My thanks to Jesse, who didn't give his last name, for these.)
• • • • •
• • • • •
Click to enlarge
A bit much (literally): Archbishop McNicholas High in Cincinnati proudly tweeted their 2019 uniform combos yesterday. Jeez, ya think they have enough options? I'm a fan of the color combo, obviously, and even more so of the striped stirrups, but come on. Plus they appear to have poached Toledo's logo, which is not cool.
McNicholas is a private school, so there are no school tax issues here. Still, it seems a bit absurd for a high school team to have six different jerseys, no? Jeez.
Just to be clear, I'm not criticizing the kids. But ya have to wonder about some of the adults.
• • • • •
• • • • •
Click to enlarge
ITEM! Sock update: Look what we have here — a big carton full of Uni Watch socks! They arrived yesterday from Rock 'Em Socks (a week earlier than promised, which is pretty amazing) and I've begun bagging and shipping them for people who already pre-ordered.
In case you've forgotten, here's a better view of how they look (click to enlarge):
I love that they're hosiery with a depiction of hosiery. Very meta!
If you want a pair, the price is $13.99 plus $3 shipping, so the total is $16.99.
If you want two pairs, the shipping is $4, for a total of $31.98.
If you want more than two pairs, get in touch and I'll quote you a price.
Here's how to order:
1. Send the appropriate payment to me. I accept Venmo (use @Paul-Lukas-2 as the payee), Zelle (use plukas64@gmail.com; if you're not familiar with Zelle, your bank's website probably offers it under "Payments" and/or "Transfers"), and the Cash App (plukas64@gmail.com).
Sorry, no PayPal (a long, annoying story). If you prefer to send a paper check, get in touch and I'll tell you where to send it.
2. After sending payment, please email me with your shipping address.
Kudos to Harrison Hall and Brad Stafford at Rock 'Em Socks for making this happen, and my thanks to everyone, as always, for considering our products.
• • • • •
• • • • •
ITEM! T-shirt update: As promised, we now have a white version of the diagonal-lettered shirt, in addition to the two green ones I showed yesterday (click to enlarge):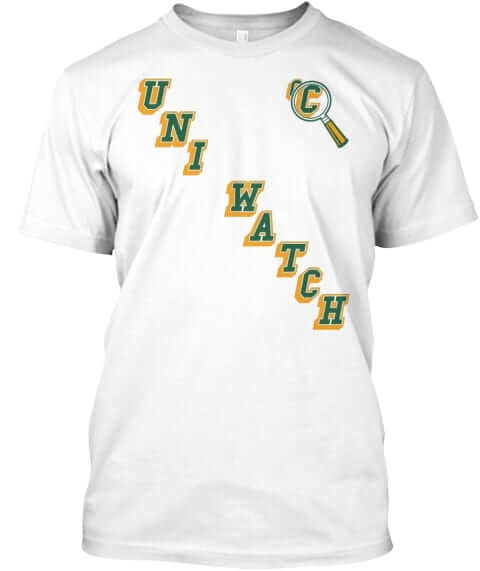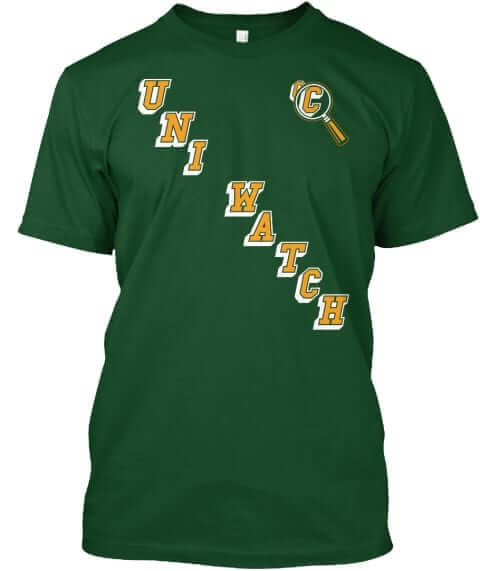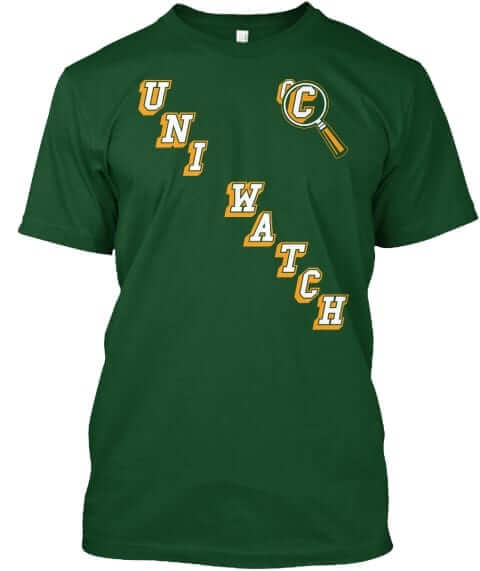 Here's where you can order the white shirt, as well as the green on with gold letters and the green one with white letters.
• • • • •
• • • • •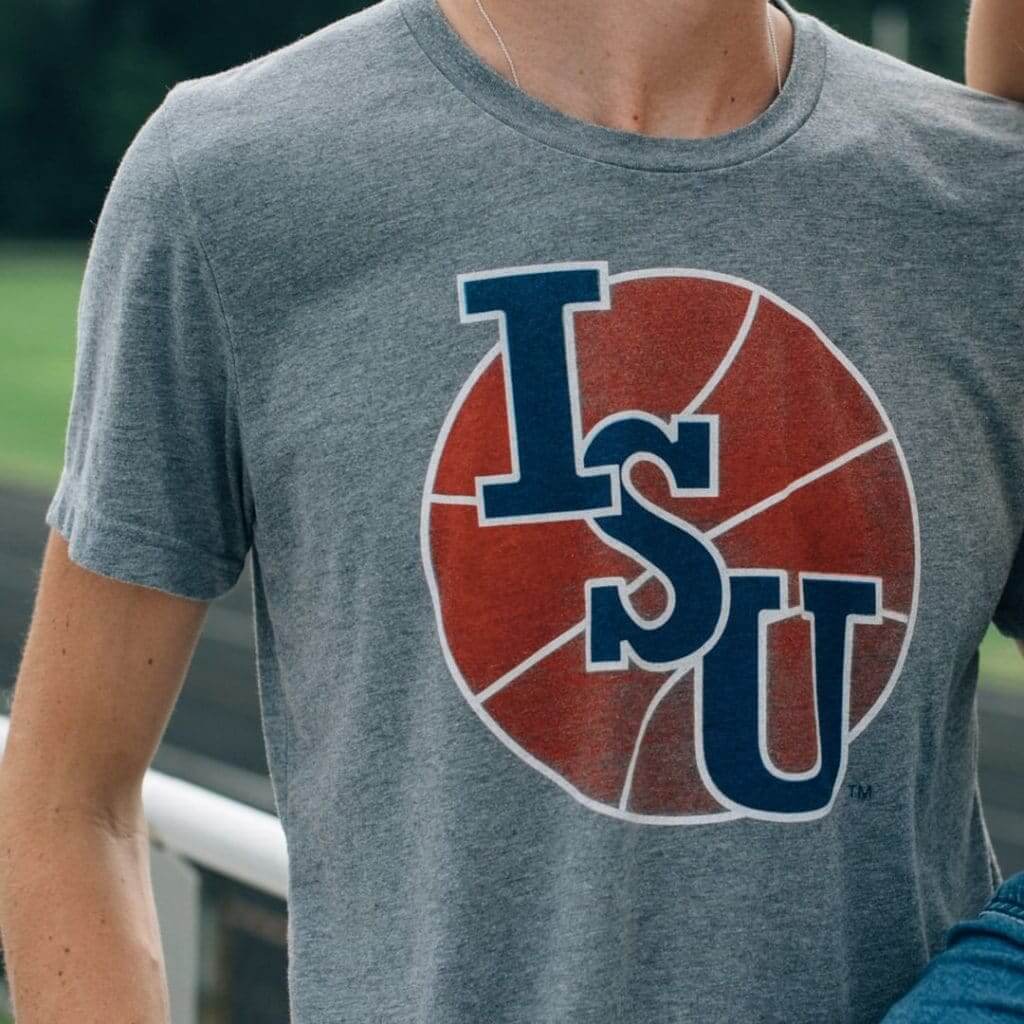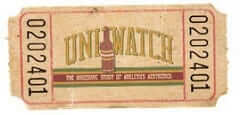 LAST CALL for this week's raffle: Today is the final day to enter the Homefield Apparel raffle. Two lucky Uni Watch readers will each get to choose any item from Homefield's site.
To enter, send an email to the raffle address by 7pm Eastern tonight. Actually, I'll be out doing birthday stuff then, so you can enter until I get home, which will probably be pretty late-ish. One entry per person. I'll announce the winners tomorrow, assuming I'm not too wrecked from tonight's festivities.
• • • • •
• • • • •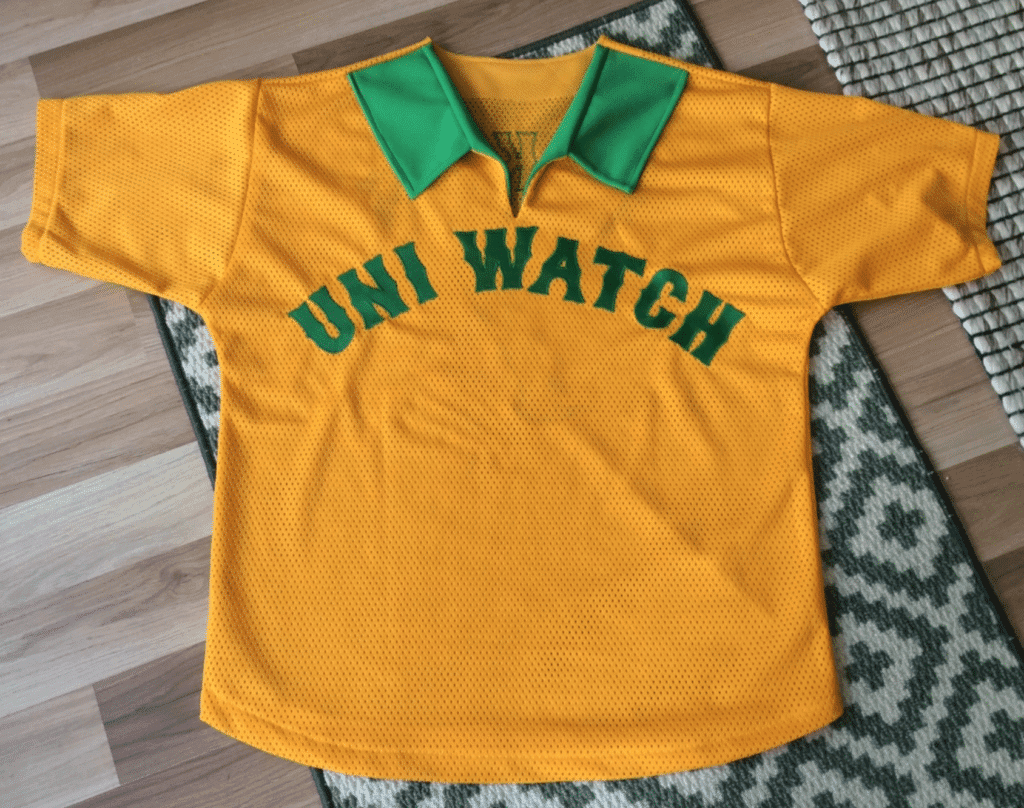 Auction results: The winner of the one-of-a-kind Chisox-inspired jersey made by Wafflebored is reader Jim Kohler, who bid $150 (for which he'll also get a handy pair of Uni Watch-colored scissors, in case he wants to go all Chris Sale on the jersey, although we're hoping that never happens).
Wafflebored and I will split the revenue evenly. I'm grateful to him for sharing his DIY gift with Uni Watch as a way of supporting the site, and I'm also grateful to everyone who bid. Thank you!
• • • • •
• • • • •
The Ticker
By Paul

'Skins Watch: While any mention or use of blackface is sure to spark outrage, Native Americans have found that the fight against redface is a tougher fight (from Jason Hillyer). … Although Chief Wahoo has been retired, the Indians are still expecting protests from Native American activists on Opening Day.

Baseball News: Cue the John Olerud references: Anderson University apparently has a first baseman who wears a helmet in the field (from Jake Tilley). … BeeYOOteeful stirrups yesterday for Mariners P Matt Festa. … Here's a rare sight: Joe DiMaggio wearing No. 18 for a spring training game in 1936. "He would wear No. 9 during the '36 regular season before switching to No. 5 the following year," says Bruce Menard. "As far as I can tell, nobody has ever mentioned him wearing 18 before, so it might be kind of a historical uni find." … Some Hispanics in Michigan feel that the Lansing Lugnuts' planned Spanish-language makeover as the Lansing Locos is disrespectful. … Everything Is Alive is a podcast in which inanimate objects are interviewed. The latest episode is an interview with a Montreal Expos cap. About four minutes in, he even refers to his squatchee! (From Dan Cichalksi and Bob Whitmore.) … Here's some great 1950s footage of the Toronto Maple Leafs — a minor league ballclub, not the hockey team (from Charlie Kranz). … I still call it Everett Memorial Stadium (from John Przebieglec). … Whoa, check out this infographic showing the uni combo worn for every game by the 1979 Pirates (from Steve Vanderpool).

NFL News: Chiefs QB Patrick Mahomes has signed an endorsement deal with Oakley, so the company set him up with this Oakley helmet (from @FIDLAR817). … Former Washington RB Clinton Portis doesn't want newly acquired DB Landon Collins to wear the late Sean Taylor's number. … The photos aren't great, but here are some Eagles golf carts. … FNOB alert! That's Jerry Moore of the 1971 Bears, who also had Joe Moore on the roster. Pretty sure I hadn't seen that one until Bill Kellick sent it in last night.

College Football News: Reader Clint Richardson's decade-by-decade look at Auburn uniform history has now reached the 2000s. … Jason Hillyer found an old book about Big 10 football with an endearingly simple cover design featuring football helmet icons. Only ten teams in the Big Ten — what a concept.

Hockey News: The logo for next season's Winter Classic has been unveiled. … The Blackhawks are getting a new scoreboard (from Griffin Smith). … Roughly two-thirds of NHL players would like to wear nickNOBs for a game or two. That's from this poll (from @CB36044187). … The Blues had seven goals from four different players two nights ago, and they all had a 7 in their uni number (from Marty Hick).

NBA News: Sixers G/F Ben Simmons wrote "Egg Boy" on his sneakers two nights ago as a shout-out to the Aussie kid who egged a government legislator in the wake of the New Zealand terror attack (from Mike Chamernik). … Someone at ESPN apparently can't tell the Sixers from the Pistons. … With Heat G Dwyane Wade on his farewell tour, the Spurs gave him Tim Duncan, Tony Parker, and Manu Ginobili jerseys last night. … Christian Wood will wear No. 35 for the Pelicans. … The Thunder retired Nick Collison's No. 4 last night. "He is OKC's first retired number, but the franchise still has six retired numbers from the Sonics days," notes Mike Chamernik. "But they haven't added any numbers since the move in 2008, so the franchise's most memorable player, Gary Payton, has yet to have his number retired."

College Hoops News: The Minneapolis Star-Tribune is doing its annual March Madness-style beer bracket, complete with basketball jersey-themed graphics (from Jon Obermoller). … Abilene Christian coach Joe Golding will be coaching today's game against Kentucky with a split pair of pants. … Both of last night's NCAA play-in games — North Dakota State vs. NC Central and Arizona State vs. St. John's — were color vs. color (from John Bedell). .. .Speaking of NDSU, their coach coached in a T-shirt to support an pediatric cancer patient (from Vince Guardado).

Soccer News: Inaugural uniforms for the Lansing Ignite. … England's Women's Super League now has a naming-rights advertiser for next season (from our own Jamie Rathjen). … Also from Jamie: "In Scotland, Aberdeen right-back Shay Logan had his bachelor party ('stag do,' as it's called) and was forced to dress up, in full kit, as Celtic midfielder Scott Brown. Logan has had several on-field clashes with Celtic players, including Brown." … New kits for Albania (from Ed Zelaski).

Grab Bag: Baylor is planning a uni-related event on April 13. … New logo and league name for former Senior B Lacrosse in Ontario (from Michael Sullivan). … Speaking of lacrosse, here's another case of a teen who can't play because his head is too big for any of the available helmets. … New Yorkers can vote on the logo for the city's privately owned public spaces. … New logo for music streaming service Pandora. … Police uniforms in Leechburg, Pa., are getting new patches. … A New Zealand girls' school has banned students from wearing hijabs — a stunner considering recent events in that country. … Gucci has launched a sneaker that's designed to look dirty right out of the box and costs only $870 (blame Jason Hillyer). … The New Mexico Public Education Dept. is running a design contest for its new logo. … New uniforms for the Japanese women's table tennis team (from Jeremy Brahm). … Also from Jeremy: Honda F1 team staff (not the Red Bull team) will wear ASICS gear for the next two years. … Here's what some of the elite male and female runners will be wearing in next month's Boston Marathon (from Skott Daltonic).
• • • • •
Bonus birthday shout-out to reader Tyler Evans, who was born on this date in 1982, and to anyone else who's celebrating today. 3-2-1!