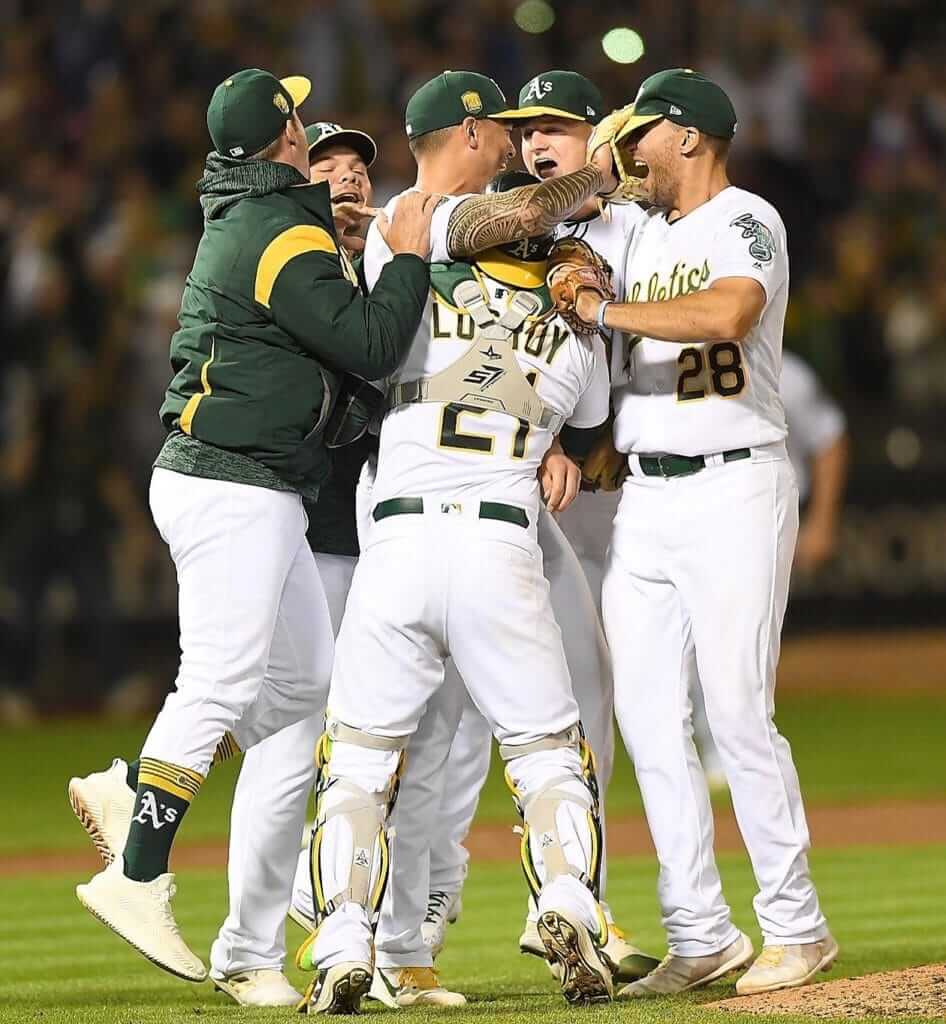 As some of you may be aware, MLB is relaxing its shoe-color rules this season, and the net effect is that teams will no longer have a primary shoe hue. Given the extent to which players have been freestyling their footwear in recent years, this seems like more of a concession to reality than a major change in protocol. Policing the players' shoes has become a losing battle of whac-a-mole, and most teams no longer have any chromatic consistency in their footwear anyway.
But I did feel bad about the A's, who've made white shoes a key part of their look for more than half a century now, dating back to the franchise's final year in Kansas City. Other teams tinkered with white shoes in the 1970s and '80s, but only the A's stuck with the ivory-footed look and made it a signature part of their uniform. The white shoes are so closely associated with the A's that at one point they were featured as part of the team's primary logo.
So the thought of A's players wearing green, black, yellow, grey, or whatever was a drag. It felt like the latest bit of chip-chip-chipping away at small but enjoyable facets of the game.
But I figured I'd double-check with longtime A's equipment manager Steve Vucinich, just to be sure. Here's what he told me two days ago: "We will still wear white 98% of the time. No green shoes, but some have a heavy green presence. Only non-white shoes might be some grey on the road."
Excellent!
Now, despite what Steve said, the reality is that green shoes were already appearing on some A's players last year, which means there'll probably be a bit more of the same in 2019. Like I said, policing this stuff is a losing battle. But if the team remains predominantly white-shod, I'll count that as a win.
Steve, incidentally, is now entering his 52nd season as Oakland's equipment czar — an amazing run. He tells me he's good for at least one more season after this one. Keep up the good work, buddy.
• • • • •
• • • • •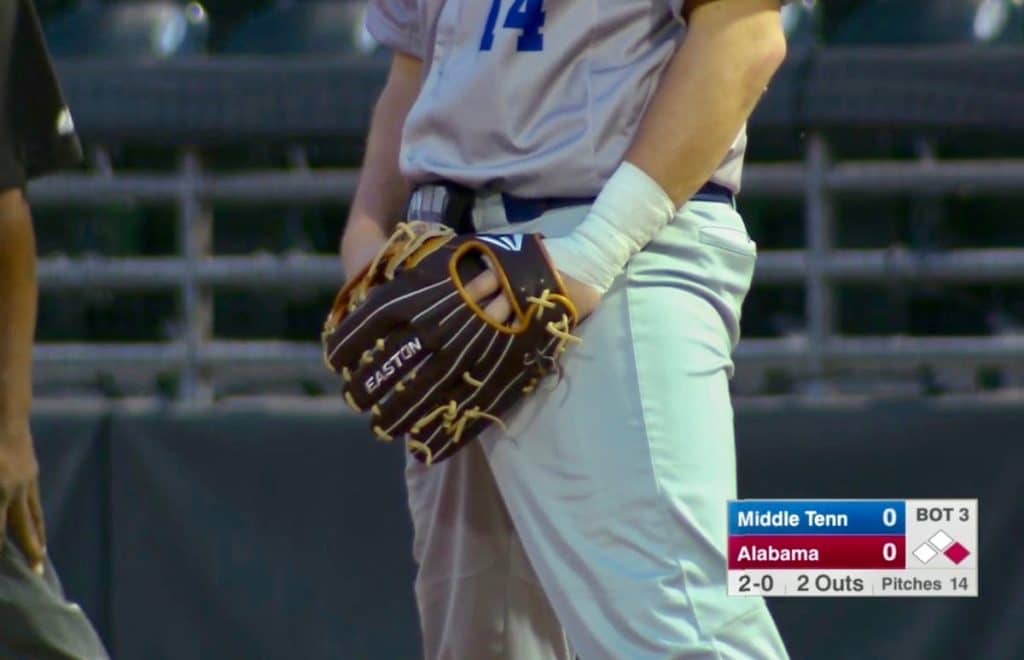 Glove story: Reader Griffin Smith was watching some college baseball yesterday and noticed that Middle Tennessee State's first baseman was wearing a regular fielder's glove instead of a first sacker's mitt. (According to the MTSU roster, No. 14 is Brycen Thomas, who's listed as a "right-handed pitcher/infielder.")
Okay, so it's college ball — these things happen. But the eye-opener, at least for me, is that when Griffin tweeted that photo, Twitter-er @TheSnortingBull responded by saying, "The Cardinals used to occasionally play Jim Edmonds at first, and he'd play with his outfielder's glove" — and backed it up with a photo:
That's pretty wild to see a big leaguer doing that. Does anyone have any other examples of MLB first basemen wearing gloves instead of mitts?
• • • • •
• • • • •
ITEM! New Wafflebored jersey auction: Yesterday I showed you a photo of reader Matt Brevet wearing the Wafflebored-made Uni Watch hockey jersey that we recently auctioned off. Today I'm happy to show you Wafflebored's latest one-of-a-kind Uni Watch creation — dig (for these pics, click to enlarge):
Yes, it's a White Sox-style Uni Watch leisure suit jersey, complete with the contrasting collar. "Figuring out that collar is the most significant jersey thing I've done so far," says a very satisfied Wafflebored. "It is weird but so cool."
You may have noticed that there's a slight variation in the letter sizes — "all part of the charm of a handmade jersey with hand-cut letters," says Wafflebored.
Here's how it looks on the back:
In case you're wondering, I did not tell Wafflebored to put my name on the back. That was his idea! In fact, this whole jersey was his idea.
And there's more! In honor of Chris Sale, the winning bidder will also win this pair of scissors:
Those are left-handed scissors (we couldn't find a right-handed version), but it really shouldn't matter, since you're not actually going to cut up the jersey, right? Also, I'm left-handed myself, so that makes the scissors even more Uni Watch-y.
Here's a "work in progress" shot:
Just like the last jersey, we will auction this one off, and Wafflebored and I will split the revenue. A few additional notes:
• The jersey measures 23″ from pit to pit (i.e., a 46-inch chest), and 30″ from top to bottom.
• The jersey does not currently have any inner tagging, but Wafflebored plans to add his "W" mark,  similar to the one he added to the hockey jersey.
• The winning bidder will have to cover the shipping charges from Vancouver, where Wafflebored lives. That should be $20.
This will be a blind auction, with a minimum bid of $75. To bid, send me an email with your bid by next Tuesday, March 19, 7pm Eastern. High bid wins!
Sorry, shorts not included.
• • • • •
• • • • •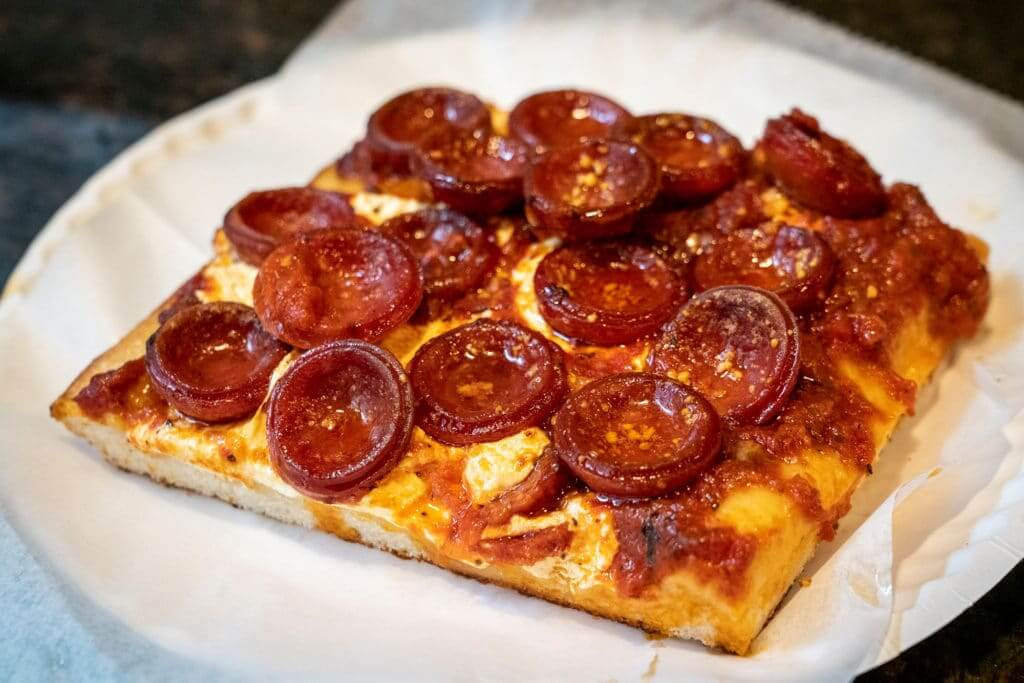 ITEM! 'Roni-o-rama: For years I've loved The Wall Street Journal's "a-hed" stories, which is their name for the one slightly quirky/eccentric article that they run each day. Today I'm proud to have written my first a-hed piece (and hopefully not my last), about cupping pepperoni.
The WSJ website is paywalled, but you can subscribe for two months for only $1! And then you can unsubscribe right away after reading the article if you want. (The article also appears in today's print edition, but the print version had to be cut for space and kinda got butchered, frankly.)
But wait, don't unsubscribe — I have another WSJ piece in the works, and that one is actually uni-related. Should run either Friday or next week — stay tuned.
• • • • •
• • • • •
The Ticker
By Lloyd Alaban

Baseball News: The New Hampshire Fisher Cats, Double-A affiliate of the Blue Jays, will wear these jerseys for Franco-American Heritage Day in June (from James Christopher). … The Dodgers have put their script below the MLB logo on the back of their helmets in recent years, but it hasn't been there during spring training (great spot by JD Denison). … The NBA's Phoenix Suns will host Diamondbacks Night next week and caps with the Suns logo rendered in Diamondbacks red will be made available. … Here's a sticker of the Mets road jersey lettering on a change machine in upstate New York (from Eric Abneri). … Both starting pitchers in yesterday's Alabama/MTSU game wore single digits. … Color vs. color for Gardner-Webb and UNC (from James Gilbert). … Anyone know why Saint Mary's has Mike Tyson stickers on the back of their batting helmets? Is this a merit thing like Ohio State's buckeye stickers? (From Ian Gerig.) … Here's a fun article from 50 years ago today — March 13, 1969 — in which Pirates P Dock Ellis wished he could dress more flamboyantly on the field (from Jerry Wolper).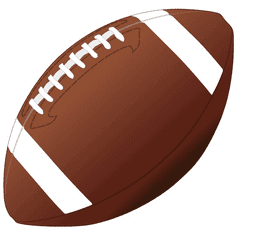 Football News: Here's a photo of Santa riding into RFK Stadium on a football-shaped float adorned with the NFL's 50th-anniversary logo. This was taken from a December 1969 game between New Orleans and Washington (from Russell, who didn't give his last name). … ESPN Photoshopped WR Odell Beckham Jr. in a Browns jersey soon after his trade from the Giants was reported. … Here's a welding helmet painted like a Steelers helmet. The real question, of course, is whether the logo also appears on the other side (from @YourCarGuyStan). … Here's what the teams in the Indoor Football League have been wearing through Week 3 of this season. … Here's a visual history of every uniform Auburn wore in the 1990s (from Clint Richardson).

Hockey News: Rangers F Pavel Buchnevich has a picture of Ivan Drago from the Rocky film series on his skates (from Jason Gregor). … Soccer team Las Vegas Lights FC of the USL will be wearing these Golden Knights-inspired shirts for a match later this month (from Josh Hinton). … The Tucson Roadrunners of the AHL will reveal Coyotes-inspired sweaters next week (from Adam Vitcavage).

NBA News:  Cross-listed from the baseball section: The Suns will host Diamondbacks Night next week and caps with the Suns logo rendered in Diamondbacks red will be made available. … A photographer has taken pictures of all the unusual places he's found basketball courts, from silos to the woods (from William F. Yurasko). … The Wisconsin Herd, D League affiliate of the Bucks, will be wearing these jerseys for Make-A-Wish Foundation Night next week. … Former Lakers great Kobe Bryant's high school jersey, which had been stolen from a display case more than two years ago, has been returned.

College Hoops News: Gonzaga F Zykera Rice usually turns heads with her blue hair. However, yesterday might have been a bit more noticeable, as her blue hair matched the blue in opposing team BYU's uniform (from Michael Alpei). … Pitt and Boston College went color vs. color last night in their ACC Tournament matchup (from TJ Morrison). … ESPN rendered the Saint Mary's logo with an "M" that looks like it's peeling off the screen. Here's the actual logo for comparison (from Chad Fields). … ESPN also had similar issues with BYU's logo. … Oklahoma Athletics' Instagram page is poaching the March Madness logo (from Anthony W. Tucker).

Soccer News: A follow-up on yesterday's lede: Here's what the creative process (NYT link) was like behind Nike's Women's World Cup kits (from Paul Friedmann). … Georgia Revolution FC of the National Premier Soccer League has unveiled new uniforms. … Cross-listed from the hockey section: Las Vegas Lights FC of the USL will be wearing these Golden Knights-inspired shirts for a match later this month (from Josh Hinton).

Grab Bag:  New logo for the NCAA's West Coast Conference (from multiple readers). … Golfer Jason Day was spotted at the Players Championship practice round wearing a Nike golf shirt with two different-colored swooshes (from Eli Swanson). … Here's a spirited debate about whether a driver should leave his helmet on or off when fighting in NASCAR. … A graphic designer made all of the cars in the IndyCar series in pictures reminiscent of 1980s video games (from Dan, who didn't give his last name). … Looks like matte helmets have made their way to the world of ski jumping. Here's a video of Norway's Maren Ludby competing in a dark matte helmet (from Jim Vilk). … The US Patent and Trademark Office has rejected Penn State's application to trademark "Happy Valley" (from William F. Yurasko). … He might have been ahead of his time: This professor wrote in 1967 about logo creep around his local neighborhood (from Brad Loliger). … Jeffrey B. Jacobs recently saw the Red Hot Chili Pipers, a rock cover band that plays their music on bagpipes. They wear some sweet-looking uniforms when they're onstage. … Speaking of uni-centric bands, Scott M.X. Turner writes: "The Japanese punk band Chai's "Choose Go!" video is uni-yummy. plus there's a smart Who shout-out in the middle." … The US Army is set to roll out new protective gear. A similar helmet from the new set saved one soldier from being shot in the head. … New logo for hotel chain Sheraton. Here's the old logo for comparison. … Twitter is rolling out a new beta app with a new logo and a painfully early-2000s name: twttr. In true Twitter fashion, the logo was quickly roasted.
• • • • •
Tomorrow: Paul's final ESPN column.