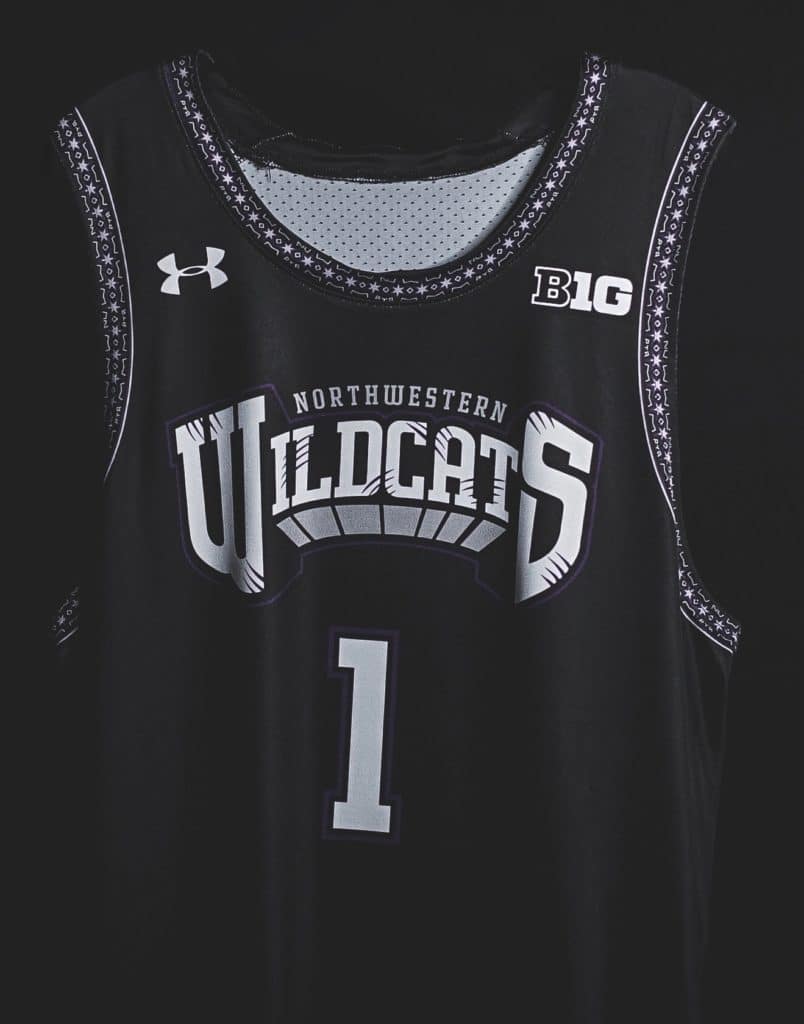 For all photos in this section, click to enlarge
Fascinating series of events yesterday that raise all sorts of interesting questions about the creative process, intellectual property, and so on. Let's start at Northwestern, where the basketball team unveiled its annual Senior Day uniform, which will be worn this Saturday against Purdue. If the design looks familiar, that's because it's based on an old NBA uniform: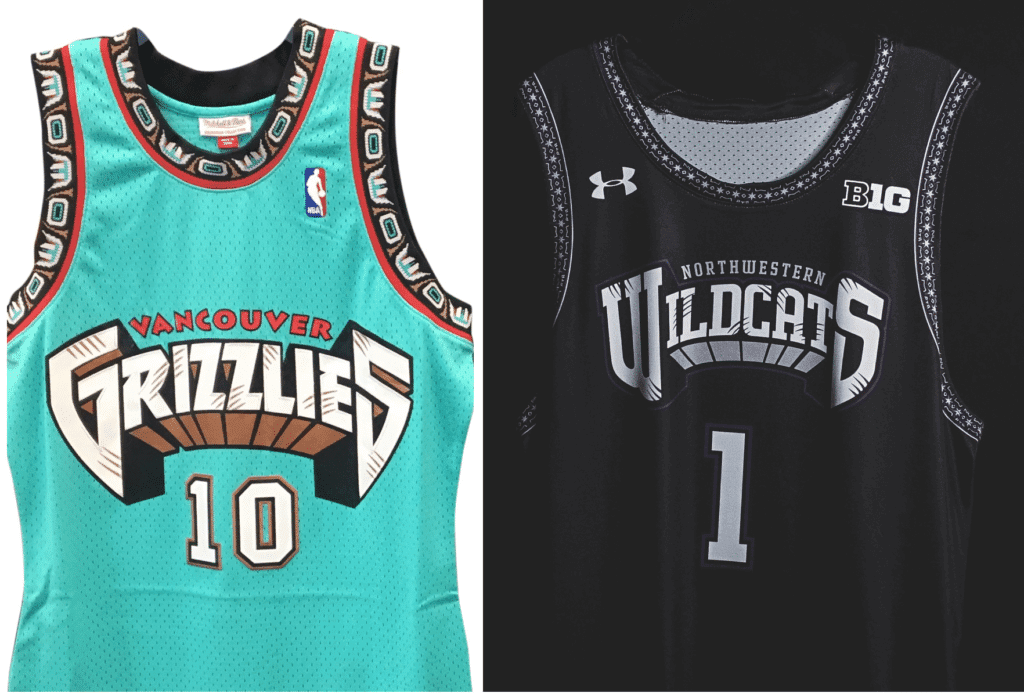 Why it's our old friends, the Vancouver Grizzlies! And the Griz influence isn't restricted to the jerseys — check out the shorts: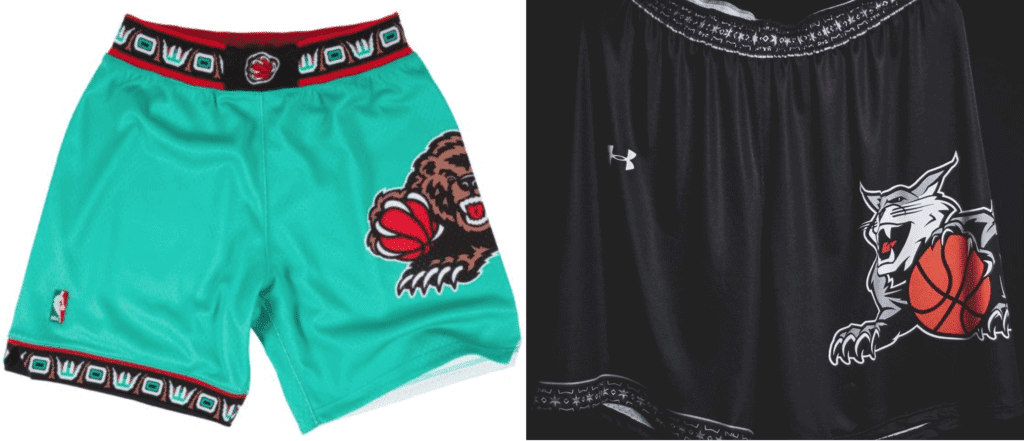 There's nothing sneaky about any of this. Northwestern's press release is upfront about the uniform's inspiration:
For the third time in program history, Northwestern basketball has collaborated with Under Armour to create its latest edition of the 'By The Players' uniform. The tradition has evolved to each senior class meeting with UA representatives to help design the uniform they will wear on their Senior Day.

• Northwestern's senior class met with Under Armour in August 2018 to come up with a concept.

• Design is inspired by NBA uniforms from the 1990s, the decade in which NU players fell in love with the game of basketball. The Grizzles look was one of their favorites and they communicated that to UA.

• UA created a new Wildcat logo that is in line with the look of the 90s. The Wildcat is featured prominently on the shorts and the shooting shirt.
Leaving aside the somewhat dubious explanation for the 1990s influence (a current college senior would typically have been born in 1997, so it's hard to see how any of the Northwestern players "fell in love" with basketball during the '90s), it's interesting to see a college team borrowing from a pro team. The Grizzlies, of course, are no longer in Vancouver, but the franchise still exists in Memphis, so I assumed there must have been an interesting arrangement between Northwestern and Under Armour on one side and the Grizzlies and the NBA on the side in order to make this uniform possible (similar to what happened when the Arkansas football team honored alum Jerry Jones by wearing Cowboys-themed uniforms). At the very least, you figure NU and UA gave everyone a heads-up, right?
But when I got in touch with a Grizzlies source to ask him about this, he expressed surprise at the design. So I went back to Northwestern and asked their media guy if the school had consulted with the Grizzlies or the NBA. I made it clear that I wasn't playing gotcha or accusing anyone of anything — I was just curious about the creative process on this uniform and was wondering to what extent, if any, the Grizzlies and/or NBA had been involved. He said, "That's a good question," and then suggested that I check with Under Armour.
So I went to Under Armour, asked the same thing, and got this response:
The process of this uniform creation was a collaborative journey where our design team met with the NU seniors (I believe it was three separate trips) and talked about the kind of uniform they'd like for Senior Night. In the initial meeting with the team, the Grizzlies were one of those mentioned as an example of uniforms the seniors liked while they were growing up. Our team then came back to Baltimore and created a couple of concepts, which one of them eventually landed as the one for Saturday.

Long story short, the seniors gave us teams they liked while growing up and the style of uniforms they like, and we applied those "wish list" characteristics to the Senior Night uniform.
I thanked him and said, "So, just to confirm, you're saying there was no consultation with the Grizzlies, right?" His response: "The creative direction came from the era, with the lines, fonts and blocking that were prevalent throughout the '90s." At that point I gave up and basically said to myself, "Okay, I'll take that as a no."
I'm not sure what to think of this. I'm generally opposed to design poaching, but this seems more like an example of interpretation and homage (something I've done myself, although I'd argue that there's an added meta factor when Uni Watch references a uniform design). It's worth noting that there are certain uniform designs that have almost become design templates unto themselves, like the Astros' tequila sunrise design, which is used by countless teams at virtually every level of pro and amateur baseball. So if that's okay (and I'm pretty sure we all think it is), then why not the Northwestern design?
I've never thought of Vancouver uni in that same "template unto itself" category, but maybe it is. After the Northwestern uni began circulating yesterday, Twitter-er Dean Garcia posted this:
Eastern New Mexico University Greyhounds also going with the throwback Grizzlies look for their road uniforms this year. pic.twitter.com/wZjs3RljfP

— Dean Garcia (@deangarcia1) March 7, 2019
All very interesting. I'm just surprised that these colleges and their legal departments weren't worried about getting some sort of blowback from the NBA.
Meanwhile, just as the Northwestern situation was unfolding, a remarkably similar set of circumstances was developing in Tampa, where the logo for Wrestlemania 36, which will take place at Raymond James Stadium in 2020, was unveiled: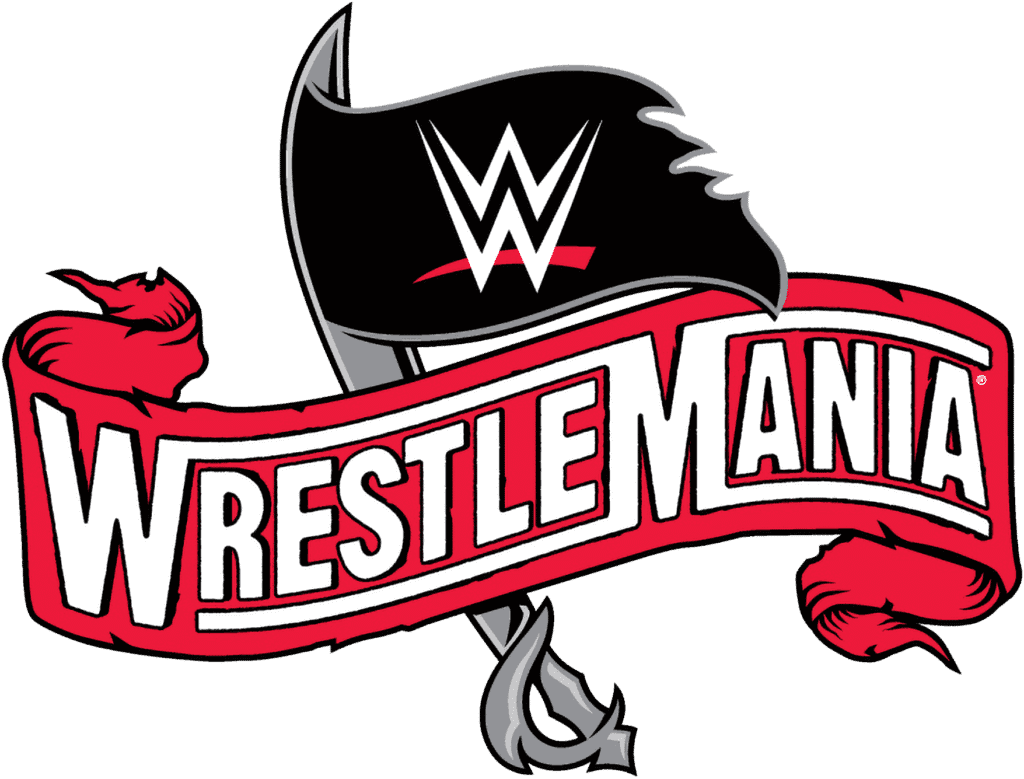 And if that one looks familiar, it's because it owes a heavy stylistic debt to the logo of Raymond James Stadium's primary tenant, the Tampa Bay Buccaneers: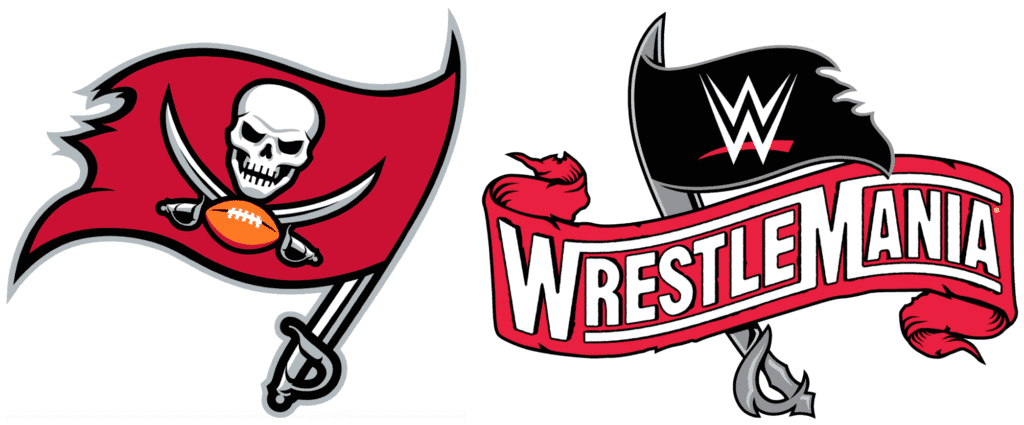 I don't follow pro wrestling, so I have no idea if Wrestlemania logos typically reference the logos of the teams that play at the host venue. But either way, I figured they must have consulted with the Bucs on that, right? So I contacted the Bucs, where a very friendly spokesman said, "I actually do not know the answer to this, so let me see what I can find out."
He hasn't gotten back to me yet. I suppose I could contact WWE and ask them, but there are some things I just will not do.
• • • • •
• • • • •
Click to enlarge
Mardi Gras scene report: Membership card designer Scott M.X. Turner moved to New Orleans last summer, which means he's now experiencing his first Mardi Gras. He was pleasantly surprised to see some of the revelers, like the woman shown above, in uni-themed costumes (additional pics showing other uniforms here). He also provided some interesting background info — take it away, Scott:
Most of these are from the Krewe of Red Beans parade. Red Beans krewe members decorate their costumes with…beans. The most interesting designs are the ones that use natural bean colors, though some people paint the beans.

Specifically, these are from the Red Beans sub-krewe Dead Beans — more macabre. The theme this year was Dead Poets. Casey is "Casey At The Bat," and the Pelicans treatment is Anthony Davis, who's clearly dead to Pelicans fans these days. I couldn't tell if there was a sub-sub-krewe of AAGPBL skirts or just Satan 666 and Casey. You, of course, would have gone up to folks and asked. I was too busy being overwhelmed by it all.

Puns are a big part of New Orleans culture — hence the "Great Bambeano" baseball undershirt.

There was a fella dressed as an LSU baseball player. One point for going high-cuffed, point taken away for the abysmal sock execution.

Another very-oft-occurring theme in this year's carnival season: NFL referees suck.
Every parade had a float or floats dealing with the non-call in the Saints' NFC Championship Game loss. Lots of throws were yellow penalty flags, lots of referees with canes for the blind. One parade known for its ribald themes, Krewe du Vieux, featured a penis dressed like a ref continually ramming itself into a Superdome with a roof shaped like an ass. You get the idea.

I hope this becomes a tradition whose origin story gets lost in the ether. I'd love for there to be conversations a century from now:

"Mommy, why are there so many people in black-and-white shirts throwing yellow handkerchiefs?"

"I don't know, darling…something that happened a long time ago when New Orleans was still above water. Grandpa told me once, but I can't remember what it was…"
Now that, my friends, is a lede-worthy scene report (indeed, it would have been today's lede if not for the Northwestern thing). Thanks, Scott!
• • • • •
• • • • •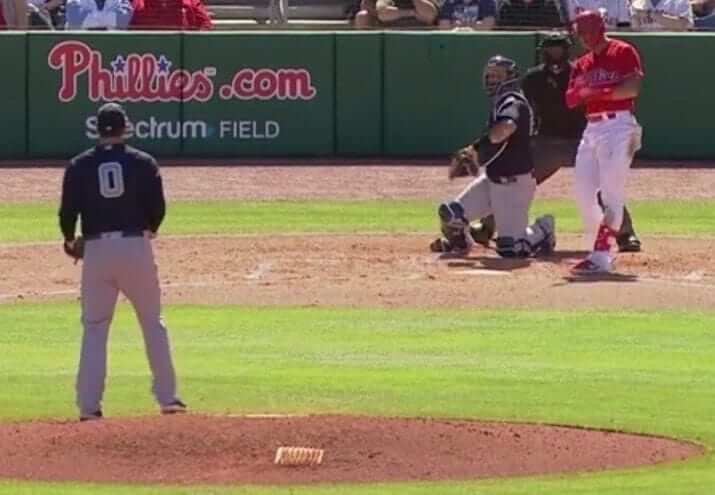 Whole lotta nothin': We've known for a while now that reliever Adam Ottavino would be wearing No. 0 with the Yankees (thus becoming the first Bronx Bomber ever to do so), but it still looks really weird, right?
And it's gonna look even weirder when he does it in pinstripes during the regular season.
(My thanks to @kodywiddak for the screen shot.)
• • • • •
• • • • •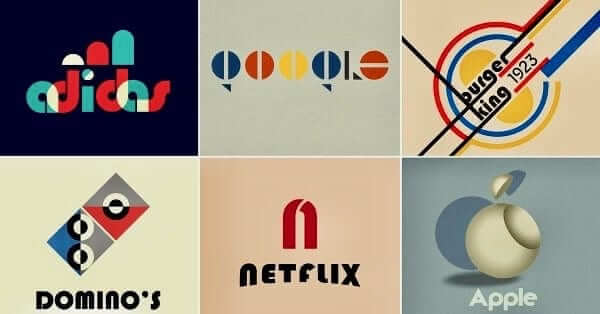 'Haus work: This year marks the 100th anniversary of the founding of the great Bauhaus art school, so some graphic designers have been trying their hand at redesigning some contemporary corporate logos in the Bauhaus style, with very entertaining results. You can see more examples (and larger versions of the ones shown above) here.
(Big thanks to my longtime pal/hero David Greenberger for this one.)
• • • • •
• • • • •
The Ticker
By Yianni Varonis

Baseball News: Here's why baseball managers wear uniforms (paywalled) while football coaches no longer wear suits (from @retrojayhawk). … Here's a fun look at the origins of the Rays' first branding attempt. … The Reds Hall of Fame and Museum has a new logo (from Matt Bach). … Speaking of the Reds, their 150th-anniversary logo, which will appear on jerseys and caps this season, will also appear on the baseballs at their home games (from our own Alex Hider). … Illinois Secretary of State Jesse White told a local TV station that the state's most popular vanity plates were Blackhawks- and White Sox-themed. … Only in spring training: Cubs SS prospect Nico Hoerner wore two different uni numbers on consecutive days. … Minor League Baseball has a logo for both opening day as well as opening night (from Al Jones). … From Phil: The Milwaukee Milkmen unveiled the uniforms that they will wear during their inaugural 2019 season. … To celebrate Kentucky Derby season, the Louisville Bats will become the Derby City Mint Juleps for two games later this year (from multiple readers). … New retro-inspired jerseys for Virginia (from @chef__carey). … Marlins photographer Tony Capobianco noticed that OF Curtis Granderson had written "Don't Think, Have Fun" on his underbrim, and Granderson explained that he's been doing that on his caps since he was a kid (from Aaron Stock).

Pro Football News: QB Case Keenum was traded from Denver to Washington last night. This published attempt to Photoshop him into a Washington uniform, however, missed the mark on several levels (from Jon Solomonson). … Cross-posted from the baseball section: Here' why baseball managers wear uniforms while football coaches no longer wear suits (paywalled) (from @retrojayhawk). … The newest Arena Football League team will be the Atlantic City Blackjacks featuring this logo (Mike Chamernik).

College Football News: If you've never seen this before, North Carolina is practicing with a football that will emit a sound indicating if it's not being held tightly enough by a player (from James Gilbert). … LSU produced a video to unveil the next player that will wear No. 7, which in recent history has been worn by standouts (from Griffin Smith). … Air Force is asking fans to vote bracket-style on which alternate helmets they like most.

Hockey News: Prior to last night's game, the Red Wings painted No. 7 onto their home ice in memory of Ted Lindsay, who passed away this week. In addition, the team wore a memorial patch, coach Jeff Blashell wore a memorial pin, and fans were given memorial placards (from Moe Khan, James Beattie, and Al Kreit). … Last night the Coyotes wore wore first responders-themed sweaters during warmups, featuring NOBs describing the character of first responders (from Peter Quinn). … The Penguins have a new partnership with a Pennsylvania-based tool maker that includes the team logo and head equipment manager's signature featured on a line of products (from Jerry Wolper and Kevin Krawz). … Cross-posted from the baseball section: Illinois Secretary of State Jesse White told a local TV station that the state's most popular vanity plates were Blackhawks- and White Sox-themed. … The Quad City Storm will host KISS Night this week during which it will wear KISS-inspired uniforms. … The Cincinnati Cyclones will wear Black Panther-themed sweaters that will be auctioned-off for charity (from @labflyer). … Soccer player Madison Tiernan, who plays for Sky Blue FC, dressed up in the hockey uniform of Metropolitan Riveters G Kimberly Sass, pads and all (from our own Jamie Rathjen). … This is the green sweater that the Chicago Wolves will wear to celebrate St. Patrick's Day (from Steve Johnston).

NBA News: A writer at Sports Illustrated gave his opinion on how the Lakers should handle the rest of a very disappointing season. Among his suggestions was to "Burn those purple jerseys" because of the black side-panel. Agreed! (From @HitTheGlass.) … The new athletics logo of Contra Costa College was originally just a part of its basketball court design that was inspired by the Cavaliers' secondary logo.

College Hoops News: Troy G Jasmine Robinson wears "J. Rob" NOB while her teammate, G Kayla Robinson, wears her full last name (from Jonathan Sellers).

Soccer News: Somehow, Manchester United MF Mason Greenwood's shirt against Paris Saint-Germain had a PSG badge on his back-jersey number (from Phil McDaniel). … It appears that English club Tottenham Hotspur's third kit has been copied by the top team in Iraq, Al-Shorta SC. … Colorado Springs Switchbacks FC unveiled its new shirt for this upcoming season (from Josh Hinton). … Argentinian club Newell's Old Boys unveiled new away kits (from Ed Zelaski). … Cross-posted from the hockey section: Sky Blue FC MF Madison Tiernan dressed up in the hockey uniform of Metropolitan Riveters G Kimberly Sass, pads and all (from our own Jamie Rathjen). … Also from Jamie: This really great photograph of Welsh club Cardiff City's laundry room surfaced featuring other team's jerseys, most of which are likely opponents the team played. … New home kit for New York Red Bulls II (from Josh Hinton). … New World Cup kits for the Scottish Women's National Team (from our own Jamie Rathjen). … New home kits for Birmingham Legion FC, the new USL Championship Division franchise (from Brandon Seale).

Grab Bag: President Trump called Apple CEO Tim Cook "Tim Apple" during a public event Wednesday. Making light of the situation, Cook changed the last name on his Twitter account to the Apple logo. … From Phil: In a new deal that was announced yesterday, Nike will continue to be the official outfitter of U.S. Olympic athletes through the 2028 games in Los Angeles. … Canada's national rugby team recently wore orange shoelaces to raise awareness to the threat of leukemia and to support a four-year-old Canadian girl battling the disease (from @ohhhsourry). … Check out this Michigan State-themed, custom-made carousel horse (from Griffin Smith). … Military appreciation uniforms upcoming for Cleveland State lacrosse (from Ed Zelaski). … Reader Jay Wright shares that a local bank sent his household a mailer specifically to explain its decision to change the company's logo. … We wrote earlier this week that Goldman Sachs is loosening its dress code. This opinion piece argues why that was the right decision. … British airline Virgin Atlantic will no longer require female flight attendants to wear makeup and has made it easier for them to wear pants. … IKEA's former head of design recently made the argument that companies need to refocus their energies on designing better products instead of expansive marketing campaigns. … The New York Times recommends the following books chronicling the history of design. … A video of a teenage girl who doesn't recognize the Metallica logo on a T-shirt has gone viral among metalheads.