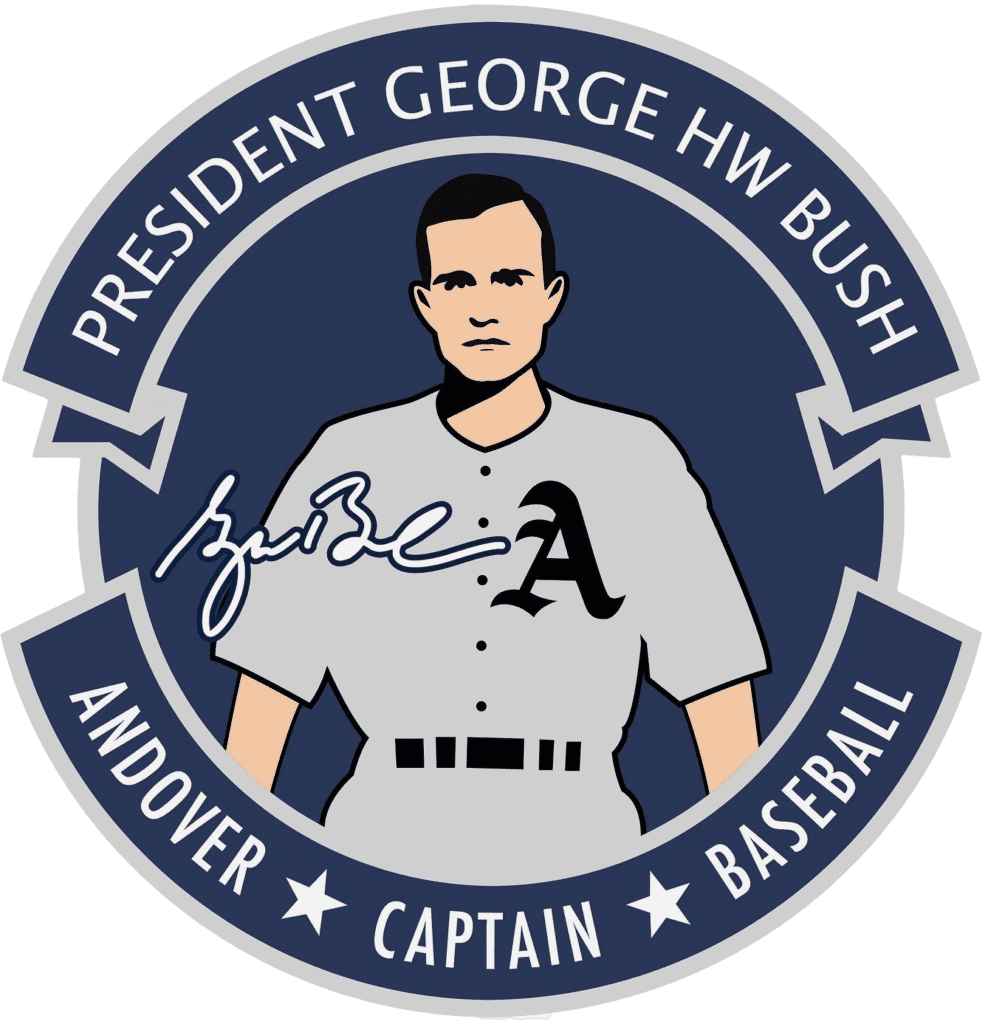 Click to enlarge
In Saturday's Ticker, we had an item about how Phillips Academy Andover, the prep school where the 41st president, George H.W. Bush, was captain of the baseball team, is adding a memorial patch in Bush's honor. The school showed a digital rendering of the patch design on various social media channels, along with a video showing the actual patch on the team's jersey sleeve:
But two eagle-eyed Uni Watch readers — Jacob Ventura and Grant Young — noticed a serious flaw in the design. To wit: The signature shown on the patch is not Bush's. It's the signature of his son, George W. Bush, the 43rd president. Here's a comparison of their two signatures, as shown on their respective Wikipedia pages — 41 first, 43 second, and then a close-up of the patch signature: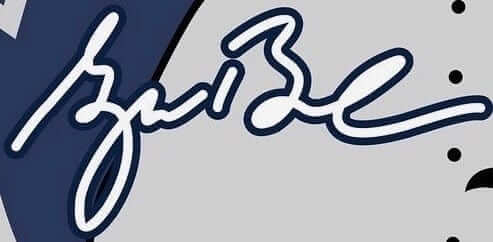 Oopsie.
That is some seriously heroic uni-watching by Jacob and Grant. How did they even notice that? Jacob told me, "I just know 43's signature for some reason, and it looked familiar on the patch. I wasn't as sure about 41's signature." As for Grant, here's what he had to say:
Noticed right away. I'm from Iowa and work in politics. My first job was the 1999 Bush [43] campaign for the caucuses, and then I worked through the general, the recount, and the inaugural. Also worked in Iowa for the re-elect in '04. I have a bunch of items signed by [43]. His signature was also on a lot of mailers and handouts we would use.
And there's more. I didn't notice this at first, but while working on this piece I realized that although the patch depicts Bush in his Andover baseball uniform, it appears to be based on a photo of him in his Yale baseball uniform. Check out this comparison (click to enlarge):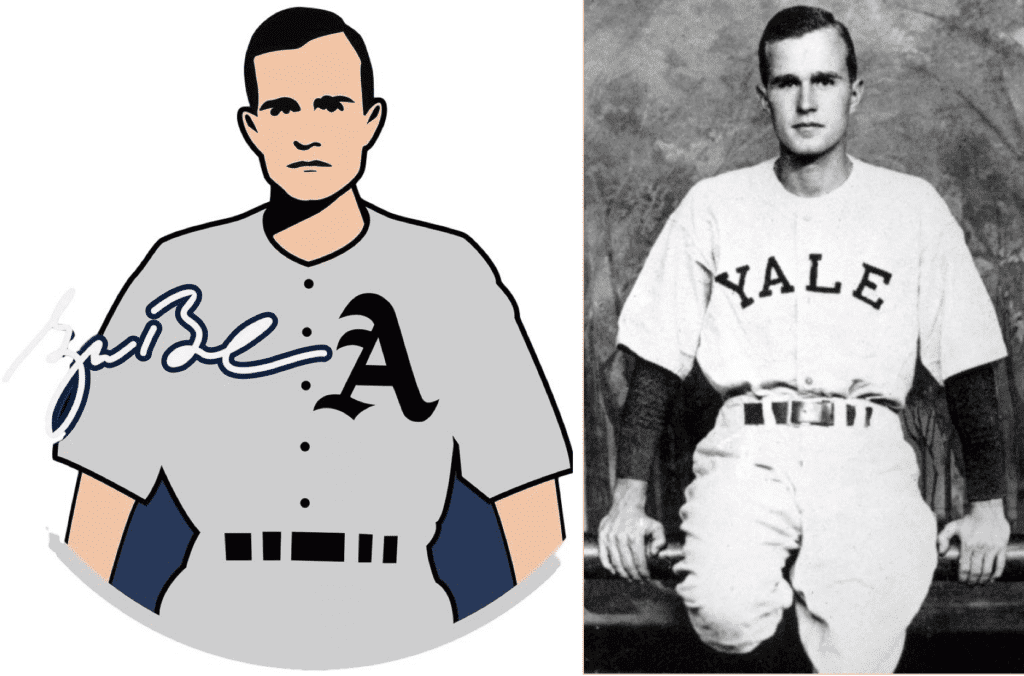 It's possible, of course, that Bush struck similar poses at Andover and Yale. But look at the sleeve cuffs, the little bump where the left sleeve connects to the jersey shoulder, the shadow under the chin — the patch design is clearly based on the Yale photo. So in addition to using the wrong signature, they used a non-Andover photo to show Bush in an Andover uni.
I emailed Andover baseball coach Kevin Graber yesterday and asked him about all of this. I didn't expect to hear back from him on a Sunday, but he wrote back almost immediately. Turns out he's a longtime Uni Watch reader (a quick search reveals that he contributed a Ticker item to this 2015 blog post) and was excited to hear from me — but less excited about the reason I was getting in touch, obviously. He gave me this statement:
Thank you so much for pointing out the signature error on the commemorative sleeve patch. My first reaction when you contacted me about it was, "Oh no!" — because I honestly thought I'd used the right signature. But I'm glad you took the time to alert me. The intent is to honor President Bush's baseball legacy at our school, and we certainly want to get it right. I did the artwork myself, with no budget, and the patches are strictly for use on our baseball jersey as a means of honoring President Bush. Again, we definitely want to get it right, so we're removing the patches from the jerseys and ordering a new batch with the accurate signature (or I might just leave the signature off).

Regarding the patch's artistic rendering of President Bush, what I hoped to capture was not so much the presidential Bush the world came to know so well, but the boyish, baseball-playing Bush. I think he would've really enjoyed that. Having met President Bush as inspiration, I drew from a number of images and personal experiences, including the Yale photo you pointed out.
So there you go. I also spoke with Kevin on on the phone — seems like a really good guy. I'm sure this isn't how he wanted to be featured on Uni Watch, but he handled the situation with a lot of class. Good for him, and doubleplusgood for Jacob Ventura and Grant Young for catching the signature error.
• • • • •
• • • • •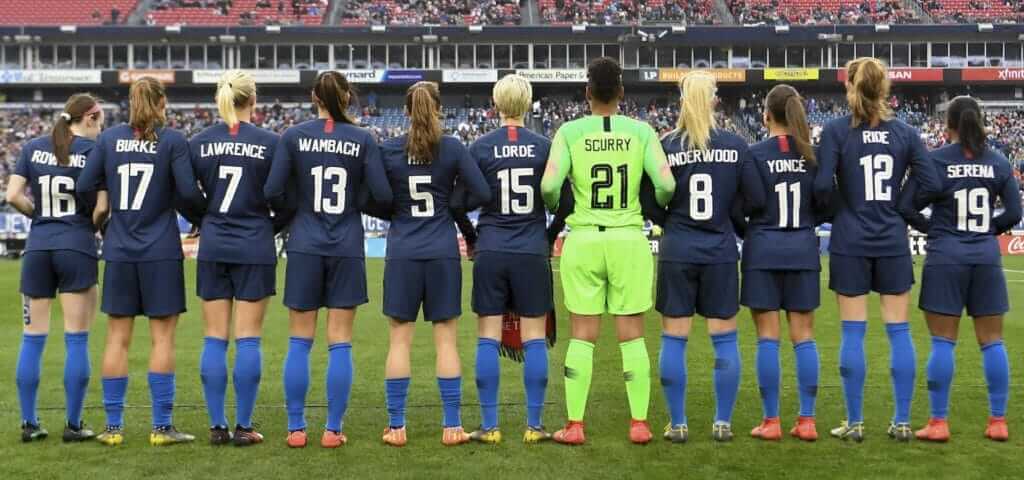 Click to enlarge
USWNT NOB Report
By Jamie Rathjen
The above picture shows the U.S. Women's National Team's starting 11 from Saturday's SheBelieves Cup game against England. If the NOBs seem a bit odd — "Serena" and "Yoncé" certainly jump out — that's because the team was conducting an interesting NOB-related experiment, with each player wearing the name of a prominent woman she considered "inspirational" while still keeping the number she was given for the tournament.
Roughly half of the team chose somebody in sports or sports media, with the rest mostly spread out between musicians and past or current women's-rights activists.
Two players chose athletes currently active in other sports: full-backs Crystal Dunn and Emily Fox chose Serena Williams and WNBA star Elena Delle Donne, respectively.
Four others chose former USWNT players, resurrecting their NOBs — if not their old numbers — for one game. One such player was striker Alex Morgan (No. 13), who chose her fellow striker Abby Wambach. Wambach was well associated with No. 20 for both club and country, so it was odd to see her last name appearing with a different number. Similarly, goalie Adrianna Franch (No. 21) chose fellow goalie Briana Scurry, who wore No. 1 at every major tournament in which she participated for the U.S.
Full-back Kelley O'Hara (No. 5) chose still-active North Carolina Courage winger Heather O'Reilly, who retired from the USWNT in 2016. O'Hara wore O'Reilly's nickname, "HAO."
Some players chose figures from the world of pop culture. Winger Mallory Pugh chose Beyoncé, which was shortened to "Yoncé" on her NOB; midfielder Julie Ertz went with "Underwood," for Carrie Underwood; and midfielder Rose Lavelle's choice of J.K. Rowling was appropriate for a game against England, as Rowling, who was born in England, lives in Scotland and is a fan of their national teams.
Other players chose civic and political heroes. Midfielder Carli Lloyd chose Nobel Peace Prize winner Malala Yousafzai; center-back Becky Sauerbrunn wore "RBG" for Supreme Court justice Ruth Bader Ginsburg; striker Christen Press wore "S. Truth," for abolitionist and women's rights activist Sojourner Truth; and winger Megan Rapinoe, the captain for the day, chose poet and feminist activist Audre Lorde.
Unfortunately, not everyone could play in the game, but the U.S. Soccer Federation's website had the remaining players' NOBs, as well as the explanations behind everyone's choices.
Another uni-related note from the game is that both teams usually wear white as first choice, but both changed: the U.S. to blue and England to red/white/red.
• • • • •
• • • • •
Click to enlarge
Uniforms in the Wild: A few nights ago I was out at a bar that has a skee-ball league. One of the teams was called Skeelino & Barnes — that's a play on Cellino and Barnes, a local ambulance-chaser law firm that advertises heavily in the NYC market.
Fun idea! But here's the thing: As anyone who's ever heard a Cellino and Barnes commercial can tell you, their phone number is, rather famously, 800-888-8888. So you'd think everyone on the Skeelino & Barnes skee-ball team would be No. 8, right?
Nope:
Gah! Such a huge missed opportunity!! I tried to explain this to the skee-ballers, and they registered a dull thud of recognition, but they were a few too many beers past the point of caring. Ah, well.
• • • • •
• • • • •
Click to enlarge
An embarrassment of meaty riches: Thanks to a story I'm working on for The Wall Street Journal, I recently received an insane amount of pepperoni and salami. (The baseball is there for scale.) I only asked for a couple of samples, but they went a bit overboard.
Anyway, speaking of pepperoni, there are two primary kinds: flat and cupped. Here's a visual comparison — flat on the left, cupped on the right (click to enlarge):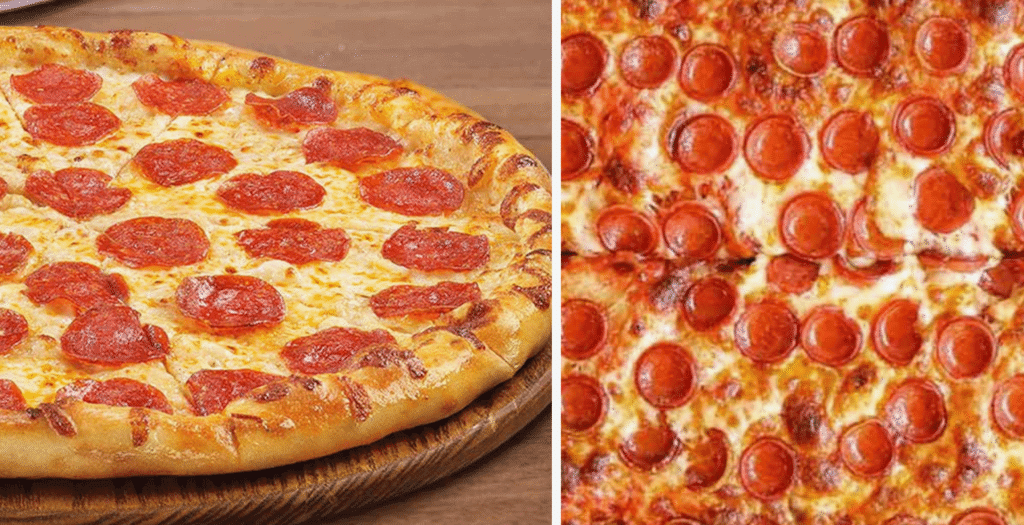 The cupped style has long been common in Buffalo, Detroit, and parts of the midwest, and it's now becoming a trend here in New York.
There are lots of people who loved cupped pepperoni. But people who dislike the cupped style and prefer flat pepperoni seem to be harder to come by. If you're one of those people, I'd like to hear from you (via that email link, please, not in the comments). Thanks in advance.
By fairly amazing uni-related coincidence, the NBA D League's Stockton Kings wore pizza-themed uniforms yesterday, and the unis clearly showed flat, non-cupped pepperoni (click to enlarge):
• • • • •
• • • • •
Culinary Corner: There's something very satisfying about rolling something up. So when the Tugboat Captain and I were tasked with making hors d'oeuvres for a neighborhood pot luck dinner on Saturday night, we both chose to make things that involved rolling.
I made bacon-wrapped dates, one of my go-to appetizers. Unfortunately, I didn't document the entire process, but it's pretty simple: You get a container of pitted dates (about 12 ounces should be enough) and a one-pound package of bacon. Slice the bacon cross-wise down the center while it's still in the package, so now you have a bunch of half-length bacon slices. Roll up a date in each half-slice and put them on a baking pan or a baking dish, like this (for all photos, you can click to enlarge):
Doesn't that look great? All those little fat/lean stripes look kinda uniform-y, no? And the rolling process is fun.
After I've used up all the bacon, I drizzle everything with balsamic vinegar and then pop it in a 400º oven for about 20 minutes, and then transfer them to a platter or tray. Voila:
Looks good, right? Tastes even better, believe me.
As for the Captain, I mentioned that we currently have a lot of pepperoni and salami in the house, so she decided to make strombolis. She got some store-bought pizza dough, brushed it with some tomato sauce, set up alternating rows of meat and mozzarella, then rolled everything up, creating a log (and then she repeated the whole thing):
The captain added some chopped garlic to the logs and then put them in the oven along with the bacon-wrapped dates. After about 25 minutes, they were golden brown:
We took everything to the party and sliced up the strombolis there. I want to show you a cross-section shot, but the lighting was awful, so I have two less-than-ideal photos — one taken with flash, and one flashless with the levels punched up:
Our contributions were the hit of the party, and I have to say the stromboli was the single best thing I've eaten in the past week or two.
• • • • •
• • • • •
Click to enlarge
Climb to the Top update: On Friday I told you about Uni Watch reader Jon McCue, who was the defending champion of Climb to the Top, a 5K race up 66 flights of stairs to raise funds for fighting MS, and was planning to wear a Uni Watch T-shirt when defending his title on Sunday.
The bad news is that Jon did not win Sunday's event. The good news is that he came in second place (by only three seconds!), so he was the runner-up — quite literally, given the race's format! The photo above shows Jon with his trophy and his mom, who is afflicted with MS and is, I'm sure, very proud of him.
The best part is that Jon raised over $3,400 (his goal was $3,000), some of which was pledged by Uni Watch readers. It's all so great that I don't even mind that his T-shirt was mostly obscured by the trophy. Congrats to Jon, and good job by everyone who contributed.
• • • • •
• • • • •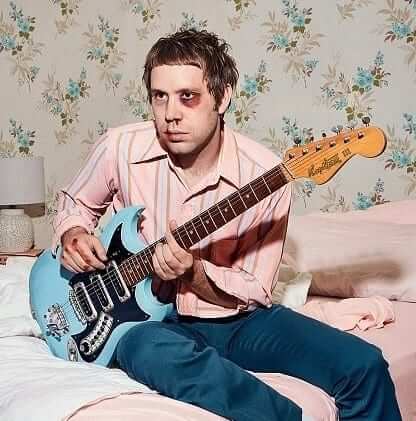 Long-shot request: I'm a big fan of the indie-rocker Mike Krol, whose new album, Power Chords, is hot stuff. I saw him play back in 2015, and that was even hotter stuff, so I was looking forward to seeing him play tomorrow night at Rough Trade in Brooklyn — but I didn't get tix in advance and now the show has sold out, which I didn't expect to happen. Dang.
So: In the highly unlikely case that anyone reading this has an extra ticket to tomorrow night's Mike Krol show — or, even better, two tickets — please give a shout in my general direction. I can't afford to pay much more than face value (as most of you know, I'm losing my job), but I can sweeten the deal with a fair amount of pepperoni, if that helps. Thanks.
• • • • •
• • • • •
The Ticker
By Jamie Rathjen

Baseball News: Last year, Cardinals P Daniel Poncedeleon said he planned to legally change his surname to Ponce de Leon. He's now done that, and his NOB has been changed accordingly, complete with a lowercase "de" (from Jeff Scott). … Reader John Gagosian points out that Bryce Harper's personal logo incorporates No. 34, meaning Harper will need a new logo now that he's wearing No. 3 with the Phillies. … Nebraska wore very bold "U of N" throwbacks over the weekend (from multiple readers). … The Dodgers donated old equipment to Uganda's baseball federation for them to start an academy (from Mike Chamernik). … Sohail Jouya is trying to find out more about this cap on his friend's father.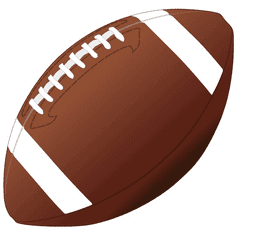 Football News: Reader Ben Conover tells us that this video appears to show the footballs used at the NFL combine have the 100th anniversary logo on them instead of the NFL shield. … The Panthers appear to be teasing a uniform update (from Nicholas Cottrill).

Hockey News: The Flames retired No. 12 for Jarome Iginla and wore patches, as well as other touches including similar logos on the boards and ice and everyone wearing No. 12 for warmups (from multiple readers). … Colin MacIntyre points out that Iginla played for the Flames long enough to have worn almost all their uniforms. The two exceptions seem to be the original white one and the 2013-16 script alternate. … In a 1979 game, the Islanders wore blue helmets at home against the Atlanta Flames because the visitors complained that goalie Billy Smith was wearing a blue mask while everyone else wore white. … Michael Bialas found a vintage hockey-themed ad, or box cover, for a company called Knitters Limited.

NBA News: Warriors C DeMarcus Cousins memorialized Stephon Clark, an unarmed black man recently killed by Sacramento police, on his shoes (from Mike Chamernik). … New Bucks C Pau Gasol is wearing No. 17 (from Etienne Catalan and Mike again). … Here are some of the logos that were originally proposed for the Heat (from Adam Vitcavage).

College Hoops News: Louisville wore red at home against Notre Dame, who wore blue (from Josh Hinton). … Illinois/Northwestern was also color vs. color (from Dylan Richardson). … Pitt and Louisville's women wore pink and black/pink yesterday (from Jerry Wolper).

Soccer News: Loudoun United, the new USL Championship team in Northern Virginia, revealed their first two shirts (from Josh Hinton and my brother Nate Rathjen). … Also from Josh: it appears Brazil may have a white shirt for this summer's Copa América, which the national team wore until abruptly stopping after being upset by Uruguay in the 1950 World Cup's final round. … FC Cincinnati's captain's armband is the city flag; however, they're not the only team in MLS that has gone that route (from multiple readers). … An orange version of the MLS ball appeared for Saturday's Colorado/Portland game, which was progressively snowier as it went on. … Tottenham Hotspur wore warm-up shirts commemorating the 100th anniversary of their advertiser. … Scottish Championship team Dundee United are switching from Nike to Macron (from Ed Żelaski). … French team Paris Saint-Germain — one of the richest teams in the world — wants a naming-rights advertiser for the Parc des Princes. … New home shirt for the USL Championship's Tulsa Roughnecks FC (from Josh Hinton).

Grab Bag: North Carolina and Denver men's lacrosse played color vs. color; lacrosse is normally a white-at-home sport (from James Gilbert). … The uniforms for all the teams at the Brier and the Tournament of Hearts, the Canadian men's and women's curling championships, were redesigned for this year. Additionally, Manitoba's shirt and cap are distinctly bison-themed instead of the same design as all the other provinces. The designing company, Dynasty Curling, is owned by the lead of the rink representing Manitoba, Colin Hodgson (from Adam Peleshaty). … The Manitoba rink has won all 15 games they've played when two specific members of the team wear the hats (from Wade Heidt). … The NLL's Colorado Mammoth have a new version of their state-flag jersey (from Zeke Perez Jr.). … We had NASCAR driver Brad Keselowski's throwback helmet for this weekend in the Ticker a few days ago, but here it is next to the original. Keselowski recently passed Mark Donohue, the wearer of the original who participated in various series including NASCAR and Formula One, as the all-time winningest driver in Team Penske history (from Kyle Dawson). … Here are the stories behind the team names and logos for the new Premier Lacrosse League. " If people don't know, all teams are traveling and owned by the league, not assigned to one city," explains @PhillyPartTwo.