Click to enlarge
Nowadays, Clemson's football program is associated with the paw print logo and lots of purple trim. But it wasn't always that way.
Uni Watch reader Bryan Hoover's father, Fred Hoover, was Clemson's head athletic trainer from 1958 through 1998. The photo above is from 1960, and shows Fred Hoover applying what Bryan describes as "a cold cream-based eye cream" to an unidentified player. There are lots of other noteworthy details, including the following:
• The helmet being worn by the player does not match the design shown in the Helmet Project's database (scroll down to the Clemson section from that link). I've forwarded the photo to the Helmet Project people.
• Assuming this was a game-day photo (which appears to be the case — note the marching band in the background, just behind Hoover's shoulder), Clemson was wearing white at home.
• Right next to the marching band, look at the goalpost — check out that striping!
• Note the little tag dangling from Hoover's belt loop. Bryan says that was a sideline access pass. That's an accessory I will forever associate with John Madden, from his days coaching the Raiders.
• Both Hoover and the player are wearing classic Riddell footwear.
• Bryan doesn't know the story behind the woman in the tiger suit, but that's some outfit!
• "If you look in the backround, you'll see that the Hill is practically empty, which was the norm on those days," says Bryan. "It was not the spectacle that it is today. In fact, the Hill was the most practical way to get into the stadium from the old Fike Field House, which housed the locker room and training room, and the players casually walked down the Hill to get to the field."
Great stuff. Thanks for sharing, Bryan!
• • • • •
• • • • •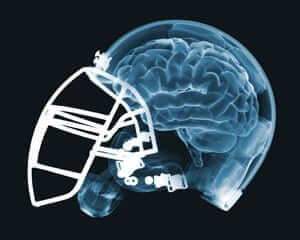 Concussion discussion, continued: Here's something I missed from last week: ESPN.com published a faaaaascinating Outside the Lines piece about how the mounting evidence linking football to neurological disease has led an increasing number of insurance companies, which at one time were happy to cover football teams, leagues, and helmet manufacturers, to abandon the sport and refuse to cover it.
One source quoted in the story says, "Insurance coverage is arguably the biggest threat to the sport." Another says, "People say football will never go away, but if we can't get insurance, it will."
The story is long but extremely well-reported — highly recommended. Check it out here.
• • • • •
• • • • •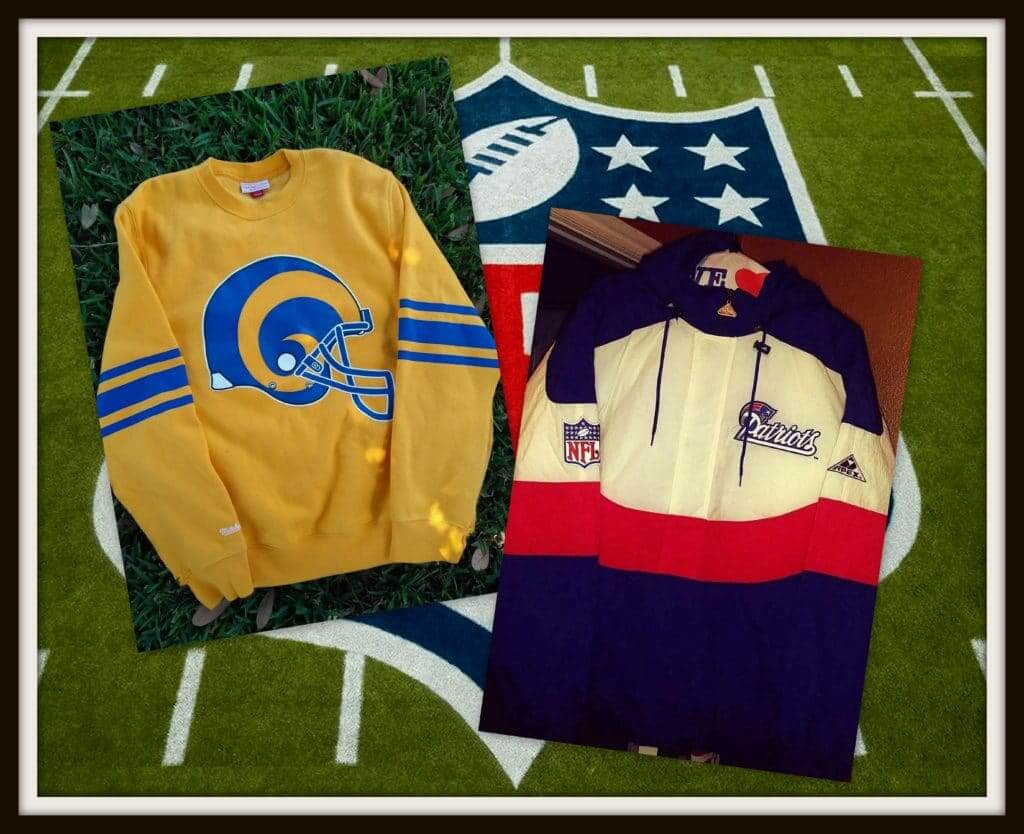 Click to enlarge
Collector's Corner
By Brinke Guthrie
The Los Angeles Rams will face the New England Patriots in Atlanta in two weeks for the Lombardi Trophy, so we're leading off with those two teams. Up above, we've got a retro-ish Rams sweatshirt from Mitchell & Ness, featuring the No. 55 of Rams Hall of Famer Tom Fears, who played for them from 1948-1956. (He also wore No. 80.) And for the Pats, a 1990s Patriots parka made by Apex, who usually always came up with great designs. We've also got a set of 1970s Patriots bicycle helmet hubcaps, though it looks as though Pat might be stuck on there rather poorly — can't tell if the decal is just laying on there or is stuck on.
Now for the rest of this week's picks:
• In the "What might have been" category, here are a couple of Chiefs items: a nice-looking 1990s Chiefs hoodie from Starter (I had a Bengals version and loved it, except the flocking on the chest script tended to pick up bits of lint and whatnot floating in the air as you can see in the close-up photo) as well as a 1970s Chiefs ceramic cup/stein shaped like, of course, a football.
• These 1970s Eagles sketches are from artist Jack Davis, best known for his work with Mad magazine.
• This 1960s "Sports Waving Ball Car Decoration" has "Cincinnati" printed in red. Must have been an unlicensed Reds item.
• Wow, a very nice-looking 1960s San Francisco Giants bobblehead right here.
• Keep your 1970s O-Pee-Chee NHL hockey cards in this cardboard "storage locker," divided into Eastern and Western divisions.
• How about the Seattle Pilots-style scrambled eggs on the bill of this NFL Alumni cap?
• This 1970s Chargers sweater made by Garan is about as bold a yellow as you can get.
• Got a neat-looking baseball model kit here, of all things. AMT made this "Hang Out 3 Dimensional Action Scene" diorama called "Big Hit?"
• The Steelers helmet logo looks a bit off when it's rendered in all yellow, as on this 1970s seat cushion.
• I like the powder blue/burgundy trim on this Phillies cap (definitely not 1970s, more like 1990s) made by American Needle.
• This 1970s "Official Major League" baseball glove came with the Chicago Cubs logo on the strap. It's made of "Top Grain Cowhide" and comes with a "Pro Pocket." "Flex-Action, too!"
Seen an item on eBay that would be good for Collector's Corner? Send any submissions here.
• • • • •
• • • • •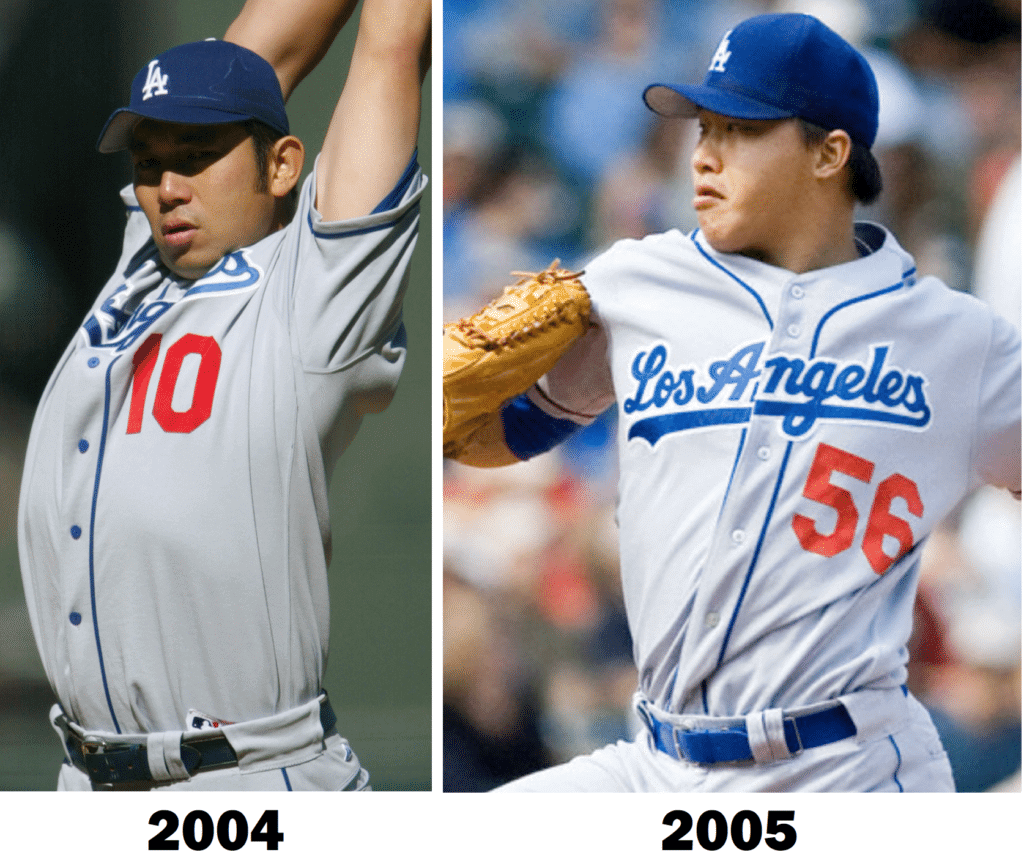 Little things mean a lot: In 2005, the Dodgers made a small adjustment to their road jerseys: They changed the buttons from blue to clear. It may seem like a minor thing, but it really changed the visual feel of the jersey.
I recently made a similar change to a piece of my own clothing, and I'm so pleased with how it turned out that I'm going to tell you about it today.
So: A few years ago I bought this vintage plaid coat. It's big and heavy, warm enough for winter wear, and right in my color wheelhouse (click to enlarge):
It had shank buttons, which seemed fine at first, but then the buttons kept coming off, so I kept having to sew them back on, which was a pain in the ass. When I wore the coat, I found myself instinctively altering my posture and movements so I wouldn't put stress on the buttons, which was annoying. At some point last winter I pretty much stopped wearing the coat altogether.
Eventually I realized that problem was that the buttons' metal shanks had gotten rusty, and the rusty surface kept tearing through the thread that attached the buttons: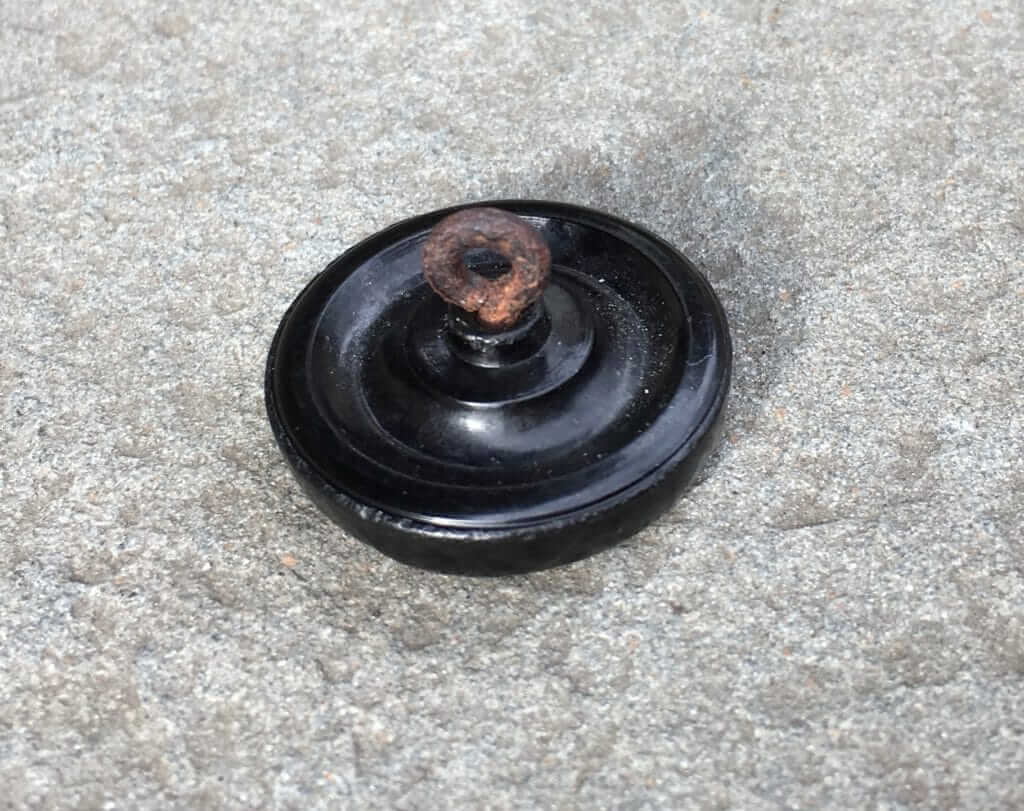 So I decided to get fresh buttons. At first I thought I'd just try to match the old ones, but then it occurred to me that brown buttons would be much better than the original black ones.
I went to M&J Trimming in Manhattan, which has a huge button selection, and found some brown faux-leather buttons that matched the size of black originals. And these had plastic shanks, so there'd be no rust issue to worry about (click to enlarge):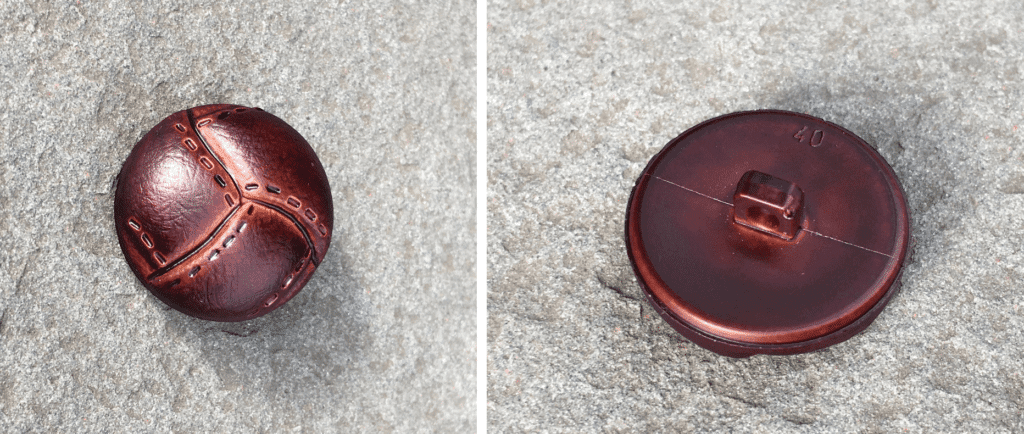 Then I swapped out the old black buttons for the new brown ones — looks so much better! Old version on the left, new on the right (click to enlarge):
Very satisfying to have solved the button problem and improved the coat's look. A win-win! So interesting to see how replacing three buttons can make such a big visual difference (at least to me).
The more eagle-eyed among you may have noticed that there are still two oddly placed black buttons on the upper chest. Those are just decorative, but I'll probably swap them out as well. They're a bit smaller than the main buttons, so I'll have to go back to M&J Trimming to match the proper size. But for now, I'm very pleased with the new primary buttons, and I've already begun wearing the coat again, which feels like being reunited with an old friend.
• • • • •
• • • • •
And as long as we're talking about my wardrobe ..: It's not often that I find myself envying or coveting another guy's item of mass-produced apparel. But I was out seeing music on Sunday night and saw a guy wearing a T-shirt that I liked a lot — so much, in fact, that I asked the guy if I could photograph it (click to enlarge):
The lighting in the club was awful, and I had to punch up the levels on that photo quite a bit. Here's a better look at the striping pattern, which the guy sent me the next day:
Swoon. Is that gorgeous or what? Those are totally my colors.
The guy (whose name, by coincidence, is Paul) said he bought the shirt about five years ago at Uniqlo, which is funny, because about the only thing I know about Uniqlo is that their clothing supposedly falls apart after about three wearings.
Anyway, I looked on eBay, Etsy, and a few other places to see if I could find the shirt — no dice. If anyone knows where I can find it in a medium (and/or if anyone has such a shirt and is willing to sell it), you know what to do.
• • • • •
• • • • •
Infinite regression: Everyone loves a good infinite regression, right? Here's a really good one:
That's pretty awesome. Reminds me of the similarly awesome Infinite Cat Project.
(My thanks to the Tugboat Captain for this one.)
• • • • •
• • • • •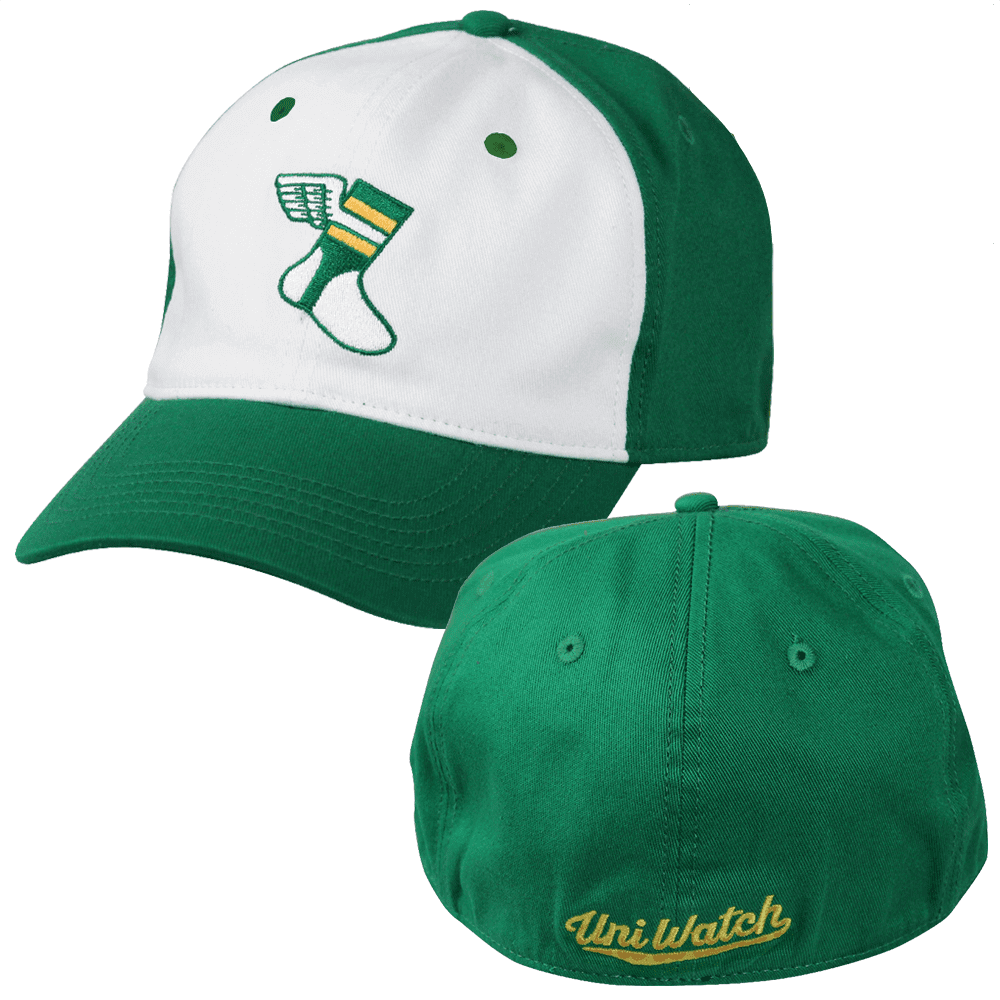 ITEM! Cap update: Yesterday I asked how many of you would be willing to pre-order one of our S/M flex-fit Uni Watch Alternate Caps at the cut-rate price of $10.99 plus $4 for shipping (for more details on why I'm doing this, look here). The response was, frankly, better than I'd expected — thanks!
For those of you who responded affirmatively, now it's time to put your money where your mouth is. If you want one of these caps, please do one of the following:
1. Send me $14.99 via Venmo, using @Paul-Lukas-2 as the payee. (This is my preferred payment method, because there are no fees.)
2. Send me $14.99 via Zelle, using plukas64@gmail.com as the payee. (Again, no fees.)
3. Send me $14.99 with this Amazon Payments button (if you don't see the button, refresh the page):
Whichever payment method you choose, please email me and give me your shipping address after making your payment.
Sorry, American customers only for this deal.
I should be able to ship the caps in early February. Thanks for helping me move this inventory.
• • • • •
• • • • •
KRC update: The latest installment of Key Ring Chronicles is about a little turkey charm. Check it out here.
• • • • •
• • • • •
The Ticker
By Alex Hider

Baseball News: The Astros are establishing a team Hall of Fame. The Hall's initial class will include players whose numbers have already been retired and those who have been honored on the team Walk of Fame (from Ignacio Salazar). … Also from Ignacio: Astros OF Josh Reddick is a big wrestling fan, so when he tied the knot over the weekend, the reception included a WWE-style entrance, complete with robes and championship belts. … The birds on the bat of this '80s vintage Cardinals jersey look hypnotized! Matt Henderson spotted that on an eBay listing for an obviously counterfeit Lou Brock jersey. … Lots of new gear for Creighton (from @Perez_Cristian3).

NFL News: Here's our first look at how the Super Bowl LIII patch will look on a Rams jersey (from Matt Lally). … Remember that obviously fake/Photoshopped photo of Rams RB Todd Gurley swapping jerseys with a ref, which ran on lots of media outlets, including Uni Watch, yesterday? Radio yakker Mike Francesa thought it was real.

College Football News: Florida State's social media team ended up with egg on its face yesterday when it tweeted an insensitive graphic of Martin Luther King Jr. wearing a football glove (?) and performing the tomahawk chop. Yikes (from Kurt Esposito).

Hockey News:  Reader Mandy Lopez spotted this Wayne Gretzky Kings jersey with an upside-down sleeve number at a Dick's Sporting Goods. … The Stockton Heat of the AHL gave away a bobblehead of Stockton mayor Michael Tubbs wearing a Heat sweater, a Stockton Ports baseball cap, and Stockton Kings basketball shorts and shoes (from Pádraig T. Watson). … The ECHL's Cincinnati Cyclones wore Paw Patrol-themed uniforms on Sunday. Here's how they looked on the ice (from Brian Henke). … A few child actors from the Mighty Ducks movies, now fully grown up, donned the Ducks' throwback sweaters while taking in a Ducks/Isles game on Long Island over the weekend. The jerseys were personalized with the actors' movie personas (from Michael Lopez). … Here are the stories behind the Blue Jackets' uniform numbers (paywalled) (from Jason Hillyer).

NBA News: The D League's Texas Legends went with MLK-themed uniforms yesterday. Jordan maker's mark, too (from Zak Buncik). … The latest from NBA uni numbers guru Etienne Catalan: New Pacers G Stephan Hicks will wear No. 17, new Wizards PG Gary Payton II will wear No. 4, and new Rockets F/C Kenneth Faried will wear No. 35. … Great look at Dr. J in a classic old 76ers warmup top (from Pro Football Journal).

College Hoops News: Pretty rough black-vs.-GFGS matchup between Colorado and Utah on Sunday (from Perry Sailor). … Virginia Tech went BFBS on the road yesterday against North Carolina (from Andrew Cosentino).

Soccer News: Man City ST Sergio Aguero rolled down his socks on Sunday against Huddersfield, and lots of fans noticed (scroll about halfway down the page) (from Sean Kautzman). … Forward Madison FC of USL League One has inked a deal with a uniform advertiser and says their uniforms will be unveiled in the coming weeks (from JohnMark Fisher and Ed Zelaski). … New away shirt for Vasco da Gama (from Ed Zelaski). … Reprinted from last night's comments: New sleeve sponsor advertiser for the German Bundesliga club Schalke 04.

Grab Bag: The National Lacrosse League has already announced that the Rochester Knighthawks will relocate to Halifax after this season. Apparently, the league has filed trademarks for new logos and for the team name "Halifax Thunderbirds" (from Jack Goods). … Sen. Kamala Harris announced her presidential campaign yesterday — 47 years to the day after Shirley Chisholm became the first black woman to do so. Harris's campaign colors are red and yellow, a nod to Chisholm's campaign. … Mississippi's current state flag still includes the Confederate battle flag. But proposed legislation could replace that design with one that doesn't include Confederate imagery — and was designed by the granddaughter of one of the state's most ardent segregationists. … David Firestone came across these race car diagrams in a racing press kit. … The school district in Hurley, Wis., has voted to stop using "Midgets" as the name for the district's sports teams at the end of this school year. A new team name will be chosen in time for the start of the following school year (from Jerry Nitzh).