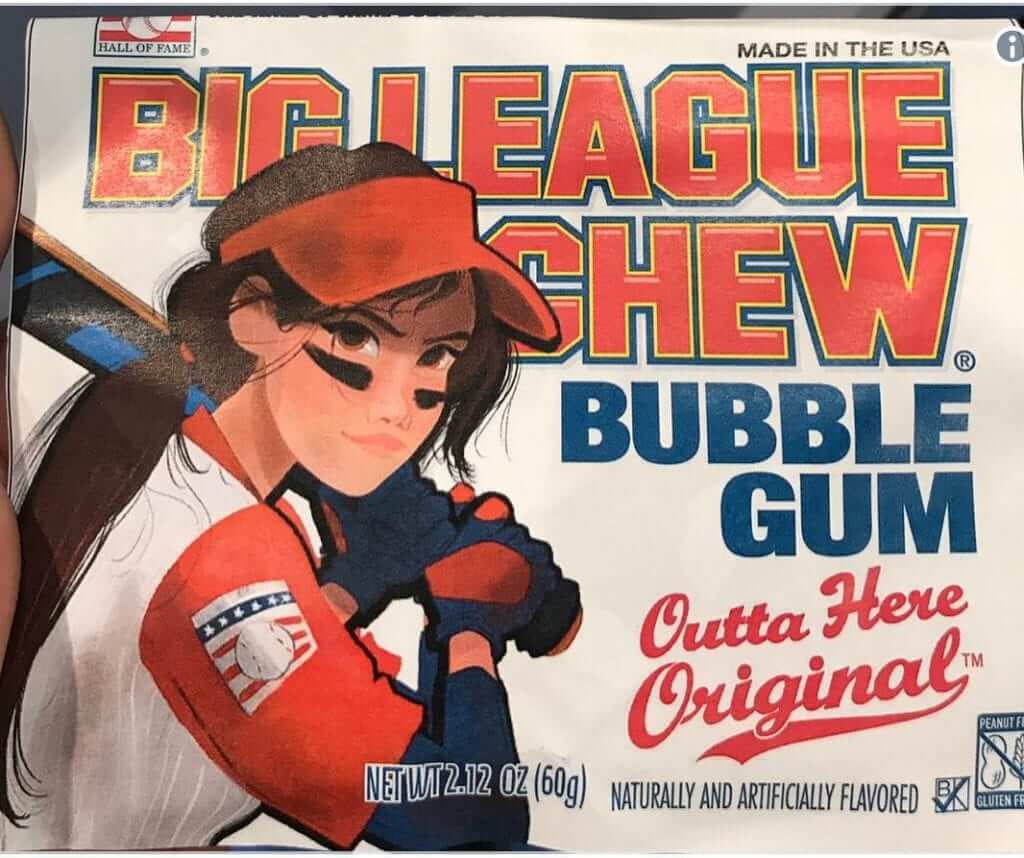 Paul here, pinch-hitting for Phil, who has the weekend off. Interesting package-design news yesterday from Big League Chew, which announced that a girl will be featured for the first time on the product's familiar pouch. This is something that probably should have happened a long time ago, but it's nice that it's finally happening now. The new package will start appearing at retail next month.
That got me thinking: Big League Chew was launched in 1980 and, of course, was meant to mimic chewing tobacco. I never chewed Big League Chew myself (I was in high school when it debuted — a bit older than the target market), but I umpired some Little League games in 1981 and remember that it was popular with some of the kids, who had fun pretending that they had a big chaw in their cheek, just like George Brett or whoever their favorite ballplayer was.
Nowadays, though, tobacco has largely been eliminated from baseball. Do today's kids even understand that Big League Chew is a riff on chewing tobacco? If so, would they view that as a positive thing? It seems like a product whose concept may be obsolete.
For those of you who have young kids, is Big League Chew on their radar?
(My thanks to our own Brinke Guthrie for bringing the new package design to my attention.)
• • • • •
• • • • •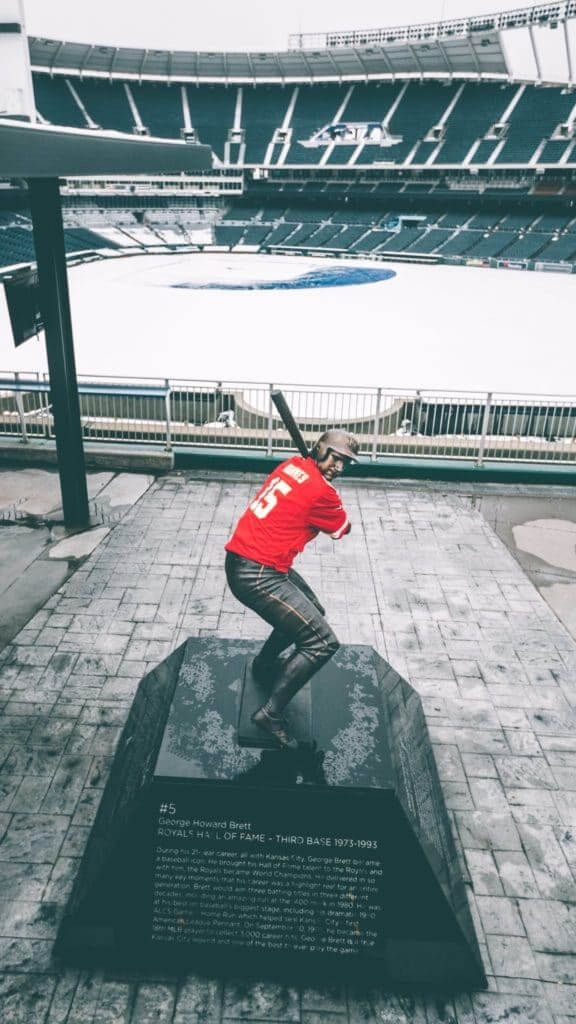 And speaking of George Brett…: Nice cross-sport uni move by the Royals, who showed their support for the Chiefs in tomorrow's AFC Championship Game by putting a Patrick Mahomes jersey on the George Brett statue at Kaufman Stadium. Here are a couple of additional shots (click to enlarge):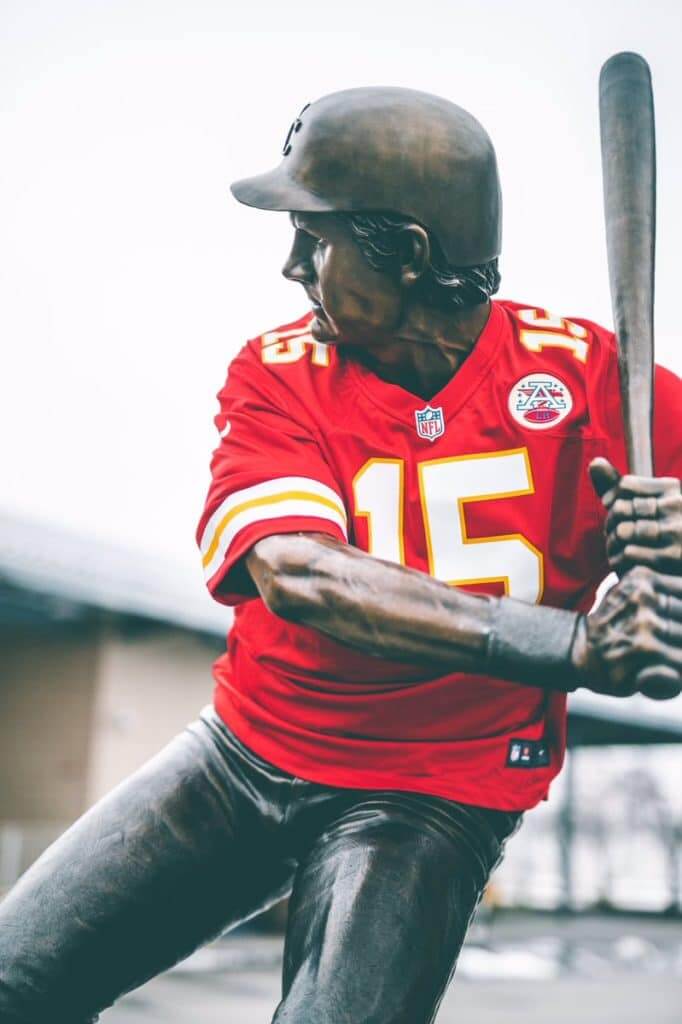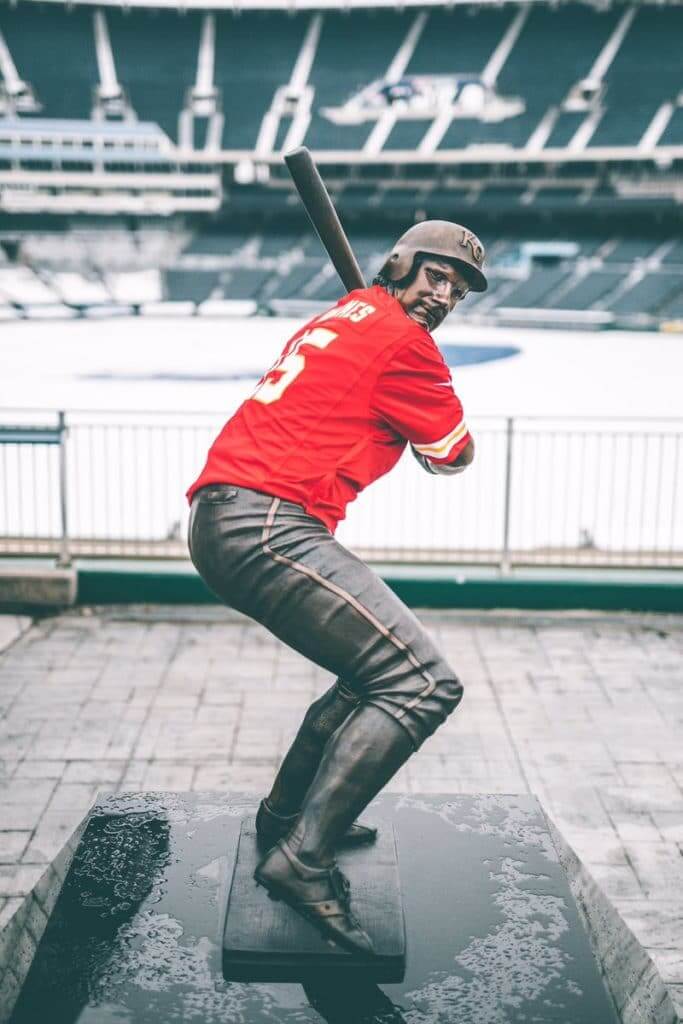 (My thanks to Lendsey Thomson for this one.)
• • • • •
• • • • •
Click to enlarge
The real thing: Bittersweet moment for me last night, as I went to Paulie Gee's Slice Shop in Greenpoint and visited my old Coke machine for the first time since selling it to Paulie last summer. I'm glad it's in a place where it can be used and appreciated, but it still shook me up a bit to see it on someone else's turf. It had been mine for 21 years. Sigh.
• • • • •
• • • • •
The Ticker
By Anthony Emerson

Baseball News: Absolutely gorgeous new throwback pullovers for Texas A&M. Probably makes them one of the best-looking college baseball teams in the country (from @atxaggie07). … The Phillies have had their St. Patrick's Day caps leaked: white with a green bill and squatchee, with a green Liberty Bell as the primary mark, with a small clover towards the top of the cap (from @FSBabyHuey). … Houston's Karbach Brewing Company is teaming up with the 'Stros and launching a line of tequila sunrise-inspired cans (from Ignacio Salazar and Al Gruwell). … HatClub has brought a 1985 Padres prototype cap to life. Here's the actual prototype cap and jersey (from Shannon Shark). … Cross-posted in the college football section: Whoa, check out these awesome pics of Astros and University of Houston football players testing out the then-new Astroturf at the Astrodome in 1966. A bit odd that the 'Stros are wearing road unis, no? (From Nick Lineback.) … Some really great old Alaskan Little League unis in this gallery (from Christopher Piscotti). … Check out the caps Lakewood is giving away on Irish Heritage Night, Aug. 10 (from John Cerone).

NFL News: So yesterday, CBS Sports Radio host Damon Amendolara sent us this picture of an awesome Bengals cap, taken on the field after the 1981 AFC Championship Game. This led to a long discussion where multiple Twitter users posted their own helmet caps, culminating in Chris Murphy posting a pic of the entire set, and an ad for them featuring Mean Joe Greene. Why hasn't the power of nostalgia brought these back yet?!

College Football News: Also posted in the MLB section: whoa, check out these awesome pics of Astros players and University of Houston football players testing out the Astroturf at the Astrodome in 1966. A bit odd that the 'Stros players are wearing road unis, no? (from Nick Lineback). … Here's a really good Photoshop of Oklahoma transfer Austin Kendall in a West Virginia uni (from David Cline).

Hockey News: We've probably covered this before, but just in case: Penguins C Evgeni Malkin wears two different gloves during games (from David Schucosky). … Color on color alert! That's RMU in blue and Canisius in gold (from Matt Gajtka and Jonathan Hanna). … We've seen contrasting nameplates before, and we've seen nameplates below the uni number before, but have we ever seen contrasting, below the uni number nameplates? That's Michigan Tech against Bemidji State (from DJ Belfey).

Basketball News: Memphis will wear throwbacks today against SMU (thanks, Phil). … Western University women went all pink for breast cancer awareness (from Ewan Williams). … It appears a Northwestern-branded ball had the Northwestern logo off-center compared to the Under Armour logo (from Jerry Kulig).

Soccer News: FootyHeadlines has leaked the colors of Manchester City's 2019-20 away kit. They're calling the accent color "peach" but let's be real here — if the mockups are accurate, that's pink. … German side TSG 1899 Hoffenheim have gotten a new stadium advertiser (thanks, Jamie).

Grab Bag: Reader Jamie Tallman found and uploaded this awesome footage of Cuban Olympic athletes exercising in satin unis on their way to Rome in 1960. Highly recommended, even though it's less than 30 seconds. … Rugby league team Toronto Wolfpack — who play in the British rugby league system — have launched their new away kit (from James Welham). … "What the hell is this skirt!??" asks Ken Weimer.