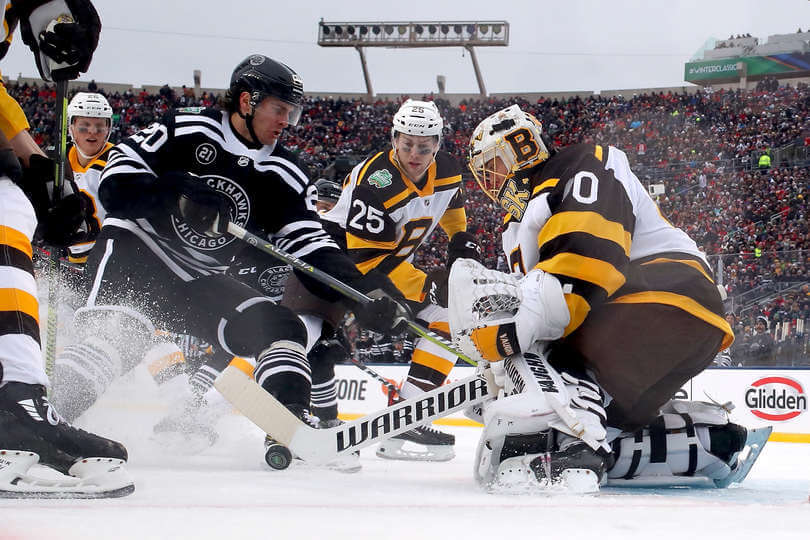 Click to enlarge
Players in eye black, goalies wearing toques, coaches in varsity-style jackets, players wearing retro-style menswear before and after the game — all telltale signs of the NHL's annual New Year's Day extravaganza, the Winter Classic, which took place yesterday at Notre Dame Stadium.
I chose the shot shown above as today's splash image because it provides a good view of the stadium backdrop, which I think is always a key visual component of the Winter Classic. Here's a shot that provides a better view of both uniforms (click to enlarge):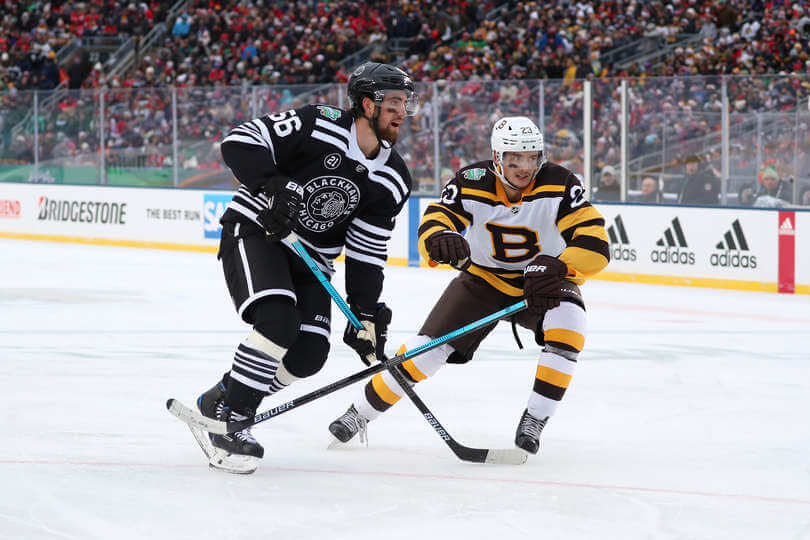 I thought the Bruins looked awesome. I was less enthusiastic about the Blackhawks — the black/white look was too stark, too limited, especially for a team whose standard uniforms feature such a wide array of colors.
Both goalies wore Notre Dame references on their masks' backplates: the fighting leprechaun logo for Chicago netminder Cam Ward and the Irish's inspirational slogan for Boston goaltender Tuukka Rask (click to enlarge):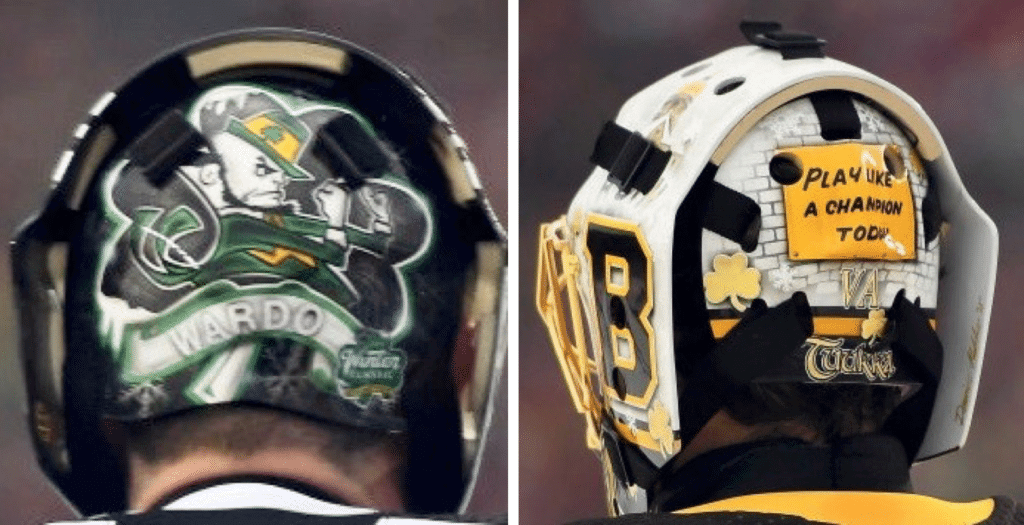 In an absolutely world-class catch, reader Charles Noerenberg noticed that one of Blackhawks right wing Patrick Kane's helmet numerals was upside-down: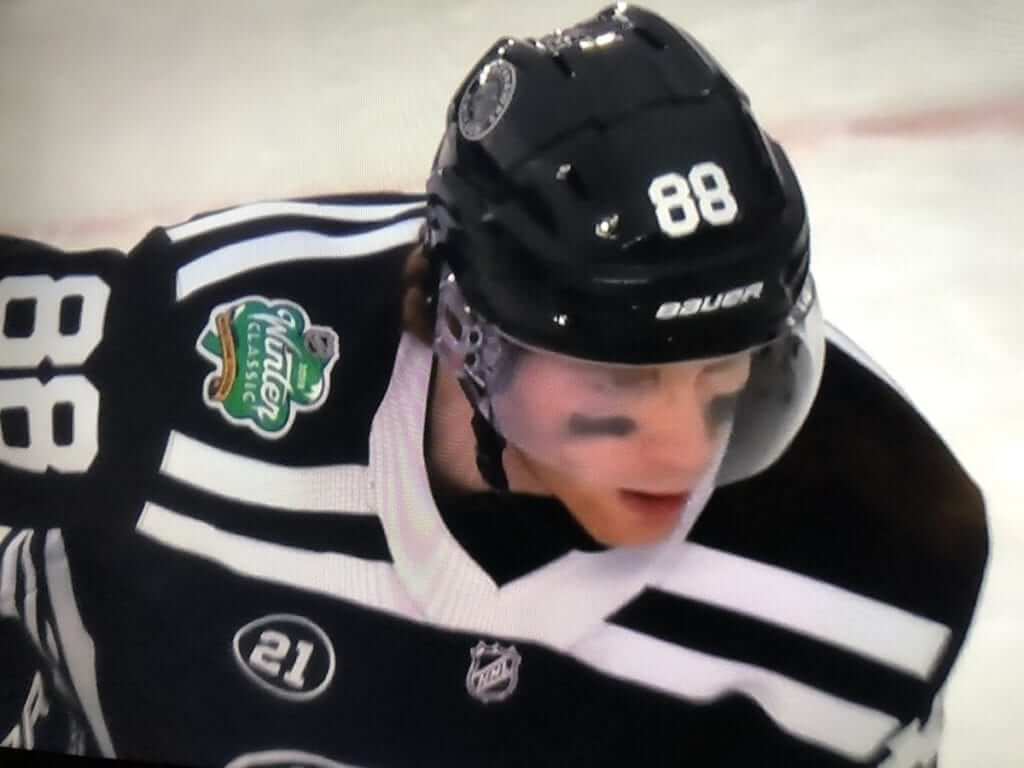 There are literally hundreds of additional game photos here and here.
• • • • •
• • • • •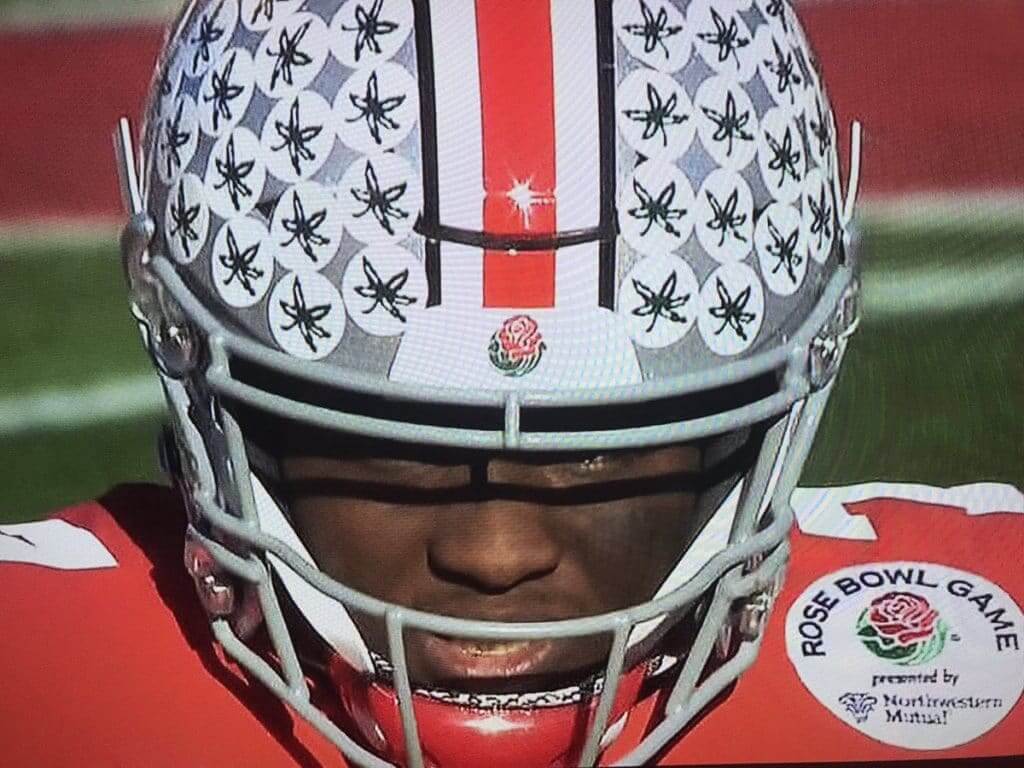 Click to enlarge
Nose bumper? No, rose bumper: Nice move yesterday by Ohio State, which replaced its usual B1G nose bumpers with Rose Bowl bumpers. And although you can't really see it in that screen shot shown above, the rose logos were raised (click to enlarge):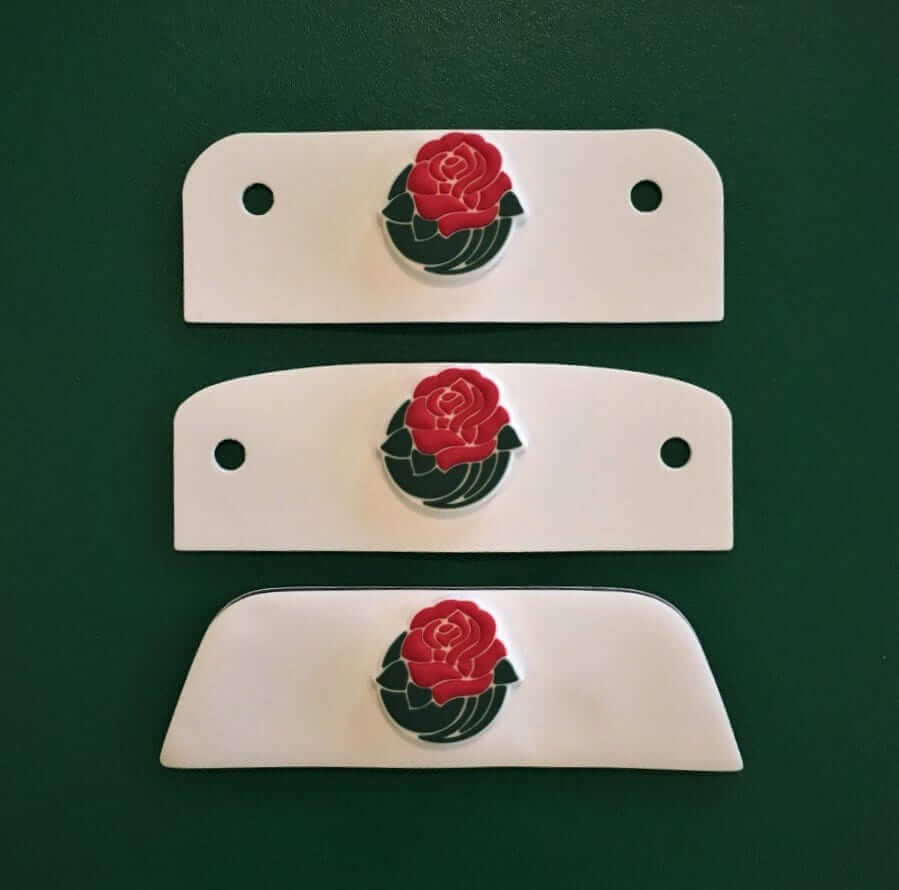 It's a nice, simple way of acknowledging the game. I actually prefer it to some of the flashier rose-themed uniform accents from years past.
While we're at it: Ohio State tight end Luke Farrell had a bit of a malfunction with his Rose Bowl jersey patch:
— Ƒunhouse (@BackAftaThis) January 2, 2019
• • • • •
• • • • •
Click to enlarge
A year in stubs: Cool move by Twitter-er @BandaBear15, who took all of his ticket stubs from 2018 and framed them. Obviously, this is harder to do nowadays, as more and more tickets are electronic, but I still love me a good stub. Nicely done!
• • • • •
• • • • •
Culinary Corner: The Tugboat Captain and I didn't have any New Year's Day plans, so we decided to ring in 2019 by roasting a pork shoulder. In the past, we've chosen shoulder recipes that can take up to eight hours, but we didn't want to spend that much time on it today, so we decided to go with a half-shoulder (also known as a picnic roast) — about five pounds — which doesn't take as long.
We seasoned the meat very simply — just salt, pepper, and garlic powder. In the past, we've left the skin on, but this time we decided to remove it and roast it separately for cracklins (for all of these photos, you can click to enlarge):
We put the meat and the skin into a 300º oven. After about 90 minutes, the cracklins were ready:
After another hour or so, I took the meat out of the oven, let it rest for half an hour, and raised the oven temperature to 475º. Then I put the meat back in for another 15 minutes, after which it was perfect:
The Tugboat Captain made some collard greens with bacon, along with some gravy, which made for a very nice dinner:
Sooooo good! Hope your first dinner of the year was just as good.
• • • • •
• • • • •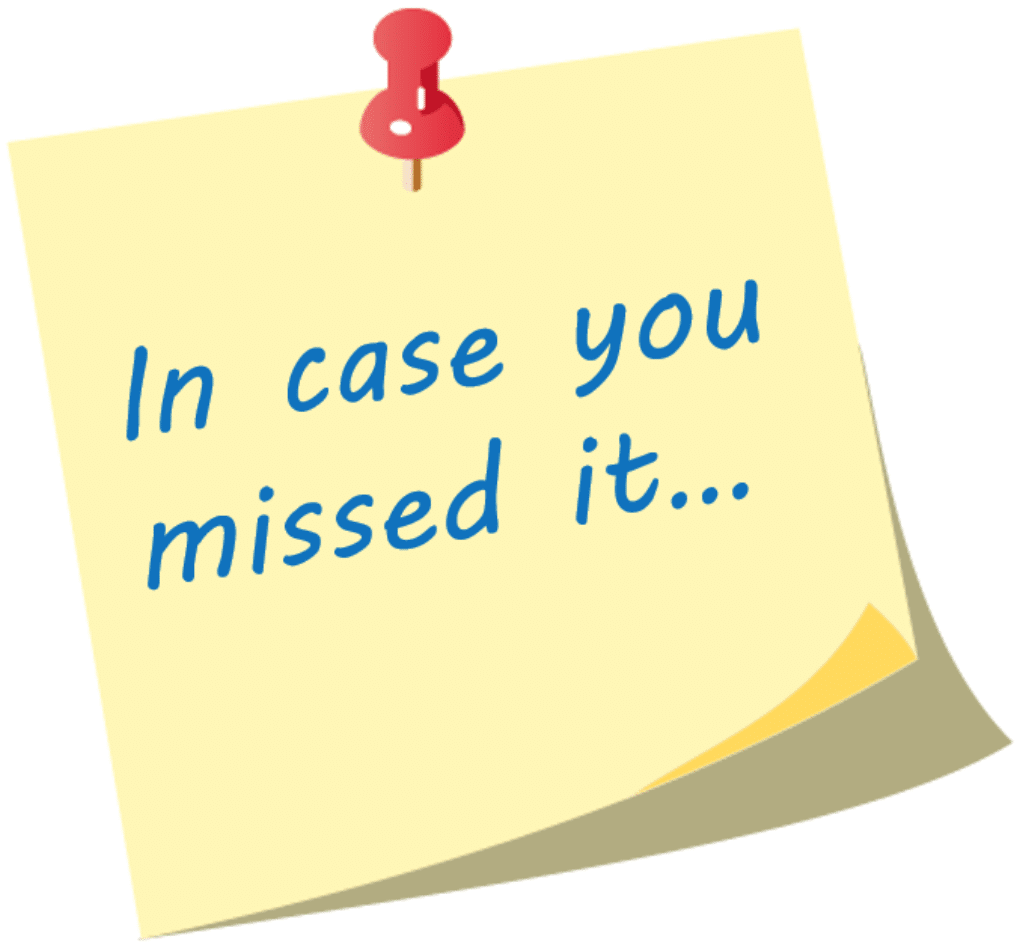 Catching up: I know many of you may not have been reading the site as frequently as usual during the holidays, so here's a quick recap of some stuff you may have missed:
• We had a really nice Uni Watch gathering in Cincinnati a few days ago. Full details here.
• The 40 winners of our annual year-end raffle were announced on Christmas Day. All of the prizes originating from me have been mailed out, and I think most of the ones originating from third parties have shipped out as well.
• The Christmas Day post also had some thoughts about the recent unpleasantness, which people seemed to like. You can check out the full post here.
• If you don't know what I'm talking about when I refer to "the recent unpleasantness," you'll want to check out this post from two weeks ago.
• In response to the aforementioned unpleasantness, many readers have very generously asked how they can help support the site. The answer to that question can be found here.
Okay, now you're all caught up!
• • • • •
• • • • •
The Ticker
By Paul

Baseball News: Man, back in 1973, the Reds' costumed Mr. Red mascot looked seriously creepy (from Cincinnati's own Patrick O'Neill, one of the many fine people I was happy to meet at our recent Cincy meet-up).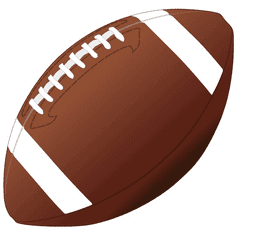 Football News: Whoa, check out the serious spacing issue on former Rams RB Willie McGee's McNOB. … In the Holiday Bowl, Northwestern joined Utah in wearing a memorial decal for Lauren McCluskey, the Utah track athlete who was murdered earlier in 2018 (from Steve Johnston). … The 2019 All-American Bowl — a high school all-star game — will take place this Saturday, with both teams wearing a new Adidas uniform template. The design is supposedly influenced by "videogame glitches, TV screen color bars, broadcast static and other irregularities that people might see while playing a videogame or watching an incredible play on television." … Kentucky RB Benny Snell Jr.'s dreadlocks were sticking out of his helmet vents yesterday. He also wore Elton John-themed cleats (from Kary Klismet). … No photo, but according to this article, Iowa WR Nick Easley "nearly ran out from under his helmet" during a touchdown reception in yesterday's bowl game. "I had a little bit of a malfunction with my helmet strap — a little piece broke the play before," he said. "As I was running, it started coming off a little bit. Thankfully I was able to pull it back on and continue to run." … At the Sugar Bowl, the lettering in Georgia's end zone was off-center (nice catch by Connor Long).

Hockey News: Lots of announcements yesterday regarding next season's NHL special-event games: The Blues will host the All-Star Game; the Stars will host the Winter Classic at Cotton Bowl Stadium; the Flames and Jets will play the Heritage Classic at Mosaic Stadium in Regina, Saskatchewan; and the Avalanche will host a Stadium Series game at the Air Force Academy's Falcon Stadium in Colorado Springs. … New 25th-anniversary jerseys for the Chicago Wolves (from Griffin Smith). … Good article on the secret set tags on the Blue Jackets' game-used jerseys (paywalled link) (from Kellen Dargle). … Did you know there's such a thing as a Trinidad and Tobago hockey jersey? There is! (From @workthecycle.)

Basketball News: A Chinese pro league added a New Year's Day logo to the court (from Will Scott). … Oh baby, check out this 1942 shot of Bemidji State player Arnie Johnson in his All-American uniform (great find by Doug Brei). … Check this out: 1940s player Bones McKinney achieved the rare distinction of wearing sleeved jerseys for NC State< and for UNC (from James Gilbert). … Virginia Tech went BFBS yesterday, with visiting Notre Dame wearing white on the road. Also, in that last photo, note the grad patch on Justin Robinson's jersey (from Andrew Cosentino).

Soccer News: New secondary jersey for the New England Revolution (from Ed Zelaski). … Arsenal and Fulham wore black armbands yesterday in memory of Arsenal chairman Peter Hill-Wood, who died last week. "Arsenal and Liverpool wore armbands last week as well," notes Josh Hinton.

Grab Bag: A Tesla Model 3 suffered a window crack that eerily matched the shape of the Tesla logo. … The medals at the 2020 Tokyo Olympics will reportedly be made from recycled electronics (from James Gilbert). … Tracking children's whereabouts will be easier in China thanks to a new set of "smart" school uniforms. … West County Lanes in Ballwin, Mo., has some great old lockers in Uni Watch colors (big thanks to @HighSockSundays).