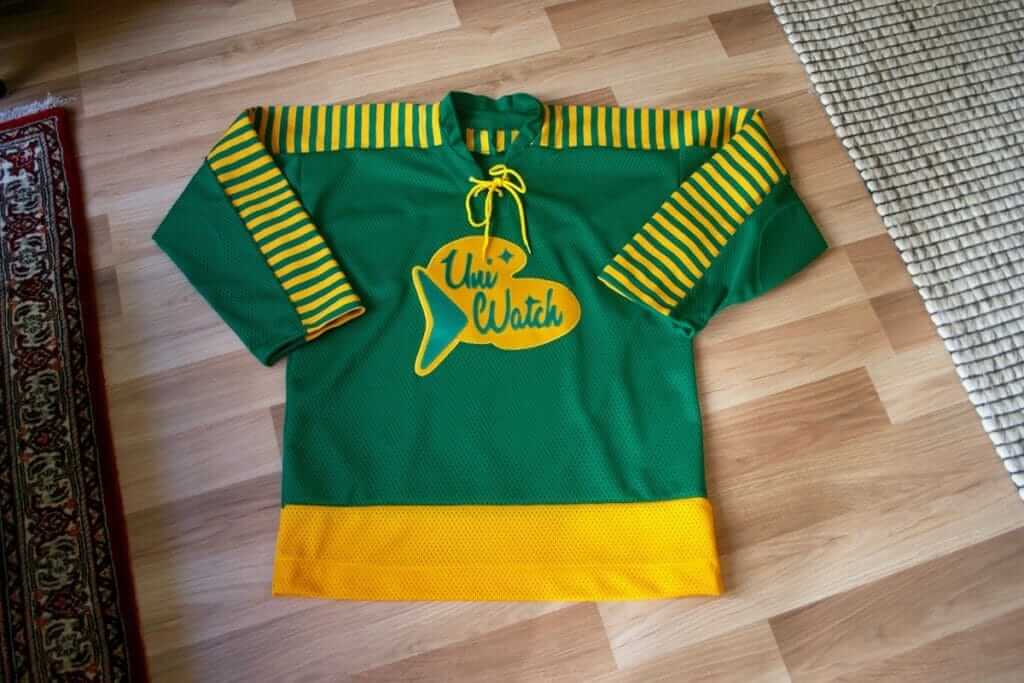 [Editor's Note: Today we have a guest entry from DIY genius Wafflebored, who's going to tell us about the Uni Watch hockey jersey that he made and generously donated for this year's year-end raffle. Enjoy. — PL]
By Wafflebored
One of my longstanding questions in the world of athletics aesthetics is why didn't uniform design follow the great design trends of the 20th century, specifically Art Deco and mid-century modern. I mean, there were Art Deco tape dispensers, for crying out loud. Couldn't one team have seen fit to outfit itself in a style that reflected the beautiful design of the era?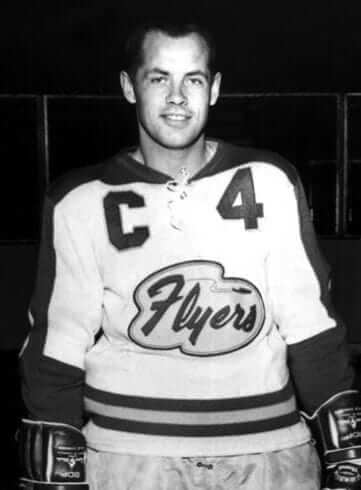 In the case of mid-century design, however, eventually I did find one team with a great blob-shaped logo that looks like it belongs on a vintage motel sign: the late-'50s/early-'60s Edmonton Flyers minor league hockey team (which Paul featured as a "Too Good for the Ticker" item, since he's also a fan of mid-century design). I loved this jersey so much I made a close replica of it earlier this year, making sure to include the oversized front number and captain's C.
I'm fortunate to have a local fabric store that carries all kinds of old stock polyester sportswear material. I'm usually at the shop a few times a week looking for interesting stuff. Much like Paul, I'm particularly partial to the color green — in my case Kelly green. So when I found this piece of heavy polyester rib knit in a green and yellow striped pattern, I knew I would have use for it one day: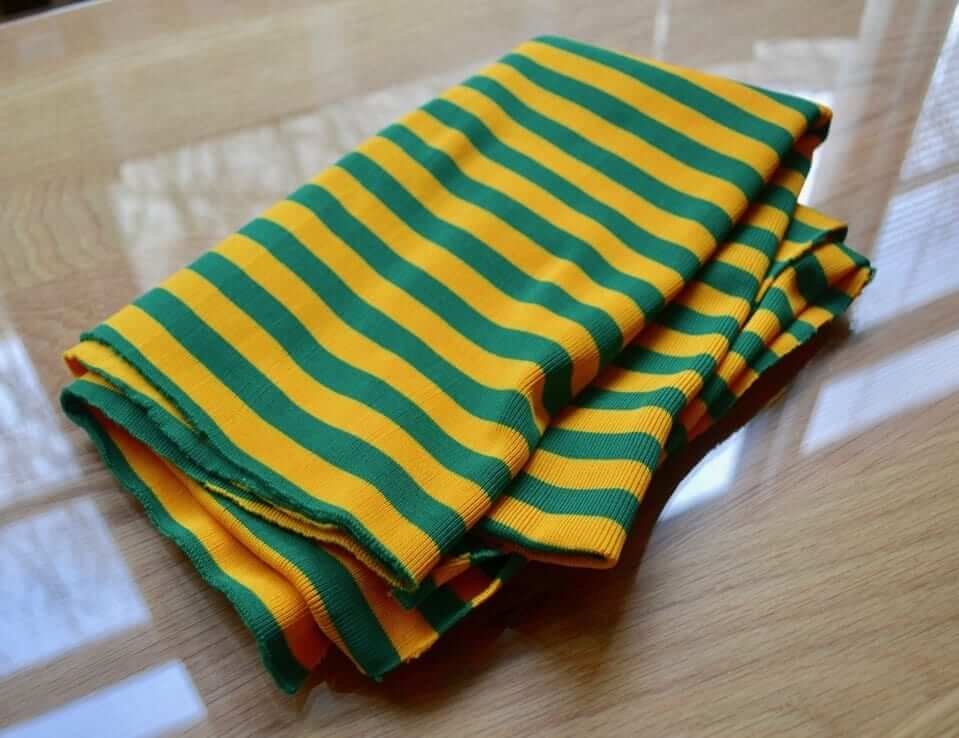 Back in 2015 I donated a jersey I made for Paul to use for his year-end raffle. I decided to use the green-and-yellow fabric to make a Uni Watch jersey for this year's draw.
Making the jersey itself was fairly straightforward. Here's how it looked without a chest logo: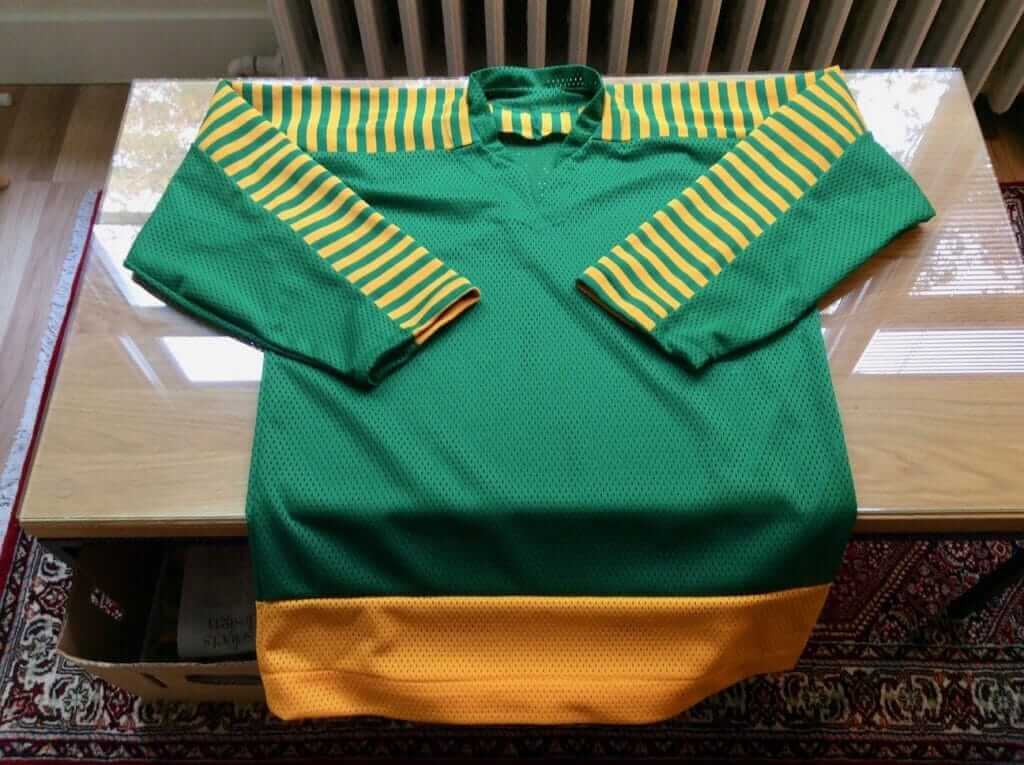 This is when I suggested to Paul that we go with a mid-century modern logo inspired by the Edmonton Flyers uniform. I played around with the design and came up with a logo that featured the familiar blob shape, in addition to a boomerang and hypocycloid. I made a cardboard template and rendered the design in tackle twill.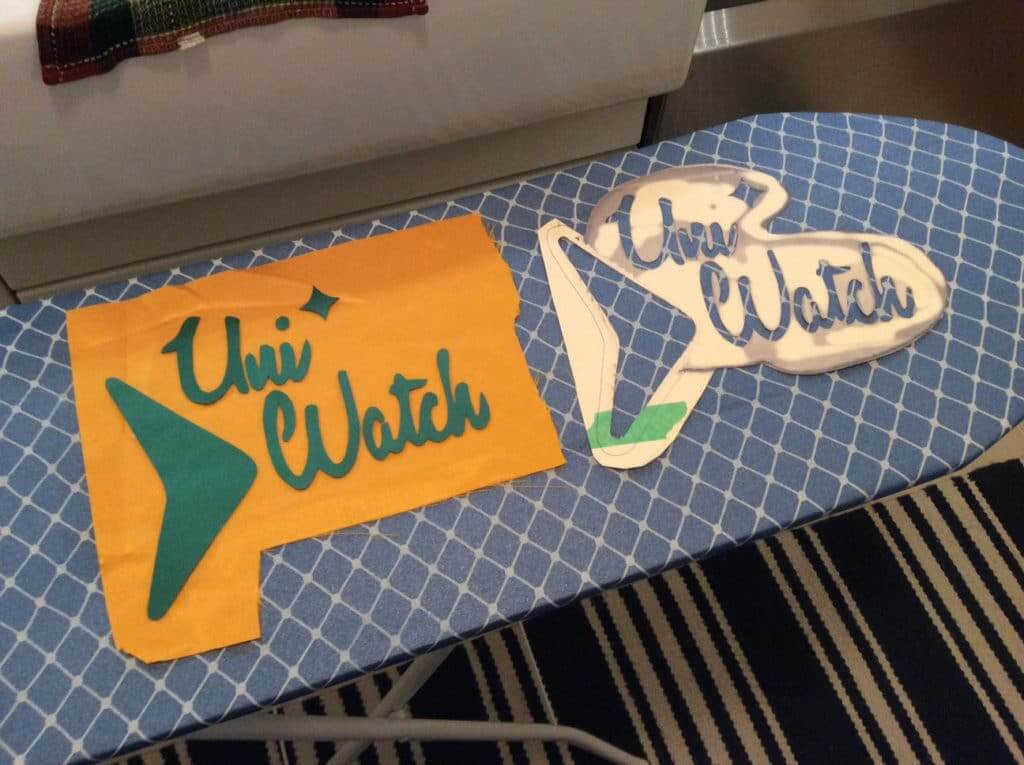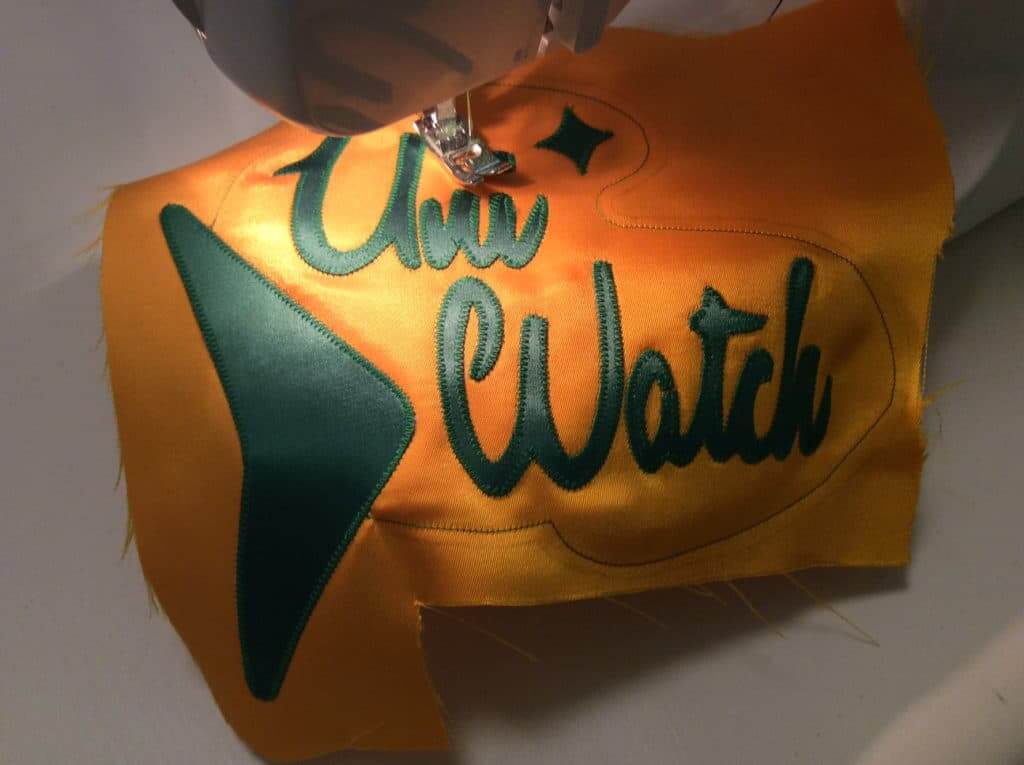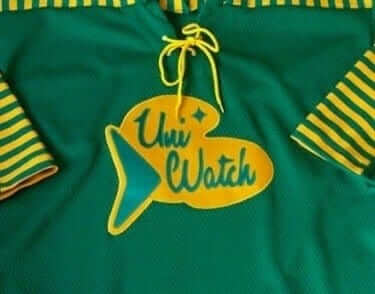 For the back of the jersey, I wanted to stick with a basic block number design, and chose number seven as it seems to be the Uni Watch number Paul prefers. I usually make goalie jerseys, so it was nice to get out of the usual traditional goalie number range.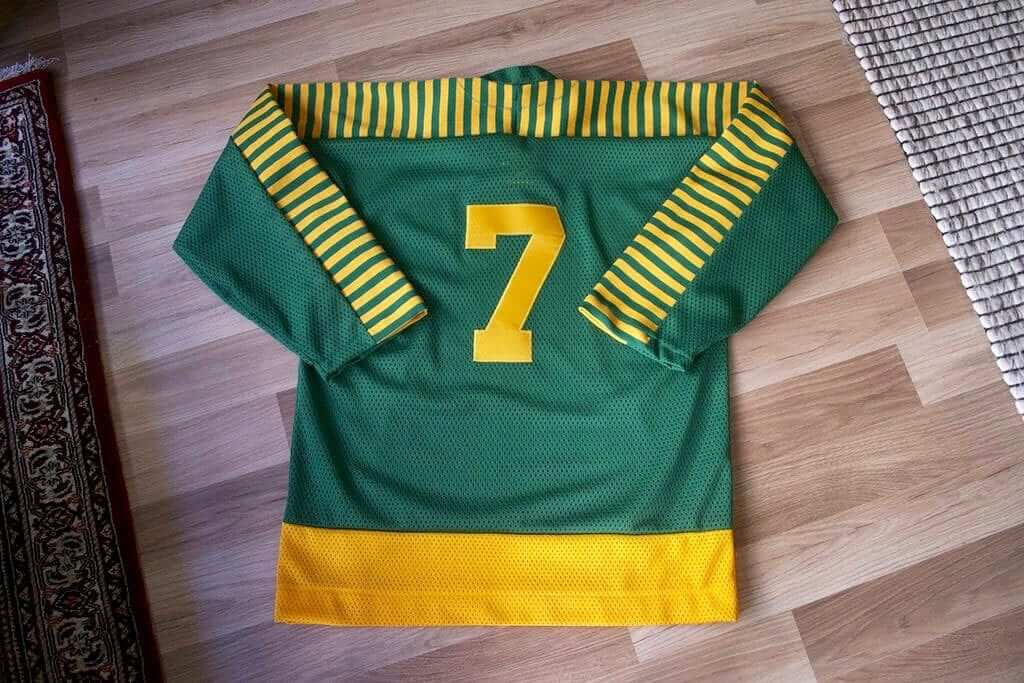 I'm really happy with the final design and hope Nick Sanchez, who won it in the raffle, enjoys it. The only unfortunate part of this story is I didn't have the foresight to buy more of the green-and-yellow rib knit material, so I only have enough to make one more jersey of this type. I'll hold onto to it for another special project in the future.
———
Great stuff. Everyone please join me in saluting Wafflebored for his talent and generosity. He's a special fella.
• • • • •
• • • • •
The Ticker
By Yianni Varonis

Baseball News: Here's a whimsical photograph of Nationals OF Bryce Harper playing street hockey in a jersey from the first Mighty Ducks movie. No word yet on whether he's mastered the triple deke (from our own Brinke Guthrie). … An expansion minor league team in Nebraska announced that it will be named the Fremont Moo and unveiled its inaugural logo (from Mike Chamernik).

Pro Football News: Browns offensive coordinator Freddie Kitchens plans to keep wearing the "Dawg Pound" hoodie that the NFL recently scripted him to wear (from our own Alex Hider). … The Arena Football League has a new logo (from Michael Golec).

College Football News: From Phil: Vanderbilt is adding an "82" memorial decal to honor the memory of former teammate Turner Cockrell, who passed away earlier this year (from Phil). … South Carolina will wear black-white-black this week. … Washington State will wear white-crimson-crimson for its bowl game. … Check out these amazing rubber sculptures that Goodyear had commissioned before the Cotton Bowl. They depict a fighting Irishman for Notre Dame and a tiger for Clemson (from Mark Johnson). … This video offers a behind-the-scenes look at Oklahoma's football facility and sneaker equipment room (from Griffin Smith). … It's difficult to see, but it appears that the end zone script from the Syracuse/Northwestern game in Yankee Stadium earlier this year was still legible during last night's Miami/Wisconsin game in the same venue (from @southsidehitman). … Duke and Temple went color-vs.-color during yesterday's bowl game (from JJ Sledge and Josh Hinton). … It appears that FCS school Alabama State will have a new helmet in 2019 (from J. Idell).

Hockey News: Also in the baseball section: Here's a whimsical photograph of Nationals OF Bryce Harper playing street hockey in a jersey from the first Mighty Ducks movie. No word yet on whether he's mastered the triple deke (from our own Brinke Guthrie). … It's been a couple of weeks now, and Ducks G Chad Johnson is stil wearing his old Blues mask.

NBA News: From Phil: This article details why Hawks players chose their jersey numbers. … Bulls G Brandon Sampson, who was recently signed out of the D League, will wear No. 44 with his new team.

Soccer News: Footy Headlines, which has a good track record of getting "leaks" right, is reporting that it has details regarding next year's kit for German club Borussia Dortmund, including photographs of its shorts and striped socks (from Lucan Denfield).

Grab Bag: Pro golfer Tiger Woods and his design team plan to renovate two historic courses in Chicago by combining them. … Fascinating article about the intellectual property implications of video games depicting athletes' tattoos (NYT link). The copyrights to the tats are technically owned by the artists who drew them. … A national mascot hall of fame has opened in Whiting, Ind. (from Jerry Kulig). … This article bemoans the proliferation of digital tickets, making the point that physical tickets are often keepsakes with unique designs (from John Muir and our own Alex Hider). … Also from John: Here are the different championship belts that World Wrestling Entertainment sent champions across major sports leagues this year. … The Atlanta metro system is getting a new logo and revealed where the design process is at (from Douglas Ford). … Speaking of mass transit, the Washington, D.C. metro system is considering selling the naming rights to rail and bus lines, stations, parking lots, and bus shelters (from William Yurasko). … Well-written piece on the effect that economic downturns can have on fashion and interior design, including in the last 10 years.
• • • • •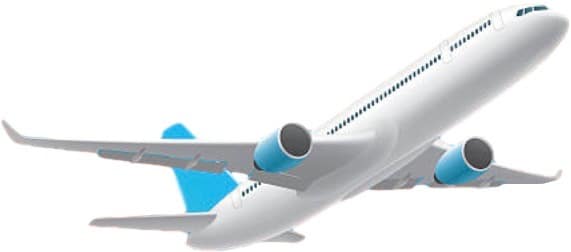 By the time you read this, I'll be on my way to Cincinnati, where I'll be spending the last weekend of the year. I'll also be convening a Uni Watch party at the Mt Adams Bar and Grill on Sunday, Dec. 30, from roughly 3:45-6pm. Hope to see lots of you there. — Paul