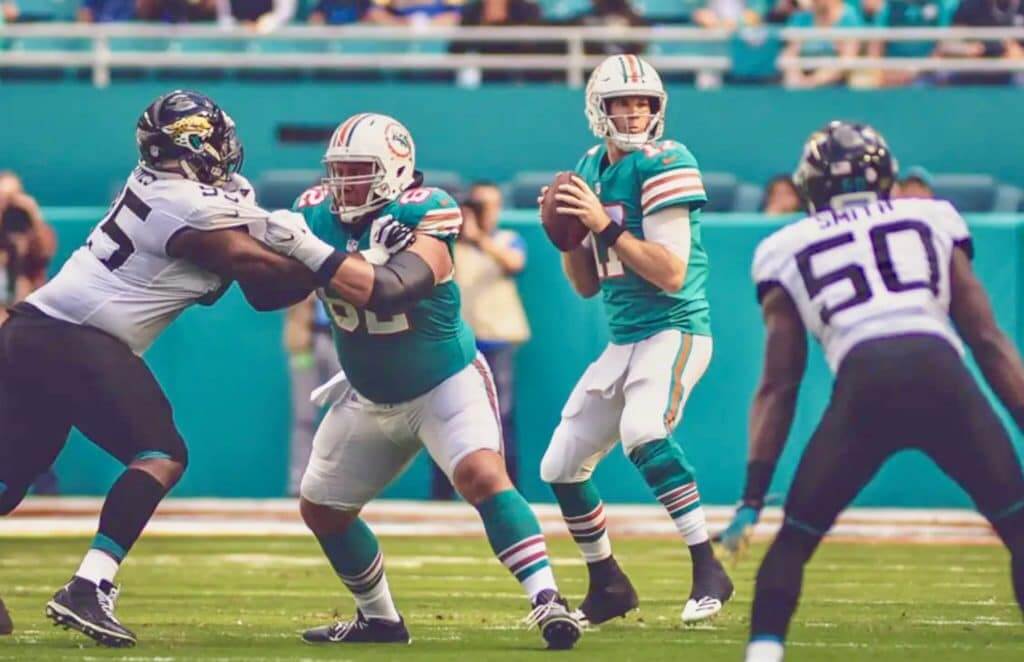 For all photos, click to enlarge
Good-looking game yesterday in Miami, as the Dolphins wore their throwbacks for the third time in four weeks. Lots of additional photos here and here.
In other news from around the league yesterday:
• The Cardinals went full-bloodclot: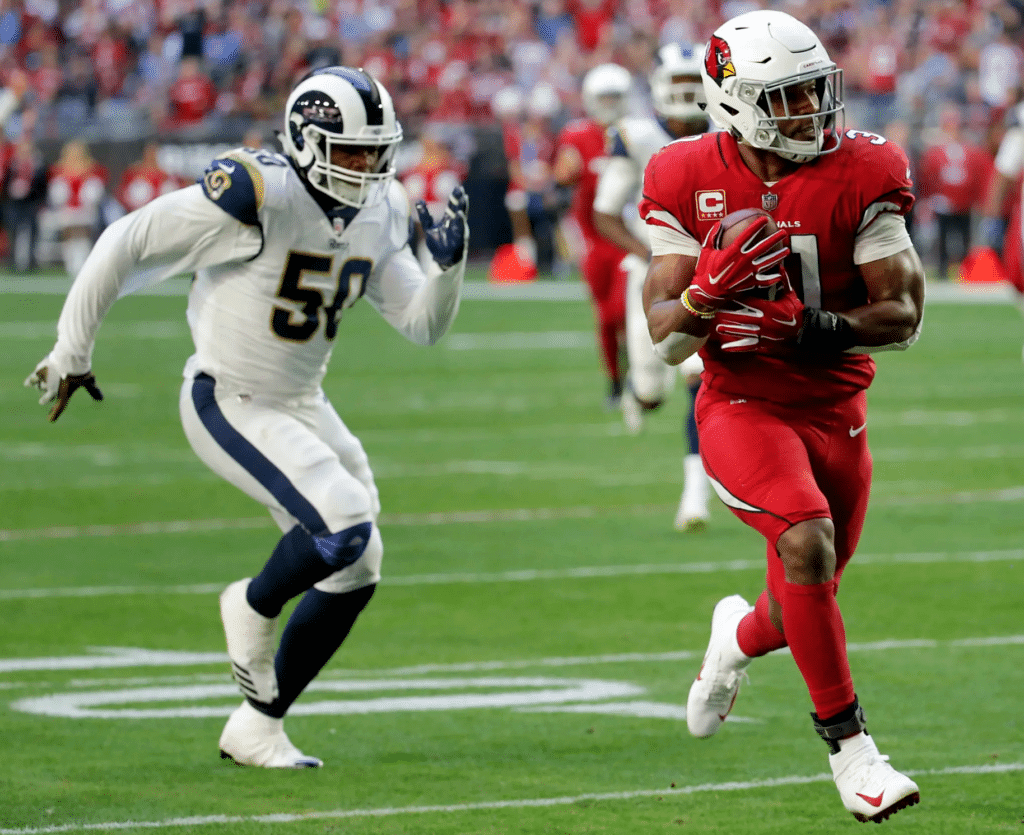 • I reeeeeeaaallly don't like it when the Saints go mono-black: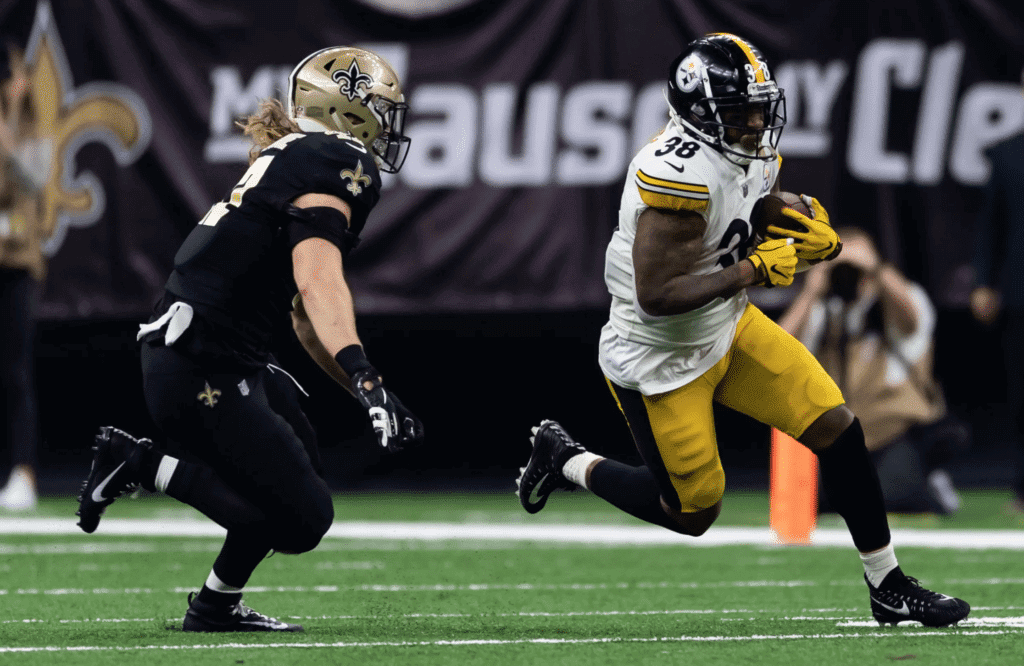 • The Browns brought out the mono-brown Rash: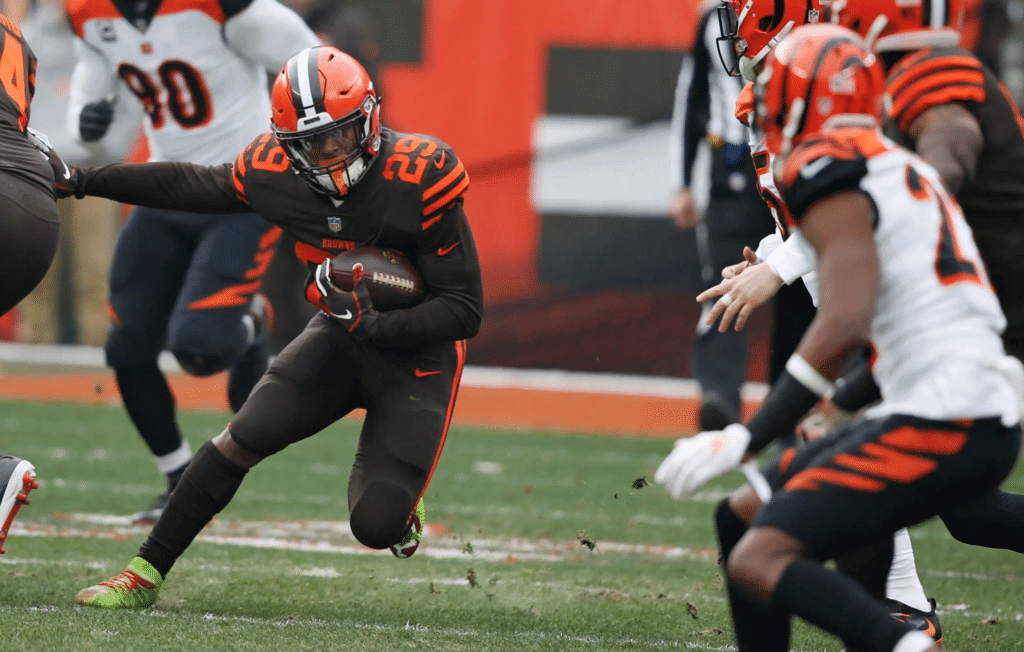 • The Panthers once again went mono-black with black socks: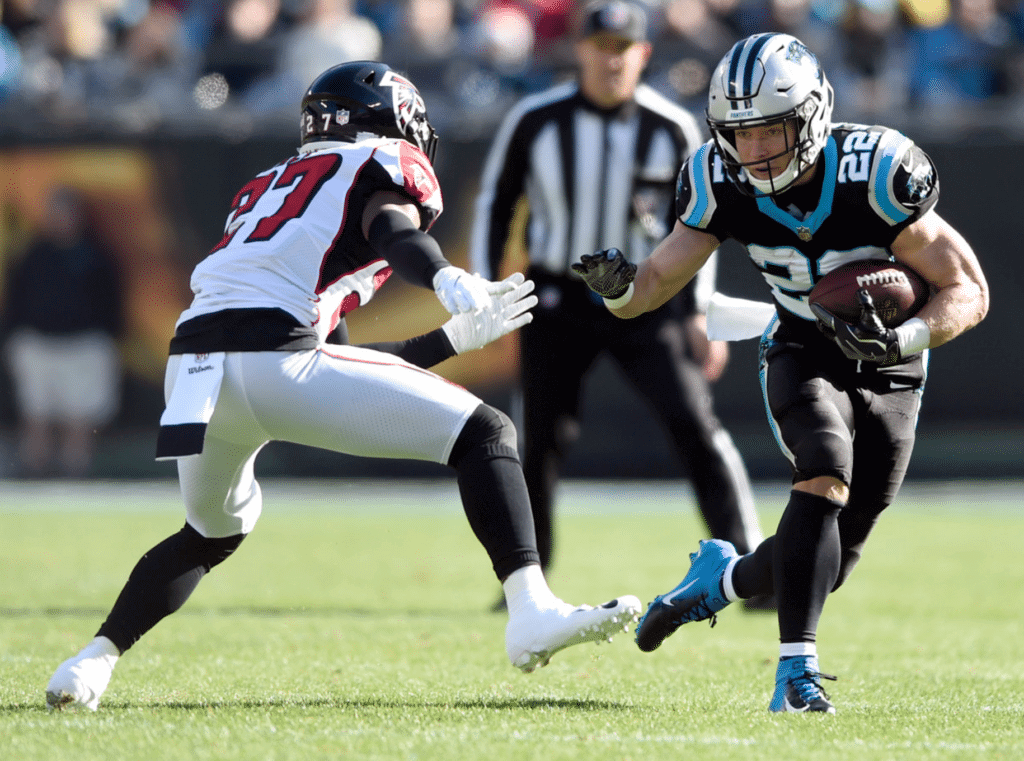 • It looks like Lions offensive lineman Frank Ragnow had the sole of his cleats come loose from the rest of the shoe:
Blew a tire @UniWatch @PhilHecken pic.twitter.com/QYJJcvondx

— Bendy (@bendertm) December 23, 2018
• With the Giants wearing their red-trimmed road uniforms against the blue-themed Colts, CBS's score bug showed the Giants in red:
@UniWatch Ever seen the Giants with a red score badge? pic.twitter.com/ocfRAEHYJs

— Nick Kramarich (@nkramarich) December 23, 2018
• Speaking of the Giants: At one point during the broadcast they showed a little prerecorded "Merry Christmas" message from running back Saquon Barkley, who was shown wearing a blue jersey with the old Nikelace collar — something the Giants haven't worn since 2016, when Barkley was still a junior at Penn State: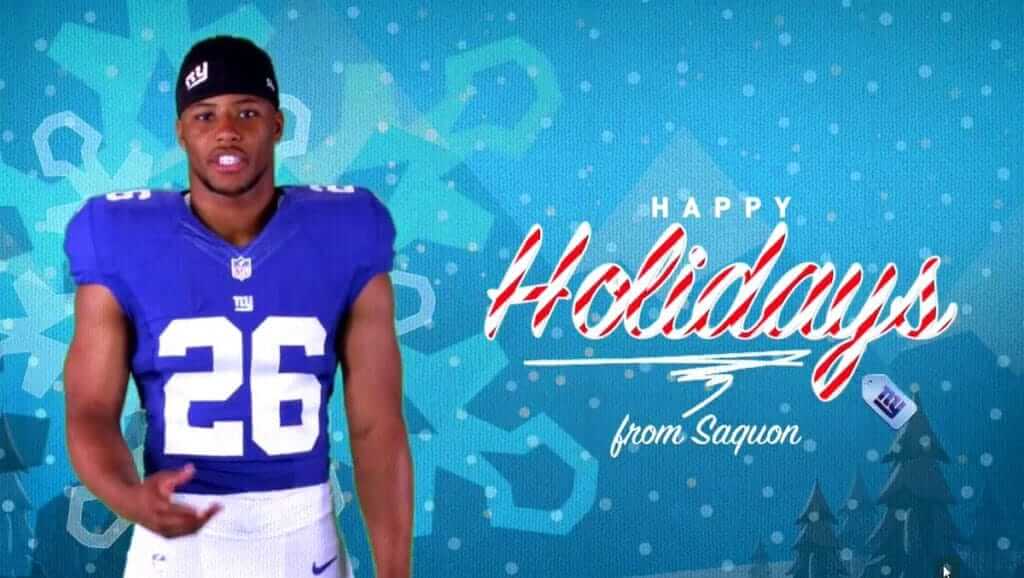 After I mentioned that on Twitter, someone pointed out that Barkley also inexplicably wears the Nikelace in the Sunday Night Football open: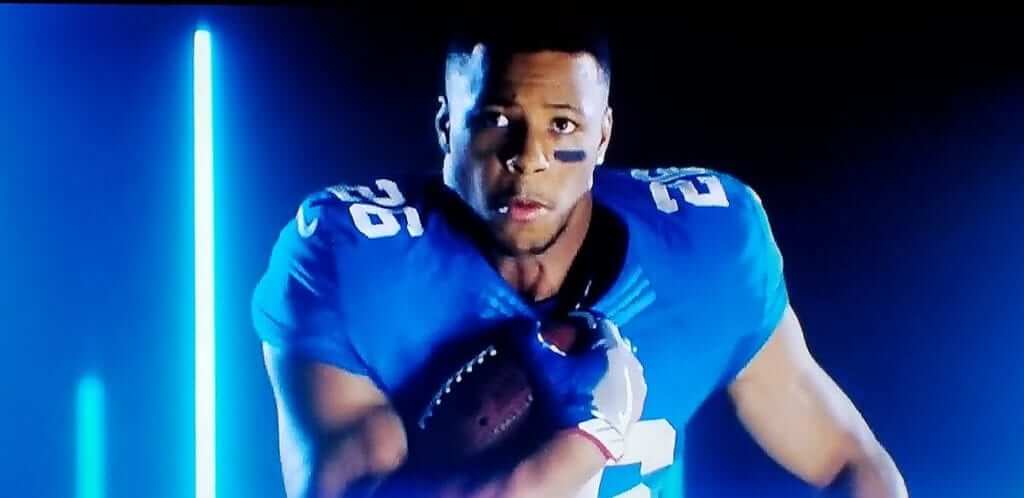 • We already knew that the Jets will have new uniforms next year, but it's interesting that they made specific reference to that for yesterday's home finale:
@UniWatch @UNISWAG picture taken at the Jets game today. pic.twitter.com/Rb910z6DIq

— chrisfitzgerald (@chrisfitzgerald) December 24, 2018
• Bills linebacker Lorenzo Alexander sustained a shoulder pad malfunction:
@PhilHecken @UniWatch Part of Lorenzo Alexander's shoulder pad has come apart. Hanging outside of his jersey. pic.twitter.com/YIiNomAGRY

— Patches O'Houlihan (@The_Amazin_Mets) December 23, 2018
• One team wore white at home: the Cowboys, of course.
(Big thanks to Pro Football Journal and Nick Angel for the Barkley screen shots.)
• • • • •
• • • • •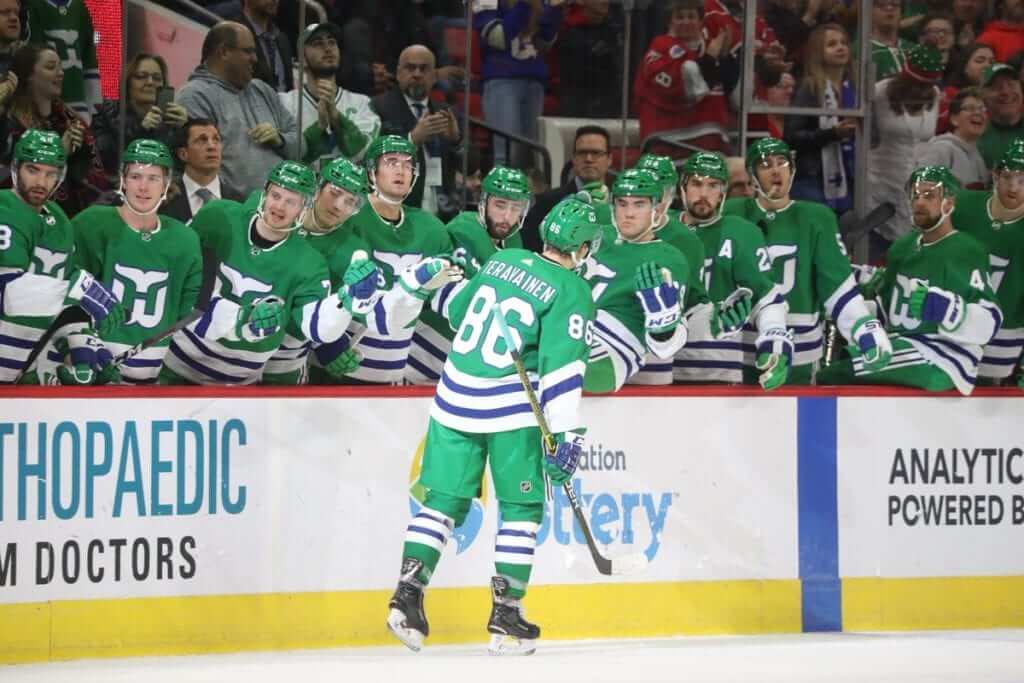 Click to enlarge
Sharknado? No, Whalercane!: The Hurricanes dressed up as their franchise's previous incarnation by wearing Hartford Whalers throwbacks for yesterday's game in Raleigh against the Bruins. They'll do the same for another game against the Bruins on March 5 — in Boston.
Here's a video clip so you can see the uniforms in action:
Meanwhile, here's an interesting side note: Hurricanes defenseman Dougie Hamilton wears No. 19, and he wore it in yesterday's throwback game — even though that number had been retired by the Hartford Whalers for John McKenzie. As it happens, McKenzie's number retirement was more of a PR gimmick than a legitimate honor, but it raises the question of how to handle number retirements when a team wears another team's throwbacks. In Major League Baseball, for example, if the Nationals (or any other team) ever chose to wear Expos throwbacks, what if they already had players who wore Nos. 8, 10, or 30, all of which had been retired by Montreal?
Speaking of the Nats, they've sometimes worn Senators throwbacks, but this issue didn't come up because the Sens never had any retired numbers. Similarly, the NBA's Miami Heat have dressed up as the ABA's Miami Floridians, who never had any retired numbers. There are several similar examples like that. Can anyone come up with a situation like yesterday's 'Canes/Whalers situation, where Team A was dressing up as Team B, and Team B did have retired numbers to consider?
Meanwhile, in further NHL retro news, the Devils wore their green-trimmed throwbacks: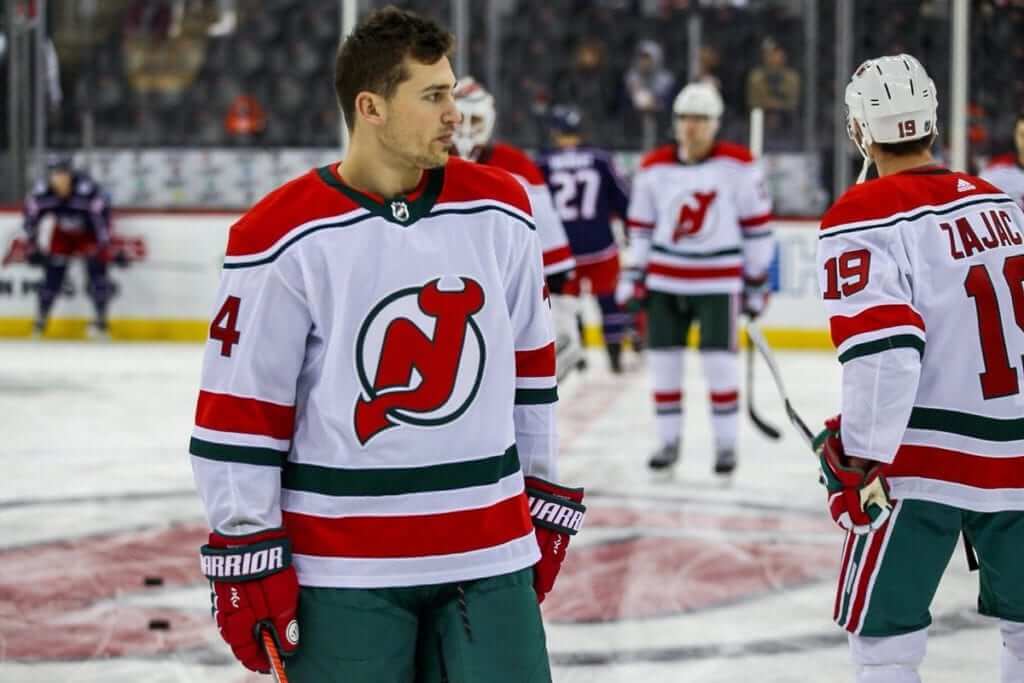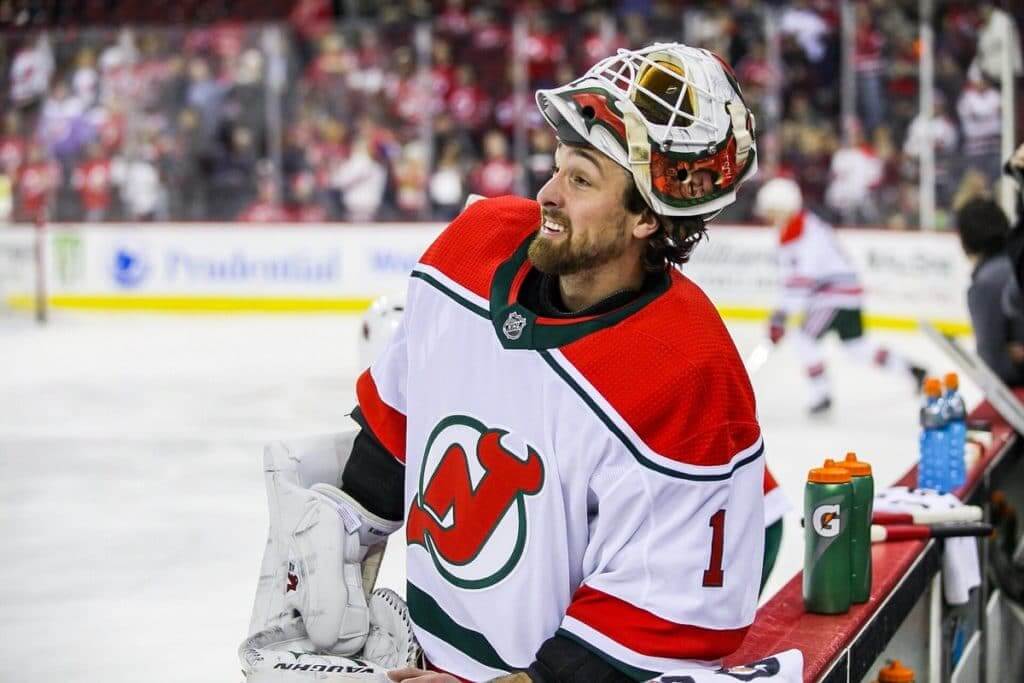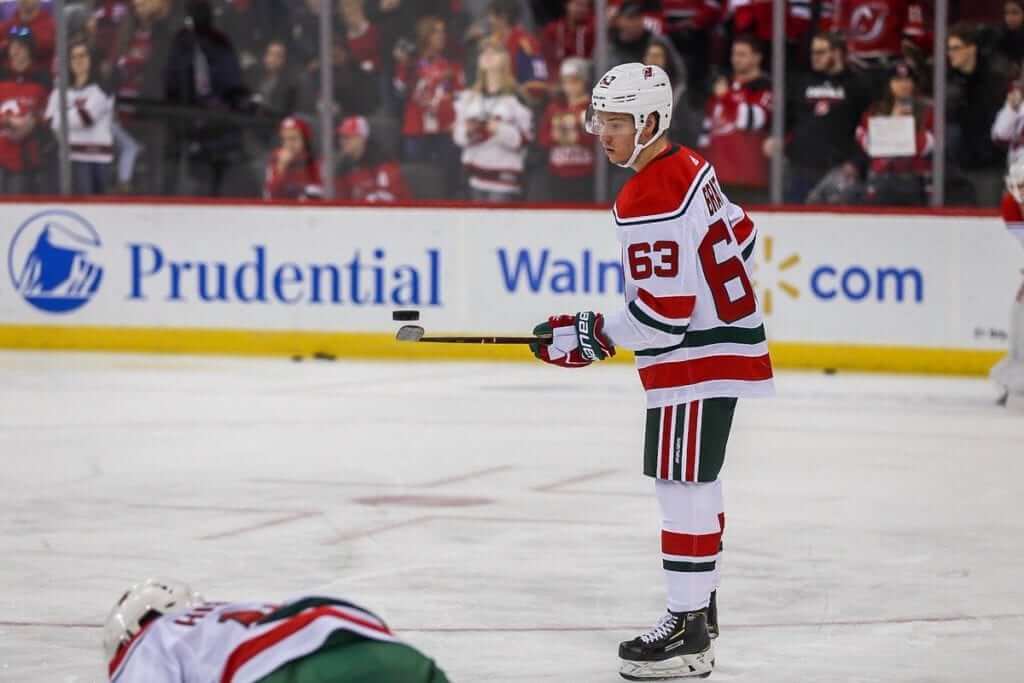 (My thanks to our own Jamie Rathjen for bringing the number retirement issue to my attention.)
• • • • •
• • • • •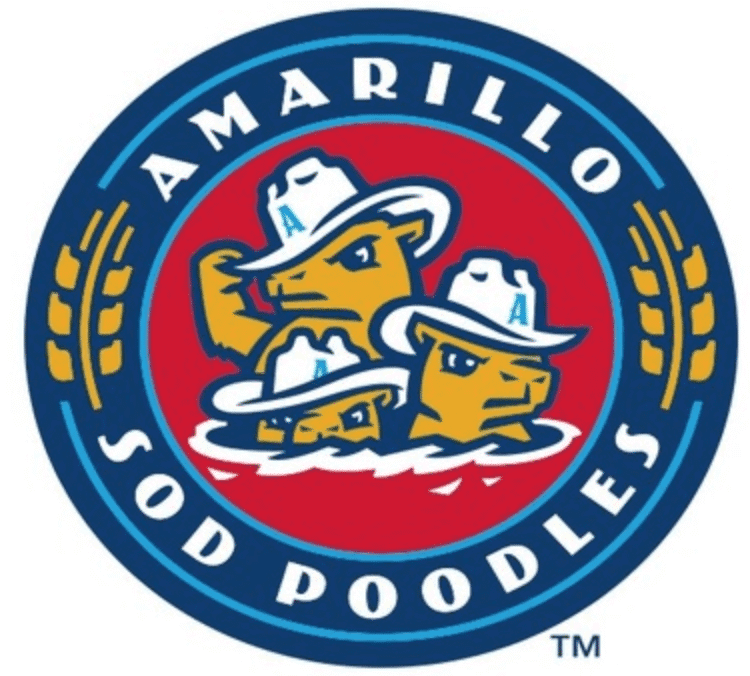 All is not as it seems, Part One: Last month, as you may recall, it was officially announced that the Padres' new Double-A affiliate in Amarillo, Texas, will be called the Sod Poodles (slang for Prairie Dogs), a moniker that was reportedly chosen as the result of a month-long "name the team" contest that prompted over 3,000 entries.
But the reality is turning out to be a bit more complicated. For starters, it appears that nobody actually submitted the name "Sod Poodles." At least one person (and possibly several) did submit "Prairie Dogs," but the team's management group and the design firm Brandiose decided to change it to Sod Poodles. In other words, the process was rigged.
This has led to some resentment in Amarillo, where at least some fans feel the team name is juvenile and portrays the community as bumpkins. One such fan, a guy named Dusty Green, noticed that the team hadn't trademarked the Sod Poodles name, so he went ahead and trademarked it himself. Now he's refusing to give up the trademark and is also selling his own Sod Poodles merch, with 100% of the proceeds going to local charities.
That's the short version. For a slightly more detailed version, check out this Twitter thread from Green's cousin. And for a much longer version, there's this Facebook manifesto from Green himself. There's also additional media coverage here and here.
However this ends up playing out, the Brandiose-ization of minor league baseball (Sod Poodles, Trash Pandas, Rumble Ponies, etc.) long ago became tiresome. At this point, it's not a design style; it's just a formula.
(My thanks to John Lafreniere for bringing this situation to my attention.)
• • • • •
• • • • •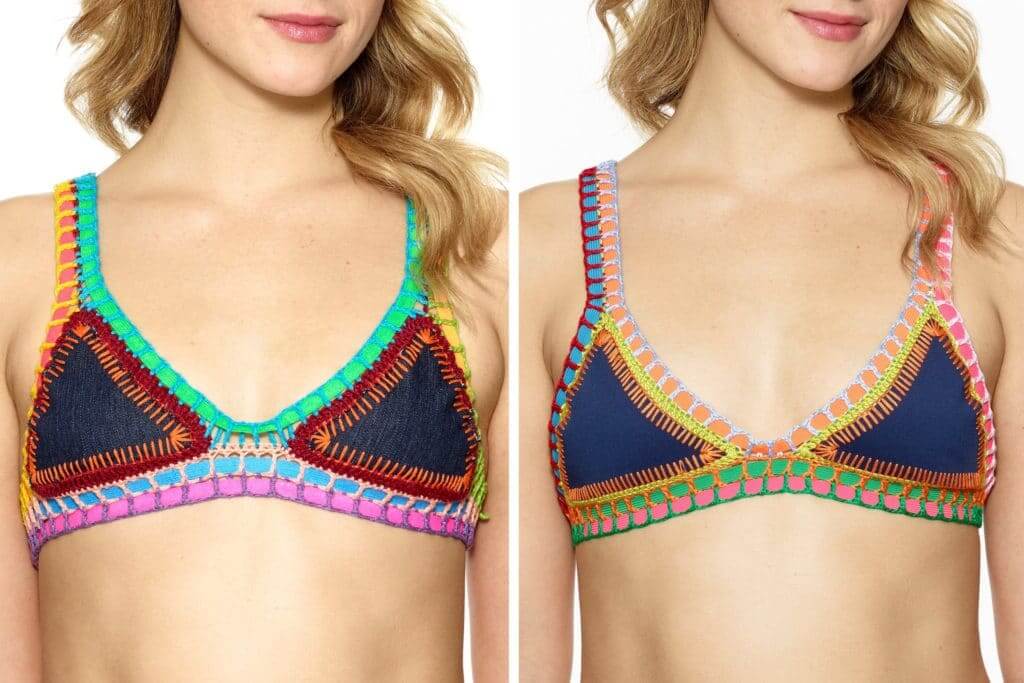 Photos by Jens Mortensen; click to enlarge
All is not as it seems, Part Two: By far the best thing I read over the weekend was a faaaaascinating New York Times story about a designer who created a retail sensation by marketing a distinctive-looking bikini (above right) and then sued copycat brands that made knockoffs of her design — even though, as it turns out, she appears to have copied her design from a craft artist who sells essentially the same bikinis for a few bucks apiece on the beach in Brazil (above left). It's a really great piece of business journalism, with all sorts of uni-adjacent intellectual property considerations, as well as a revealing portrait of a very specific kind of jet-set douchebag culture. I can't recommend it highly enough — check it out here.
• • • • •
• • • • •
Click to enlarge
Everyone loves an infinite regression: I was at my friends Gabrielle and Scotty's house for dinner on Saturday, and Gabrielle thought I'd enjoy the look of this spaghetti sauce can. She was right — it's a fun design — but what puts it over the top is the infinite regression. How great is that? Are you listening, Miami Dolphins?
• • • • •
• • • • •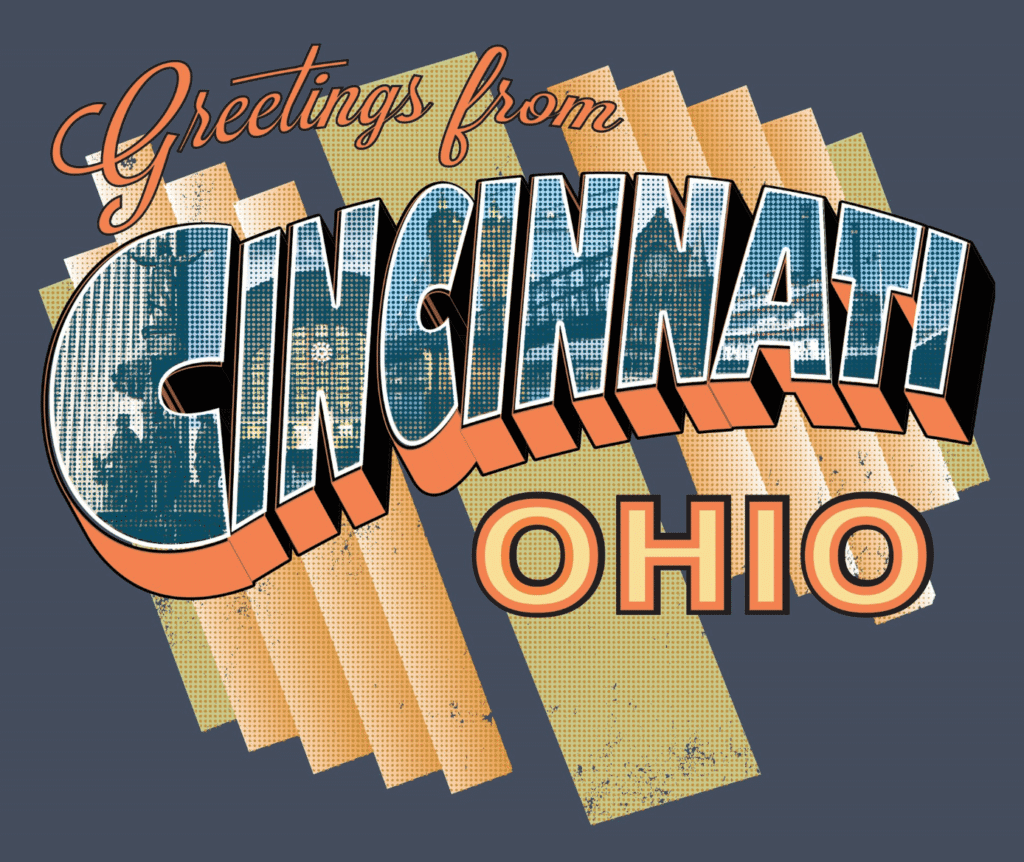 Cincy reminder: Just a few days until I hop on a plane and head to Cincinnati, where I'll be spending the last weekend of the year and convening a Uni Watch gathering at the Mt Adams Bar & Grill on Sunday, Dec. 30, at 3:45pm. We'll be there at least until 6pm, and maybe a bit longer.
Uni Watch Ticker assistant Alex Hider, who produces the Tickers that appear on Tuesdays, will be on hand (I'm looking forward to meeting him in person for the first time), as well several other longtime Cincy-based readers like David Sonny, Patrick O'Neill, and Frank Bitzer. Come on down and join us, won't you?
• • • • •
• • • • •
The Ticker
By Jamie Rathjen

Baseball News: Our own Alex Hider found this 1965 Cincinnati Enquirer article speculating about a replacement for Crosley Field, including word that the proposed stadium would have a dome.

NFL News: Reader Joseph Bailey was at the Browns game yesterday, where one of the stadium's bars features a beer can display with a B made out of brown/dark-colored cans, surrounded by white cans. … Panthers C Ryan Kalil has been wearing his socks the wrong way for his entire 12-year NFL career (from James Gilbert). … As noted in the Ticker last week, Eagles players have been wearing ski masks to symbolize that they have to steal their way into the postseason. Now the Saints are claiming that the Philly players stole the ski mask idea from them (from Rob Walker).

College Football News: Several readers sent in this shot of TCU's ridiculously large bowl patch, which must be close to setting some kind of record. … Virginia's bowl-game combo will be mono-blue.

Hockey News: About two-thirds of the way down this interview, Golden Knights owner Bill Foley says the team is designing an alternate uniform that will "stand out," but he wouldn't say that it would be gold (from Thomas Roddy). … The Glasgow Clan of the UK's Elite Ice Hockey League wore mono-white Christmas sweater-themed uniforms. … Fun fact: In the Avalanche's first season, 1995-96, they wore black helmets with their home white jerseys during the preseason and during their first few regular season home games, before later switching to the more familiar white.

Basketball News: New Wizards G Ron Baker is wearing No. 84, which apparently makes him the second NBA player ever to do so (from Etienne Catalan). … Iowa wore yellow at home for the second time this season, creating a color-vs.-color game with Savannah State.

Soccer News: Premier League Fulham's second-choice red kit from 2016-17 appeared for the second time this season Saturday, meaning they've worn it one more time than this season's second kit. … In Saturday's Ticker we had Bundesliga team Borussia Dortmund's coal-miner tribute. Goalie Roman Bürki wore a solid maroon shirt for the tribute instead of one of his usual shirts, which is maroon and mustard and is technically Dortmund's third shirt for this season (from @arnuccio4). … Leeds United striker Kemar Roofe scored the winning goal in yesterday's English Championship game against Aston Villa wearing a shirt with no NOB/number, which I can only guess was a blood shirt (from @nsalas02). … Polish team Wisła Kraków gave a debut to 17-year-old midfielder Maciej Śliwa, but he (No. 70) couldn't wear the team's betting ad because he's not 18 (from Ed Żelaski). … MLS is to have sleeve ads starting in 2020 (from Josh Hinton). … Australia national team goalie Lydia Williams got a commemorative shirt for making 100 apperances in Australia's W-League. The achievement was made more significant because it took Williams 10 years, as she also plays in the NWSL for Seattle.

Grab Bag: Somewhere, there is a house with a ton of University of Kentucky-themed Christmas decorations (from Josh Hinton). … Here is a visualization of most of the spacesuits ever made (from James Gilbert). … Product design problem: Many Hershey's Kisses are arriving at stores without their tips (thanks, Paul).
• • • • •
Meanwhile, here at Uni Watch HQ, the stockings have been hung by the chimney with care and the Irish cream is ready to go. (It's actually Scottish cream this year, because we didn't have any Irish whisky in the house but had plenty of Scotch — works just as well.) Tomorrow I'll have the results of the annual year-end raffle. Until then, everyone have a great Christmas Eve. Peace. — Paul