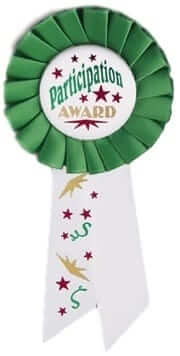 Amidst an increasing torrent of leaks, the NBA went ahead and made it official yesterday by releasing the cringe-inducingly named "Earned" uniforms — the ones that will be worn by the 16 teams that qualified for last season's playoffs, beginning on Christmas Day.
The premise of this set has always been laughable, given that more than half the league qualifies for the postseason (boy, good thing the Wizards "earned" a new uniform by finishing four games over .500 and then being eliminated in the first round!), and now it turns out that the designs aren't even new designs. Most of them are just color-shifted versions of the slightly less cringe-inducingly named City alternates (except for the Jazz, Thunder, and Rockets designs, which are color-shifted versions of those teams' very cringe-inducingly named Statement alternates). Or to put it another way, the Spurs now have yet another camouflage uniform — their fourth in five years by my count.
Anyway: Some of these color-shifted versions are much better than the City versions on which they're based (Pacers, Sixers), others are worse (Pelicans, Bucks), and others fall into the "The other design had no compelling reason to exist, and neither does this one" category (Cavs, Rockets, Thunder). Here's the whole batch of jerseys (click to enlarge, and my apologies for the staggered image pairings):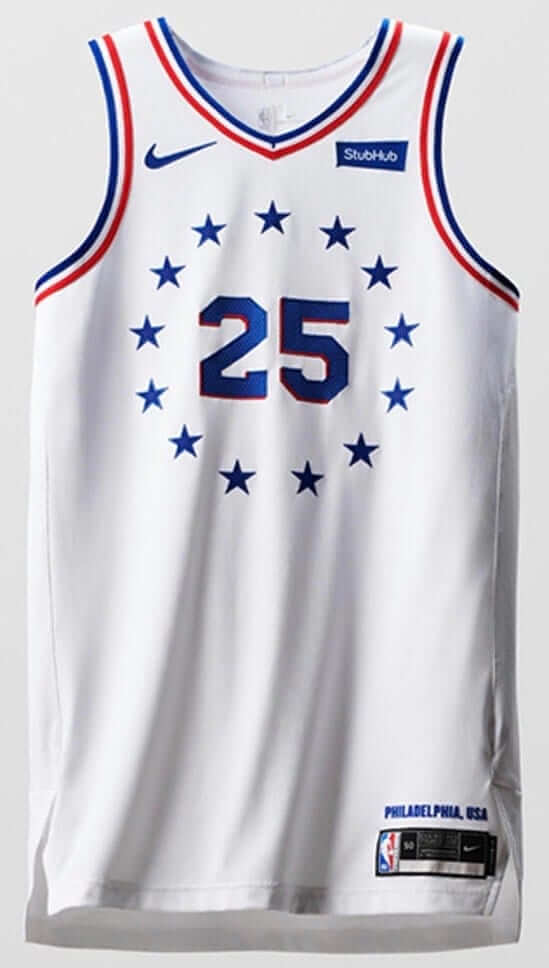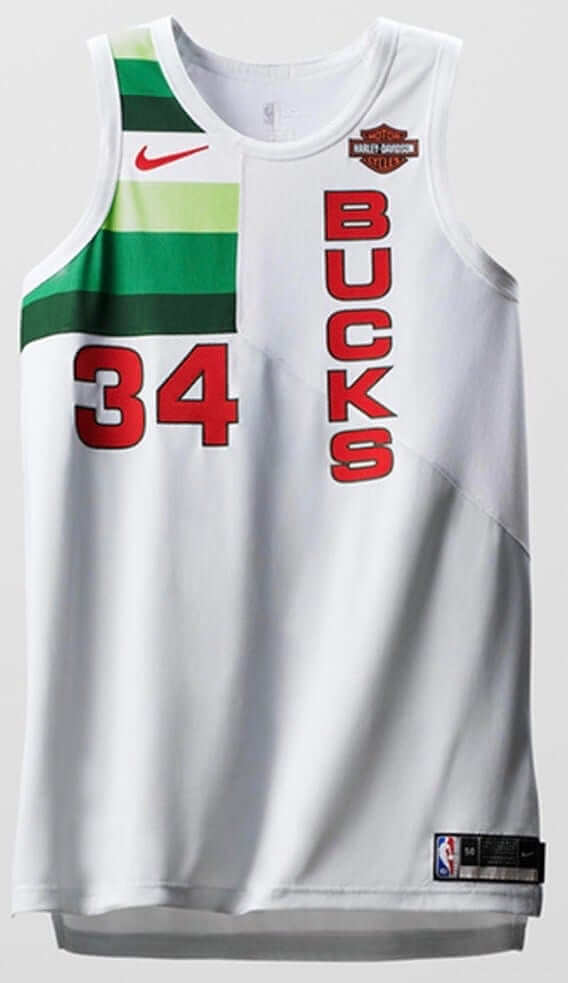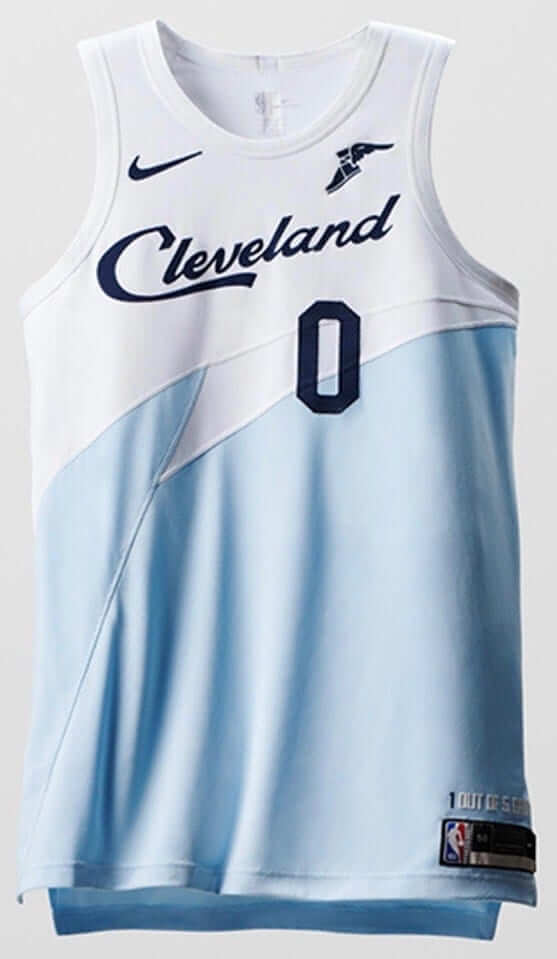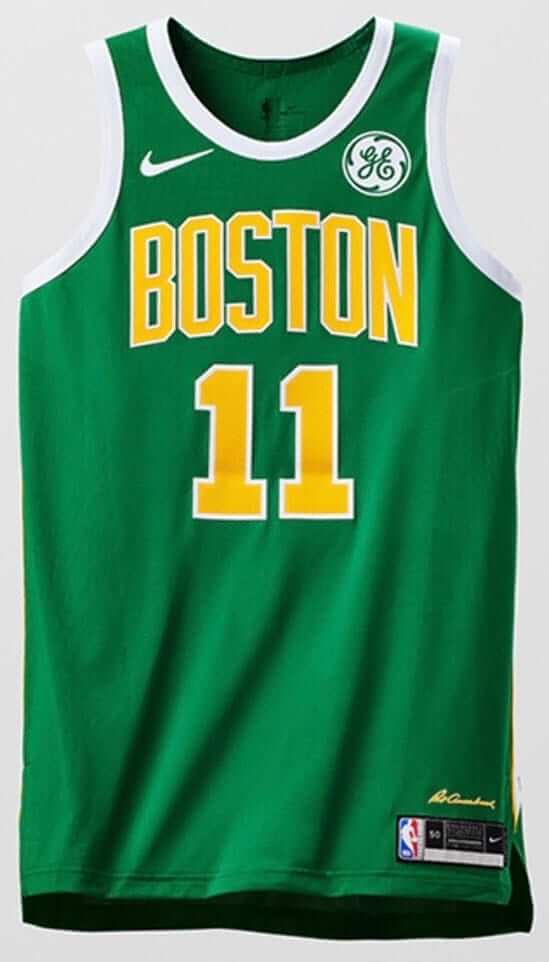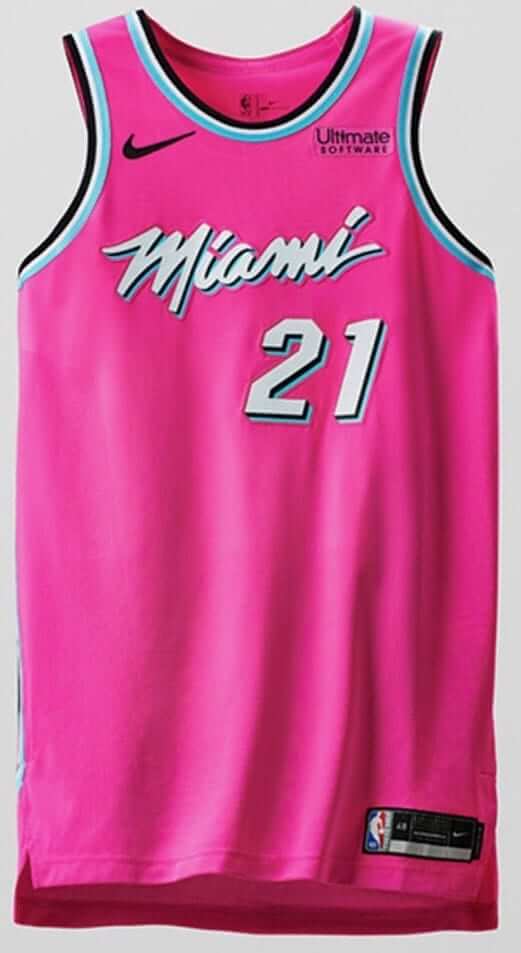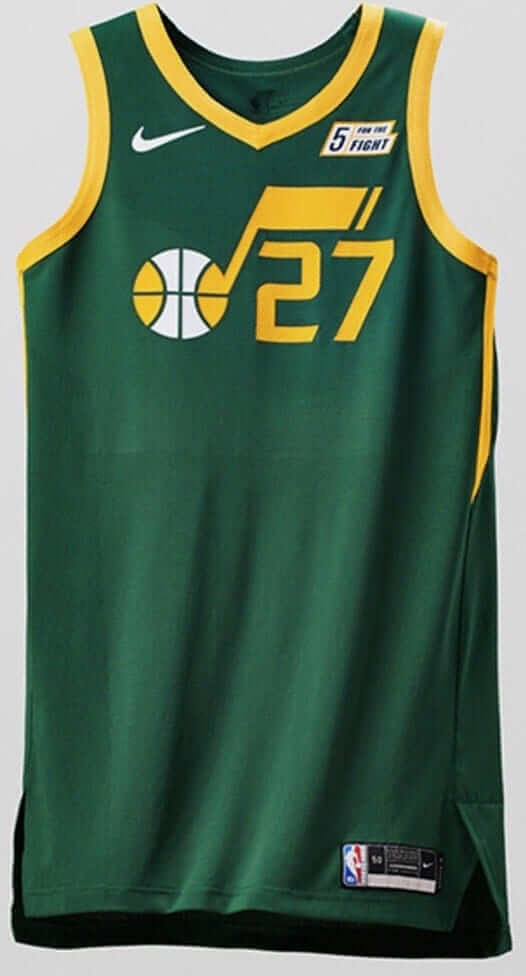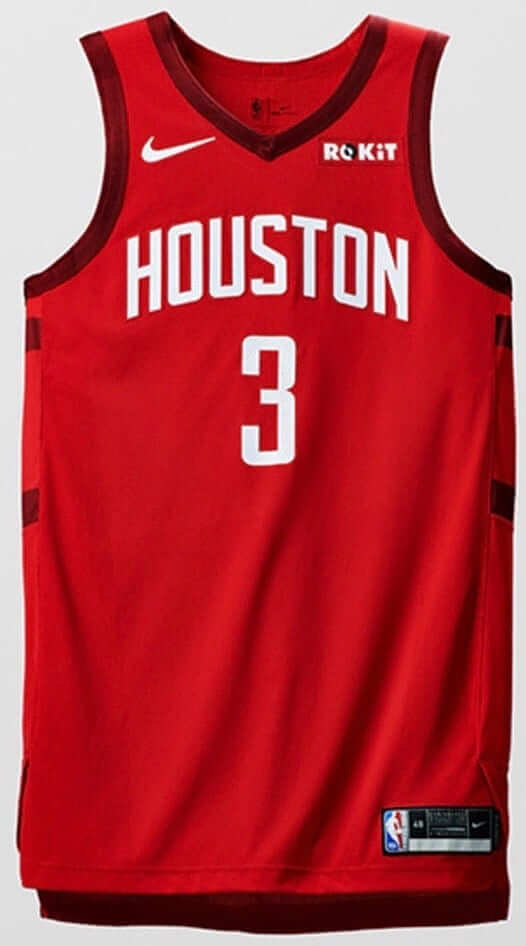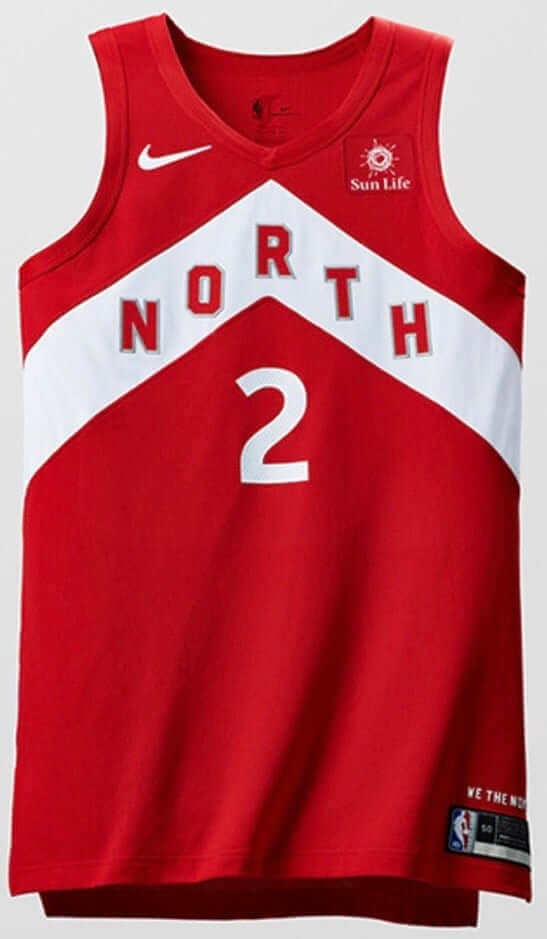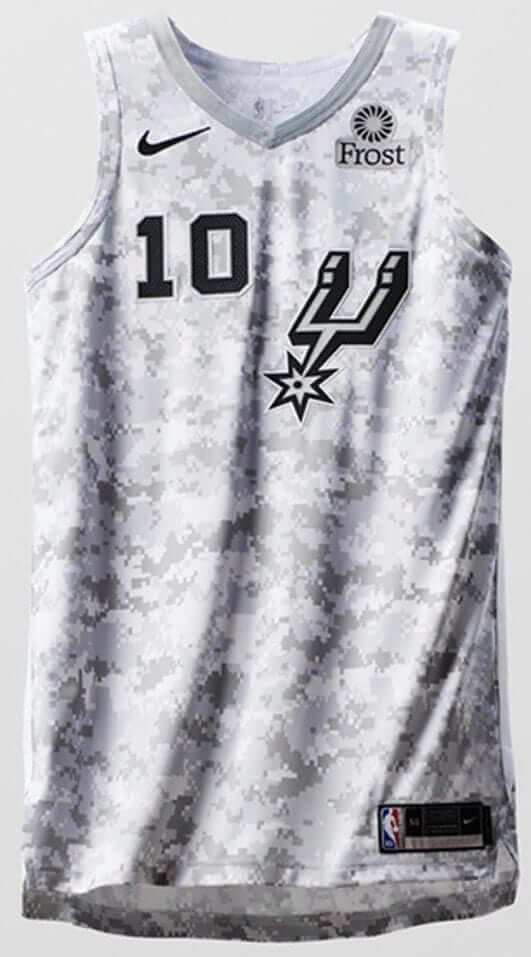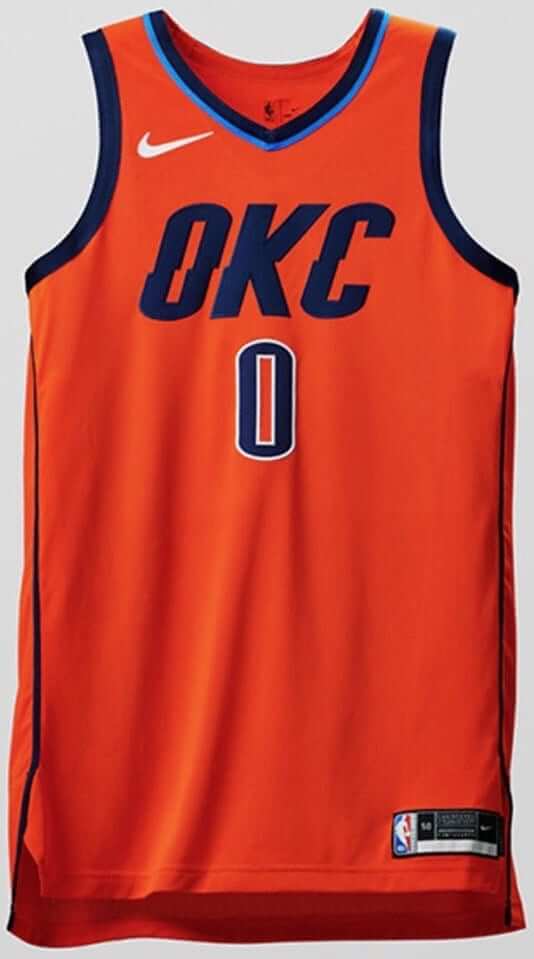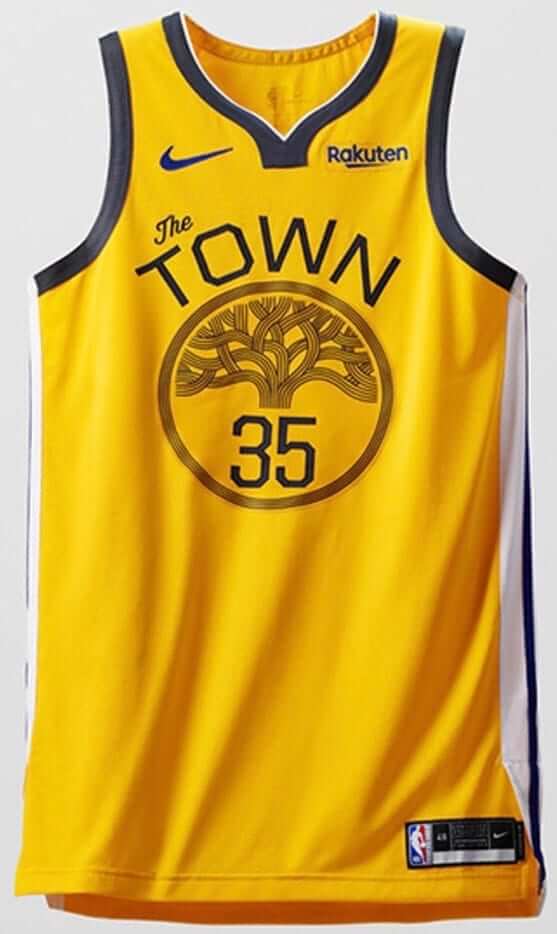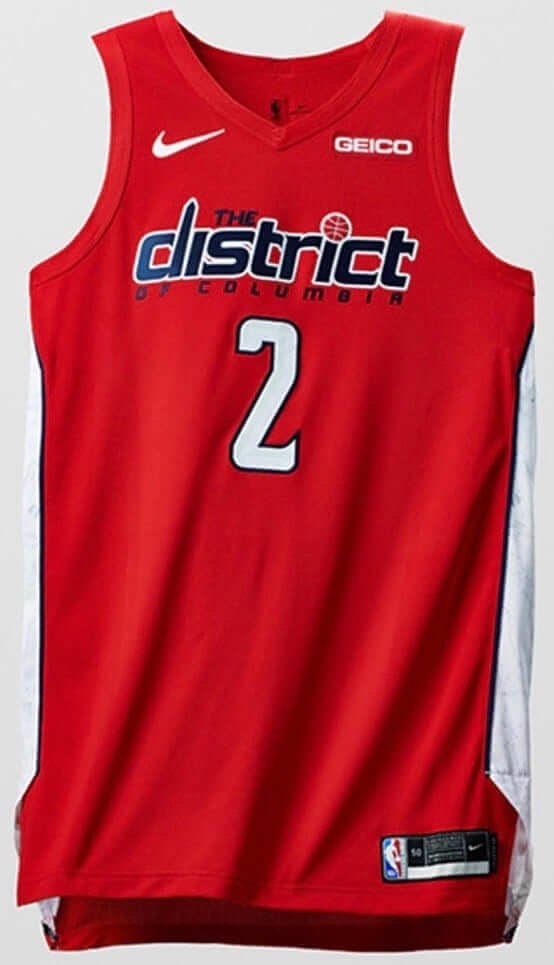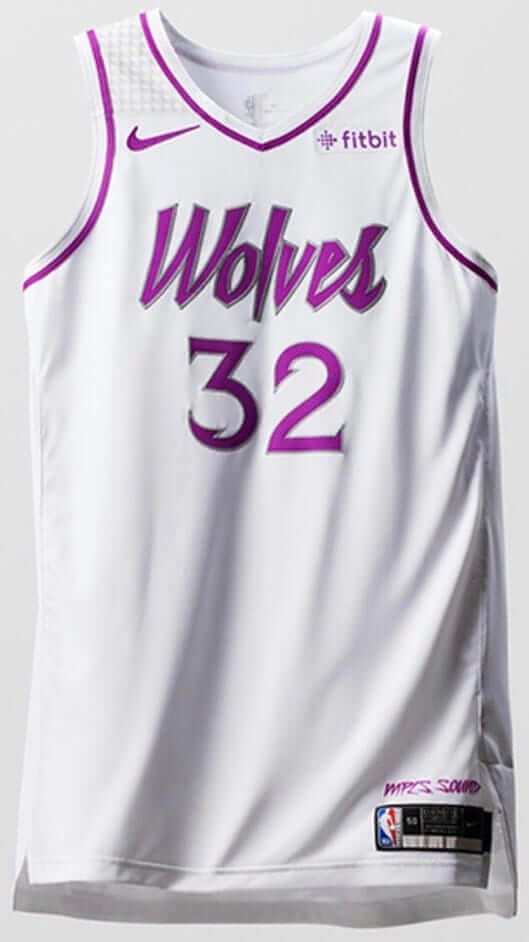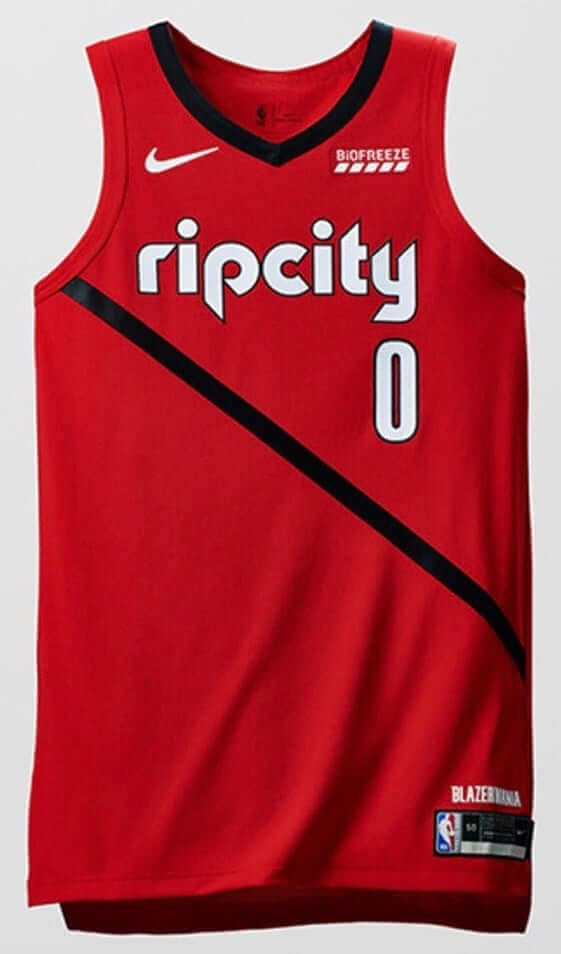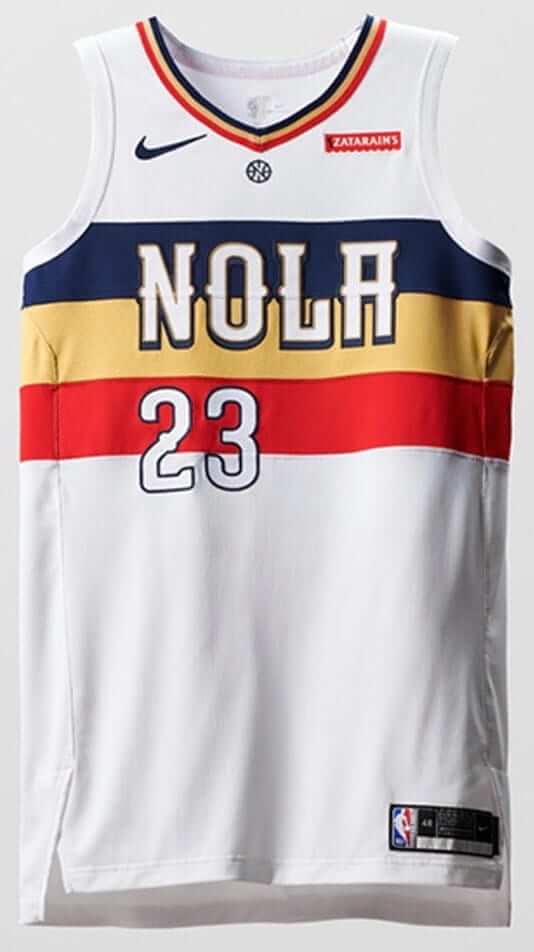 In addition, 11 of the 16 teams have put additional info and photos on their websites, so we can see more than just the front of the jerseys. Those teams are the Bucks, Cavs, Heat, Jazz, Pacers, Pelicans, Sixers, Trail Blazers, Timberwolves, Warriors, and Wizards. (Many of those web pages have headlines that say, "New Earned Jersey," even though the photos show more than just the jersey. Sigh.)
Obligatory joke: If the 16 playoff teams are getting Earned uniforms, shouldn't the other 14 get Spurned uniforms?
As I've mentioned before, it's hard to see how all of this is sustainable. The plan is to keep coming up with new City alternates (and presumably corresponding Participation Trophy alternates) every season, and at some point they'll want to do a new round of Statement alternates as well. But at some point the Spurs will run out of camouflage options and the Timberwolves will run out of ways to reference Prince, no?
Meanwhile, as long as we're talking about the NBA, here's a pair of tidbits that a source passed along to me yesterday:
• You know how the Thunder currently have their team name on the white uni and their city name on the blue uni? They're planning to flip that next season.
• Orlando's primary colored uniform (i.e., Icon) is currently blue. Next season it will be black.
Finally, I leave you with this (which would look better without Twitter's auto-cropping, but you get the idea):
I like the Cavs fresh color scheme pic.twitter.com/FnHCN7C4wP

— McNeil (@Reflog_18) December 12, 2018
(My thanks to @bignatsnut for bringing that last tweet to my attention.)
• • • • •
• • • • •
Click to enlarge
In the sticks: Who's that with all the first down markers? None other than New York Giants chain crew chief Tom Quinn, who I recently interviewed out at the Meadowlands for a new ESPN piece that I think you'll enjoy. Check it out here.
Also: Tom is looking for an old-school 1940s or '50s down indicator, like these. If anyone has a line on where to find one of those, please drop me a line. Thanks.
• • • • •
• • • • •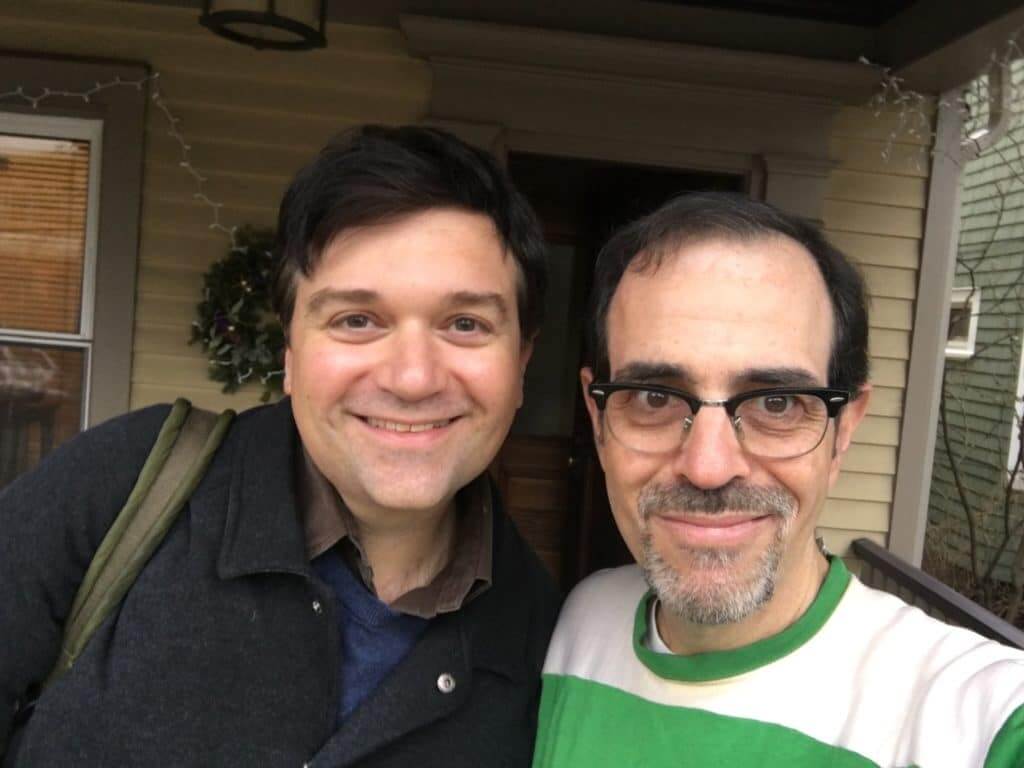 Click to enlarge
Puck me: Who was that posing for an awkward selfie with me on the porch of Uni Watch HQ yesterday? None other than my ESPN.com colleague Greg "Puck Daddy" Wyshynski, who stopped by to interview me for a new segment of his Puck Soup podcast. Super-impressive that he made the trip so we could talk in person instead of just doing it over the phone.
We talked about NHL uniforms and a bunch of other things. I really enjoyed it — Greg's a great guy and a fun interviewer. I believe the podcast segment will be posted today, so I'll post the link here once it's available.
• • • • •
• • • • •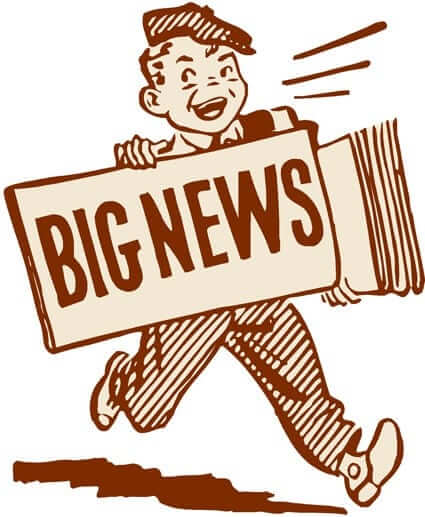 ITEM! Queen City party details: I mentioned a few weeks ago that I'll be in Cincinnati during the last few days of the year and that I wanted to convene a Uni Watch party while I was there. After extensive consultations with some of our Cincy-based readers, I'm happy to announce that we'll be gathering at the Mt Adams Bar & Grill on Sunday, Dec. 30, at 3:45pm. We'll be there until at least 6pm, and maybe a bit longer. They have food as well as drinks, so feel free to come hungry.
I'm looking forward to meeting all of you Cincinnati folks, as well as anyone who wants to make the trip from Louisville, Lexington, Columbus, and Indianapolis (all less than two hours away). See you soon!
• • • • •
• • • • •
The Ticker
By Lloyd Alaban

Baseball News: Here's a behind-the-scenes look at the wonderfully wacky world of minor league mascots (from Jason Hillyer). … MLB blog Cut4 did an absolutely horrendous job photoshopping P Charlie Morton into his new Rays uniform (from Andrew Cosentino). … This sportswriter thinks the Red Sox need new alternate uniforms (from our own Phil Hecken).

NFL News: The Broncos will wear their navy alternates this Saturday against the Browns (from our own Phil Hecken). … The Chiefs will go mono-red tonight against the Chargers (from multiple readers). … There will be neutral end zones for the Jets and Giants this weekend at MetLife Stadium. Jets play the late game on Saturday, Giants have the early game on Sunday, and rain is in the forecast, so there will be no end zone changeover (from Alan Kreit). … Tim Holleran was watching highlights of a 1977 Falcons/Giants game and noticed that Falcons WR Alfred Jenkins was missing his nameplate. "At first I thought maybe Jenkins was a new addition to the team that week and therefore the team hadn't had time to create his nameplate," says Holleran, "but it turns out he had actually been on the team since 1975." … Odd choice of jersey for Washington QB Josh Johnson for his NFL and Pro Football Reference photos. Johnson has never played for a team that wears a blue jersey (from Jon Solomonson). … Multiple readers sent us these NFL City Edition jersey concepts.

College Football News: Here's how the Sugar Bowl patch will look on Texas's whites (from Joey Breeland). … Here's the Frisco Bowl patch on Ohio's BFBS jersey (from Ed Zelaski). … North Texas will be going chrome green/green/white in the New Mexico Bowl versus Utah State (from Robert Botts). … It looks like — at least from this video — Fresno State will wear their blue alternates for the first time all year and the first time in the last two years. They play Arizona State in the Las Vegas Bowl on Saturday (from Josh Bryant). … For some reason this Belk Bowl announcement has South Carolina's block "C" logo turned backwards (from Josh Callahan). … Neither we nor Sam McKinley have seen a Nike-branded Heisman jacket before, but here's one on 2018 winner QB Kyler Murray. … Meet the man who has created Mizzou's football uniform frenzy (paywalled link) (from Trent Guyer). … K-State head coach Chris Klieman has some thoughts on his team's uniforms (from Blake Cripps).

Hockey News: Former Blues G Chad Johnson was picked up by the Ducks earlier this week. He made his Anaheim debut last night but was still wearing his Blues mask (from Rick Ho). … This rec league goalie is wearing an NES-themed Duck Hunt uniform, complete with themed pads and masks! (from John Roushkolb).

NBA News: This on-screen graphic shows a Pistons logo that matches their "Motor City" alternates (from Dan Kennedy). … The Sixers' practice court has integrated special markings — including a four-point line — to enhance their offensive and defensive strategies (from Kurt Esposito). … Here's a good analysis of how companies like Puma and New Balance are challenging Nike's dominance (NYT link) in the NBA footwear market (from Tom Turner). … Celtics F Marcus Morris and Wizards F Markieff Morris are twins, but they don't have matching NOBs.

College Hoops News: South Dakota State men's went GFGS on Tuesday and dropped 90 points in the first half (from Steve White). … Evansville men's will wear sleeved jerseys against Jacksonville on Saturday (from Bob Pristash).

Soccer News: In honor of its 10th anniversary, the Philadelphia Union will feature fan-chosen back tags that will be emblazoned below the neckline on the back of each shirt. Local Philly athletes and celebrities had input on what the tags would look like, and fans will choose their favorite tag to be featured on Union's shirts (from Ryan Schwepfinger). … A teaser photo for the Timbers' new home shirts has leaked (from Josh Hinton). … Also from Josh: New logo for kit maker Macron. … Chelsea F Michy Batshuayi is wearing some very appropriate Batman-themed boots (from Mark Coale).

Grab Bag: Grand Valley State will change its mascot name from "Lakers" to "Sawyers" for one day in February (from multiple readers). … Here's a look at the Buffalo Bandits' helmets of the National Lacrosse League (from Willie Stew). … A sportswriter has shared what he thinks are 21 uniforms "that should have stayed in the locker room," but be warned — it's a pretty ridiculous list (from our own Phil Hecken). … Here are some fantastic colorized photos of WWI troops from the Canadian War Museum (from Ted Arnold). … Following Tuesday's meeting with President Trump, House minority leader Nancy Pelosi exited the White House wearing a red coat, which one writer has interpreted as "a subtle power move" (from Jason Hillyer). … Yesterday we ran an item about how the Holland Tunnel in New York and New Jersey was decorated so carelessly for the holidays. A Budweiser brewery in Newark, N.J., has taken a stab at the tunnel's decorating (from Tom Turner).