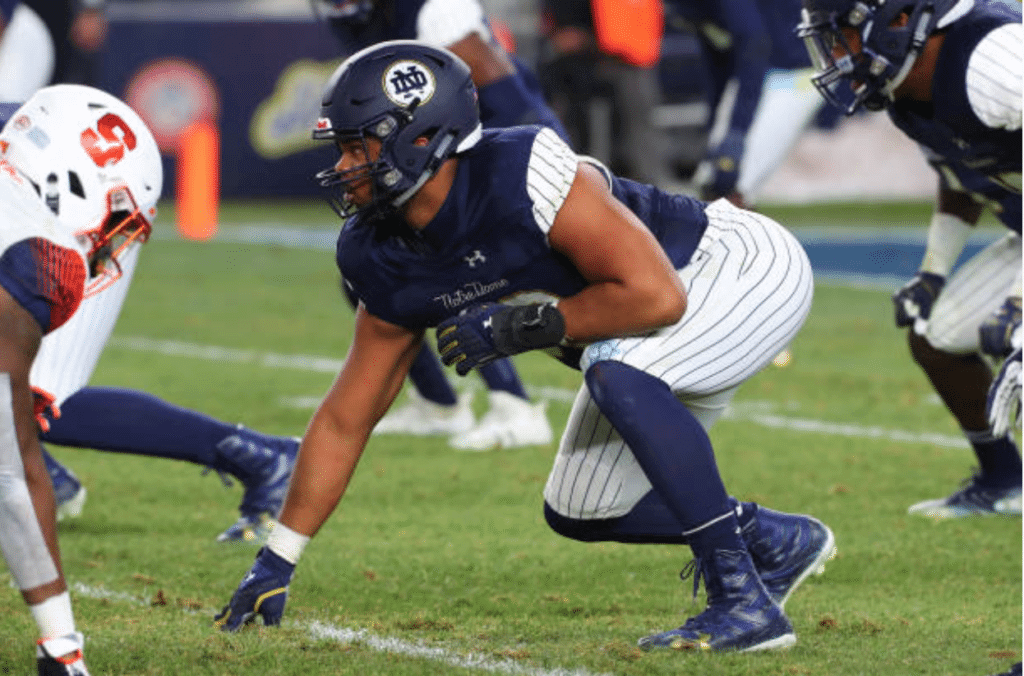 Paul here, checking in from Virginia, where I'm spending the weekend. Phil is also traveling this weekend, so we'll have an abbreviated entry today, beginning with a look at Notre Dame's Yankees-themed uniforms costumes from yesterday's game against Syracuse. I'll say this much for the Irish: At least all of them went high-cuffed with their pinstriped pants, which is more than most of the real Yankees can say. Aside from that, it was about as silly as you'd expect. Lots of additional photos here.
At the other end of the aesthetic, there was the annual UCLA/USC game, which once again found the Bruins and Trojans going color vs. color, to spectacular effect: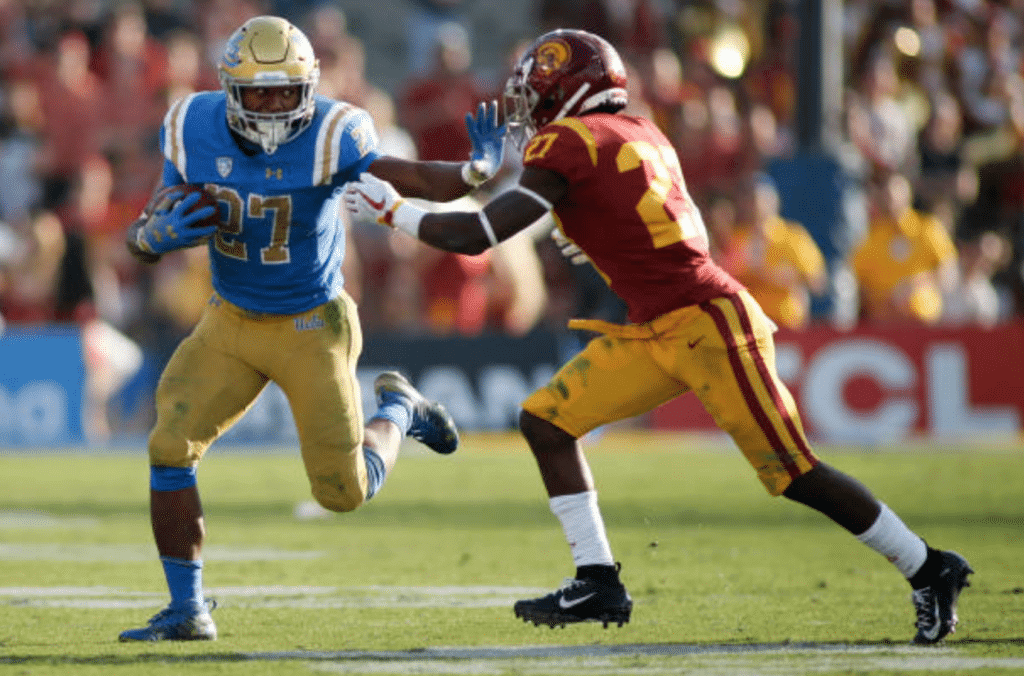 Lots of additional photos from that one are available here.
• • • • •
• • • • •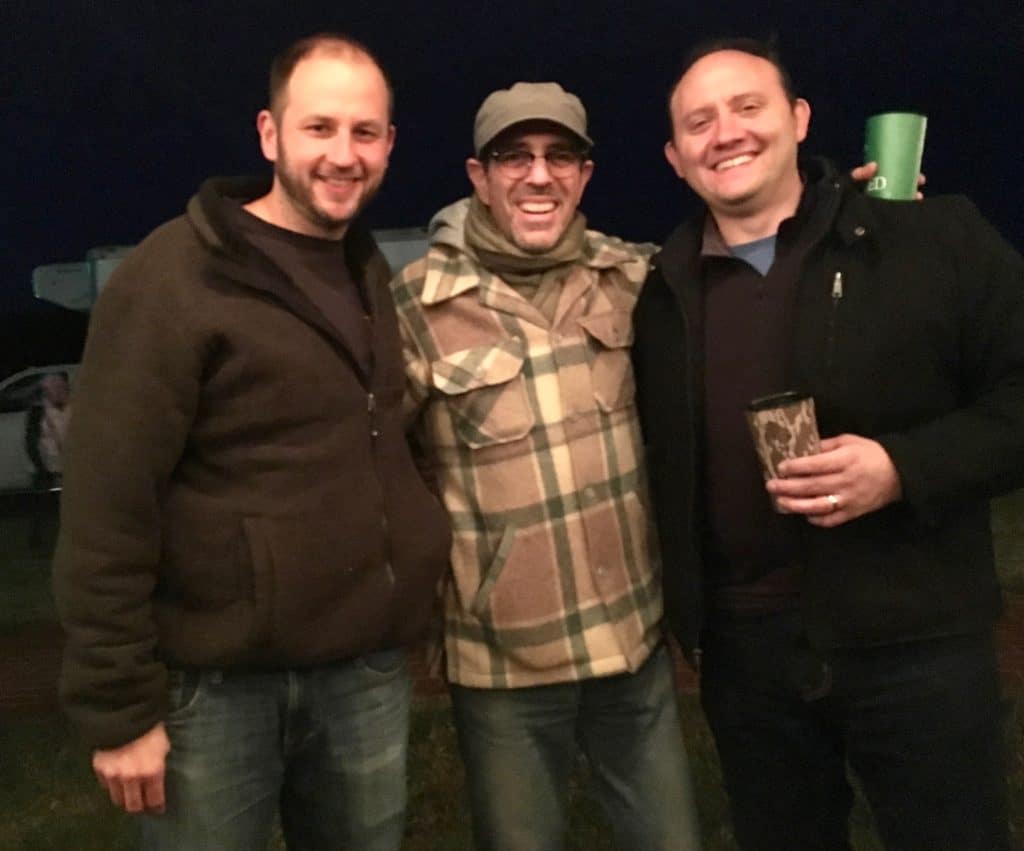 Fellow travelers: The guy on the left is longtime Uni Watch reader Fran Simmonds, and on the right is his buddy Tony, with yours truly in between. Fran and Tony live in Rochester, N.Y., but Fran liked my story about last year's oyster roast on Virginia's Eastern Shore so much that he decided to drive down for this year's edition, which took place last night. I was attending this year's event as well, so Fran spotted me and introduced himself — a nice surprise!
As for the oyster roast, it was pretty much the same as last year's, by which I mean it was tremendous. These two video clips capture the spirit of the proceedings:
Although the guy in that second video got himself a pea crab, the crabs were in much shorter supply this year. I only got one myself — dang.
• • • • •
• • • • •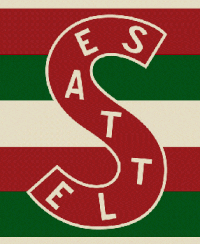 Contest reminder: In case you missed it on Friday, ESPN.com's hockey editor has asked me to have a design contest for the potential new NHL franchise in Seattle, so that's what we're going to do. Here's the skinny:
• Your entry must include a team name, a primary logo, full home and road uniforms (jerseys, pants, socks, helmets), and an inaugural-season logo that can be worn as a patch. If you like, you can also include secondary logos, an alternate uniform, and a center ice design, but those aren't required.
• You can draw upon Seattle's rich hockey history or start from scratch. Up to you!
• Your designs can be created in any digital or analog medium (Illustrator, Photoshop, crayon, whatever) and can be submitted in any standard digital format (JPG, PDF, TIFF, etc.). You can also create a video presentation, upload it to YouTube, and submit the YouTube link as your entry.
• The files you submit should be named after yourself (PaulLukas.jpg, for example). If you're submitting multiple files, please either number them (PaulLukas1.jpg, PaulLukas2.jpg, etc.) or use some other designation (PaulLukas-homeuni.jpg, PaulLukas-logo.jpg, etc.). Files that don't follow this format will not be considered.
• In keeping with longstanding Uni Watch chromatic policy, entries with even a hint of purple will not be considered.
• Email your entry to Uni Watch HQ (note that this address is just for contest submissions — please don't use the usual Uni Watch email address). If you have more than one concept, feel free to enter as many times as you like.
• Deadline: Monday, Nov. 26, 7 p.m. ET.
The best entries will be showcased in one of my upcoming ESPN columns. Good luck!
• • • • •
I'm driving back to NYC later today, and we'll have full content tomorrow. Thanks for bearing with us this weekend. — Paul