Click to enlarge
Reader Kyle Seely got in touch the other day to raise an interesting point. He noted that we all seem to agree that the Rams' current uniform setup is a mess, thanks to the gold trim on the jersey but the absence of gold on the helmet. But then he pointed out that the Chiefs have a similar situation, with lots of yellow trim on their jersey (and pants, and socks) but not even a touch of yellow on their helmet. Both teams even have white facemasks. And yet most of us, myself included, have no problem with the Chiefs.
"Why do I get that fingernails-on-a-chalkboard feeling when I look at the Rams, but I see a harmonious symphony of design when I look at the Chiefs?" Kyle asked me. "Is it because the Chiefs have secretly snuck black into their helmets with the outline of the arrowhead and the lettering? Is there some other logical explanation?"
Good question! I've been puzzling over this one for a few days now. For whatever reason, the Rams situation bugs me but the Chiefs situation does not. Why is that?
Maybe it has to do with the colors involved. The Rams' helmet shell is dark navy while the horn decals and facemask are white. So to me, it almost feels like the Rams' helmet is appearing in black-and-white while the rest of the uni is in color. The Chiefs' setup is different, because the shell is red.
Or maybe, as Kyle suggested, it has something to do with the use of black trim on the Chiefs' helmet. Does that change the equation somehow?
One additional note: Yellow hasn't always been quite so prominent on the Chiefs' uniforms. If you look at large photos from Super Bowl I and Super Bowl IV, you'll see that the yellow outlining on the jersey numbers was so thin as to be barely visible (although there was still plenty of yellow on the sleeve stripes, pants piping, and socks). According to the Gridiron Uniform Database, the outlining on the numbers was thickened in 1970 and has remained thick ever since. In any case, the assorted bits of yellow in KC's uniform have never bothered me, even though they're not repeated on the helmet.
Discuss!
(P.S. As long as we're talking about the Chiefs, I'm going to refer you back to an entry I wrote back in 2014, about the great Chiefs logo-inconsistency mystery. If you didn't read it back then, or if you just want a refresher, check it out — it's pretty amazing.)
• • • • •
[adrotate group="2″]
• • • • •
FC Cincinnati Gets New Badge and "New" Name
By Alex Hider
You never want to be the new kid on the block with old duds. So FC Cincinnati, poised to jump to MLS next season, held an event to unveil its new badge and branding last night.
The event took place at a theater-turned-concert venue about a half-mile from where the team's new stadium will be built — and the club dressed it up in orange and blue, inside and out.
Still about 20 minutes out from the unveiling. @UniWatch @PhilHecken pic.twitter.com/kvj5FOmAr7

— Alex Hider (@alexhider) November 12, 2018
After introductions from some team officials, the team officially unveiled the badge in the video below.
Ignite the passion.
Unite the city.
We are FC Cincinnati. #IgniteUnite | #FCCincy pic.twitter.com/33eLpc5qjZ

— FC Cincinnati (@fccincinnati) November 12, 2018
Notably, the new badge keeps the winged lion from the old logo, and adds a new color to the palette — navy.
Of course, this is modern sports branding we're talking about, so there's plenty of storytelling to go around. Some of it works — the "C" in the lion's tail is clever and easily my favorite element of the logo. Other parts — not so much. As Adam Eargle pointed out to me on Twitter, the crown atop the male, maned lion represents the "Queen City," which doesn't quite make sense (click to enlarge):
In addition to the new badge, the FCC also announced that it was changing its official name from Fútbol Club Cincinnati to Football Club Cincinnati, something that will probably go largely unnoticed, considering the team rarely refers to itself by its full name.
All in all, the new logo is a significant upgrade from the old crest. The new winged lion logo is active and dynamic (it always frustrated me that the old lion had his hands full), and the new badge eliminates the annoying floating chunk that hovered over the old badge.
My grade: A-
Fans react to the first look at the badge. @UniWatch @PhilHecken pic.twitter.com/fCYHx4EggK

— Alex Hider (@alexhider) November 12, 2018
• • • • •
[adrotate group="2″]
• • • • •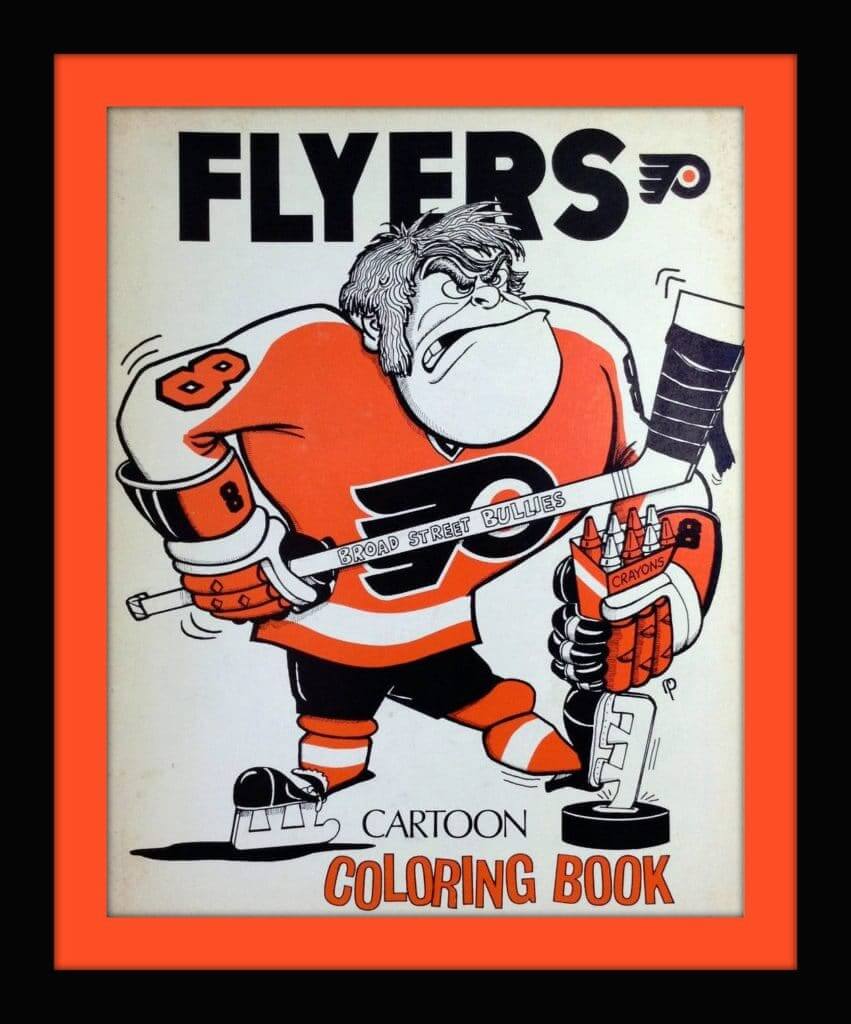 Click to enlarge
Collector's Corner
By Brinke Guthrie
Flyers fans will want to have their box of Crayola crayons handy for this (probably) early-1970s Flyers coloring book. The seller says "This book includes Rick MacLeish, Bobby Clarke, Bernie Parent, and more. There is a word search, connect the dots and find the differences puzzle along with the coloring pages. This coloring book has been used. Not sure of the year, I'm guessing early 1970s. Includes Bernie Parent with the number #30 which he wore prior to being traded to Toronto. Also, includes Bill Flett, a player traded after the first Stanley Cup in 1974."
Now for the rest of this week's picks:
• Check out the jersey graphics on this 1970s "Islanders New York" button.
• This 1970s NHL thermal mug includes all the team logos of the period, including the ones for the Atlanta Flames, California Golden Seals, and Minnesota North Stars.
• The seller for this auction says this is a 1970 Cleveland Browns playbook binder for their offense. Just the binder by itself, as "the contents were donated to the football HOF." It would still make a nice souvenir for that die-hard Browns fan (is there any other kind?) out there.
• Remember Nutmeg Mills? They had an NFL license for awhile and were the makers of this vibrant L.A. Rams sweatshirt. Seller says 1970s but I don't believe that is correct. More like mid- to late 1980s.
• This is obviously a 1970s Atlanta Falcons jersey from Rawlings, though for some reason the seller doesn't mention the team.
• Kellogg-Citizens National Bank gave away these 1960s plastic Packers mini-footballs, to "lighten your life and brighten your future." Open up a new passbook savings account, and get a free toy football!
• Someone in Miami made up a batch of these "Zonk 'Em Dolphins" buttons in honor of running back Larry Csonka during his Dolphins heyday.
• Dig the artwork on the cover of this 1970s L.A. Dodgers yearbook!
• Staying in 1970 for some more great baseball cover artwork, this time for the Red Sox game program.
• Way back when, NFL team pennants just had a flat line drawing of a helmet, which was boring. Then cool "3-D" graphics came along, and pennants upped their game. This one is for the New York Football Giants.
Finally, a quick programming note: Collector's Corner will air on the Uni Watch Facebook page next Tuesday, Nov. 20. Back here as usual after that.
Seen an item on eBay that would be good for Collector's Corner? Send any submissions here.
• • • • •
[adrotate group="2″]
• • • • •
Click to enlarge
Chain-stitch update: I just received a couple more chain-stitched Uni Watch logo patches from master embroiderer Amy Bengtson (who I interviewed back in September). These patches will ship out today to the readers who ordered them.
If you want your own patch, the price is $35 apiece (80% of which goes to Amy). That includes shipping. They're hand-embroidered, so no two are quite the same. If you're interested, give me a shout and I'll make the arrangements.
• • • • •
[adrotate group="2″]
• • • • •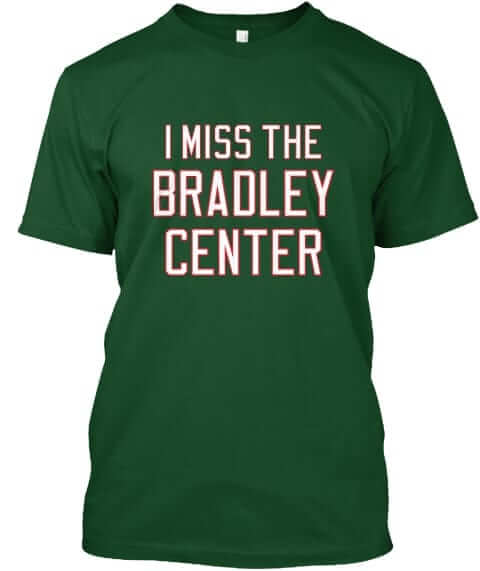 Naming Wrongs reminder: In case you missed it on Monday, we've added some new Naming Wrongs shirts for the Bradley Center. They're available in green, purple, and green with purple lettering. We'll be adding some Marquette-themed Bradley designs as well.
These shirts are now available in the Naming Wrongs shop. My thanks, as always, for considering our products.
• • • • •
[adrotate group="2″]
• • • • •
Click to see the details — it's worth it!
'Tis the season: Someone asked me the other day if we have a Uni Watch holiday sweater. No, I told him, but we do have the Uni Watch Ugly Sweater T-shirt (which is also available as a long-sleeve tee and a sweatshirt). Designed three years ago by Bryan Molloy, it's still one of our best products. Perfect for you, or as a gift. Order it here.
• • • • •
[adrotate group="2″]
• • • • •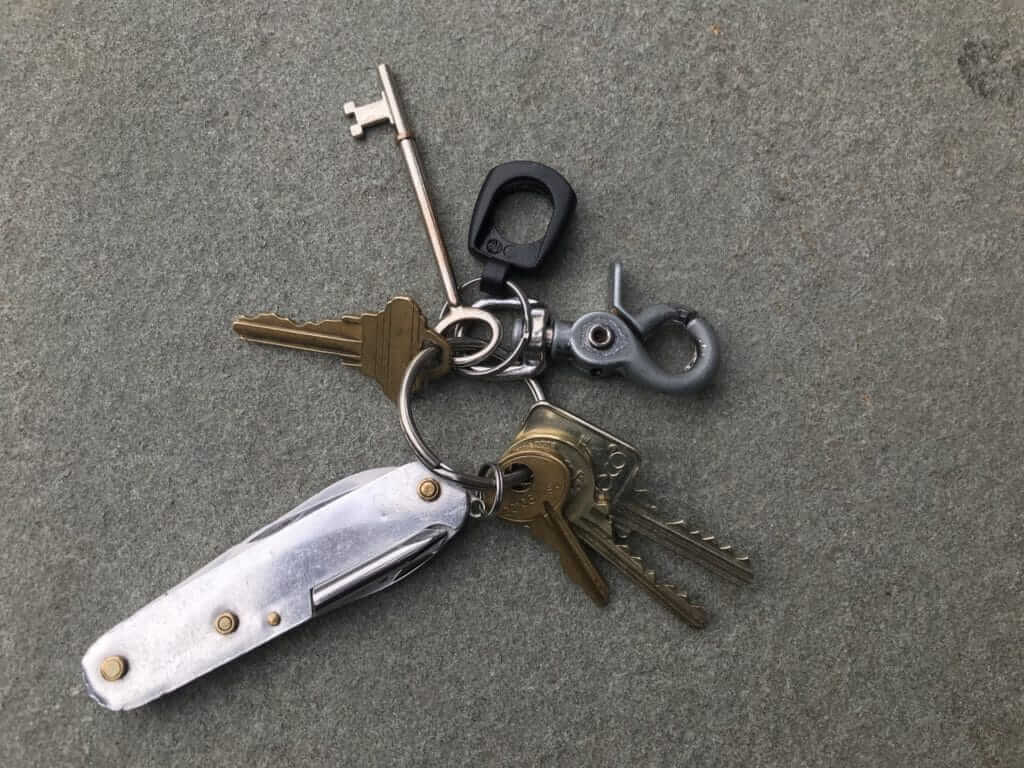 KRC update: The latest installment is about a Swiss Army Knife whose red outer casing has fallen away. Check it out here.
• • • • •
[adrotate group="2″]
• • • • •
The Ticker
By Alex Hider

Baseball News: Seattle's baseball stadium currently does not have a name, as workers have removed the "Safeco" lettering from the stadium's facade (from Jay Danbom). … The Rockies gave away a bunch of stuff on Twitter yesterday, including champagne corks from postseason celebrations, bottles of Coke with player names on them, and a pack of special weekend uniform socks (from Rob Montoya). …  The Green Bay Bullfrogs of the Northwoods League — a college summer league — will get a new nickname on Wednesday. The seven finalists for the new nickname: Booyah, Cheese Curds, Old Fashioneds, Supper Clubbers, Tailgaters, Under Dogs and Wurst (from Brian Kerhin).

Pro Football News: The Packers are wearing their all-white Color Rash uniforms this Thursday, and the team published a video of the equipment staff preparing the uniforms for the game (from Damon). … Thanks to a trademark filing, SportsLogos.net has all but confirmed what the Montreal Alouettes' new logo will be (from Moe Khan).

College Football News: Florida State is wearing their alternate helmets, black jerseys and garnet pants this weekend against Boston College (from College Sports Design). … In an ESPN power rankings column, someone accidentally used Bemidji State's logo instead of the University of Cincinnati C-Paw (from Joel Benjamin Clark). … The ACC Tracker has been updated for Week 11. … In this very short video clip, you can see Nebraska's 1917 football team wearing their very stripe-centric uniforms as they march in support of America's involvement in World War I (from Brian Hansen).

Hockey News: This season's outdoor game between Notre Dame and Michigan at Notre Dame Stadium has its own logo (from Joseph Lombardo). … Friend of Uni Watch Rob Ullman has published the latest issue of his hockey comic zine, Old-Timey Hockey Tales. … The Penguins are selling the "Stronger Than Hate" patch that they wore on Oct. 30, with the proceeds going to the Jewish Federation of Greater Pittsburgh to benefit Tree of Life victims and families (from Jeffrey Jacobs).

NBA News: Sixers G JJ Reddick nailed a three while wearing only one shoe last night (from Mike Chamernik). … NBA Commissioner Adam Silver says he supports players who've been wearing the "Enough" T-shirts during warmups in response to the latest mass shooting in Thousand Oaks, California. … Not uni-related, but the Warriors will be selling a $100 monthly pass that will get you in the building but won't get you a seat or even a view of the court. But you'll be free to watch the game on TV in the arena's bars and lounges. … The Wisconsin Herd of the D League will wear Native American Heritage jerseys on Friday and auction them off in support of a local Boys & Girls Club.

College Hoops News: Southern Illinois wore stars-and-stripes uniforms last night (from Eric McKay). … Ohio State will reportedly be wearing mid-'70s throwback uniforms on Nov. 23 against Cleveland State (from Ben Teaford). … UT Arlington has slightly updated its uniforms since Paul dropped his season preview — it appears they've eliminated any orange elements from the side panels.

Soccer News: Sporting Kansas City has a bunch of uniform displays representing notable years in its history throughout its stadium, Children's Mercy Park (from @GuacBowlsForAll).

Grab Bag: The Pac-12 Conference has signed an apparel deal with Nike, meaning conference broadcasters, staff, and volunteers will wear Nike apparel at conference events. Seems like this will be awkward for the several Pac-12 schools that have apparel deals with non-Nike companies (from Griffin Smith). … On Veterans' Day, it was reported that the U.S. Army is bringing back the old World War II-era "pinks and greens" uniform as its new service uniform (from Tim Dunn). … Police in Washington, D.C. are getting new uniforms (from Andrew Hoening).