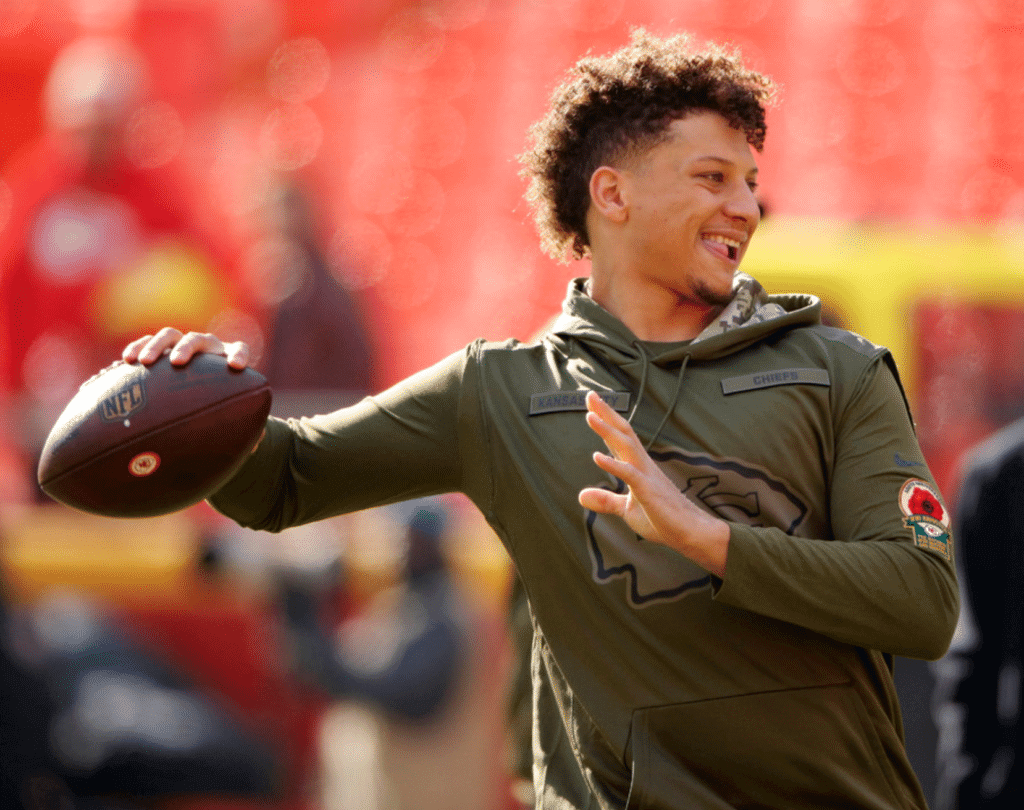 Click to enlarge
Amidst all the G.I. Joke nonsense, the Chiefs did something interesting yesterday. They partnered with the National World War I Museum and Memorial, which is located in Kansas City, to wear a patch during pregame warm-ups to mark the centennial of the WWI armistice. You can see it there on Patrick Mahomes's left sleeve. Here's a closer look (click to enlarge):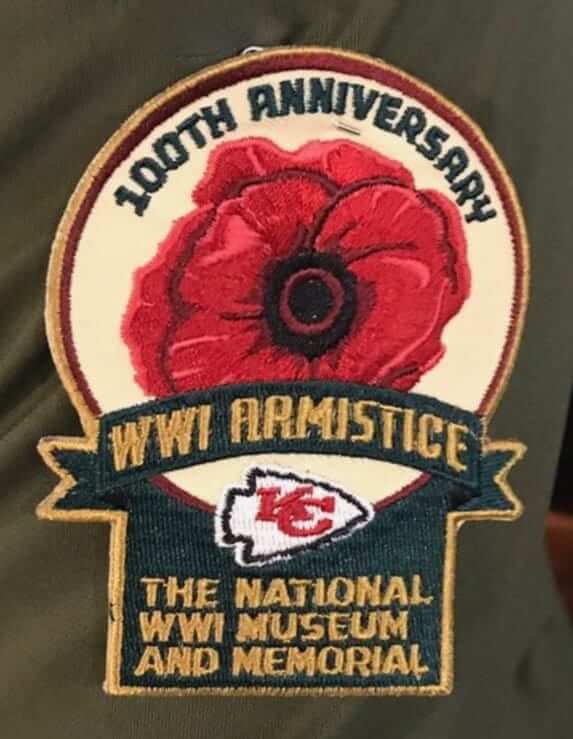 Would've been nice if they'd worn it for the game, instead of just for pregame, but it's still a nice gesture.
In other news from around the league yesterday:
• The Chiefs' opponents yesterday, the Cardinals, wore their white jerseys with red pants — the first time they've worn that uni combo since Dec. 19, 2010: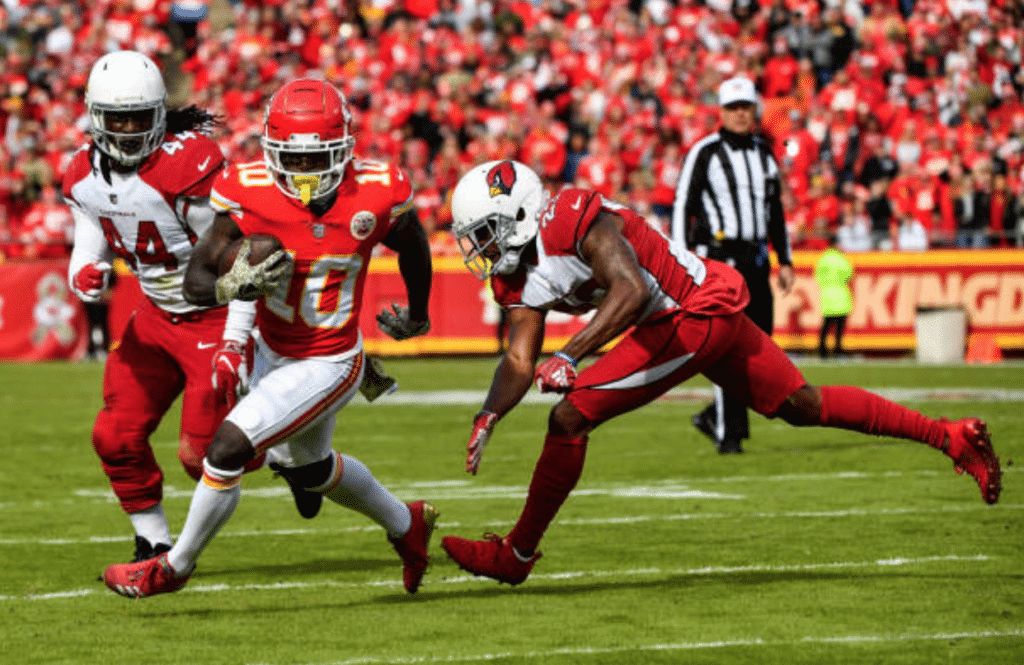 • From that same game, I don't usually get too worked up about footwear, but check out what Cards safety Antoine Bethea was wearing: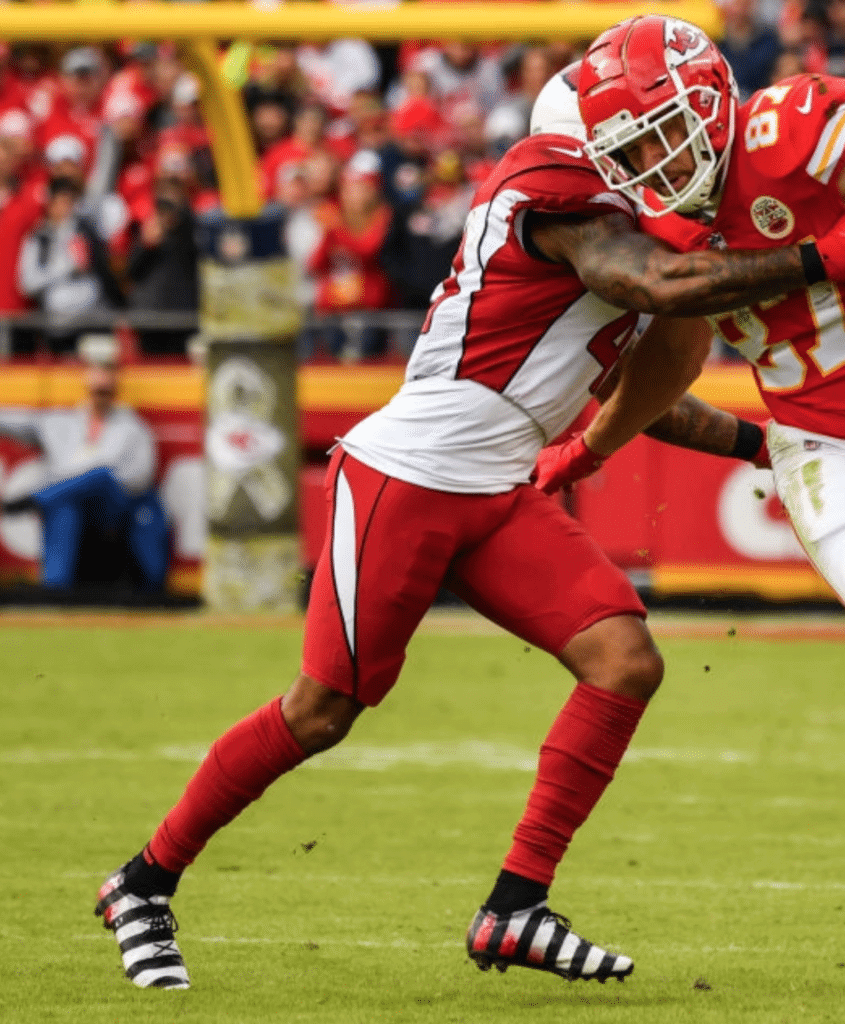 • Also from that same game, the Chiefs' cheerleaders didn't just wear G.I. Joke costumes — they also saluted Sigh: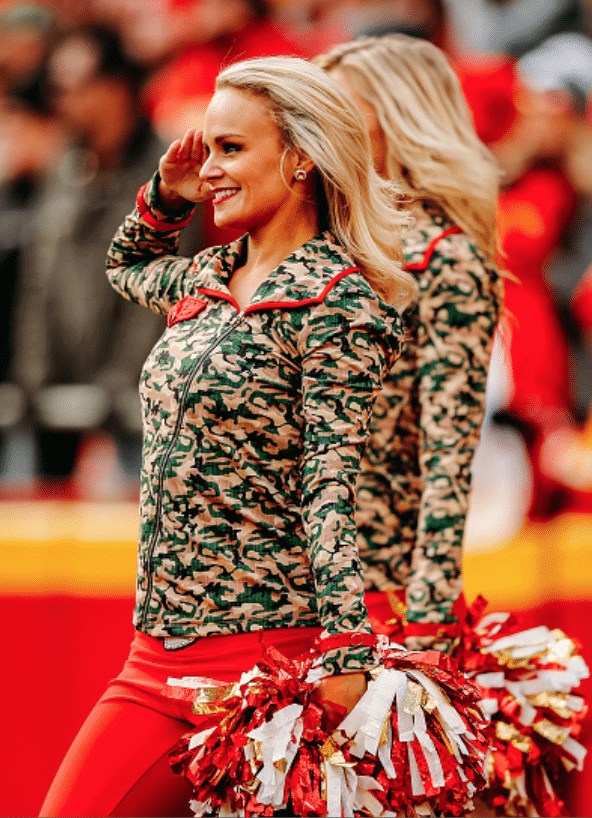 • The Titans wore navy blue over powder blue — the first time they've worn that combo since adopting their new uniform design (click to enlarge):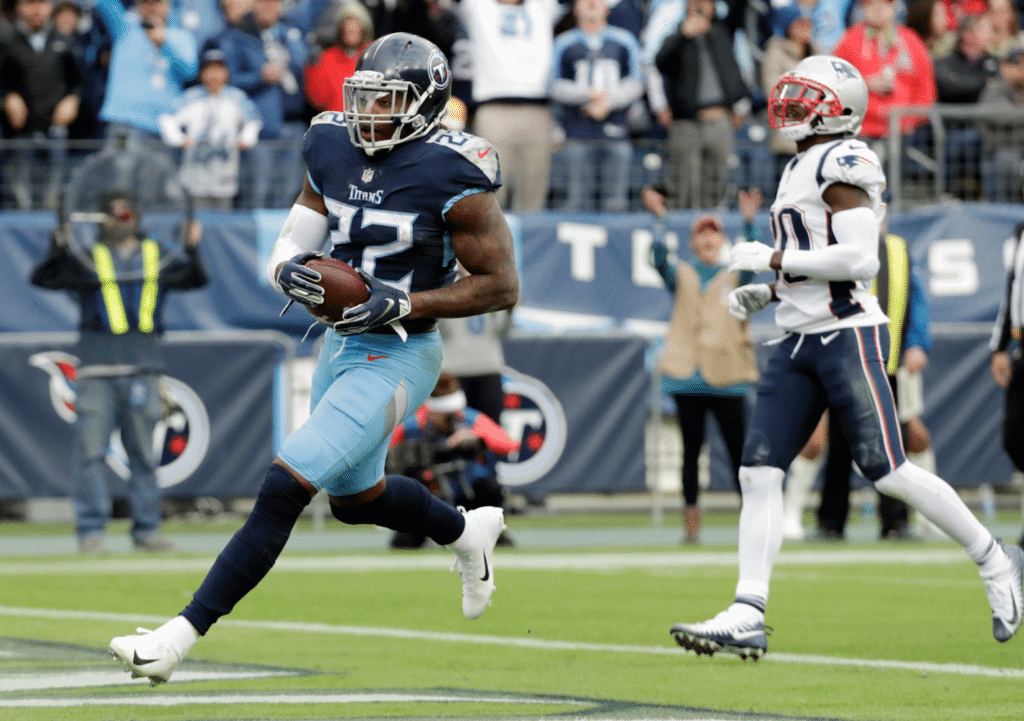 • The Bengals wore their orange alternate jerseys (click to enlarge):


• In L.A., the Rams wore their throwbacks and the Seahawks wore their gray alternate pants: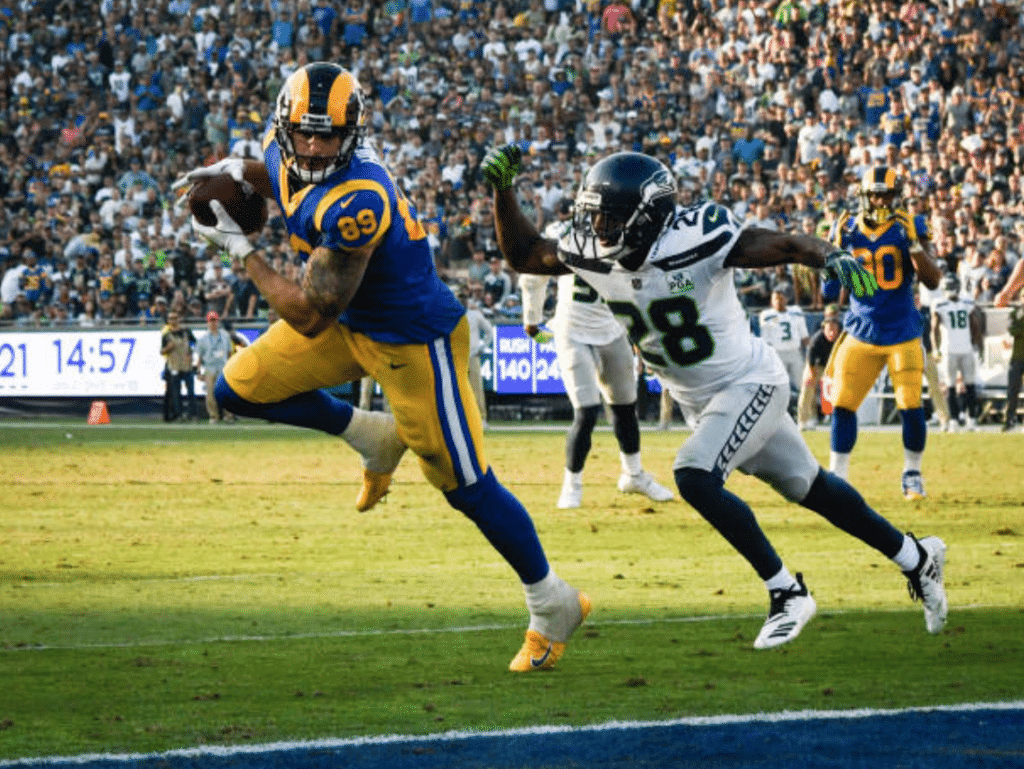 • In that same game, Rams defensive back Marcus Peters appears to have played bare-legged: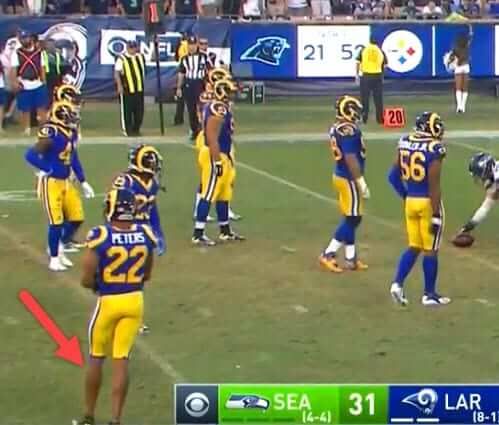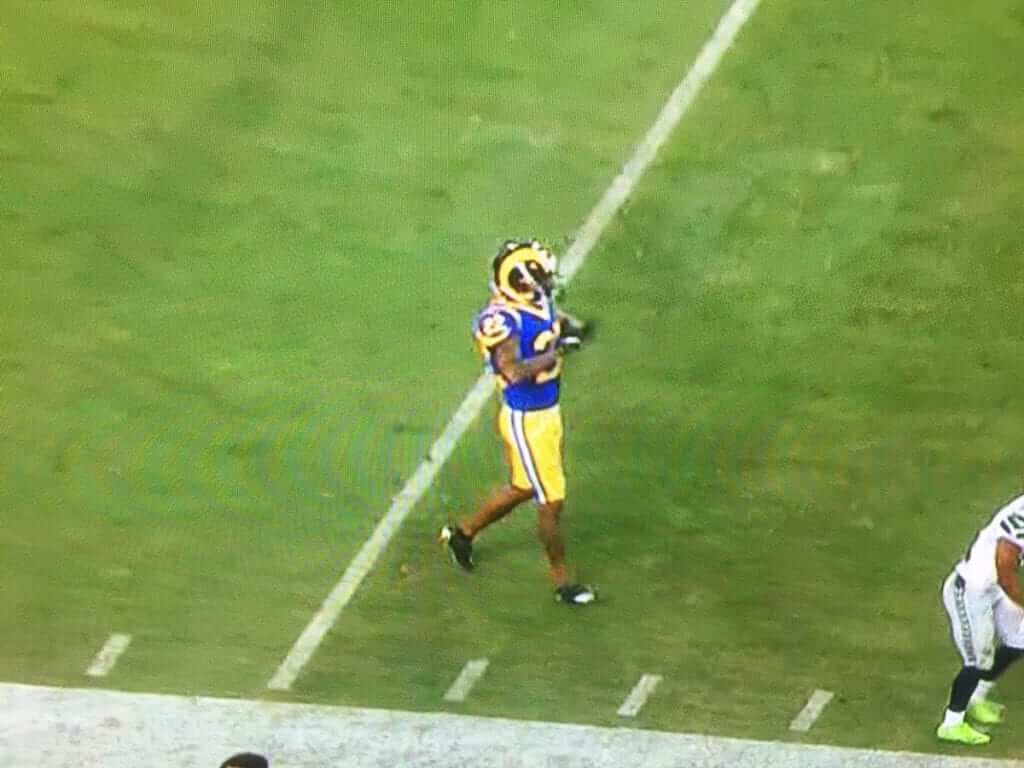 • The Eagles wore their mono-black alternates: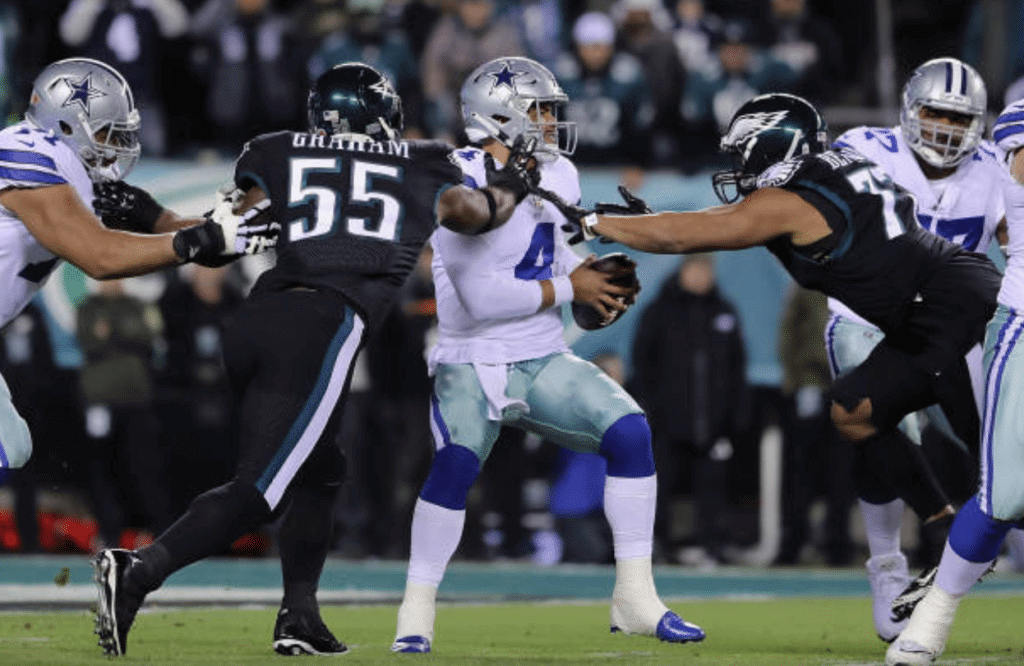 • The Browns beat the Falcons while wearing brown over orange: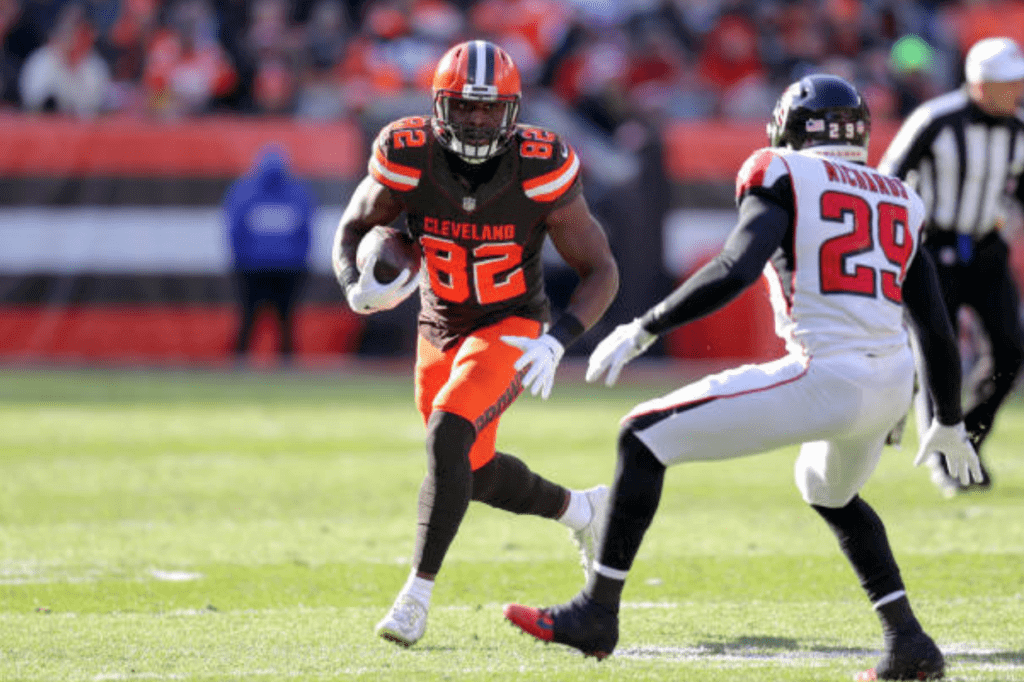 According to reader Joseph Bailey, it's the first time the Browns won while wearing that color combo since Dec. 18, 1983, when they beat the Steelers. "It was Brian Sipe's last game," says Joseph. "I was there, and after the game I got onto the field and grabbed a clump of orange grass. I still have it in a baggie in my attic."
• Typo alert! Bears defensive back Prince Amukamara had his name misspelled on his NOB, prompting him to change jerseys midgame (screen shot via @ajj421):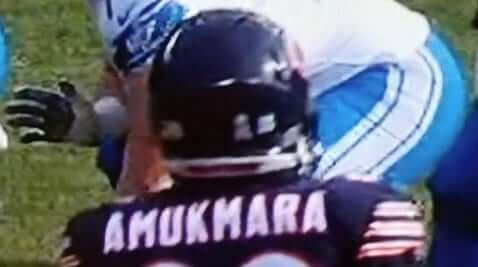 This was the second time Amukamara has been victimized by a jersey typo. The first time was in 2016, when he played for the Jaguars.
• In Oakland, poor air quality from the California wildfires prompted the Raiders to issue dust masks to fans at the game:
My grandfather went to the Chargers v Raiders game in Oakland. As a result of the poor air quality stemming from the wildfires, fans were issued masks during the game pic.twitter.com/0PIpXsZtJ4

— Matthew says… (@Klimberginho) November 12, 2018
• One team wore white at home: the Bucs.
(My thanks to all contributors, including Michael Bochum, Frank McGuigan, Pro Football Journal, Robert Turning.)
• • • • •
[adrotate group="2″]
• • • • •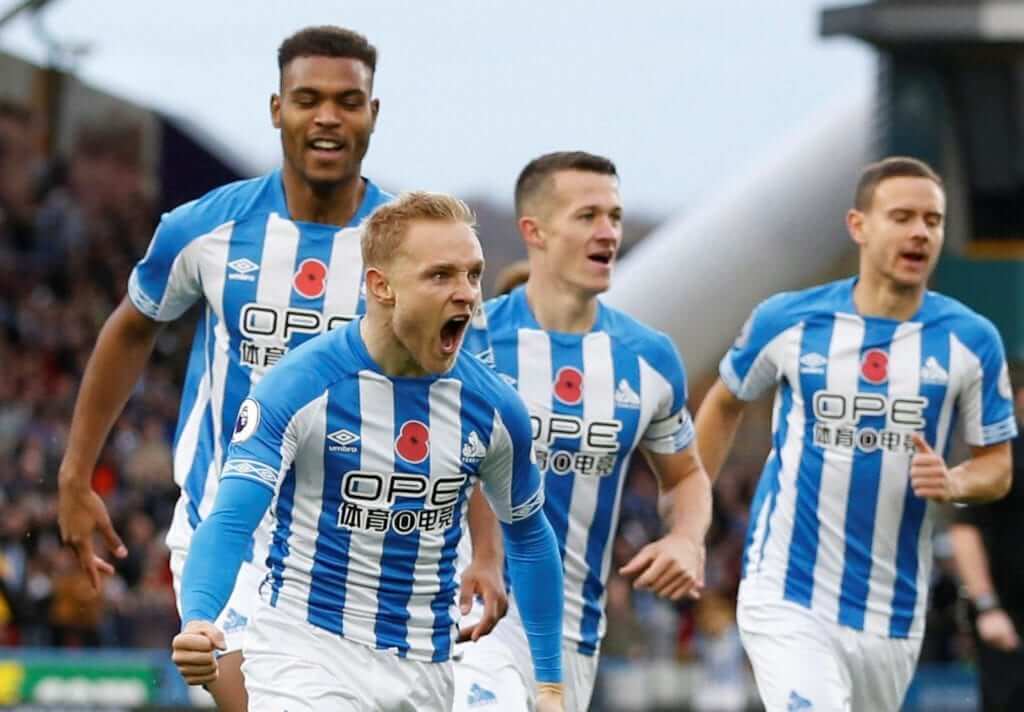 Poppy Roundup
By Jamie Rathjen
Remembrance Sunday is now marked in a variety of uni-related ways, invariably poppy-themed, in many different sports. Here's a rundown of some of the poppy action, starting with soccer, where almost every English and Scottish top-tier team wore poppy patches this weekend:
• Leicester City only wore the poppy for half of their game, because the first half featured shirts honoring owner Vichai Srivaddhanaprabha.
• Scottish team St. Johnstone wore their own patch instead of the standard Scottish patch, and added the insignia of the Black Watch military regiment as well as a military decoration, but which one wasn't immediately clear.
• Also in Scotland, Celtic and St. Mirren did not wear the poppy, while the first picture shows that Celtic's opponents Livingston wore the English poppy.
• Tottenham Hotspur striker Harry Kane posted a picture of an actual poppy pin — the kind people buy to commemorate the holiday — pinned to his England shirt. Whether the four British national teams would be allowed to wear the poppy was controversial in each of the past two years, when Remembrance Sunday fell during international breaks.
• England's women's team played yesterday and wore a poppy on black armbands, which was the compromise FIFA and the national teams came up with last year to circumvent FIFA's ban on political statements on national teams' kits. Some of opponent Sweden's players wore plain black armbands.
• National rugby union teams wearing poppies on their sleeves included England and New Zealand, Wales and Australia, and Scotland.
• Australia's women's cricket team wore pinned-on poppies at the Women's World Twenty20 in the Caribbean.
• In Canada, poppy helmet decals could be seen on the Canucks and in both CFL division semifinals.
(Thanks to Josh Hinton and Wade Heidt for their contributions to this section.)
• • • • •
[adrotate group="2″]
• • • • •
Naming Wrongs update: With Milwaukee now home to a new corporate-named arena, we've added some shirts for the Bradley Center. This one's available in green, purple, and green with purple lettering: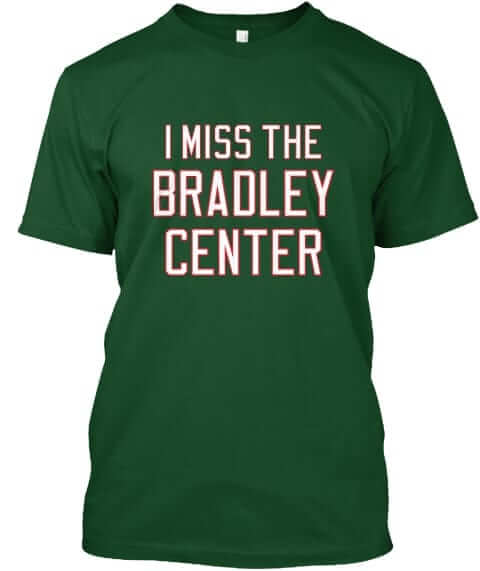 We'll be adding some Marquette-themed Bradley designs as well.
These shirts are now available in the Naming Wrongs shop. My thanks, as always, for considering our products.
• • • • •
[adrotate group="2″]
• • • • •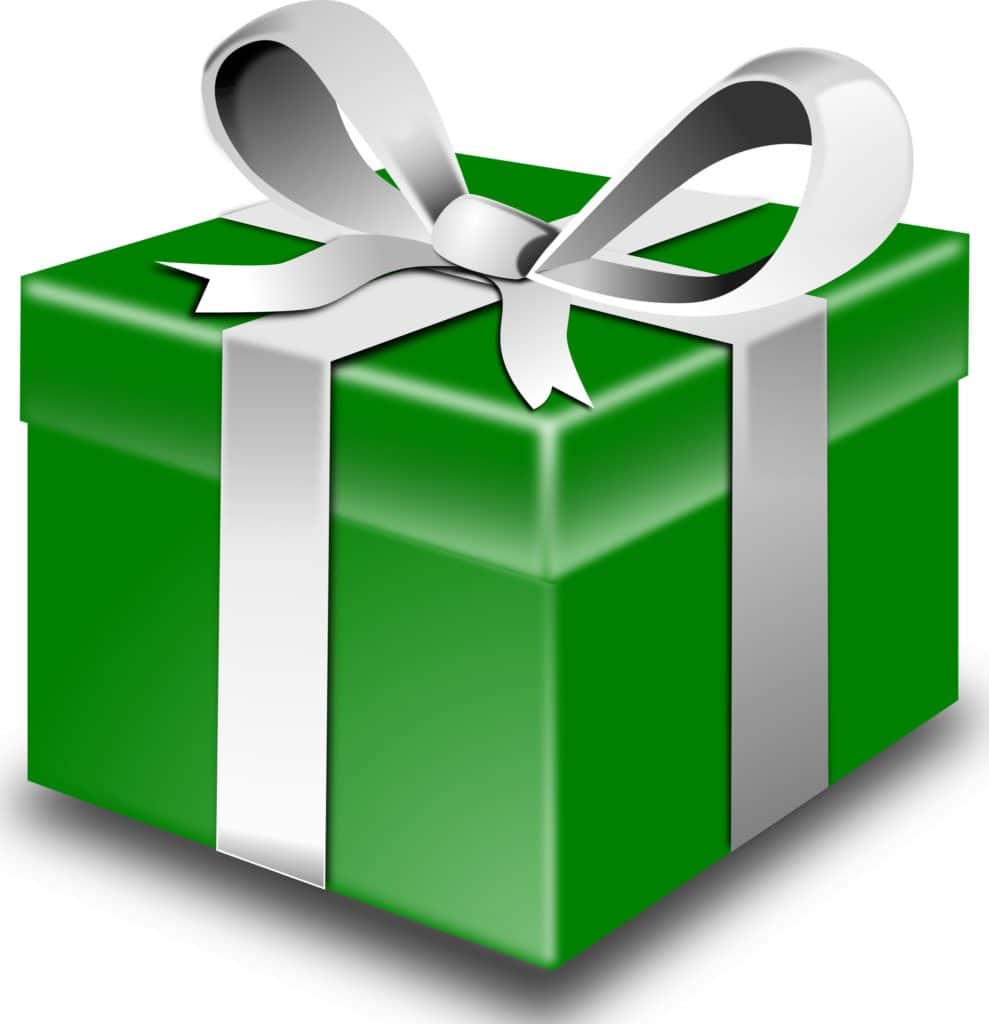 Gift guide reminder: I'm currently working on my annual Uni Watch Holiday Gift Guide, which will run on ESPN.com later this month. If you know of any cool uni-related items that might be good for me to include (aside from the usual mass-market retail slop, of course), please feel free to send tips my way. Self-promotion is fine, so if you have an awesome product or project that might make the grade, don't be shy about telling me.
Also: Next month I'll be doing my annual year-end raffle, where I give away the freebies I've accumulated during the year. If you have any goodies that you'd like to contribute to the raffle (one reader has already donated something very, very special), get in touch and we'll discuss. Thanks.
• • • • •
[adrotate group="2″]
• • • • •
The Ticker
By Jamie Rathjen

Baseball News: Nationals OF Juan Soto has been wearing the team's home cap with their road uniform while he is with the MLB all-star team touring Japan (from William F. Yurasko). … "Did we know that the clean-shaven Pirate of the '70s had a family?" asks Mike Ortman. That is, that picture appears to show female and child versions of that incarnation of the Pirates logo.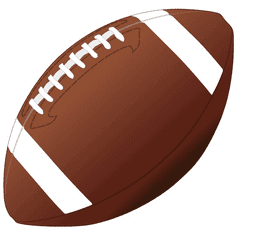 Football News: In the CFL division semifinals, the Saskatchewan Roughriders wore their alternates, while the Hamilton Tiger-Cats wore mono-black (from Wade Heidt). … Multiple readers sent in the NFL's Red Zone giving the Browns and Ravens the same logo.

Hockey News: The OHL's Flint Firebirds did camouflage night Friday (from Wade Heidt). … Also from Wade: Canucks G Jacob Markström has a new mask. … Good luck telling Latvia's B team (maroon) and Japan (black) apart in this picture. That was the final of a tournament called the Baltic Challenge Cup, which also featured Estonia, Lithuania, Romania, and Belarusian top-tier team Metallurg Zhlobin (from @CT4_LV).

Basketball News: Tulane wore sky blue at home against Florida State (from James Gilbert). … The 76ers reportedly traded for G Jimmy Butler, who will wear No. 23, while the current occupier of that number, Landry Shamet, will switch to No. 1 (from @PhillyPartTwo). … A company in Texas poached the Jazz's old wordmark (from Rodney Gilbert). … Southeastern Louisiana has vertically striped warm-up pants (from Chris Mycoskie). … New uniforms for Division II's Quincy (Ill.) University.

Soccer News: England women's center-back Steph Houghton made her 100th international appearance, which was commemorated on the bottom and inside collar of her shirt. As Houghton captains England, she wore two armbands yesterday, including the poppy one. … Manchester United midfielder Paul Pogba has a phone case with a picture of himself in United's second-choice pink shirt (from Josh Hinton). … Also from Josh: All the lights at Sporting KC's stadium were tinted sky blue the night before yesterday's playoff game, despite that the game was in the afternoon and SKC wore black at home, as they have done several times this season. … New third kit for the English Championship's Leeds United.

Grab Bag: The Maine-Endwell (N.Y.) High field hockey team manages to wear both grey and an Oregon-esque number font at the same time (from Al Mattei). … Twitter-er @Titan4Ever2488 was at a craft show and found a booth that sold artwork of patent applications, including applications for sports equipment.
• • • • •
[adrotate group="2″]
• • • • •

What Paul did last night over the weekend: Sometimes you manage to pack a punch of really good stuff into a short time frame. That's what happened to me during a 24-hour flurry that began late Saturday afternoon, when the Tugboat Captain and I drove to another part of Brooklyn and had dinner at Fan Fried Rice Bar, a new-ish Taiwanese place that, as its name implies, specializes in fried rice. We got (clockwise from top left) Taiwanese sausage fried rice with edamame, popcorn chicken, and pastrami fried rice with peanuts and Sichuan peppercorns, all of which was really, really good (for all of these photos, you can click to enlarge):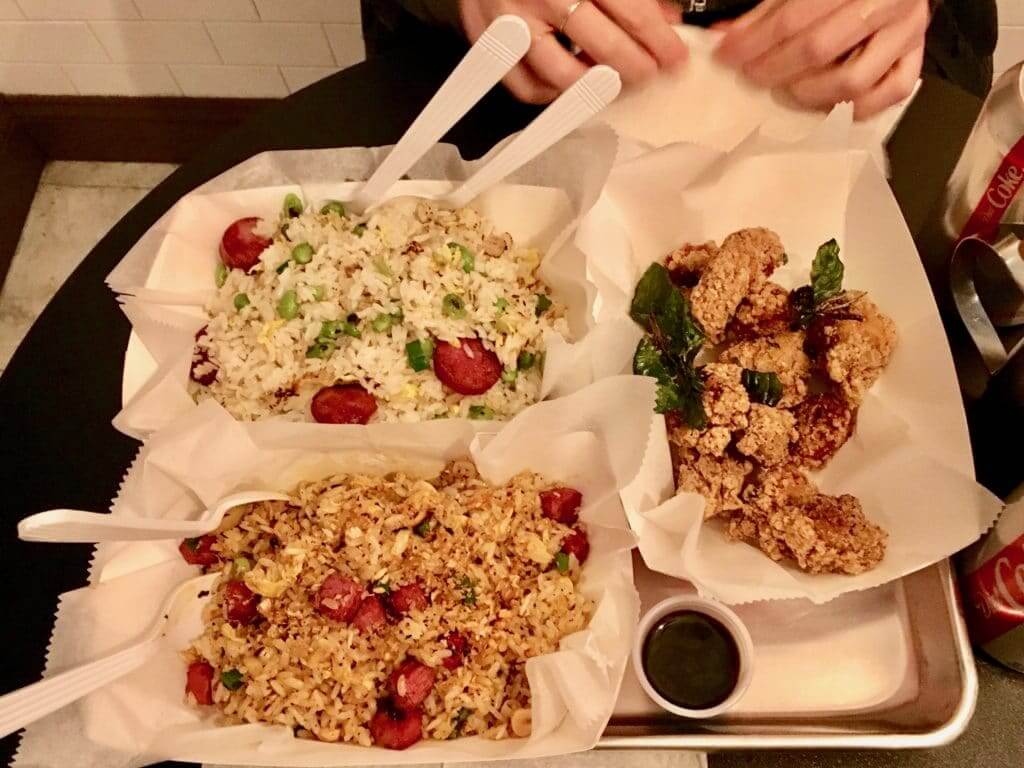 From there we went to a screening of Boiled Angel: The Trial of Mike Diana, a documentary about the cartoonist Mike Diana, the first (and I believe still the only) American artist ever to be convicted and jailed on obscenity charges, thanks to his notorious early-1990s underground comix zine, Boiled Angel. The case remains one of the major low points in recent U.S. legal history. Here's the trailer:
At the screening, which took place at a Brooklyn soundstage space, the film was introduced by its director, Frank Henenlotter. He made his name decades ago directing B-level exploitation flicks like Basket Case and Frankenhooker but has more recently moved into documentaries: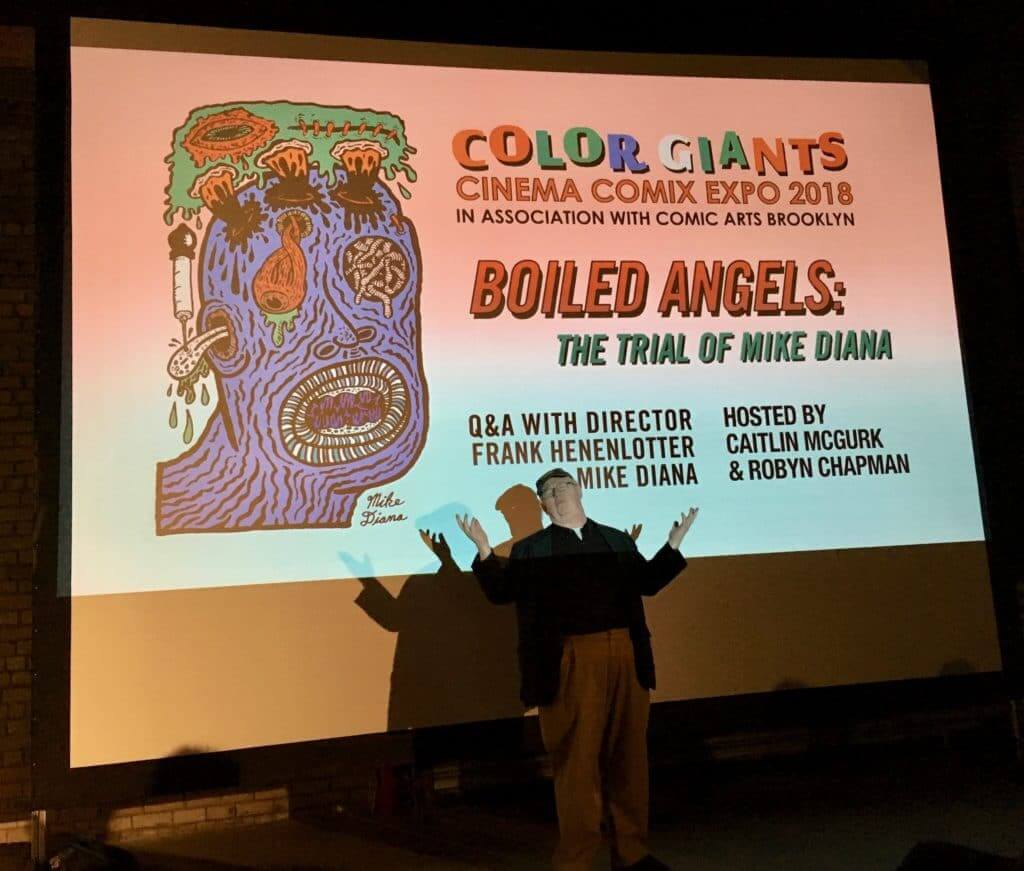 The film was hilarious, fascinating, upsetting, excellent. It doesn't yet have a distributor, so screenings are rare. Definitely worth seeing if you have the chance.
After the screening, there was a panel discussion with Henenlotter and Mike Diana himself, moderated by Caitlin McGurk, who's an associate curator at the Billy Ireland Cartoon Library & Museum at Ohio State University. That's Diana — convicted purveyor of obscenity — second from the right: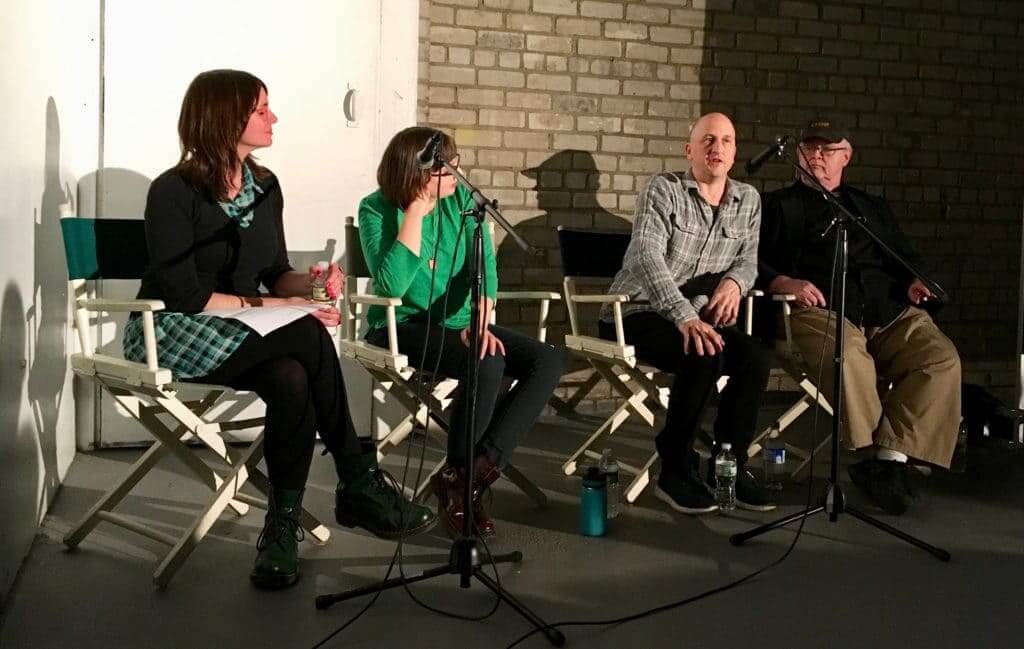 I was doing my own zine in the 1990s (a copy of the first issue is briefly shown in the movie, in fact, which was a fun surprise) and was following the Diana case as it unfolded at the time. It was really important to those of us in the zine world, and to anyone who cared about First Amendment issues. Personally, I always thought the content in Boiled Angel was pretty juvenile, but it certainly wasn't criminal and was ultimately just drawings on paper, printed in a zine with a circulation of just a couple of hundred copies.
Twenty-five years later, it was really interesting to see the infamous Mike Diana in person. He's very reserved, not all that articulate, and seems to have little interest in the larger political issues surrounding his case (according to Wikipedia, he also doesn't vote), all of which makes him an unusual poster boy for the First Amendment. He mostly seems to want to be left alone to pursue his art career — fair enough. The kicker, of course, is that he probably wouldn't have a career to begin with if prosecutors hadn't gone after him and effectively turned him into a free speech martyr, so he gets the last laugh.
So that was Saturday. Yesterday I went to Comic Arts Brooklyn, an annual comics expo. Walked around, bought a few comics, bumped into a few friends, and mainly absorbed the fun feeling of being surrounded by interesting, creative people and their creations. The best part was this guy who was doing drawings with a gigantic fountain pen:
I had to leave after about 90 minutes because I was due to meet up with the Tugboat Captain at a Manhattan art gallery, where our friend Robert was showing his work as part of a group show. First he had a bunch of very small paintings of rayguns, each with a different design and a different name — and, if you happened to be standing near Robert, a different explanation for how each one worked (for all of these, you can click to enlarge):
Robert also makes these super-intricate dioramas. Photography doesn't really do them justice, but you can still get a sense of what an endearing weirdo Robert is from this shot: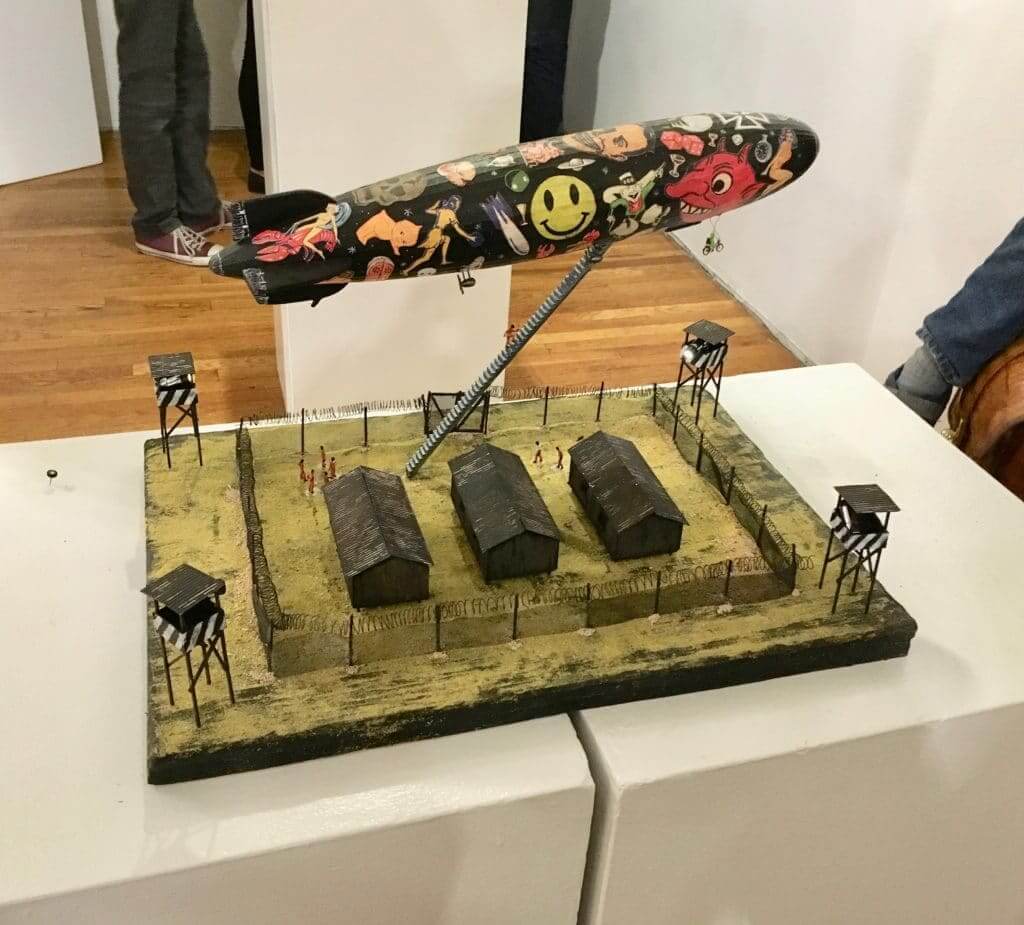 And then there's this one, which is a fairly conventional film noir-ish tableau, but still plenty enjoyable: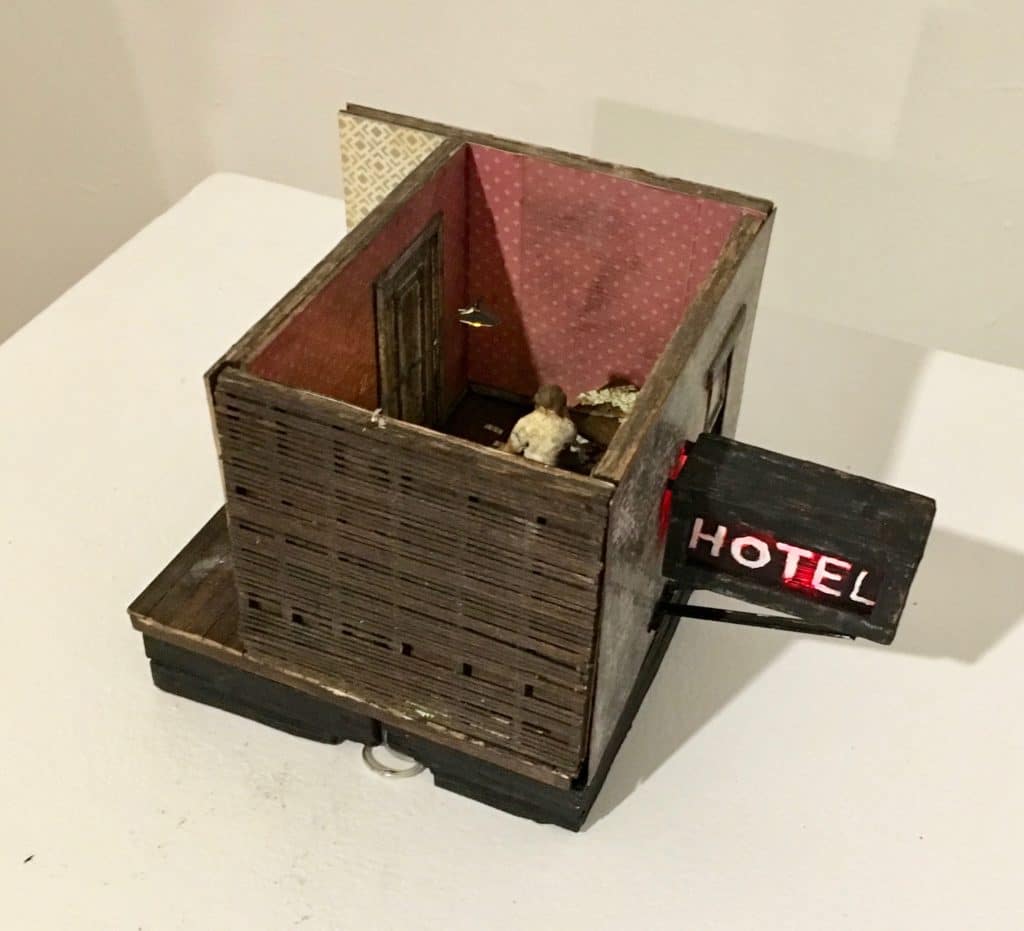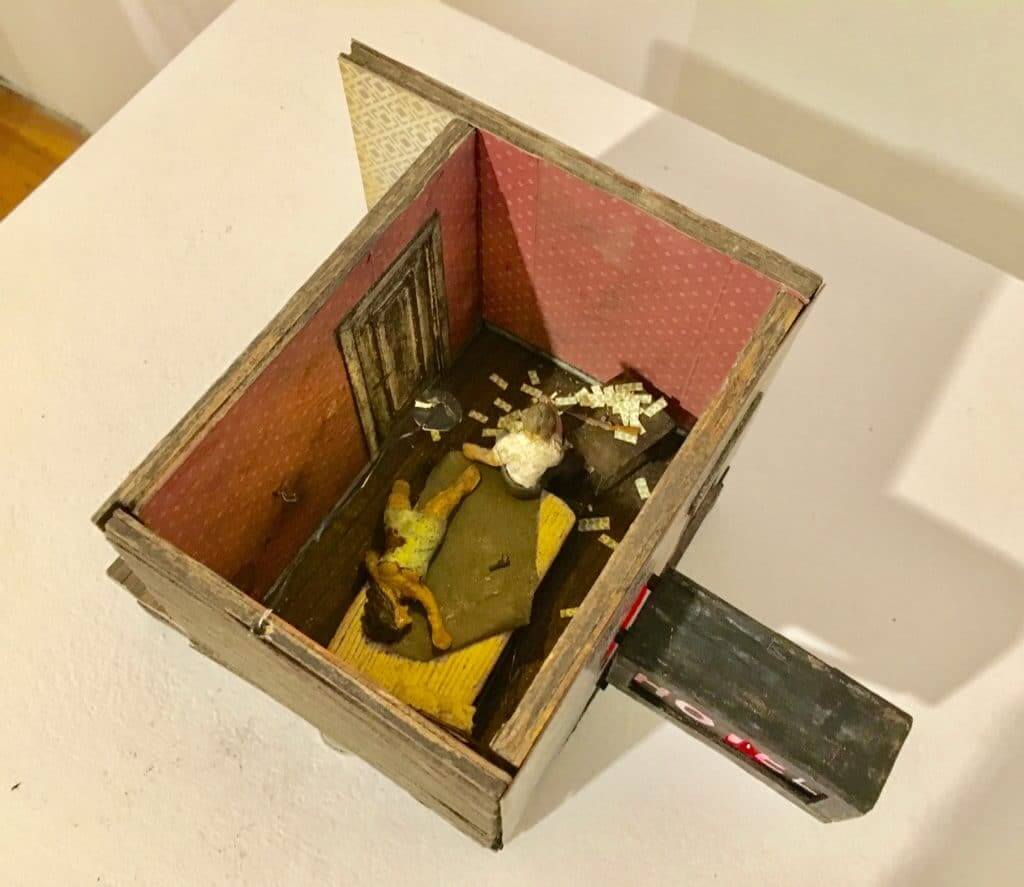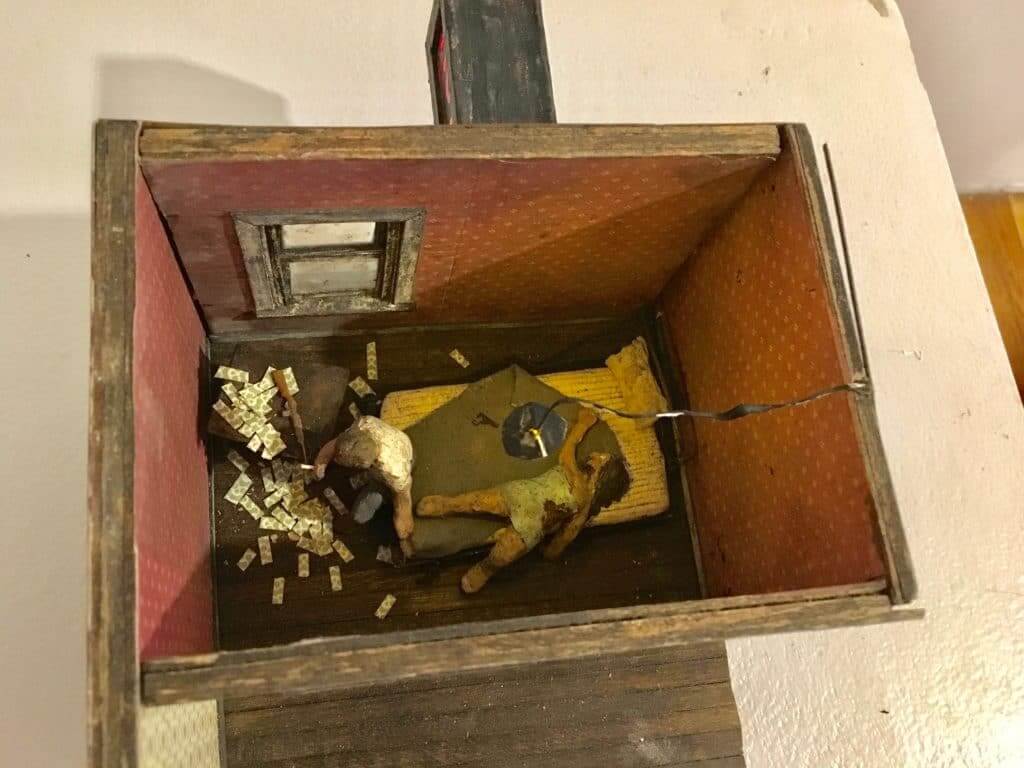 From there, the Captain and I went off to the Corner Bistro for burgers and beers, and then we went home, where I spent the next couple of hours putting today's entry together.
Now that, people, is a full weekend. Hope yours was just as good.
• • • • •
Today is the observed date of Veterans Day. If you are a military veteran, please accept my thanks for your service.