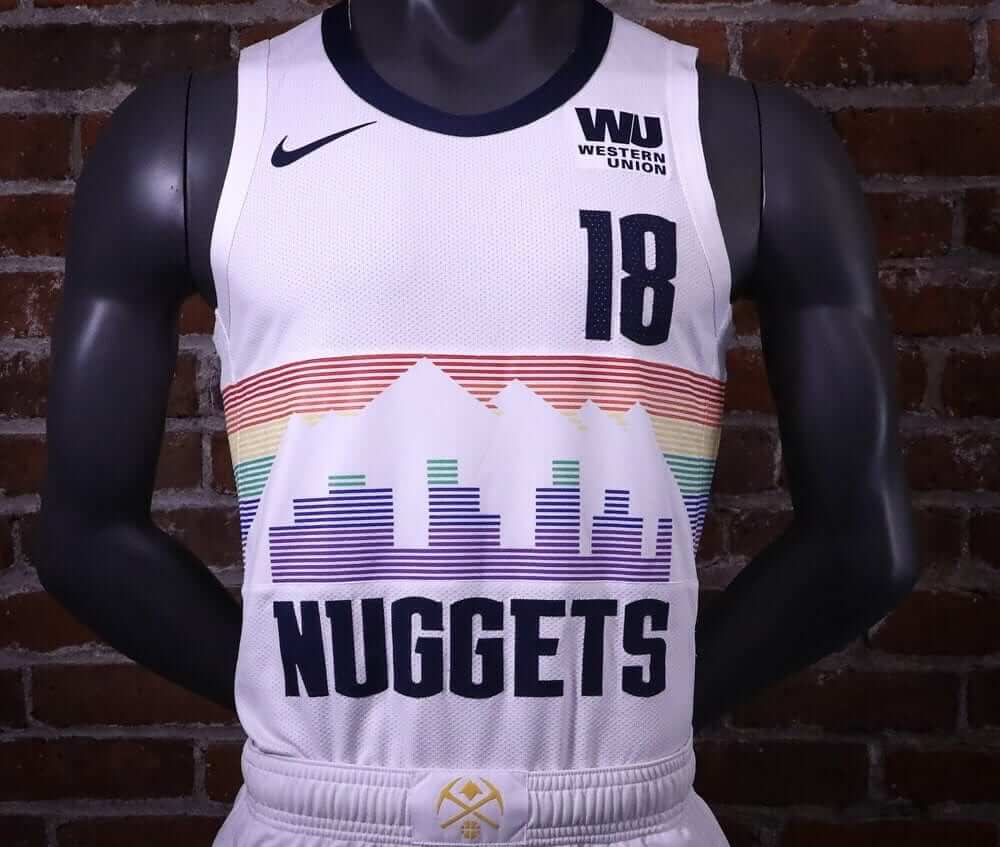 Click to enlarge
After weeks of leaks (a term Nike should consider trademarking, no?), NBA teams will finally start unveiling their City alternates today. The Nuggets got things started just after midnight, when they released a new rainbow-themed uniform. I have a feeling that the bands of color may look faded or washed-out on the court, but overall it's a very nice design. Additional info and photos here.
In addition, the Bulls will be unveiling their new Chicago flag-based design at some point today, and Pistons apparently have a new BFBS design set to unveil at 9am Eastern. It's not clear whether all the other City alternates will also be unveiled today, but we'll find out soon enough.
Updates: The Hornets, Pistons, Thunder, Bulls, Magic, and Timberwolves have unveiled their new alternates:
Breaking: Hornets unveil new City Uniforms: "City of Flight" pic.twitter.com/E3ta5PT7hx

— Dylan Jackson ⚡️ (@JaxonNBA) November 1, 2018
Our city. #MotorCity

Our new black City Edition jerseys are based on inspiration from automotive culture and the hard-nosed mentality of Detroit.

On-court debut November 23! #DetroitBasketball pic.twitter.com/1xRuSpEddS

— Detroit Pistons (@DetroitPistons) November 1, 2018
More than just a uniform – we're excited to honor Oklahoma's Native American heritage. pic.twitter.com/Pi9eenoASj

— OKC THUNDER (@okcthunder) November 1, 2018
Chicago is OUR CITY.

City Edition jerseys are here! pic.twitter.com/JjwGiqoryP

— Chicago Bulls (@chicagobulls) November 1, 2018
Magic x @nike x City
On Sale at Orlando Magic Team Shop: Nov. 9 🔥 On Court: Nov. 14 vs. @sixers pic.twitter.com/o64Y6vQfQP

— Orlando Magic (@OrlandoMagic) November 1, 2018
Good look at Timberwolves new Prince-themed alternate uni. pic.twitter.com/oDmzcsRC3p

— Paul Lukas (@UniWatch) November 1, 2018
• • • • •
[adrotate group="2″]
• • • • •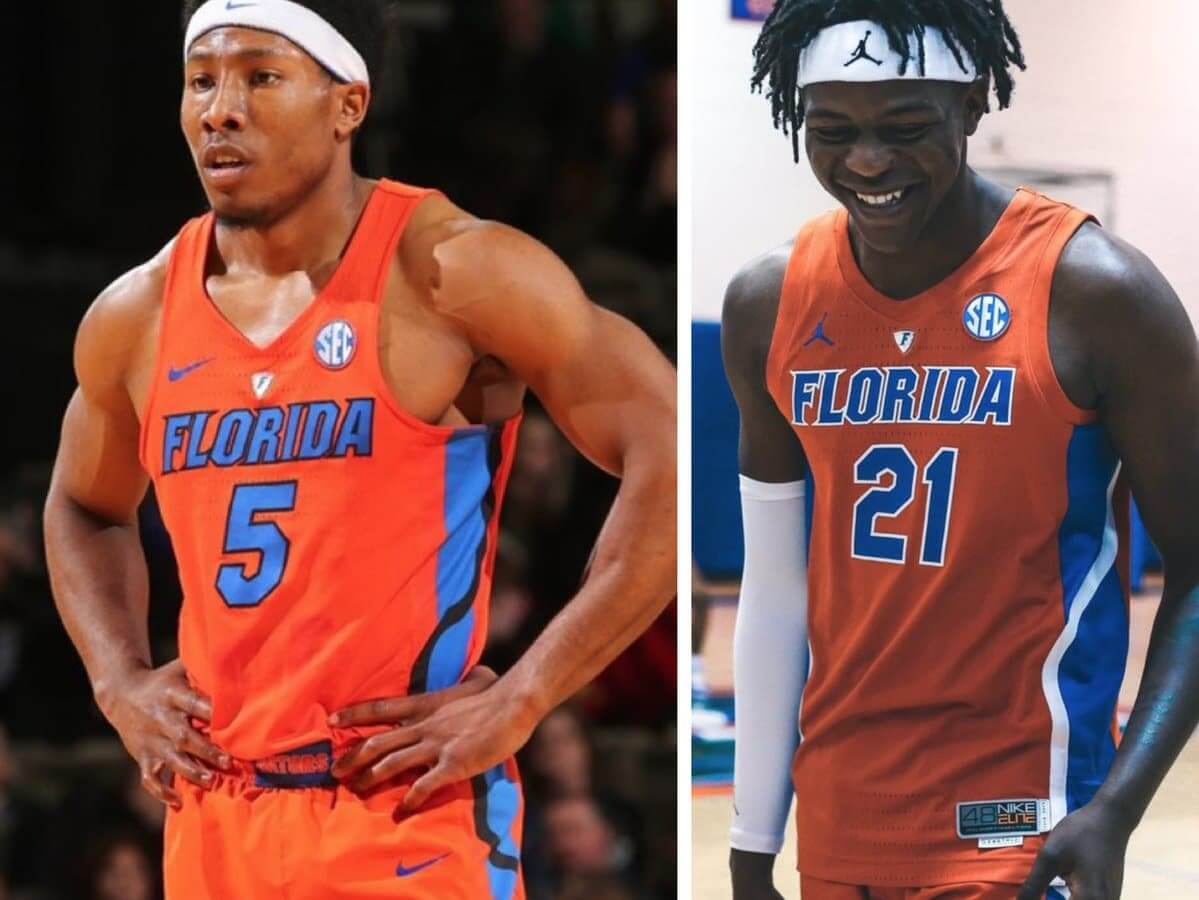 College Hoops Season Preview: Don't look now, but the college basketball season tips off on Tuesday, which means it's time for my annual Uni Watch College Hoops Season Preview — a massive undertaking with coverage of well over 100 teams (including Florida, whose old Nike design and new Jordan design are shown above). Check it out here.
• • • • •
[adrotate group="2″]
• • • • •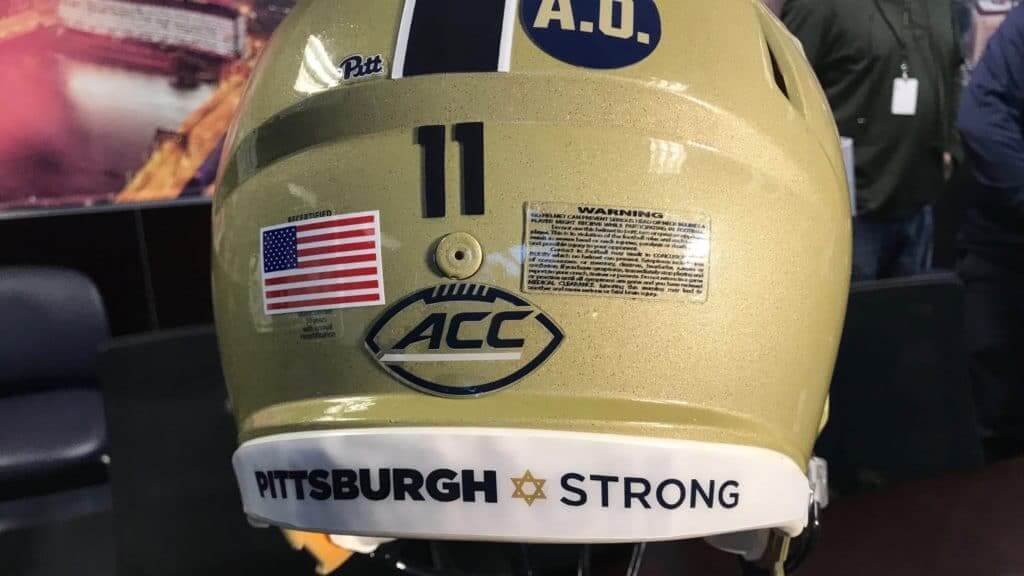 Click to enlarge
Pittsburgh massacre tributes, continued: The Pitt football team yesterday announced that it will wear a "Pittsburgh ✡ Strong" message on its neck bumpers for tomorrow night's game at Virginia, making the Panthers the latest team to wear the Star of David (a topic I explored in greater depth yesterday). It's not yet clear, at least to me, whether Virginia will wear anything similar.
Nothing yet from the Steelers, but I'm fairly certain they'll wear some sort of memorial gesture this Sunday.
Speaking of which: Back on Monday, which I suggested that the Steelers wear this symbol on the left side of their helmets, longtime reader/commenter Dan Tarrant had an interesting, thoughtful response that I'd like to revisit. Here's what he wrote:
While I know it Paul's suggestion that the Steelers swap out their usual logo for the "Stronger Than Hate" version was made with the best of intentions, I can't help but think that would be a can of worms that the team would rather not open.

A few reasons:

– The Star of David is both a religious and political symbol, and some players will no doubt object to wearing it for those reasons.

– Imagine if the tragic mass murder in Pittsburgh involved a mosque being targeted instead of a synagogue. Is there any way in hades that a team would ask their players to wear a logo with a star and crescent moon?

– there have been 98 homicides in Pittsburgh this year. 68 of those victims were black. At some point, somebody is going to ask why those victims are not worthy of mentioning but the Jewish victims are.

Probably best if the Steelers stick with a more neutral/traditional way of memorializing the attack. One idea might be to remove the gold stripe across the helmets and replace it with a black one.
Granted, it's only been a few days, but we now have three teams wearing the Star of David (Penguins, Islanders, Pitt), and Dan's first and third predictions — that players would object on political grounds and that social critics would compare the massacre victims to other Pittsburgh murder victims — have so far not come to pass. I'm more intrigued, though by his second point, in which he said there's no way a team would wear a Muslim symbol in response to an attack on a mosque.
I respectfully but strongly disagree with this assessment. While I fervently hope we never have to find out, I fully believe that if 11 worshipping Muslims were gunned down at an American mosque in an act of domestic terrorism, the response by the local sports teams would be similar to what we've seen in Pittsburgh. Ditto for Sikhs, or Hindus, or any other sect. If anything, the sports world is further ahead of most of America when it comes to accepting Islam, since there have been star athletes who've been practicing Muslims (Kareem Abdul-Jabbar, Hakeem Olajuwon, Ahmad Rashad, Muhammad Ali, and many more).
Now, maybe you think having any religious imagery on a uniform is a bad idea. That's certainly a defensible position (one that I've been wrestling with this week myself). But if the Star of David is okay, I fail to see why the star and crescent would be problematic.
Also: I'm also intrigued by Dan's idea of the Steelers swapping out their yellow helmet stripe for a black stripe. Hmmmm, a black stripe on a black shell — crazy, or brilliant? I think maybe the latter!
Finally: Yes, I realize the Star of David glyph in the first graf of this section is purple. No matter how much I tinker with it, it stubbornly stays in that color! If anyone knows how to change it, I'm all ears.
• • • • •
[adrotate group="2″]
• • • • •
Culinary Corner: My friend Matt recently mentioned to me that he had made almond-crusted pork chops. I'd never thought about cooking pork chops that way before, but it sounded great, so I decided to try it.
First I got some boneless pork chops. Then I took a cup of roasted almonds and ground them up in a food processor. I wanted to grind them fine, but not too fine, because then I'd basically end up with almond flour.
Then I beat an egg in a bowl and dipped each chop in the egg and then in the ground almonds. Here's how the raw almond-coated chops looked (for all of these pics, you can click to enlarge):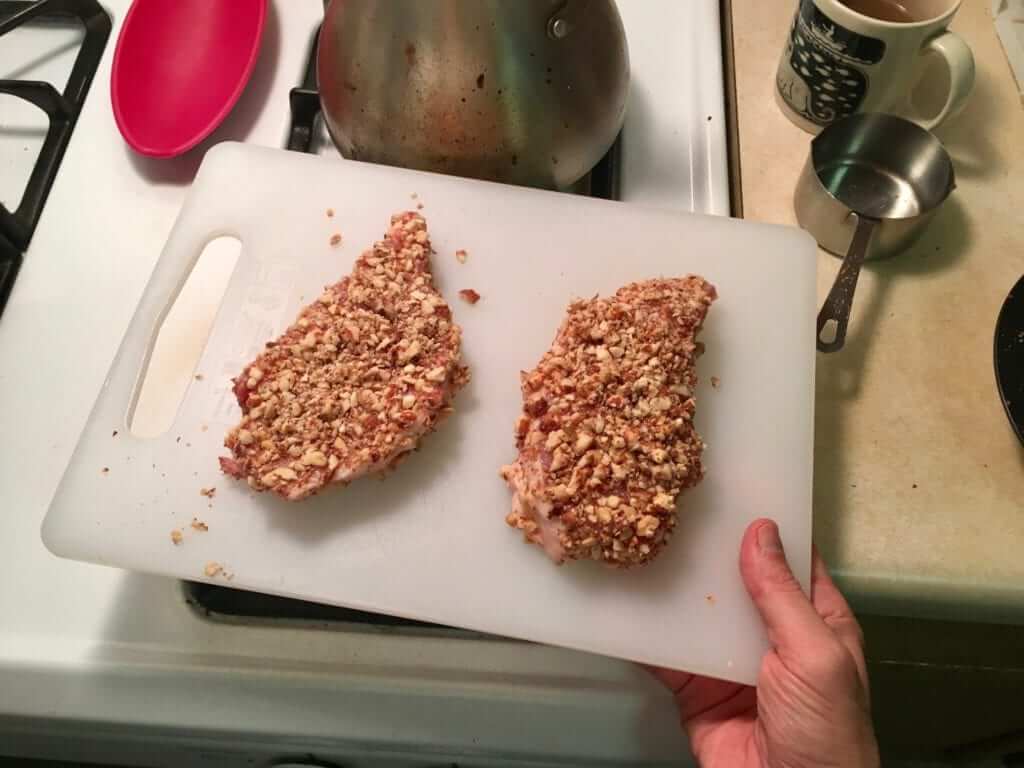 As you can see, some of those almond chunks are pretty chunky. I probably should have ground them a bit finer, but overall it worked out okay.
Next, I put some olive oil in a cast iron skillet over medium-high heat and cooked the chops for four minutes per side: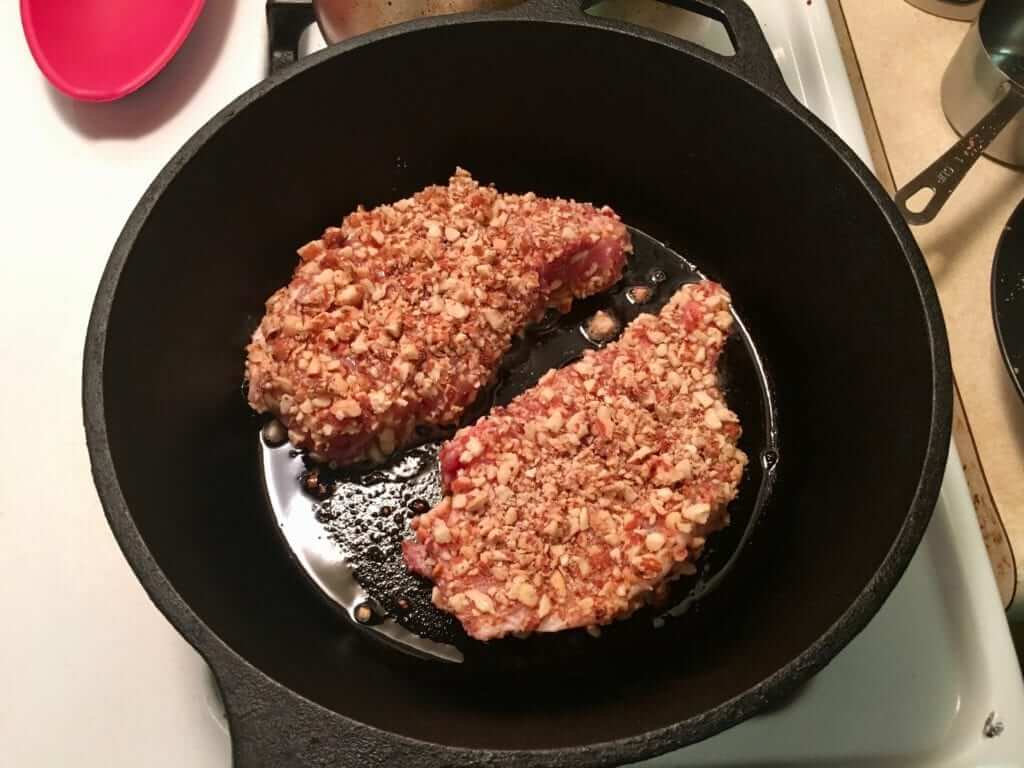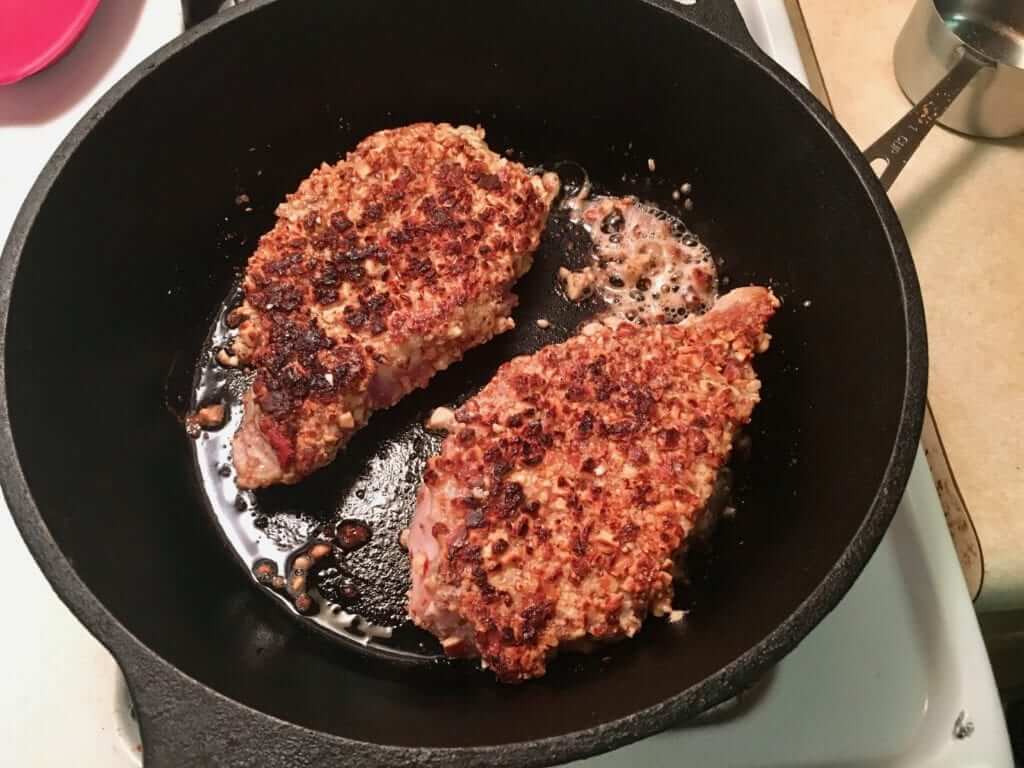 I removed the chops from the skillet and set them aside to rest for a few minutes. I used that time to make a pan sauce from the skillet drippings along with some butter, beer, duck stock, mustard, and corn starch (don't ask me about quantities — I was winging it). Meanwhile, the Tugboat Captain made us a great celery greens salad. It all turned out beautifully: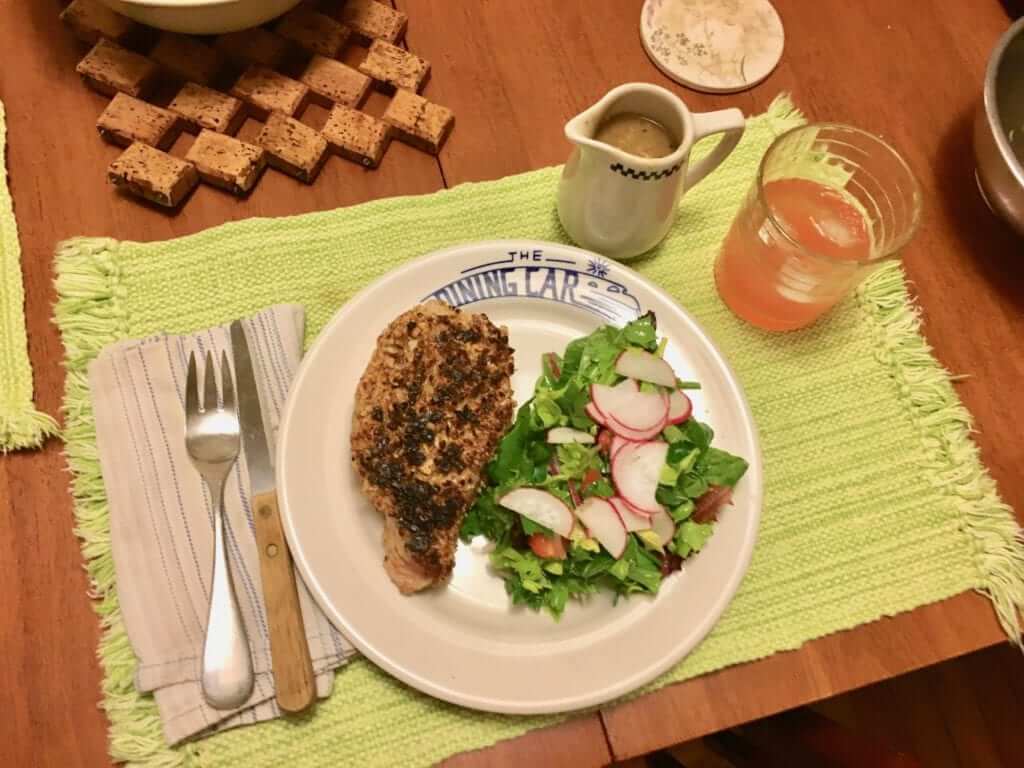 In short: a success! I'll definitely be adding this one to my regular rotation.
• • • • •
[adrotate group="2″]
• • • • •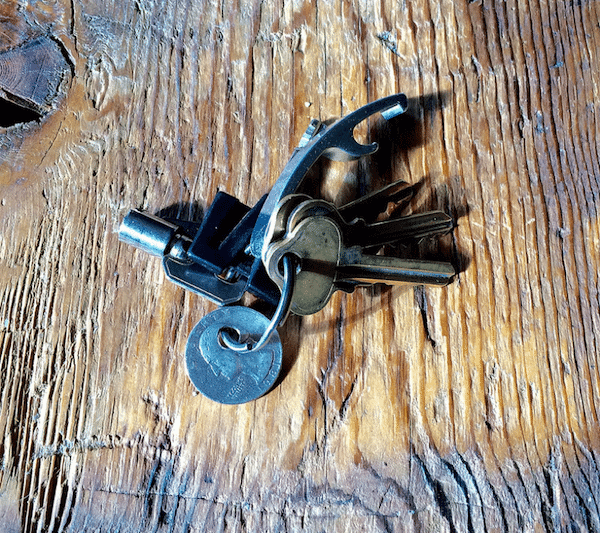 KRC inspiration anniversary: I neglected to mention that yesterday was the 31st anniversary of when I attended the West Village Halloween Parade and received a quarter with a hole in it, which I put on my key ring and have kept there ever since. That quarter became the inspiration for the "Key Ring Chronicles" series that I curate and edit for McSweeney's (with a little push from Uni Watch reader Jeff Barak, who provided some key impetus for this project).
Here's my entry about the quarter, and here's the full KRC archive.
• • • • •
[adrotate group="2″]
• • • • •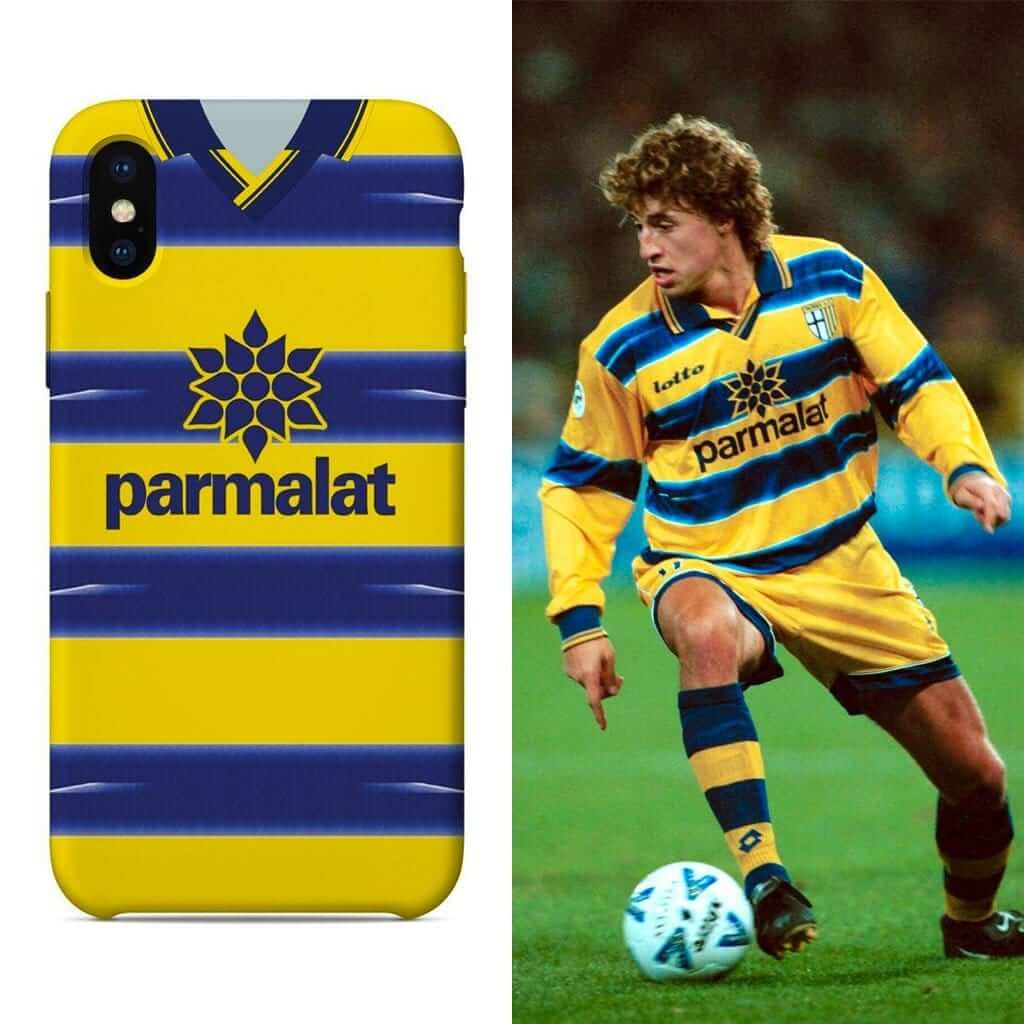 Click to enlarge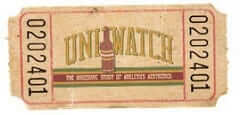 Assorted reminders: In case you missed it on Monday, our friends at Nostalgia Cases are raffling off one of their soccer jersey-based smartphone cases. To enter, send an email to the raffle address by this Friday, Nov. 2, 7pm Eastern. One entry per person. I'll announce the winner next Monday.
In addition, if you don't want to wait and see how the raffle plays out, Nostalgia Cases has also extended its 10% discount offer by another week. To get the discount, just go to the Nostalgia Cases site and use the checkout code UNIWATCH.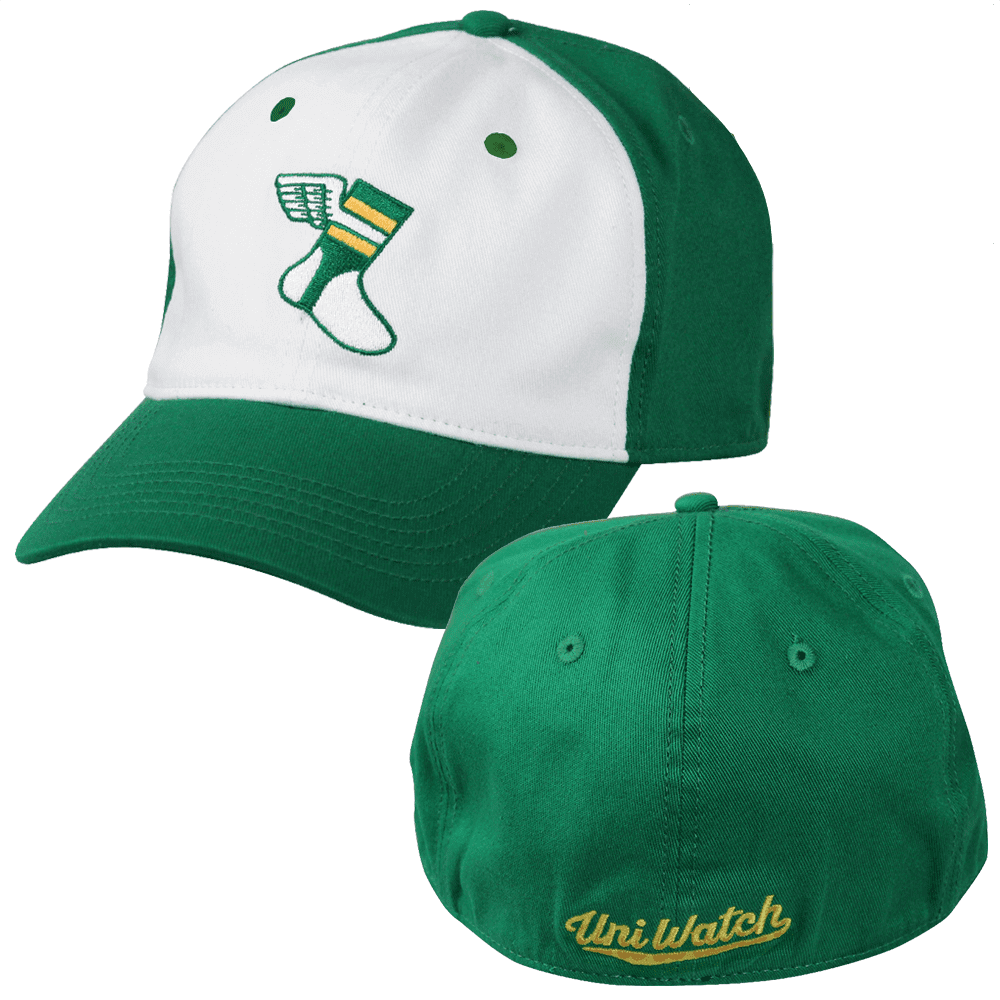 While we're at it, please keep in mind that we've recently reduced the price of our flex-fit Uni Watch alternate cap (shown at right). It was originally $29.99 but is now $24.99, and you can order yours here.
And as long as we're talking about caps, our Uni Watch classic cap, available exclusively from Ebbets Field Flannels, can still be ordered in all fitted sizes, we'll have the adjustable version back in stock early next week. Get yours here.
• • • • •
[adrotate group="2″]
• • • • •
The Ticker
By Yianni Varonis

Baseball News: Louisville Slugger is creating a range of commemorative bats celebrating the Red Sox World Series win. … The Kraft family, which owns the Patriots and New England Revolution, put out a Boston Globe ad congratulating the Red Sox for their title win, but used an outdated Bosox logo (from Skott Daltonic and Nicholas Neilling). … Staying with the Red Sox, here is a pretty cool photograph of the team touring Los Angeles in 1911. … A jersey worn by former Pirates OF Roberto Clemente recently sold for $66,000 at auction. … Reader Mike Barnes was watching highlights of a 1990 college baseball game and noticed two different-colored jerseys being worn in the Texas dugout. Anyone know why?

NFL News: The Panthers announced that they will go mono-black this week. … Also featuring black will be the Ravens, who will wear their black alternates (from Andrew Cosentino). … Also from Andrew, Ravens RB Ty Montgomery will retain his No. 88 following his trade from the Packers, even though it's typically worn by receivers. … On the other hand, newly acquired Texans WR Demaryius Thomas will no longer be able to wear No. 88 because of this obscure NFL rule (from Mike Chamernik). … Also from Mike, the granddaughter of Browns OL coach Bob Wylie went as her grandfather for Halloween. … And another Halloween item from Mike: Steelers WR JuJu Smith-Schuester went trick-or-treating in full uniform! Here's an additional photo.

College and High School Football News: Colorado will go mono-white this week (from Phil). … Washington State will go mono-crimson. … And apparently "50+" Minnesota fans hated the team's GFGS uniforms enough to email HC P.J. Fleck directly to complain. … Bloomfield High School in Nebraska has some seriously vertically extended uni numbers (from Jeff Jensen).

Hockey News: This is pretty interesting: When filming a commercial, the Blackhawks had to replace the green from their shoulder patch with gold in order to avoid the green screen effect (from Ben Matukewicz). … The Blues' ECHL affiliate, the Tulsa Oilers, will wear Blues-inspired uniforms this weekend (from Mike Lles and Steve Johnston).

NBA News: Here's a pretty funny photograph of the Bulls' mascot dressing up as Bulls C Robin Lopez for Halloween (from Mike Chamernik). … The Timberwolves broke out their black fauxbacks for Halloween (from @DeadstockDan). … From Phil, USA Today has published a gallery of what it considers to be the "ugliest uniforms in NBA history." … According to Forbes, NBA2K19 is taking multiple steps to ensure opposing teams' uniforms don't clash in the video game. … The 76ers' D League affiliate, the Delaware Blue Coats, have new uniforms.

College Hoops News: From Phil, nine men's programs and six women's programs will wear turquoise uniforms this year in honor of Native American Heritage Month, which is November. … Also from Phil, San Diego State is set to become the eighth college basketball program to wear the Jordan brand. … This article describes new tweaks to Xavier's uniforms this season. … It appears that Arizona is now wearing captaincy patches for the first time (from Arizona Daily Star sports editor Ryan Finley).

Soccer News: This might be the most Halloween-appropriate sports costume ever. It was modeled after former England D Terry Butcher from a 1990 match in which he suffered a head wound that even stiches and head bandages couldn't keep from massively bleeding (from our own James Rathjen). … Following the death of Leicester City (England) owner Vichai Srivaddhanaprabha, a local school is encouraging its students to wear the team's blue or apparel for a day. … The death of Srivaddhanaprabha has prompted Leicester City fans to circulate an edited version of the team's logo online featuring a crying fox. … Good read about the United Soccer League's process of creating "a new identity" (from Josh Hinton). … Also from Josh, Nike has a new authenticity patch for its soccer kits. … Chilean club Colo-Colo will switch from Under Armor to Umbro (from Ed Żelaski). … Also posted above in the baseball and NFL sections: The Kraft family, which owns the Patriots and New England Revolution, put out a Boston Globe ad congratulating the Red Sox on their title win, but used an outdated team logo (from Skott Daltonic and Nicholas Neilling).

Grab Bag: From Phil, here are fun photographs of athletes wearing their Halloween costumes. … London's famed Scotland Yard will now license its logo to be used on toys, clothing, and souvenirs to help raise money for the police force. … Here is a video of an historian describing an inmate's uniform worn in a Nazi concentration camp. … A man recently released from jail was quickly arrested again because he stole his inmate's uniform. Probably wasn't worth it. … Motion-picture company Regal, based in Knoxville, Tenn., has a new logo that pays homage to the University of Tennessee. … Staying in cinema, the Avatar franchise has released a new logo, which is papyrus-free. … And on the small screen, the Satanic Temple has accused a Netflix show of copyright infringement for allegedly stealing the design of a monument for its set.