By Phil Hecken & The SMUW Crew
Follow @PhilHecken

Sometimes the gimmicks live up to the hype. And sometimes they don't. You've probably heard about LSU's incredible color changing helmets which cost $1,500 a gallon to paint (who says higher education isn't worth it!). Well, they wore them last night and they kinda/sorta did live up to the hype. For the most part, the purple helmets did look purple. The trick was, of course, to have them catch the stadium lights in such a way as to have them reflect gold.
They did, which you can sorta see here, and a little bit here, and a bit more here. And if the light caught them just right, you could see it even more. But for the most part, the helmets just looked purple. Which was fine. But I'd say this gimmick didn't quite live up to the hype.
If you got the perfect angle though…well, then we got the shine:
But there just weren't enough of those. Of course, I prefer matte helmets to shiny ones anyway, so maybe I'm not the best arbiter of the success or failure of such things. Maybe this type of thing will be a one-and-done for college football (after all, imitation is the sincerest form of flattery, so you could be sure if this gimmick worked well, we'd be seeing more presto-change-o hats for other teams, for sure). And maybe it's for the best this one didn't quite turn out to be the *next* thing. But then again, who knows, maybe it will be. Also, if you're saying, "Hey, that's not LSU's normal uni," you'd be correct. Terry will have more on that one below.
Here's TJ with your…
Sunday Morning Uni Watch
By Terry Duroncelet, Jr.
From Friday:
• Boise State wore all-orange on the blue turf against Colorado State.
From Saturday:
• Bowling Green has a new interim head coach in the form of Carl Pelini, and with this change in coaches, comes a change in the uniforms, as Bowling Green has removed the player names on the jerseys (h/t to Nick Piotrowicz).
• A lot of people complain that Michigan doesn't wear maize (or, rather, "Amarillo" *eyeroll*) pants on the road anymore, but considering the 2,456 flags that the Wolverines drew the last 4 or 5 minutes of the game, I'd say they met their golden hue quota for the year.
• Cool little WASU video here. And speaking of the Cougs, at least their grey is dark enough to not look like a bad dishwasher accident.
• Temple wore a modern variant of their 1980-1988/2007-2010 helmet (thank you Blaise D'Sylva for the anecdote), with one big difference being that the new lids use a vertical arch, whereas the older helmets used a radial arch. Not a bad look, but I prefer the radial.
• Mizzou wore "Rock" helmets for their Homecoming game against Memphis.
• When you're having Déjà vu and you're seeing red at the same time (for context, here's what Texas Tech wore last week).
• WOW, these Oregon State fauxbacks are nothing short of OUTSTANDING! I'm normally not one to say "they should wear these full-time!", because as nice as any particular one-off may be, if their current uniform works, why change just because the one-off is "old" (or at least, has vintage sensibilities)? That being said, Oregon State can definitely benefit from adopting this for more than one game. Just saying. That, and their current uniform does leave something to be desired.
• Minnesota wore all-white uniforms with "MINNESOTA" on the back of the jerseys, and as such, there was no one more Minnesota than Minnesota. Minnesota didn't win, and ended up handing Nebraska their first win of the season, but Minnesota will try again next week against Indiana, in Minnesota.
• UNC always looks great in all-white, but the Carolina Blue facemasks for their game against Syracuse took the helmet into another plane of classy, but fun. As for the Orange… well, they certainly lived up to their name, and the end result was incredible contrast from both programs. I also enjoy the occasional game in the Carrier Dome. It has that weird, liminal space vibe to it, in that it doesn't feel like your typical college football game, but it's far more fun than an NFL game. Maybe it's the collegiate energy in a domed stadium that does it? Either way, it was a good game to watch.
• Appalachian State wore BCA decals (and accessories) in their game against Louisiana-Lafayette.
• All in favor of B1G teams wearing 'I' on their helmets, say "aye"! AYE!
• I don't talk about SMU's solid look enough. It truly is a look indicative of the Mustangs. Too bad Tulane had to ruin what would've otherwise been a beautiful-looking game by wearing black pants.
• John Falardeau spotted an Oklahoma Sooner (who I believe to be redshirt Sophomore Linebacker Bryan Mead) without an 'OU' decal during warmups.
• South Florida wore one of the most mesmerizing BFBS uniforms I've ever seen over the weekend. They're almost kind of enjoyable in an ironic way because of how absurd they are.
• I'm generally not a fan of uniforms that attempt to "honor the military", not because I'm "anti-military" (far from it), but because they almost always end up being more of a caricature than a tribute (camouflage and flag desecration being the biggest examples of what not to do), and have essentially the opposite effect in comparison to what they had intended. But these LSU uniforms are one of the scares gems in the uni-verse of a military appreciation uniform Done RIGHT. No bellowing echoes of "RAH-RAH, SIS-BOOM-BAH", and nothing about this uniform is dripping in gross excess. I love the simplicity of the mono-white, the oak tree pattern is subtle enough to not be a pain on the field, nameless jerseys are always a welcome site, and I know the font is another one of those examples of "liked by some, damned by others", but I love it personally. It reminds me of some of the typefaces used in older logos that you see in those logo history compilation videos on American film studios (which I watch far too many of in my spare time). The purple helmet was the biggest surprise for me. At first, when I saw an Instagram filter-plagued picture of it surface before they were officially unveiled, my initial thoughts were "that's… actually not bad for a one-off, at the very least", but then I saw how it shifted colors, and that got me going in the same way that Notre Dame's Golden Domes do. I don't know when we'll see the next military appreciation uniform Done RIGHT (outside of the Army/Navy game), but LSU, you and everyone involved did well. Here's hoping more schools follow your example on how it SHOULD be done.
• • •
Thanks, TJ! Don't forget, you can and should follow Terry and tweet him all your uni observations for the NCAAFB season.
[adrotate group="2″]
Joe Ringham's 5 & 1
Following in the footsteps of the original "5 & 1," Jim Vilk, and Catherine Ryan after him, Joe Ringham returns for 2018 to make his "5 & 1" (five good looking and one stinker) uni-vs-uni matchups. Sometimes he'll have some "honorable mentions" and sometimes there will be more than one "bad" game. You may agree and you may disagree — these are, after all, just opinions and everyone has one. Feel free to let him know what you think in the comments section.
Here's Joe:
. . .
Good Sunday, everyone. As we hit the 3rd Sunday in October, let's go right to this week's list.
5) Vanderbilt at Kentucky — This was a game that snuck up on me, but I'm glad it did. Loved Vandy going gold/white/black on the road here, and the contrast of it matched up against the blue/blue/white of the 'Cats just made this game look excellent.
4) Colorado at Washington — The Buffs going gold/white/grey on the road isn't exactly one of my favorite looks of theirs. However, when paired up against U-Dub's usual gold/purple/black home look, it made for one very nice looking game in Seattle.
3) Houston at Navy — One very sharp looking game in Annapolis. I've always been a fan of Navy's simple yet classic looking home unis. Here, they pair up well against the white/white/red of the Cougars.
2) Utah State at Wyoming — Call this one my under-the-radar special. When coming across some games in the afternoon part of the schedule, this one jumped out at me and I loved what I saw. Really liked USU going navy/white/grey on the road in Laramie, matching up quite nicely against the white/brown/gold of the Cowboys.
1) Southern Cal at Utah — So simple looking, yet oh-so-damn-good looking. Don't really need any other words to explain it.
And, finally…
+1) Oregon at Washington State — I expected maybe one of these teams to have at least one of their school colors on their uniforms. Neither did, making for a very bland looking game.
That wraps things up for me for this week. Enjoy the rest of your football Sunday. I'll see you next week!
• • •
Thanks Joe! You can follow Joe on the Twitter and let him know what you think of his choices or make a 5 & 1 suggestion of your own!
[adrotate group="2″]
NCAA Uni Tracking
Uni Watch will again track the uniform combinations worn by the "Power 5" conferences. All of the 2017 trackers are back!
We've got Rex Henry (tracking the ACC), Dennis Bolt (tracking the PAC-12), Kyle Acker (tracking the Big XII), and Ethan Dimitroff (tracking the B1G AND the SEC). Rex, Dennis, and Kyle and are all returning from 2015, and Ethan is back after joining the NCAA Uni Tracking a couple seasons ago. Ethan continues his dual role of tracking both the B1G and the SEC.
Here are the Uni Trackers for the Power 5 Conferences:
+ + + + + + + + + +
Rex is up first today (ACC):
• • •
ACC

More Here.
Follow Rex on Twitter here.
• • •
And now, here's Dennis with the PAC-12:
PAC-12

More here.
Follow Dennis on Twitter here.
• • •
And here is Ethan, with the SEC:
SEC

And be sure to check out Ethan's WVU Mountaineer Tracker.
Follow Ethan on Twitter here.
• • •
And here is Kyle with the Big XII:
Big XII

Follow Kyle on Twitter here.
• • •
And here's Ethan with the B1G:
B1G

[adrotate group="2″]
Welcome to the 2018 Oregon Ducks Uni Tracker. This little project was originally begun way back in 2008-09 by Michael Princip, who retired after several seasons, whereupon the project was continued by Tim E. O'Brien. He, too, retired from the tracking, but the project has been ably kept up by the man who also tracks the Pac12, Dennis Bolt.
Here's this week's Uniform Combo for the Ducks (you can click to enlarge):
You can read about this uniform, and MUCH MORE, by checking out the Duck Tracker here!
Thanks Dennis!
[adrotate group="2″]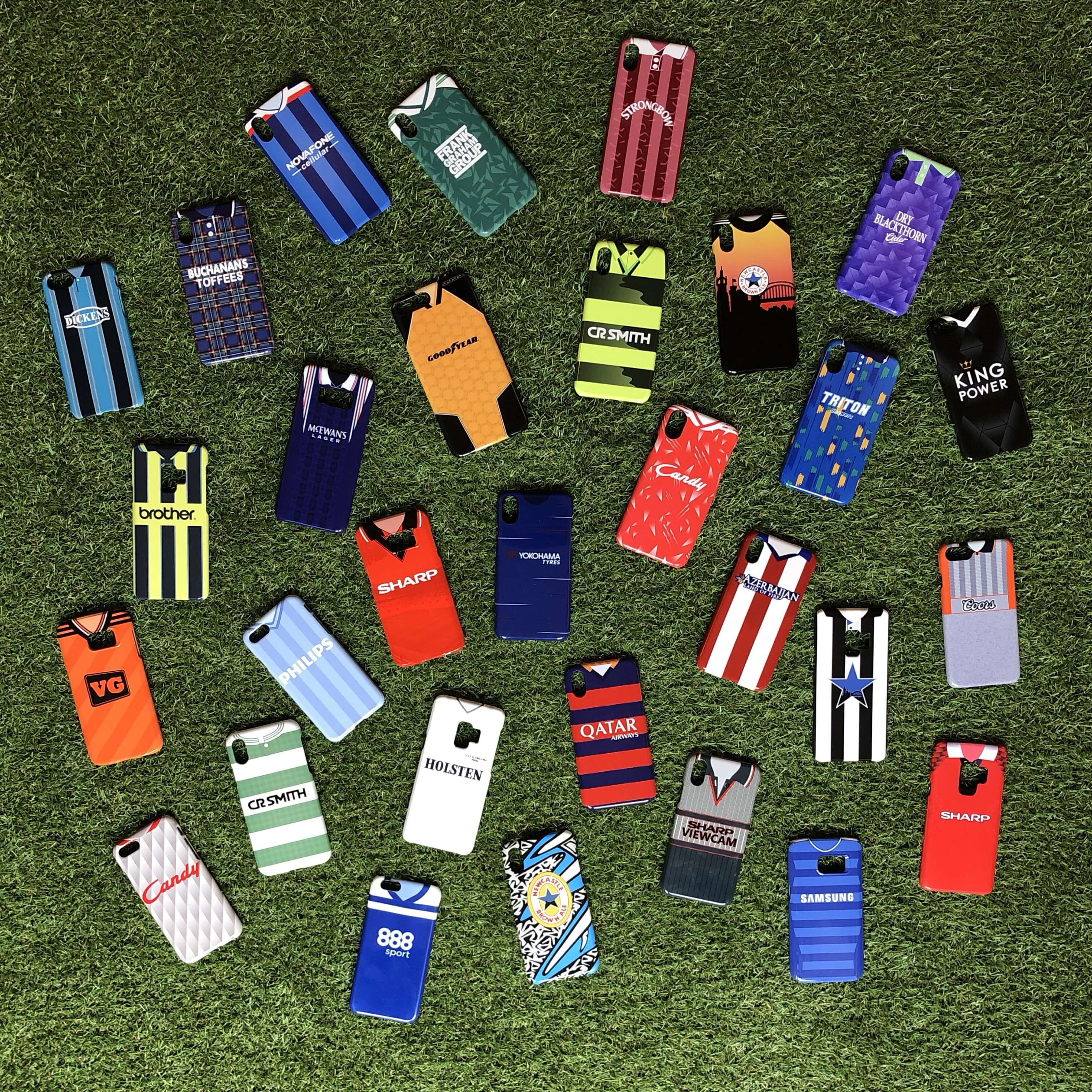 Click to enlarge
And now a few words from Paul
Hi there. In case you missed it on Friday, we're currently offering a special discount code from our friends at Nostalgia Cases, a company that sells smartphone cases with designs based on old soccer jerseys They have over 650 designs to choose from, each available for over 100 phone models, and worldwide shipping. If you want a kit design that they don't currently offer, you can request it and they'll produce it at no extra cost.
Uni Watch readers can get a 10% discount to Uni Watch readers for the next week. To get the discount, just go to their site and use the checkout code UNIWATCH by the end of Friday, Oct. 26.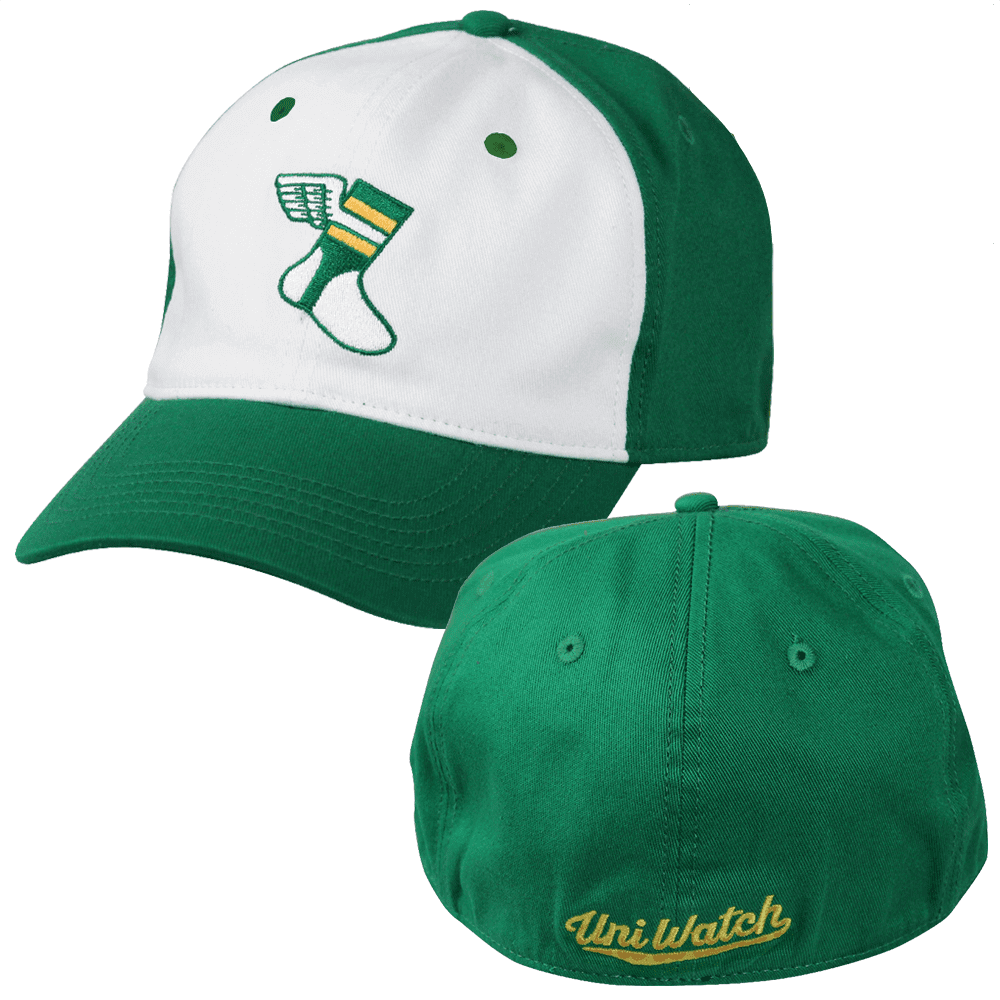 While we're at it, please keep in mind that we recently reduced the price of our flex-fit Uni Watch alternate cap from $29.99 to $24.99. If you've been on the fence regarding this cap, now would be a great time to climb down from the fence, or fall off the fence, or tear down the fence, or just buy a fucking cap already. You can order it here.
In addition, keep in mind that all fitted sizes of our Uni Watch classic cap, available from Ebbets Field Flannels, are back in stock. You can order yours here.
My thanks, as always, for your consideration of our merchandise. We now return you to your regularly scheduled Phil-fest.
[adrotate group="2″]
Uni Watch News Ticker
By Phil

Baseball News: Mickey Mantle's birthday was yesterday. Did you know he began his career in 1951 as an infielder and wearing number 6? (from Goat Jerseys). Also from the Goat, check out this beautiful photo of another birthday boy — Juan Marichal — I love those old wool flannel unis when they were perfectly tailored. … To support their intra-state friends, Bucky the Badger — mascot of the Wisconsin Badgers — was wearing a hybrid Badgers/Brewers outfit (from Ryan Wozniak).

NFL News: The SF 49ers xurrent head coach Kyle Shanahan served as a ball boy for that team, and he mentioned that he owned one of the Deion Sanders throwback jerseys from that year. It was stolen, and he's still pissed about it (from Brinke). … The Bills will be wearing mono-white today against the Colts. … The Chiefs will be in mono-red today. They've worn this (either color rash or non) seven other times. … This kinda sucks: the 49ers, who will be debuting their 1994 throwbacks today, were supposed to wear them for the Sunday Night Football game. However, because they suck, this game was flexed out for a different SNF game, so many of us won't get to see the sweet throwbacks.

College/High School Football News: Even though LSU wore special uniforms yesterday to commemorate the "lost" 1918 season, hanging in their locker room was this beautiful tribute to the late Jim Taylor (from Griffin Smith). … You may have heard about this one through all the pregame pub (or possibly my tweet), but the UHS (University Lab High School) Cubs played a "throwback game" in the Uniforms of the SCLSU Mud Dogs (of "Waterboy Fame") and trounced their opponents 70-0. My pals at adidas were nice enough to hook me up with some gear too, which I wore to curling last evening. Here's a bit more on that.

Hockey News: Here's one we don't often see, especially in women's hockey. On Friday night, the Minnesota Gophers began the game on a power play. Why? Because Ohio State's uni numbers weren't visible. Like, who thought this was a good idea? (from Will Morris). The immortal Jim Vilk also weighed in, "If @Nike can't figure out by now that high contrast/high visibility numbers (and team colors) are important, then they should get out of the sports uniform business."

NBA News: The stock image for an NBA game on YouTube TV is of the microfiber ball used during the first two months of the 2006-07 season. Submitter Mike Chamernik adds "Thought they would use a more contemporary photo."
.

Soccer News: In a shocking move, FC Barcelona has withdrawn the vote on the proposed crest which was set to take place at yesterday's members assembly (from Josh Hinton). … "I've been doing some research for a football project I'm working on and I thought you'd appreciate these numbers," writes TRiCKETT. "Where that number one is going is anyone's guess." … Louisville City FC still have Pinktober nets, despite the initial thoughts that they were only for the pink match last week (from Josh Hinton).

Grab Bag: We all know Phil Knight's influence on Oregon is outsized — but this article from the New York Post indicates that he's really been a total dick to the school (from John). … "I found lots of interesting and slightly surprising uni-related items on a recent visit to the History Colorado Center," says Kary Klismet. "They included an ad for football uniforms from a vintage catalog, displays depicting the evolution of ski apparel and ski-jumping skis, and a skiing trophy from Steamboat Springs in the shape of a cowboy hat. Here's a full album for anyone interested." … This is the logo of the Appleton Curling Club in Wisconsin. Sumbitter Ray Barrington says to note not only the wordplay but the stone handle on top of the apple.
[adrotate group="2″]