The NBA season tipped off yesterday, and two teams decided to mark the occasion by becoming the latest clubs to hop on the corporate uni-advertising bandwagon.
First up are the Bulls. In keeping with our established policy, I will neither show their patch nor name their advertiser, but I will show that a Bulls jersey with an ad patch looks like crap (click to enlarge):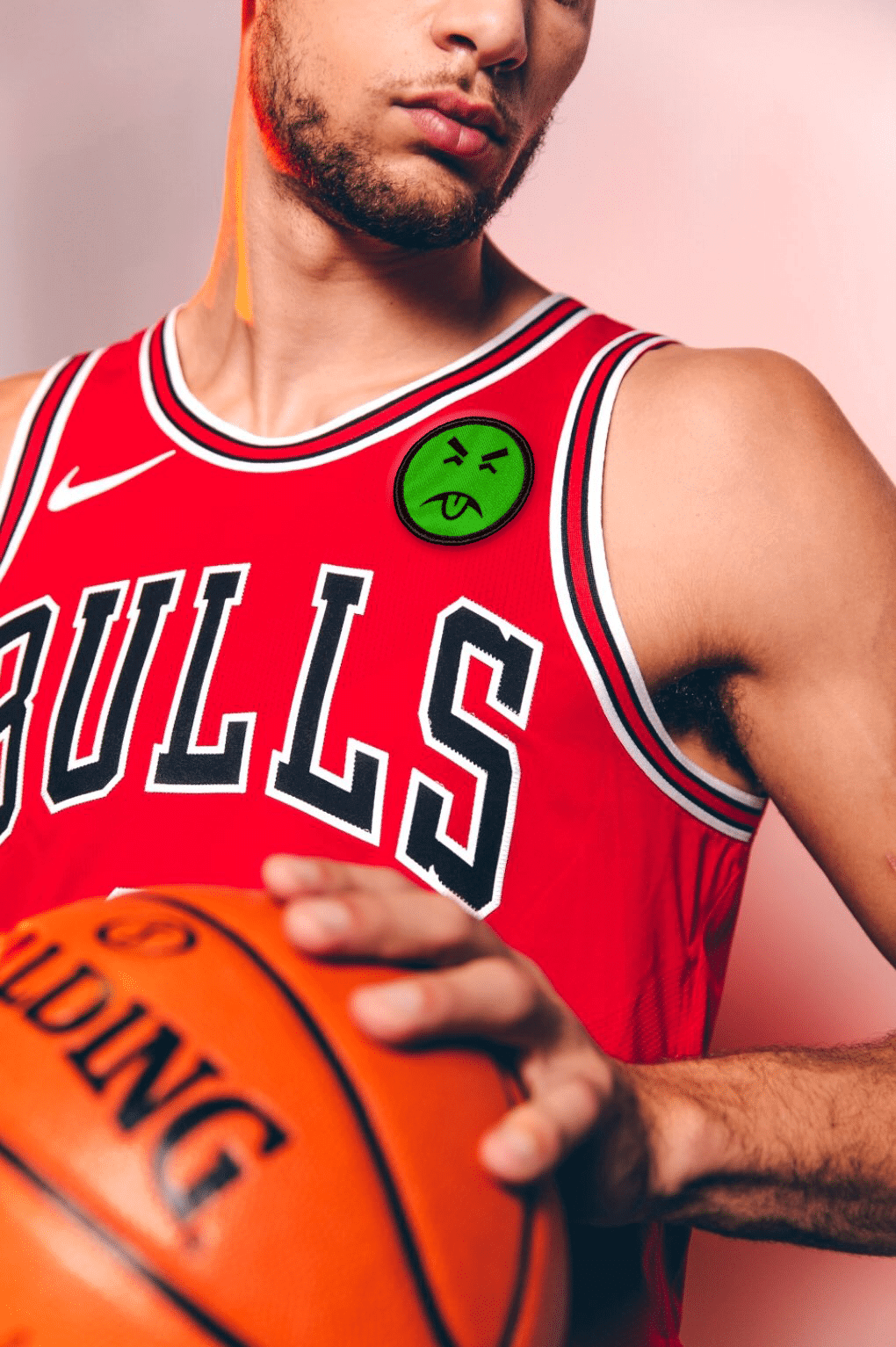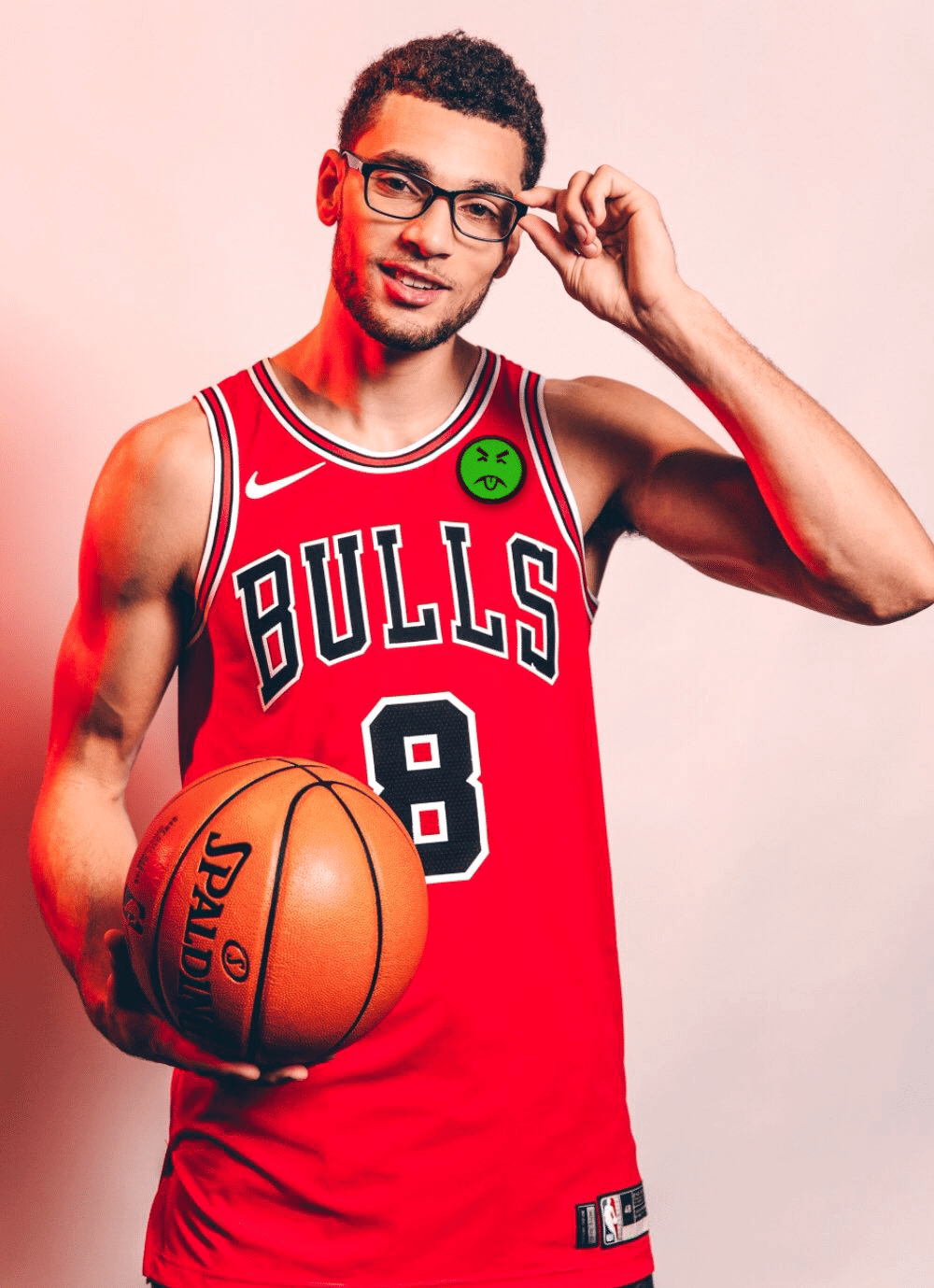 A shame to see a classic uni sullied like that, no? In a newspaper report, Bulls prexy Michael Reinsdorf said, apparently with no intended irony, "We took our time because the jersey is somewhat sacred to us." Accent on the "somewhat," I gather.
The Bulls are referring to the advertiser as both a "partner" and a "sponsor," but of course it's just an advertiser. It's interesting to see how far teams will go to avoid using that word.
Next are the Rockets. Again, I will neither show their patch nor name their advertiser, but I will show that a Rockets jersey with an ad patch looks like crap (click to enlarge):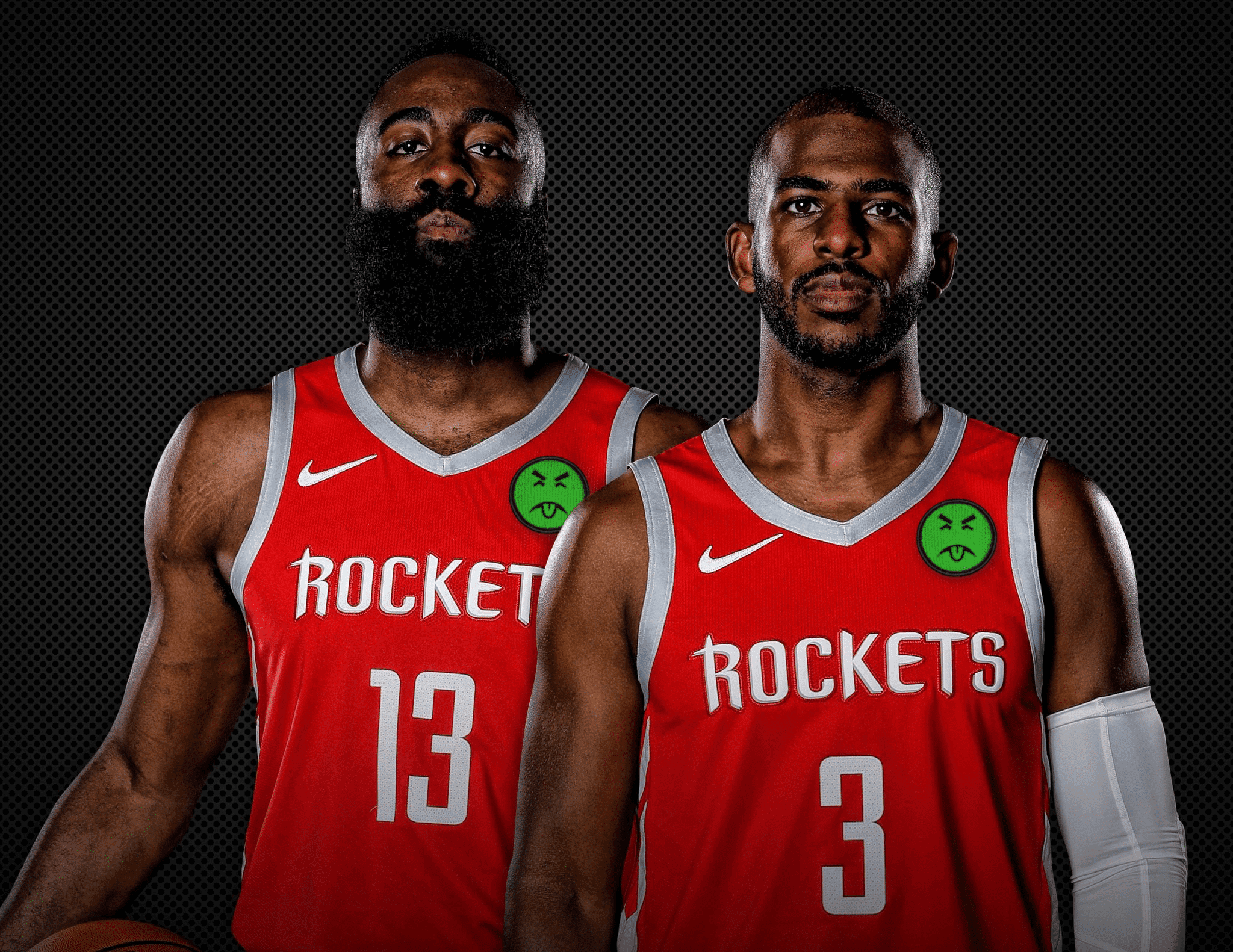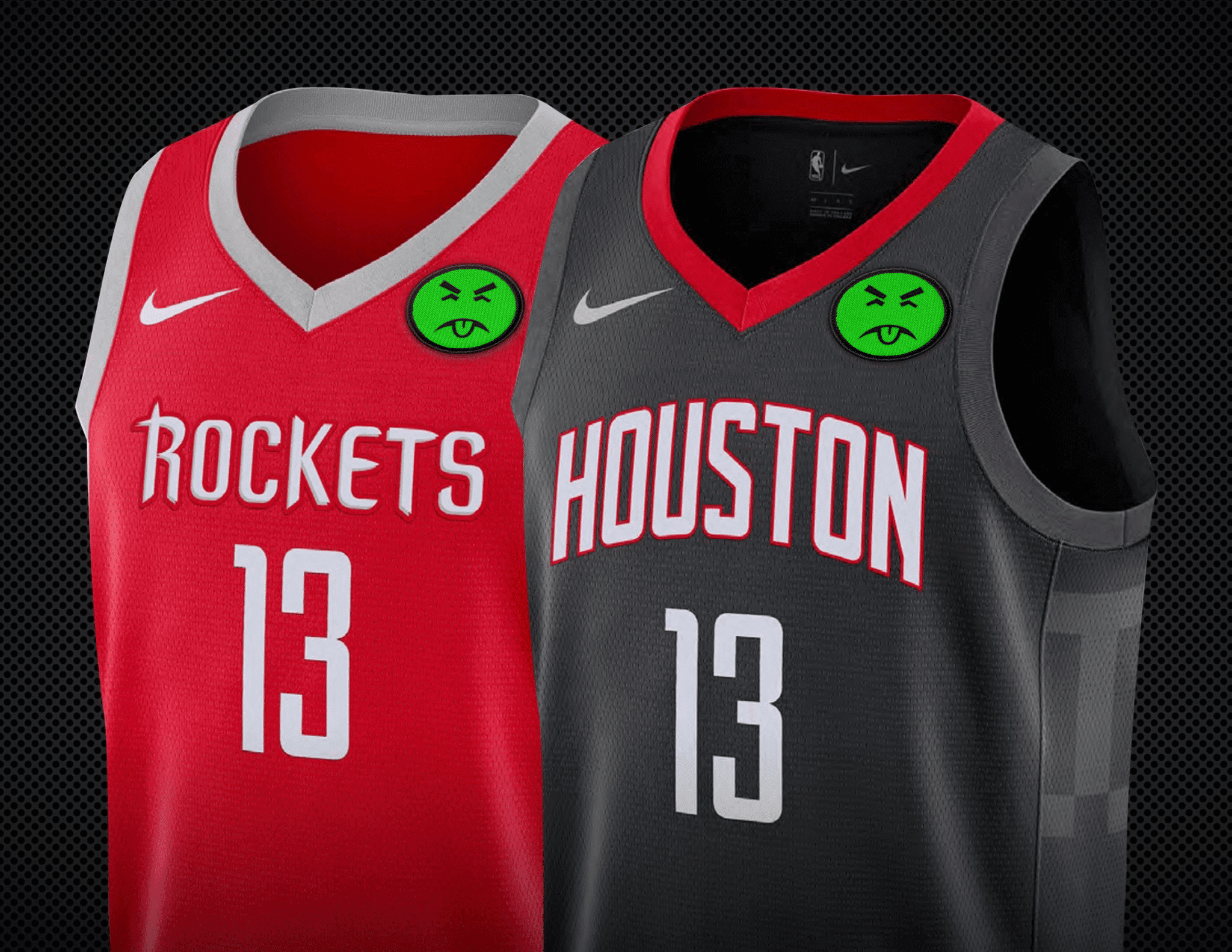 The Rockets are referring to their advertiser as a "partner" and are calling the ad patch a "logo badge." Right.
For the record: Last Friday I mentioned that I'd been told that another team would be adding an ad patch for Opening Night. It was the Bulls. I did not know about the Rockets.
There are now 27 ad-clad teams, six of which have announced their ads for this season. That leaves three ad-free teams: the Pacers and Wizards in the Eastern Conference, and the Thunder in the Western Conference. So for now, it is still theoretically possible (but, I acknowledge, highly unlikely) for us to have an ad-free uni matchup in the NBA Finals.
Meanwhile: The Warriors opened the defense of their championship by wearing gold-trimmed gear for their ring ceremony (click to enlarge):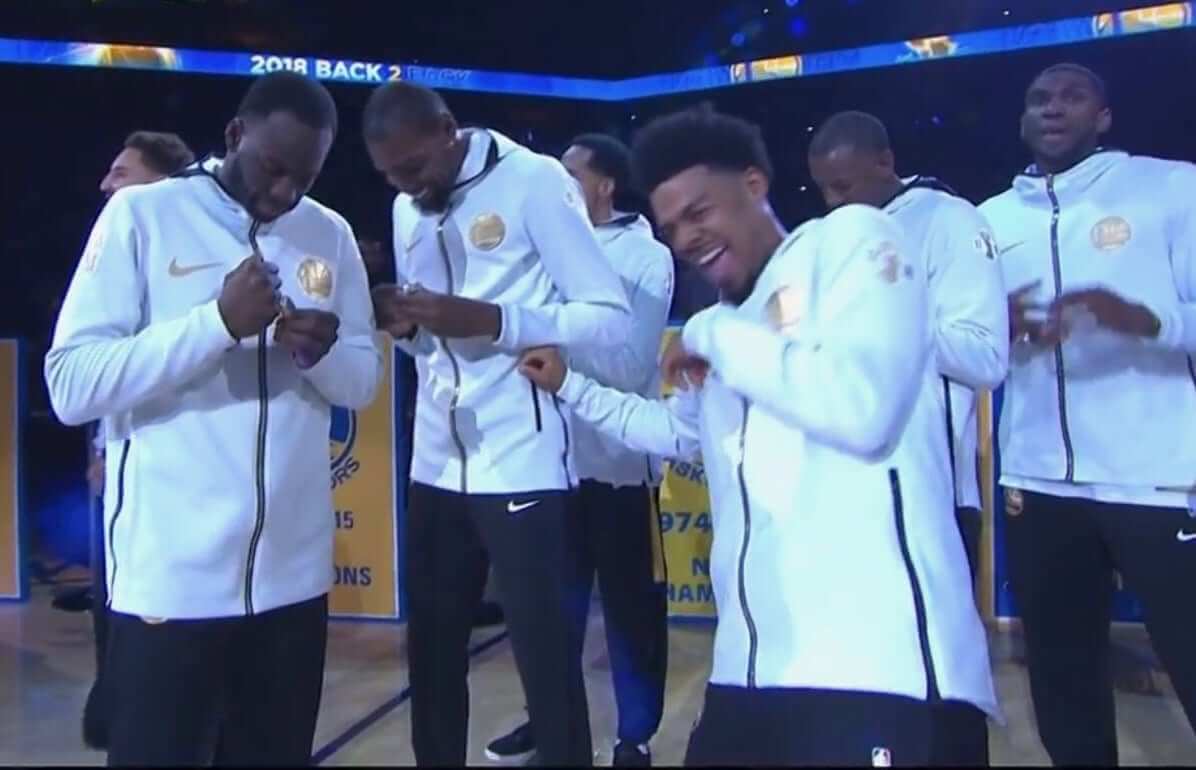 And the rings themselves are pretty neat — they're reversible (additional info here)! Check this out:
First reversible championship ring ever! Jason of Beverly Hills coming through with some innovative work in the championship hardware department. 🏆💍 #DubNation pic.twitter.com/wlxCXZQuQw

— Golden State Warriors (@warriors) October 17, 2018
👀First look! Dubs 2018 NBA Championship Rings by Jason of Beverly Hills!!! 🏆💍#DubNation pic.twitter.com/jTObw4mVcT

— Golden State Warriors (@warriors) October 17, 2018
One last order of champions' business: The Warriors also revealed their new championship banner:
The @warriors unveil their 2017-18 NBA Championship banner in the rafters at Oracle Arena! #ThisIsWhyWePlay #KiaTipOff18 #DubNation pic.twitter.com/eV7Dd8ECmI

— NBA (@NBA) October 17, 2018
(My thanks to Brinke Guthrie for the ring ceremony screen shot, and my continued thanks to Nic Schultz for his Photoshoppery.)
• • • • •
[adrotate group="2″]
• • • • •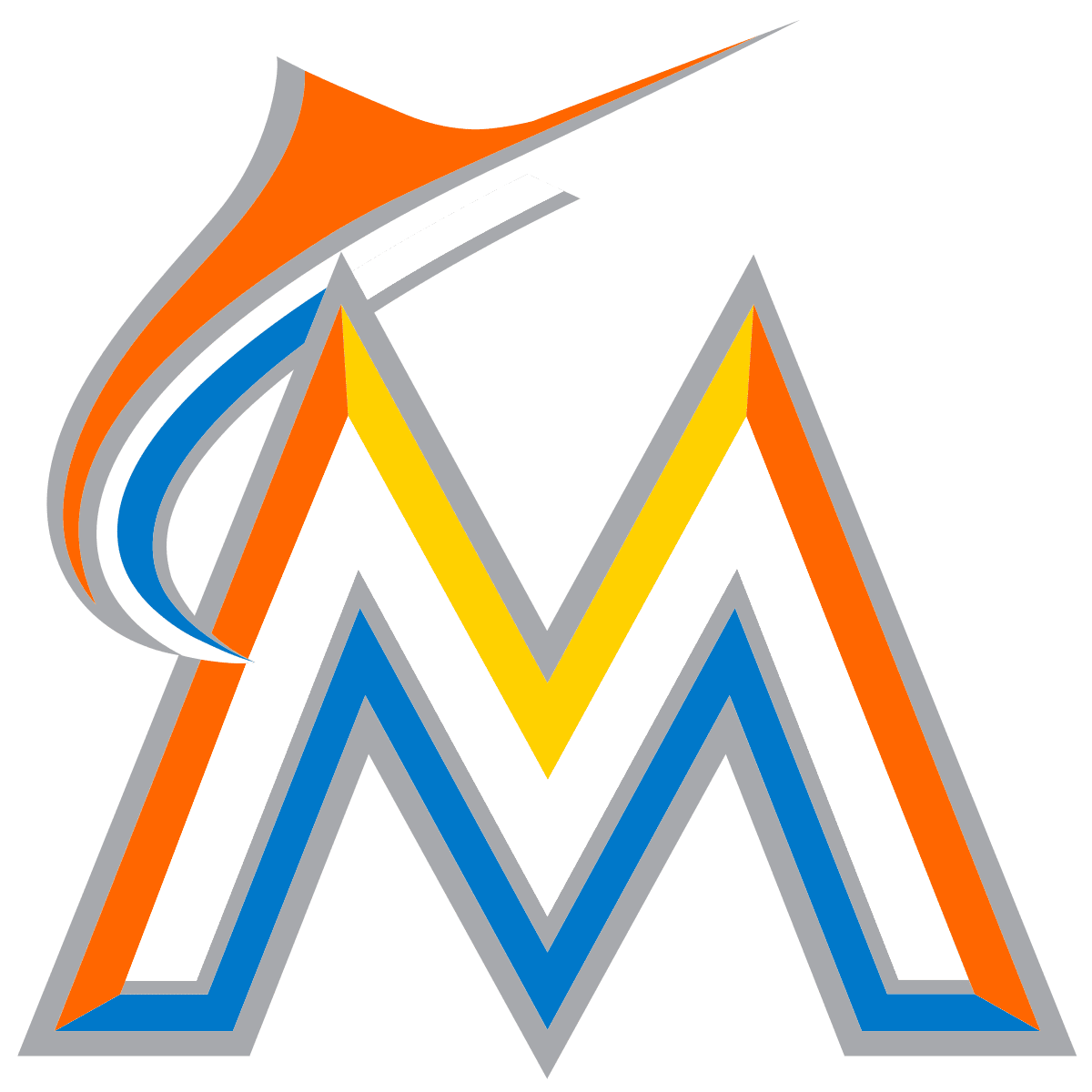 Fishy happenings: Florida radio guy Andy Slater broke the news on Monday that the Marlins are changing their logo. According to Slater, "[T]here is a different M and more blue. An actual marlin on the logo remains, but has been adjusted." He said the official announcement will come "in November."
I can confirm that the Marlins have a new look in the works, although I have not seen what it looks like. But yesterday evening, a Marlins-centric Instagram account posted what it claims to be the new logo:
That ticket stub design template, with the team logo surrounded by the bar code, is being used by MLB for Spring Training 2019. All of the teams are using it, as you can see on these pages for the Astros, Mets, and Dodgers. Interestingly, the corresponding page for the Marlins shows their current logo — but the MLB Style Guide shows the same logo shown in the Instagram post, which suggests that this will indeed be the team's new primary mark.
This appears to be the latest in a series of moves by Derek Jeter's ownership group to remake the look of the team. Remember, last year they had a flurry of late-breaking moves (reducing the size of the cap logo, adding the anniversary patch, and adding the throwbacks) that weren't even included in the MLB Style Guide but nonetheless made it onto the field.
And in a related item, the Marlins' home run sculpture is being removed from the ballpark.
• • • • •
[adrotate group="2″]
• • • • •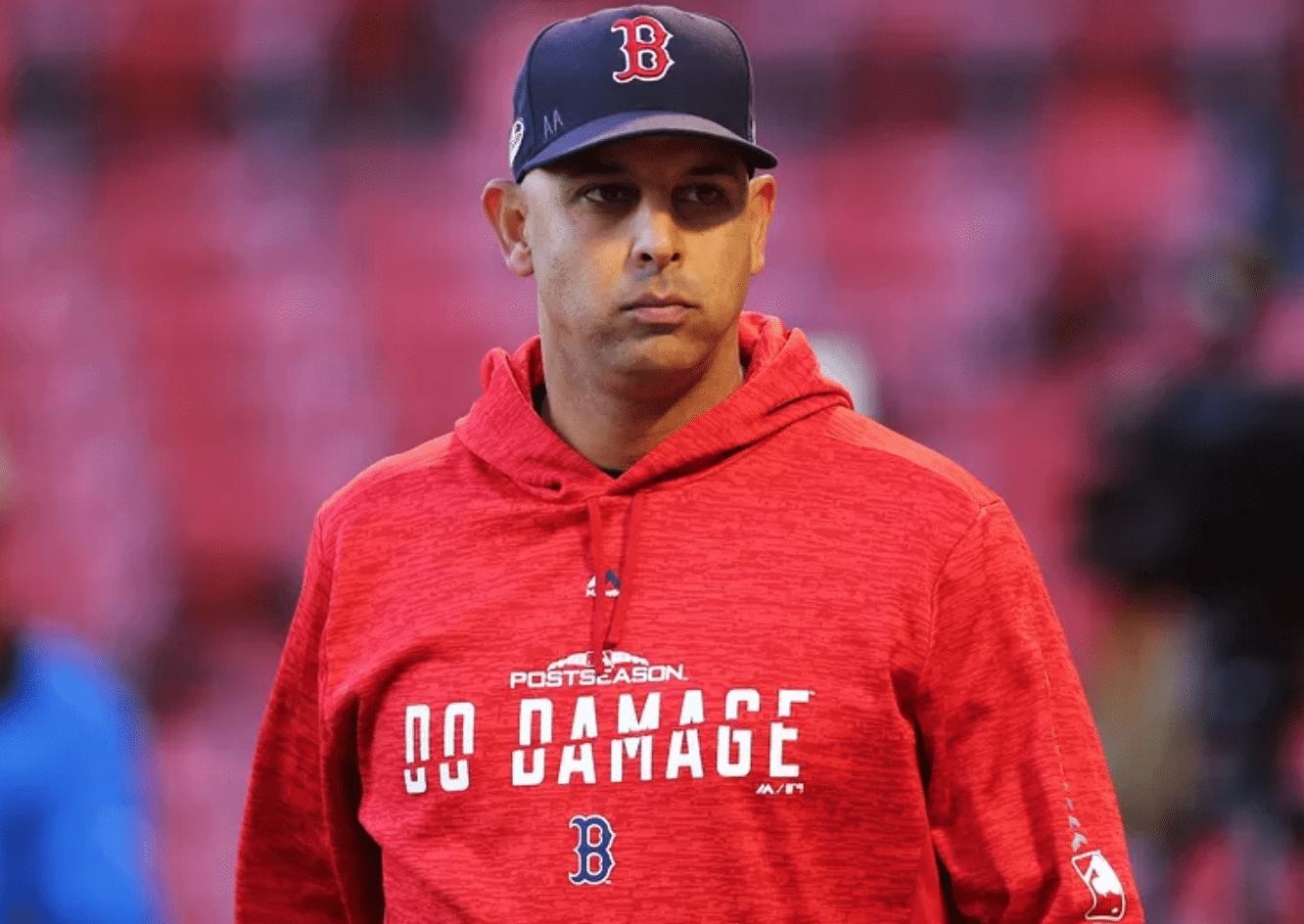 Uni Watch's highest rating: When I see those embarrassing slogans on MLB's postseason sweatshirts, I mostly roll my eyes and occasionally make an tangential reference in the Ticker. Now Wall Street Journal columnist Jason Gay (who, full disclosure, edited a few pieces of mine at GQ a million years ago) has done what I should have done: written an entertainingly derisive piece on them (WSJ link). Referring to the "Do Damage" slogan that the Red Sox are wearing (see above), he writes, "What does that even mean? Run headfirst into the Green Monster? Tear a meniscus? Shatter the psyche of New England with a bullpen implosion?"
Nicely done, Jason. Highly recommended.
(Thanks to Chris Lutzo, Steven Luft, and Joe Baka for this one.)
• • • • •
[adrotate group="2″]
• • • • •
Click to enlarge
Stool pigeons The Tugboat Captain and I were walking to the subway in Manhattan last night with our friends Nate and Heather when the Captain spotted a metal stool that had been left at the curb. It was in good shape, and you can never have enough stools, so we grabbed it. Half a block later, oddly, there was another (non-matching) stool, so we took that too. It made for a fun scene on the subway platform.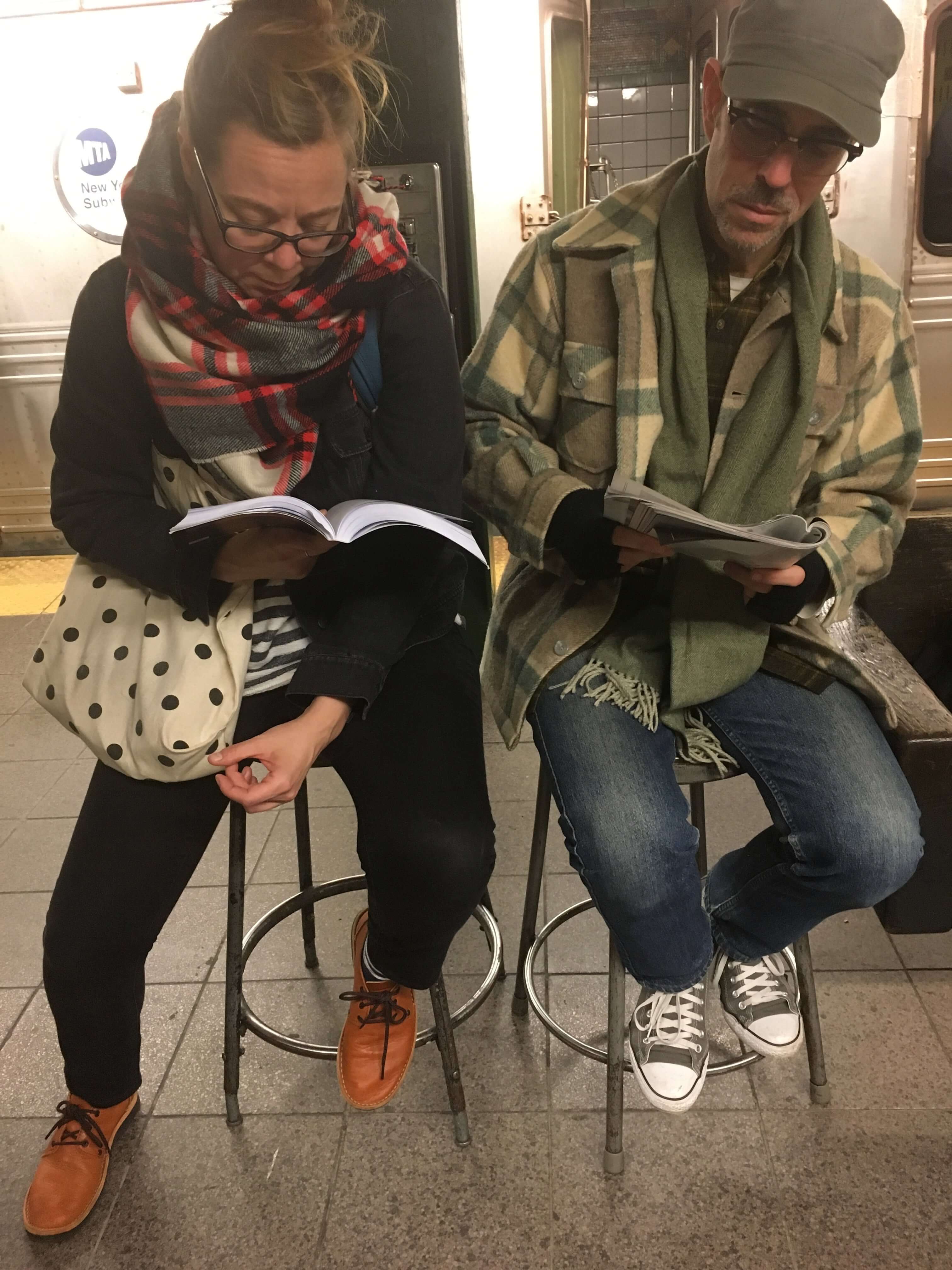 We also sat on the stools once we boarded the subway (why take up a seat that someone else could use?) but didn't take any photos of that.
• • • • •
[adrotate group="2″]
• • • • •
The Ticker
By Lloyd Alaban

Baseball News: ALCS news dump: Odd choice of logos for TBS — The Red Sox's TV logo featured "Bo Sox," (left) and the Astros featured "1962" (right), their date of establishment (from Jay Pritchard). … No pictures to confirm, but Nick Mueller says Brewers P Freddy Peralta used fellow P Jhoulys Chacin's bat last night. … Here are the ultra-high-quality tickets from last night's game in Houston (from Ignacio Salazar). … Someone behind Astros GM Jeff Luhnow was wearing a jersey with "Luhnow" on it last night. The jersey numbers are rendered in gold, which is what the Astros wore for their home opener to celebrate their World Series championship (from Joseph Matlock). … More Houston news: This tequila sunrise Bible just screams Texas (from Tyler Stafford). … The Padres tried everything to stop their skid early in the 1994 season. According to The San Diego Union-Tribune, the club donned their blue batting practice jerseys at Wrigley in an effort to stop their losing streak. Turns out they lost that game (from Dan Berman). … Check out these bullpen/helmet carts made from Lego-like bricks. … Speaking of bullpen carts, here's a Nats-themed cart ornament — with Santa behind the wheel (from Stephen C. Fehr)! … In 2019, triple-A team Syracuse Chiefs will become the Syracuse Mets. Here are the new uniforms (from Mike Chamernik and Pete Simmonds).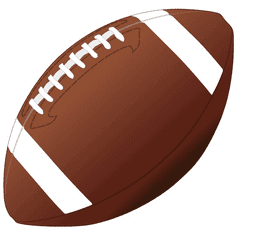 Pro Football News: Observant reader Tyler Goldberg points out that the Jets have worn three different facemasks this season: white against the Lions, green against the Browns, and grey against the Colts. … Check out this shot of the officiating crew from the 1979 AFC Championship Game. Back in those days, the officials' positions were spelled out, the ref wore a black hat while everyone else wore white (the opposite of today), and everyone wore striped stirrups (from Corey Buck). … From Pro Football Journal, here's another shot of an NFL player wearing a leather belt. This particular photo is of Bears Hall of Fame DT Dan Hampton. … Cross-listed from the baseball section: Check out these bullpen/helmet carts made from Lego-like bricks. … XFL 2.0 has no plans to resurrect the original XFL's team names (from our own Brinke Guthrie). … Reader Jim Weber asks: Who had the best helmet in the USFL?

College and High School Football News: Here's a possible leak of LSU's new alternate jersey with color-changing helmet (from Ray Garofalo). … Lots of feel-good nostalgia in this 1968 shot of Fairgrounds Stadium, the home of Louisville football (from @EverythingLouisville). … Teams participating in the South Dakota High School Activities Association football finals this year will wear a small helmet decal of the USS South Dakota, a submarine that will be commissioned in 2019. It is the first Navy vessel bearing South Dakota's name in over 70 years (from Daniel Swartos).

Hockey News: The Blackhawks are giving away a 1930s-inspired soccer jersey for the Oct. 28 game against the Oilers (from Jeff McBrayer). … The "A" patches on the Rangers' warmup jerseys were first responder-themed for last night's First Responders Night matchup against the Avalanche (from Al N. Kreit).

NBA News: More Warriors news: Golden State now has an advertiser for their kiss cam. It's a fitting one (from Mike Chamernik). … Also from Mike: For the first time, it looks like the NBA is allowing visible maker's marks on headbands. Here's a shot of Celtics G Kyrie Irving in a Nike-stamped headband from last night's game against the Sixers. Previously, only the league logo was readily visible, although the Nike logo was visible in the right light. … Could this be the Rockets' new alternate jersey? (From @mccauley318.) … The storied rivalry between the Celtics and Sixers opened the NBA season last night. Here's how this matchup has looked throughout the years (from Tailgate Throwback Sports). … Starting at 25:38 in this podcast, 99% Invisible (which is an amazing podcast to listen to if you're as obsessed with design as we are) documents how Oklahoma City stole basketball from Seattle. There's a short mention of team colors and how the Sonics name came to be (from Andrew Cosentino). … The Celtics are apparently using new arena lighting.

College Hoops News: New uniforms for Dayton men (from John Bedell). … New uniforms for Cal State Long Beach, aka Long Beach State (from LBSU Athletics). … New unis for Houston Baptist men. … New unis for Wyoming men (from Josh VanKlompenburg). … New Nevada uniforms feature both their wordmark and their logo on the front of their jerseys. More detailed looks here (from Rob Montoya). … New court for Wake Forest. … Here's what a high school basketball court looked like in 1941, via the Kentucky High School Athletic Association Athlete magazine (from Josh Claywell).

Grab Bag: Here's a feature on Saint Joseph's equipment manager Xaviar Dantzler (from Matthew H. Sher). … The pop singer Pink announced her Cardiff tour date with a customized Wales rugby shirt (from @Stumpy7780). … This company uses Big Four uni templates to make Freemasonry jerseys. Some are hockey sweaters, but most are baseball themed (from @TweedsTweetw). … Calhoun Insurance reps dressed up as players in the All-American Girls Professional Baseball League today at a local biz expo (from Phillip Tutor). … Apple has updated their bagel emoji to make it look more bagel-y (from Andrew Cosentino).