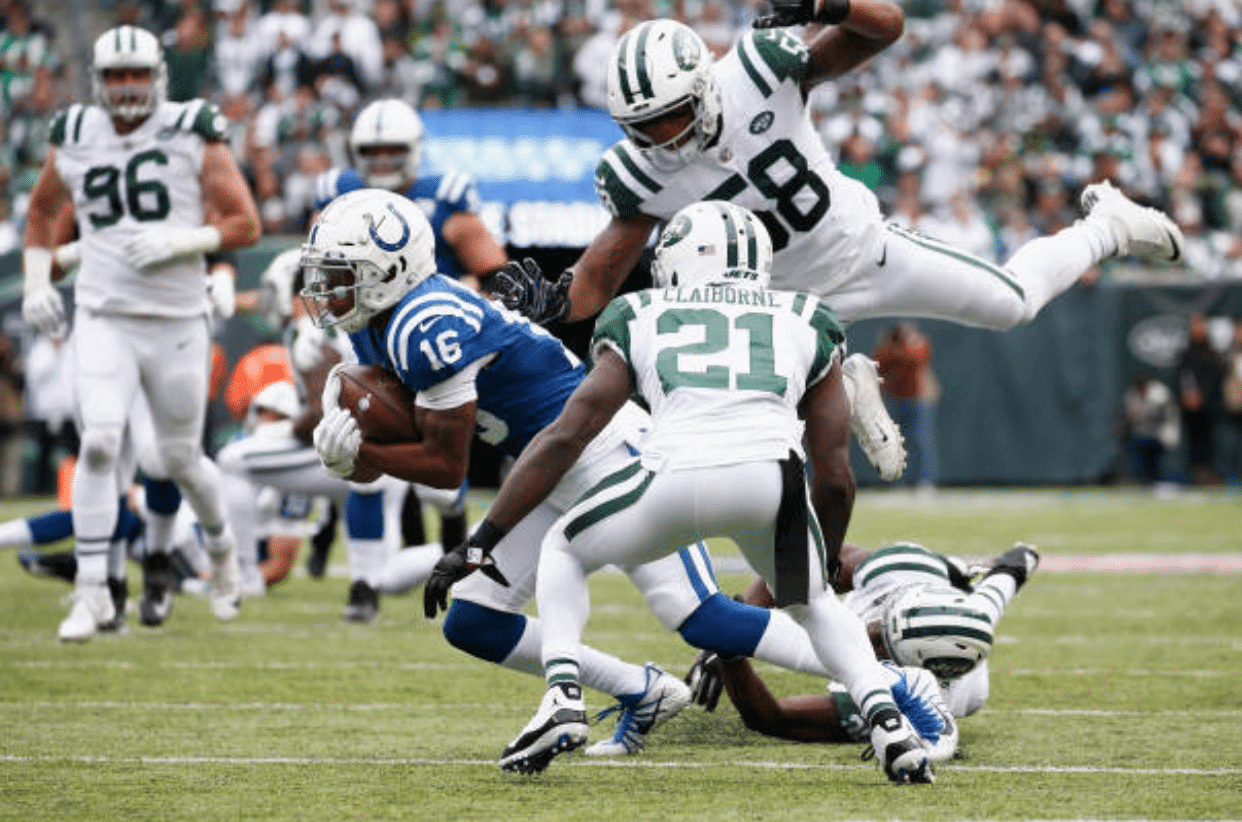 Good-looking old-school matchup yesterday at the Meadowlands, as the Jets celebrated the 50th anniversary of their 1968 championship season by wearing white at home — with grey facemasks — against the Colts, thereby creating a visual rematch of Super Bowl III. Lots of additional photos here.
At first I thought to myself, "It's pretty amazing that the two teams from SB III are still wearing essentially the same uniforms they wore 50 years ago." But then I realized that the teams from the two previous Supes — the Packers, Chiefs, and Raiders — are likewise wearing pretty much the same thing that they wore in those two games. Interesting!
In other news from around the league yesterday:
• The Panthers wore white jerseys, black pants, and blue socks:
We see you @ThomasDavisSDTM 👌 pic.twitter.com/fKb4V9KCqd

— Carolina Panthers (@Panthers) October 14, 2018
They wore this same combo two months ago in a preseason game, but yesterday was the first time they've worn white jerseys and black pants in the regular season. It's also only the second time in Panthers history that the white jerseys have been worn with non-white pants. (The other time was in the final game of the 1998 season, when they went white over grey.)
• In that same game, Washington running back Adrian Peterson broke a tackle when his shoe came off and became wedged in an opponent's facemask:
Adrian Peterson finding new ways to break tackles in the twilight of his career pic.twitter.com/YbsTLpEUQL

— For The Win (@ForTheWin) October 14, 2018
• Also from that game, Washington defensive back D.J. Swearinger had his facemask taped up, à la Sean Taylor: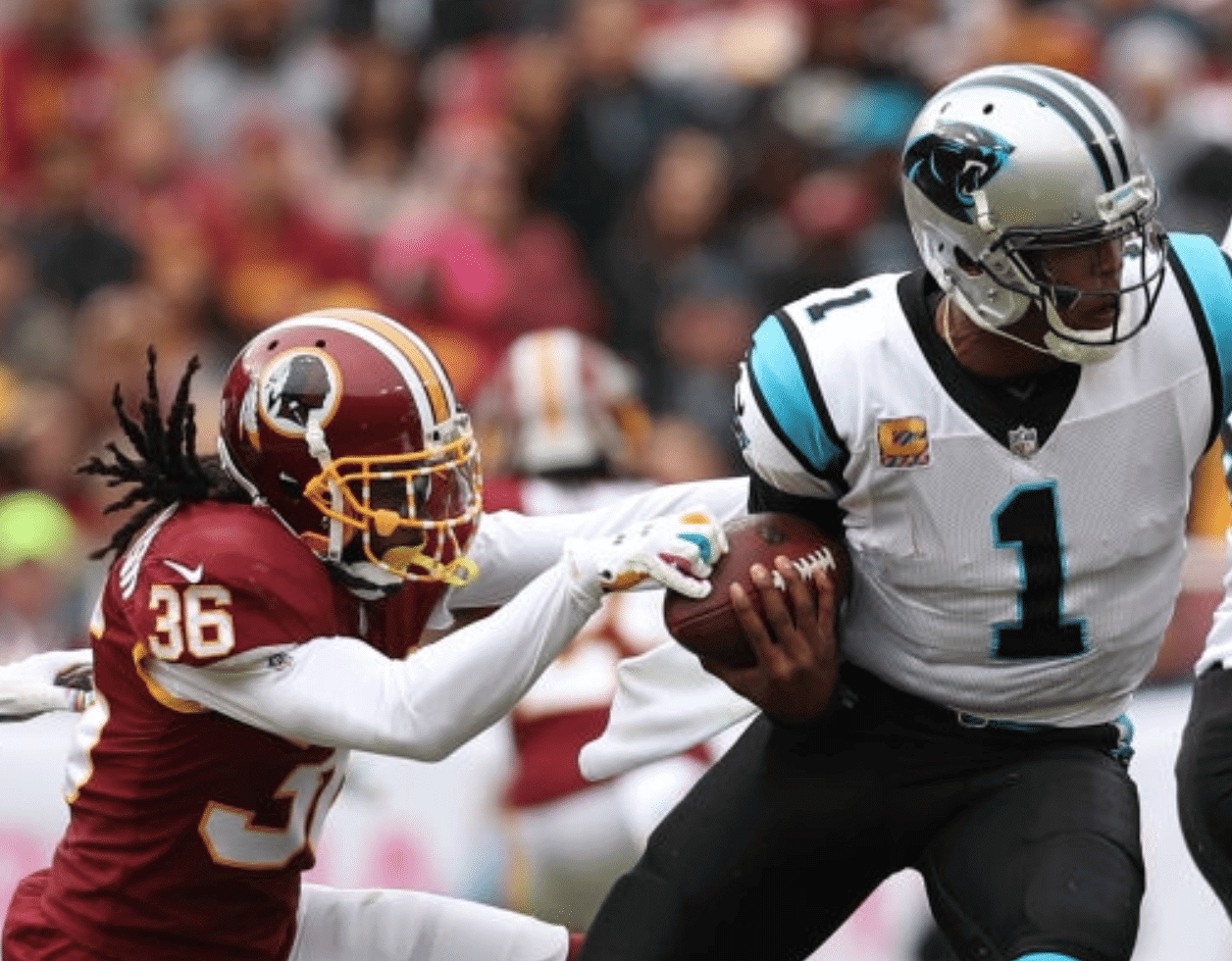 • And still more from that game: Pinktober lives! Check out the outlining on the wordmark in the Washington end zone:

QB1 to Funch for the TD 🔥 pic.twitter.com/QuWy9d62PE

— Carolina Panthers (@Panthers) October 14, 2018
• In another franchise first — and hopefully last — the Jaguars paired their black jersey with teal pants. Woof! (Lots of additional photos here.)
Run @Dak run…all the way to the 🏡
QB1 gets the score #JAXvsDAL pic.twitter.com/Fr16X8tuAf

— Dallas Cowboys (@dallascowboys) October 14, 2018
• The Bears wore their orange alternates:
12-yard TD for #12!#CHIvsMIA | #DaBears pic.twitter.com/eY0mEQHUz7

— Chicago Bears (@ChicagoBears) October 14, 2018
• The Bengals went mono-black:
.@ericksona86 starts the second half with a 51 yd kickoff return!#PITvsCIN #SeizeTheDEY pic.twitter.com/8OZKk6o7OS

— Cincinnati Bengals (@Bengals) October 14, 2018
• The Chargers went mono-navy:
WHAT. A. CATCH. 👏 pic.twitter.com/WkKdH5s0Rx

— Los Angeles Chargers (@Chargers) October 14, 2018
• The Texans wore their red alternates:
Incredible.@DeAndreHopkins | #BUFvsHOU pic.twitter.com/uWSZZTixB6

— Houston Texans (@HoustonTexans) October 14, 2018
• The maker's marks on both of Falcons wideout Julio Jones's sleeves were facing the wrong way: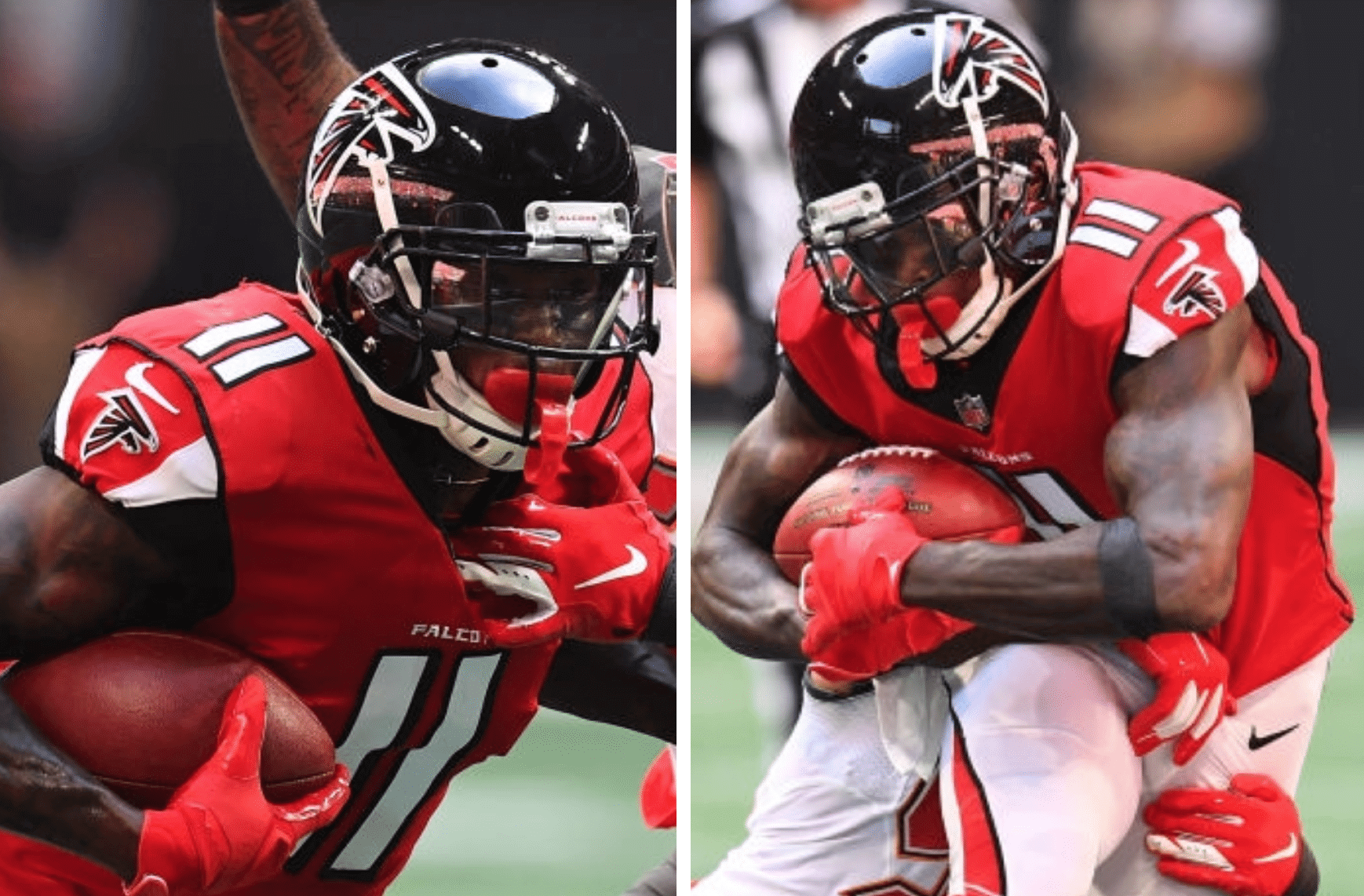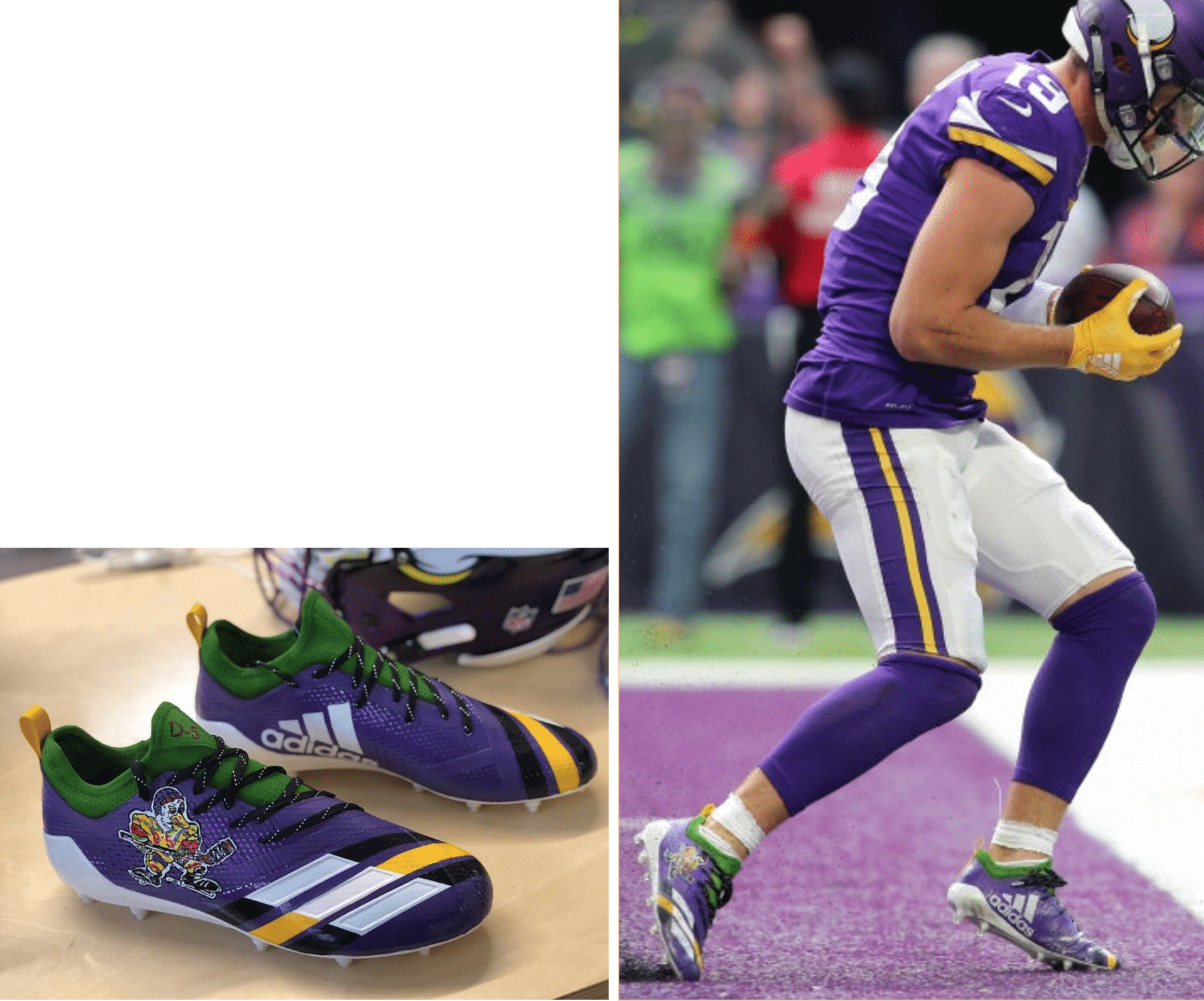 • For reasons that aren't clear, at least to me, Vikings wideout Adam Thielen wore Mighty Duck cleats. Anyone know why? Look (click to enlarge):


• Patriots wideout Julian Edelman adjusted one of his gloves while running his route and then caught a TD pass:
.@Edelman11 fixing his glove mid-route on that TD throw 🧤 pic.twitter.com/A52gPqeeX7

— The Checkdown (@thecheckdown) October 15, 2018
• This is interesting: For inactive players who are on the sidelines, the Chiefs have pullovers with the players' names and numbers, as seen here on injured linebacker Justin Houston: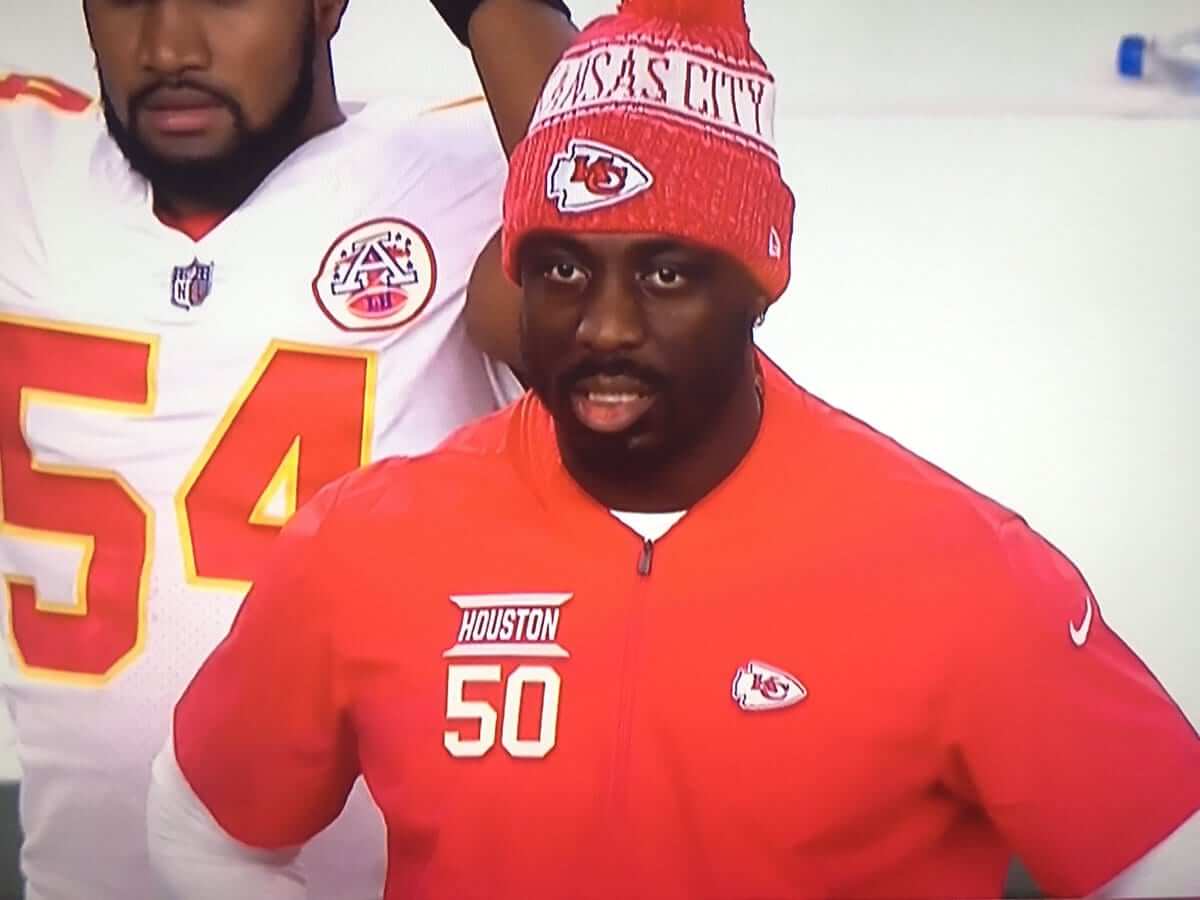 • Four teams wore white at home: the aforementioned Jets, plus the Dolphins, Browns, and, of course, the Cowboys.
(My thanks to all contributors, including Mike Chamernik, Gabe Cornwall, Mike Foster, Jason Hill, Sam Kissel, @SkolBros, and our own Alex Hider.)
• • • • •
[adrotate group="2″]
• • • • •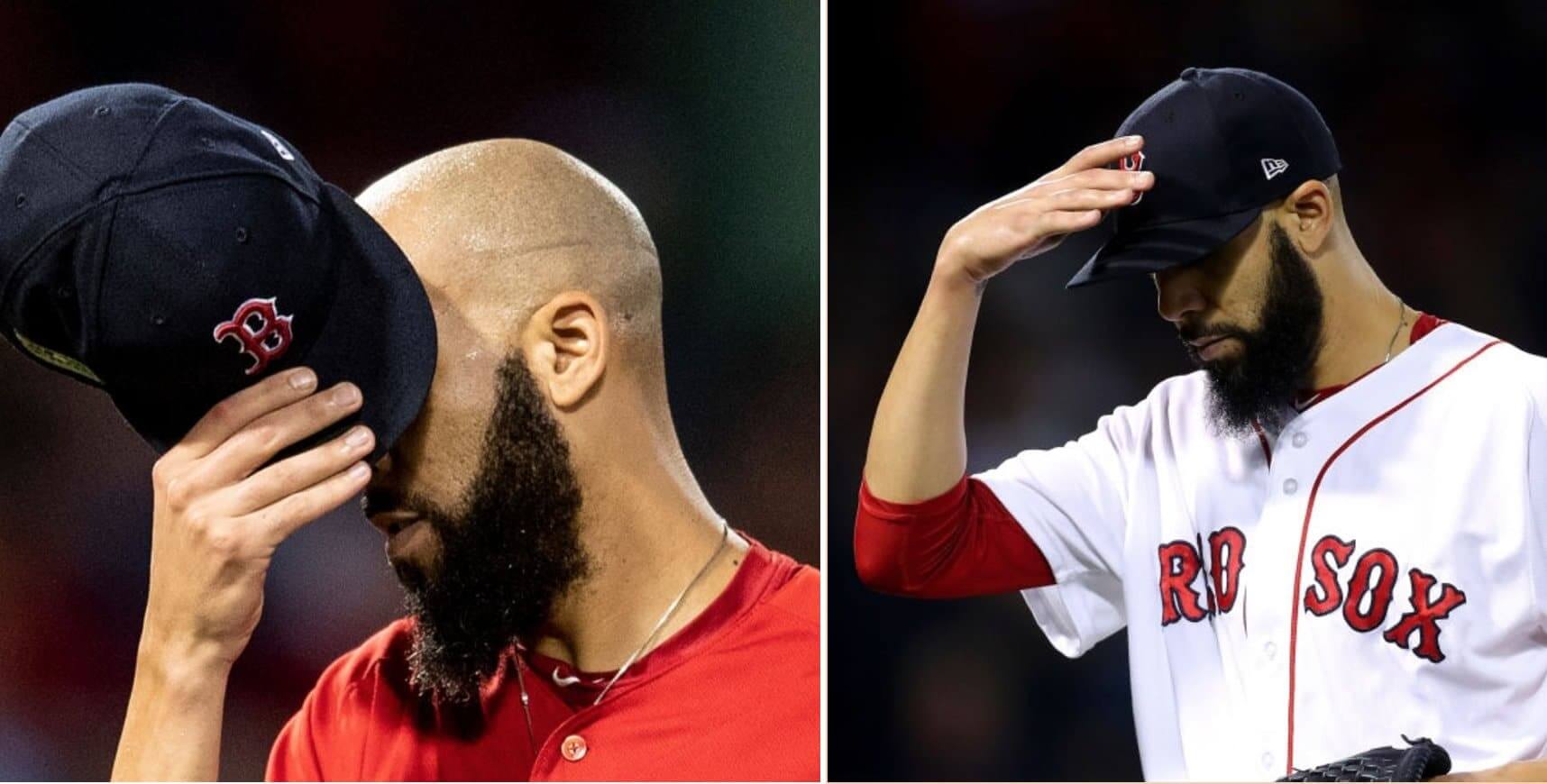 Click to enlarge
Look who's got the button: Red Sox pitcher David Price has been removing his cap squatchee — or as he calls it, "the ouch button" — for years now. His cap was squatchee-free during his start in Game Two of the ALDS on Oct. 6 (above left), for example.
But for last night's ALCS game against the Astros, Price's headgear was clearly squatchified (above right). Shocking!
A few folks immediately speculated that Price, whose postseason woes are well-documented, might have gone squatchee-clad as a slump-buster move. If so, it didn't work, as he gave up four runs in his first three innings (although he did break his streak of postseason starts resulting in losses, so I guess that's something).
(My thanks to our own Scott Turner, who was the first to bring this to my attention.)
• • • • •
[adrotate group="2″]
• • • • •
Click to enlarge
Chain-stitch update: I've received four more chain-stitched Uni Watch logo patches from ace embroiderer Amy Bengtson (who I interviewed last month). They'll ship out today to the readers who ordered them.
If you want your own chain-stitched Uni Watch patch, the price is $35 (80% of which goes to Amy). Each one is made to order by hand, and no two are quite the same. Caitlin not included. If you're interested, give me a shout. Thanks.
• • • • •
[adrotate group="2″]
• • • • •
For all photos, click to enlarge
And speaking of chain-stitching…: The Tugboat Captain and I went bowling in New Jersey on Saturday with our friends Kathleen and Gaylord. Gaylord is a DJ at the mighty WFMU and recently had a WFMU bowling shirt made to his own very exacting specifications. Check out the spectacular chain-stitched design — magnificent!
And that wasn't the only chain-stitchery on display that afternoon. The Tugboat Captain wore a very nice bowling shirt featuring a chain-stitched version of Massillon (Ohio) HIgh School's football-playing tiger:
As for me, I wore my Bob's Barber Shop bowling shirt, which has some very nice chain-stitching as well (plus some excellent barber pole-styled gusset panels), but nobody got a good photo of me, so here's an old photo:
• • • • •
[adrotate group="2″]
• • • • •
Click to enlarge
Hot diggity: While we were bowling on Saturday, I walked past the kitchen and noticed that the two hot dogs on the grill had flared tips. I asked the grill woman about it, and she said the boss likes it done that way "because it makes them look bigger or something." She added that the dogs are longer than the buns, so the flared tips look good sticking out of each end. I said, "Oh, like they're literally 'bursting with flavor'!" She paused and said, "Yeah, okay."
I've never seen this before. Anyone else..? Might have to try it at home.
• • • • •
[adrotate group="2″]
• • • • •
The Ticker
By Jamie Rathjen

Baseball News: Behold the sight of former Yankee Alex Rodriguez in a Red Sox jersey, because he lost a bet to David Ortiz on the outcome of the Red Sox/Yankees ALDS. It's particularly intriguing because A-Rod was going to be traded to the Bosox in 2003, although the deal was later voided (from Andrew Cosentino).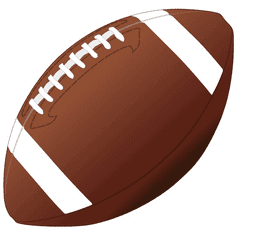 Football News: Reprinted from yesterday's comments: the goalposts at the University of Ottawa's field are a few yards deep in the end zone, instead of on the goal line as is usual in Canada, because they have "a longer support beam for the posts than normal," says Wade Heidt. … As we've mentioned, Iowa State wore BFBS uniforms Saturday. However, team colors were still visible on everyone's shoulder pads (from Kevin Shaw). … Central Michigan had two different NOB variations on display. The bolder one is apparently correct (from @AVKingJames). … FCS Prairie View A&M had to change uniforms at halftime after being told that their mono-grey set with purple numbers would cost them a timeout (from Chris Mycoskie). … Speaking of high school ball, check out the crazy Pinktober set worn by Del Mar High School in California.

Hockey News: The OHL's Peterborough Petes wore special jerseys for an alumni homecoming (from Wade Heidt). … Bridgeport Sound Tigers (AHL) G Jeremy Smith has a Hurricanes-themed mask. Smith was with the 'Canes last season but never made an appearance for them, only for the AHL's Charlotte Checkers, and signed with the Sound Tigers in the summer (from Stan Capp). … Saturday's edition of the syndicated newspaper puzzle Daily Jumble had what looks a lot like a partially obscured Stars logo (from Steve Prudente).

Basketball News: We featured this possible new Thunder logo in Friday's Ticker. Reader Zack Bush, who says he works at a Lids store in Minnesota, tells us that the logo is "one in a series of logos created for every team by New Era called 'combo logos.'" These logos are all new, "but they aren't actually going to be used by the teams themselves," he says. … New uniforms for Missouri and Siena (from Kacen Bayless and John Dougherty). … An all-star team from the Big Baller Brand-run Junior Basketball Association is currently touring Europe and started out using essentially the U.S. Soccer Federation crest on their uniforms, but the font was changed at some point before yesterday's game against Russian team Zenit (from @MakersofSport).

Soccer News: D.C. United wore black armbands for winger Paul Arriola's father, who passed away last week. However, DCU already wear black, so the armbands were only visible because they covered one of the MLS sleeve patches, except on goalie Bill Hamid. … English women's top tier teams Bristol City (purple) and Birmingham City (yellow) both changed against each other, while in the second tier, Aston Villa's shirts are ad-free. … Women's college teams wearing Pinktober shirts this weekend included Iowa and LSU. … Also posted in basketball: An all-star team from the Big Baller Brand-run Junior Basketball Association is currently touring Europe and started out using essentially the U.S. Soccer Federation crest on their uniforms, but the font was changed at some point before yesterday's game against Russian team Zenit (from @MakersofSport).
• • • • •
[adrotate group="2″]
• • • • •

What Paul did last night two nights ago: After we went bowling on Saturday, we went to White Eagle Hall in Jersey City, where the Feelies played a 90-minute set of Velvet Underground covers.
As an art project, this one wasn't particularly challenging. I usually think a cover version should tell us something new either about the song or about the artist covering it, but this set did neither — the Feelies' musical debt to the Velvets has always been fairly obvious (so this set taught me nothing new about the Feelies), and they played the arrangements really, really straight, with no reinterpretations or artistic license (so it also taught me nothing new about the songs). So by that standard, I'd say this was something of a failure. But as entertainment, it was a blast — one of my favorite bands covering another of my favorite bands. So much fun!
Notable detail: Feelies frontman Glenn Mercer was very faithful to all of Lou Reed's lyrics — except on "There She Goes Again," where he twice omitted the line "You better hit her." Probably for the best.
Here are two video clips — the first one by me and the second by my friend Vicky, who was sitting upstairs:
The show was inspired by the new Velvet Underground exhibit that opened here in NYC last week. The Tugboat Captain and I are seeing it in two weeks, when her brother and sis-in-law are coming down from upstate to join us. Full report to follow.
• • • • •
By the time most of you read this, I'll be on my way to cover the taping of the Puppy Bowl, so I won't be available to respond to comments, emails, or tweets for most of today. Play nice while I'm away, okay? Thanks. — Paul