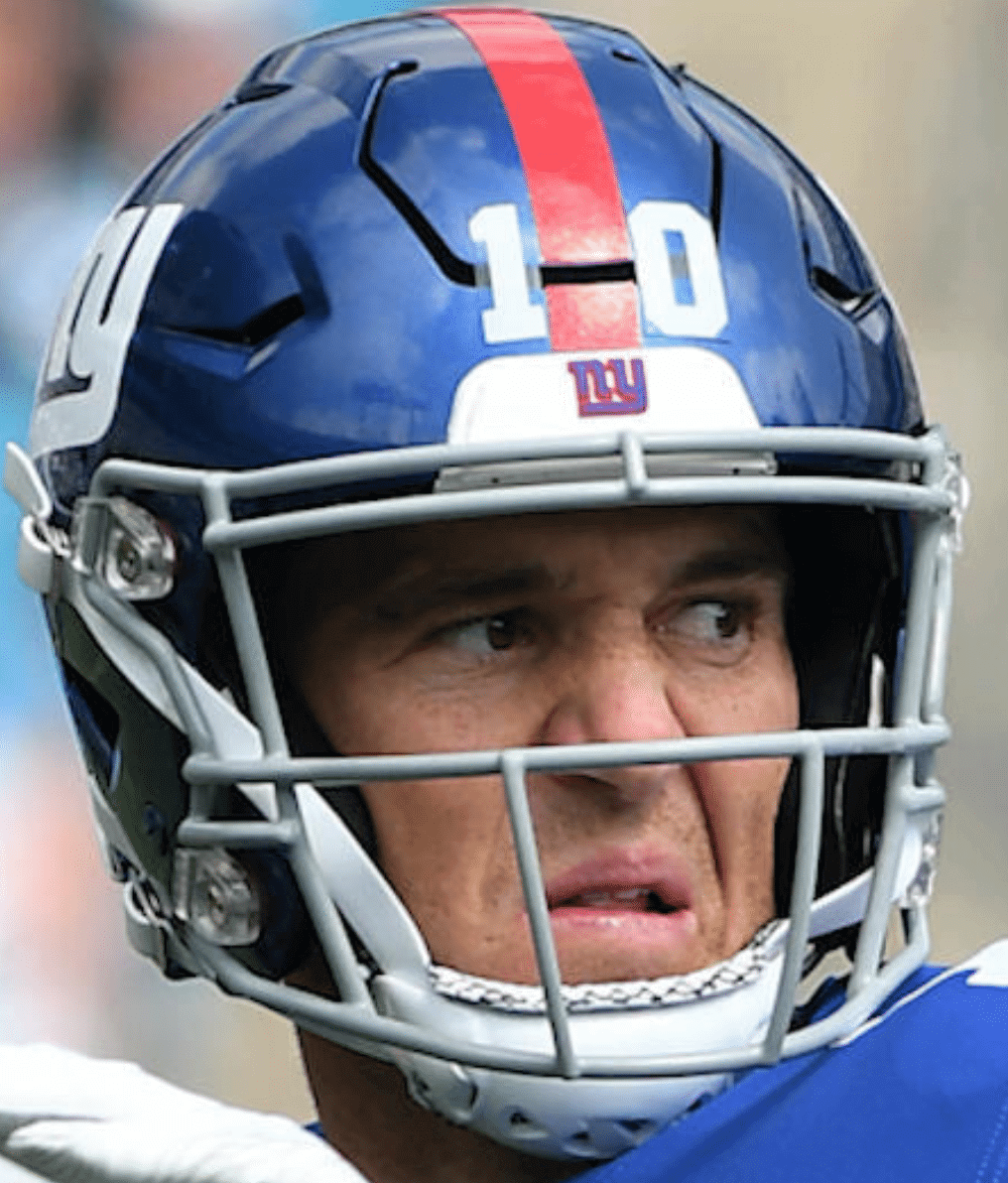 Click to enlarge
Last night's loss to the Eagles was the latest evidence that the Giants really suck again this year. They're not just bad — they're boring (a pretty neat trick when you have playmakers like Beckham and Barkley), which is another way of saying they've become unwatchable. So this is a good time to mention something that's been bugging me for a while now: As you can see above, the Jints' chinstrap cups have these little liners with what appears to be a snakeskin pattern (that photo isn't from last night, but it was the best close-up shot I could find). It doesn't mesh well with the no-frills look of their uniform, and I find it really distracting. It would be nice if they'd change it, but I probably won't be watching anymore to find out. Did I mention that they've become unwatchable?
As for last night, they wore their mono-white throwbacks — a good look, although it'd be better with the proper blue-topped socks instead of the solid-white Color Rash hose.
• • • • •
[adrotate group="2″]
• • • • •

Click to enlarge
Almost time for tip-off:The NBA season begins on Tuesday, which means it's time for my annual Uni Watch NBA Season Preview. Check it out here.
As for the images shown above, I thought it would be nice to announce the season preview by featuring the five remaining advertising-free teams. But as I was gathering the five photos, I received word that one of those teams — I can't tell you which one — will likely be announcing a jersey advertising patch in time for Opening Night. Sigh.
• • • • •
[adrotate group="2″]
• • • • •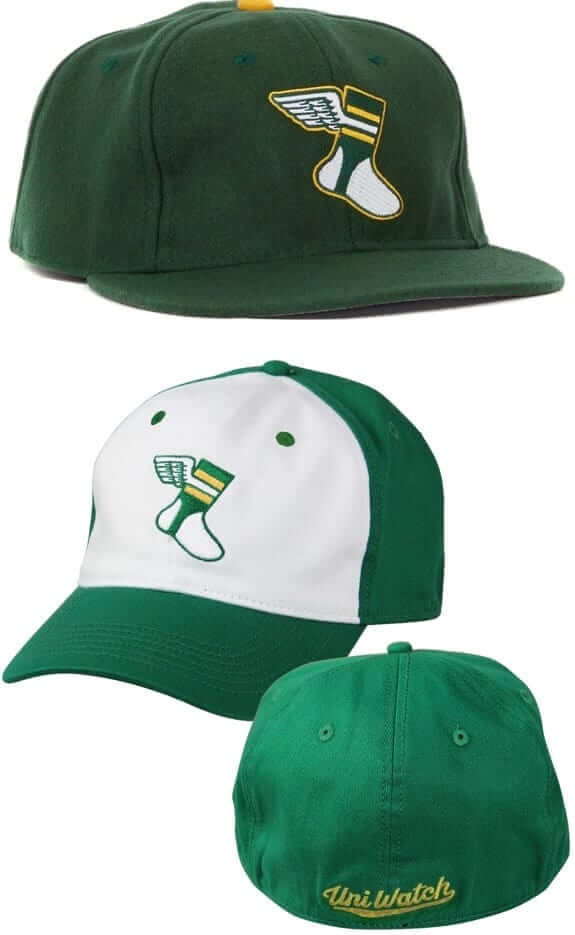 Headwear bargain bonanza reminder: In case you missed it earlier this week, big savings are on tap for both of our Uni watch caps.
First, our friends at Ebbets Field Flannels are offering a site-wide 20% discount with the checkout code PLAY18. That effectively reduces the price of our solid-green Uni Watch classic cap from $49 to $39. Order yours here.
In addition, we've reduced the price of our flex-fit Uni Watch alternate cap from $29.99 to $24.99. You can order that one here.
And while we're at it, don't forget that we have a great new T-shirt, designed by Andrew Harrington, that mimics the look of a vintage woven clothing tag. That one is available here.
My thanks, as always, for your consideration of our merchandise.
• • • • •
[adrotate group="2″]
• • • • •
The Ticker
By Yianni Varonis

Baseball News: Here's a fun video of Giants RF Hunter Pence and his wife cleaning out his locker and deciding what to keep and throw away now that the team's season is over (from our own Brinke Guthrie). … Also from Brinke: Today's Google Doodle is a salute to Roberto Clemente.

NFL News: Eagles K Jake Elliott wore a hunter-green suit before Thursday Night Football that featured photographs of his career on the blazer's inside lining. … This article recounts the "ooh" and "aah" of the crowd the first time the Rams wore horned helmets. … The Chargers will go mono-navy this week (from Kristopher Sharpe). … A grocery store owner in Athens, Ala., will no longer sell products with the NFL logo, in response to players kneeling during the national anthem. … Paul Quirk was at Ford Field last week for the Lions game and took a picture of the stadium's helmet display, which hasn't updated the Titans or Jaguars helmets yet. … Giants OL Chad Wheeler had one of his jersey numerals peeling off last night (from @headshoes). … Mitchell & Ness has started selling a line of NFL jerseys that are split, Frankenjersey-style, between white and color (from Danny Quin).

College Football News: North Carolina will wear white on white on white against Virginia Tech, and Tech will give DB Chamarri Conner the honor of wearing No. 25 this week (from Andrew Cosentino). … Reader Kary Klismet has two items about Iowa: The school is honoring the 70th anniversary of its mascot, Herky the Hawk, with an exhibit at the university library, and these Iowa fans got to write messages on the inside panels of Iowa game balls after touring the factory that makes them. … West Virginia will wear mono-white this week. … Virginia's equipment manager hinted that Cavaliers fans "might see something new for this weekend" and now we know that the team will wear an all-navy uniform (from our own Jamie Rathjen). … Potentially confusing uniform matchup as Duke will wear grey jerseys and navy pants versus Georgia Tech, which will wear white jerseys and navy pants. … From Phil: Northwestern will wear black helmets and pants with purple jerseys against Nebraska, and South Carolina will wear white helmets, black jerseys, and black pants against Texas A&M. … Houston will go red-white-red this week. … And Stony Brook will wear white-white-red. … This is unique: Players from St. John's in Collegeville, Minn., wear their last names on the front of their helmets while also going NNOB (from Matt Lesser). … Riverhead High School on Long Island will retire the jersey number of former LB and Tech. Sgt. Dashan Briggs, who was killed in an airplane crash while serving in Iraq.

Hockey News: With the Penguins having unveiled their yellow alternate uni, here's a look at the history of yellow uniforms in the NHL (from Phil). … The Canadiens honored the 25th-anniversary of their 1993 championship team while former players wore sweaters featuring a period-appropriate Stanley Cup patch (from Moe Khan). … Remarkable attention to detail as the Devils stamp their logo onto each of their arena's toilets and urinals. … In Saskatchewan, Regina Pats G Max Paddock takes Pinktober really seriously.

NBA News: The Bulls announced that the logo of Calamos Investments, a Chicago-based global asset manager, will now appear on the United Center court apron. … Is this a new alternate logo for the Thunder? … Lonzo Ball agreed to the NBA's request that he cover his tattoo depicting the logo of his family's shoe company, Big Baller Brand. … Earlier this week we saw leaked images of the Lakers' Magic Johnson-themed shorts. Now a photo of the jersey is circulating, although its legitimacy isn't yet confirmed. … Kareem Abdul-Jabbar wrote a little essay explanining why he's selling off his memorabilia (from David Firestone). … After the Kings got slaughtered by the Jazz in a preseason game last night, the Kings' Twitter account posted game highlights but censored the score bug (from Mike Chamernik).

College Hoops News: Dayton teased new uniforms (from Eric Farrell). … New uniforms for Arizona State (from Chad Smith). … Boise State will also sport a new look this season. … And Purdue has a new uniform template (from @KyleYourFriend).

Soccer News: Pretty crazy new kits for Spanish squad CF Zamora that remind me a lot of this guy. … Here's an interesting interview with the founder of the company that makes cell-phone cases based on retro-kit designs.

Grab Bag: Runner Justin Gallegos became the first athlete with cerebral palsy to sign an endorsement contract with Nike. A powerful video of Gallegos receiving the news can be viewed in this article. … Here's a good look at how the Beatles got their famous logo. … There's a new book featuring record label logos (from Jeff Ash). … airBaltic has introduced new cabin-crew uniforms. … A GQ writer offers "A Fat Dude's Guide for Fat Dudes at the Gym", including what to wear. … This article details the items that passengers often steal from airplanes, including life vests and — according to one flight attendant — the wings off her uniform (WaPo link). … Employees of the Callaway County Ambulance District in Missouri will wear pink work shirts this month for breast cancer awareness. … Fashion retailer Marks & Spencer has caused controversy over its decision to sell hijabs to children in England as a part of its school uniform collection. … The Dallas News investigates "Who is really behind the logos on the political flyers in your mailbox?" … Here's a rugby union game in New Zealand where you couldn't tell the two teams apart (from @SkullyEqual).