Click to enlarge
[Editor's Note: My recent piece about installing old gym lockers in my house inspired reader Keith Goggin to share his own locker-centric story. Enjoy. — PL]
By Keith Goggin
I'm the Athletic Director Holy Cross High School in Flushing, Queens. We had always been boys-only, but we recently went coed, so we had to renovate our locker rooms and divide everything up to allow for our new classes of girls.
The old lockers were a sturdy cage style — about five feet tall and 15 inches wide. We had about 160 of them, mostly in banks of four — very big, bulky, and heavy.
There was a bank of three that I had my eye on. It included the locker I used as a member of the varsity basketball team back in 1991-92, when I was a senior. It was an end locker — No. 140:
So when they dismantled the lockers, I took those three home (which was an escapade of its own, but never mind about that). They had about four layers of paint on them, with the top layer green. I decided to strip them down. Solvents were too weak, so I got an angle grinder and went to town, taking them down to bare metal:
The next step was to prime them:
Then I had my son pick out a color to repaint them. He chose hammered copper, which was a pretty nice choice on his part:
About four rattle cans later, I had the lockers finished. I went over the numbers with a Sharpie and then somehow managed to lug the whole thing into my basement:
It's perfect — one locker for my daughter, one for my son, and my old locker on the end. The kids put all their T-ball and soccer stuff in there (my wife is happy since it's out of the way from our house's main floor), and I have a few extra putters in mine for now.
As for our school, I ordered new lockers in the same style, only double-stacked, to accommodate more athletes. I also had them made in our school colors, which Uni Watch readers will appreciate (click to enlarge):
I'm glad Paul shared the story of his lockers — it made me feel a little less crazy for taking these things home.
———
Great stuff from Keith! I should add that Keith and Joe Steele (the furniture maker guy who refurbished and reformatted the lockers I now own) are the real heroes of these stories. They put in the work and sweat to transform something old into something new.
And speaking of heroism, Keith gets bonus points for teaching his kids the important things in life. Check this out (click to enlarge):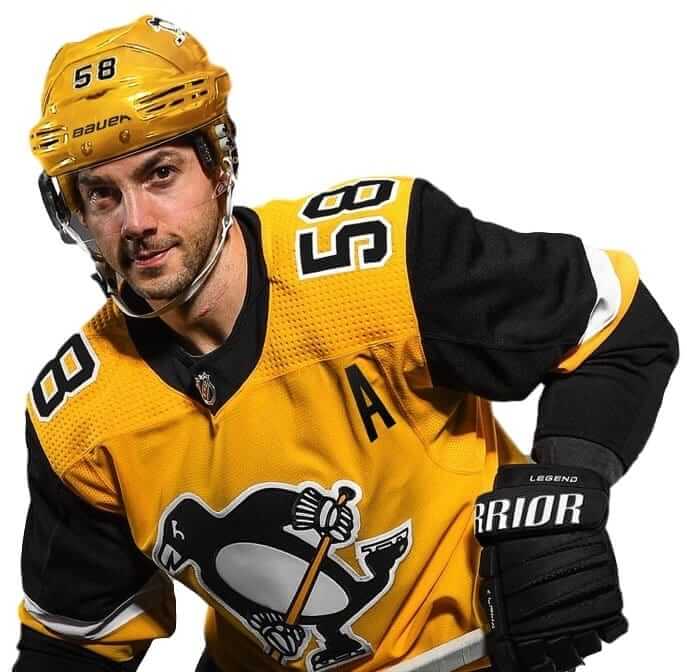 • • • • •
[adrotate group="2″]
• • • • •
Click to enlarge
Another NHL alternate: The Penguins yesterday became the latest NHL team to release a third jersey alternate uniform. The design is similar to what the Pens wore in the 1980s and reprised for the 2017 Stadium Series.
The new alternate will be worn for 12 games this season, as spelled out here.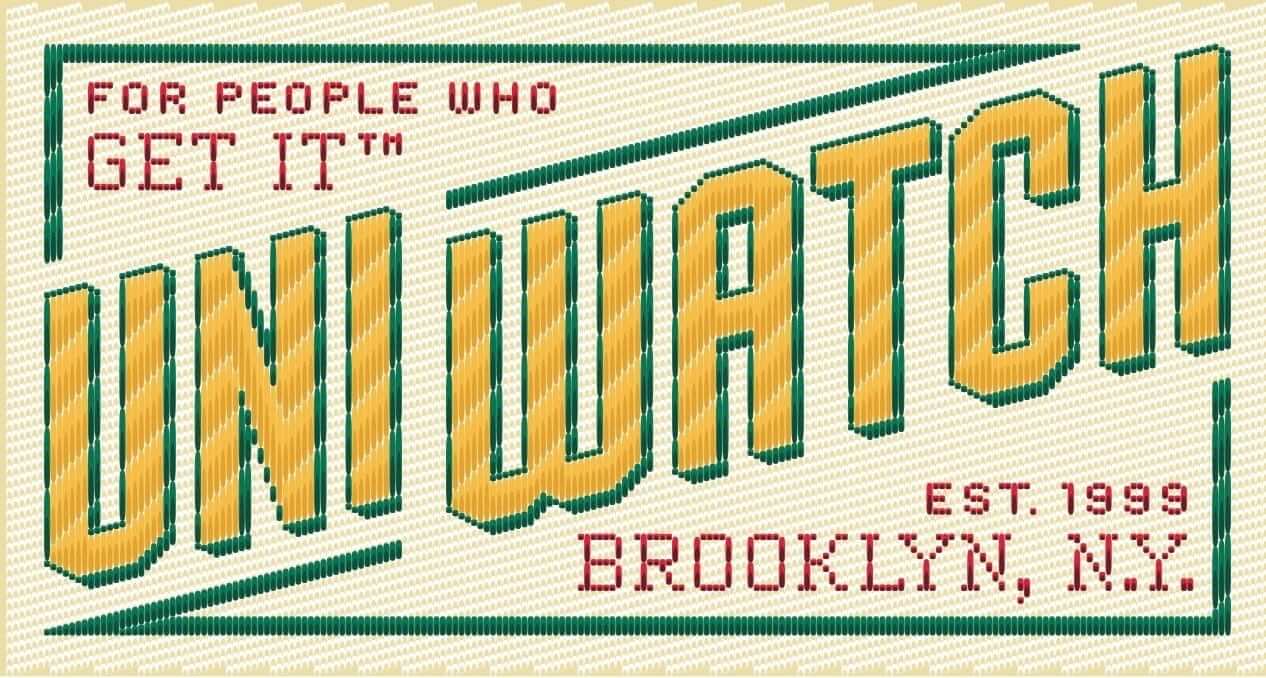 • • • • •
[adrotate group="2″]
• • • • •
T-shirt/cap reminder: In case you missed it on Tuesday, we have a new T-shirt design, based on a classic woven apparel label (shown at right; click to enlarge). Thanks to some changes at Teespring, we're offering this shirt in a much wider range of colors and styles than has been possible in the past. Full details here, or just go straight to the ordering page.
In addition, the price of our flex-fit alternate cap has been dropped from $29.99 to $24.99, and Ebbets Field Flannels is running a site-wide 20% sale on all their products, including our Uni Watch classic cap (use the checkout code PLAY18).
My thanks, as always, for your consideration of our merchandise.
• • • • •
[adrotate group="2″]
• • • • •
The Ticker
By Lloyd Alaban

Baseball News: Reader Ryan Burns noticed Dodgers utility player Kiké Hernández sometimes wears clear glasses when batting, and sometimes he doesn't. … This television ad featuring Rockies CF Charlie Blackmon cleverly incorporates one of the more conspicuous design features of Coors Field. As a bonus, Blackmon is wearing a hat with his nickname, "Nazty," on it (from Kary Klismet). … Here's a signed baseball card with former MLB P and current broadcaster Ron Darling in an Expos uniform. Darling pitched only three games for Montreal (from Andy Chalifour). … Billy Crystal was wearing the Yankees' retro BP cap at last night's Yankees/Red Sox ALDS game (from multiple readers). … Speaking of the Yankees: In a possible first, pinch-runner Adeiny Hechavarria wore a C-Flap in last night's game. It's probably the only helmet he has. … More Yankees: here's how the Yankees' famous interlocking "NY" came to be (from Phil). … New uniforms for the Jalisco Charros of the Mexico Pacific League (from Julio Marquez). … The Royals have filed suit against National Women's Soccer League team Utah Royals (from @Royal_Champions). … Reds C Tucker Barnhart started a Twitter campaign to bring back Cincinnati's pinstriped uniforms (from @JasonRL78).

NFL News:  Leftover from Monday night: One of Drew Brees's sons wore a Frankenjersey for his father's record-breaking night (from Rose Culper). … The Giants are wearing their 1980s-era/Color Rash script helmets at this week's practice (from Jon Star). … G.I Joe-vember came early for Eagles offensive coordinator Mike Groh, who was caught at a press conference wearing a Salute to Service jacket (from Blake Fox). … Here's a video showing the evolution of NFL uniforms. Hard to believe lineman had shoulder pads that big! (From Jon Solomonson.) … Looks like someone has repurposed the 49ers' old failed primary logo and slapped it onto a superhero mask (from our own Brinke Guthrie). … HB/QB George Taliaferro, the first African American to be drafted into the NFL, died Monday at the age of 91. Here's a colorization of him in action for the Dallas Texans (from Pro Football Journal). … With the Jets hosting the Colts this Sunday, Gang Green will be going mono-white with grey facemasks to mark the 50th anniversary of the team's Super Bowl III-winning season.

College and High School Football News: Notes from Phil: Pitt will wear their gorgeous throwbacks for this Saturday's Notre Dame matchup. … Boston College will wear Doug Flutie-era throwbacks for this week's game against Louisville. … Memphis wanted to go mono-white at home against UCF, but UCF said no, forcing Memphis to wear their usual home blues. … Colorado will wear gold-white-gold when they face off against USC this weekend. … Jorge Cruz spotted this logo for the Georgia Bulldog Club of Jacksonville in a local bar. As Jorge put it, this logo has no subtleties. … Ted Liu asks of Georgia Tech's uniforms for this week: "Is this the first time Georgia Tech has worn non-white, non-gold pants? I can't recall anything recent." … As noted in the NFL section, George Taliafero died this week at the age of 91. His alma mater, Indiana, will replace their interlocking "IU" logo helmet decals with Taliafero's No. 44 (from multiple readers).

Hockey News: New Hurricanes G Curtis McElhinney still hasn't yet been issued 'Canes-colored pads, so he's still wearing pads from his previous team, the Maple Leafs (from Andy Johnson). … The seats at the Red Wings' arena will change from red to black, to better mask low attendance rates (from Mike Chamernik). … For the second straight season, the ECHL will feature Marvel Super Hero nights, which means Marvel-themed sweaters. … Penguins equipment manager Dana Heinze had his old number retired by his high school, where he played goalie (from Jerry Wolper).

NBA News: The most recent cover for Sports Illustrated Kids shows Lakers teammates F LeBron James and G Lonzo Ball in Adidas-era home unis, which they have never worn, and never will wear, in a game (from C. Duncan). … Looks like CBC Sports is still using the Clippers' old logo, which has (sadly) been out of commission since 2015 (from Mike Enriquez). … No photos yet, but in honor of Deaf Awareness Night on Jan. 12, the Windy City Bulls, the Bulls' D-League affiliate, will be wearing jerseys that will spell out "Bulls" in American Sign Language. After the game, the uniforms will be auctioned off with proceeds donated to Illinois Association of the Deaf (from Steve Johnston). … Cross-listed from the hockey section: Seats at the Pistons' arena will change from red to black, to better mask low attendance rates (from Mike Chamernik). … Two jersey auction finds by David Firestone: Up for sale is a Bucks jersey worn for two seasons by C Kareem Abdul-Jabbar. Also up for auction: Kareem's 1981 ASG jersey. … Drake performed in Phoenix on Monday and wore Suns SG Devin Booker's high school jersey. … Phil found someone who is as fed up with all the Nike marketing BS as we are at Uni Watch HQ.

College Hoops News: Intentional or not, a great spot by Andrew Hoenig on this Temple men's poster. Notice the "P" among the collection of school logos on the poster. That's the official logo for Penn's sports teams. The poster features a vertical line that bisects the Penn "P," just like the actual, full logo. … Some Kentucky men's items from Josh Hinton: Kentucky's 2018-19 checkerboard-themed record book cover and their 2018-19 men's program poster.

Soccer News: The Seattle Sounders of the MLS wore their away strip at home on Monday. They also went with Xbox Mixer for their shirt ad instead of their usual Xbox. … USL expansion side New Mexico United revealed their name and crest yesterday. They will begin play next spring. … USL side Louisville FC went Pinktober for last night's game against North Carolina FC (from Josh Hinton). … Our own Alex Hider points us to the first renderings of FC Cincinnati's proposed stadium. … Cross-listed from the baseball section: The Kansas City Royals of the MLB have filed suit against National Women's Soccer League team Utah Royals (from @Royal_Champions). … Spanish Tercera Division side Zamora CF revealed their heart-themed third shirt.

Grab Bag: Check out this custom lid from Syracuse Lacrosse alum Nick Mariano. He will wear it for the Orange's annual Orange Alumni Classic (from James Gardener).
• • • • •
To our readers in the Florida panhandle region,
the Uni Watch team's thoughts are with you as Hurricane Michael approaches. Be safe! —
Paul