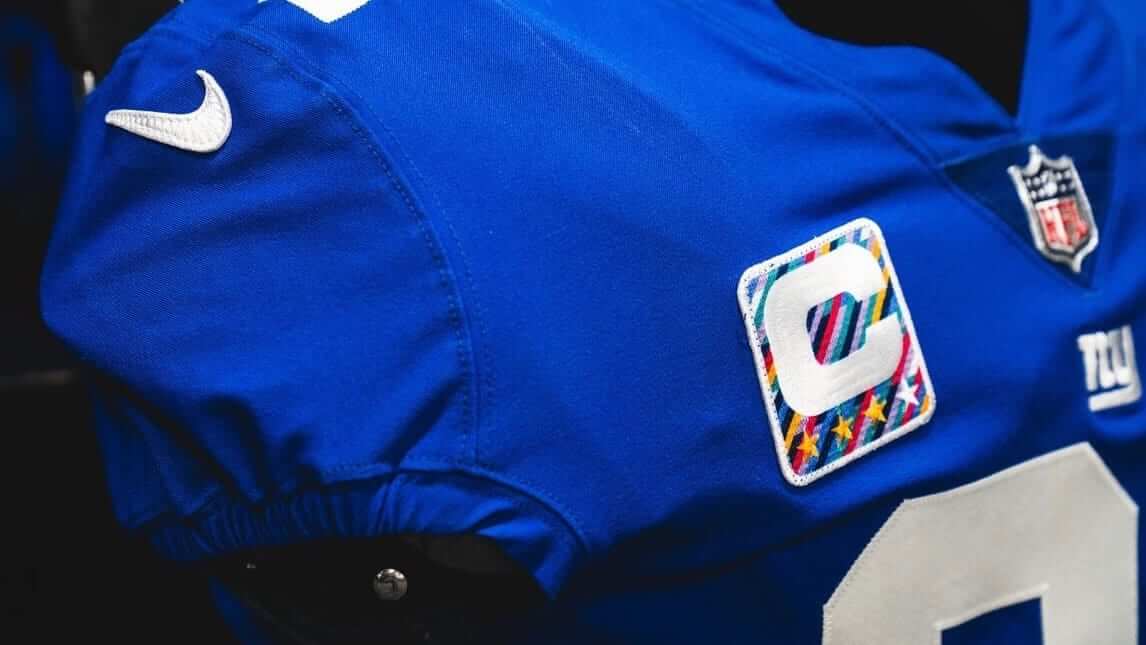 Click to enlarge
Rainbowtober — the successor to the late, unlamented Pinktober — got underway in the NFL yesterday, as players in select games wore rainbow-themed captaincy patches, gloves, and other accessories. There were also sideline T-shirts, coaches' pins, and "A Crucial Catch" helmet decals, which replaced the standard NFL logo decal: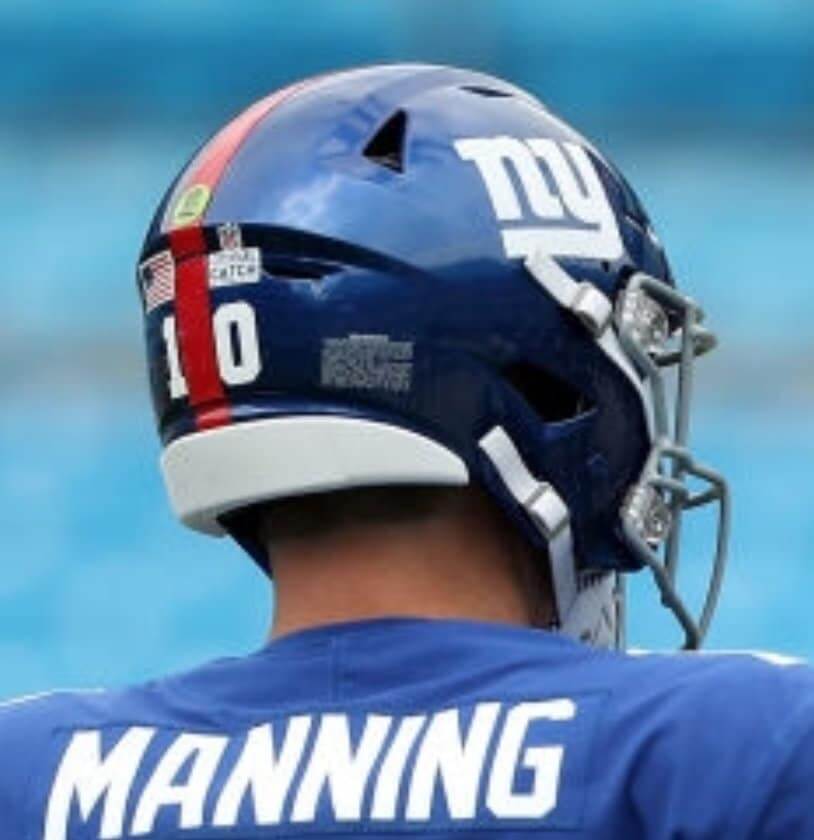 In addition, Panthers players wore black helmet decals, each one with a different set of initials. The initials were for cancer patients at Levine Children's Hospital: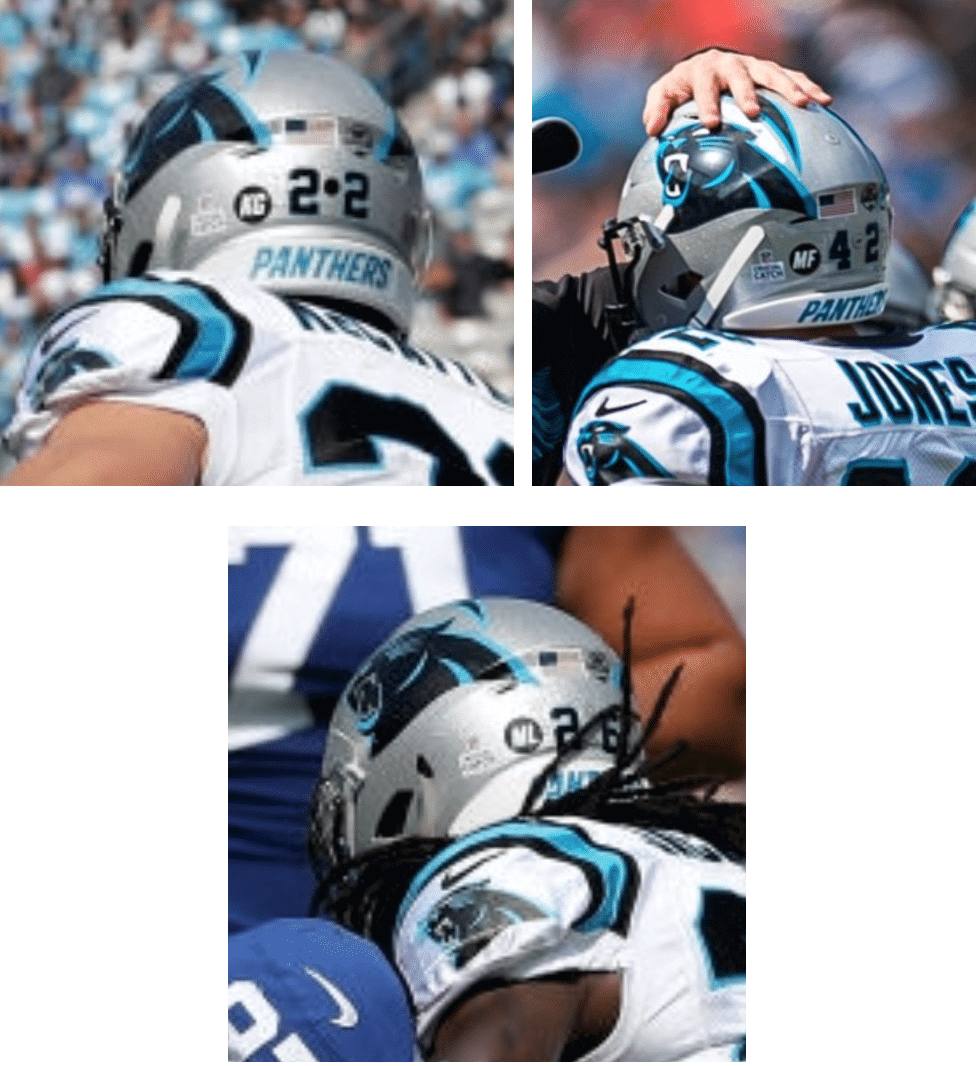 • After wearing black socks earlier in the season, the Panthers went back to wearing blue socks yesterday:
OKAY @OBJ!

One-handed grab. Too easy. 😳

📺: FOX #GiantsPride pic.twitter.com/QWWFjecEG7

— NFL (@NFL) October 7, 2018
• As you can see in that video clip, the Giants once again wore their white pants on the road, which goes against their established protocol from the past few years. It's not yet clear whether they've abandoned their grey pants altogether or if they'll still wear the greys on the road with their white jerseys.
• Speaking of the Panthers, several of their players arrived at the stadium wearing jerseys from other sports:
Kawann Short and Rashaan Gaulden rocking some sweet jerseys walking in today. pic.twitter.com/0GATUN5u6Q

— Max Henson (@PanthersMax) October 7, 2018
We've got some baseball fans on this team apparently pic.twitter.com/dSNNWLuSwI

— Max Henson (@PanthersMax) October 7, 2018
• The Bengals wore their orange alternates: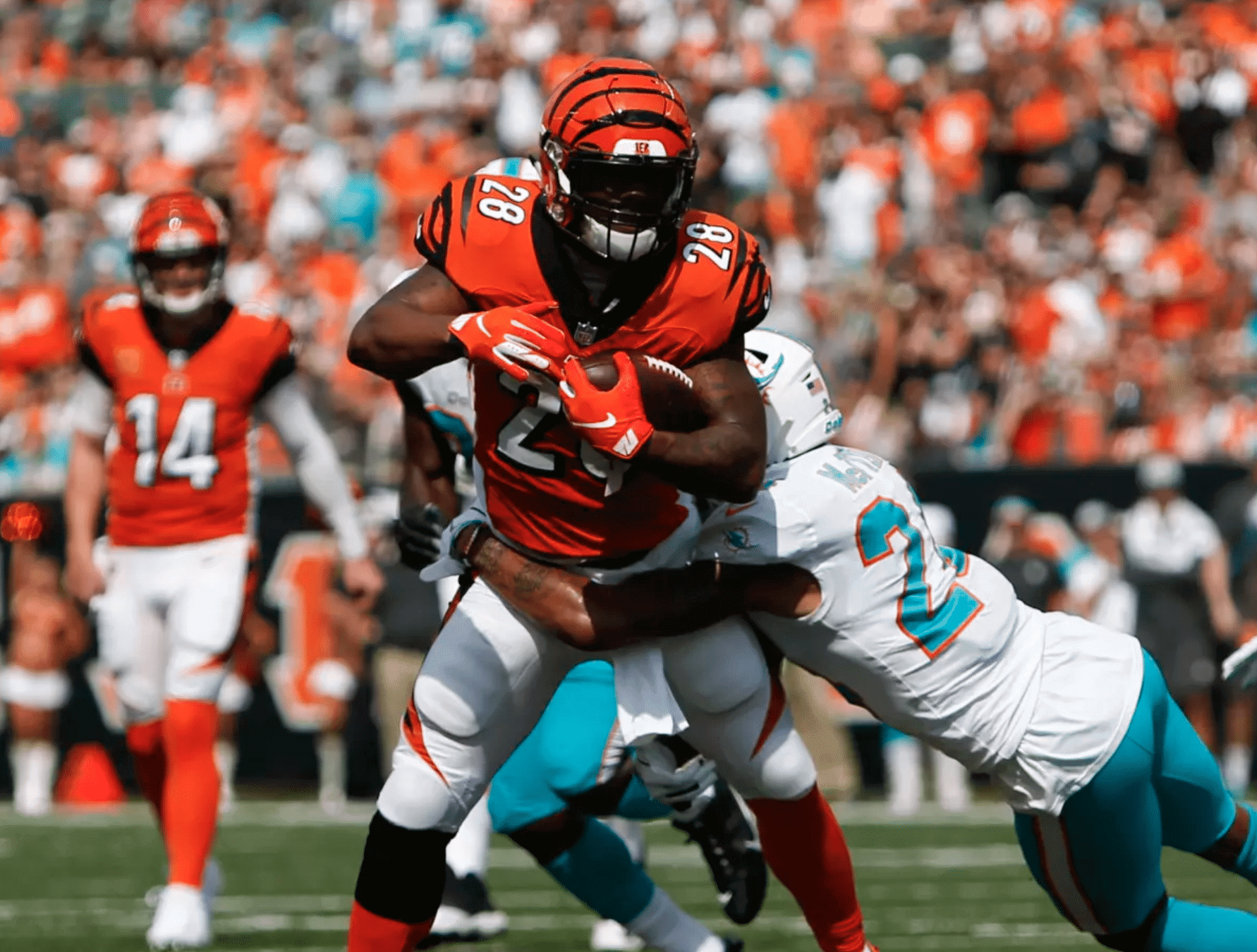 • The Browns wore their mono-turd Color Rash set (but, on the plus side, have retained their excellent striped end zone):
.@Browns rookie @denzelward picks off Joe Flacco!

📺: CBS #Browns pic.twitter.com/6KK4Lu2x7l

— NFL (@NFL) October 7, 2018
• The Jets went mono-green:
He's GONE!
77 yards!@IsaiahCrowell34 goes the distance for the @nyjets!

📺: CBS #Jets pic.twitter.com/fWbclb6nPM

— NFL (@NFL) October 7, 2018
• The Chargers wore their powder-blue alternates and went with the old-school L.A. Chargers midfield logo:
.@AustinEkeler goes the distance for the @chargers!

📺: CBS #FightForEachOther pic.twitter.com/fmYxd9ZNxG

— NFL (@NFL) October 7, 2018
• The 49ers went with a retro-style end zone design, featuring helmet icons with two-bar facemasks (!). Too bad they didn't use the old three-star NFC logo, instead of the current four-star version (click to enlarge):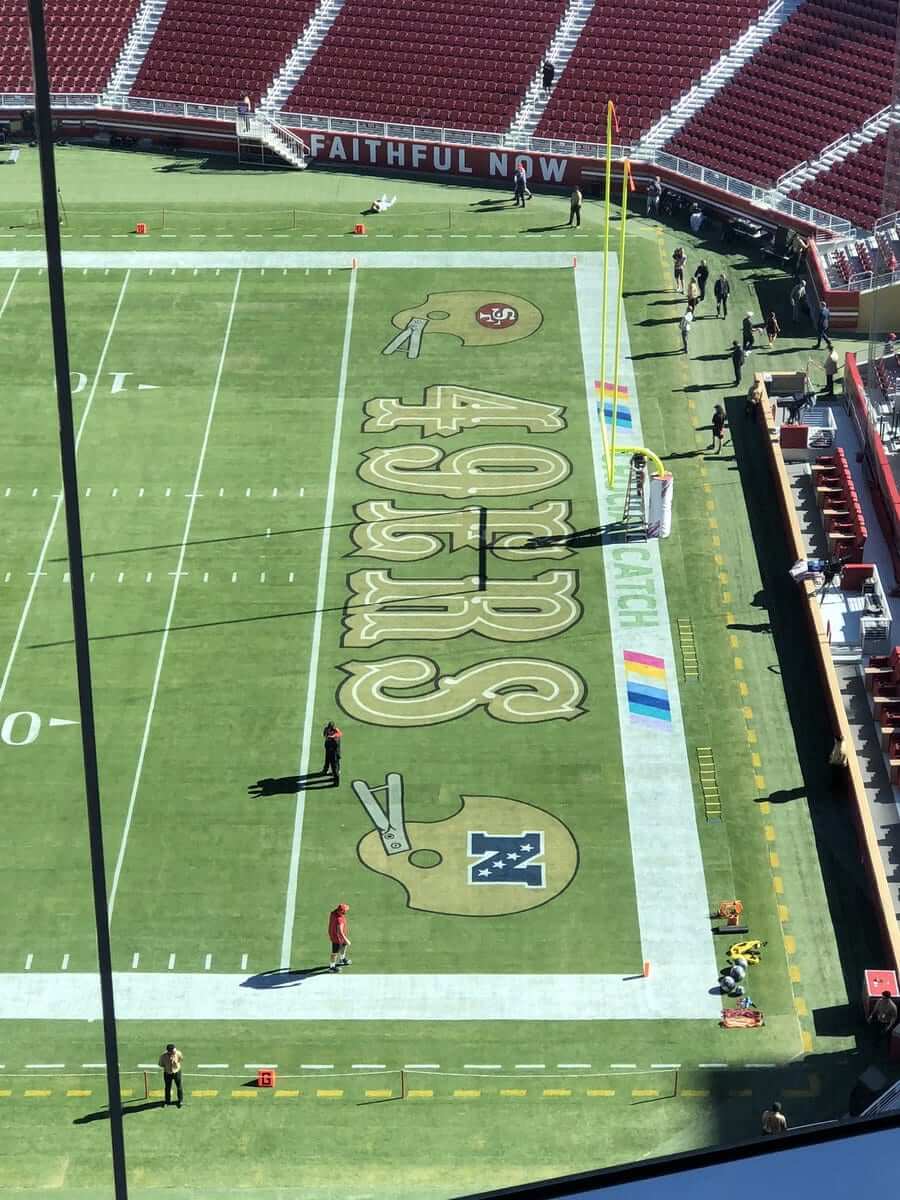 • As we've discussed before, NFL gloves seem to lose their effectiveness in the rain. So with rainy conditions in Kansas City, several Chiefs and Jags skill position players went bare-handed. Interesting, so did placekick holder Dustin Colquitt, who I had written about last week.
• Packers kicker Mason Crosby changed his cleats after missing three kicks — and then went on to miss two more.
• Only one team wore white at home: the aforementioned Panthers.
• Here's a list of players who protested during the national anthem.
(My thanks to all contributors, including Chris Biderman, Mike Chamernik, Gabe Cornwall, Chris Mattox, and David White.)
• • • • •
[adrotate group="2″]
• • • • •
For all photos in this section, click to enlarge
Uniforms in the wild: On Saturday I stumbled upon a bocce tournament on the outskirts of Prospect Park. Or at least I thought it was a bocce tournament — as I quickly learned, it was actually pétanque, a game that's similar to bocce but uses different balls and a different court.
It was a national doubles tournament, with pétanque teams from all over the country and few from Canada. Two days, cash prizes in the $3,000-ish range — not bad. Many of the players had very nice jerseys:
Pretty cool trophies and scoreboards, too:
I particularly liked watching this guy, who didn't have a uniform but had very nice form on the court:
Here's a bit of video, just so you can see what it was like:
I love that something like this takes place about a mile from my home and I can just randomly encounter it. Whenever I get frustrated with NYC, something like this can make me fall in love with it all over again.
• • • • •
[adrotate group="2″]
• • • • •
For all photos in this section, click to enlarge
More uniforms in the wild: Last Thursday night I saw the Moles, an indie band fronted by the great Australian singer/songwriter Richard Davies. I'd seen them several times before, but this time there was something different: They were all wearing black shirts with a little "M" patch — a uniform of sorts. I asked if I could get a group shot, and they happily obliged:
In addition, Davies — but not the other band members — had a bonus "M" on the back of his shirt:
• • • • •
[adrotate group="2″]
• • • • •
Still more uniforms in the wild: I was walking a few blocks from my house yesterday when I noticed that one of my neighbors had installed new fencing around the shrubs outside of his house (click to enlarge):

I love that yellow-white-yellow striping. Very uni-ish, no? It would look great on a sleeve, or a stirrup, or a waistband. I haven't yet met this neighbor, but I may need to do something about that.
• • • • •
[adrotate group="2″]
• • • • •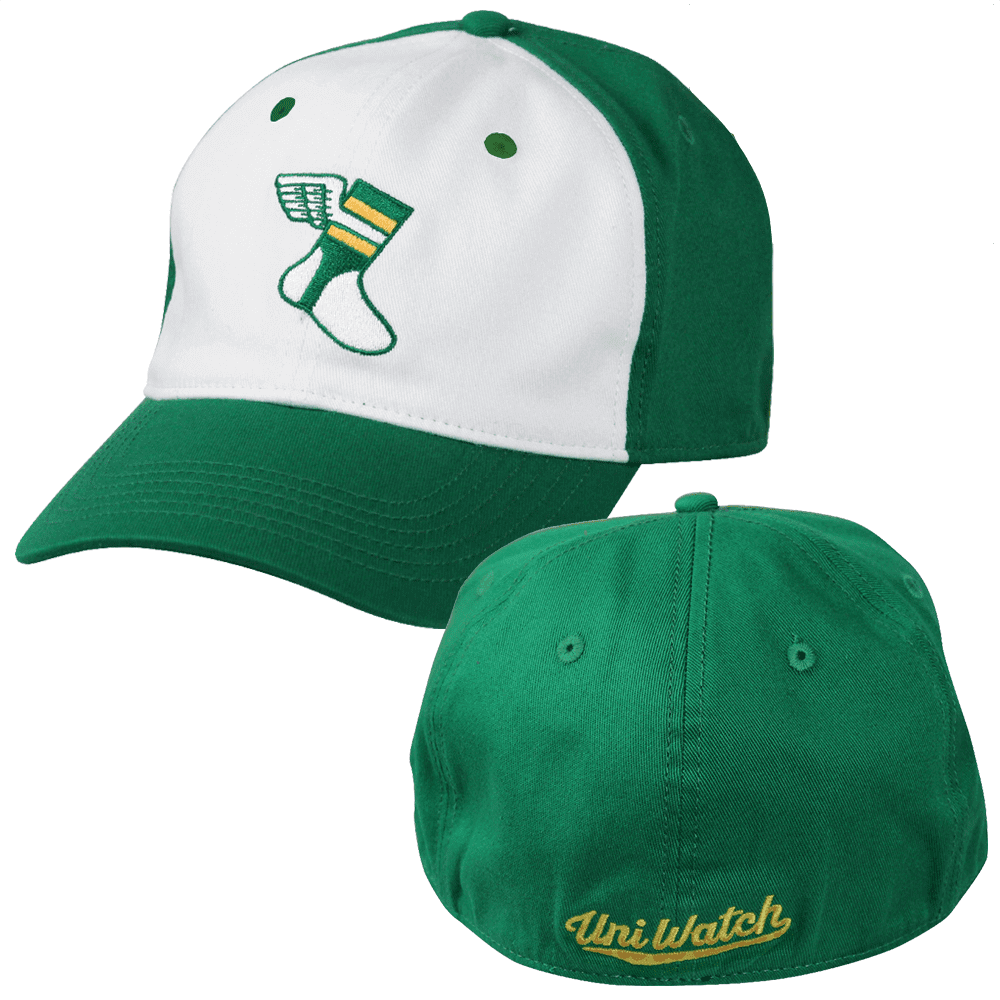 ITEM! Big savings on Uni Watch headwear: In our continuing efforts to unload a big pile of unsold merch find the sweet spot for the Uni Watch flex-fit alternate cap, we've decided to cut the price from $29.99 to $24.99. If you've been on the fence regarding this cap, hopefully this will push you over the fence, or something like that. You can order yours here.
In addition, our friends at Ebbets Field Flannels are currently offering a site-wide 20% discount (use the checkout code PLAY18), which effectively reduces the price of the Uni Watch classic cap from $49 to $39. All fitted sizes are in stock — get yours here.
• • • • •
[adrotate group="2″]
• • • • •
The Ticker
By Jamie Rathjen

Baseball News: Here's an article on the 1968 Tigers road uniforms presenting several theories about what determined the position of the jerseys' sleeve numbers (from Jeffrey Sak). … The Brewers wore their home navy blue alternates — the ones with "Brewers" on the chest, instead of "Milwaukee" on the chest — for yesterday's NLDS game in Colorado (from @janke_11).

Hockey News: Two items from Saturday's Flames/Canucks game from Wade Heidt: First, the Flames have throwback locker room nameplates to go with their throwback uniforms. Second, both starting goalies, Mike Smith and Jacob Markström, wore masks painted to look like older masks with visible ears and hair, which Wade thinks may be the first-ever matchup of such masks. … I don't believe we've mentioned specifically that the Hurricanes' new alternate has a greyed-out North Carolina state flag on one shoulder (from Alan Kreit). … New silver grey alternates for the AHL's Syracuse Crunch (from Lukas Favale).

Soccer News: New third kit for Polish team Wisła Kraków (from Ed Żelaski). … All Scottish teams playing from this weekend until Oct. 20 — men's and women's, professional and non-league — are to participate in an annual promotion for the charity Show Racism the Red Card. This includes patches, which of course had a mixed record of staying on, warm-up shirts, and actual oversized red cards. … Former USMNT defender Jeff Agoos posted a shirt from his late-'80s college days at Virginia, when the team were outfitted by Diadora.

Grab Bag: New cycling world champion Alejandro Valverde revealed his incarnation of the rainbow jersey yesterday. … The Queensland Reds of Super Rugby, the southern hemisphere rugby union competition, revealed their first-choice kit for next season. The shirt is in the state's traditional maroon for the first time since 2006.