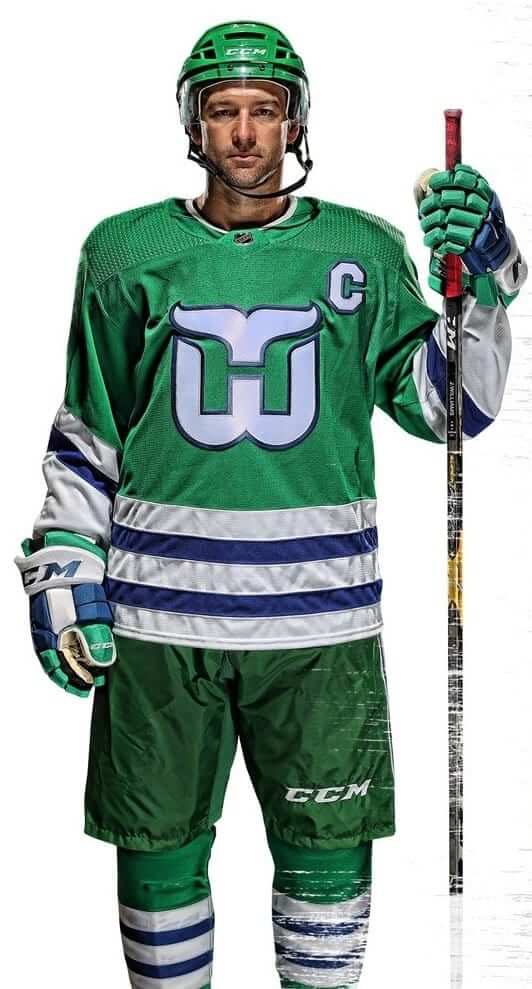 Big news yesterday out of Carolina, as the Hurricanes announced that they'll be wearing Hartford Whalers throwbacks this season for the first time (but only for two games). I wrote about that, including some reaction from people in Hartford, in this ESPN piece, which was published yesterday afternoon.
Kudos to the 'Canes for posting the full-uni shot shown above. So many teams now just post jersey photos, because that's the only uni element that's available for sale, which in turn has led more and more fans and media members to stop talking or thinking about uniforms. Yesterday on Twitter I even saw someone refer to the Green Bay Packers' throwback uniforms as "third jerseys." Grrrrr!
One thing you can see in that photo: The belly stripes are higher than on most hockey jerseys. That was an intentional move by the husband-and-wife design team Peter Good and Janet Cummings, who designed the Whalers' logo and uniforms. When I interviewed Good in 2016, he said:
We did a lot of research, looking at the other teams' uniforms. We felt there was something very clunky about most hockey uniforms. They had this lower center of gravity — massive tops and then the jersey comes over the pants, which makes the players look like they have shorter legs. So we tried to raise the center of gravity by raising the stripes [on the torso] higher. But then we got in a conflict with uniform makers, who liked to do things the way they'd always been done, so we had to compromise there.
So it sounds like they wanted the stripes to be even higher. I'd say they went high enough, wouldn't you?
Meanwhile, my annual NHL season preview is now available. Check it out here.
• • • • •
[adrotate group="2″]
• • • • •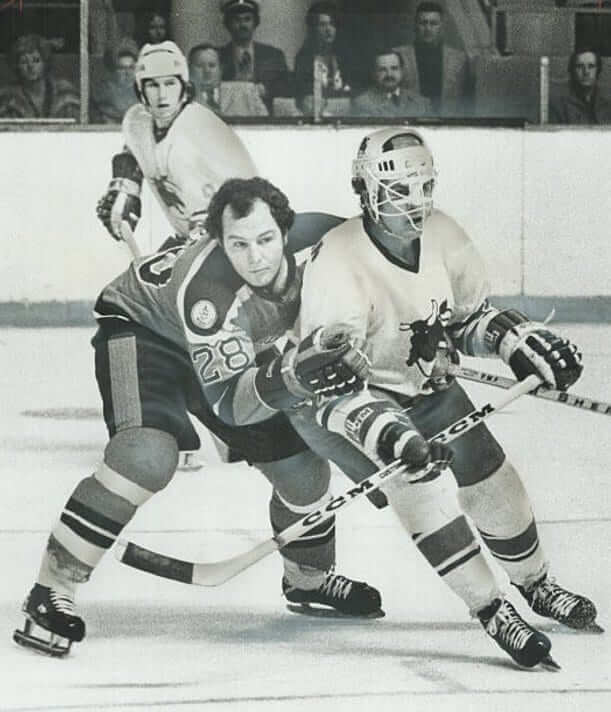 Click to enlarge
Nose job: We've all seen unusual masks and visors that have been rigged up to protect players who've suffered facial injuries, but I've never seen one quite like the one shown above, which was worn by left wing Paul Henderson of the WHA's Toronto Toros back in the mid-1970s. Pretty interesting helmet, too. Great photo!
(Big thanks to Jerry Wolper for pointing me to this photo after seeing it tweeted by hockey historian Mike Commito.)
• • • • •
[adrotate group="2″]
• • • • •
The Ticker
By Yianni Varonis, making his Uni Watch debut

Baseball News: The Fenway Park scoreboard, which also includes standings, features individually hand-painted number plates. But because the Red Sox were winning so many games, while the Orioles were losing so many, stadium officials realized midway through the season that they wouldn't have enough plates (paywalled article) to count to 100 wins and losses (from Jeff Israel). … A fan was recently ejected from Dodger Stadium because she wore a T-shirt depicting a uterus. … Here's a really great video about the American-made baseball glove manufacturer Nocona (from Justin Kellough).

NFL News: The Patriots will wear their Color Rash uniforms twice this year (from Nick Jones). …Very interesting story from The New York Times about how NFL players' pads have gotten smaller and small, for a variety of reasons. … Omar Jalife points out that former Cowboys QB Roger Staubach at different times wore a jersey with a truncated one stripe on the sleeves like here and here, while he at other times wore a jersey with the common two stripes like here and here. … Construction workers in the Los Angeles area recently wore Chargers- and Rams-themed construction hats (from our own Brinke Guthrie). … Speaking of the Rams, the team wore throwbacks last night and the field at the L.A. Coliseum was adjusted to match. … An oddity from last night, though, as it appears that the crew that was painting the midfield logo missed a part of the facemask.

College Football News: Several items from Phil: CBS Sports has released its list of the worst college football uniform each Power 5 team has worn this century; it's suspected that Kentucky will wear its chrome helmets this week against South Carolina, while South Carolina will wear this; Syracuse will wear orange helmets, white jerseys, and white pants vs. Clemson, while Clemson will wear orange helmets, orange jerseys, and white pants; Tulane has unveiled unique helmets featuring oversized logos for Friday's game; this is what Tennessee will wear on Saturday against Georgia; Rutgers unveiled "blackout" uniforms; and this is a good read about the process by which Penn designed its new uniforms. Thanks for all of that, Phil. … Towson unveiled new 50th-anniversary throwbacks for its home-opener this week in this video (from Ben Rosenbaum and Benjamin Wolfram). … Houston will also wear throwbacks for this season's homecoming (from multiple readers). … This is what Stony Brook will wear this week. … Each game, Virginia Tech selects a different special teams player to wear No. 25 in honor of former HC Frank Beamer. This week, wearing the jersey number will be P Oscar Bradburn (from Andrew Cosentino).

Hockey News: The NHL's most notorious "What if?" uniform is probably this Blues design, which coach Mike Keenan reportedly nixed at the last minute. But did you know that the Penguins also had a near-miss with an outrageous uni design? It's true — details here (from Phil).

NBA News: When former Lakers SG Kobe Bryant won an Academy Award last year, Jimmy Kimmel gave him two mini-jerseys, Nos. 8 and 24, to put on his Oscar. The key moment from that exchange is documented in this interview clip (from Mike Chamernik). … A Uni Watch reader's son's youth team wears a Jazz-inspired jersey that includes the "5 for the Fight" patch logo (along with an additional ad).

College Hoops News: Thanks to a new deal between UCLA and the credit union Wescom, Pauley Pavilion will undergo a minor makeover and name change.

Soccer News: FC Barcelona has unveiled a newly designed crest that it will wear next season provided it passes approval by a group of delegates in October. Embedded in the story is a video that shows the evolution of the crest throughout the years (from multiple readers). … CNBC recently aired this piece examining the skyrocketing price to purchase a soccer kit. … The Cincinnati Enquirer recently clarified to its readers that the black, form-fitting garments FC Cincinnati players wore under their kits and around their chests weren't sports-bras, but equipment that monitored their heart rates (from Brice Wallace).

Grab Bag: This USA Today article ranks Team USA's best Ryder Cup uniforms "from hideous to stylish" (from Phil). … A Tennessee high school AD has been placed on administrative leave after saying, girls "pretty much ruin everything," in reference to the school's new ban on athletic shorts in a video announcement to students. … The Boy Scouts of America had to recall 110,000 uniform neckerchief slides because they violated federal law by containing too much lead. … GQ details the new trend of firefighter uniform-inspired street clothes. … The Canadian Armed Forces have eased their restrictions for beards while soldiers are in uniform in an attempt to increase morale and recruitment. … Thursday marked the 20th anniversary of Google creatively displaying its logo on its webpage to mark special occasions and honor great individuals. To celebrate, Google shared a slideshow of notable doodles from over the years.