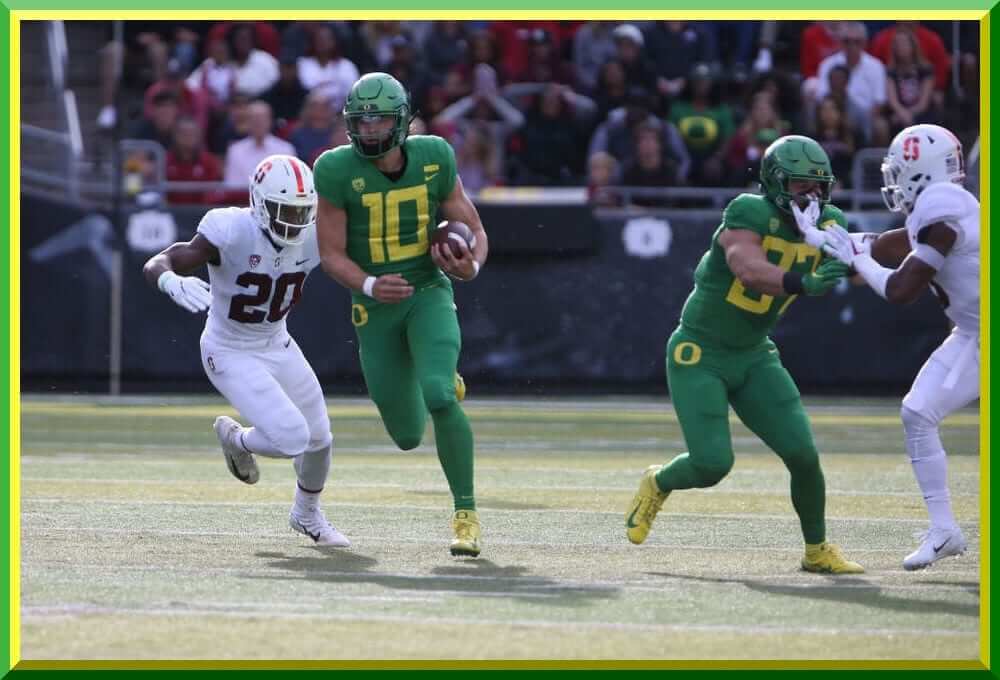 By Phil Hecken and the SMUW crew
Follow @PhilHecken

Wait. You're running a splash photo of Oregon again? What gives?
Well, aside from yesterday's match up with Stanford being an absolutely crushing overtime loss for the Ducks (I ended up watching the entire game), the team again has done something new. They repeated a uniform combination in the same season, a mere two weeks after wearing it the first time. I can't remember the last time the Ducks wore the same combination twice in a season — it's gotta be at least a decade if not longer. The team sported exactly the same mono-green set they wore in Week 2. Color me shocked.
It was a good looking game (I may be one of the few who — if a team has to wear mono-dark, actually prefers their opponents go all-white). The Ducks have worn school colors three of their first four games, and they repeated a combo. This is some new uncharted territory, kinda. The team that invented going entire SEASONS without repeating a look has broken its own playbook. I don't know whether to be surprised, shocked, pleased or bummed. But all "good" things must come to an end, and it appears the gimmick that launched an entire league of copy-cats is, if not retired, on hiatus for this season. I thought for sure they'd have mix/matched in either yellow pants or jerseys for this game. Nope.
By the way, have I ever mentioned Oregon has really huge numbers?
Happy first full day of Fall.
Here's TJ with your…
• • •
Sunday Morning Uni Watch
By Terry Duroncelet, Jr.
Fall. A time for crisp air. A time for festivities. A time where the incoming cooler weather, is oddly warming in its embrace… unless you're like me, and you live in Louisiana, in which you'll still sweat and suffer for at least another month, if not two. Nevertheless, the show must go on…
From Thursday:
• I don't use the terms "full-Vader" and "Stormtrooper" like I did years ago anymore, but I think it's appropriate here: Temple went all-in with the Star Wars theme. It's almost a shame that Tulsa didn't play along and wear white pants.
From Friday:
• Is it bad that Illinois does Syracuse better than Syracuse does Syracuse?
From Saturday:
• Several teams over the last few days were wearing the Extra Yards For Teachers decals on their helmets, which you can find more info here (h/t to Colin Hass-Hill). Also, if you look at that helmet one more time, it appears that the helmet stripe is painted on? I could be totally wrong, however.
• Notre Dame's Golden Dome helmets (still the best lids in college football, IMO), were having some helmet color issues that were akin to the gold identity crisis that plagued the New Orleans Saints up until 2012. Rocky De La Rosa writes: "While watching the Notre Dame vs Wake Forest football game I noticed that players who are wearing the Vicis helmet for ND seem to have a brighter/deeper gold color than those with conventional shells who have more of a Vegas good color.". Like mentioned before, it seems to be a thing mainly (if not exclusively) amongst the Vicis helmets. "Could this possibly be due to the softer shell type? May need further investigation." All screenshots courtesy of Randall).
• Remember that somewhat-weird captain's 'C' placement on Texas's uniforms from a couple of weeks back? I managed to get a close-up picture of it during the Texas/TCU game. Interesting how it's on a jersey-colored square, instead of just a tackle-twill 'C'.
• Mizzou wore all-gold against Georgia, which included new gold helmets! Apparently, this is the first time the Tigers have ever worn gold helmets.
• Virginia Cavaliers 3rd string QB Brennan Armstrong wears #98.
• Iowa State wore 'CBA' on their helmets, sideline apparel, and most likely other areas that I'm missing in honor of Celia Barquin Arozamena, an Iowa State student and former golf champion who was murdered recently.
• Kent State wore new "FlashFast" helmets. While the asymmetrical one number on the side is played out at this point, I LOVED the massive bolt on the left side. When your team name is the Flashes, why not have a little fun?
• In a tackle attempt, Tulane Safety P.J. Hall only got a piece of Buckeyes WR Parris Campbell, if you catch my drift.
• LSU wore their seldom-seen purple tops against Louisiana Tech. For context, LSU only wears the purple jerseys for home games against non-conference opponents, with the exception of the home opener, in which they wear white, no matter what. Additionally, this is the first time since 2015 that they've done gold/purple/gold (October 24th, to be exact).
• Oklahoma State wore mono-grey for the first time in six years against Texas Tech. Y'know, for a team that normally looks pretty decent in grey accents, they were decent enough. I just wish that they WOULDN'T WEAR THEM AT HOME AGAINST A WHITE-JERSEY TEAM. What, did they take a page out of the Book of Memphis?
• Behind the mask: in the Alabama/Texas A&M tilt, there was a facemask call against Texas A&M that resulted in Alabama's Damien Harris's facemask doing… well, a picture speaks 1,000 words. Also, when life throws you lemons, you make lemonade. And when lemonade is made, you make a shirt out of that lemonade (context for those out of the loop).
• Mmm… Looks like fall football to me. Nice.
• Maryland played Minnesota over the weekend. The Terps wore #74 decals in honor of Gophers lineman Nick Connelly, who passed away earlier in the week, as did the Gophers themselves (the bright green 'NC' on the left). Also note the 'JM' on the other side of Minnesota's helmet, which is presumably for Maryland's own Jordan McNair.
• Oklahoma wore Thunderbird decals (although the closeup looks closer to a sticker to me) on the back of their helmets in recognition of the 45th Infantry Brigade of the Oklahoma National Guard, during their game against Army.
• Hey, more FCS coverage! Not a bad thing, even though I generally cover FBS. Colgate turns 200 this year, and wore some sweet unis for the occasion against Lafayette. Also, in the promo for these uniforms, you'll note that the ends of the sleeve stripes come at a point, instead of just being flat. Little things 'n' all.
• And one more FCS nugget for you: Montana wore their copper retro-ish (I don't know how to refer to them) alts against Sacramento State.
That'll do it for Week 4. Happy Equinox to you all, and I'll see you next week.
• • •
Thanks TJ! OK, now for the rest of your SMUW.
[adrotate group="2″]
Joe Ringham's 5 & 1
Following in the footsteps of the original "5 & 1," Jim Vilk, and Catherine Ryan after him, Joe Ringham returns for 2018 to make his "5 & 1" (five good looking and one stinker) uni-vs-uni matchups. Sometimes he'll have some "honorable mentions" and sometimes there will be more than one "bad" game. You may agree and you may disagree — these are, after all, just opinions and everyone has one. Feel free to let him know what you think in the comments section.
Here's Joe:
. . .
Good Sunday, everyone! With the weather now turning a little fall-like here, that can only mean that we're starting to get into the better looking games of the year. So, let's get to the list for this week…
5) Georgia at Missouri — I have to admit, when I first saw this game, I had this pegged for the +1. But then, as things sometimes happen, it grew on me. Georgia always looks good on the road. But, I grew to really like the mono-gold Mizzou went with here. Actually made for quite the decent looking game.
4) Ohio at Cincinnati — Sometimes you come across games, while going through the day in college football, that catch your eye. This was one of them. Loved the Bobcats going white/white/green on the road, and it really matched up quite well against the red/black/red that the Bearcats went with.
3) South Alabama at Memphis — Another gem of a find while perusing through the games in the evening. Really like the blue/blue/grey of the Tigers at home here. Match that against the white/white/red of the Jaguars and you've got a fine-looking game on a Saturday night.
2) Kansas State at West Virginia — If you've followed my time here in this space, you know how much I love K-State's uni's. Simple, elegant, classic. They pair up tremendously against WVU's blue/gold/blue look at home this week. An excellent-looking game for the eyes in Morgantown.
1) Nebraska at Michigan — Two traditional and iconic college football programs. Two classic uniforms. Easily the best looking game of the weekend according to me.
And, finally…
+1) Penn State at Illinois — Well, Illinois, you get to host a big time conference opponent for your first Friday night conference game ever (hate the Big Ten for doing the Friday night thing, by the way), and you muck up what could've been a decent looking game by going mono-orange. Not a good look…
Enjoy the rest of the first football Sunday of fall, and I'll catch you all next week!
• • •
Thanks Joe! You can follow Joe on the Twitter and let him know what you think of his choices or make a 5 & 1 suggestion of your own!
[adrotate group="2″]
NCAA Uni Tracking
Uni Watch will again track the uniform combinations worn by the "Power 5" conferences. All of the 2017 trackers are back!
We've got Rex Henry (tracking the ACC), Dennis Bolt (tracking the PAC-12), Kyle Acker (tracking the Big XII), and Ethan Dimitroff (tracking the B1G AND the SEC). Rex, Dennis, and Kyle and are all returning from 2015, and Ethan is back after joining the NCAA Uni Tracking a couple seasons ago. Ethan continues his dual role of tracking both the B1G and the SEC.
Here are the Uni Trackers for the Power 5 Conferences:
+ + + + + + + + + +
Rex is up first today (ACC):
• • •
ACC

More Here.
Follow Rex on Twitter here.
• • •
And now, here's Dennis with the PAC-12:
PAC-12

More here.
Follow Dennis on Twitter here.
• • •
And here is Ethan, with the SEC:
SEC

And be sure to check out Ethan's WVU Mountaineer Tracker.
Follow Ethan on Twitter here.
• • •
And here is Kyle with the Big XII
Big XII

Follow Kyle on Twitter here.
• • •
And here's Ethan with the B1G:
B1G

[adrotate group="2″]
Welcome to the 2018 Oregon Ducks Uni Tracker. This little project was originally begun way back in 2008-09 by Michael Princip, who retired after several seasons, whereupon the project was continued by Tim E. O'Brien. He, too, retired from the tracking, but the project has been ably kept up by the man who also tracks the Pac12, Dennis Bolt.
Here's this week's Uniform Combo for the Ducks (you can click to enlarge):
You can read about this uniform, and MUCH MORE, by checking out the Duck Tracker here!
Thanks Dennis!
[adrotate group="2″]
San Jose Sharks Release New Third Sweater
In a surprise move, and in what might otherwise be considered a 'news dump,' late last evening the San Jose Sharks released a new third sweater. Like Friday's Flames release, the only photos to accompany the press kit I received show the jersey only. Grrrr (although we do get a look at it in the hype video which follows). Nevertheless, like many of the other Adidas third jerseys, this one is déjà vu all over again.
First, the corporate-speak:
The Sharks' new stealth sweater ties the team to its home base in the heart of Silicon Valley and establishes the Sharks as a "Team of the Future." In collaboration with adidas, the Sharks set out to create an all-new look that pays homage to NorCal, embraces the tech culture of the region, and adds to the predatory nature of the team mascot with a sleek new black-on-black look.

Fusing the future with the past, the sleeve stripes feature a digitalized circuit pattern that subtly incorporates a "SJ" pattern, while tonal shoulder patches are a throwback to the original patches worn from 1991-1997. Additional details include "This is Sharks Territory" is emblazoned across the interior neckline.
OK, let's take a look (click any image to enlarge):
They'll wear these a lot, on what are being called … wait for it … "Stealth Nights."
Stealth Nights will include all regular season home games on Thursday and Friday nights as well as the Saturday, November 3 game vs. the Philadelphia Flyers. The Stealth Night schedule is as follows:
Thursday, October 18 vs. Buffalo Sabres at 7:30 p.m.
Thursday, November 1 vs. Columbus Blue Jackets at 7:30 p.m.
Saturday, November 3 vs. Philadelphia Flyers at 7:30 p.m.
Thursday, November 15 vs. Toronto Maple Leafs at 7:30 p.m.
Friday, November 23 vs. Vancouver Canucks at 7:30 p.m.
Thursday, December 13 vs. Dallas Stars at 7:30 p.m.
Thursday, December 20 vs. Winnipeg Jets at 7:30 p.m.
Thursday, December 27 vs. Anaheim Ducks at 7:30 p.m.
Thursday, February 14 vs. Washington Capitals at 7:30 p.m.
Friday, March 1 vs. Colorado Avalanche at 7:30 p.m.
Thursday, March 7 vs. Montreal Canadiens at 7:30 p.m.
Thursday, March 14 vs. Florida Panthers at 7:30 p.m.
Thursday, March 28 vs. Chicago Blackhawks at 7:30 p.m.
Aside from the horrid corporate-speak and the ridiculous name, I have actually preferred the Sharks in their black jerseys. Of course, these were leaked earlier this year.
Here's the hype video
A two-in-one first look. 😍 https://t.co/cIQlPipgLA pic.twitter.com/CJ1zpwwFxS

— San Jose Sharks (@SanJoseSharks) September 23, 2018
Emerging from the still of darkness. #StealthMode https://t.co/cIQlPipgLA pic.twitter.com/t4btfQhLj3

— San Jose Sharks (@SanJoseSharks) September 23, 2018
[adrotate group="2″]
Uni Watch News Ticker
By Phil

Baseball News: Apologies if this has already been covered, but the Round Rock Express have a new player development contract with the Houston Astros. The team showed a graphic on Friday evening with a uni-related twist. For more on that new affiliation read here (from Steve Dodell). … Julia Morales writes on Twitter, "When the Gurriel brothers go deep TWICE on the same day." (From Ignacio Salazar). … Tweeter Corey Buck writes, "Spotted a Super Mario Brothers jersey at a store called Boxlunch at @HoustonGalleria and the back only has pinstripes. Odd seeing two different colors of stripes on collar and sleeve." … "This was the kid in full umpire uniform that the @masnNationals crew picked up on their broadcast during #Nats game," says Ben Raby. "Kid was hilarious. MASN had some good fun with it. The kid mimicked every ump move. Even had a clicker. Too good"

NFL News: This is pretty cool: In the 2018 New York Football Giants media guide, they have three great pages showing their uni and logo history pages 310 through 312 (from Jason Gutierriez). … Franken-jersey alert: Ed Sheeran kicked off his two concerts at Met Life stadium this weekend wearing a half Giants/half Jets jersey (from Chris Flinn).

College/High School Football News: Mt. Hope & Coverty High schools wore "salute to service" jerseys this past weekend. Submitter Anthony Gonsalvez adds, "What was interesting was that they had the National Guard logo on the front of their jerseys. Is this the first time a high school had that type of advertisement on the jerseys itself?" … Great Old Time Photo from my pal Ron Bolton, who writes, "Madison, WI, November 17, 1923 – this might be my favorite old football photo, I love baseball animatronic scoreboards that work like ESPN GameCasts, here is one at Hill Auditorium that is for football. It's keeping track of the Michigan-Wisconsin game won by the Wolverines 6-3."

Hockey News: "Quebec Major Junior Hockey League season opened up on the weekend," writes Wade Heidt. "The Shawinigan Cataractes wore their new navy blue jersey which is a special birthday outfit for the team's 50th anniversary." The jersey pays tribute to teams in the city before them. The sleeves feature the old Cataractes logos from the past. Here is a photo with explanation about features of the jersey (it is in French but easy to figure out). Here are the uniforms in action on Sept 21. Featuring yellow helmets and yellow socks. … The following items are all also from Wade Heidt: The Western Hockey League season opened on September 21. Here are some observations from opening night. 1) Both the Brandon Wheat Kings and Victoria Royals wore their alternate uniforms for their home opener. The Wheat Kings in yellow and the Royals in black; 2) Regina Pats last year wore their 100th anniversary logo on their pants. They have kept a logo on their pants at the same spot, replacing it with their primary logo; 3) Lethbridge Hurricanes wore special jerseys for warm-ups in honour of their forward Ryan Vandervlis, who is on the road to recovery after severe burns suffered in a campfire explosion in June; 4) In addition, the Hurricanes have new socks. The stripes now better match the sleeve stripes on the jersey. "Much better compared to the old socks," he adds. … The Columbus Blue Jackets are going without logo decals this preseason (from Patrick Thomas). … STILL more from Wade Heidt: More major junior hockey news coinciding with start of new season. The Moncton Wildcats are in a new arena and also have some new uniforms. The Wildcats opened their season on the road with new white uniforms. In addition, the gloves and pants are now royal blue. The Wildcats had combined both royal and navy blue as trim colours in their uniforms before. "The gloves and pants had been navy blue previously. Here is the new look. Prior uniforms seen here."

Grab Bag: Hmmmm. Another possible logo-poach alert: Bet they didn't get the Dallas Stars permission…or maybe they did: "This logo is being used in many locations in the hallways of my old high school in New Jersey, Toms River North," says reader Kevin Clark. … Steve Davis on Twitter: "If you are watching Schalke-Bayern right now (Weston McKennie! #USMNT) from the Arena AufSchalke in Gelsenkirchen (GER), you are seeing a match on a sliding, retractable field. Sits outside; moves inside for matches. Always curious, why not more of these in US? Submitter Josh Hinton adds, "This is very cool." … New uniforms for Polish Men's team Onico Warsaw (from Jeremy Brahm). Also from Jeremy: the Italian Volleyball Federation has employed a cartoon artist for the men's tournament and the detail is impressive. … After the second set of Saturday's match against Northeastern, Towson University's volleyball team switched from its white jerseys to blue Aces 4 Autism jerseys (from John Cannon).
[adrotate group="2″]