We've come a long way from the days when Topps would clumsily airbrush a new uniform onto an old photo of a player who'd joined a new team. Nowadays, a player who's changed teams — or who's even the subject of trade rumors — gets Photoshopped into a new uni lickety-split.
But what does that digital uni-swap process actually entail? I'm not a Photoshop guy myself, so I couldn't tell you. But Bryndon Minter, who does creative work for the NFL's social media channels, gave us a fascinating insight into that process the other day by tweeting a time-lapse video showing how he took a photo of Browns wide receiver Josh Gordon, who'd just been traded to the Patriots, and gave him a Pats uni. Check this out:
Time Lapse of the @JOSH_GORDONXII jersey swap.

Got word he'll be wearing 10 around 1:10 in the time lapse pic.twitter.com/UxszK1LOF9

— Bryndon Minter (@BryndonMinter) September 18, 2018
Pretty cool, right? I wanted to know more, so I got in touch with Minter and asked if he could tell us a bit more about how he approaches this type of task. Here's his response:
To start, I look first for images from formal photo shoots. Those are a lot easier to use, because it's usually a higher-quality photo and the players aren't wearing a helmet. If those aren't available, I try to find a badass photo of a celebration or anything showing emotion.

Honestly, I don't have a ton of Photoshop experience — I've primarily focused on shooting/editing video. My first jersey swaps were for Colin Kaepernick, who was rumored to be potentially going to the Ravens, Seahawks, or Dolphins in May 2017. Didn't really try again until the Richard Sherman 49ers signing, which happened at 6pm PST on a Saturday night. The first draft was awful. I scrapped it, completely restarted. Not sure how the quality is so drastically different, but from the second Sherman version on, I definitely started getting better at it.

I don't really have a set way that I carry these out. Sometimes it's colorizing the jersey hue, other times it's "Frankensteining" and taking similar elements from other photo assets, like I did in the Josh Gordon time-lapse (pulled from a photo of Stephon Gilmore in same helmet and similar stance). The whole thing took three hours.

I've gotten a lot of requests from designers, so at some point I'll most likely do a few tutorials on how I do these.
Fascinating! Big thanks to Minter for sharing these insights with us.
Meanwhile, speaking of Gordon, he appeared at his first Patriots practice yesterday and was wearing a wristwatch, which seems odd, no? (Nice spot by Joey Ellis.)
• • • • •
[adrotate group="2″]
• • • • •
And speaking of Photoshop: The Trail Blazers yesterday became the latest NBA team to sell out to a corporate uniform advertiser. As per our well-established protocol, we will neither name the advertiser nor show its ad. But we will show that an ad-clad Trail Blazers jersey looks like shit, which is all you need to know (click to enlarge):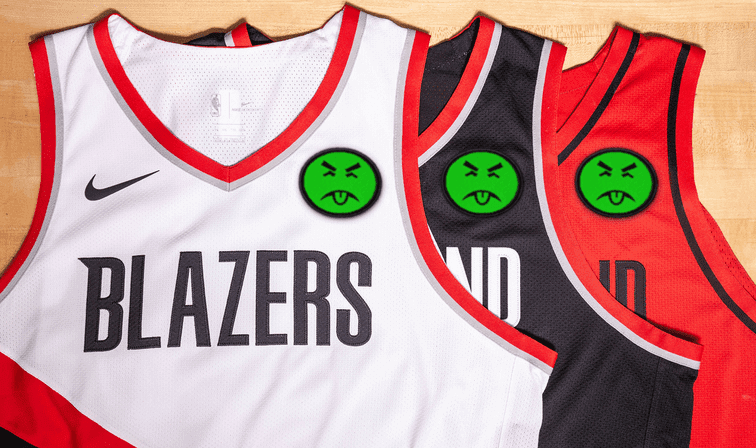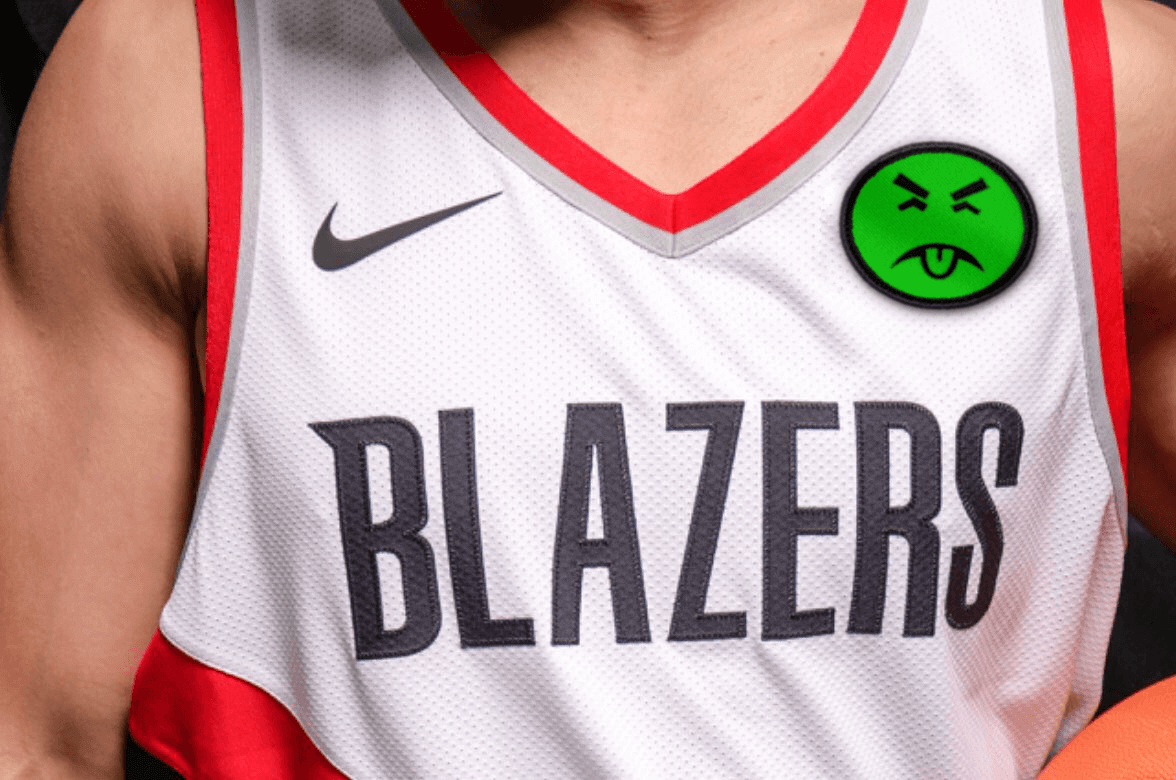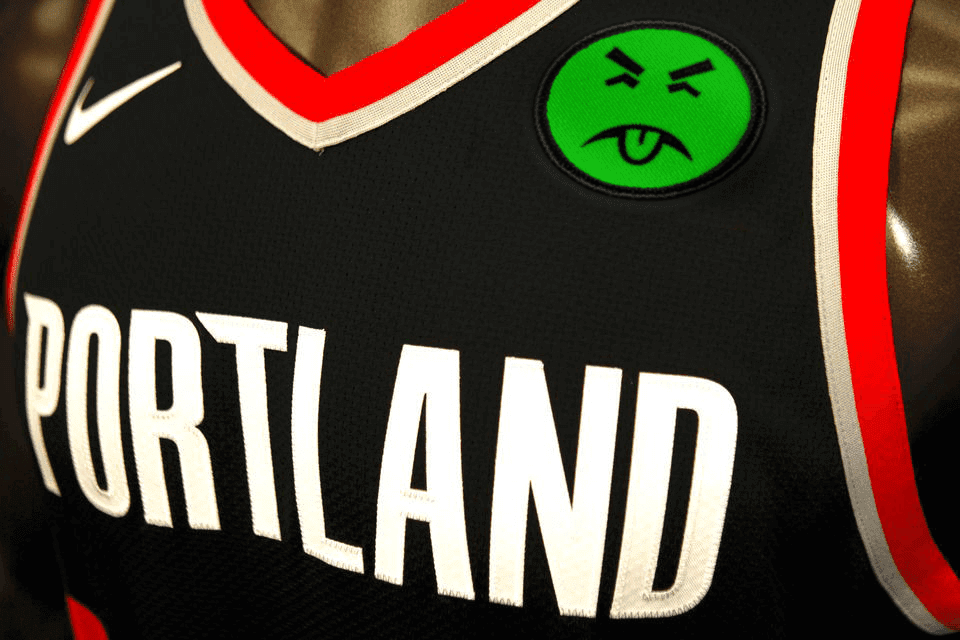 There are now 24 ad-clad teams, including three that have joined the ranks in the past six weeks. There are six remaining ad-free teams.
(My continued thanks to Nic Schultz for his Photoshoppery.)
• • • • •
[adrotate group="2″]
• • • • •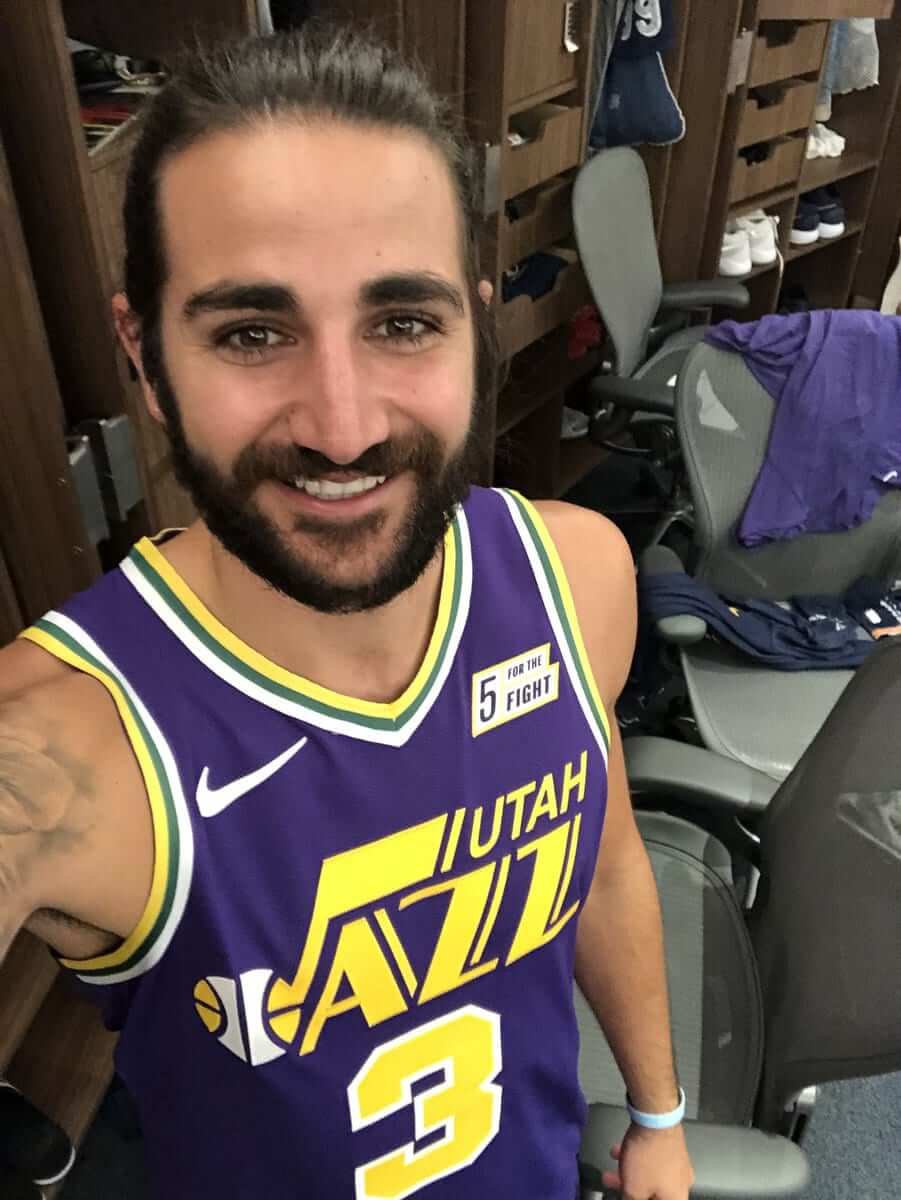 Click to enlarge
And speaking of the NBA: Utah Jazz point guard Ricky Rubio has been hinting for about a week that the team has a new uniform in the works, and yesterday he got to show it off — a purple throwback that matches what the Jazz wore from 1986 through 1996. Here's how it looks from the back: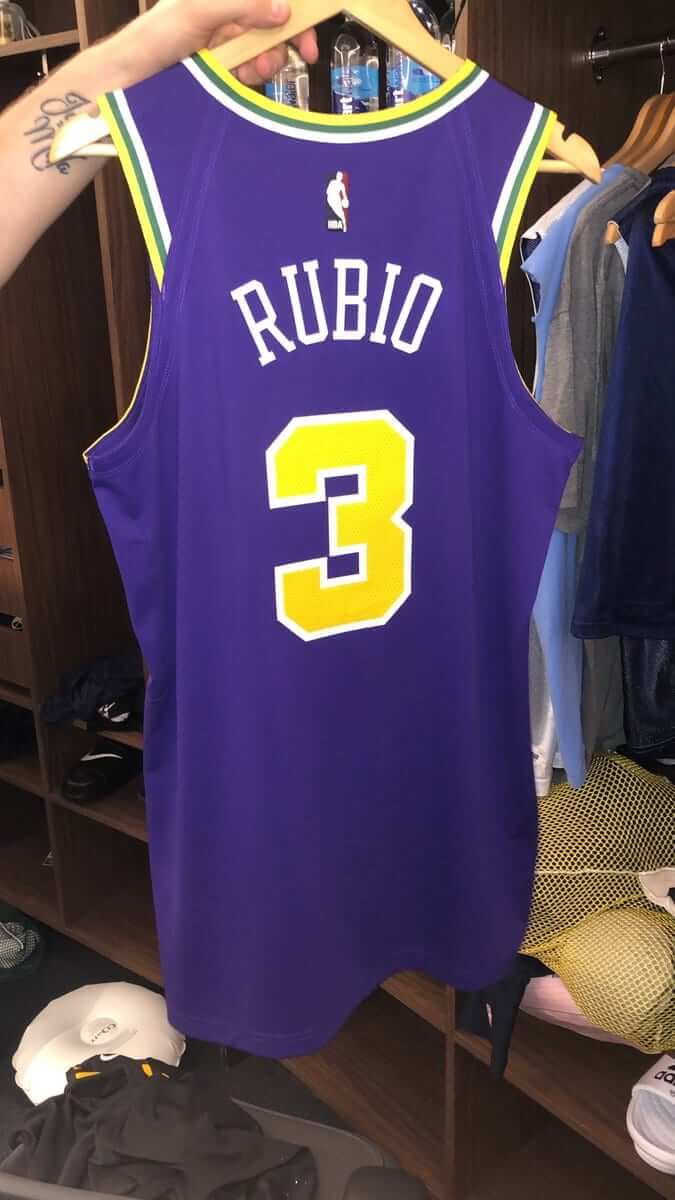 • • • • •
[adrotate group="2″]
• • • • •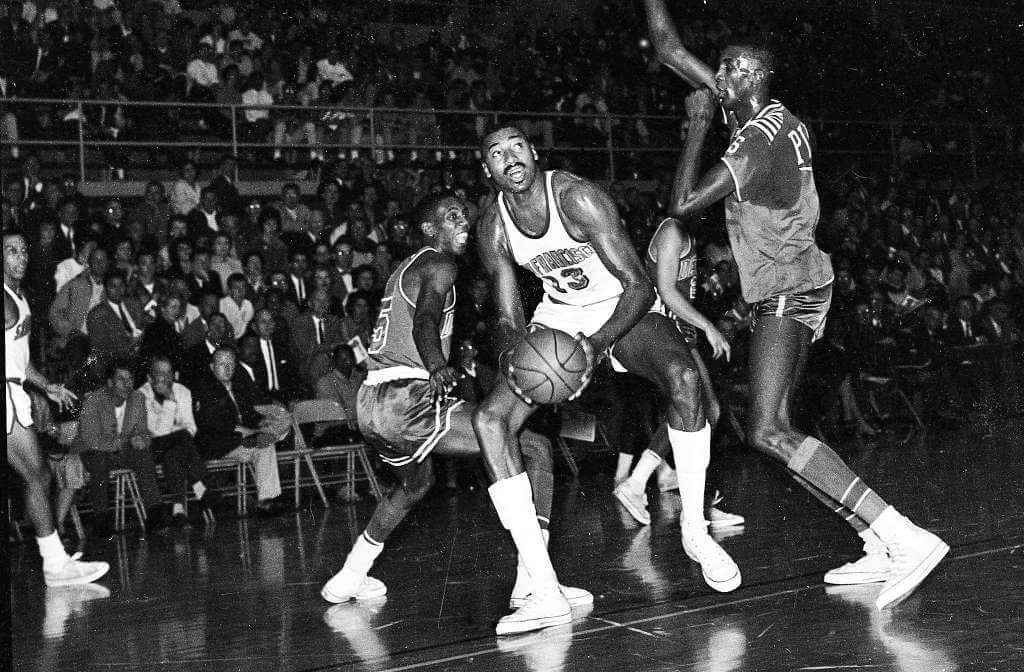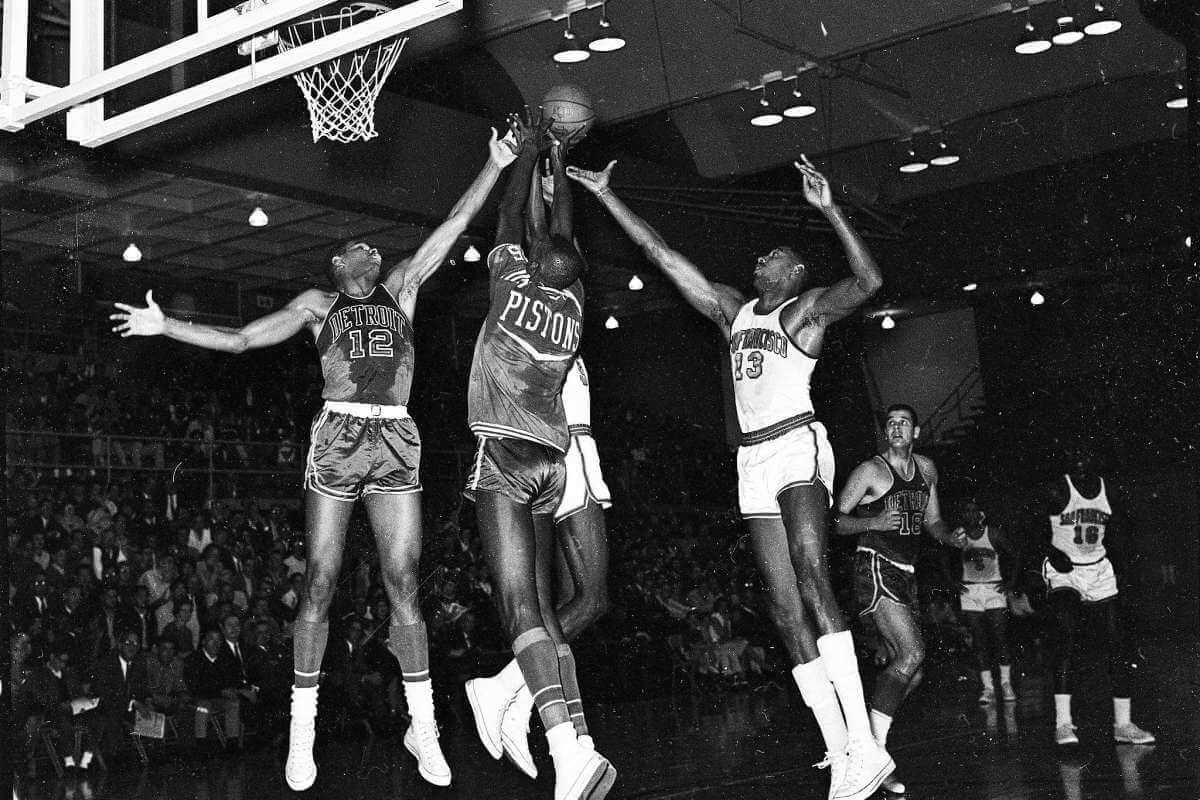 Click to enlarge
Too good for the Ticker: Check out these two NBA photos from a 1962 Warriors/Pistons game. There's a lot to admire here, but the most uni-notable thing, obviously, is that one of the Detroit players — apparently Walter Dukes, at least according to the Twitter hive mind — is wearing his warm-up top on the court! I can definitively say that I've never seen that before. Anyone else..?
(My thanks to John Cannon and @ursus_arctos59 for their contributions to this section.)
• • • • •
[adrotate group="2″]
• • • • •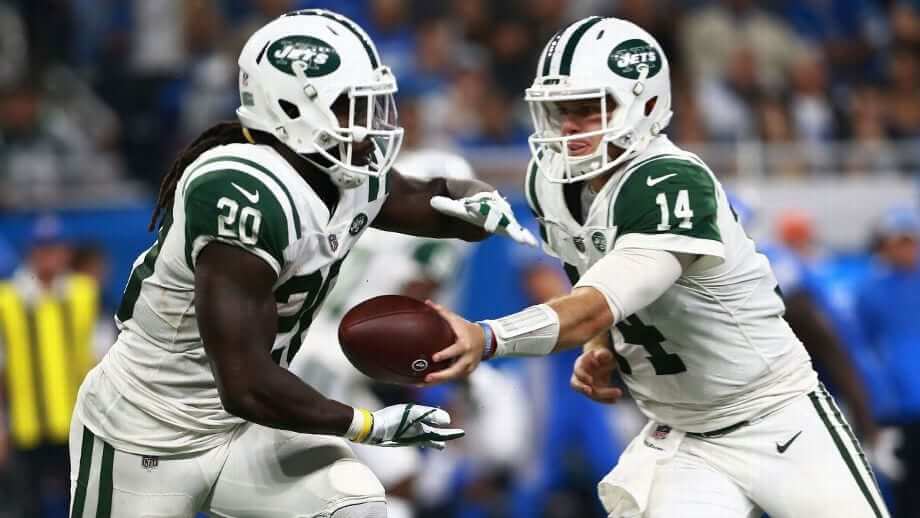 Contest reminder: Today's the next-to-last day to get your entries in for my Jets-redesign contest. As usual, the best entries will be featured in one of my upcoming ESPN columns. Full details here.
• • • • •
[adrotate group="2″]
• • • • •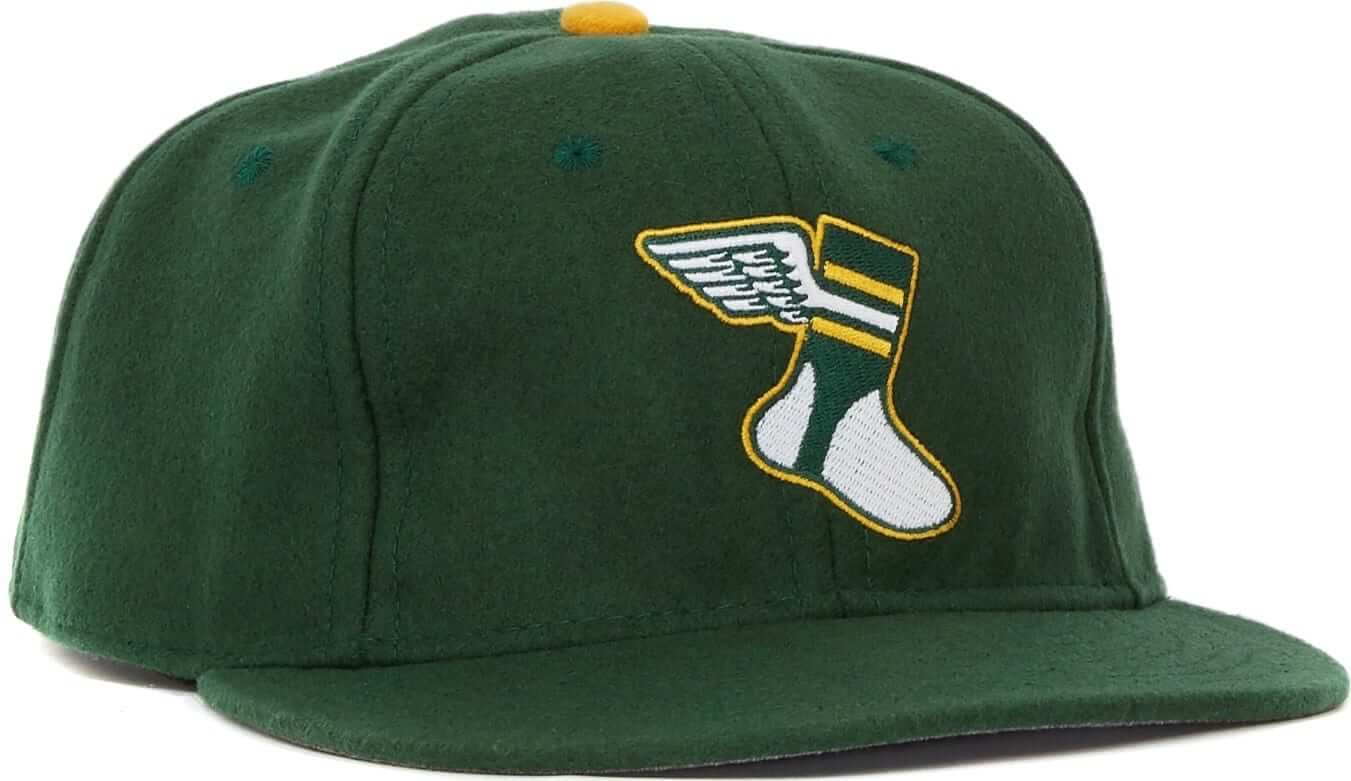 Cap reminder: In case you missed it on Wednesday, I'm happy to report that all fitted sizes of the Uni Watch classic cap, available exclusively from Ebbets Field Flannels, are now back in stock. Grab your preferred size before they sell out again!
Meanwhile, two weeks ago I asked for feedback on our flex-fit alternate cap, and a bunch of you said, "Actually, I've been meaning to buy that one, but I keep forgetting or putting it off." If that's you, go ahead and order one already. Thanks.
• • • • •
[adrotate group="2″]
• • • • •
The Ticker
By Paul

Baseball News: The Red Sox had a division title banner made, but it fell off the truck that was transporting it. A few Sox fans found it and will return it — for the right price (from Mike Chamernik). … The Marlins' teal throwbacks were such a big hit this season that they're bringing them back for 2019 (thanks, Phil).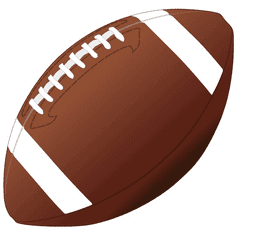 Pro Football News: The Browns' mono-brown Color Rash uniforms will finally make their on-field debut tonight. … Meanwhile, check out the Browns' striped end zones! They represent the team's 16 Hall of Famers (from @Cdud1970 and Jerry Wolper). … WR Jordan Matthews, who returned yesterday for a second stint with the Eagles, will wear No. 80, not his old No. 81. … The AAF — the new pro league debuting in February — released four of its eight team names and logos (from Tod Meisner).

College Football News: Colorado A&M-era throwbacks on tap this weekend for Colorado State. Love that green/orange color combo. … Sportswriter Steve Rushin found his dad's 1952 Purdue Big Ten championship belt buckle while poking around in the basement (from Jen Hayden). … Yesterday we reported that Iowa State would wear a "CBA" memorial decal for slain ISU golfer Celia Barquín Arozamena. Now comes news that ISU's opponent this weekend, Akron, will also wear the decal (from Kary Klismet). … Here are this week's uni combos for Washington State and Arkansas (thanks, Phil). … Throwback uniforms this Saturday for Montana (from @clarkbarniner).

Hockey News: Here's how the Panthers' jerseys look with the 25th-anniversary patch and the "A" and "C" designations (from @34inXXIII). … G.I. Joke pregame jerseys on tap for six games this season for the Charlotte Checkers (thanks, Phil). … Here's the logo for the 2019 NHL All-Star Game, which will be hosted by the Sharks (thanks, Brinke). … Fun fact: Urinals at the Devils' arena feature the team's logo (from Dan Klein). … Bruins and Flames wore this patch for yesterday's exhibition game in China (thanks, Brinke). … The Flames have an alternate uni unveiling coming up on Friday (thanks, Phil).

NBA News: Here's an old Bucks team photo that appears to show Kareem Abdul-Jabbar wearing stirrups over his tube socks! Not sure what that was about (from many readers).

College Hoops News: Texas Tech is teasing new red jerseys (thanks, Phil). … Illinois's uniforms will get "tweaks" this year and a full redesign next year (from @mrmichael21). … New uniforms for Arkansas State (thanks, Phil).

Soccer News: Manchester United has new pink uniforms, and some fans are not pleased (thanks, Phil). … New uniforms for CSKA Moscow, which has switched from Adidas to Umbro (from Ed Zelaski). … Also from Ed: New alternate kit for Red Bull Salzburg. … "Outside the Stade de Suisse in Bern is an old scoreboard from the first stadium on the site, the Wankdorfstadion, and a picture of it in action in the 1954 World Cup final," says our own Jamie Rathjen. "In advance of the first Champions League group stage game for the local team, BSC Young Boys, against Manchester United, the ads in the picture have been covered up because UEFA only allows ads for Champions League advertisers to appear in and around the stadium." Douchebags. … Nike has produced a new mashup kit for FC Barcelona, featuring elements from all of the team's kits over the past 20 years. More info here. … New third kit for Scottish club Hibernian (Jamie again). … Good story from Denis Hurley: "In 1990, Cork City wore a new away shirt against Dundalk, but it proved to be the only time they wore it. However, when the clubs played again the following week, Dundalk forgot their away shirts, so they ended up borrowing the City jerseys." … For last night's Portland Timbers game, the jersey numbers used elements from all of the players' home country flags (from @bryant_rf).

Grab Bag: Check out this super-cool book that presented a design proposal for an identity system for the 1976 USA bicentennial (from James Gilbert). … "Pizza" chain Papa John's, looking to turn the page on the era of disgraced founder John Schnatter, may have a new logo in the works. … The airline Cathay Pacific misspelled its own name on a jet livery (from @deadendnights and David Cline). … More memorials for slain Iowa State golfer Celia Barquín Arozamena: Michigan's women's golf team wore red ribbons for her, and Ladies European Tour players will wear black ribbons and observe a moment of silence for her during the first round of the Mediterranean Open (from Kary Klismet). … Oktoberfest uniforms for the German volleyball team United Volleys (from Jeremy Brahm). … Speaking of volleyball, the U. of Florida is doing a jersey giveaway (from Evan Murray).
• • • • •
I'm visiting my mom today, so I won't be keeping as close an eye on the site as I usually do. Play nice while I'm away, okay? Thanks. — Paul