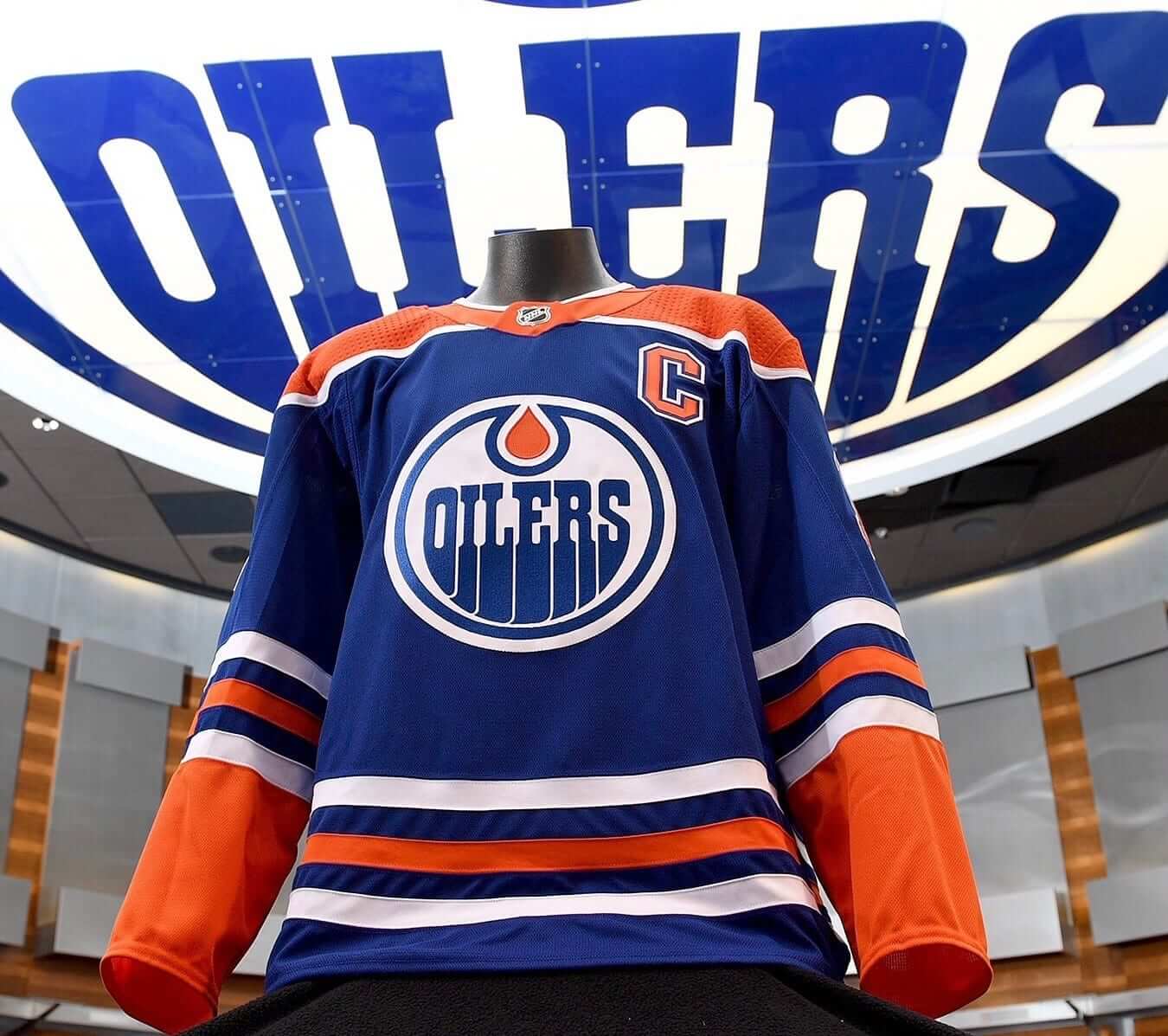 For all photos in this section, click to enlarge
Don't look now, but the NHL preseason starts in only 10 days, and the regular season starts in four weeks, so we're starting to see more uniform releases. The latest one came yesterday from the Oilers, who announced that they'll be marking their 40th anniversary by reviving their blue uniform as a throwback. You can see the front of the jersey above, and here's how it looks from the back: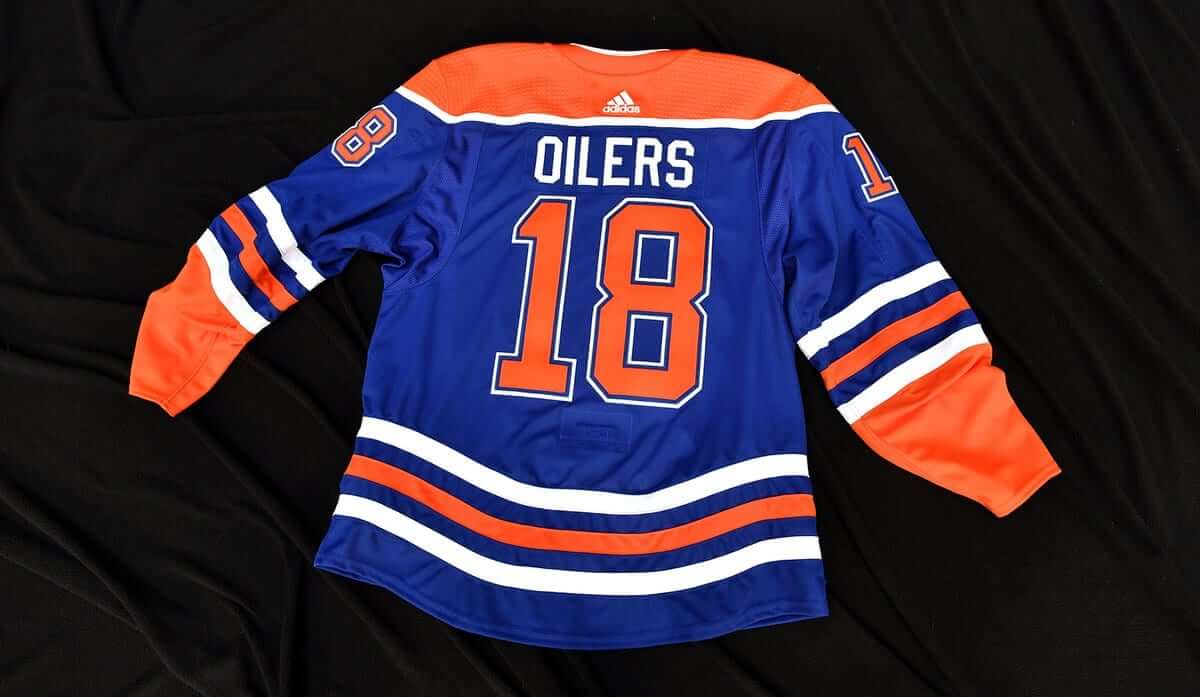 As is so often the case these days, they didn't bother to show the entire uniform — just the jersey. Gee, I wonder why.
This design will be worn four times: Nov. 29 (against the Kings), Dec. 9 (Flames), Dec. 31 (Jets), and March 7 (Canucks).
In addition, the Oilers unveiled a 40th-anniversary patch, which will be worn on the shoulder of all three of the team's jerseys. It's a busy design, featuring the franchise's five Stanley Cups and six retired numbers, along with an insane amount of outlining and shadowing, all crammed into a small patch: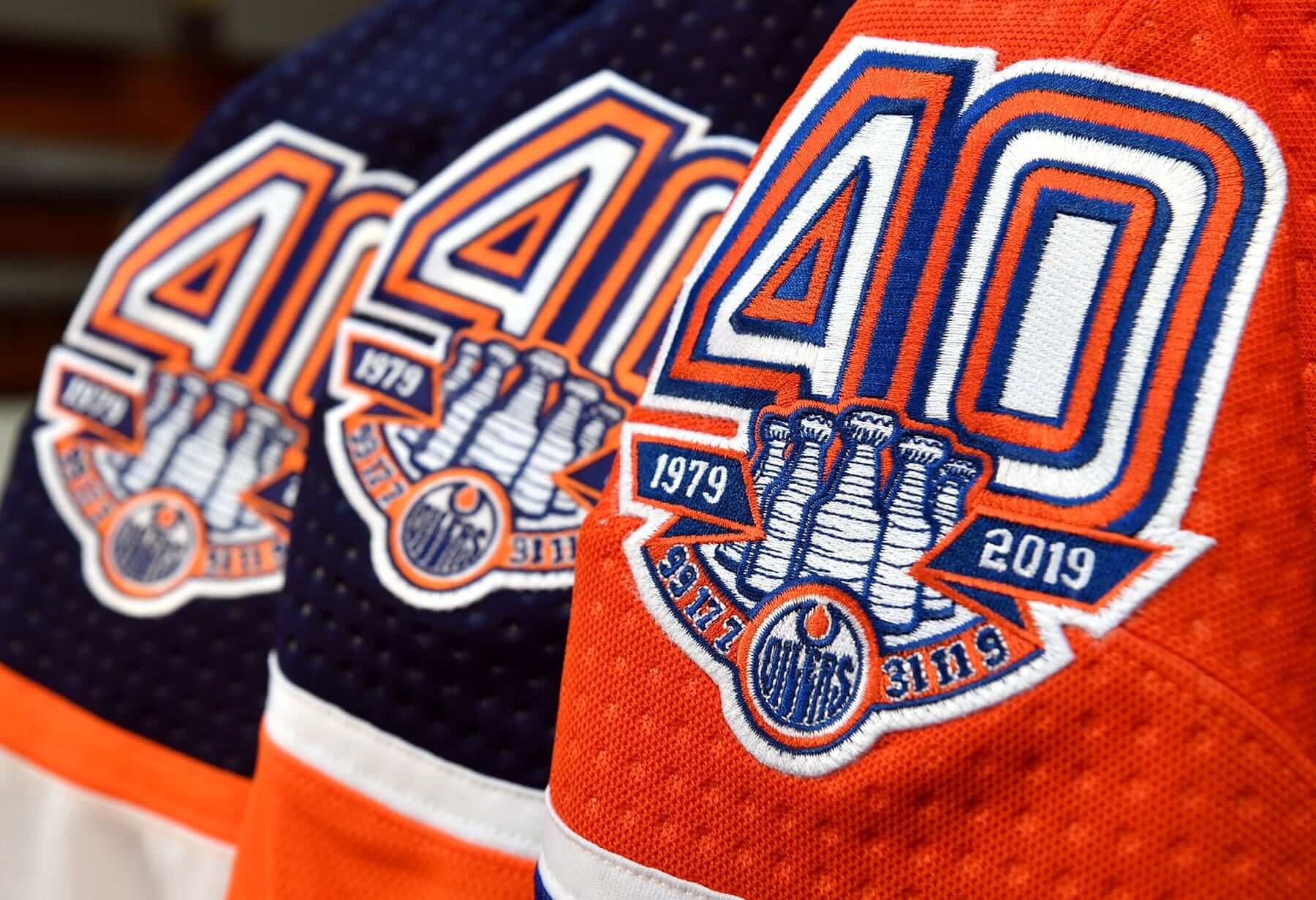 The retired numbers are an interesting touch. Have we ever seen an anniversary patch with that element before?
Also: Take a close look at the "ribbon" that has "1979," "2019," and the retired numbers. The way it folds, it sort of implies that the ribbon is blue on one side and orange on the other. But if that was the case, then the portions of the ribbon with the two years and the retired numbers should all be the same color, because those elements all appear on the same side of the ribbon. Yet that's not the case.
Speaking of the NHL, in case you missed it over the weekend, the Islanders' new alternate jersey leaked:
PSA: I interrupt this College Football Saturday with the leaked #Isles third jersey. Anon source says this is the legit design. pic.twitter.com/5LIgrdMK7C

— James Trotz (@TwoTurtleDuffs) September 2, 2018
SportsLogos.net has confirmed that the leaked design is legit.
And in yet another piece of NHL news, the Rangers announced the date when they'll be retiring former captain Vic Hadfield's No. 11 on Dec. 2. (Update: Reader/commenter Rob S. points out that the Rangers had already retired this number for Mark Messier. This is the second time they've retired a number for two different players, the other being No. 9 for Andy Bathgate and Adam Graves.)
• • • • •
[adrotate group="2″]
• • • • •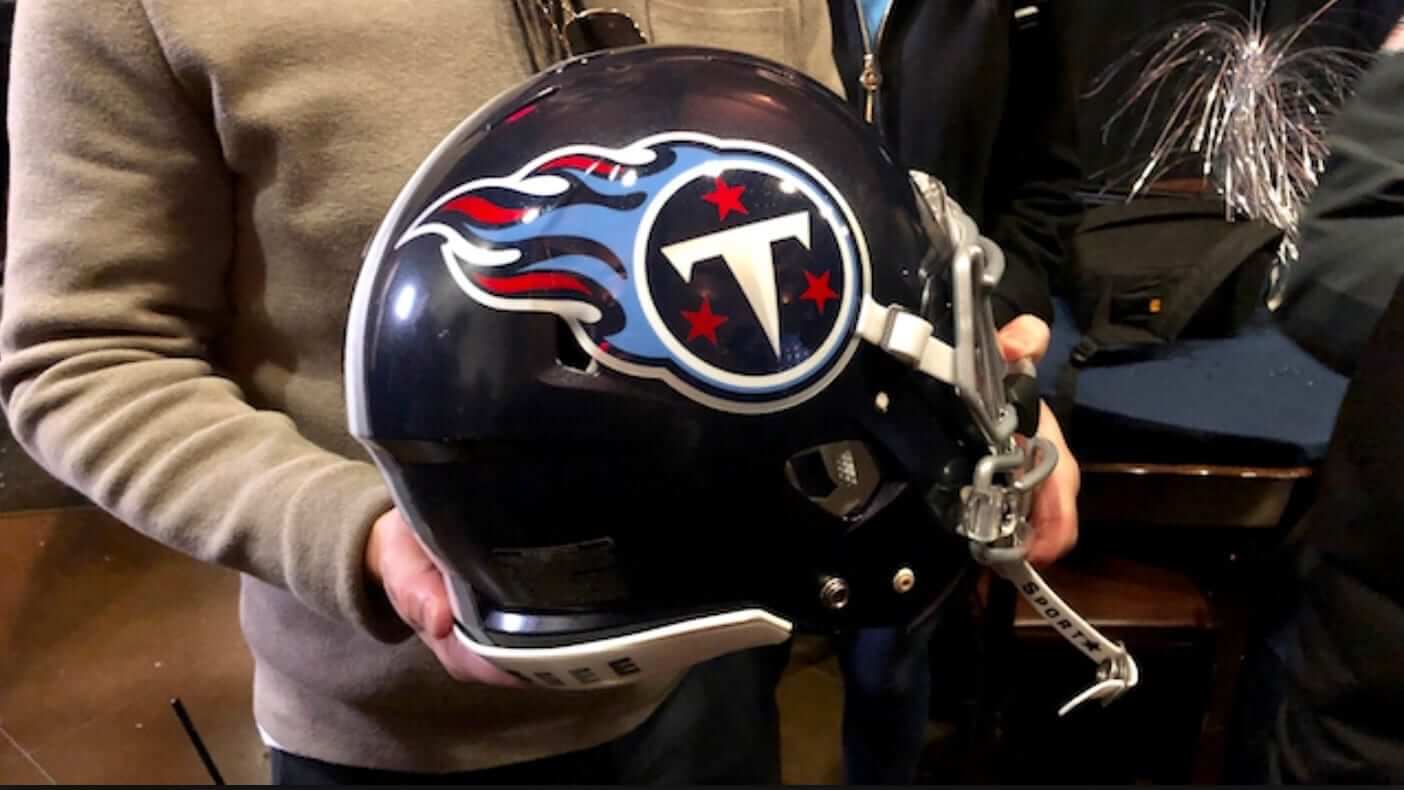 ESPN reminder: In case you missed it yesterday, my annual NFL season preview column is available now over on ESPN. Enjoy.
• • • • •
[adrotate group="2″]
• • • • •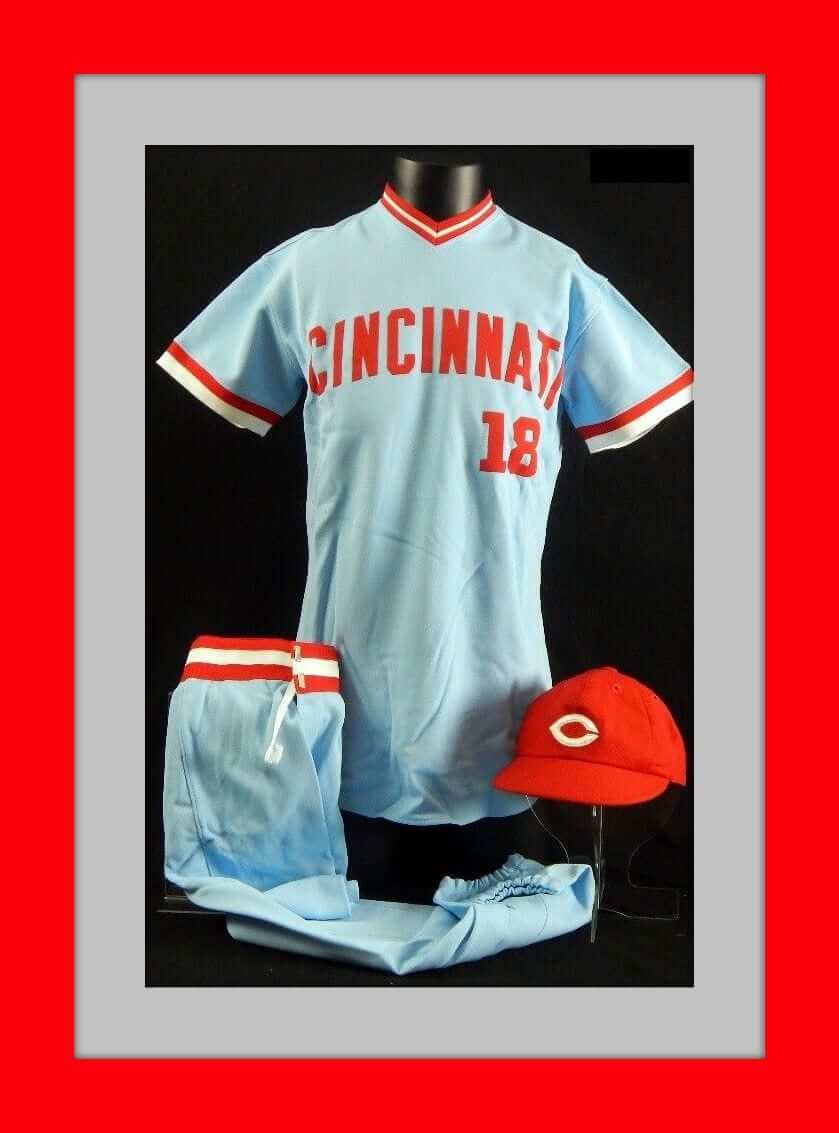 Click to enlarge
Collector's Corner

By Brinke Guthrie
Leading off this week with an interesting Cincinnati Reds uniform set. I'm just gonna quote the eBay seller: "Near complete uniform with jersey, pants and hat. After the Reds' 1978 Tour of Japan, the Mizuno corporation tried to get the Reds to switch and use Mizuno products. The uniform is unused and the jersey has no number on the back. The uniform comes from the Bernie Stowe collection. Bernie Stowe worked for the Cincinnati Reds from 1968 – 2013 and was the senior clubhouse manager."
Now for the rest of this week's picks:
• This 1960s 11″ by 17″ Coke promo poster emphatically states, "Look for Y.A. Tittle and all the NFL Stars Under Coca-Cola Caps!"
• Nice 1970s football graphics on this Avon "First Down" soap-on-a-rope.
• This 1970s Houston Astros golf shirt was offered in yellow, from Goodman's of Los Angeles.
• This 1970s Zippo lighter with the NFL shield has never been removed from its box. "It Works or We Fix It Free."
• Aqua Velva was the sponsor of this 1970s NFL booklet, Behind the Scenes of Pro Football. It offered the "inside story of the nation's top pro sport" and included "insider comments."
• Going back a few years, this Milwaukee Braves felt "mini pennant flag" (though it resembles neither of those things) was sponsored by Bazooka and Blony. Blony was another brand owned by Topps.
• Bill Glass, who played ten seasons in the NFL with the Browns and Lions, was the original owner of this vintage NFL Alumni garment bag.
• The Royals have a classic look, we'd all agree. It's gone largely unchanged through the franchise history save for that rather dismal and distressing BFBS period. This is their shiny 1970s dugout jacket, made by Felco.
• If you were a Brewers Booster in the 1970s, this pennant may have hung proudly in your bedroom. (Anyone know what that "graf/s" term was about? A search proved inconclusive.)
• Check out this 1960s NFL "Go With The Pros" helmet kit for the "N.F.L. West."
• And from reader Will Scheibler, check out this 1972 Hamilton Tiger Cats Grey Cup lunchbox.
Seen an item on eBay that would be good for Collector's Corner? Send any submissions here.
• • • • •
[adrotate group="2″]
• • • • •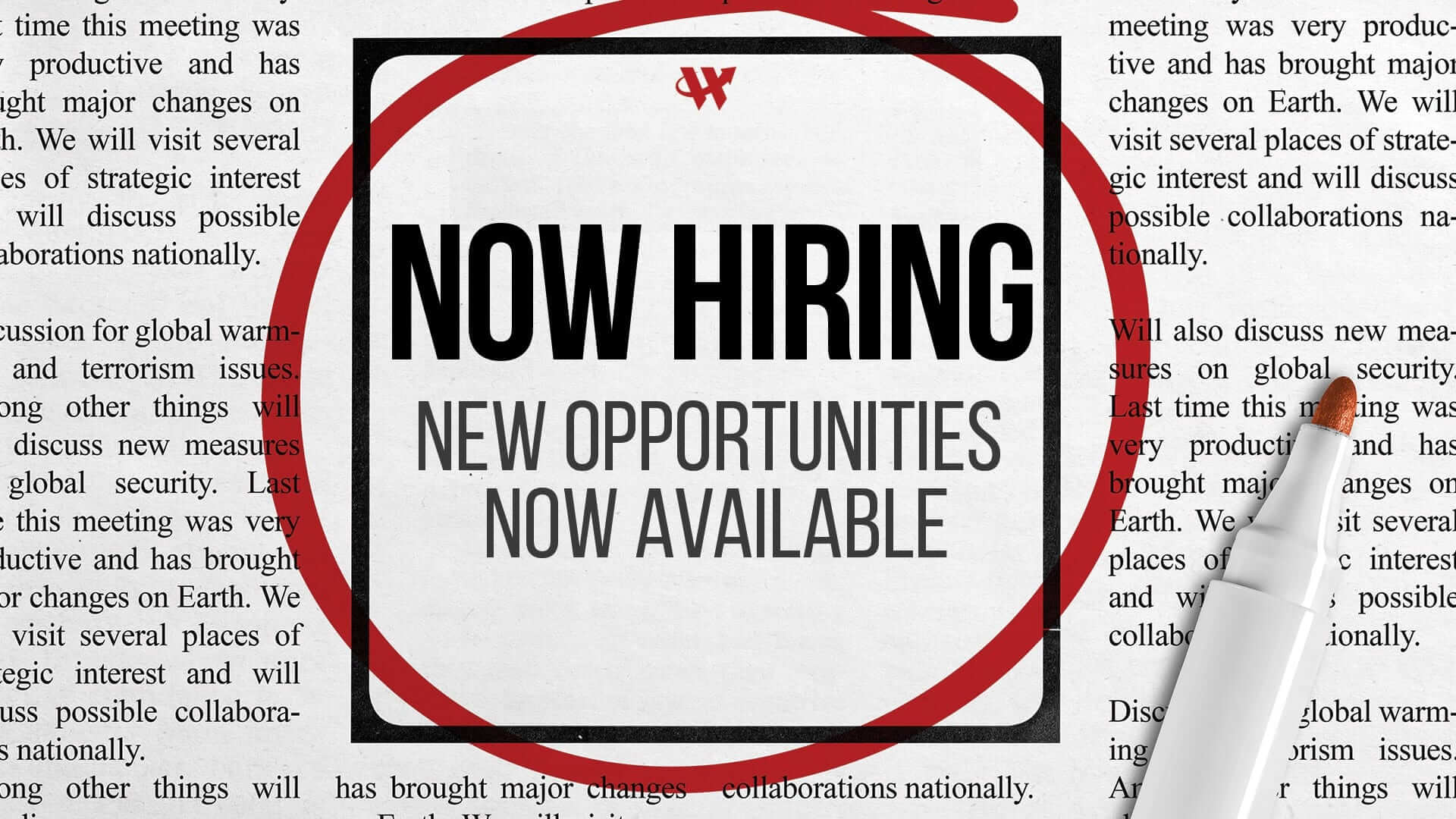 Ticker intern reminder: In case you missed it on Tuesday, I'm currently in the market for a new Ticker intern. The position would require being on Ticker duty on Thursdays and creating the Tickers that appear on Fridays.
Full details are available here.
• • • • •
[adrotate group="2″]
• • • • •
StripeRite update: Customers are receiving their new StripeRite socks, and the response so far has been very positive. Check it out:
The new footwear arrived just in time for the start of the season. @AmericanTrench @UniWatch pic.twitter.com/i7bkqFOEyR

— David Stephens (@cheezbleeder) September 4, 2018
Thanks @AmericanTrench & @UniWatch the socks look great! pic.twitter.com/qj9SM9vwiq

— Alex Allen (@aallen65) September 5, 2018
I'm all ready for the #Packers regular season, courtesy of @UniWatch. pic.twitter.com/Nz2r7Qhdfw

— Scott Hurley (@WLUK_SH) September 5, 2018
Want to get in on the footwear fun? You can order your own StripeRites through our friends at American Trench.
• • • • •
[adrotate group="2″]
• • • • •
The Ticker
By Alex Hider

Baseball News: Blue Jays P Marcus Stroman didn't play last night, but he was wearing the wrong cap in the dugout (from Jeff Peters). … Mets Police poobah Shannon Shark has come up with a plausible theory of how some new merch releases may indicate that MLB is planning a series of throwbacks for baseball's sesquicentennial in 2019. … The Red Sox recently called up 2B Brandon Phillips. He'll wear No. 0, as his preferred No. 4 has been retired for Joe Cronin (from our own Anthony Emerson). … The Nationals made 2018 All-Star Game rings and gave them out to season ticket holders (from Mike Rosenberg). … A Brewers fan was wearing a Mr. 3000-inspired Rex Pennebaker No. 31 jersey at Miller Park last night (from @phoenixfire8282). … This slideshow ranks every MLB team's uniform (from Phil). … There was a blue-on-blue matchup Monday between the Binghamton Rumble Ponies and the Portland Sea Dogs of the Eastern League. … There was a Seinfeld moment in the Pirates' dugout last night.

NFL News: The Cardinals' stadium has a new corporate name. At least now it won't sound like they play at a college field (thanks to all who shared). … Tom Brady has been wearing a new helmet this preseason, but he was wearing his old helmet model during practice yesterday (from Joe Giza). … Speaking of Brady's helmet, Joey Ellis points out that Brady wore a different helmet model once before — in 2012 when the Pats wore throwback uniforms. … Workers at the Eagles' stadium are preparing a Super Bowl banner, which will be unveiled Thursday (from Moe Khan). … Speaking of the Eagles, a couple of Philly mix-ups: Dunkin' Donuts restaurants in Boston were supposed to give out Pats cups this week for the start of football season, but someone accidentally shipped the restaurants cups honoring the World Champion Iggles. Also, a Pennsylvania Costco was selling a cap with an Eagles logo and a Texans wordmark (from Christopher Hickey). … It took one hell of a photoshop job to turn Luke McCown's Cleveland Browns uniform into a Bucs uniform for his 2005 football card (from Michael Trubinsky).

College Football News: Michigan has been wearing Jordan uniforms for over a year, but coach Jim Harbaugh still hasn't replaced his Nike long-sleeved shirt. He simply put a Jordan patch over the Nike logo (from Phil and Hunter). … Florida State will sport a more traditional look this weekend (from @broc1984). … Kentucky has added a helmet decal to honor two Wildcats currently battling cancer (from Josh Hinton). … Also from Josh: Here's what the college football imperialism map looks like after one week of games. The thought goes that teams acquire other teams' pre-determined "territory" as the season goes on. … This piece looks at what some teams in the MEAC will be wearing this season (from Ron Peterson, Jr.).

Basketball News: It's probably an understatement to say that NBA players are excited to have more footwear freedom this upcoming season (from Mike Chamernik). … A mayoral candidate for the town of Leitchfield, Ky., is playing both sides of the Kentucky/Louisville rivalry (from Josh Hinton). 

Soccer News: Tons of stuff from soccer expert Josh Hinton: No photo yet, Louisville City FC of the USL will wear pink uniforms for cancer awareness on Oct. 9. … Here's a review of all the Bundesliga kits for 2018-19. … Atlético Madrid's third uniforms have leaked (also from our own Jamie Rathjen). … A new UEFA rule requires all jerseys that are striped or patterned on the front to carry that same pattern on the back — of course, with solid space for numbers (also from Moe Khan). … Adidas will no longer make Bosnia and Herzegovina's jerseys. … Italy's Serie A will now allow teams to carry a sleeve ad. … Fulham of the EPL wore their away kits from 2017-18 Saturday against Brighton on Saturday (thanks again Josh). … Gamers playing for Team USA in the Overwatch World Cup — a video game tournament — will wear soccer-inspired jerseys during gameplay (from Redleg Runner).

Grab Bag: Reader Michael Goldberg found some spiffy old pennants at an antique store over the weekend. … Poland's Volleyball league has a new logo and abbreviation: PLS (from Jeremy Brahm). … More from Jeremy: Toray Arrows, a Japanese women's team, has new uniforms. … Also, Jeremy spotted this photo of a curling cake, fit for Paul or Phil. … Repost: Gamers playing for Team USA in the Overwatch World Cup will wear soccer-inspired jerseys during gameplay (from Redleg Runner).