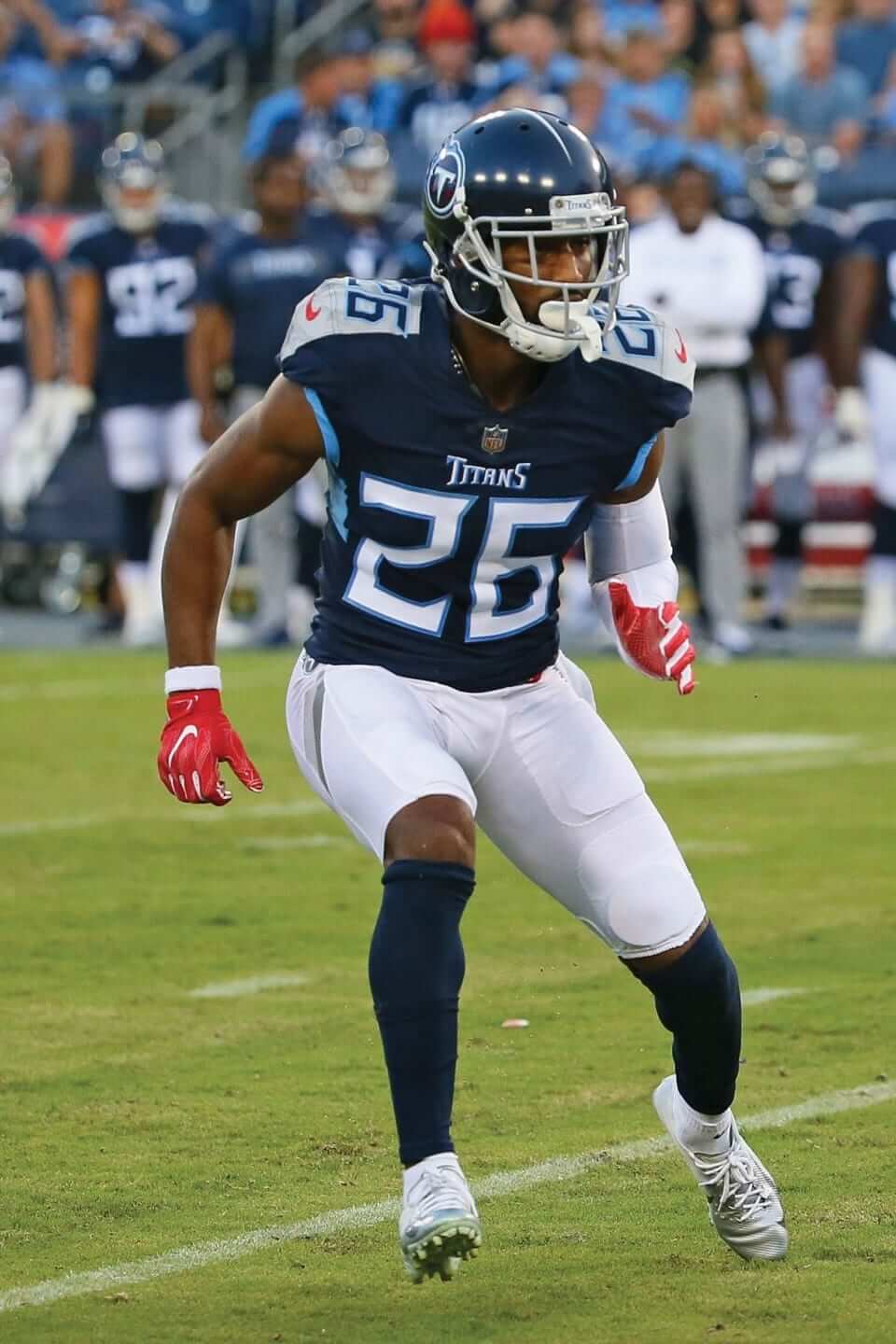 Click to enlarge
Happy post-Laborious Day! The NFL season kicks off on Thursday night, which means it's time for my annual Uni Watch NFL season preview, which runs down all the uniform and logo changes for the new season (including the Titans' new look, shown above). Check it out here.
• • • • •
[adrotate group="2″]
• • • • •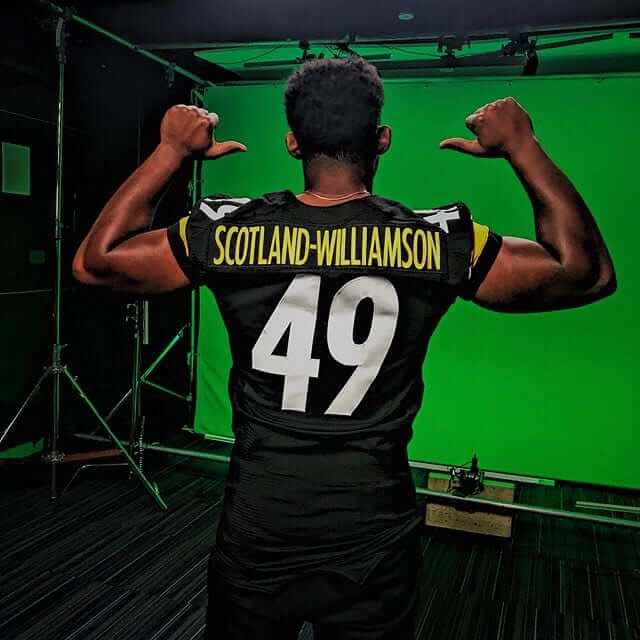 Another long one: Meet Christian Scotland-Williamson, a newly signed member of the Steelers' practice squad. His surname has 18 letters, plus the hyphen. Nice that the Steelers used a compressed typeface for his NOB.
If Scotland-Williamson ever makes it onto the 53-man roster, I believe he would set the mark for the longest surname in NFL history. I think the current record is a comparatively paltry 14 letters, shared by Chris Fuamatu-Ma'afala, Ryan Christopherson, T.J. Houshmandzadeh, and Ben Roethlisberger. Am I overlooking anyone? (Update: Yes, as reader/commenter Pete points out, I was overlooking Dominique Rodgers-Cromartie and his 16-letter surname. Thanks, Pete!)
(My thanks to Rick Porter and Ryan Ripperton for this one.)
• • • • •
[adrotate group="2″]
• • • • •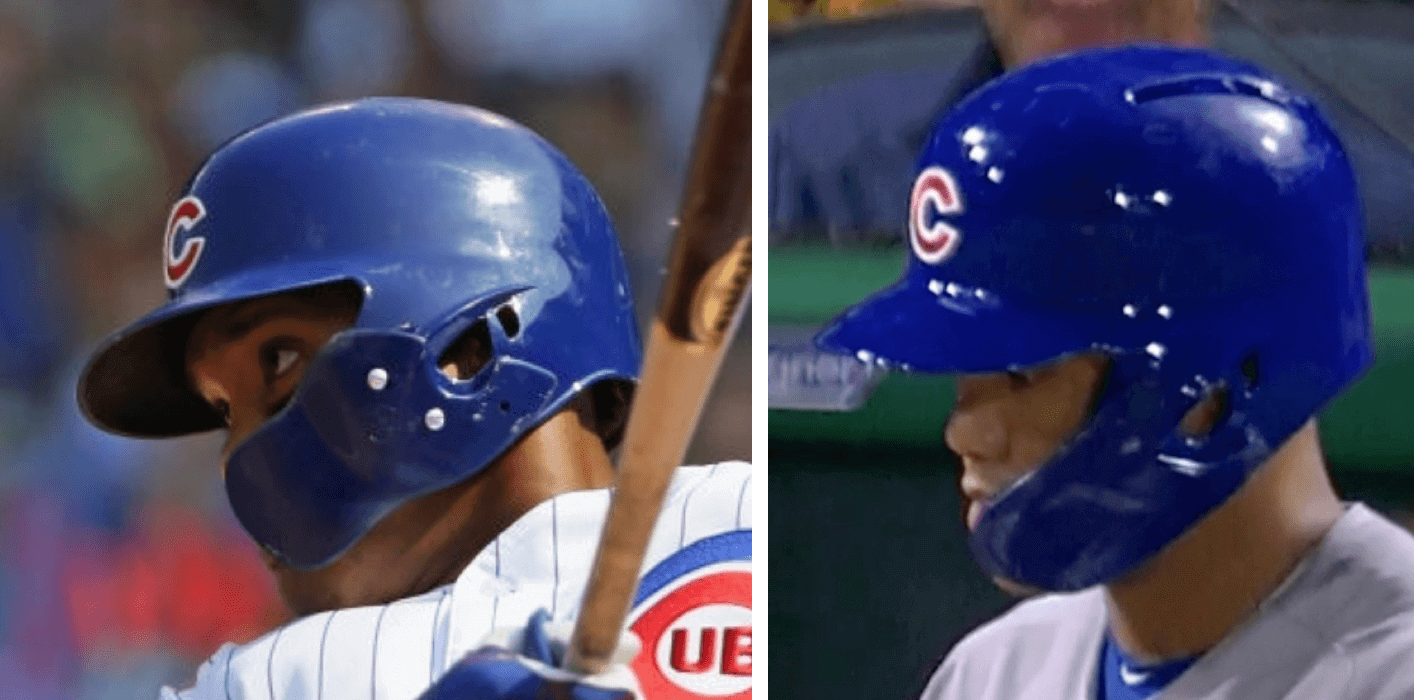 Click to enlarge
Now you C it, now you don't: On the left is a shot of Cubs infielder Addison Russell wearing the familiar C-Flap attachment. And on the right is a more recent photo of Russell wearing — well, what exactly is he wearing? As you can see, it doesn't appear to be attached via screws or bolts has a slightly different profile.
That's a new Rawlings product that quietly debuted last month, while I was on my break from the blog. I asked Rawlings exec Mike Thompson about it, and he responded as follows:
This is a Rawlings flap on a Rawlings helmet. Two separate pieces with a clean-looking, hard-to-detect cover that prevents the hardware from showing. More of a seamless, one-piece look — much nicer than looking at the hardware bolting the two together.

The helmet is called the Mach; the jaw piece is called Ext (as in extension). When sold as one unit, it is the Mach-Ext.
Lots of MLBers are still wearing the original C-Flap, but the Ext is being phased in (reader Steven Dodell spotted Yankees catcher Gary Sanchez wearing it the other day), and you'll likely see more and more of it this year and next.
• • • • •
[adrotate group="2″]
• • • • •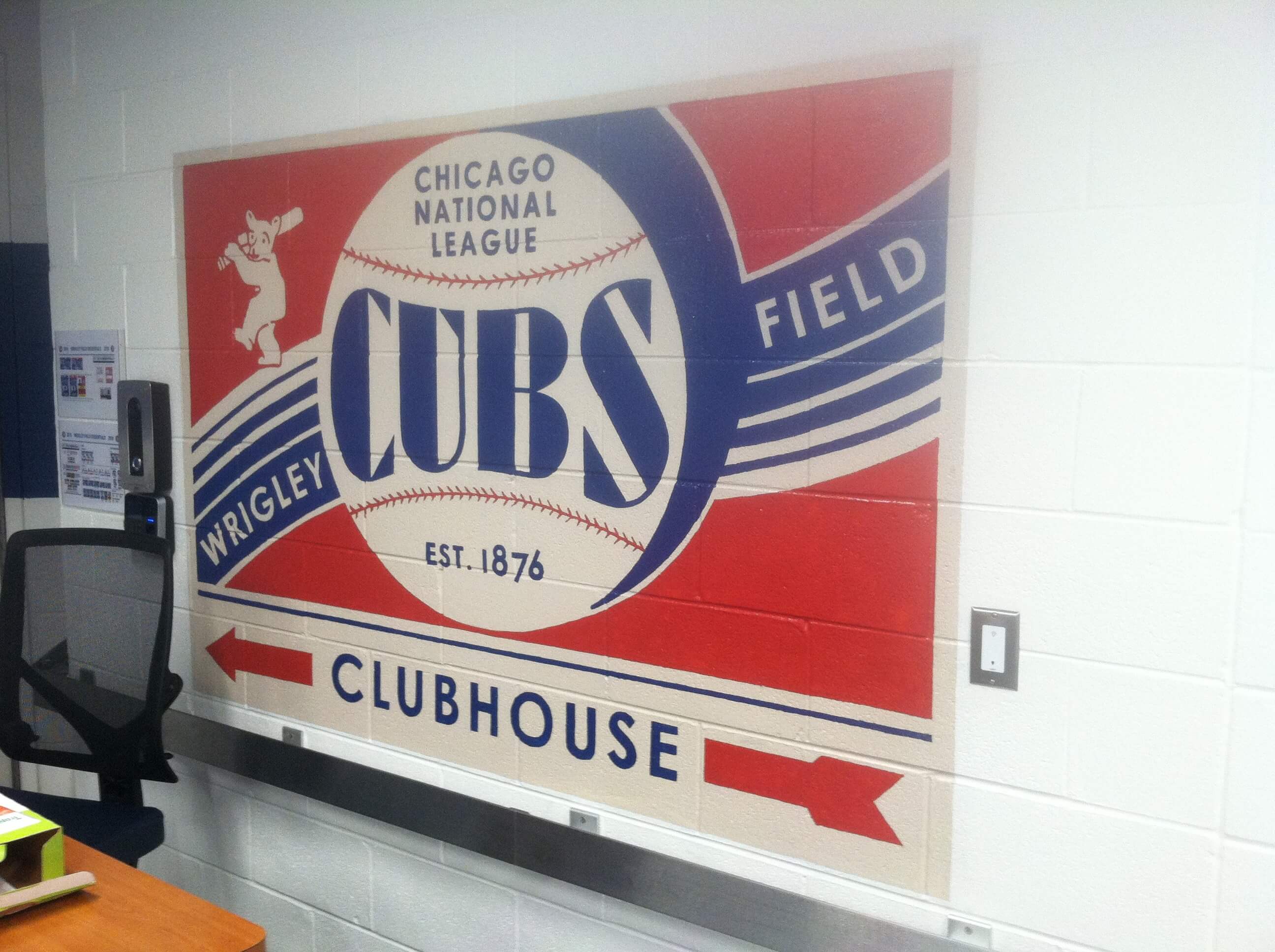 For all photos in this section, click to enlarge
Hidden treasures: Got a note the other day from reader Tim Shriver, who works as a retail merch vendor at Wrigley Field. I'll had the mic over to him:
Level B1 is a lower basement level, adjacent to the clubhouse, that was added to Wrigley for the 2017 season. I use this level every day, as I stop by the vault room before and after each event, but it most fans don't get to see this area.

The walls of this level have been adorned with lots of very beautiful signs. What I like so much about them is that they aren't manufactured signs mounted on the walls — they're hand-painted directly on to the cinderblock. I like them a lot and I hope you'll enjoy them too.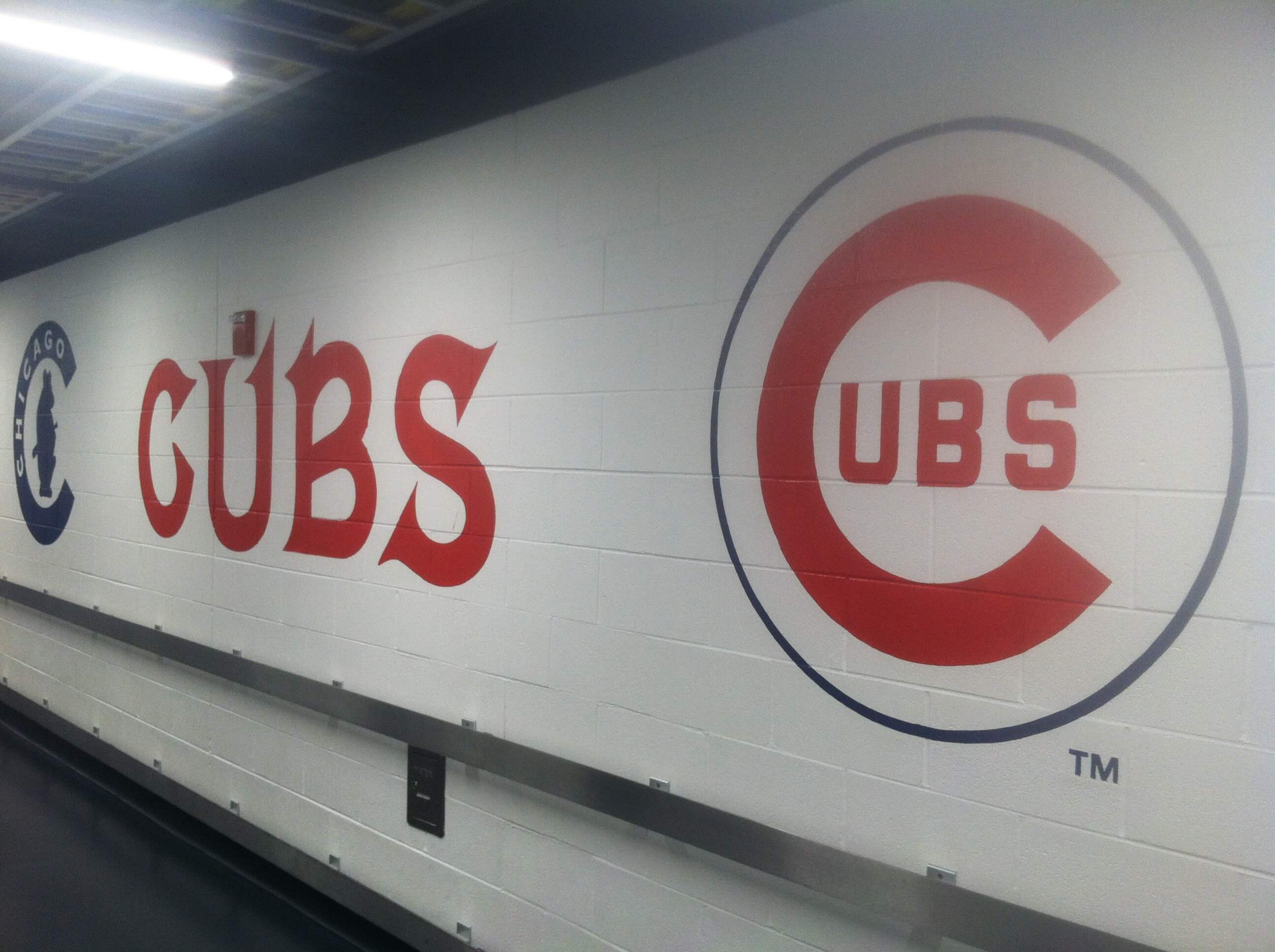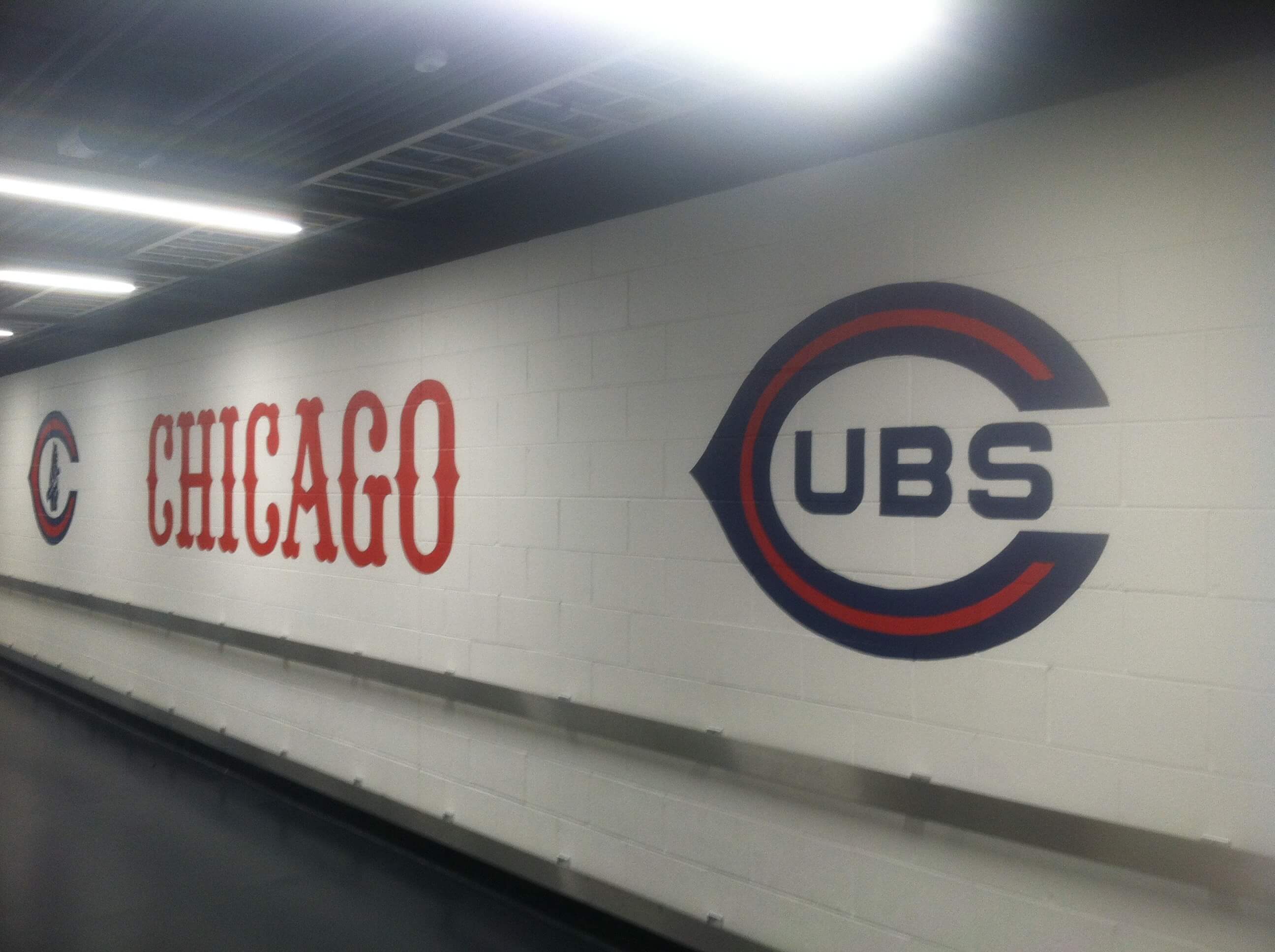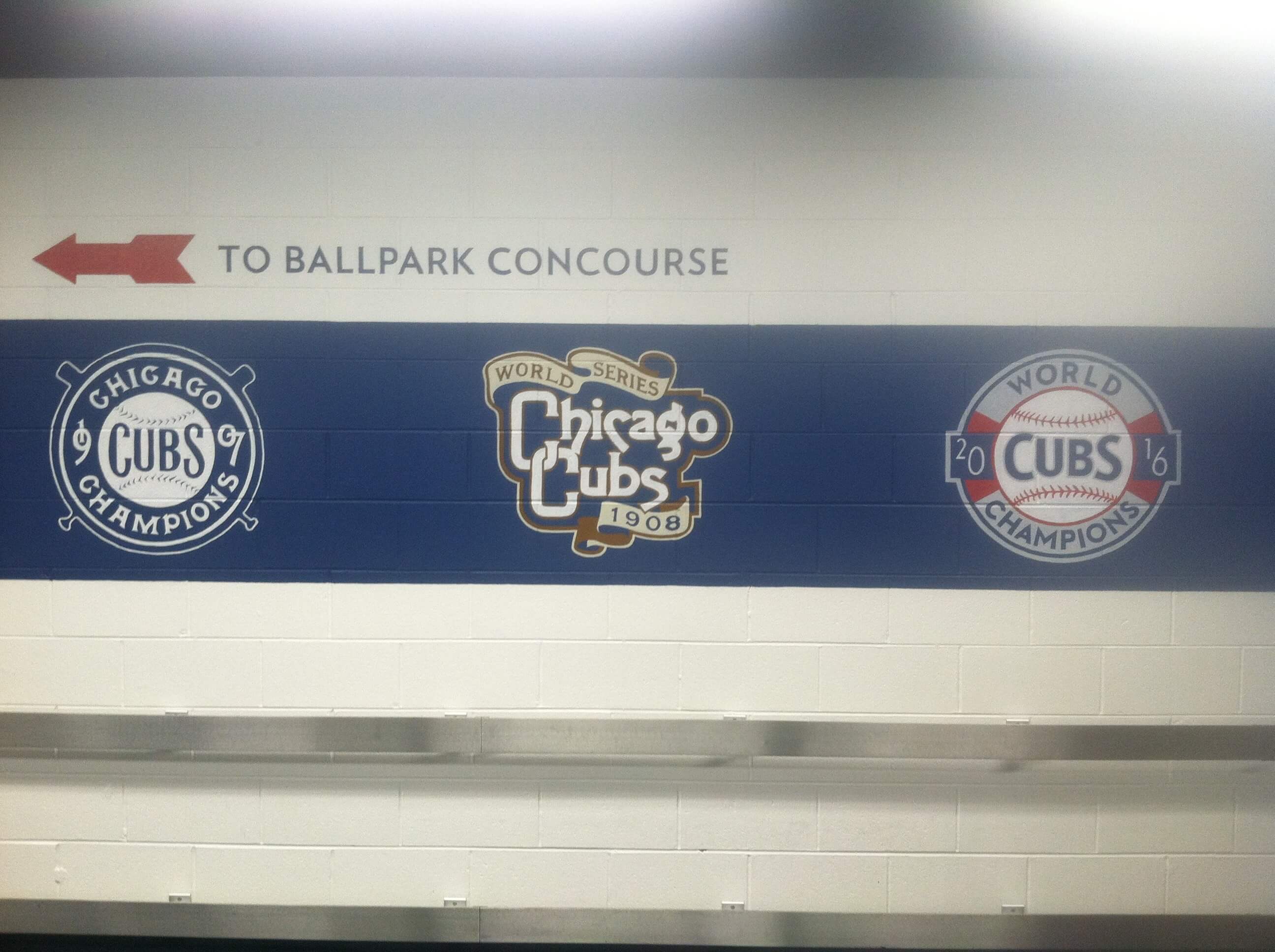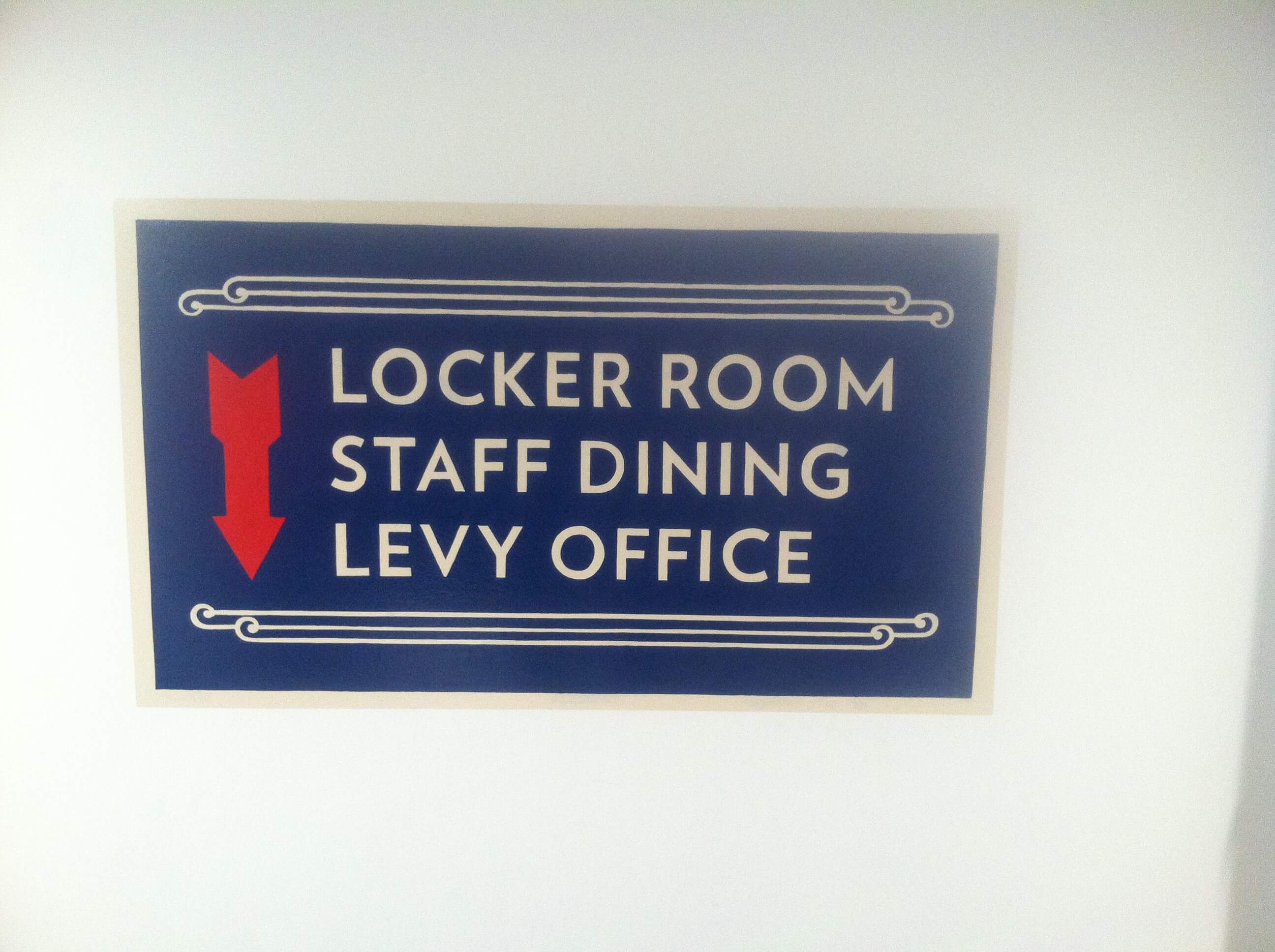 • • • • •
[adrotate group="2″]
• • • • •
Help Wanted: Would you like to work long hours for low pay? Have you always fantasized about having one of the internet's most persnickety readerships pointing out your every misspelling and coding error? Does typing three consecutive periods, many times per day, sound like your idea of fun?
If this sounds like you, then I may have just what you're looking for. Kris Gross, who's been producing the Tickers that appear on Fridays for the past year, will soon be leaving us, so I'm currently in the market for a new Ticker intern. Here are the basics:
1. The job will require you to be on Ticker duty roughly from 8am local time to 9:30pm Eastern each Thursday. Being "on Ticker duty" means (a) monitoring all the email sent to the Uni Watch email account and all the mentions on the Uni Watch Twitter account; (b) compiling all of that content into a draft of the Ticker that will run on Friday, and having that draft ready and waiting for me when I wake up on Friday morning; and (c) evaluating which emails and/or tweets, if any, need to be forwarded to me (which is arguably the most important part of the job). You don't have to be glued to your computer all day long, but you do need to check those email and Twitter accounts at least every 90 minutes or so, just in case there's breaking news or something that needs immediate attention.
2. Once you get settled into Tickering, there will also be the opportunity (and occasionally the need) for you to write non-Ticker content.
3. The gig comes with a small stipend that is completely insufficient to cover the work involved, which should be an excellent introduction to the financial realities that await you in the larger world of journalism.
4. All of the following are required:
• A detail-oriented mindset.
• A knack for critical thinking.
• Excellent writing and grammar skills.
• Excellent organizational and multi-tasking skills.
• Excellent communication skills.
• A strong working knowledge of Uni Watch.
• A strong working knowledge of pro and college sports.
• A strong sense of responsibility and dependability.
• Some experience with HTML.
5. Any of the following, while not necessarily required, would be a big plus:
• Some experience and/or education in journalism.
• A decent working knowledge of AP style.
• Some knowledge of, and enthusiasm for, graphic design.
• Some experience with WordPress.
• A dry sense of humor.
• A college major that is not sports marketing.
6. Although most of the people who've filled this position in the recent past have been young people looking to jump-start their media careers, I'd also be happy to work with someone older. There's no minimum or maximum age.
7. You may have noticed, or at least intuited, that the Uni Watch team is currently comprised exclusively of straight white males. In a perfect world, I would prefer to have a more diverse roster. That's not to say I'll pick a less-qualified candidate just for the sake of diversity, but if you think you have the chops and you fall outside of our current narrow demographic range, I'm definitely encouraging you to apply.
Still interested? If so, drop me a line. Your email should include (a) a few paragraphs explaining who you are and why you're the right person for the job; (b) some suggestions for how Uni Watch could be improved (other than by hiring you); (c) links to two pieces of published writing you've done (it would be good if at least one of those pieces is not sports-related); and (d) something else — surprise me.
I apologize in advance for not being able to respond to each applicant personally. Please don't follow up with additional emails asking if I received your first note — if you're in the running, you'll definitely be hearing from me. Thanks!
• • • • •
[adrotate group="2″]
• • • • •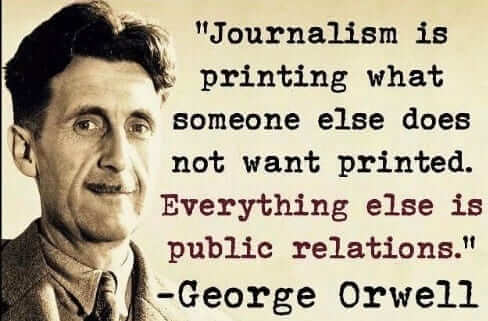 Journalism in crisis, continued: Over the past few months, I've written several times about the various challenges facing the industry in which I ply my trade — the journalism industry. I was very disappointed to see that the final two days of my August break brought two more pieces of bad news on that front.
First, on Aug. 30, a man was arrested and charged with making over a dozen threatening phone calls to The Boston Globe, repeatedly referring to reporters there as "the enemy of the people" — the same ill-advised, incredibly toxic phrase that has been repeatedly used by the president. According to the Globe's own coverage of the story:
In one of the calls, on Aug. 13, the caller threatened, "We are going to shoot you [expletives] in the head . . . shoot every [expletive] one of you," court papers said.

On Aug. 16, the day the Globe and hundreds of newspapers published editorials in support of the free press, the caller again threatened, "You're the enemy of the people, and we're going to kill every [expletive] one of you."

The caller made a reference to Robert Mueller, the former FBI director who is leading an independent investigation into the Trump political campaign team's connections to Russian authorities, and threatened that he was "going to shoot you in the [expletive] head later today, at 4 o'clock."
Maybe these were empty threats — or maybe not. The caller had over 20 firearms in his home, including a semiautomatic rifle, when he was arrested.
I'll repeat what I said two months ago, when a gunman shot up the Capitol Gazette newsroom in Maryland: Whatever else one thinks of the president, I hope his fans and foes alike can agree that referring to journalists as "enemies of the people" is a tremendously irresponsible thing to say — in part because a free and open press is essential for the workings of a functional democracy, and in part because of the signal it sends to vigilante lunatics like the one who was threatening the Globe. The most powerful man on the planet should be more careful about the effect that his words can potentially have.

The following day, Aug. 31, brought news that I'd pretty much expected for a while now, but it still hurt: The Village Voice went belly-up due to what its owner referred to as "basically, business realities." The Voice thus became the latest casualty of our industry's broken business model, and another 20 journalists — including a good friend of mine — are now out of work.
As most of you know, the Voice was Uni Watch's first home, from 1999 through 2003. It's not such a reach to say that I might not be writing these words today, and you might not be reading them, if the Voice hadn't taken a chance on the then-absurd idea of a uniform column nearly 20 years ago.
I was a Voice reader and fan for nearly two decades before I first had a byline there. The Voice's coverage of NYC politics, movies, and especially music made a huge impact on me, and it's no exaggeration to say that a few Voice writers changed my life in various ways. My personal connection to the paper notwithstanding, the Voice was also an important NYC institution for decades. Although it had become a shadow of its former self in recent years, it will be missed. RIP.
• • • • •
[adrotate group="2″]
• • • • •
Raffle results: The two winners of the Vintage Brand raffle are Jason Wood and Howard Bosworth. Congrats to them, and thanks to all who entered. More raffles coming soon.
• • • • •
[adrotate group="2″]
• • • • •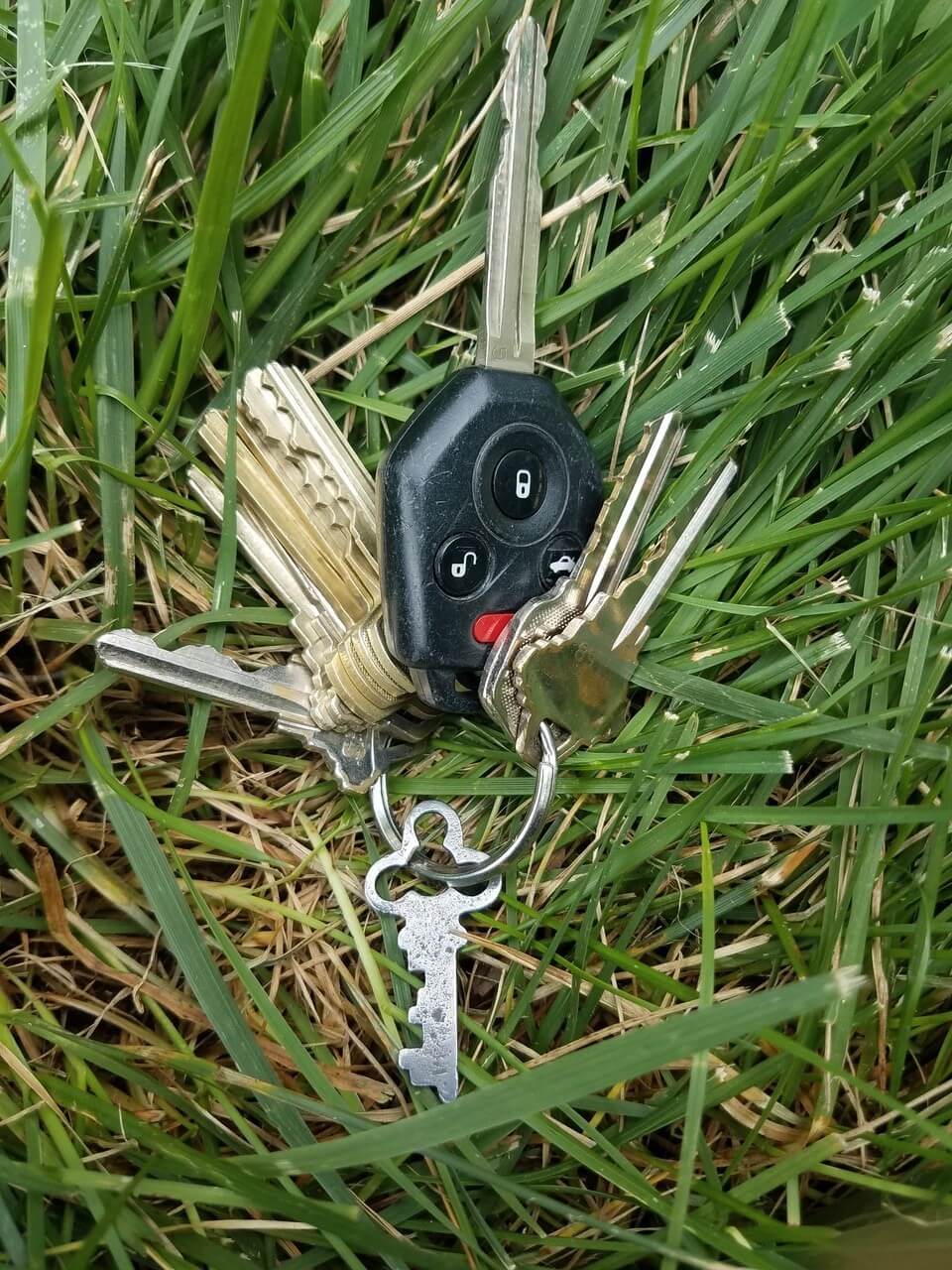 KRC update: The latest installment of Key Ring Chronicles is about an old-fashioned key. I really like this one — check it out here.
• • • • •
[adrotate group="2″]
• • • • •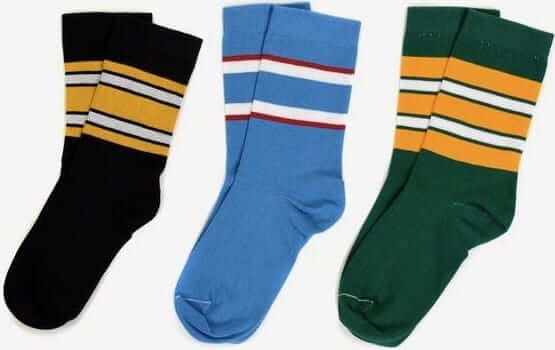 Merch reminders: In case you missed it last month, our latest batch of StripeRite socks (shown at right; click to enlarge), produced in conjunction with our friends at American Trench, is now available

.
In addition:
• The Uni Watch flex-fit "alternate" cap is available here. And our original "classic" cap, produced by Ebbets Field Flannels, is available here (but only in a few sizes; restocked inventory of all the other sizes coming soon).
• Membership card orders always flatline during August, when I'm away from the site. Now that I'm back, please consider supporting the site by ordering your own custom-designed membership card.
• Don't forget all of our Uni Watch shirts and mugs and our extensive collection of Naming Wrongs shirts.
My thanks, as always, for your consideration.
• • • • •
[adrotate group="2″]
• • • • •
Sorry, no Ticker today, as every member of the Uni Watch team had the day off yesterday. We'll get back to full Ticker-inclusive content tomorrow. And Collector's Corner to boot! See you then. — Paul