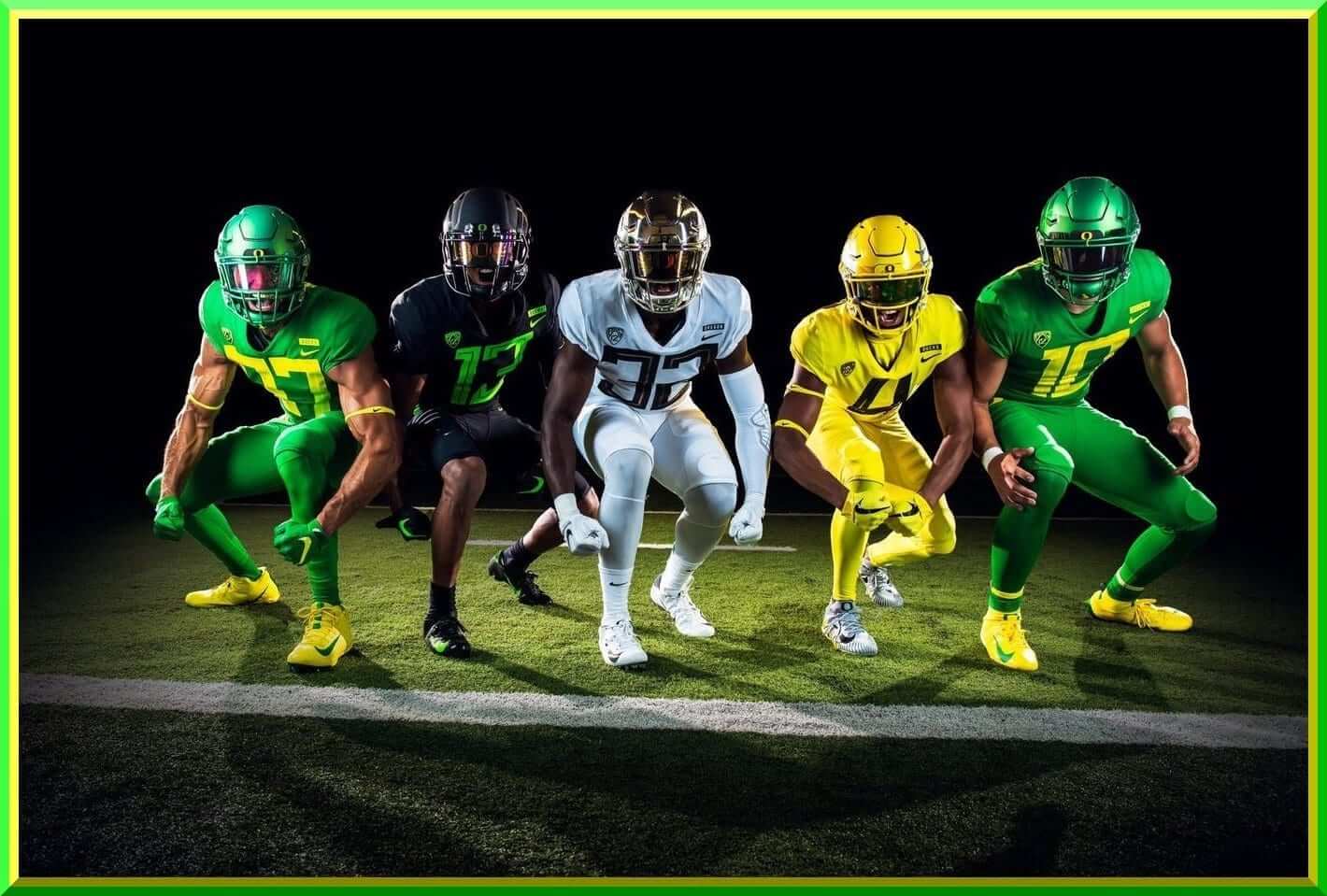 Click to enlarge
Submissions & Voting for the Griffins Alternate Jersey contest are just below a quick guest appearance from Paul! Scroll down to begin that — PH
Follow @PhilHecken

Paul here, making a rare August cameo. Greetings from the new Uni Watch HQ! I moved in with the Tugboat Captain on Saturday. Everything went pretty smoothly, although Uni Watch girl mascot Caitlin is still a little freaked out by the change of venue.
Anyway: Phil and I wanted to let everyone know that my annual college football season preview column is now up on ESPN. It's usually my biggest column of the year, and many of you have told me it's your favorite, so enjoy.
While we're at it, a few other items of note:
• My annual NFL preview will run next Tuesday, Sept. 4.
• In case you missed it last week, our latest StripeRite sock designs are now available for pre-order, and I don't mind saying that they look pretty sharp.
• Our Uni Watch flex-fit "alternate" cap is available here.
Okay, that's it for me. I have some clean-up to do at the old place and a ton of unpacking to do at the new place. My continued thanks to Phil for keeping the site running this month. I'll now hand the baton to him for the rest of today's content.
[adrotate group="2″]
Griffins Alternate Design Contest – Third Group of Submissions
Today we begin voting on the third group of contestants for the third annual Grand Rapids Griffins design contest. In case you missed it, the contest parameters and rules were laid out here.
We're using a new polling system, which we hope will eliminate (or at least drastically reduce) any fraud or shenanigans. You will be permitted to vote for as many designs as you would like, but you may only vote ONCE. The poll(s) will close approximately twenty-four (24) hours after being posted — the TOP THREE vote recipients will move into the final group (the winner of which will be chosen by the Griffins).
Today the lede will focus on the third 15 submissions. Tomorrow (the final day of voting) the designs and voting may be a sub-lede, so please be sure to check back and check the full post each day.
You will also notice the polling system looks different — I want to give my great thanks to Larry Torrez, who worked with me to come up with the poll you'll see below in an aesthetically pleasing format as well! Great work ElTee (of DC)!
REMINDER: The Griffins set out the following parameters for designing an alternate jersey. Please use them to guide you as you make your decision(s) below:
• Create a brand new design for a Griffins alternate jersey (remember: you are ONLY designing a jersey, not a full uniform).
• While your design work must be original, you MAY use current or previous Grand Rapids Griffins logos.
Therefore, while some of the submissions you see below may include gloves, helmet, pants, etc., you are ONLY voting on the jersey design. Please keep that in mind when casting your vote(s).
OK? That's about it. First I'll display all the submissions for today, which will be followed by the new (sharp-looking and hopefully cheat-proof) poll. Click to enlarge any image below.
• • • • • • • • • • • • • • • • • •
A: John Elbertson
• • • • • • • • • • • • • • • • • •
B: Johnny Woods
• • • • • • • • • • • • • • • • • •
C: Robert Briczinski
• • • • • • • • • • • • • • • • • •
D: Matt Bachovchin
• • • • • • • • • • • • • • • • • •
E: Noah Kars
• • • • • • • • • • • • • • • • • •
F: Zach Rueger
• • • • • • • • • • • • • • • • • •
G: Jacob Barnes
• • • • • • • • • • • • • • • • • •
H: Garrett Pickard
• • • • • • • • • • • • • • • • • •
I: Douglas O'Leary
• • • • • • • • • • • • • • • • • •
J: Serena Dworzynski
• • • • • • • • • • • • • • • • • •
K: Lucas VanderBilt
• • • • • • • • • • • • • • • • • •
L: Nathan Bryson
• • • • • • • • • • • • • • • • • •
M: Ryan Brandt
• • • • • • • • • • • • • • • • • •
N: Patrick Shivers
• • • • • • • • • • • • • • • • • •
O: Marco Pavano
• • • • • • • • • • • • • • • • • •
P: Mark Ureel
• • • • • • • • • • • • • • • • • •
And there you have it. Your third 15 submissions. And now, to vote, here's the poll — to start, click "ENTER" or hit "SUBMIT"; once you start the poll, the reader design will appear next to the name and you may select as many designs as you like. Once you have finished voting, be sure to scroll to the bottom and hit "ENTER" or click "SUBMIT" to make sure your vote(s) are counted! That's it!):
[adrotate group="2″]
St. Louis Blues Intro New "Heritage" Sweater
Last evening, the St. Louis Blues unveiled their new "Heritage" sweater, unveiled at Ice Breaker on at Ballpark Village.
Here's a look at the full sweater:
According to Adidas,
Inspired from the team's inaugural uniforms from the 1967-68 season, the Blues have gone with a retro look for their new adidas adizero Authentic NHL third jersey. The 2018-19 Heritage Jersey, like the original, features the iconic Blue Note emblem on top of a vintage light blue base with the original gold and white stripes along the sleeves and waistline. The design also borrows from the Blues' primary home jersey, featuring the fleur-de-lis of the flag of St. Louis inside the jersey's collar. The third jersey blends history, color and modern materials for a true evolution of the 1967 inaugural jersey.
If the sweater looks familiar, it should. They basically wore this during the 2017 Winter Classic vs. the Blackhawks:
As mentioned above, the sweater is "inspired" by the team's original 1967-68 uni, and the replication is pretty spot on. For comparison:
Here's a look at the new Heritage Jersey and some closeups on some details:
Of course, there was a hype video:
Here's the designer on the new jersey:
According to the team, the St. Louis Blues will wear the new Heritage Jersey on 11 Saturday night home games during the 2018-19 season. Here are those dates: Oct. 6 vs. Chicago Blackhawks; Nov. 3 vs. Minnesota Wild; Nov. 24 vs. Winnipeg Jets; Dec. 29 vs. Pittsburgh Penguins; Jan. 5 vs. New York Islanders; Jan. 19 vs. Ottawa Senators; Feb. 9 vs. Nashville Predators; Feb. 23 vs. Boston Bruins; March 2 vs. Dallas Stars; March 23 vs. Tampa Bay Lightning; and, April 6 vs. Vancouver Canucks.
[adrotate group="2″]
Griffins Jersey Voting Results, Rounds A & B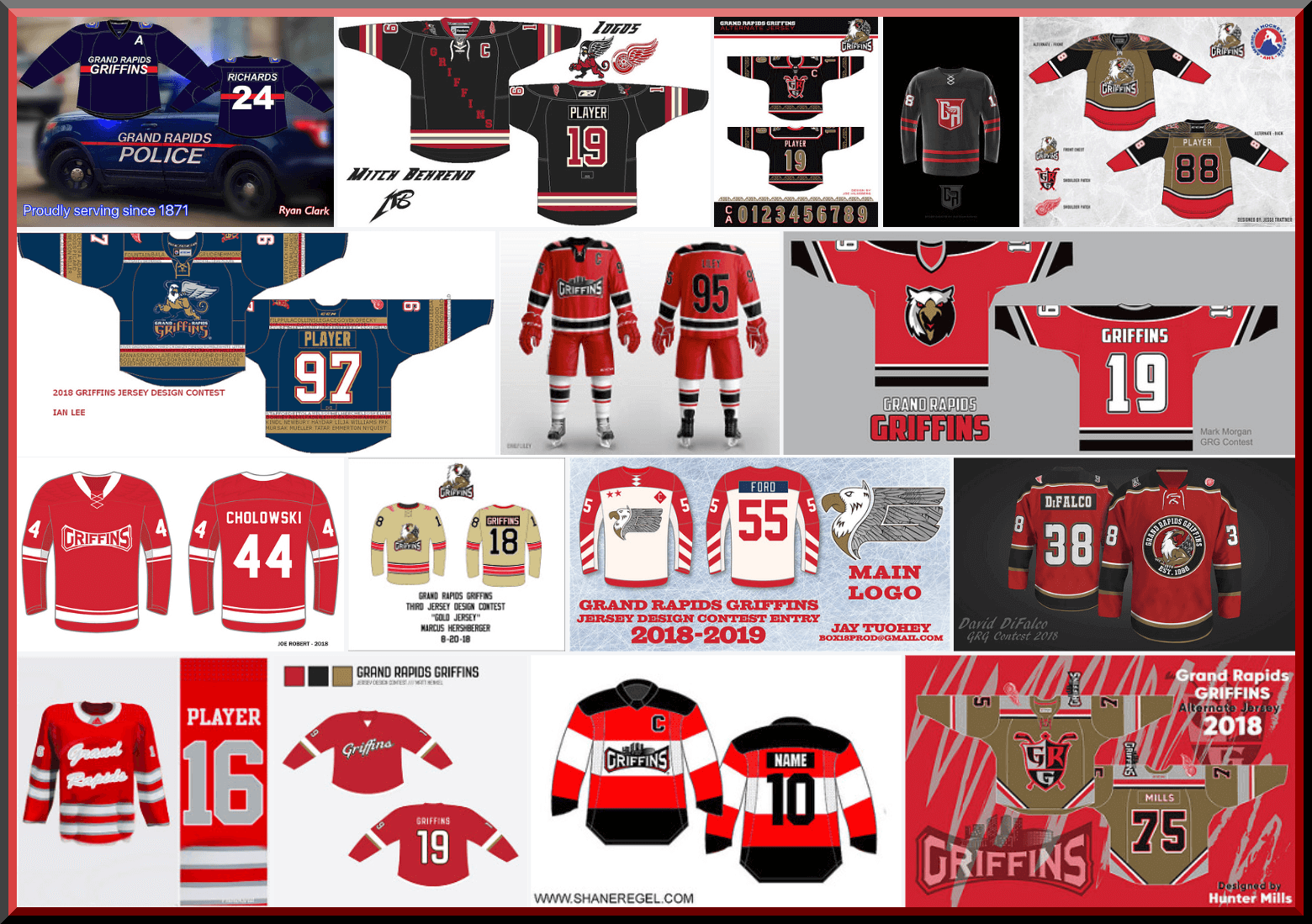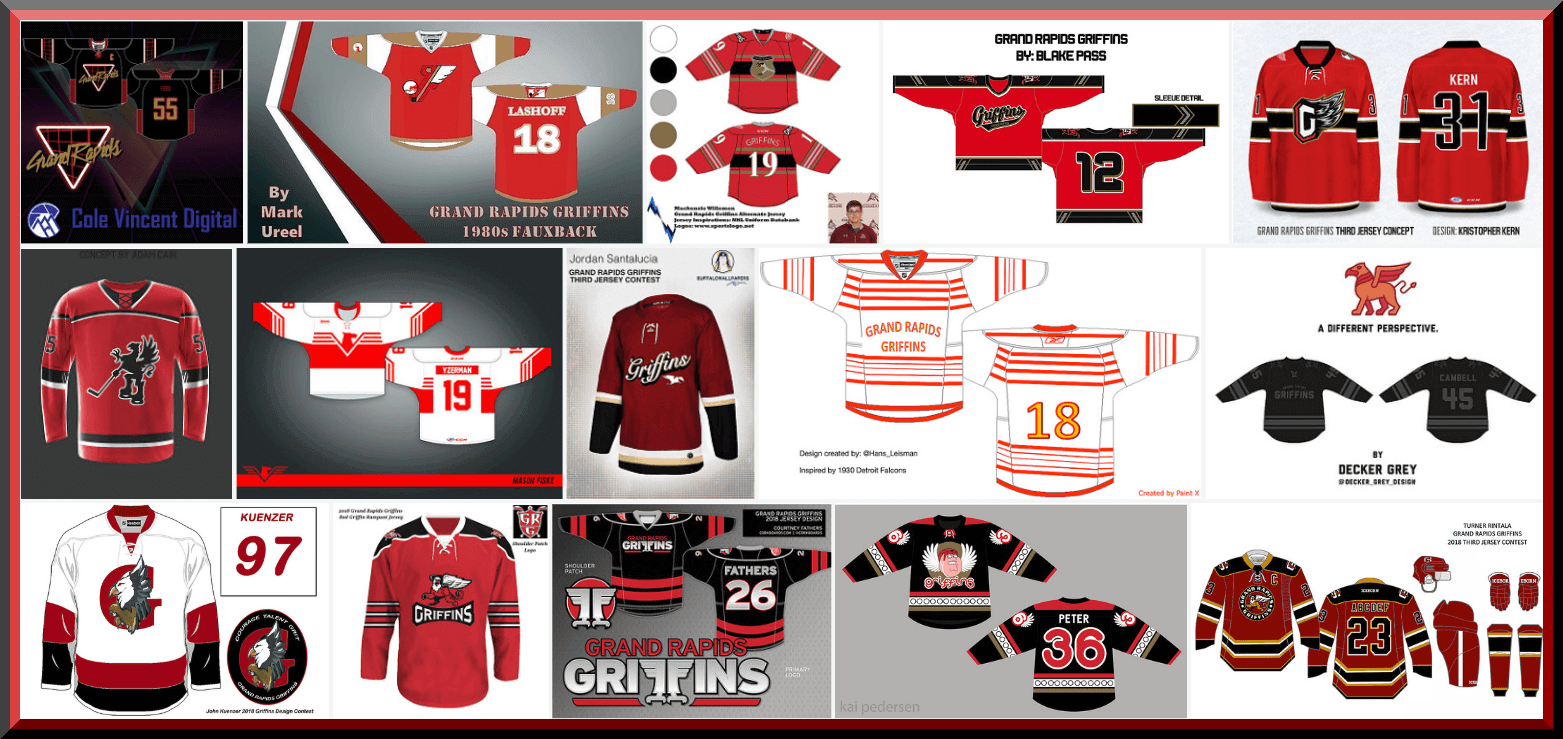 The results of the first two days of voting on the Griffins Alternate Jersey Contest are now complete.
Congratulations to Group A Winners Matthew Harvey, David DiFalco, and Joe Hilseberg. You three will be moving on to the Group of 12, from which the Griffins will select one overall winner. The results of the Group A voting are below:
Thanks to everyone who submitted. You can see all of the Group A submissions here.
• • •
Congratulations to Group A Winners Mason Fiske, Adam Cain, and Turner Rintala. You three will be moving on to the Group of 12, from which the Griffins will select one overall winner. The results of the Group B voting are below:
Thanks to everyone who submitted. You can see all of the Group B submissions here.
• • •
Some notes:
For the most part, everything ran smoothly. First off, there were some questions about mobile devices (although it's possible some Macs/PC's had this problem as well) not necessarily supporting the voting. I asked the great Larry Torrez, who was instrumental in setting all of this up and assisting with the data crunching, to address the issue:
(L)et me start by listing the devices that Typeform, the application we are using to gather votes for the contest supports.

Typeforms can be viewed and completed using the following platforms / browsers:

Windows and Mac computers: IE9+, and latest versions of Chrome, Safari, Firefox, Microsoft Edge, and Opera.

Tablets: iPads running IOS 8.4+ and Android tablets running 4.4+.

Smartphones: iPhones running IOS 9.1+, Android smartphones running 4.4+, Opera Mini (latest version) and IE Mobile (latest version).

Does your device meet these requirements?

If so, when you click on the link can you view the contest submissions?

If you can't the problem could be with your browser, clear your cache and try again.
Hopefully no one will have any issues going forward.
I'd also like to mention that, unfortunately, there was some attempted cheating. According to Larry, contests such as this have an attempted duplicate voting rate of between 3 and 5% (we have removed all duplicate IP address voting). Group A in particular was affected: Sadly, (and we will not name any names — but you know who you are), 22.54% of the submittals were duplicates submitted by 5 people (IP addys). These were all removed and the results adjusted accordingly. It is possible that the winning designs won despite attempted vote rigging, and it is also possible some in the top 3 were taken out of the top 3 after IP address duplicates were removed. Larry informs me that Group B also suffered from attempted ballot stuffing, but it was not as bad as Group A. We know who you are and you know who you are, so I would expect there will be no complaints from those who did not crack the top three on either day.
Again, congratulations to the first six advancees from Groups A & B. I'll hope to have the results of both Group C & D on Wednesday (definitely Group C; and I expect to have Group D sometime in the morning on Wednesday).
[adrotate group="2″]
The Ticker
By Jamie Rathjen

Baseball News: The Diamondbacks said they don't currently have plans for a John McCain memorial patch (thanks, Brinke). … Brewers pitcher Brent Suter, who is on the disabled list, still got in on the Players' Weekend action (from our own Alex Hider). … Brewers 1B Jesús Aguilar stuck Swedish Fish in the holes in his helmet during an at-bat (from Mike Chamernik). … The Tigers retired shortstop Alan Trammell's number and wore a patch for the occasion (from multiple readers). … Yesterday's Tigers/White Sox game accordingly did not feature Players' Weekend uniforms (also from multiple readers). … Here's one writer's opinion on the "best" cleats from Players' Weekend (thanks, Phil). … The Giants have been putting their 60th-anniversary-in-San Francisco logo on their game balls (from Ray Meyers). … There was a blue-vs.-blue-vs.-blue matchup: the Single-A Charlotte StoneCrabs and Clearwater Threshers, and the umpires (from @I_am_PLB). … "In Paul's article about the evolution of the C-flap, he mentioned that helmet manufacturers were working on a helmet that already included the C-flap without the attachment needing to be screwed on to a normal helmet. Is [Cubs RF] Jason Heyward wearing it?" asks Derek Linn. … Reader Will Schiebler wore a certain cap from a certain uniform blog while playing for his softball team recently.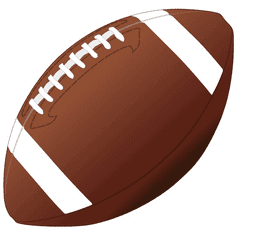 Football News: Reader Wade Heidt has a bunch of observations from the CFL, which is about at the midpoint of its season (click to enlarge). … Hawaii wore state-themed helmets this weekend in support of the victims of Hurricane Lane (from multiple readers). … However, one Hawaii player seemed to have his Mountain West sticker upside down. It's supposed to be green first, then white, says Aaron Wigg. … Also posted in Grab Bag: here's Syracuse running back Jim Brown in uniform for the school's lacrosse team (from Adam Thacker). … Red Springs (N.C.) High uses NFL captaincy patches (from Gerry Dincher). … "For weeks, I've been trying to find legitimate photos of the back of Virginia Tech's new jersey," writes Andrew Cosentino. "Well, I finally found a link that shows them! I took some screenshots as well." … Here's some rare footage of the Steelers in white pants. (The white-helmeted Eagles are a little more common.) From Jerry Wolper.

Hockey News: AHL jerseys are apparently to have a giant CCM patch on the back next season (from Nick Gratton). … A good CCM patch story: Darby York says in a 1992 Boston University/Boston College game, then-BU coach Jack Parker tried to have BC forefit because he believed the CCM patches on their jerseys were too large. The officials allowed the patches to be blacked out instead. … Beautiful "vintage" Seals jersey created by Wafflebored, yes?

Soccer News: We're now into the period where teams reveal third kits, often of questionable usefulness. Among those to do so were Premier League Everton, the English Championship's Bolton Wanderers, Millwall, Nottingham Forest, and Swansea City, and German teams Freiburg and 1. FC Nürnberg. … Other new kits: German team Borussia Dortmund (second) and NCAA Division III's Transylvania (Ky.) University, the last from Kyle Sutton. … Bundesliga team Schalke 04 made separate shirts for their League of Legends esports team. … Brighton and Hove Albion's English Women's Super League team wore the wrong white shorts with their second-choice kit. Brighton have two pairs of white shorts this year: the pair for the first kit has red accents, as the shirt also does, while the second-choice shorts have black accents. … This article has several interesting points about conventions regarding players' numbers. … Here's a great picture of Virginia men's soccer coach George Gelnovatch as a player at UVa in the mid-'80s. As it turns out, his team wore an Adidas template previously seen on the NASL incarnation of the Tampa Bay Rowdies, right down to the oversized chest script.

Grab Bag: Also posted in soccer: Bundesliga team Schalke 04 made separate shirts for their League of Legends esports team. … Here's Syracuse running back Jim Brown in uniform for the school's lacrosse team (from Adam Thacker).
[adrotate group="2″]