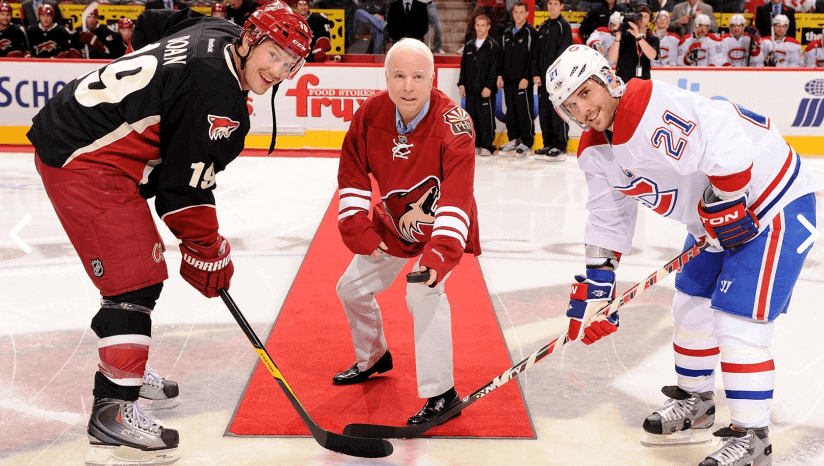 By John Ekdahl
John McCain passed away yesterday, and while he will certainly be remembered more for his career in the United States Navy, his time in both the United States House of Representatives and the Senate, and his campaigns for President, he was a huge sports fan and Arizona's teams paid tribute yesterday upon hearing of is passing.
From Yahoo News, which did a great job compiling these:
After Sen. John McCain's death Saturday, several Arizona teams paid tribute to the late politician and sports fan.

The Cardinals tweeted out a statement from president Michael Bidwill, saying "the world will never be the same" without McCain's voice.
John McCain was busy helping run the country over the years as a Senator, but when he had a chance, he'd drop by a Cardinals' practice or game to see his favorite football team and see friends like Larry Fitzgerald and Michael Bidwill.

McCain passed away Saturday night after a long fight with brain cancer and only a day after his family announced he would no longer be receiving treatment. The end, however inevitable, was difficult for those who knew him.
Statement from team president Michael Bidwill on the passing of Senator John McCain. pic.twitter.com/Zh72H58fNw

— Arizona Cardinals (@AZCardinals) August 26, 2018
Phoenix Suns:
You'll be missed, Senator McCain. pic.twitter.com/2qMYmFciJm

— Phoenix Suns (@Suns) August 26, 2018
Arizona Diamondbacks:
Goodbye to an American hero, one we were lucky enough to call a loyal fan.

Rest in peace, Senator John McCain. Our thoughts are with your family and loved ones. pic.twitter.com/KIMZS1w7Pq

— Arizona Diamondbacks (@Dbacks) August 26, 2018
John McCain has always been a member of the D-backs' family & was one of this team's biggest fans since day 1. He was in attendance at the expansion draft, World Series & countless other games, remaining a fan through thick & thin. I am honored to consider him a friend & we will

— Derrick Hall (@DHallDbacks) August 26, 2018
Arizona Coyotes:
We'll never forget your loyalty to our team, our state, and our country. Thank you, Senator. 🇺🇸 pic.twitter.com/MOXrDMjNYQ

— Arizona Coyotes (@ArizonaCoyotes) August 26, 2018
University of Arizona:
I was very lucky to have known this unique American hero and send our thoughts and prayers to his wife and family.https://t.co/lhfucgBDc2

— Robert C. Robbins (@UofAPres) August 26, 2018
Arizona State University:
Rest in peace, Senator McCain. pic.twitter.com/VocsgjrlBo

— Arizona State Sun Devils (@TheSunDevils) August 26, 2018
Rest in peace, to an American patriot and hero.
+ + + + + + + + + + + + + +
Just what… on earth… is going on here?
+ + + + + + + + + + + + + +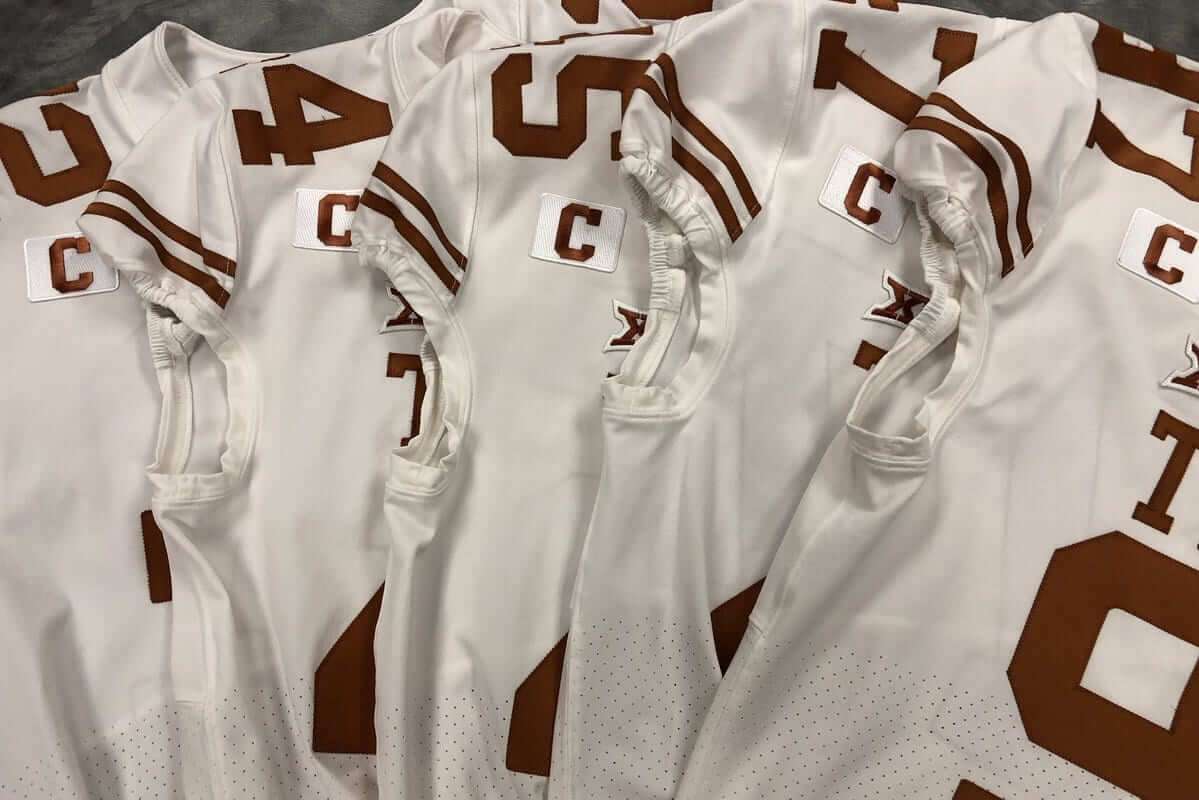 From Paul Kennedy, who says this is the first time captains' badges have been added to Texas jerseys. Original tweet here.
+ + + + + + + + + + + + + +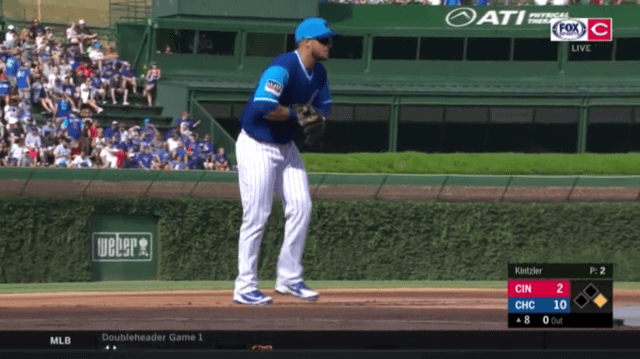 Via Joshua Hinton: "Maybe it's just me, but it seems like Brandon Kintzler (Cubs #20 relief pitcher) has an off-centered player's weekend patch."
+ + + + + + + + + + + + + +
Greg Shemitz noticed that Bryce Harper was wearing a snap-on cap yesterday. He says he saw it in the 7th inning. Anyone have a pic to confirm?
+ + + + + + + + + + + + + +
So, this is great: Cincinnati Red Scooter Gennett is a huge Dale Earnhardt fan so he honored him for Players Weekend. He's got the Intimidator's number with "DAL3" on his jersey, a checkered pattern on both his cleats and bat and he's even got his batting gloves flashing number 3.
@UniWatch @PhilHecken Reds' Scooter Gennett switched from No. 4 to No. 3 this season. Says he's a Dale Earnhardt fan, and uses Dale's number as his bat knob decal. pic.twitter.com/h5UB15m847

— Alex Hider (@alexhider) April 10, 2018
(Also: Alex Hiner's tweet was featured in this Sporting News article)
+ + + + + + + + + + + + + +
Via Joshua Hinton, here are the matchweek three kits (perhaps a bit late for some).
Here we go… #PL pic.twitter.com/VE2Sv3I3eS

— Premier League (@premierleague) August 25, 2018
https://fortune.com/2018/08/24/fanatics-lebron-james-retail-ecommerce/?utm_source=twitter.com&utm_medium=social&utm_campaign=social-button-sharing