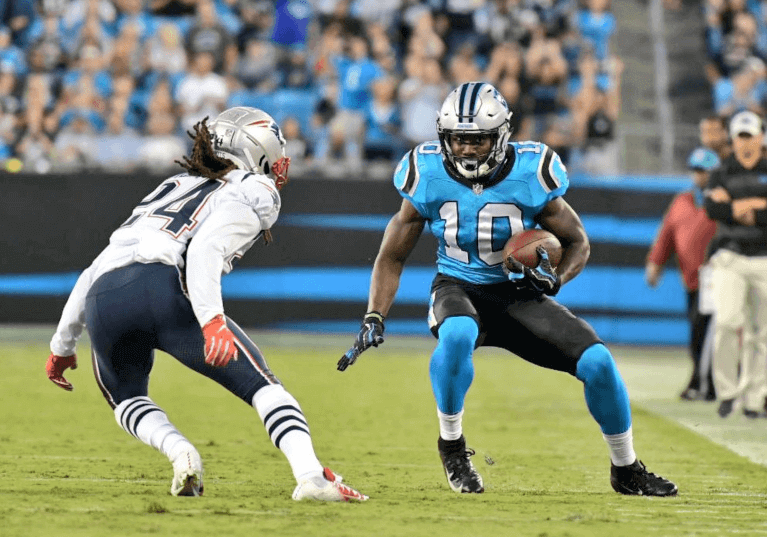 By John Ekdahl
As highlighted by the Panthers on Thursday night (and Kris Gross in the Ticker yesterday), the Carolina Panthers planned to wear the black pant and blue jersey combo for the first time in their history, which we got to see in action last night.
Why now? Well, I wouldn't discount the influence that Madden may have had on some of the players.
"It's really coming from the players," equipment manager Don Toner said. "They're the ones who wanted to try something different."

We've never seen the blue and black look in real life, but fans who play Madden have had the option to choose that combo for several years now. The reaction on social media indicates it's a rather popular look.

"I don't know anything about Madden, but evidently you could use this combo in the game," Toner said. "Somebody brought that up."
As Twitterer @NFL_Journal pointed out, this look was supposed to debut with the team itself:
It was shown that they would wear black pants, both at home and on the road. And the home jersey would be Carolina blue. While not as odd as the original Jaguars uniforms, these just didn't sit well. Again, the powers that be seemed to come to their senses and in 1995 the Panthers had an excellent set of home and away uniforms. They did add the Carolina blue jersey as an alternate later, but never with the black pants. The black pants did show up a few years ago with a black on block design that looked pretty good in our view.
So what other Madden sets can we get pushed onto the field now?
+ + + + + + + + + + + + + +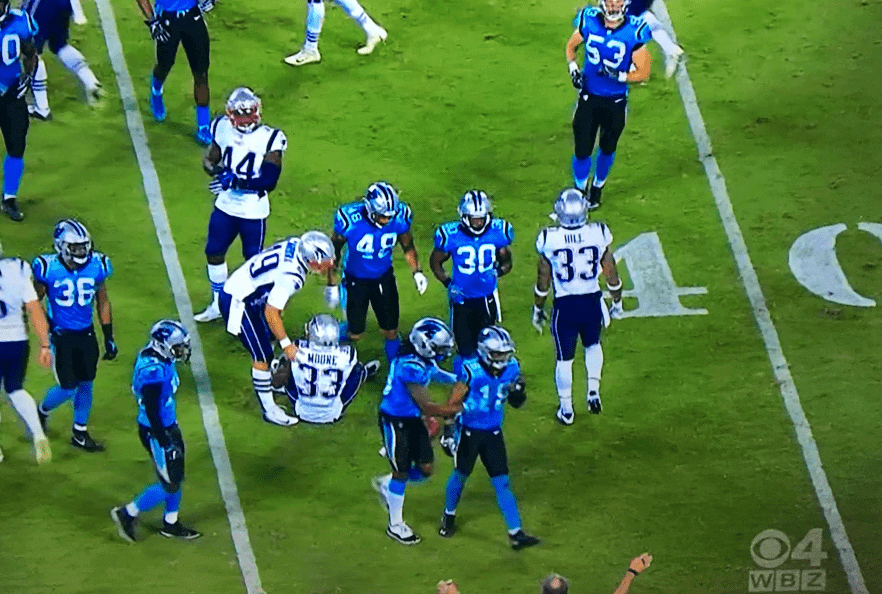 From the same Panthers/Pats game, here's a great shot of two #33s on the field at the same time. Thanks to Justin Hicks.
+ + + + + + + + + + + + + +
And yet another uni-highlight from the Panthers/Pats game:
Bubble gum shirt. pic.twitter.com/wx1pXZHqYX

— Michael Hurley (@michaelFhurley) August 25, 2018
+ + + + + + + + + + + + + +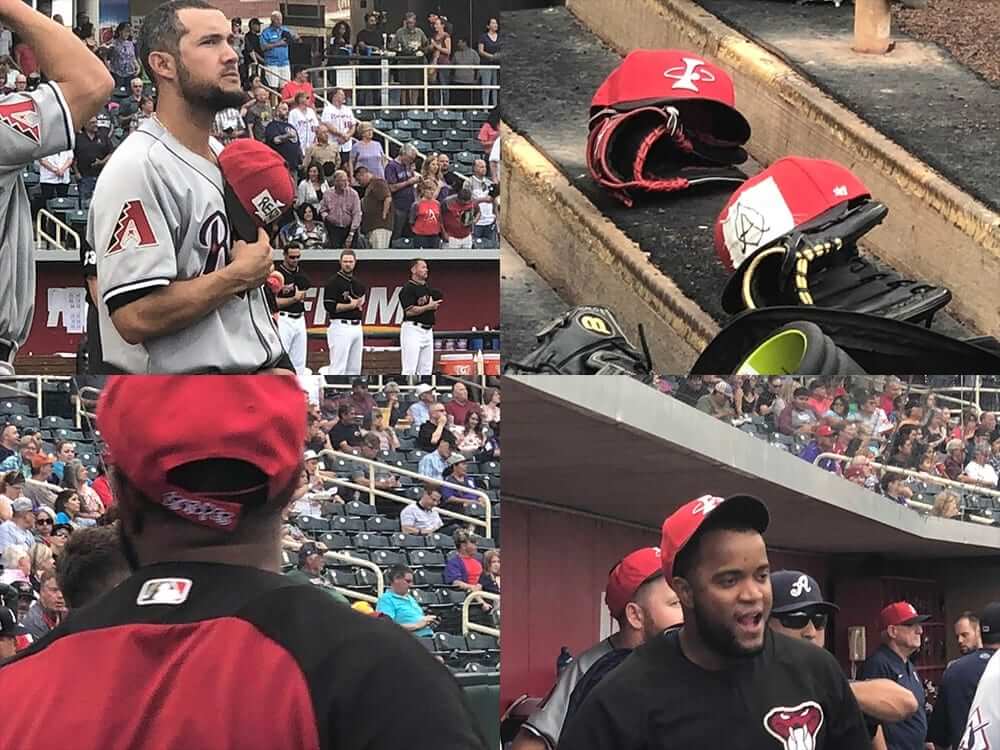 From Frank Mercogliano: "The Reno Aces made it to Albuquerque but their hats didn't so they are wearing snapbacks from the team store, and some players have modified them." I love the white fabric with the hand-drawn logo in the top right.
Their hats ended up arriving in the seventh inning.
+ + + + + + + + + + + + + +
We're happy to make this change, Mike. pic.twitter.com/tRymuo5zBP

— Angels (@Angels) August 25, 2018
Mike Trout made a last-minute change to his Players Weekend uni last night, opting to swap out "KIIIIID" for "A. Cox" to honor his brother-in-law Aaron Cox, who died last week.
Asked if this was the toughest game of his career, Trout said: "It was. My brother came out here, but the family is back home. Every so often, you can't help but think about it. He was a friend of mine and obviously my brother-in-law, but we were really close."

Cox was the brother of Trout's wife, Jessica. No cause of death has been given for Cox, who retired from baseball this month after pitching three seasons in the Angels' organization.
+ + + + + + + + + + + + + +
ESPN has a good collection of the best shoes and nicknames from Players Weekend here.
But here it is, what we've all been waiting for:
It's really happening. 📦🍔 #PlayersWeekend pic.twitter.com/sj2kEFCsDK

— Arizona Diamondbacks (@Dbacks) August 24, 2018
It even made it to the locker room.
+ + + + + + + + + + + + + +
Here's the throwback Bruins logo they'll be using for this year's Winter Classic.
A first look at the 1930's throwback logo we'll be wearing when we go #BackOutdoors on Jan. 1, 2019. #WinterClassic pic.twitter.com/q8xqfXHUkL

— Boston Bruins (@NHLBruins) August 24, 2018
+ + + + + + + + + + + + + +
Justin Verlander appears to have been, ahem, a tad overcharged on his current trip out west.
The Beverly Hills Hotel serves @JustinVerlander with the bill for his meal 😂 pic.twitter.com/3CRZopAlo2

— Darren Rovell (@darrenrovell) August 24, 2018
+ + + + + + + + + + + + + +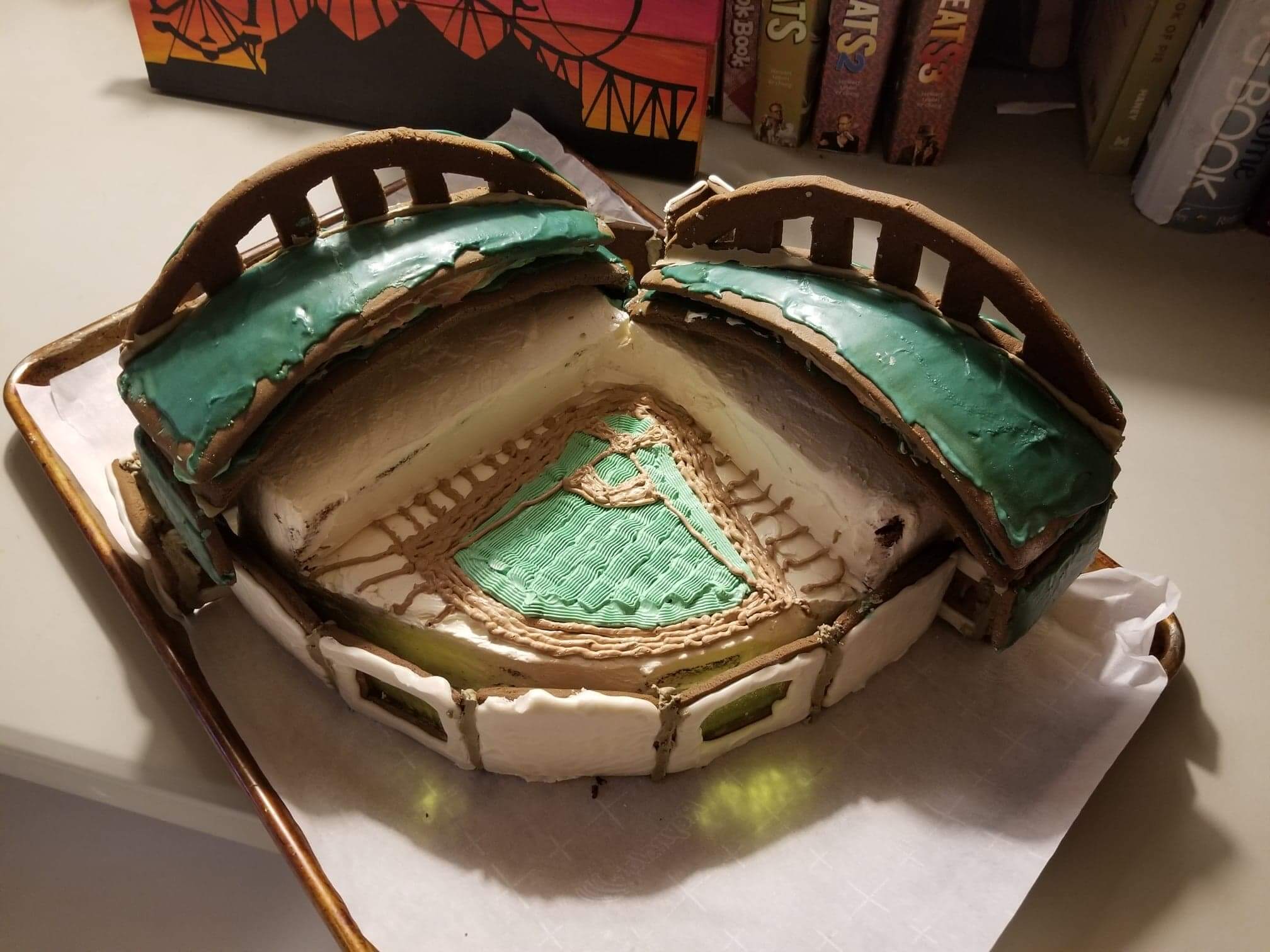 Reddit user Onion920 posted a photo of a gingerbread Miller Park, created by his wife:
Classic gingerbread wall and roof panels, and a spiced gingerbread cake infield and seating area, made with freshly grated ginger, and topped with buttercream frosting.
Thanks to Mike Chamernik for the find. Pretty good effort!