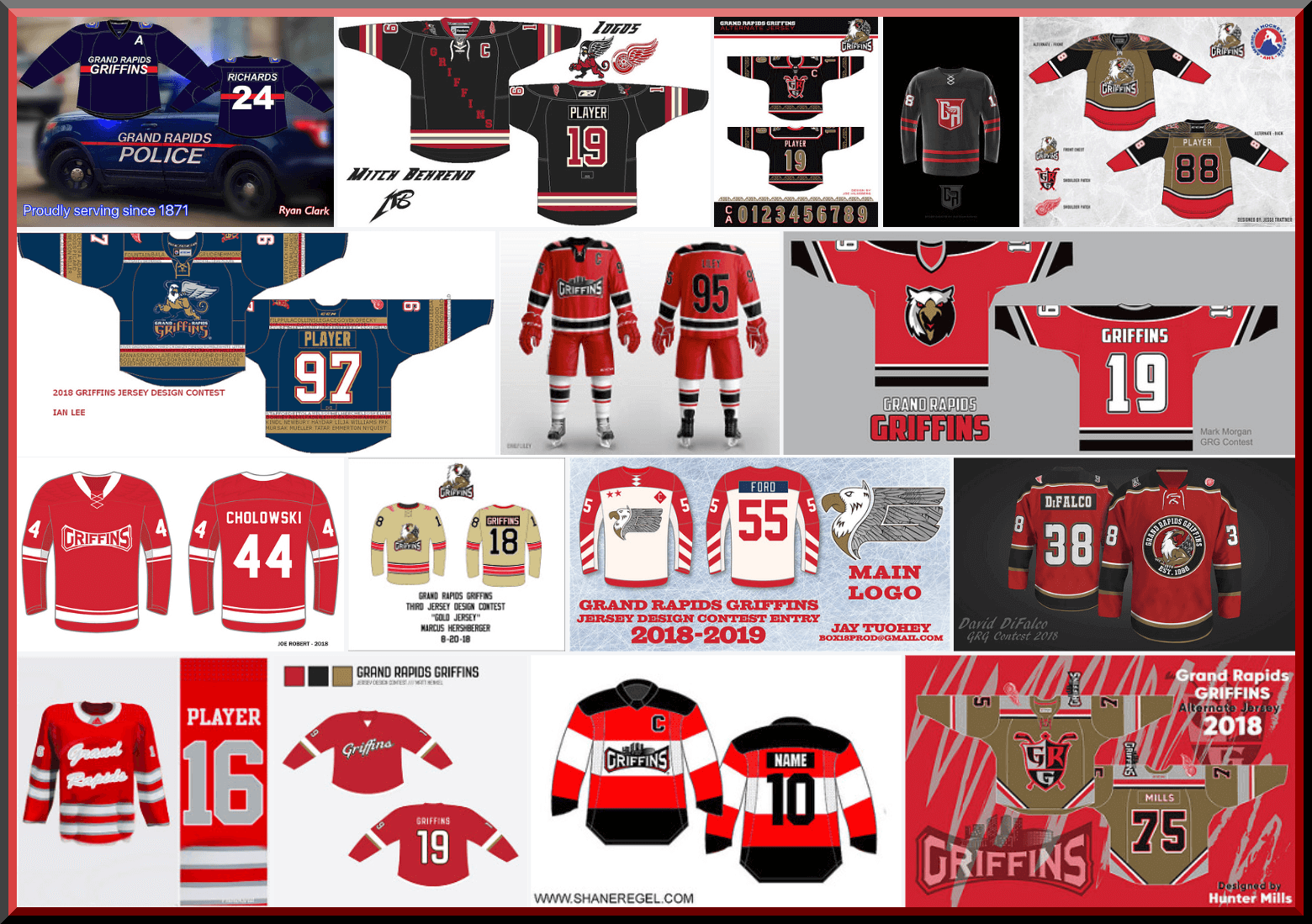 [Editor's Note: Paul is on his annual August break from site. Deputy editor Phil Hecken is in charge from now through the end of the month, although Paul is still on the clock over at ESPN and may be popping up here occasionally.]
By Phil Hecken
Follow @PhilHecken

The moment you've waited for is finally here. Today we begin voting on the first group of contestants for the third annual Grand Rapids Griffins design contest. In case you missed it, the contest parameters and rules were laid out here.
While last year I received almost 120 entries, this year was only about half that: 61. Based on how that shakes out and how the voting was announced, it will be broken down as follows. Today: First 16 entrants; Tomorrow: Second 15 entrants; Monday: Third 15 entrants; and Tuesday: Final 15 entrants. Unlike previous contests, the entries will NOT be listed alphabetically; they were randomly selected and include submissions received throughout the deadline period. The TOP THREE contestants receiving votes in each group will move on to the final group (for a total of 12 finalists — three from each group), from which the Griffins will make a decision and declare the winner who I will announce on Friday, August 31.
We're using a new polling system, which we hope will eliminate (or at least drastically reduce) any fraud or shenanigans. You will be permitted to vote for as many designs as you would like, but you may only vote ONCE. The poll(s) will close approximately twenty-four (24) hours after being posted — the TOP THREE vote recipients will move into the final group (the winner of which will be chosen by the Griffins).
Today the lede will focus on the first 16 submissions. Subsequent days the designs and voting may be a sub-lede, so please be sure to check back and check the full post each day.
You will also notice the polling system looks different — I want to give my great thanks to Larry Torrez, who worked with me to come up with the poll you'll see below in an aesthetically pleasing format as well! Great work ElTee (of DC)!
REMINDER: The Griffins set out the following parameters for designing an alternate jersey. Please use them to guide you as you make your decision(s) below:
• Create a brand new design for a Griffins alternate jersey (remember: you are ONLY designing a jersey, not a full uniform).
• While your design work must be original, you MAY use current or previous Grand Rapids Griffins logos.
Therefore, while some of the submissions you see below may include gloves, helmet, pants, etc., you are ONLY voting on the jersey design. Please keep that in mind when casting your vote(s).
OK? That's about it. First I'll display all the submissions for today, which will be followed by the new (sharp-looking and hopefully cheat-proof) poll. Click to enlarge any image below.
My thanks to all who submitted and best of luck.
• • • • • • • • • • • • • • • • • •
A: Ryan Clark
• • • • • • • • • • • • • • • • • •
B: Mitch Behrend
• • • • • • • • • • • • • • • • • •
C: Joe Hilseberg
• • • • • • • • • • • • • • • • • •
D: Matthew Harvey
• • • • • • • • • • • • • • • • • •
E: Jesse Trattner
• • • • • • • • • • • • • • • • • •
F: Ian Lee
• • • • • • • • • • • • • • • • • •
G: Emily Liley
• • • • • • • • • • • • • • • • • •
H: Mark Morgan
• • • • • • • • • • • • • • • • • •
I: Joe Robert
• • • • • • • • • • • • • • • • • •
J: Marcus Hershberger
• • • • • • • • • • • • • • • • • •
K: Jay Tuohey
• • • • • • • • • • • • • • • • • •
L: David DiFalco
• • • • • • • • • • • • • • • • • •
M: Patrick Thomas
• • • • • • • • • • • • • • • • • •
N: Matt Henkel
• • • • • • • • • • • • • • • • • •
O: Shane Regel
• • • • • • • • • • • • • • • • • •
P: Hunter Mills
• • • • • • • • • • • • • • • • • •
And there you have it. Your first 16 submissions. And now, to vote, here's the poll — to start, click "ENTER" or hit "SUBMIT"; once you start the poll, the reader design will appear next to the name and you may select as many designs as you like. Once you have finished voting, be sure to scroll to the bottom and hit "ENTER" or click "SUBMIT" to make sure your vote(s) are counted! That's it!):
[adrotate group="2″]
Eagles To Wear Supe Patch on Jersey
In a (not so surprising) move yesterday, the Philadelphia Eagles, your reigning Super Bowl Champions and slayers of Brady, will begin the season wearing a patch designating their status as Supe Champs. It's a pretty basic looking patch, based off the Super Bowl LII (52) logo:
Eagles to wearing Super Bowl champs patch for season opener vs. Falcons on Sept. 6 (h/t @PhilHecken). pic.twitter.com/u7cn74Zk1I

— Paul Lukas (@UniWatch) August 22, 2018
That's the green jersey (and presumably the jersey they'll wear to open the season at home for the Thursday Night Football kickoff September 6th, against the Falcons), and the linked article in the parent tweet below says it will only be worn on the jerseys for one game (similar to what the Patriots have done in recent seasons). Yet, also in the tweet below, it looks like Sporting Goods stores are selling the black version of the Eagles jersey, also with the patch. Does this mean the Eagles will wear it for more than one game — or is this just another merchandi$ing maneuver? My money is on the latter.
Saw this at my local sports store pic.twitter.com/Edm6uEOacr

— JacobEye (@Jayblue0014) August 22, 2018
It's not a bad looking patch, per se, but it doesn't show much creativity. Of course, if they're following the lead of the Patriots, they didn't exactly show a ton of creativity themselves.
[adrotate group="2″]
Spurs Get Advertiser Patch
Yesterday, the San Antonio Spurs added an advertiser patch. You'll have to bear with me as my photoshop MS Paint skills are somewhat limited:
I'm not even able to ascertain how many NBA teams now have ad patches, but it's at least 20. Believe it or not that sort of information isn't that easy to obtain via a simple google search. Almost every article dealing with ad (or, if you prefer, "sponsor") patches is basically from last season, and ad patches have been added since then. One article mentions "19" (and that was as of November 13, 2017) — I think at least two, including the Spurs, have been added since then. Maybe it's more. It's 20 too many in any event.
If you're actually curious as to what the advertiser is (and also the "rationale" for using them), click here.
You can read more about the deal here.
[adrotate group="2″]
The Ticker
By Anthony Emerson

Baseball News: For the past several years, MLB teams have placed a small American flag patch on their caps on the anniversary of Sept. 11 terrorist attacks. This year, it appears MLB and New Era are dropping the flag for a memorial patch (from @ajenkinsCLE). … On Tuesday night (way past Uni Watch's bedtime), D-Backs pitching coach Mike Butcher wore a cap with the team's 20th Anniversary logo on it, which of course the D-Backs stopped wearing earlier in the season (from Michael Olguin). … Brewers 1B Jesús Aguilar was examining his broken belt when a pickoff attempt went flying by his head (from Mike Chamernik). … Also posted in the hockey section: The Blackhawks gave White Sox debutante Michael Kopech a custom sweater. Kopech's MLB debut coincided with Blackhawks night at New Comiskey (from Griffin Smith). … Speaking of the White Sox, their "home run chain" is the best thing I've seen all summer (from Ryan Andrew). … New Cub Daniel Murphy will wear No. 3 (from Joe Ringham). … The Orioles gave away Virginia Tech-themed hats as part of their University Nights series of promotions (from Andrew Cosentino). … Also posted in the NFL section: The Lehigh Valley IronPigs will honor the Super Bowl Champion Eagles with a special midnight green uni (thanks, Phil). … Cap on a cap alert! (from James Gilbert).

NFL News: New Vikings safety George Iloka will wear No. 28 (from Mike Chamernik). … Cross-posted from the baseball section: The Lehigh Valley IronPigs will honor the Super Bowl Champion Eagles with a special midnight green uni (thanks, Phil).
.

College/High School Football News: Also posted in the college hoops section: Louisiana State University of Alexandria has unveiled a new bull terrier logo (from @_7ate9_). … UMass have slightly altered the decal on their white helmet, and have added a "PG" memorial decal for Director of Football Operations and former coach Paul Gorham. Full gallery of both helmets here. … The University of Delaware is going with blue pants instead of yellow for the first time since at least the 1940s (thanks, Phil). … Columbia's helmets will feature the Manhattan skyline on the back (from Mark Calveric). … Traditionalists, look away: here's a retrospective of the last decade of Oregon unis (thanks, Phil). … Speaking of Oregon, here's a "completely subjective" list of college football's 10 ugliest unis, with many *ahem* questionable choices (thanks, Phil). … Josh Claywell's alma mater, LaRue (Ky.) County High, has nine uni combos this year, almost enough for a different one for each regular season game. … New numbers for the Illinois incoming (from Illini Football).

Hockey News: It's the end of an era, as the Montréal Canadiens are going with a single logo at center ice for the 2018-19 season, instead of the two they've had for many, many years. The Flyers are the only team left with double logos at center ice (from @ImAnimated and Moe Khan). … Cross-posted from the baseball section: The Blackhawks gave White Sox debutante Michael Kopech a custom sweater. Kopech's MLB debut coincided with Blackhawks night at New Comiskey (from Griffin Smith). … The Canucks are very, very happy with the return of alternate unis to the NHL. So happy, they're going to have two alternates for the 2018-19 season (from Brock Jackson). … The Toledo Walleye of the ECHL have revealed their tenth season patch (from Mark Kunz). … Minnesota State has teased their new sweaters (from Dylan Krahling).


NBA & College Hoops News: Something called Presidential Parking Services has stolen the Trailblazers's logo (from J. Max Weintraub). … Cross-posted from the college football section: Louisiana State University of Alexandria has unveiled a new bull terrier logo (from @_7ate9_). … Ever wonder why Kentucky unis have a checkerboard pattern? Here's your answer (thanks, Phil).

Soccer News: The Philippine men's national team is having a kit design contest (from @phillipsukke). … English fourth tier side Forest Green Rovers still haven't received their new kits from Hummel, so they've cut ties with Hummel and have revealed completely new kits with their new provider, Player Layer. For the record, here are the kits Hummel released, here are the makeshift light blue ones they've been wearing in the interim and here are all three Player Layer kits (many thanks to our own Jamie Rathjen for his intrepid following of this story, as well as everyone else who sent this in). … Russian side FC Rostov has unveiled a limited edition fourth kit based (or entirely made up of) on a Rostov supporter bringing his rug to a match last week (from Bob Hille and Max J. Rosenthal). … Classic Football Shirts has produced a graphic of the primary kits of the previous thirty Serie A winners. Naturally, an awful lot of Milan, Inter and Juventus (from Josh Hinton).

Grab Bag: Durham County, North Carolina, is allowing resident to vote on new "I Voted" stickers. In my opinion, No. 20 is head and shoulders (from Casey Hart). … New kits for Gloucester Rugby. The club is known as the cherry and whites, but apparently Gloucester forgot that (from Uni Watch Rugby Correspondent Eric Bangerman). … Here's a look at what Lacoste-sponsored players will be wearing at the forthcoming US Open. … A golfer at Letchworth Golf Club in Hertfordshire, England, was turned away from playing because of the color of his socks (from J. Max Weintraub). … The Library of Congress has massively downgraded its logo. Remind anyone else of Cynthia Nixon's gubernatorial campaign logo? (From @DubsPapa).
[adrotate group="2″]