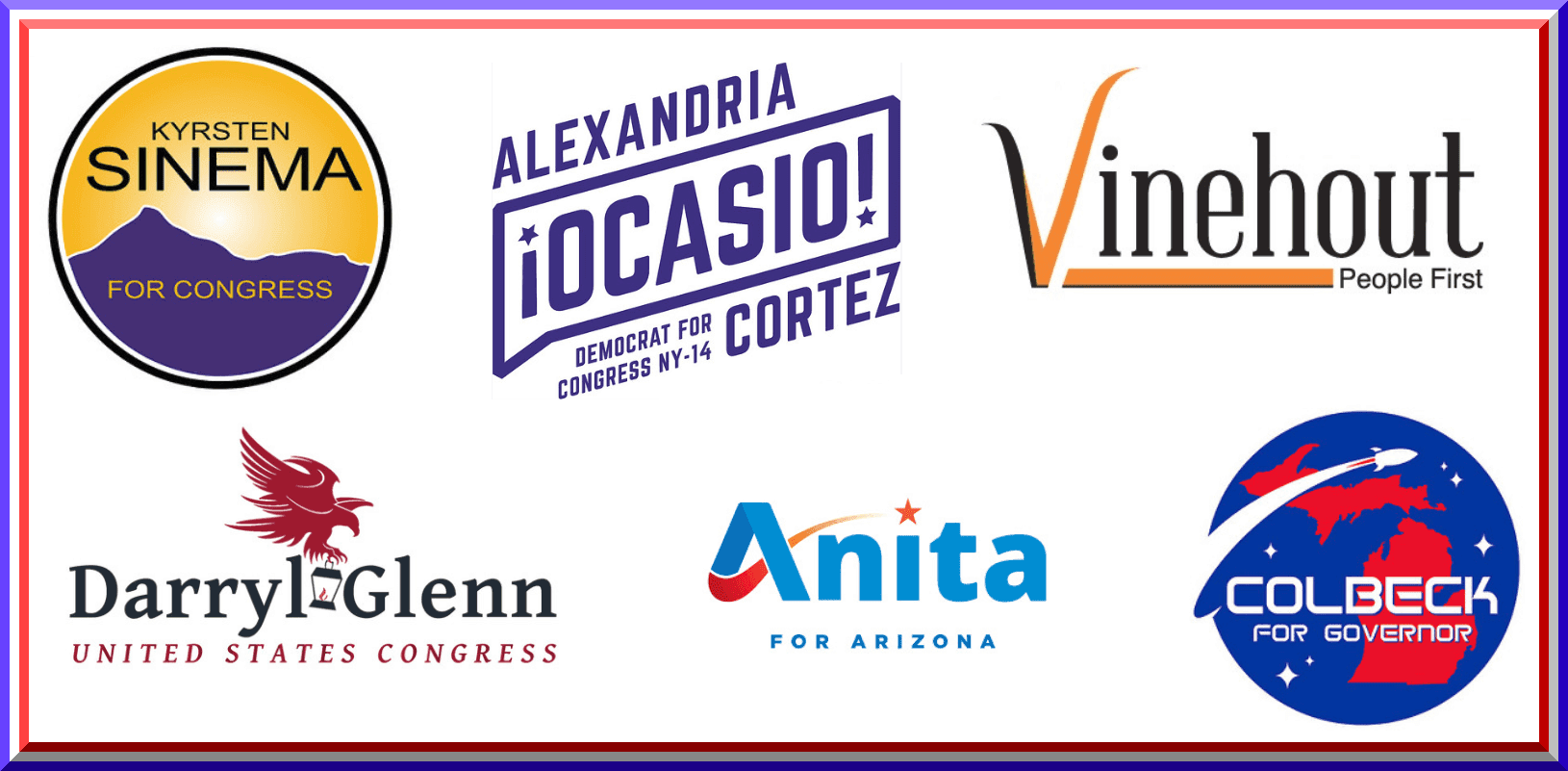 [Editor's Note: Paul is on his annual August break from site. Deputy editor Phil Hecken is in charge from now through the end of the month, although Paul is still on the clock over at ESPN and may be popping up here occasionally. Today we have a very special "off-uni" post from our own Anthony Emerson, who'll take a look at the best and worst logos of the non-uni kind. Enjoy! — PH]
By Anthony Emerson
The Bests:
Alexandria Ocasio-Cortez, House of Representatives (NY-14), Democrat
As much as Paul probably hates the use of purple in Ocasio-Cortez's logo, I can't think of a better representation of our current political moment, particularly in the Democratic Party. Politico agrees. The font is brilliant, the angle of the text implies a forward-looking and optimistic approach, the use of the inverted exclamation points to evoke her heritage in a heavily nonwhite district.
+ + +
Betsy Sweet, Governor of Maine (lost in primary), Democrat
Ignore my personal feelings about this candidate. Maine tends to lack halfway decent political logos. As a matter of fact, a Democrat and a Republican had virtually the same logo. Nearly every candidate (except for one Republican) had signs with white letters on a blue background, or vice versa.
And then there's Betsy. Her signs are colorful, the red evoking the fact that her campaign got Democratic Socialists of America support. But the red does double duty in allowing the signs to stand out in a sea of blue and white. And, best of all, it includes a pun.
+ + +
Mahlon Mitchell, Governor of Wisconsin (lost in primary), Democrat
Would you be surprised to know that Mahlon Mitchell is a firefighter? Mitchell's use of a firefighter's helmet and the color red (no doubt rare in modern Democratic politics) put his career at the forefront of his campaign. If it wasn't as well executed, it could come off as hackneyed or pandering.
+ + +
Gavin Newsom, Governor of California, Democrat
Let me be honest, here: Gavin Newsom made it into this list because of the bear. I like the font except for the gradient. I even dig the weird shapes they kind of forced in there. The orange adds a nice drop of color to prevent it from looking cold and drab. But that bear is so freaking cool. Whoever came up with that deserves a raise.
+ + +
Darryl Glenn, House of Representatives (CO-5, lost in primary), Republican
It's not all Democrats, I swear! I love everything about Darryl Glenn's logo. The eagle, the lantern, the font, all of it helps evoke an almost American Revolutionary feel (and, considering Glenn's self-description as a Constitutionalist, stands to reason). The only thing I'd change would be to make the eagle black and Glenn's name red. Also needs to work on the kerning around the the L in Darryl and the E in Glenn.
+ + +
Abdul el-Sayed, Governor of Michigan, Democrat
Abdul el-Sayed's logo is somewhat traditional, especially compared to those of other candidates listed here. But the bold, brash font for his name, the simple but artistic outline of the state, and the somewhat muted red and blue give a feeling of an old-school style of politics. It works even better with the silver and cream on his website. It shouldn't surprise you that a candidate from a neighboring state basically cribbed el-Sayed's entire logo.
+ + +
Josh Hawley, United States Senate (Missouri), Republican
Republicans very frequently use traditional fonts and imagery, mostly for political reasons than design reasons. And then there's Josh Hawley. Running against an incumbent Democrat in a state Trump won by almost 20 points (Mississippi was closer for Clinton than Missouri, shockingly), Josh Hawley's logo evokes something fresh, new, almost futuristic. His use of bright red and a softer blue completes the bold, energetic look. The only thing I would change is the use of the Liberian flag on the H.
+ + +
Mike Dunleavy, Governor of Alaska, Republican
If you had to guess which state had produced the best identity among all gubernatorial candidates in 2018, you probably wouldn't have guessed Alaska. But it's true! This is only one motif that Mike Dunleavy has used on his campaign signs, as he has four other designs, though the light blue bear design is definitely the strongest. That beat looks awesome, and is a nice splash of color that immediately draws your eye to the center of the sign. Dunleavy's name and slogan take a back seat, almost implying that he'll be a no-frills, down-to-business governor. The bear version is also not as busy as the other four designs.
Considering the logos of the other candidates, it's safe to say that Dunleavy is head and shoulders ahead of them, at least in terms of graphic design.
+ + +
Anita Malik, House of Representatives (AZ-8), Democrat
Malik uses the same principles as Dunleavy, but condensed to her name. I love the shooting star imagery creating the tittle on the 'i' and the central bar of the 'A'. The colors seem very nicely balanced and simultaneously down-to-earth and professional. I love the shape of 't' and the shade of blue. The 'A' by itself could go on to become a powerful personal mark, not unlike Barack Obama's logo.
+ + +
Tedra Cobb, House of Representatives (NY-21), Democrat
Normally, I do not like political roundels, and the "worst" half of this article will attest to that. But Tedra Cobb has come out with an absolutely gorgeous mark, with a great font and nicely balanced cold colors. I can almost smell the forest. Her logo evokes environmentalism and rural ruggedness simultaneously, and would not look out of place as a sticker on a laptop at a college or on the rear windshield of an SUV with a bike rack. It was a bold move to not include any warm colors, and it paid off in spades for Cobb.
+ + + + + +
The Worsts:
Mike McCamon, House of Representatives (KS-3), Democrat
It's not often we get a sign with a direct attack on an opponent. We need to dissect this logo in two parts. The first part is the part with McCamon's actual name. Boring font, extremely traditional red-white-blue horizontal motif, which is bad and boring and not helping his campaign, but not bad enough to get it into the worst campaign logos nationwide by itself. No, what really takes the case is the sideways attack on incumbent Republican Kevin Yoder. The fact that it's sideways and the second R is backwards (implying some sort of Russia connection?) makes it nearly illegible, especially if you're driving. The first time I saw this, I had to read it over three times before I understood the meaning.
+ + +
Clint Koble, House of Representatives (NV-2), Democrat
"Let's make our logo super shiny. And let's have it evoke the European Union, too."
Yes, I know the logo is supposed to remind you of Betsy Ross' flag, but that shade of blue is closer to the EU's flag than the navy used on American flags. And even if this wasn't disgustingly gradiented, this would still be listed among the worst in the country. Koble's attempt at an Obama-esque glyph looks more like an M (which isn't a letter in either his first or last name) than the Sierra Nevadas, and that N is giving me a tension headache. Also, note that the red is the only part of this logo that isn't shiny as hell.
+ + +
Diane Mitsch Bush, House of Representatives (CO-3), Democrat
How many different design elements can you spot? Mitsch Bush's logo has a very rookie and amateurish feel, which is surprising considering Mitsch Bush has been in the Colorado House of Representatives since 2012. Too many different fonts (I count at least four, which is two more than the absolute maximum amount of fonts that you want on a political logo), too many different words trying to fit onto a roundel, too much stuff going on. A friend of mine made his own (infinitely better) version of the logo in less than 10 minutes.
+ + +
Sean Duffy, House of Representatives (WI-7), Republican
DŮFFY WISCONSIN. Why is the star there, Sean? Is he trying to pull off an umlaut as a guy with an Irish name in a German part of the country? Other than that, the font reminds me more of a hardware company than a politician (maybe it's part of Duffy's appeal?). The way the N in Wisconsin meets the Y in Duffy also makes the entire thing look off-center, like his name is too far left and the state's name is too far right.
+ + +
Kyrsten Sinema, United States Senate (Arizona), Democrat
Sinema is a rising star in the Democratic Party and she has perhaps the best chance to flip a Senate seat blue in this cycle. But her logo leaves a lot to be desired. My first thought is "spa in Glendale." The font is weak and the roundel struggles to fit her name, which begs the question: why a roundel in the first place? The bright spot in the middle I think is supposed to be the sun rising (or setting, but that's not the hopeful imagery politicians usually go for), but instead it looks like the person filling in the color in photoshop got lazy.
+ + +
Kathleen Vinehout, Governor of Wisconsin (lost in primary), Democrat
Vinehout has a similar problem here as Sinema: weak font, unappealing colors. The orange and black evoke Halloween, and the small, Helvetica slogan isn't helping anyone. I find something unsettling about the V that I can't quite put my finger on. It's clearly trying to evoke a checkmark, but it looks almost like a monster trying to sneak up on the unassuming 'i' and 'n'. The whole thing feels unbalanced, the orange and bold strokes on the right-hand side of the logo, and black and small serifs on the left.
+ + +
Patrick Colbeck, Governor of Michigan (lost in primary), Republican
Mission patches are super cool. Unfortunately for Patrick Colbeck, his logo isn't. He decided to keep a NASA-esque font for his name, and the results are disastrous. His name is barely legible. The use of dark red and blue right next to each other without any sort of border is eye-searing, and when you notice that little bit of blue that extends outside of the sphere (to try to make it look like the rocket is orbiting…Michigan, I guess) you can't unsee it.
+ + +
Jeff Ballinger, House of Representatives (MA-3), Democrat
I am anti-Impact. It is the most overused font on the Internet, and it is entirely unprofessional and unserious. So when I see a political candidate using it in their logo, I think that candidate is unprofessional and unserious. Maybe I'm letting my own hatred of Impact color my view of Mr. Ballinger's logo, but I just can't think of him as the guy I'd want to represent me in Washington discussing important things like taxes and healthcare and tariffs when he uses the same font as those dumb cat captions that were super popular eight years ago.
+ + +
Naomi Andrews, House of Representatives (NH-1), Democrat
You would think that the Chief of Staff of the incumbent congresswoman would be able to come up with something better than this Microsoft Paint, thrown-together garbage. There is nothing remotely memorable about it, and I can't imagine it standing out as a sign on the side of the road next to the signs of Andrews's literally 18 opponents.
+ + +
Bill Keating, House of Representatives (MA-9), Democrat
How can an incumbent congressman's logo be this bad? This is embarrassing. And it's not like Bill Keating's been around since the Ford Administration and just scanned one of his signs onto his website in 1995. No, Bill Keating was first elected in 2010. Dude's only going for his fourth term! The squished name, the weak font, the complete lack of anything modern or memorable — it's not just generic. It's hideously awful.
• • • •
Thanks, Anthony! I had originally wanted to run this one yesterday (on Anthony's normal ticker day), but Oregon's last minute giant number fest bumped this to today. Hope you guys enjoyed it (I did, but then I work for a politician). Let him know your thoughts in the comments below!
[adrotate group="2″]
The Notre Dame Yankees Unveil Shamrock Series Uniform
On November 18, 2018, a team wearing pinstripes will be playing in Yankee Stadium. No, it's not because the World Series will be going that late (or featuring the Yankees) — it's Notre Dame Football who will be sporting the above costume, as they take on the Syracuse Orange in the Ninth Edition of the "Shamrock Series." Notre Dame has had some awful costumes for their Shamrock Series games before, but these may just top them all.
The team didn't play a Shamrock Series game last year, but they crushed Army in their last one in 2016. They're 8-0 in the series, and while Syracuse isn't exactly one of the Little Sisters of the Poor, they're probably going to be Notre Dame's ninth victim. I'm not sure there's a picture of a cupcake circled on 11/18 on ND's schedule.
As you can glean from the image above, they're going all Yankees on this one. While the torso and shoulders of the jersey is Notre Dame blue, everything else is Yankee-pinstriped out. The sleeves and pants basically match the pinstripes on worn by the New York Yankees, and even the helmet reflects some pinstriped pride.
Here's the hype video:
The Fighting Irish.
The @Yankees.

Two Iconic Brands.
One Uniform.

One Night.
Yankee Stadium.

November 17 – 2:30pm.#GoIrish ☘️ #ShamrockSeries pic.twitter.com/bH6yr4BfiG

— Notre Dame Football (@NDFootball) August 16, 2018
Here are some closeups of the various pieces of the uniform:
The helmet is blue, rather than the classic Notre Dame gold, and the logo is the interlocking "ND" on a white circle, bordered in gold, with pinstripes.
The jersey/pants are all adorned with the pinstripes (I like that the pins actually have the "zig zag" pattern in them — which is the same pattern as used by the Yankees. The blue torso of the jersey has "Notre Dame" in the Yankee script font. It also appears they're using the same number font as is seen on Yankee jerseys. Or at least, that's the idea.
I generally don't have a problem with the special "one-off" jerseys most college teams will wear, but this one is just a bit over the top. Maybe it will look fine on the field — but there's probably a reason we've never really seen any pinstriped uniforms on a football field (in a football game), and this may reaffirm the fact that the pins should be kept on the baseball diamond. I'll reserve total judgment until I see them in game play, but for now…not a fan.
Update: Just got a "full" model look at the new costume:
If you want to see what previous Shamrock Series uniforms looked like, click here.
[adrotate group="2″]
Atlanta Hawks Release "Hardwood" Classic Uni, New Court & Logo
In a move that was kinda under-the-radar, the Atlanta Hawks announced they will be wearing a new uniform (which is *not* a part of the idiotically-named Nike series), a throwback light blue number that is a pretty good throwback to the 1968-69 uniform the team wore when it relocated from St. Louis and became the Atlanta Hawks, 50 years ago this fall. This season, the team will be celebrating that anniversary. Here's a look at the new uniform:
🔥For the 2018-19 season we are bringing our original 1968 uniforms to the arena in this season's HARDWOOD CLASSICS!🔥#TrueToAtlanta pic.twitter.com/QetEvUEWJP

— Atlanta Hawks (@ATLHawks) August 15, 2018
And here's the original to which they're throwing back:
The original jersey was really nice…
The team also released a new court and logo commemorating the team's 50 years in Atlanta:
For this first time in our teams history we'll have TWO hardwood floors…and we'll have a matching uniform that we'll reveal later in the season to match the 50th anniversary court! 👀 pic.twitter.com/hrKvF71yDJ

— Atlanta Hawks (@ATLHawks) August 15, 2018
"October 1968 marked the debut of the Atlanta Hawks in this great city." – CEO Steve Koonin pic.twitter.com/zqhlrvDnPq

— Atlanta Hawks (@ATLHawks) August 15, 2018
The team has not announced any dates on which they'll wear the special uniforms. You will also note that the 50th Anniversary Logo is black and gold — the gold signifies the "50th Anniversary" — and it's also interesting the new court will be black and gold; the team doesn't yet have a black and gold uniform; will they possibly be introducing one this year? Stay tuned.
Here's a quick video shot of the unveiling:
Great presentation! pic.twitter.com/KeGReKgXSJ

— Tanya Mendoza (@TVTANYA) August 16, 2018
[adrotate group="2″]

Griffins Design Contest
In case you missed it, I'm running the third annual "Grand Rapids Griffins Jersey Design Contest," in which readers are asked to submit jersey design concepts for a third (or alternate) jersey for the team.
Like past years, the team is asking for a jersey (only) design, but other than that, it's pretty wide open.
All of the details are here in this post, but the important big detail is the contest submission deadline, which is Tuesday, August 21st, 2018 (by 11:00 pm E.D.T.). Everything else you need to know is in that post.
Update The jersey of the winning designer will be worn on December 29, 2018 and not February 15, 2019, as previously announced.
OK? OK!
[adrotate group="2″]
The Ticker
By Kris Gross

Baseball News: Wilson Ramos was traded from Tampa Bay to Philadelphia this season, and he wore his Rays glove during his Phillies debut last night (from JRod). … The Nationals will unveil their bullpen cart tomorrow, and of course it's got an advertiser attached to it (from Mike Chamernik). … Last night, the Pawtucket Red Sox played as the Hot Wieners (from Jon Desrosiers). … Speaking of wieners, the Frisco RoughRiders host State Fair Night next weekend, and will become the Corny Dogs. … The Utica Unicorns wore Abbey Road jerseys last night (from Billy). … The Great Lakes Camels will wear Michigan State/Michigan franken-jerseys tonight on House Divided Night. … The Tampa Tarpons will wear throw it back to their 1960s, 70s, and 80s era uniforms tomorrow night (from John McMunn). … The Port St. Lucie Mets will wear "Strike Out Hunger" jerseys next week. … The Rochester Red Wings will wear these uniforms next Thursday (from Chris Smith). … Yogi Berra's granddaughter Gets It™ (from Al Kreit). … Courtesy of SportsNet New York, here is everything you need to know about the Phillie Phanatic. … The Little League World Series team out of Houston has tequila sunrise jerseys (from Kenneth Turner). … Are these new caps for Utah Baseball? (from Chris Larsen). … These Astros-branded Vans are pretty sweet (from Maximiliano). … We have a logo poach as the newest New York Collegiate Baseball League team Mansfield Destroyers' new logo looks a lot like the old Buffalo Destroyers logo from the Arena Football League (from Brian Barrish). … Here's what Little League World Series players, managers, and coaches get to take home.

NFL News: The Eagles organized their locker room so that you have 41-33, the final score of the Super Bowl (from Blake Fox). … We'll get our first on-field look at the Titans' blue jerseys on Saturday. … The Patriots broadcast spent time last night on Tom Brady's new helmet (from Sean). … During that same broadcast, WR Phillip Dorsett's player graphic had no jersey numer (from Jay Pritchard). … Even more from this game, as Justin Hicks spotted helmet bumper inconsistencies. … The 'Skins have not painted their sidelines yet (from Billy King). … The Panthers will announce a new uniform combo at some point today. … Anyone else see the resemblance here? (from jwprz). … Also listed in the baseball section: We have a logo poach as the newest New York Collegiate Baseball League team Mansfield Destroyers' new logo looks a lot like the old Buffalo Destroyers logo from the Arena Football League (from Brian Barrish).

Hockey News: The Grand Rapids Griffins released their 2018-19 promotional schedule, which includes a jersey to be designed by a Uni Watch reader! More information here.
.

Grab Bag: The US Air Force is going with throwbacks for their new look (from Al Kreit). … Not uni related, but still interesting: Why it took Dunkin Donuts 10 years to build the perfect cup (from Adam Herbst).
[adrotate group="2″]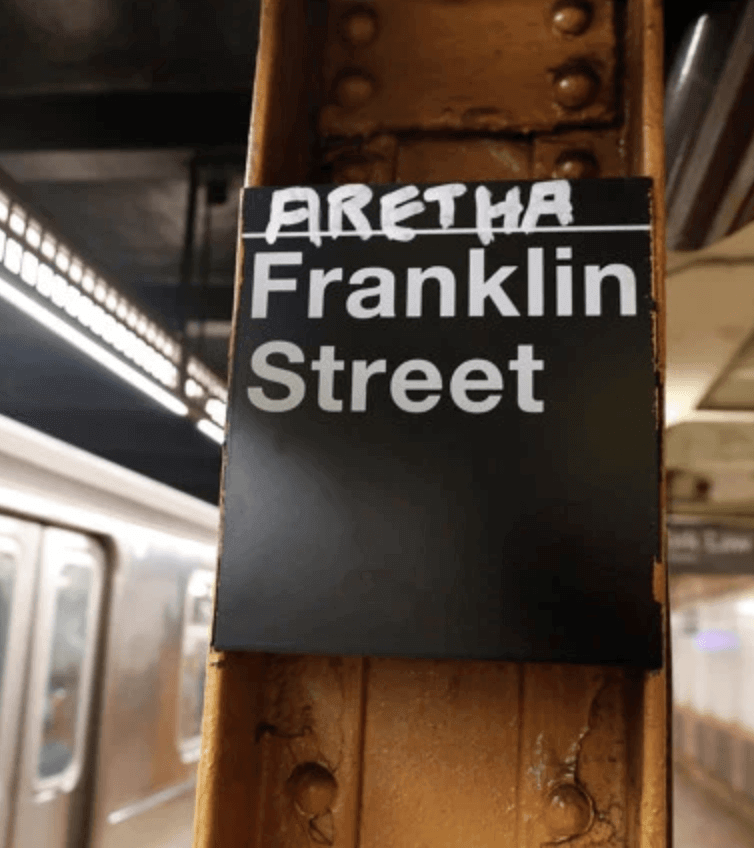 And now a few words from Paul: Aretha Franklin died yesterday. The many tributes and outpourings of love that have followed her death are certainly well deserved, but it's disappointing to see how many of them — basically all of them — have included the terms "Queen of Soul" and "legendary." These two terms, along with TMZ-style reports of Franklin's increasingly diva-like behavior during the latter years of her life, have tended to reduce her to a caricature, a character, rather than a fully formed human being.
So here's the deal: Aretha Franklin was one of the greatest instrumentalists America has ever produced. Her primary instrument — the one on which she was a virtuoso — was her voice, which she deployed as deftly and charismatically as any singer in pop music history. But many people don't realize that she was also gifted on the piano, which she played on many of her biggest hits, and she had her share of songwriting credits as well. In short, she was an extraordinarily talented musician, something that tends to get lost amidst all the "legendary queen" mythmaking.
Franklin had her flaws, both as an artist (she recorded at least as much bad music as good, although the good was so epic that people tended to forgive or ignore the bad) and as a person (she was notoriously difficult to work with, and she chain-smoked for years, a tragic act of self-violence against her greatest instrument). Or to put it another way, she was complicated, as so many of us are. I never saw her perform live, something I regret, but I'll treasure her recordings for many years to come. R.I.P. — Paul
[adrotate group="2″]