By John Ekdahl
This past winter, USF dumped Under Armour and inked a new eight-year deal with Adidas. The deal includes over $1 million in bonuses for both merchandise purchases and on-field performance (coaches and teams).
At the core of the contract — effective July 1, 2018 — Adidas will supply USF with $2.8 million in product (from uniforms to footwear to accessories) and $150,000 in cash annually. It will give an additional $300,000 in product during the first year of the agreement.

…

With Adidas, USF can earn up to $600,000 a year in bonus merchandise (for exceeding annual purchase volumes) and up to $500,000 a year in cash bonuses for the performance of its teams and coaches.

Example: The Bulls receive an extra $5,000 if women's basketball coach Jose Fernandez is named American Athletic Conference Coach of the Year, an additional $50,000 if the football team finishes in the top 25, and an extra $500,000 if the football team wins a national title.
They showcased the new all-green look back in July, but yesterday's Fan Fest formally unveiled the new white and black sets.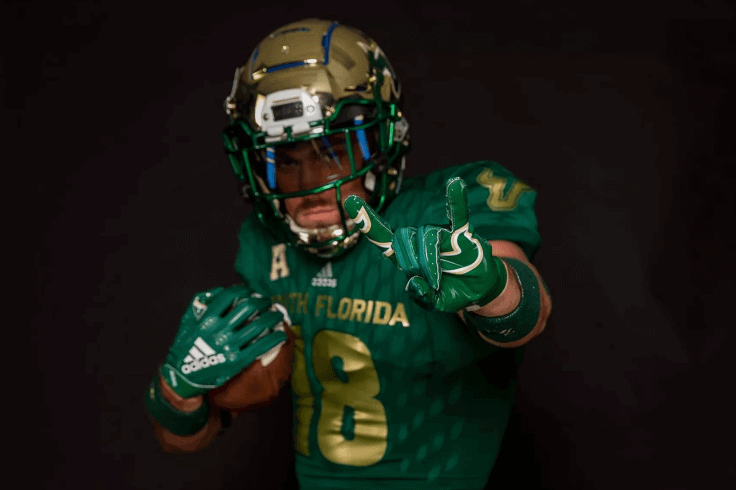 Photos are a little hard to come by at the moment, so take a look at this video from the event, which includes all three full uni sets:
📽️ The @USFFootball team unveiled their new @adidasUS uniforms for the 2018 season!

Home Green (sported by @Mgrothe8)
Away White (donned by @BJDANIELS10)#SoFlo Black (worn by @Sam_Barrington_)@SpecSports360 @BN9 @MyNews13 #USF #HeretoCreate #BullSpeedAhead @MKellyUSF pic.twitter.com/nx6qyqX5DC

— CHRIS TORELLO (@TorelloSports) August 11, 2018
Here's a description of the unveiling, from TampaBay.com:
An all-black alternate uniform (modeled by former Bulls LB Sam Barrington) and all-white version (modeled by former QB B.J. Daniels) were unveiled to the players and public at the Yuengling Center. The all-black version is believed to be the first of its kind in USF's 22-season history.
Check out the black helmet with a chrome-green (is that what we call it?) facemask: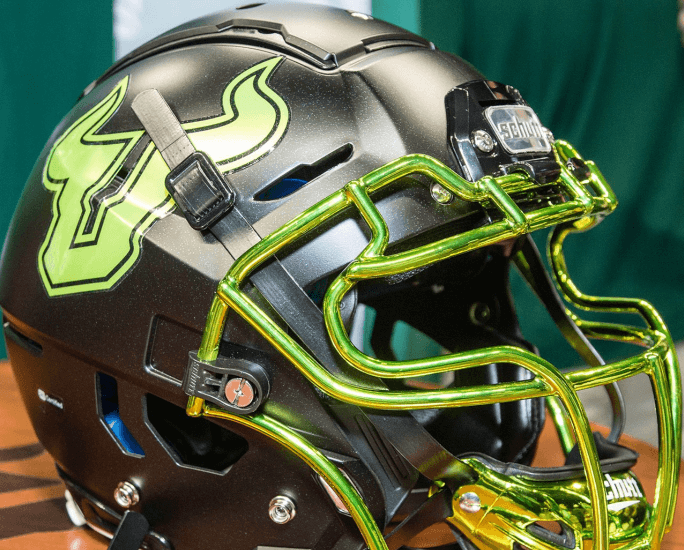 Photo credits for top image: Joey Knight.
+ + + + + + + + + + + + + +
Mississippi's new mascot is a bit of a head-scratcher.
Meet the new Ole Miss mascot, Landshark Tony.

(via @LandsharkTony) pic.twitter.com/oq6hm6fObT

— SEC Network (@SECNetwork) August 11, 2018
The reaction has been, shall we say, less than positive.
+ + + + + + + + + + + + + +
It appears Providence is going with the name-under-number look this season. Nice catch, Ryan McNeely.
Looks like @PCFriarsmbb is going with NUN (is Name Underneath Number a thing?) for their upcoming Italy trip @UniWatch @PhilHecken https://t.co/HMmtxyF1cX

— Ryan McNeely (@RyGuy735) August 11, 2018
+ + + + + + + + + + + + + +
I don't recall a number zero ever being available in Little League as we all rifled through those ripped cardboard boxes of uniforms before the first game.
Little League pitcher wearing #0 alert @UniWatch @PhilHecken @sportslogosnet pic.twitter.com/NrFln6oVkr

— Stephen "The Process" Polacheck (@Catouncilman) August 10, 2018
+ + + + + + + + + + + + + +
Not exactly uni-related, but this is making the rounds this weekend. Gotta love this kid.
Welp, found my favorite baseball player ever. pic.twitter.com/8S95NVIqb0

— Sports Liker (@Ianmurray7) August 10, 2018