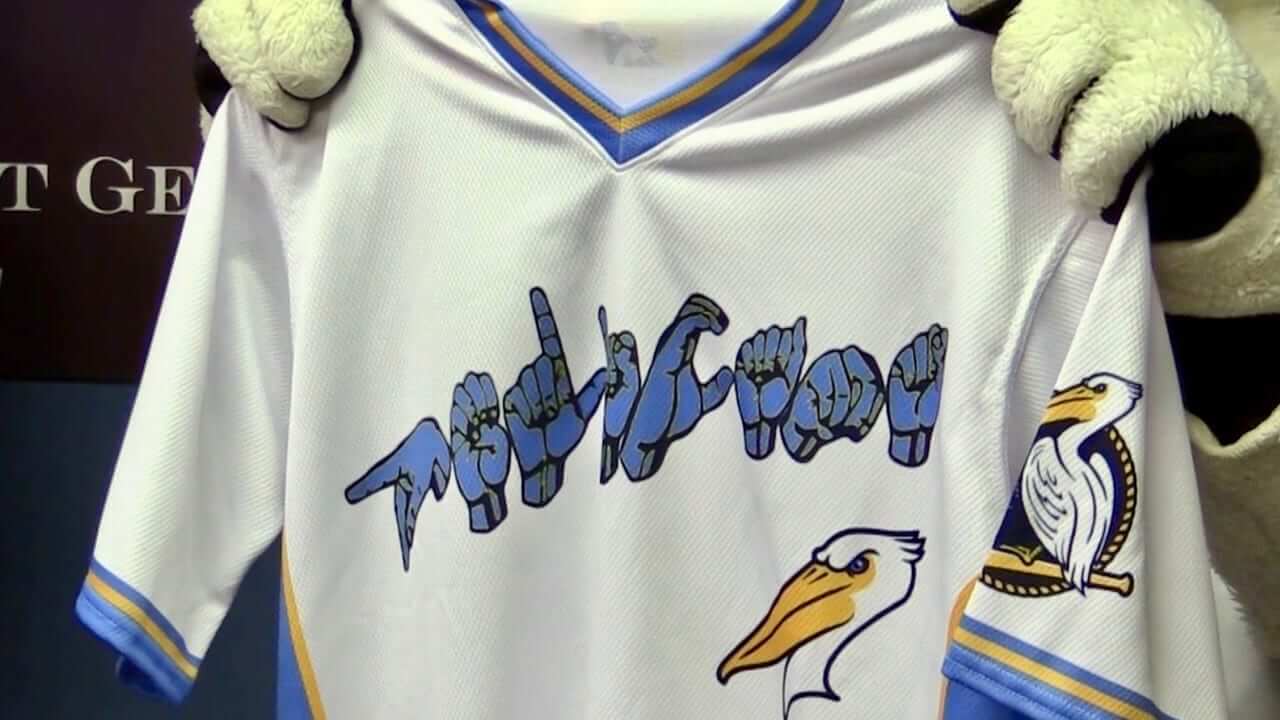 Click to enlarge
So many minor league baseball theme uniforms end up being rote. Ditto for most of the "worthy cause" uniforms, which have become stale and predictable.
The Myrtle Beach Pelicans — the high-A affiliate of the Cubs — have nicely sidestepped both of those problems with the jersey design for their upcoming Deaf Awareness Night, which will take place on Aug. 19. As you can see above, the jersey features the team's name spelled out in American Sign Language — a brilliantly simple concept that's both attractive and powerful. Has Big kudos to all involved.
Other components of the promotion will include the following:
In an effort to create an inclusive experience for members of the deaf community, sign language interpreters will be infused into the Pelicans' gameday experience. The night will include a silent inning. Additionally, Jason Hurdich, an RID-certified deaf interpreter, will perform the National Anthem, and for the first time in club history, the Seventh Inning Stretch will be performed by an ASL interpreter.
One slight fly in the ointment: If you look at the upper corners of that photo, you can see that the jersey is apparently being held up by a costumed mascot (presumably Splash, who's been the Pelicans' live mascot since 1999). Like many costumed characters, Splash has only four fingers on each hand, which means he can't sign properly. Maybe not the best choice for promoting this jersey design.
There's another uni-related wrinkle: The promotion will include a baseball clinic for deaf youth, which will be run by former MLB outfielder Curtis Pride, who has been deaf since birth. Pride played in the minors for the Nashua Pride in 1999 and again in 2003-04, making him one of the few athletes to wear his surname on the front and back of his jersey simultaneously — a nifty little distinction (although it obviously has nothing to do with the deafness promotion). He's also the only major-level pro athlete I'm aware of to wear a hearing aid while playing. (Update: Several other examples of athletes with hearing aids can be found in today's comments.)
I don't know ASL myself, although it's probably a skill I should learn. As it happens, back when I was getting to know the Tugboat Captain three summers ago, I went over to her house (which will soon be my house) to pick her up for what I believe was our second date. She invited me in to look around and seemed particularly pleased with herself when I saw this on one of her living room walls (click to enlarge):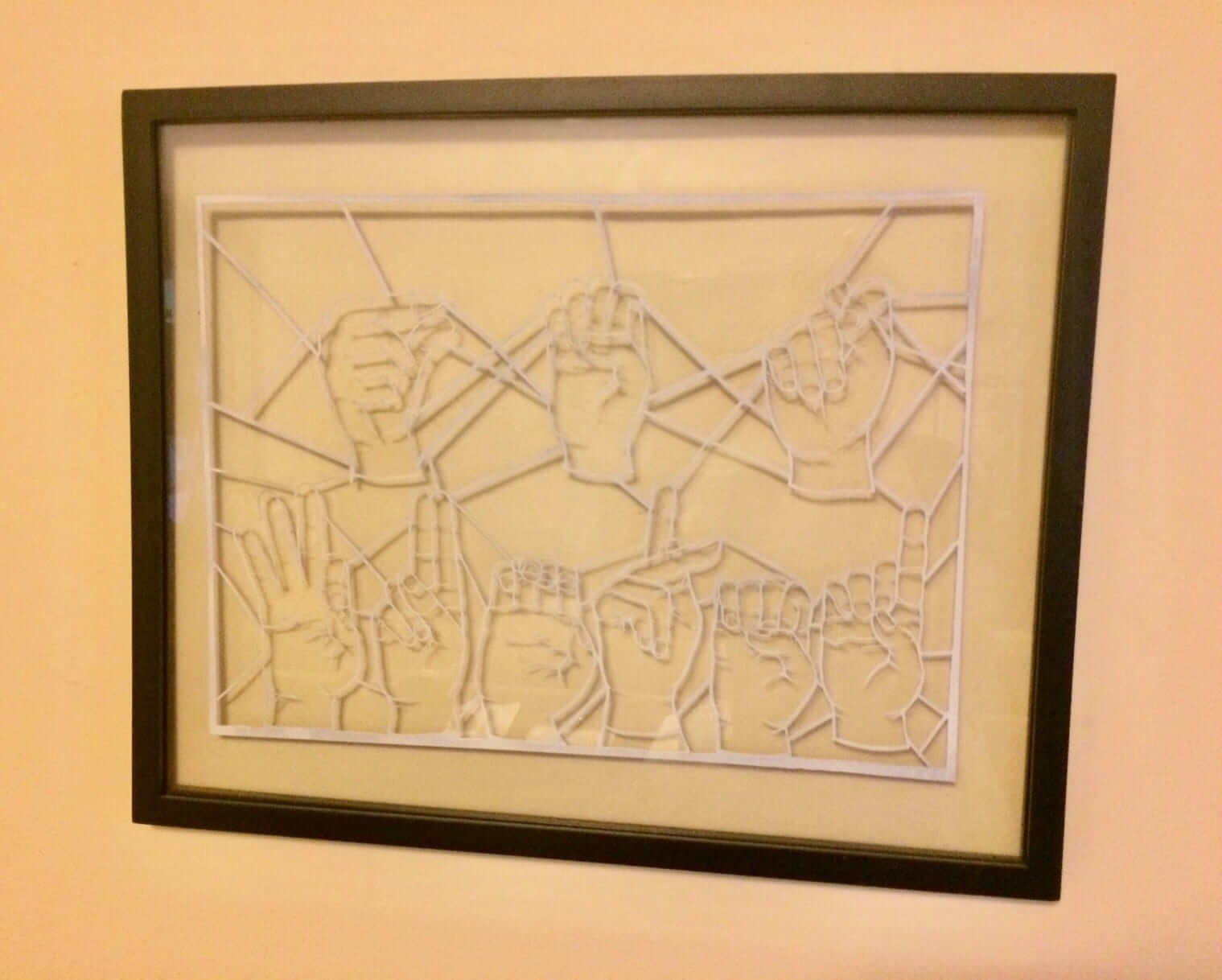 If you know ASL, you know what it says. If you don't know, ASL, well, look it up!
• • • • •
[adrotate group="2″]
• • • • •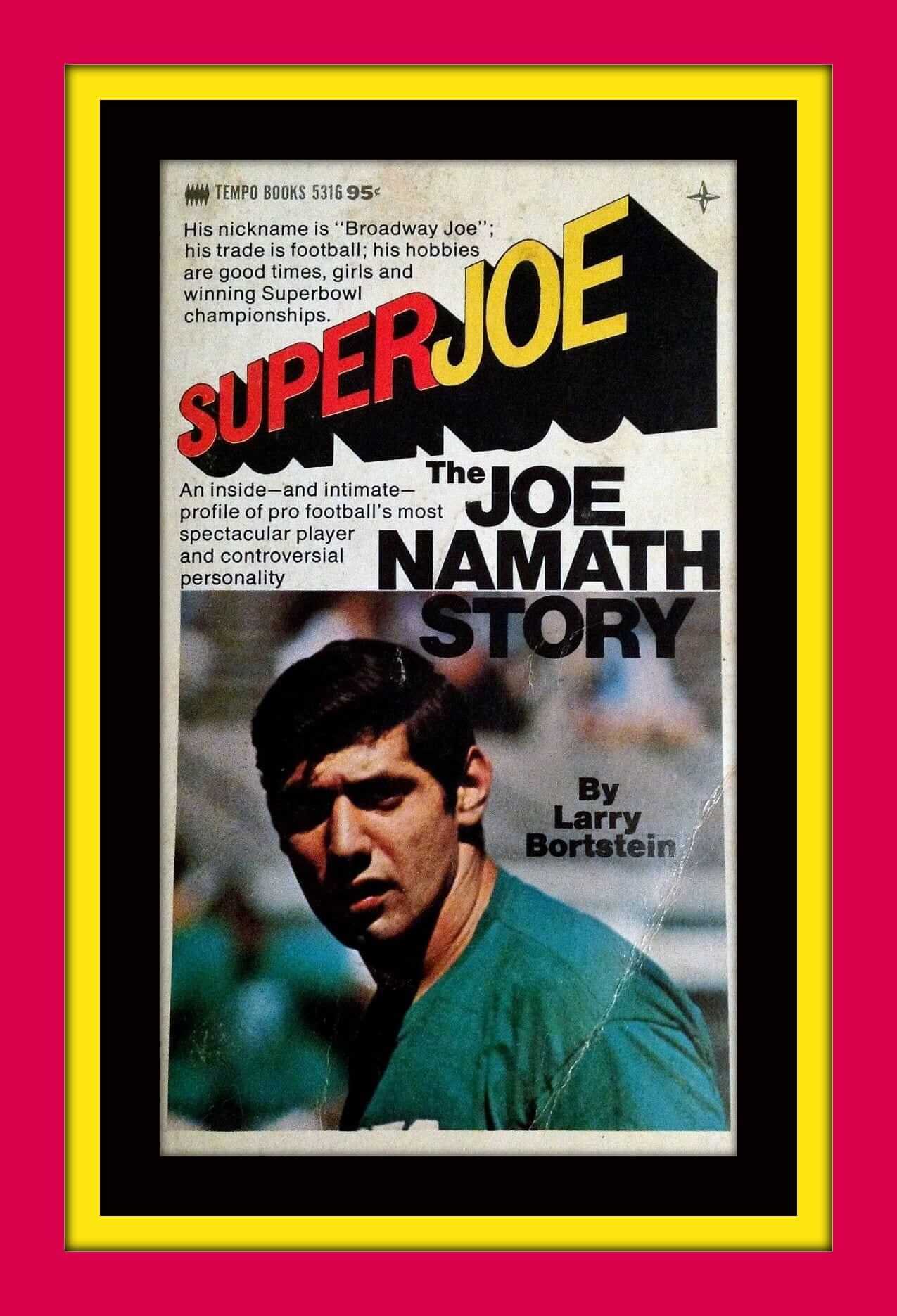 Click to enlarge
Collector's Corner
By Brinke Guthrie
Try saying this out loud in the classic Mission: Impossible voice: "His name is Broadway Joe. His trade is football. His hobbies are good times, girls, and winning Super Bowl championships." The back cover includes more breathless hype: "The saga of a small town boy who made good in the big bad city." And "After the Bowl was over, the hero of the hour was mobbed by his admiring fans, especially the girls." It's all right there in this inside and intimate profile!
Now let's check the rest of this week's picks:
• Around 1970-1971 was when Adidas and Puma took over NFL footwear from Riddell. Look at the Colts/Cowboys Super Bowl V photos and that's pretty much all they're wearing, like Cowboys DE George Andrie on this Adidas promo poster. No Nike football yet back then, kids.
• It's "time" for another Patriots Super Bowl win with this 1970s Pats clock.
• I have long seen and admired these late-1960s NFL poster designs — even had several of them — but I never knew Fleer did a Big Signs release for them. Here's a set of four, including the Chiefs, Browns, Pats and Bears.
• This 1970s Soapy Slider Soap baseball features the logo of the Texas Rangers.
• If you're a diehard Montreal Expos fan, hang this 1970s bicycle plate on your seat.
• When you were freezing your backside off at Candlestick Park in the 1970s, they'd hear your chattering, frozen voice through this orange SF Giants m-m-m-m-megaphone.
• Couple more for the Giants: This is a 1970s Coca-Cola promo poster for the Say Hey Kid, and here we have a 1960s Giants inflatable batter.
• Check out this collection of late-1970s MLB cap lapel pins.
• If you've never worn one of those 1990s turtlenecks many NFL players wore, here's an example. That little squiggle logo you saw on them was for a company called Maxit. The Chiefs always used to take their team photo head shots wearing these in white over their red jerseys. Anyway, here's the 49ers version. I had one for the Bengals and it was very comfortable.
• This lot of Phillies stickers and decals declares that they'll be "Great In '78!" (They went 90-72, so it was true.)
Seen an item on eBay that would be good for Collector's Corner? Send any submissions here.
• • • • •
[adrotate group="2″]
• • • • •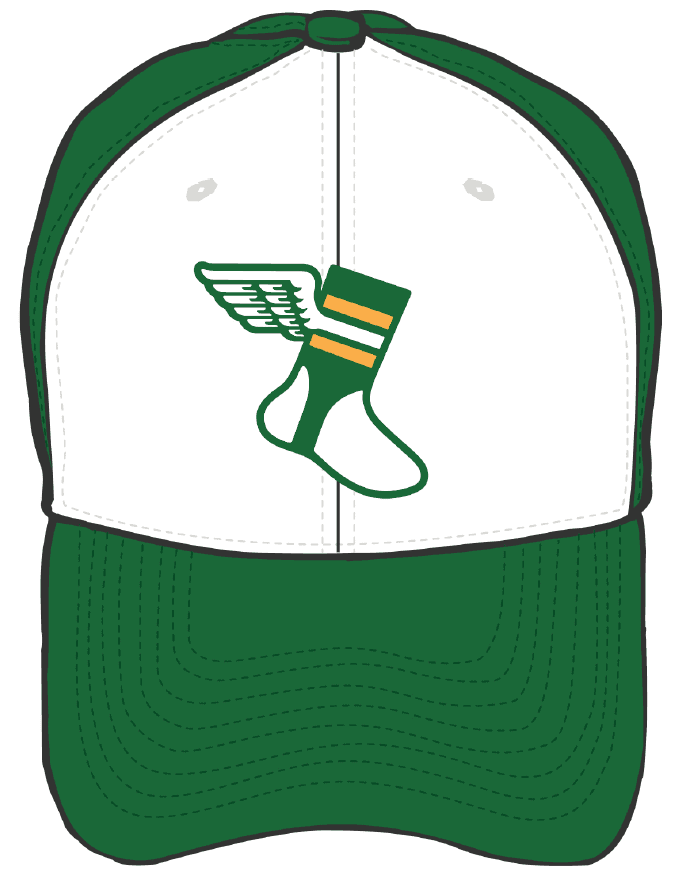 XXL cap update: I'm sorry to report that the pre-orders for the XXL size of our upcoming "alternate" cap have continued to run on the slow side, so I've decided to pull the plug on that endeavor. We did not receive anything close to enough pre-orders to meet our supplier's 144-cap minimum order, so unfortunately we won't be producing this design in XXL, at least for now. We'll issue refunds to everyone who pre-ordered, and I'll see if there's any other option we can pursue for you big-noggin types.
The other two sizes — S/M and L/XL — do will be in stock and available for purchase in the next week to 10 days, no pre-order required. Thanks for your patience!
• • • • •
[adrotate group="2″]
• • • • •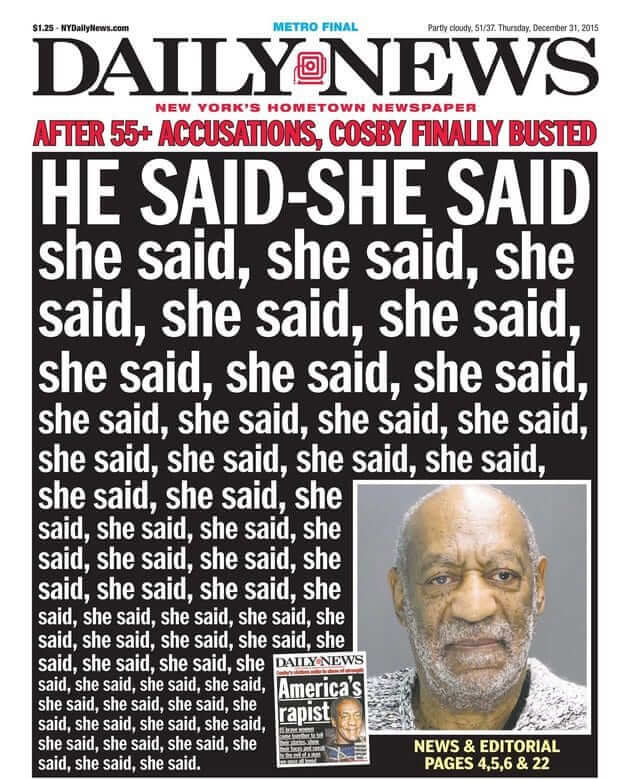 Tronc to NYDN: Drop Dead: I've periodically mentioned that these are very difficult days for those of us who work in journalism. The latest body blow came yesterday here in New York, as The Daily News — once the highest-circulation newspaper in the entire country — had its already-decimated newsroom staff cut by a whopping 50%.
If you can spare a New York Times click, they had the best coverage of the story. If you'd rather not spend one of those bullets, this NBC News piece isn't bad.

These latest Daily News cuts are part of the larger trend of New York media outlets downsizing their local coverage. The people laid off included three-quarters of the sports staff and nearly the entire photo department (a particularly dispiriting move when you consider that the paper's longtime logo includes a camera). The casualties included some people I know. Given the skeleton staff that remains, it's hard to see how the paper can continue to function much longer.
I've said it before and I'll keep saying it: If you value journalism, please-please-please stop thinking of it as something you get for free. The industry's old business model, built on display ads, classified ads, and a modest cover price, has been destroyed by the internet, and so far nobody has successfully figured out how to consistently monetize clicks. So please consider subscribing to your local paper, or springing for a digital subscription to one of the larger paywalled papers (The New York Times, The Washington Post, The Wall Street Journal, etc.), or giving a gift subscription to a student (a good way to support journalism while simultaneously teaching the next generation about quality journalism), or making a donation to ProPublica.
We need your help. I hope you'll consider giving it. Thanks for listening.
• • • • •
[adrotate group="2″]
• • • • •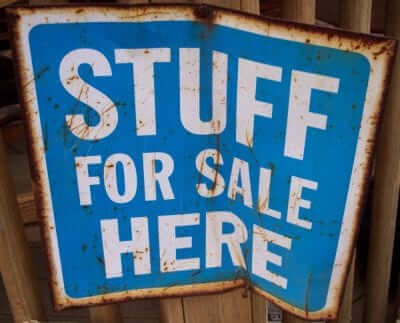 Cool stuff for sale: In case you missed it yesterday, I'm selling a bunch of stuff that didn't sell during last Saturday's moving sale. Even if you did see yesterday's notice, I've added a few items that weren't previously shown — you can see everything that's currently available here.
Please click on the thumbnails to see larger versions and, more importantly, to read the descriptions of the items, which among other things indicate whether the item is something I'm willing to ship or if I'm only offering in-person pickup. (You can see even larger versions of each photo by clicking the download icon and choosing "View all sizes" from the resulting popup menu.)
If you're interested in any of this stuff, please get in touch and make me an offer. I'll continue to add more items to this photo set each day, so stay tuned. Thanks for listening.
• • • • •
[adrotate group="2″]
• • • • •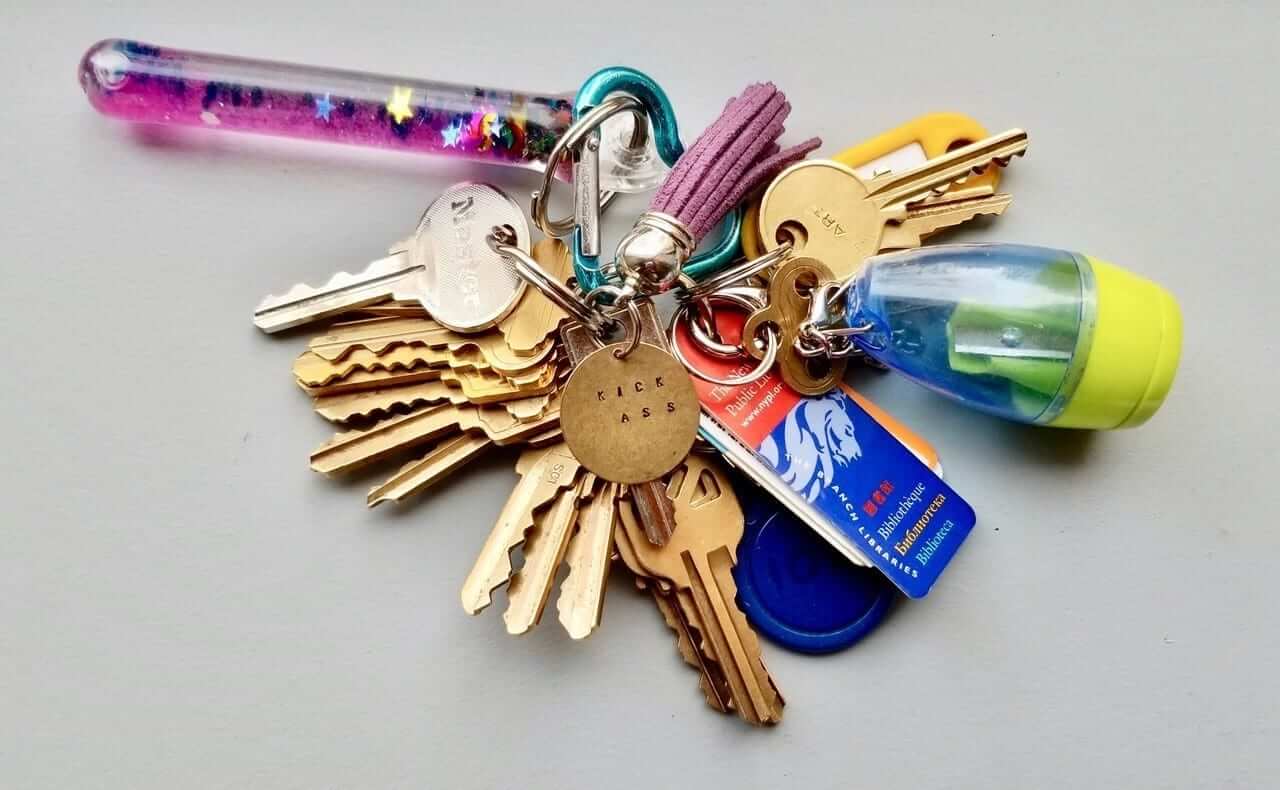 Click to enlarge
KRC update: The latest installment of Key Ring Chronicles is one of the best and most powerful we've ever run. It's about a glitter wand, a tiny pencil sharpener, and a little metal tag that says, "Kick Ass." Check it out here — you'll be glad you did.
• • • • •
[adrotate group="2″]
• • • • •
The Ticker
By Alex Hider

Baseball News: The San Diego Union-Tribune published an interesting opinion piece on the Padres in brown and the state of uniforms in San Diego (from Graham Block). … The D-Backs remade a scene from Bull Durham with current and former players. Everyone in the scene wears their era-appropriate uniform — except for Randy Johnson, who wore the Diamondbacks' current set (from Josh Pearlman and @Hail21RIP). … The Rays trolled fans who wore replica Yankees jerseys with NOBs (from Matt Snyder). … Louisville Bats P Jimmy Herget has been sporting some nice stirrups lately (from Scott Setek). … Speaking of the Bats, they will retire Nos. 42 and 1 for Jackie Robinson and Pee Wee Reese on Saturday (from Josh Claywell). … The Williamsport Crosscutters, the short-A affiliate of the Phillies, wore law enforcement appreciation jerseys on Sunday (from Jim Taggart). … The Springfield Cardinals will wear Christmas in July uniforms this weekend (from Blake Cripps). … Keith Winney found these MLB (and football) mini-helmets while cleaning out his attic. … Here's a treat: Color footage from a 20-inning Pilots/Bosox game at Seattle's Sicks Stadium in 1969 (from Jerry Wolper).

NFL News: The Packers will have uniforms from throughout their history on display at the Packers' Experience this weekend. Note that none of the uniforms, including the current-era ones, have makers' marks. … Washington published a photo gallery of the team packing up equipment for training camp (from Tom Turner). … Repost: Keith Winney found these NFL (and baseball) mini-helmets along with a corresponding poster while cleaning out his attic. … This analysis piece breaks down the relationship between patriotism, football and the NFL's controversial anthem policy (WaPo link) (from Phil). … Ravens DB Eric Weddle was wearing an unusual Ravens logo on his practice pants yesterday. Anyone seen that one before? (Good spot by Adam Foxman.) … Back in the day, the NFL champs would play an exhibition game against a team of college All-Stars. Here's some video from the last such game, featuring the Steelers vs. the college All-Stars, in 1976. "I've never seen the All-Star uniforms before," says Dan Tarrant. "I can't tell if their pants were gray or were originally white (like the helmets) and just look gray due to the heavy rainstorm. The amazing thing is just how hard the rain is coming down. The teams then leave the field and the fans riot, tearing down the goalposts (at about the four-minute mark of the video). The rest of the game is cancelled. More info here."

College Football News: New uniforms for South Alabama (from @TheOGBenchBoys). … You can always expect shenanigans to be afoot when an Alabama fan and an LSU fan get married. The groom thought he was cutting into an Alabama cake but was surprised to see the cake had purple and yellow layers (from Kary Klismet). … New uniforms for Wyoming.

Hockey News: The Blue Jackets are bringing back the cannon and cream alternates next season (from Moe Khan). … The Penguins and Flyers will face off in a Stadium Series game this season, and the logo is fit for a Keystone State battle. … This Islanders blog thinks it's time for the team to revive the infamous "Fish Sticks" jerseys (from Phil). … Here's a brief history on the Rangers' uniforms (also from Phil). … Retired Tottenham Hotspur center-back Ledley King visited the Ducks and dressed up in full hockey gear (from our own Jamie Rathjen).

NBA News: LeBron James is the cover athlete for the 20th-anniversary edition of NBA 2K19. The cover was presumably shot before the offseason began, so he won't appear in a Lakers or a Cavs jersey. James announced the cover on Instagram and included an in-game shot of him in a white Lakers jersey — though it appears to be a 2017-18 jersey, not the one he'll wear this season (from Jonathon Neal). 

Soccer News: Paris St. Germain is the latest non-basketball team to get the Jordan treatment (from Phil). … Klaus Gjasula, a defensive midfielder newly signed to second-tier German side SC Paderborn, wears a helmet during games (from Robert Marshall). … More updates from Josh Hinton: AS Roma now has ads on the front and back of their jerseys after years of going ad-less, Juventus's new away kit has leaked, and Manchester United's training uniform has been released.  … New home and road uniforms for Lokomotiv Moscow (from Ed Zelaski). … New kits for for Man City. "While most love it, I'm not a huge fan — yet," says Josh Hinton. "Need to see it on the pitch before I make a decision. That being said, I don't think anything could top last season's home and away kits." … Also from Josh: New third kits for West Ham and for Tottenham Hotspur. "The whole purpose of a third kit is to prevent a kit clash," says Josh. "But Tottenham has a navy away kit and a navy/green third kit, which means the third kit is completely useless." … Reposted from the hockey section: Hotspur is currently in L.A., so retired player Ledley King, who works as a team ambassador, visited the NHL's Anaheim Ducks and dressed up in full hockey gear (from our own Jamie Rathjen).

Grab Bag: Highly recommended read: "Veterans Speak Out Against the Militarization of Sports" (from @VKRatliff). …Case Western Reserve is using an endowment of $1.9 million from the family of former Nike designer M. Frank Rudy to outfit its athletic teams in Nike apparel. … Here's a good look at all the uniforms in the National Rugby League (from @GoatJerseys). … The National Weather Service has weather safety logos for all four seasons and hurricane season (from James Gilbert). … The track and field uniforms for the upcoming Continental Cup have been unveiled (from Anthony Gonsalves). … Jason Collins found his grandmother's bowling league champion patch from 1959-60. She'll turn 104 in February, best to her! … Bubba Watson has added an ad for his Florida ice cream shop to his golf bag (from Michael Brighton). … Whoa, check out the super-colorful tennis court at last night's World Team Tennis event in DC. … Nike plans to raise salaries (NYT link) for thousands of corporate employees after complaints about complaints about wage inequality and discrimination (from Tom Turner). … Longtime reader Jim Vilk, who lives in Ohio, had a steak shaped like Ohio.