My moving sale on Saturday was a hectic, emotionally complicated event. On the one hand, I sold a ton of stuff (including the Lamanna Florist jersey shown above, which was one of several jerseys i was selling) and made a nice chunk of change that should cover my moving expenses. On the other hand, I spent many years gathering and curating these items, and it was hard to let go of some of them.
Lots of people asked me why I was getting rid of so many things. These are the answers I gave:
1. Some of the items simply wouldn't work in my new apartment.
2. These things were never really mine. Someone else owned them before I did, and now someone else will own them after I did. The items cycled into my life and now they've cycled back out.
3. Most importantly, the items in my apartment were a strong expression of me, which was fine when I was living by myself, but now I'm going to be living with the Tugboat Captain, so I wanted to dial back the me factor. I'm keeping some of my stuff, but I also like her stuff, and I want there to be enough room for us to acquire new things that will be our stuff.
The whole day was super-duper-hectic, so I didn't have a chance to take many photos, but there were three moments worth mentioning:
• I was selling all 38 of my pencil sharpeners. One person bought one of them — and then another guy bought all of the rest. He began by saying, "I'll take six," then moved up to nine, and ultimately said, "Okay, how much for the lot?" He even unscrewed all of them! I should have gotten a photo of him doing that, but instead I just got this not-very-good shot of him holding a box full of the sharpeners (click to enlarge):
• Back in the fall of 1993 — almost 25 years ago — I published the first issue of my zine, Beer Frame: The Journal of Inconspicuous Consumption. The cover of that issue had a photo of a change-maker thingie, which I was selling. It was purchased by a Beer Frame fan named Eric who actually brought along a copy of issue No. 1, which led to this great photo (click to enlarge):
• I have — or rather had — a bunch of sports-themed pinup illustrations, which I was selling. My friend Josh, who I've known for years but who had never been in my home before, immediately noticed that one of the pinup illos matched one of his tattoos! Check this out:
He has a lot of tats, so I never really noticed that one. He said it was just a flash tat that he got years ago, so that illustration must have really made the rounds. Anyway, having the illo match the tat seemed like fate, so I gave the illo to him for nothing.
There were lots of other fun and interesting moments, but it was all so frenzied that I didn't document any of it. Sorry about that. By the end of the day, the Captain and I were worn out but happy (click to enlarge):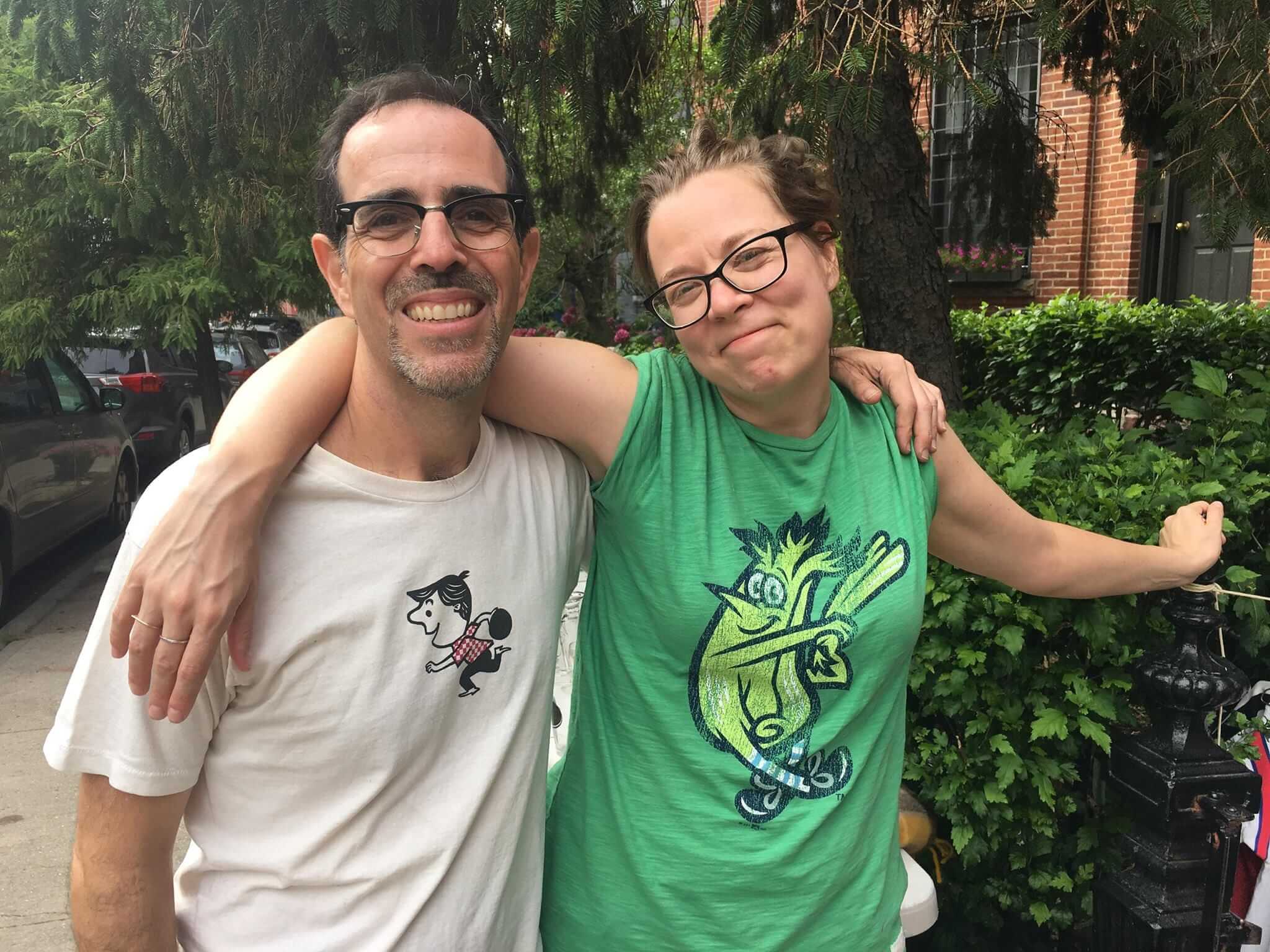 Lots and lots of Uni Watch readers showed up. It was great to meet all of you (or, in many cases, see you once again) — thanks for coming by and for helping to lighten my load.
• • • • •
[adrotate group="2″]
• • • • •
Cool stuff for sale: There are a few things that didn't sell that I'm going to show here on the site over the next few days, in the hopes that someone out there will want to take them off my hands, beginning with the following items:
1. This very cool eyeball poster (for all photos, click to enlarge):
It's 46″ long by 32″ wide. No sure how old it is. Generally speaking, it's in very good shape, but there are some minor dings along the edges, and there are also two faint stains toward the lower portion:
There's a separate design on the back, but that doesn't seem nearly as interesting.
2. I have a sheet of gorgeous unused 1930s letterhead and three unused 1930s receipts from a Shell station in Iowa:
These items are available as a lot — I prefer not to break them up.
3. Attention sneakerheads and/or fans of M.I.A. and/or Patti Smith: In 2015, Converse put out a limited-edition book called Made by You, featuring exclusive interviews with assorted artists, musicians, and other creative types talking about their Converse sneakers and fashion/style in general. The book (a copy of which is in the permanent collection of the Metropolitan Museum of Art's Costume Institute) was limited to 1500 copies. I have a copy that has a few scuffs on its cover but is otherwise in perfect shape.
The subjects interviewed in the book are Adam Selman, Eli Reed, Futura, Hanni El-Khatib, Humberto Leon, Jefferson Hack, Leo Fitzpatrick, M.I.A., and Patti Smith.
Here are some pics of my copy: Update: It's been sold and is no longer available, but I'll leave the photos up just so you can see.
I'm happy to ship those items. Then there are several additional items that I won't ship but would sell to someone who'd be willing to pick them up, including all the items shown here.
If you're interested in any of this stuff, please get in touch and make me an offer. Thanks for listening.
• • • • •
[adrotate group="2″]
• • • • •
Actual uni-related content, how about that: The Mets recently signed their second round draft pick, pitcher Simeon Woods-Richardson, whose surname calls to mind our recent discussion on hyphenated NOBs. Woods-Richardson made his pro debut for the rookie-level Gulf Coast League Mets the other day and tweeted this photo of himself in his new uniform (click to enlarge):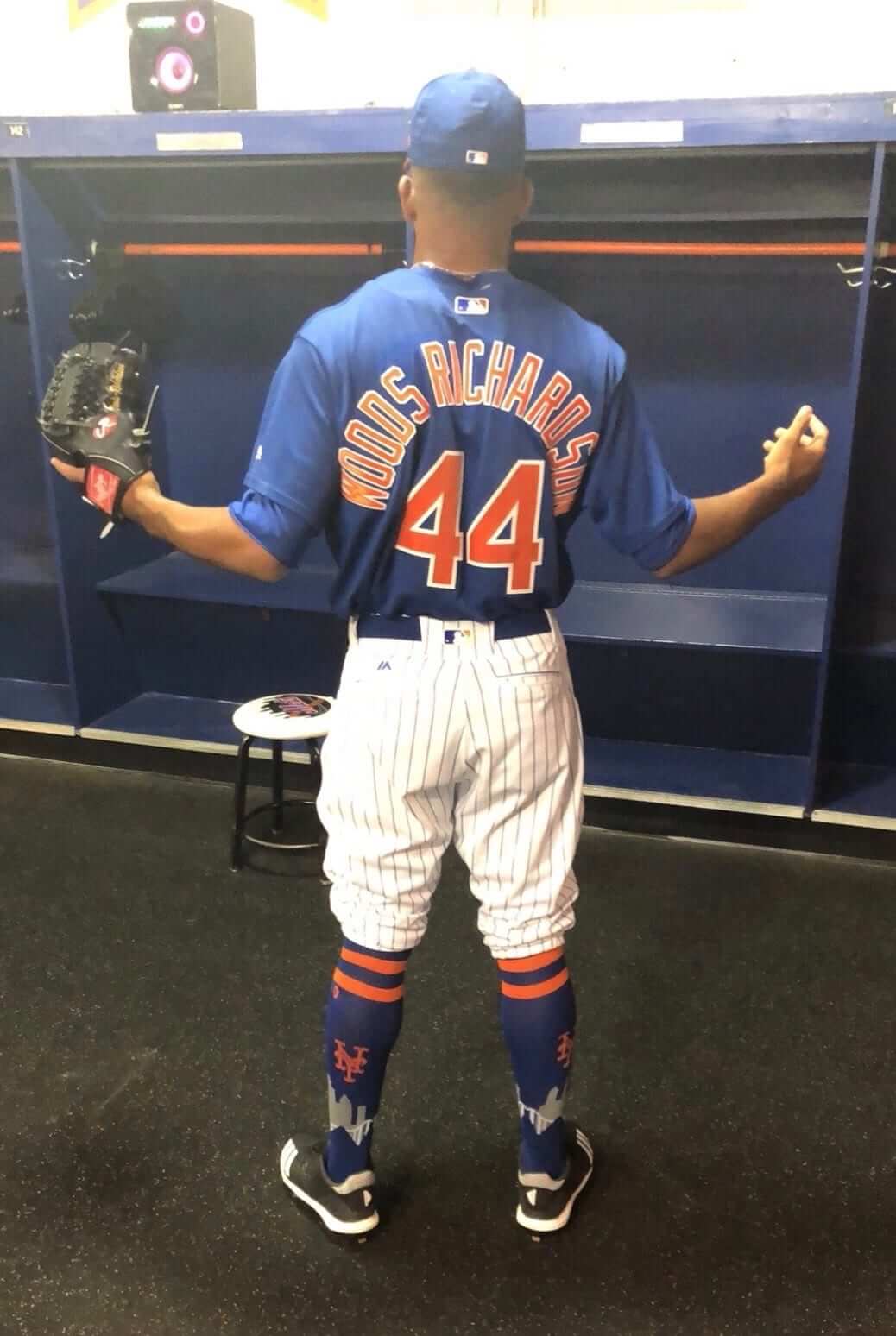 So that's 15 letters plus the space. But it's not supposed to be a space — it should be a hyphen. (If you look closely, you can see that the hyphen is included on the thumb of his glove.) Sigh — I know it's a cliché, but the Mets really can't do anything right.
(My thanks to Jim Brunetti for letting me know about this one.)
• • • • •
[adrotate group="2″]
• • • • •
The Ticker
By Jamie Rathjen

Baseball News: Phillies 1B Carlos Santana was wearing stirrups with black sannies yesterday (from Justo Gutierrez). … The single-A Lexington Legends are commemorating the Kentucky Thoroughblades — an AHL team that played in Lexington from 1996-2001 — on Aug. 10 (from Josh Hinton). … The AA Bowie Baysox had "Orioles Pride Day" yesterday. The team wore their Orioles spring training jerseys with the numbers they had in the spring. However, some of the team's players were acquired in the recent trade that sent Manny Machado to the Dodgers, so it's unclear how they were assigned numbers (from Dave Raglin). … At the Central American and Caribbean Games in Barranquilla, Colombia, Cuba pitcher Freddy Álvarez appeared to be wearing a Velcro cap (from Andy Bronson). … Who's the gent in the top hat? That's the umpire at a vintage base ball game that Eric Bangman recently attended.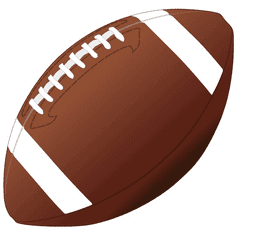 Football News: New uniform for South Florida (from multiple readers). Moe Khan points out that South Florida has now been outfitted by Nike, Under Armour, and Adidas in the past 12 years. "Has there been another major FBS program that has done the same in a short time span?" he asks. … Also, new uniforms for the FCS's Eastern Illinois (from Craig Choate and Tyler McCluskey). … We already have a combination to be worn in the first week of the season: Ole Miss in all white vs. Texas Tech Sept. 1 in Houston (also from multiple readers). … Also posted in Grab Bag: The X Games were in Minneapolis this year and Moto X rider Jackson Strong (who's Australian, by the way) had a Vikings-themed helmet (from Max Weintraub).

Hockey News: Also posted in baseball: The single-A Lexington Legends are commemorating the Kentucky Thoroughblades – an AHL team that played in Lexington from 1996-2001 – August 10 (from Josh Hinton). … With the Ducks' third jerseys appearing on Saturday (more in yesterday's entry), Eric Poole drew the team's colored sweaters from the first 25 years of their existence.

Soccer News: New kits for German team Fortuna Düsseldorf (second kit), Italian team Udinese (third), English League One team Bristol Rovers (first and second), and Scottish teams Queen's Park (first, including the back) and Stranraer (an Argentina-like second). … Some teams try to shoehorn contrived "local references" into their shirts (looking at you, Manchester United), but Fortuna's shirt actually features the pattern from the walls in some stations of Düsseldorf's subway. … Also posted in Grab Bag: the Nigerian cyclists at the African Youth Games in Algiers are wearing a kit based on everyone's new favorite soccer shirt (from Craig Ackers). … The Columbus Crew wore flag-based numbers Saturday (thanks, Alex). … New English top-tier women's team West Ham United – who somehow got a free pass up from the regional third tier because of league restructuring – are marking their debut by dropping "Ladies" from their name. Also doing so are league-mates Birmingham City. … Danny Garrison sent us some shirt concepts combining the Big Four teams from some American cities into a common design. They're based on the idea that some big European teams, such as Real Madrid, Barcelona, Bayern Munich, etc., are actually sports clubs and have teams in other sports, such as basketball or handball, with the same logos and colors. … "Third kits are now ubiquitous in the Premier League, but they were still something of a rarity in the early 1990s, used only when needed," says Denis Hurley. "However, in 1993-94, Sheffield Wednesday used four kits in the first six weeks of the season."

Grab Bag: The Nigerian cyclists at the African Youth Games in Algiers are wearing a kit based on everyone's new favorite soccer shirt (from Craig Ackers). … Here's some of the kits on display at last weekend's men's and women's rugby sevens World Cup in San Francisco, as well as the ongoing women's field hockey World Cup in London. … The X Games were in Minneapolis this year and Moto X rider Jackson Strong (who's Australian, by the way) had a Vikings-themed helmet (from Max Weintraub).