Paul here, pinch-hitting today for Phil, who has this weekend off. Yesterday I asked if anyone know more about straight-on football placekickers who tied the toe of their cleats to the back of their calf to make the toe point more upward. About half a dozen readers pointed me toward the photo you see above, which shows former Edmonton Eskimos kicker Dave Cutler. I wish we could get a better look at the underside of his shoe so we could see how it was tied on the bottom, but this action shot is still pretty cool.
Here's another shot of Cutler, very similar to the first one, although it looks like his toe might be pulled a bit higher in this one (click to enlarge):
Several readers also mentioned former University of Georgia kicker Steve Crumley. Unfortunately, the best available photo of him isn't as sharp as the Cutler photo, and is cropped in an unfortunate spot:
And here are two more examples, although I don't know who the kickers or the teams are (for the first shot, you can click to enlarge):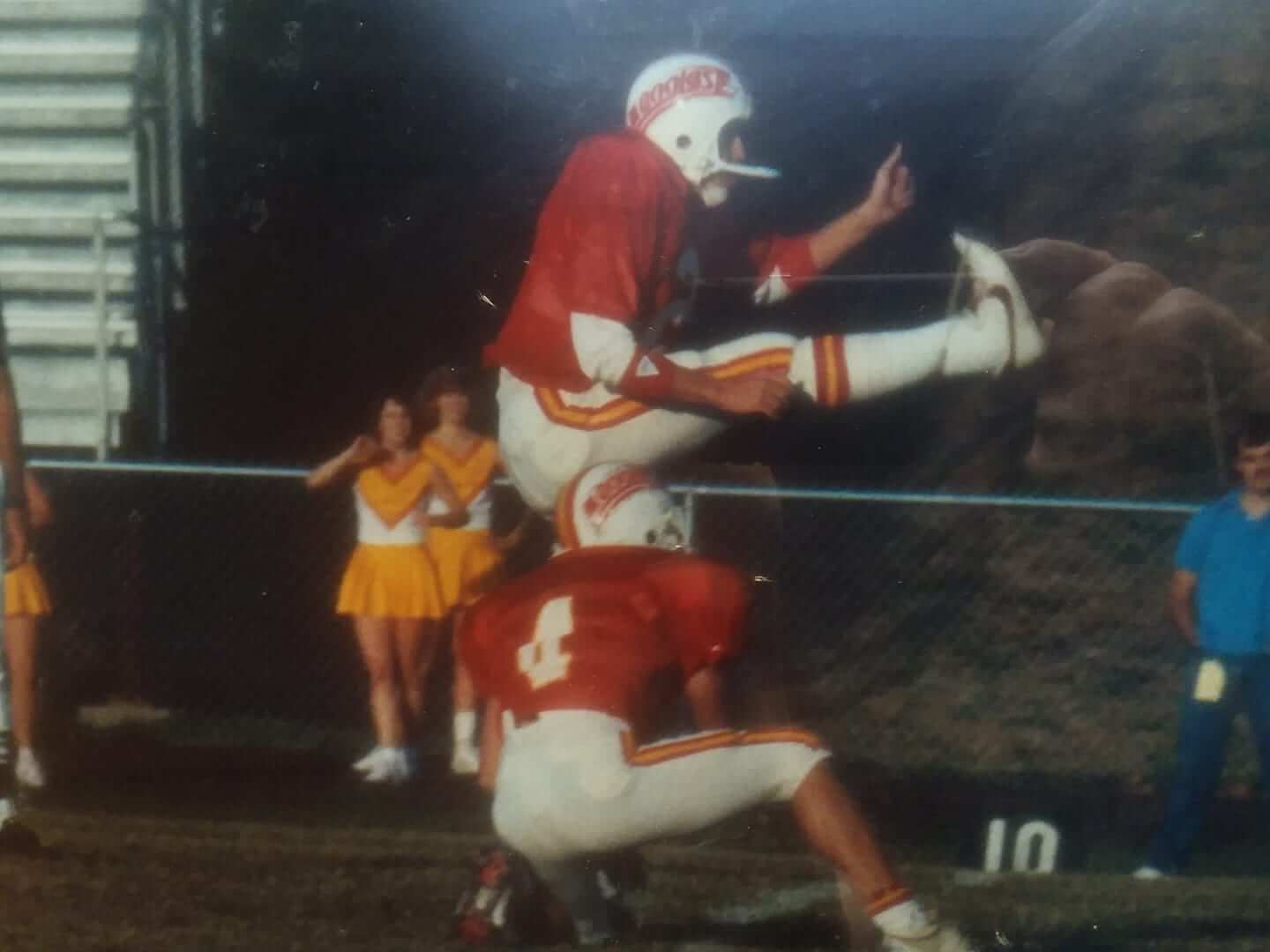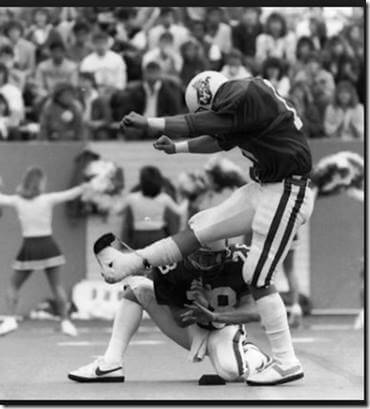 As it turns out, this footwear modification is patented — literally! Someone came up with a strap assembly to mimic the shoelace setup and got it patented in 1975.
I'm not sure if this type of shoelace rig was ever used in the NFL, or if it was ever even legal in the NFL. It is definitely prohibited now, as seen in this passage from the current rulebook (click to enlarge):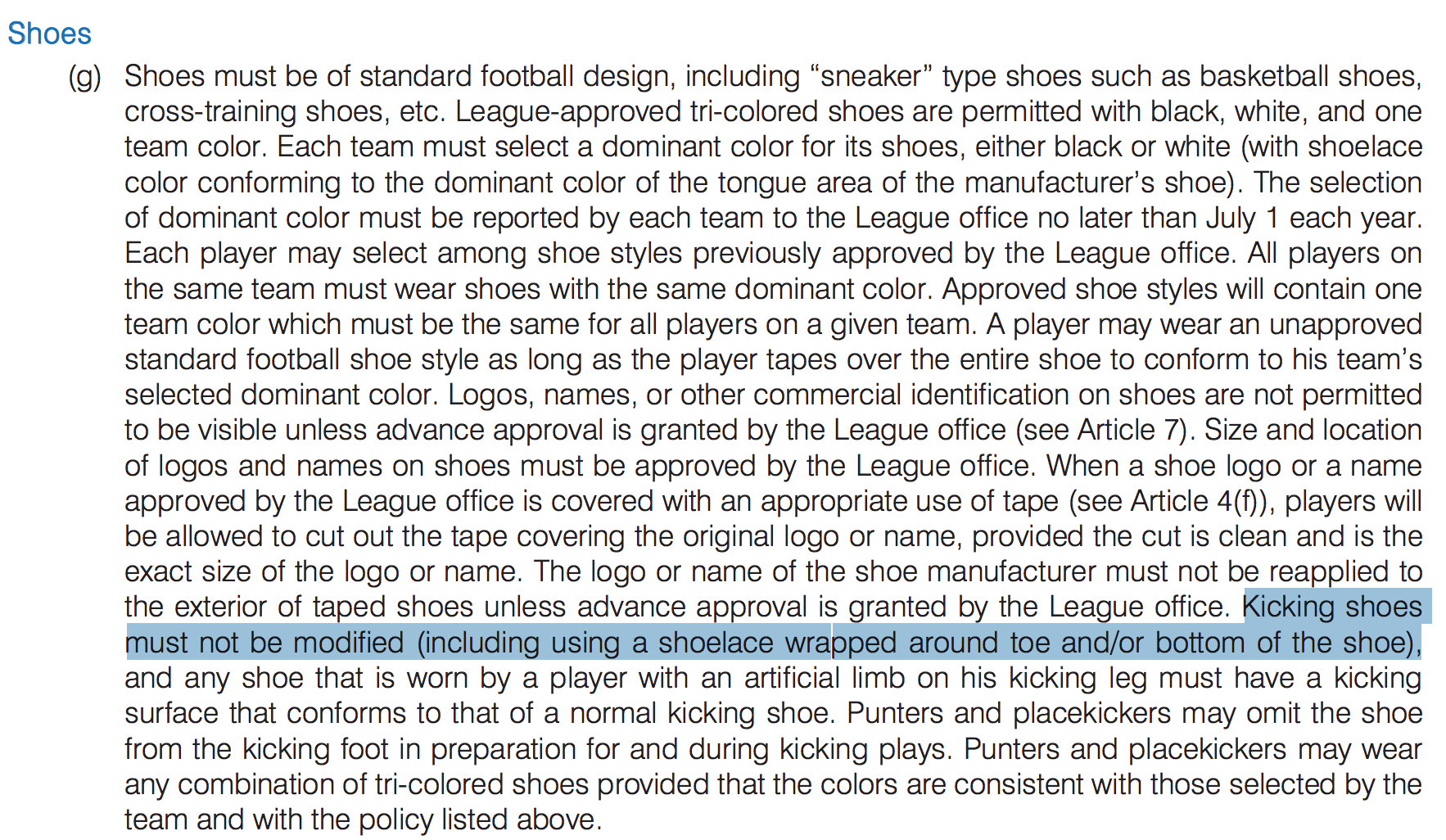 To my knowledge, former NFL kicker Mark Moseley — one of the last of the straight-on kickers — never rigged up a shoelace to his kicking toe. But this article about him includes a fascinating description of how he prepped his kicking foot on gameday:
On Friday nights his wife … would wash two pairs of mid-calf white socks; and on Sunday he would wear all four on his right foot, under his uniform sock. Then he would have his foot taped — two rolls' worth — to lock the ankle in place. Lastly he'd cram this all into a size 10-1/2D white cleat that he helped design for Nike. Inside, along the vamp, two strips of leather with a piece of plastic sewn between kept the shoe rigid. The result: a boot that [teammate Dave] Butz describes as 'mummified.'"
Obviously, all of this is now moot because there are no more straight-on kickers. Surprisingly enough, though, if you're looking for square-toed kicking shoes, they're still available — look here. There's also a square-toed attachment that straps over a regular shoe.
(My thanks to everyone who contributed info and photos regarding this phenomenon, including Jerome Bourgault, Tim Dunn, Mike Garritsen, Chris Hickey, Jason Hillyer, Charles Kloos, Doug Meredith, Tim Perry, and Silver Creek Dawg.)
• • • • •
[adrotate group="2″]
• • • • •
The Ticker
By Anthony Emerson

Baseball News: B-E-A-utiful socks on the Tulsa Drillers last evening (from Randy Adkins). … Ichiro Suzuki is technically neither a player nor a coach for the Mariners, but he is in uniform (NYT link) for every game. … Reds P Michael Lorenzen's 3D helmet logo was loose during yesterday's game against the Cubs (thanks, Alex). … Here are the caps the Rochester Red Wings are wearing for "Flower City" night (from Adam Thacker). … The Corpus Christ Hooks Raspas unis looking cool (from Brad Friedman). … Ted Arnold sends along a Twitter moment about this incredibly detailed baseball stadium made out of Lego! Very cool. … With the Braves playing in Milwaukee this weekend, the local Indian casino is once again covering up its ad on the Miller Park outfield wall.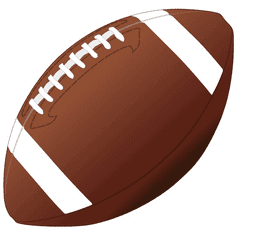 Football News: Also posted in the hoops section: Here's an Imgur list of all the new NCAA D1 logos (thanks, Alex). … Cardinal Stritch High School in Oregon, Ohio, has new black matte helmets for this coming season (from Steven Beardsley).

Hockey News: Yesterday's Ticker had an item about a list of NHL goalies who'd worn numbers other than 1 or 29 through 50. That prompted Kevin Vautour to send in this shot of Bruins G Jack Norris wearing No. 17 in the 1964-65 season. … New logo and uniforms for the San Jose Barracuda (from Benjamin Kassel).

Basketball News: Yesterday, news broke that the Lakers' new "City Edition" jersey will be revealed along with LeBron James as a Laker player on July 30 (from Jonny Rockford). … In a related item, LeBron's jersey was prematurely sold before he signed his contract, and despite the fact that the Lakers will be changing their uniform design (from our own Brinke Guthrie). … Henry Ellenson was wearing a NNOB No. 50 jersey during the Pistons' Summer League game against the Bucks. Ellenson's assigned number is 8 (from @NYCKING). … SportsBrandJury has a review of Big3's graphic identity. … Cross-posted from the football section: Here's an Imgur list of all the new NCAA D1 logos (thanks, Alex).

Soccer News: Uruguay's Nahitan Nández suffered a torn jersey during La Celeste's quarterfinal defeat to France yesterday and had to change it mid-match (from @xuoph). … AC Milan has switched kit providers from Adidas to Puma, and they launched their new kit with a smooth Twitter video yesterday. Note, however, that Milan's Twitter avatar is the traditional red-and-black stripes with the Puma logo. I have never, ever seen a club subjugate their own identity to a kit provider's before. And to come from a club with as much history and panache as AC Milan? Shocking (from Brady Ivie). … Millwall have launched their (absolutely gorgeous) new home kit (from Josh Hinton). … Also from Josh: the Premier League's website has a rundown of all the (released) kits for the 2018-19 season. … From Josh again: the USL's San Antonio FC have launched their third kit, based on the 2016 Nike Vapor template. Why they're using the 2016 template in 2018 I don't know. … Borussia Dortmund's third kit is just a red version of their two keeper's kits (from Eric Wilson).

Grab Bag: Nurses at Trafford General Hospital near Manchester in the UK posed in 70 years of nursing uniforms in honor of the 70th anniversary of the UK's National Health Service, its single-payer healthcare program.