[Editor's Note: Ticker assistant Alex Hider is back with another installment of his "Gone Too Soon" series. Enjoy. — PL]
By Alex Hider
Every time I took the court for CYO basketball in grade school, I always tried to do so with a sleeveless T-shirt underneath my team's reversible tank-top jersey. I always tried to base my undershirt color on what color our team was wearing that day — blue most of the time, or white if we were playing another blue-clad school on the road.
I didn't wear a sleeveless T-shirt because it was comfortable, or because probably a dozen other kids had sweat into that jersey before me. I wore it because I wanted to look like one of Bob Huggins's Cincinnati Bearcats.
The University of Cincinnati basketball teams of the late '90s and early aughts never made it past the Sweet 16, but those teams had some of the biggest names in program history: Kenyon Martin, Jason Maxiell, Melvin Levett, Steve Logan, Leonard Stokes. In some ways, those teams played like the world's best pickup team — they were going to hold the court, and they knew it. Think Levett hanging from the rim and Martin's blocked shots flying three rows deep into the stands. Even when games were on the line, it seemed like they ran plays drawn up on the playground.
The Bearcats seemed to dress like a pickup team too — in a good way. Beginning in the 1997-98 season, Cincinnati began wearing jerseys with a wide shoulder cut, making it resemble more of a sleeveless T-shirt than a tank top. In an era where almost every team had the same jersey cut, it made Cincinnati look different and intimidating.
It turned out the sleeveless T-shirt look was ahead of its time. In 2007, Nike began outfitting a number schools with its "System of Dress" template that featured a wide shoulder cut.
The other defining feature of those jerseys were the simple block stripes on the side paneling and shorts. It was bold but simple design that really stood out — certainly inspired by barber stripes, but unique enough to stand on its own. Had it stuck around, I feel the block striping could have been up there with North Carolina's argyle and Georgetown's Kente cloth among college basketball's best signature design elements.
The only poorly conceived element of the jerseys was the "tramp stamp" on the shorts — a "C-paw" logo placed squarely in the center of every player's butt.
Cincinnati wore black, white, and occasionally red versions of the these uniforms for five seasons, from 1997-98 through 2001-02. Beginning in the 2002-03 season, the Bearcats added piping to the armholes of the jersey, which visually took away from the width of the shoulder cut. The '02-03 jerseys also tapered the blocking down on the jerseys, and tapered it up on the shorts — a change that falls into the "It wasn't broke, but they fixed it anyway" category. The new jerseys also removed the "tramp stamp," and changed the wordmark color from red to black on the home jerseys and white on the road and alternate.
Everything changed in 2005. Following a few DUI arrests and a number of high-profile crimes committed by his players, Huggins resigned under pressure prior to the 2005-06 season. Because Jordan's apparel contract was with Huggins and not the university, the writing was on the wall. The Bearcats stuck with the same template in '05-06 — though with the school's new wordmark and number font — before signing an agreement with Adidas the next season.
Since then, the Bearcats' jerseys have fluctuated between unremarkable and eyesore. The team's new logo and wordmark, described as "bolder" and "stronger" in its 2005 unveiling, looks like just about every other team's. The current logo set lacks the character and uniqueness of the '90s wordmark.
Cincinnati has taken to wearing 1992-inspired jerseys as throwbacks as of late. I'll take what I can get, but it's still nothing like seeing those big sleeveless Ts on the Shoemaker Center court.
• • • • •
[adrotate group="2″]
• • • • •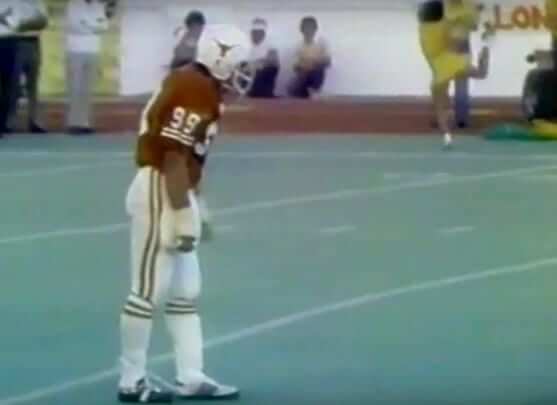 Tie one on: Reader Mike Barnes tweeted the screen shot shown above the other day. It shows Texas defensive lineman Steve McMichael, who would later go on to star with the Bears in the NFL, serving as a fill-in placekicker for the Longhorns in a 1977 game.
What interests me, although it's a bit hard to see in the screen shot, is that McMichael had a shoelace tied from his front toe to the back of his calf. I know I've seen photos of that maneuver before — I've always assumed that it was designed to elevate the kicking toe slightly — but I'd never really thought about it until now.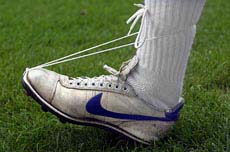 It's a bizarre little setup, right? Obviously, there are no more straight-on kickers, so nobody would do this today (and even if they wanted to, I'm wondering if it's even legal). I went looking for additional photos of it but only came up with the one shown at right. If anyone had additional pics of this phenomenon, or if you know anything else about it (is there a name for it?), or if you've ever done it yourself, please get in touch. Thanks.
• • • • •
[adrotate group="2″]
• • • • •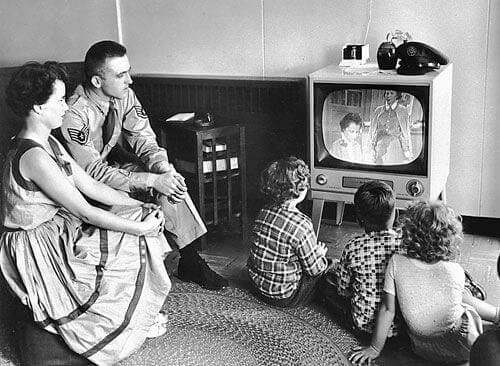 Must-see teevee: I'll be "appearing" (i.e., doing a live phone interview) on the Cleveland-centric sports TV show Overtime next Wednesday, July 11, to discuss Cleveland uniforms and anything else the folks there want to talk about.
The show begins at 8pm Eastern and, I'm told, can be live-streamed on the TV station's Facebook page. I'm told that my segment will run about 10 minutes, although I don't yet know if it will be at the beginning of the show (I doubt it), the end of the show, or whatever. I'll post more info next week when they firm up the time slot with me.
• • • • •
[adrotate group="2″]
• • • • •
The Ticker
By Kris Gross

Baseball News: As part of the July 4 festivities on Wednesday, Yankees slugger Giancarlo Stanton wore two blue star socks, instead of one stars and one stripes. Anyone else go with this look? (From Ryan Farrar.) … New MLB inaugural season caps are available (from Ignacio Salazar). … You can hear our buddy Todd Radom discussing White Sox jersey history via podcast (from Dylan Bercu). … This man has collected 757 Red Sox bats (Boston Globe link) (from @jeffisrael25). … Bruce Menard has made an awesome discovery on eBay. If you've seen this Yankee Stadium vendor shirt, I bet you've never seen the pants to go with it! … A July 4 rainout between the San Antonio Missions and Northwest Arkansas Naturals caused a jersey matchup issue between the teams last night (from Jonathon Campbell). … The Greensboro Grasshoppers wore throwbacks to their Hornets days last night (from Patrick Wright). … The Drillers celebrated Tulsa with 918 Night last night (from Christopher Jones). … We have a missing NOB from last night's Richmond Flying Squirrels game (from Ross White). … The Chiba Lotte Marines of the Japan Pacific League will three different uniforms on three straight days, beginning tonight (from @bigdaddy45_1969). … Cardinals C Yadier Molina was wearing a Jordan-branded chest protector last night. Have any other MLB catchers worn the jumpman? (From Greg U.) … Mets farmhand Tim Tebow is using a bat from spring training, when he had a different uni number. … The Diamondbacks wore 2007 throwbacks last night but had some inaccurate details. … Giants slugger Kevin Mitchell went NNOB in his debut with the team back in 1987. … Here's a bizarre one: As Jesus Cruz of the Peroia Chiefs walked off the field yesterday, he grabbed a small bird that was fluttering nearby and put the bird on his cap (from Jason Hillyer).

College Football News: Geoff Collins, Temple's head coach, provided a sneak peek at the school's new uniforms with his Twitter header. The new set is expected to be officially unveiled on July 12 (from Anthony Lascio). … Did you know: Indiana RB Vaughn Dunbar was one of the first to wear a reflective face mask (from Quentin Tingle).

Hockey News: Here's a really great research project: Someone on Reddit has put together a comprehensive list of NHL goalies who have worn unconventional numbers, which he defines as numbers other than 1 or 29 through 50 (from Thomas Foote).

Basketball News: With Austin Rivers choosing to wear No. 1, the Wizards will now have three guards wearing Nos. 1, 2, and 3 (WaPo link) (from Mike McLaughlin). … Long Beach State's court is getting a makeover (from Jeremy Brahm).

Soccer News: Amidst reports that Cristiano Ronaldo is headed to Juventus, here's a mashup of his old and new kits (from Griffin Smith). … New kits for Górnik Zabrze and Santos Laguna FC (from Ed Żelaski, Gar Nunce). … Here comes a bunch of news from Josh Hinton: New kits for Real Sociedad, Girona FC, Hamburger SV, and Levante. … Teams can no longer have ads for gambling in Italy. Here's why that could never fly in the Premier League. … Have you ever wondered what your favorite bands would look like they had soccer crests? Wonder no more (from Derek Noll). … New kits for Hajduk Split and Millwall (from Ed Żelaski)

Grab Bag: Crossover alert! Tennis player John Isner wore a Masters hat at a press conference from Wimbledon (from Willard Kovacs). … We had a pastel-on-pastel matchup in T20 cricket. The teams are Surrey and Middlesex (from @koTenSixtySix). … Speaking of, check out this thread from the great Jim Vilk on a bunch of new Twenty20 jerseys. … Here's a cool article that dives into a film about Canadian logos (from Joseph A. Bailey). … Why serve in the armed forces when you can just win a military hat at this claw game in New Jersey (from Mike Wissman). … Journalists at the Canton Repository wore black wristbands to honor those who died in last week's Capital Gazette shootings (from Jim Vilk).