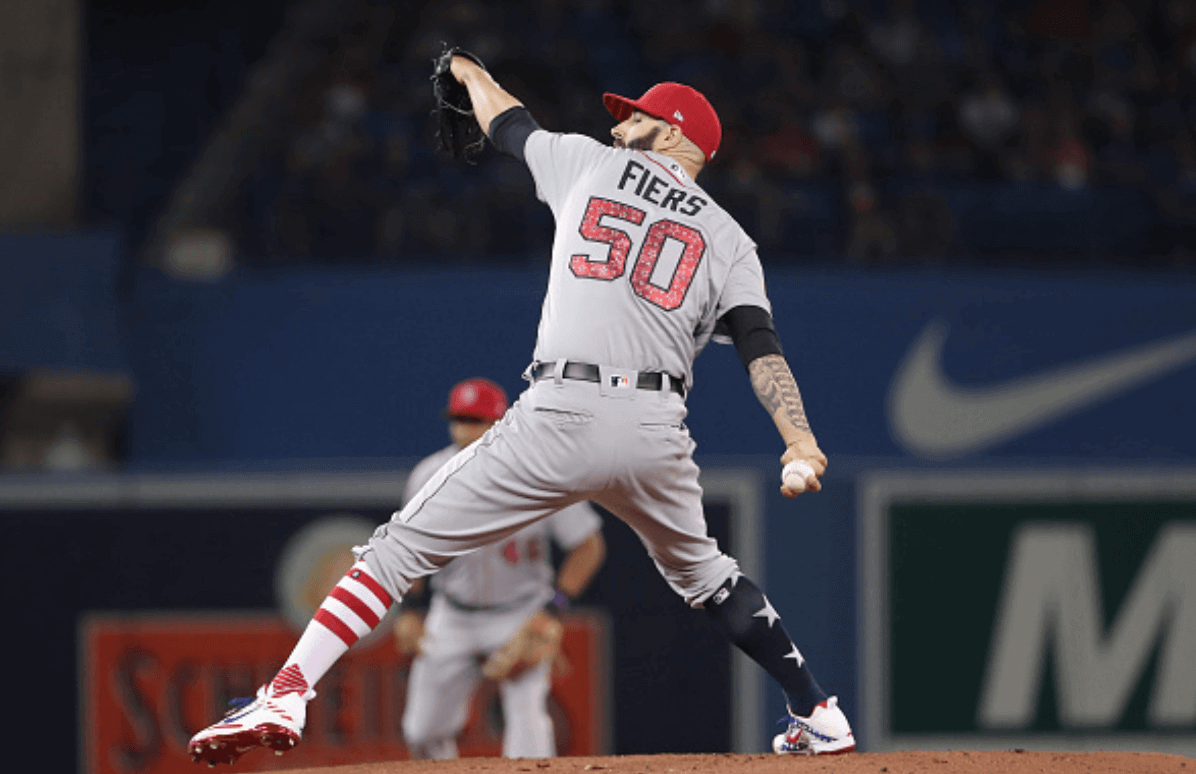 MLB's annual flag-desecration spectacle began yesterday, as teams started trotting out their stars/stripes gear. In a fitting development, the first team to wear the star-spangled uniforms costumes was the Tigers (including starting pitcher Mike Fiers, shown above), who were playing an afternoon game in Toronto. Let that sink in for a second: An American team wore Fourth of July uniforms on July 2, in a foreign country. Sure, makes perfect sense to me!
Here's how that Tigers uni looked from the front: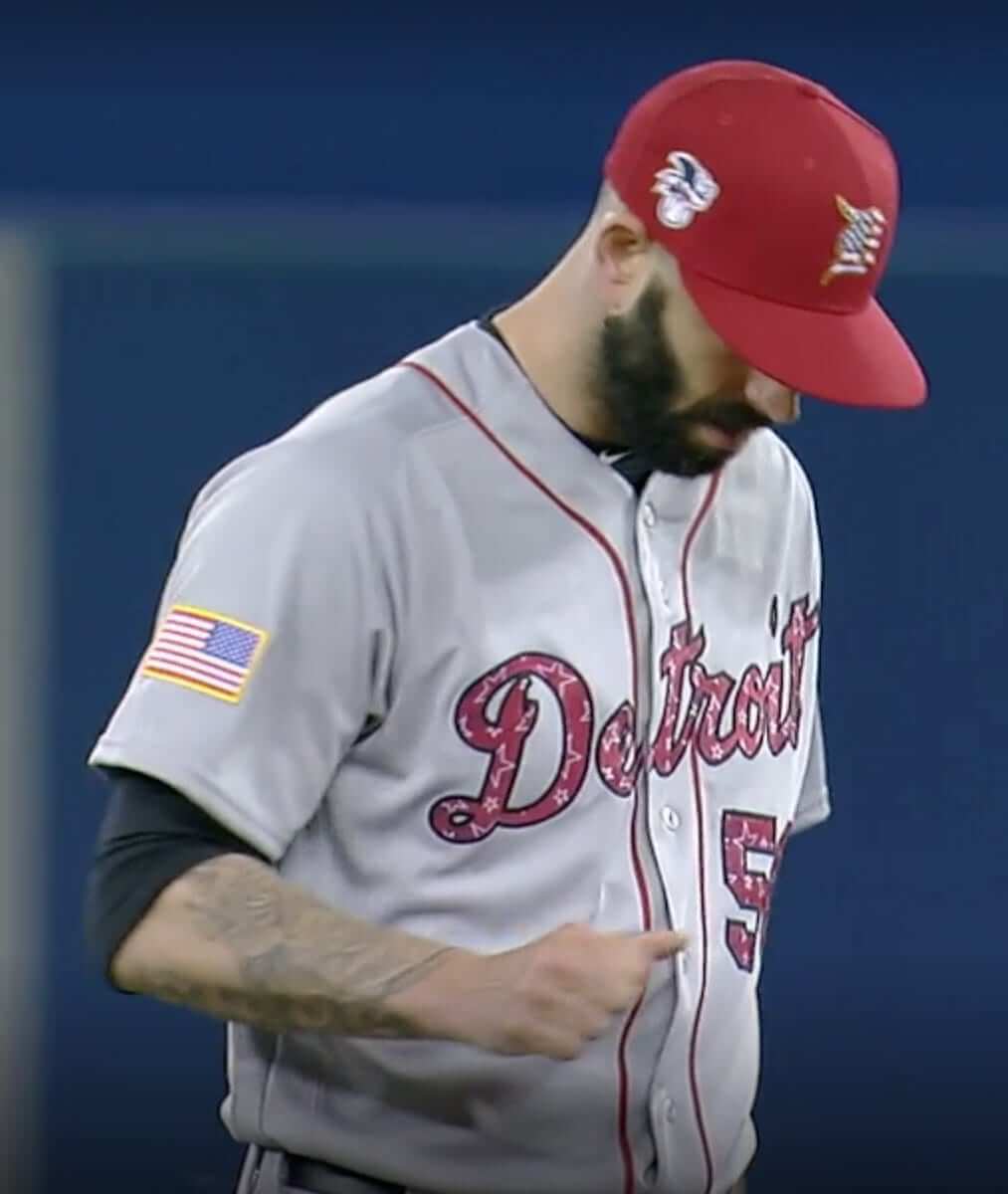 (The Blue Jays, who had worn their Canada Day uniforms the previous day, skipped the costumes and just went with their blue alternates.)
One change for this season that hadn't previously been announced — at least not to my knowledge — is that the umpires are wearing red caps, which looks absolutely brutal: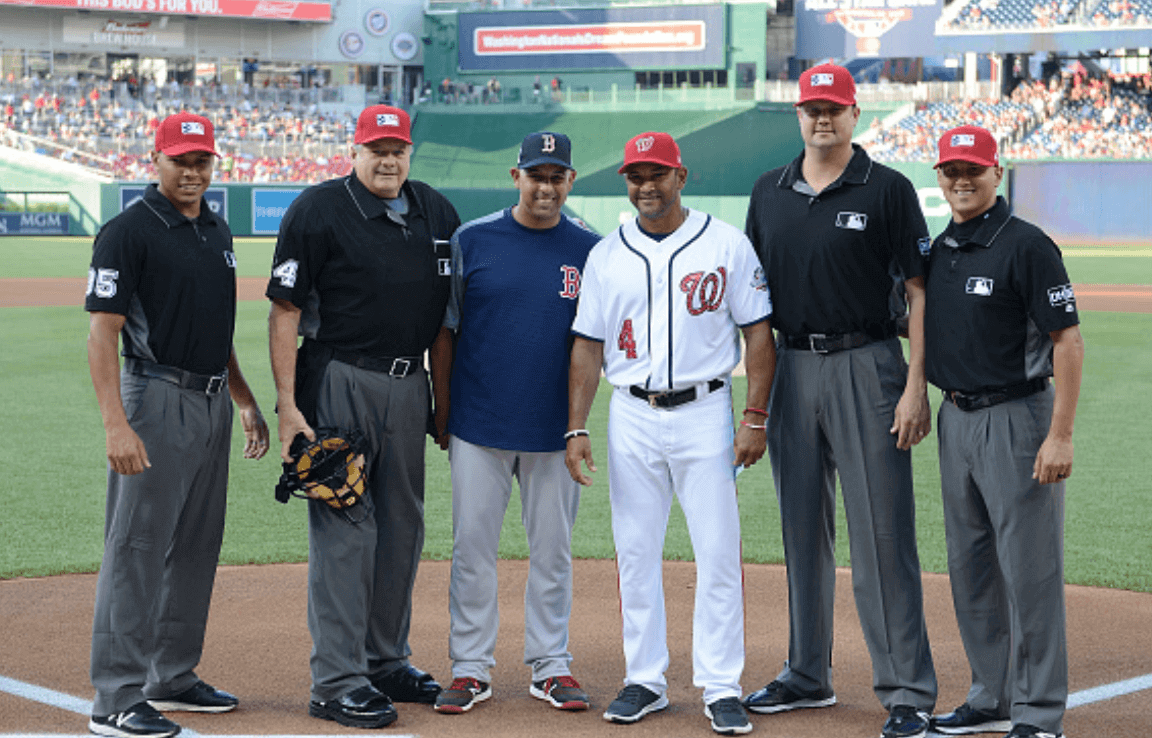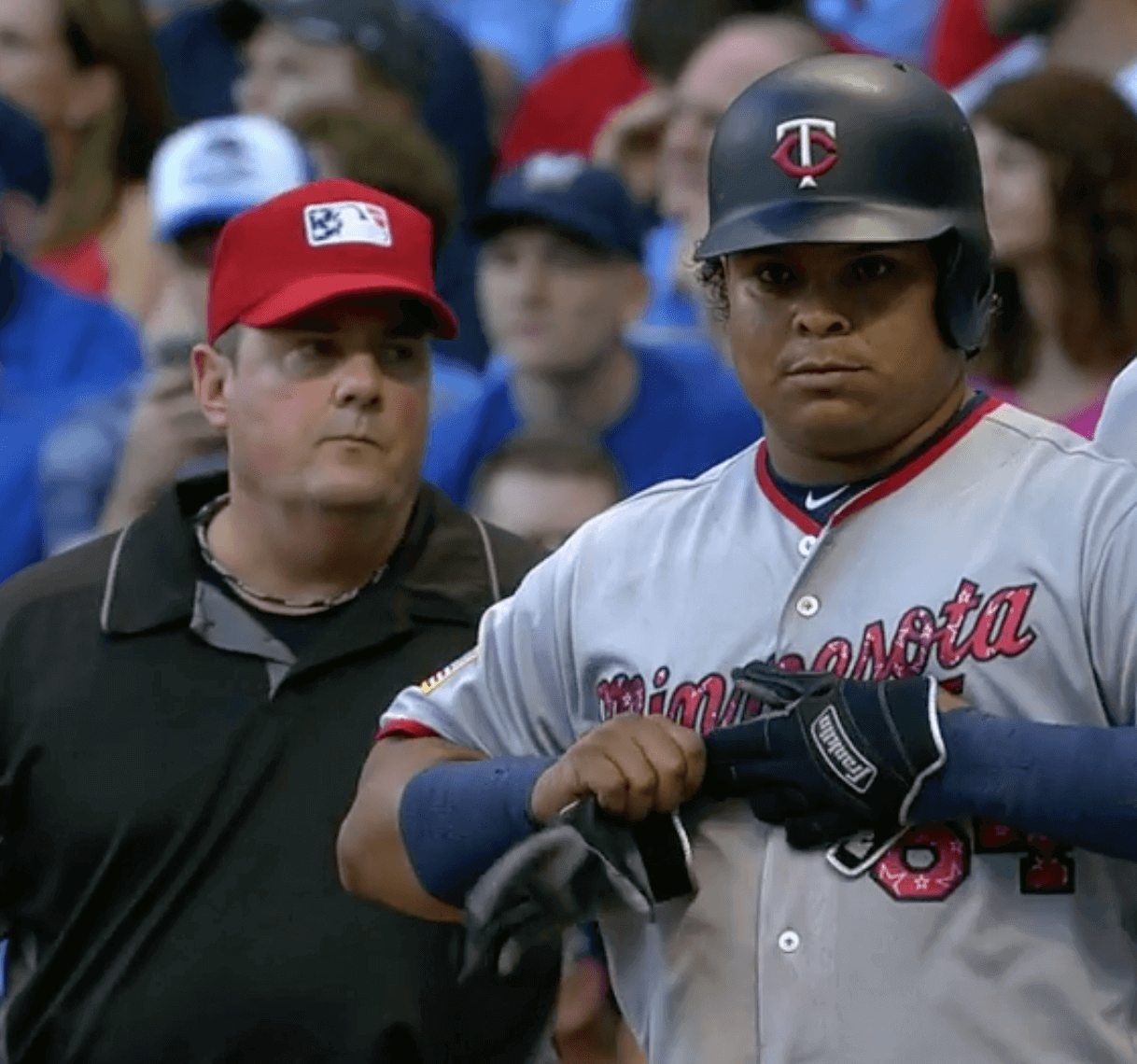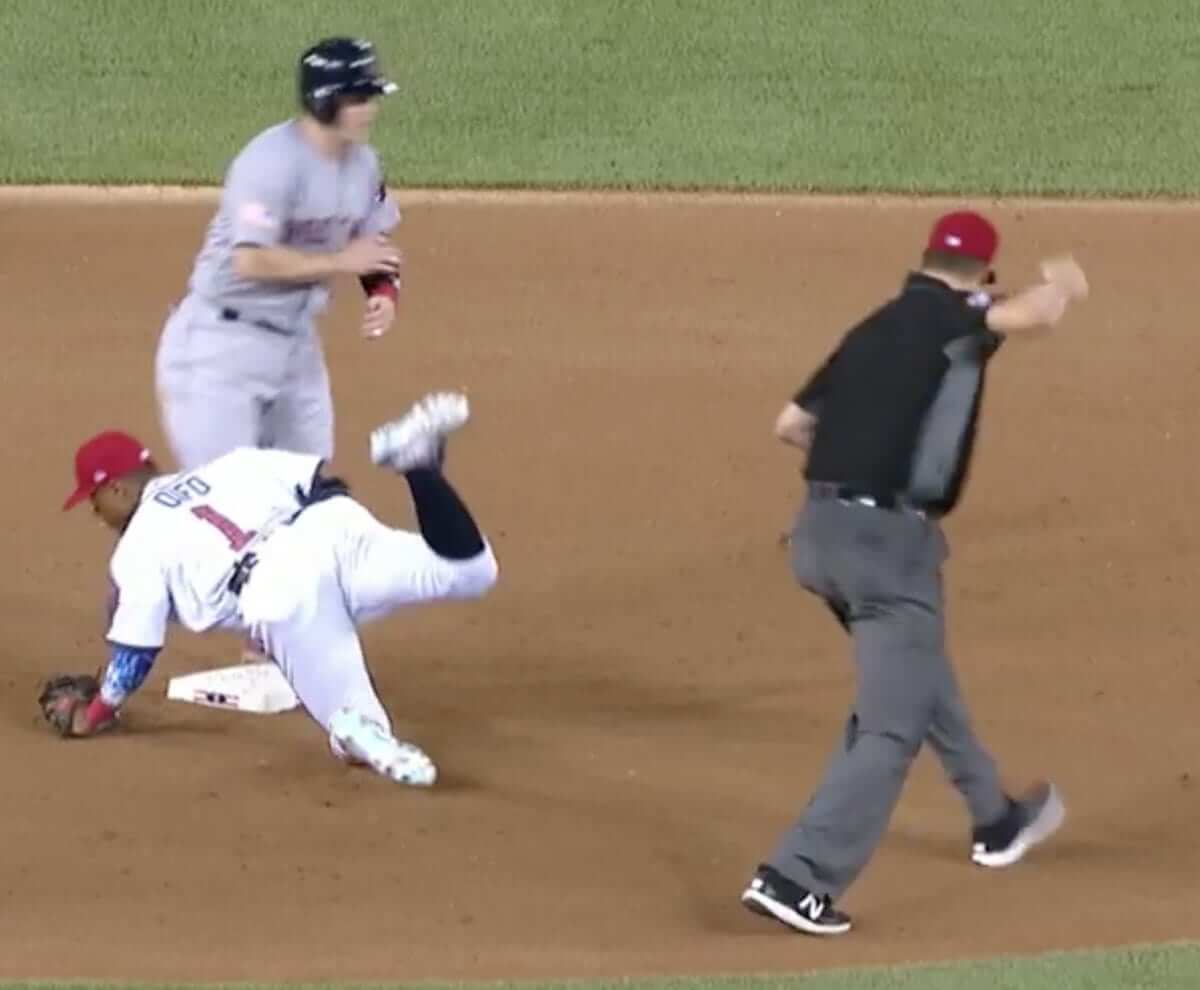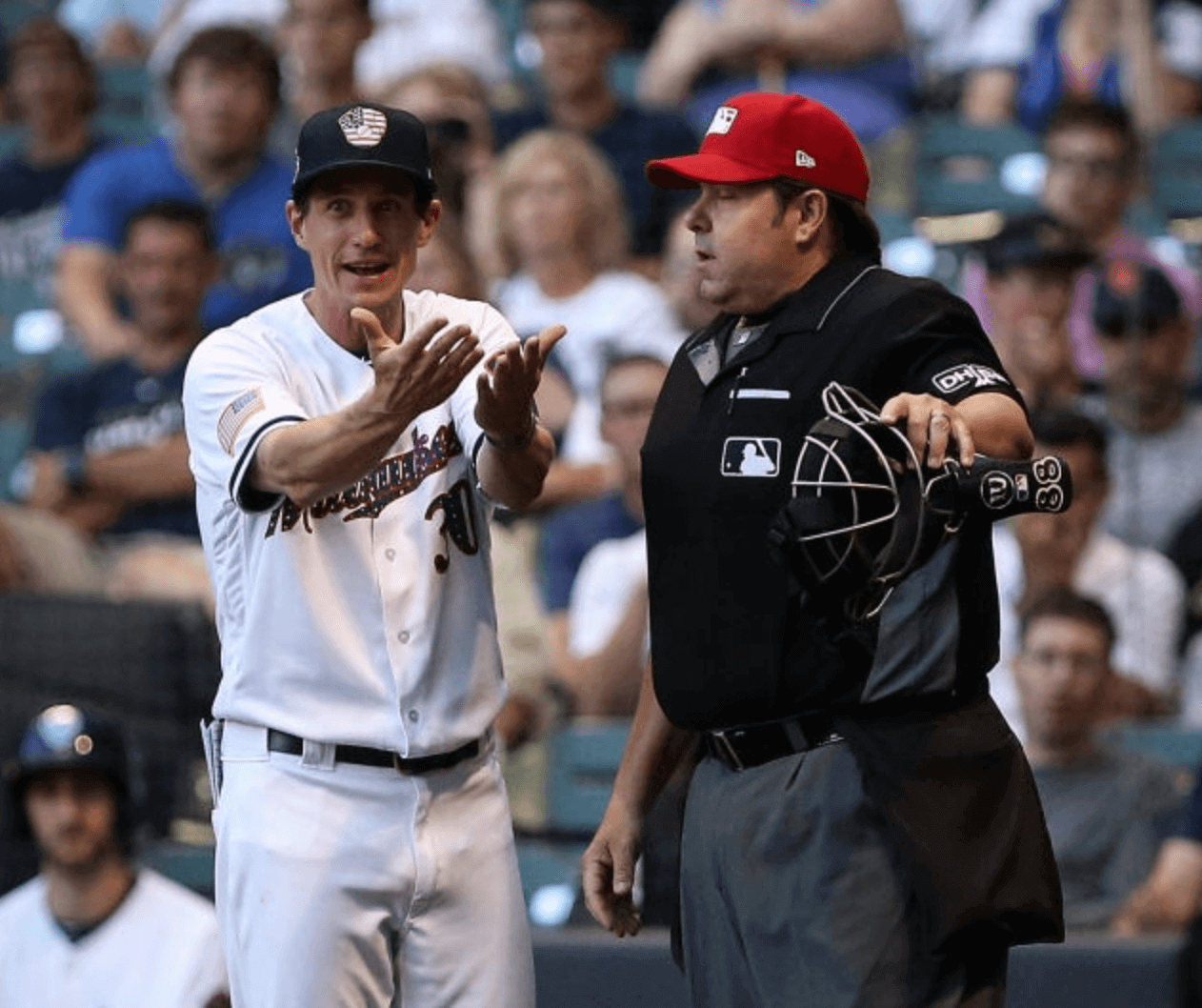 As for the rest of the teams, you know the drill by now: Most teams looked bad, a few teams looked okay, the Cardinals looked diseased, the Rockies and Pirates looked particularly bad (as they always do because their color schemes aren't a good match for the stars/stripes costumes), and the A's would've looked worse but they had the day off. But hey, they're playing tonight — can't wait!
You can see lots more photos from last night's games here.
• • • • •
[adrotate group="2″]
• • • • •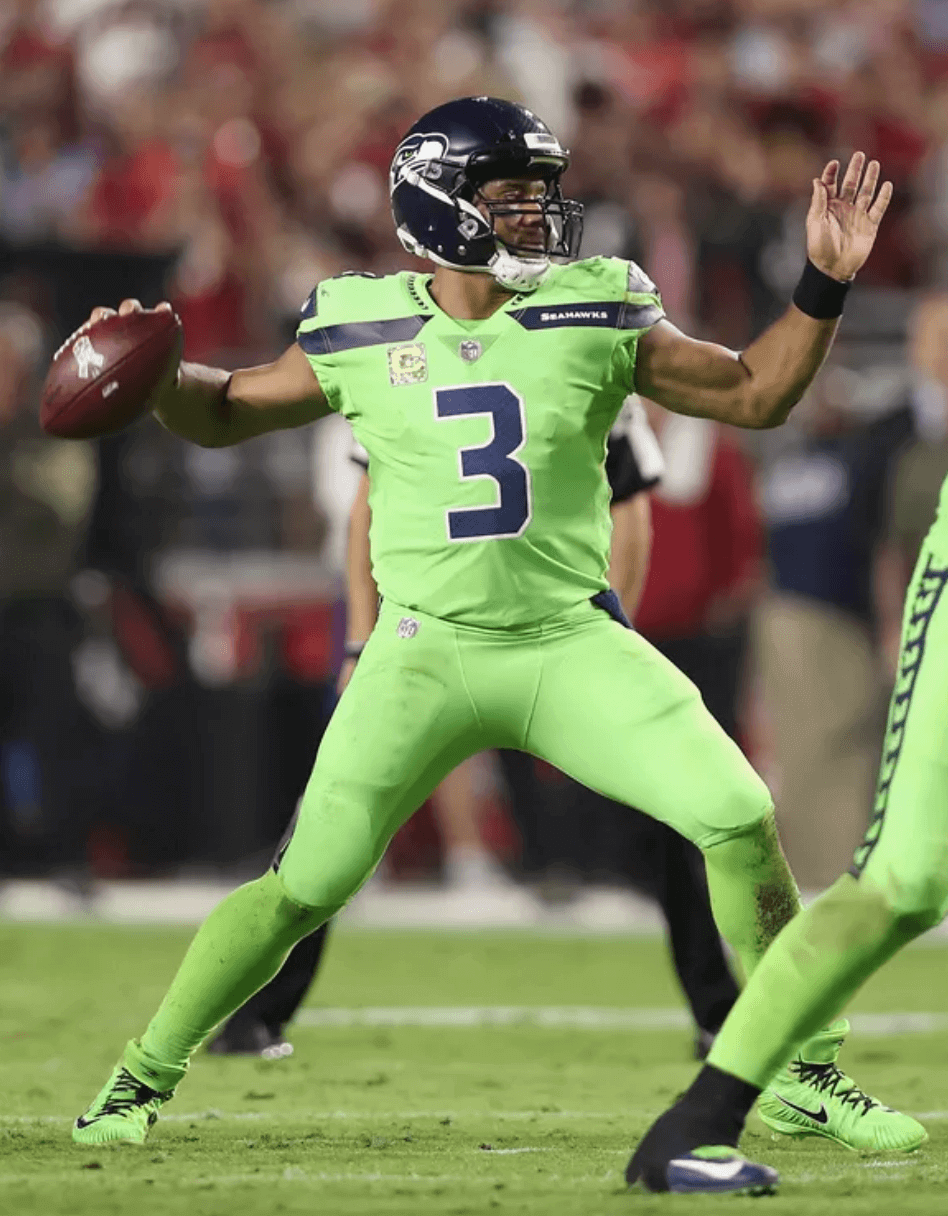 NFL loosens up just a smidge: This has already been reported tangentially here and there, but yesterday Monday Morning Quarterback made it official: The NFL is relaxing the longstanding rule that limited teams to wearing an alternate or throwback only twice per season. Here's the key passage:
[T]eams will now be able to wear their alternates/throwbacks or color rush jerseys on three occasions during the season. It used to be that teams could wear the former only twice, but this gives teams the option to wear them three times. The upshot? The Rams will probably wear the blue-and-yellow throwbacks three times, and should be able to avoid wearing the mismatched blue-and-gold jerseys with the white-horned helmets.
Here's another way of looking at it: For a long time, teams could have only one alternate or throwback uniform per season, which they could wear only twice. Then that was supplemented by the Rash, which was worn on Thursdays. Now the Rash is no longer required on Thursdays, but the Rash designs have been retained in teams' wardrobes, which essentially means that teams can now have two alternate or throwback uniforms — the standard throwback/alt and the Rash — which can be worn a total of three times.
And really, there's nothing new about that, because several teams wore the Rash for non-Thursday games last season. The new rule just codifies what was already happening on the field.
Bottom line: The Rash is the new second alternate, which was probably the plan all along.
• • • • •
[adrotate group="2″]
• • • • •
Click to enlarge
Collector's Corner
By Brinke Guthrie
Take a look at this official ABA basketball from Rawlings — the red/white/blue color scheme is perfect for tomorrow's Fourth of July holiday, right? Got a great story for this one, too: Now, way back when I went to a Kentucky Colonels ABA game at Freedom Hall in Louisville, I got a game program, and at halftime they called the "lucky number" to go out onto the floor at halftime and shoot a free throw. That was me! Make the shot, I get season tickets. Miss it, I get an official ABA ball. Those words are crucial. Not too much pressure, right?
So, my quick thinking told me that since I was in elementary school there's no way I could go to all these games at night. But I'd always coveted a real game ball. I was very much into the Colonels. Even back then, I Got It™ — I loved that sharp KC logo. So I just tossed it up there and missed on purpose. Oh, too bad, son, but here's your ball. Except it wasn't a real ball, it was just a cheap plastic-y replica in a plastic bag with a twist tie! Not like this one that's available for close to three grand! Yes, I'm still bitter about this.
Now for the rest of this week's picks:
• One more from the ABA: Look at the cover art of this 1968-1969 game program for the Miami Floridians/Kentucky Colonels. It says "Cage Stars" on the front and has a Pro Keds ad on the back — "The only basketball shoes ever endorsed by the ABA" (well, until Adidas came calling with more money).
• As of this writing, LeBron James Lakers jerseys were already online and ready to go.
• Here's something that Broncos fans can hang their hat on. And their coat, too. This coat and hat rack was produced by Hutch in the 1970s and looks like it's in pretty good shape. Hutch was a popular maker of kids' replica NFL gear back then. Little bit of a nick on the helmet striping, but so what.
• Eagles fans will love this helmet snack bowl. The eBay listing says "1970s era," but it's certainly more contemporary that that.
• For the NY Giants fan at Uni Watch HQ: Here's one of those 1970s button plaques with the stand on the back. You're supposed to be able to wear this, hence the pin. It's mammoth as far as pins go, but for a desk accessory it's pretty nice.
• Collect and wear these official NHL crests! Like this one for the New York Islanders.
• Rah! Rahs! Official Pro Sports made this 1970s Pittsburgh Pirates button.
• Check out this 1960s NHL "National League Electric Hockey" game from Eagle Toys. Great-looking box art.
• This 1970s NFL Alumni garment bag was once owned by Bill Glass of the Lions and Browns.
• Technigraph alert! Doesn't get more retro NFL than this 1960s Falcons plaque.
• Here's a team-issued New England Patriots gear bag. It's from the 1970s-1980s, and belonged to #96.
Seen an item on eBay that would be good for Collector's Corner? Send any submissions here.
• • • • •
[adrotate group="2″]
• • • • •
The Ticker
By Alex Hider

Baseball News:  Twins P Kyle Gibson had an askew 3D helmet logo during an at-bat last night (from Mike Sellers and Craig Van De Kreeke). … The Braves are celebrating Chipper Jones's Hall of Fame induction with a bobblehead that has him wearing a solid-blue batting helmet with the team's home jersey — a combination he never wore (from Steve Salayda). … The Astros introduced their international free agent signings yesterday, and some of the players were wearing navy softball tops that the 'Stros have never worn in a game (from Ignacio and @MAraiza92). … The Tennessee Smokies, a Cubs AA team, wore jerseys inspired by the Braves' '70s feather unis this past weekend (from Travis Autrey). … Two Durham Bulls fans celebrated their 65th anniversary at the ballpark and dressed in jerseys for the occasion (from Lee Wilds). … Based in Thunder Bay, Ontario, the Thunder Bay Border Cats are the only Canadian team in the Northwood Collegiate League. Their game on Sunday was rained out, but they still wore Canada Day jerseys (renaming themselves the Canucks) for the opener of a doubleheader yesterday. They wore their traditional home unis for the nightcap (from Will Scheibler). … We're all used to seeing overhead shots of baseball diamonds, but check out this one. That very unusually shaped infield is Bobby Morris Playfield in Seattle (from Michael Kent). … Reddit user KiloOscarBravoEcho noticed that the Little League uniforms worn in The Sandlot were later repurposed for Austin Powers: The Spy Who Shagged Me (from JD).

NFL News: The Saints will wear white at home against Philly on Nov. 18 because — get this — Saints coach Sean Payton lost a golf bet to Eagles coach Doug Pederson! That's got to be a first (from Josh Claywell). … Packers S Ha Ha Clinton-Dix was at a fundraising event and signed green Packers helmets with gold facemasks (from Griffin Smith).

College Football News: New helmets for Louisiana-Lafayette (from Chad Fields). … Here's an in-depth look at the various shades of burnt orange Texas has worn throughout the years — an issue that once prompted Texas fans to write an angry letter to the Board of Regents (from Phil).

Hockey News: A bagel shop on Long Island is offering Islanders fans a dozen free bagels in exchange for John Tavares jerseys in light of his decision to sign with the Leafs (from John Muir). … The Stars signed G Anton Khudobin on Sunday, and the team Photoshopped his head onto G Ben Bishop's body.  The Goal Net says Bishop's CCM glove is a dead giveaway. … New numbers for new Penguins: C Matt Cullen will wear No. 7 (again), D Jack Johnson will wear No. 73 (from Anakin Forrest).

Basketball News: That didn't take long: LeBron James will continue to wear No. 23 with the Lakers. … With LeBron leaving Cleveland, Sherwin-Williams will remove the iconic mural of James that adorns the company's headquarters in downtown Cleveland. Here are some suggestions as to who should replace him. … Speaking of LeBron, The Washington Post Photoshopped him into a Lakers jersey but left him in Adidas-era Cavs shorts (from Josh Claywell). … Pelicans G E'Twaun Moore's personal logo finds a way to sneak his number — No. 55 — into his initials (from Jarrod Campbell). … These are the unis the Hawks and Griz are wearing during the Summer League this year (from Chris Hopkins). … Check out the uniforms players wore in the Louisiana Special Olympics (from Chris Lather).

Soccer News: The four World Cup teams that played yesterday — Brazil, Mexico, Japan, and Belgium — all wore their first choice kit. It's been rare to see two teams wear first-choice uniforms in the same match this year (from @FunkyColdMatina). … Someone mocked up World Cup uniform concepts for Wakanda, the fictional African nation in which Marvel's Black Panther is set (from Fred Vaughn). … Spanish club Sevilla unveiled all their kits for 2018-19 yesterday (from Jonathon Sluss). … Premier League side Burnley released its 2018-19 home kit yesterday (from Josh Hinton). … German side Hertha BSC's new home and road kits leaked and then were officially unveiled yesterday (from Ed Zelaski).

Grab Bag: And now it's official: Tennis star Roger Federer is leaving his deal with Nike for apparel company Uniqlo. He'll still continue to wear Nike sneakers, though, because Uniqlo doesn't make footwear (from Dan Kennedy). … A construction company in North Dakota is poaching Jordan's "jumpman" logo (from Jason Simpfenderfer).