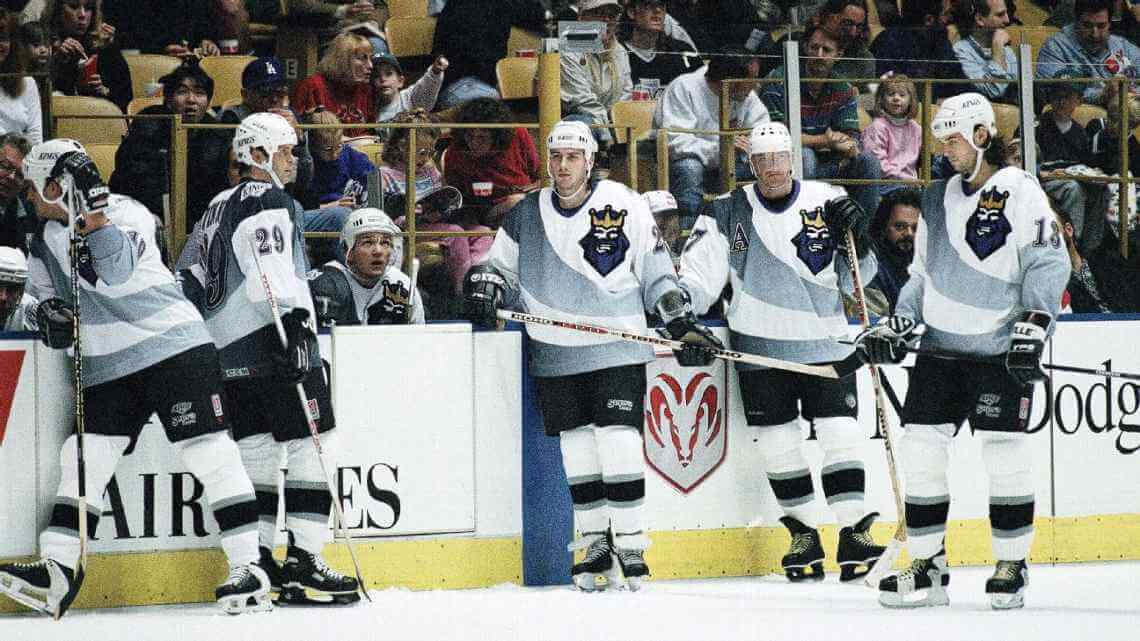 Click to enlarge
After a one-season hiatus, NHL alternate uniforms are slated to reappear this fall. We'll get our first peek at some of them tonight, when at least two teams, and possibly more, will unveil their new alts at their NHL draft parties. With that in mind, I've done an ESPN Friday Flashback piece about notable alternate uniforms in NHL history (including the Kings' infamous "Burger King" design, shown above). Check it out here.
As for tonight's unveilings, I'll have a review of at least one of them shortly after 7pm Eastern over on ESPN, and Phil will have additional coverage here on the blog tomorrow.
• • • • •
[adrotate group="2″]
• • • • •
World Cup soundtrack: Can't believe I forgot all about this excellent song, which deserves to be dusted off every four years. Enjoy:
• • • • •
[adrotate group="2″]
• • • • •
Click to enlarge
Coolest thing ever: Yesterday I received a package in the mail. Inside was a chain-stitched version of our winged stirrup logo. I didn't order this or ask for it to be made. The person who made it just thought I'd like to have it. How cool is that?!
I'll have more to say about this shortly. For now I'm just super-thrilled to see our logo rendered in chain-stitching.
• • • • •
[adrotate group="2″]
• • • • •
The Ticker
By Kris Gross

Baseball News: Mariners 2B Dee Gordon Gets It™ (from @GoatJerseys). … The Brewers will wear a sleeve patch this weekend to honor late coach and broadcaster Davey Nelson (from Garrett). … The Astros gave out replica World Series rings at Wednesday night's game. These look really good (from Mike Gongre). … The Fresno Grizzlies wore Coming to America jerseys last night (from David Taub). … The Corpus Christi Hooks also in different jerseys last night, as they played as the Blue Ghosts (from @NikolaiPopuski). … The Lansing Lugnuts will wear Harry Potter jerseys tomorrow night. … The Greenville Drive will play as the Energia four times this season, beginning tomorrow (from Charles Wendt). … It's Star Wars night for the Lakewood BlueClaws on June 29 (from John McMunn). … A beer salesman at the Buffalo Bisons games named "Conehead" is getting a beer named after him. … "Tincredibles" jerseys tonight for the Ft. Wayne TinCaps. … Ichirio Suzuki sat on the Mariners' bench last night while wearing a fake mustache.

NFL News: When Vikings QB Fran Tarkenton hosted Saturday Night Live in 1977, we had some notable uni moments. The episode featured knock-off Vikings jerseys, and show-themed football uniforms (from Pro Football Journal). … Speaking of Vikings quarterbacks, here's a shot of Warren Moon wearing No. 2 in the 1995 Pro Bowl, instead of the No. 1 he wore his entire career.

Hockey News: It appears that EA Sports has been using the wrong uni font for the Hurricanes in their NHL games since 2013 (from Alex Jones). … The SPHL has a new team, the Quad City Storm (from Bus League Hockey). … This is an awesome pencil case/money holder (from Michael Marniniello).

NBA News: An ESPN photoshop created before the draft put Grayson Allen in an incorrect font No. 3 Celtics jersey, which was retired in honor of Dennis Johnson in 1991 (from JayJayDean). … I must have missed the 77ers drafting last night (from Jason Costigan). … Here are the uni numbers that some of last night's draftees will be wearing for the Celtics, Cavs, and Mavs (from Mike Chamernik). … Although no official announcement has yet been made, the Grizzlies appear to be tweaking their logos.

Soccer News: In case you were wondering, this is why World Cup players show officials their underwear (thanks Phil). … FIFA has refuted claims that a World Cup referee asked for a Portugal player's kit after a match on Wednesday. … The upcoming Brazil and Costa Rica match will feature both teams in away kits due to their shirts clashing (from Josh Hinton). … Why can't you buy an Australia kit with the official crest? The Australian Soccer Federation doesn't allow its logo to be used on merchandise, only the official jerseys (from Ryan Keberly).

Grab Bag: You can vote on your favorite Dallas high school logo in this bracket-style tournament (from Matt Upton). … Window washers at Akron Children's Hospital dressed up like superheroes (thanks Jim Vilk). … Lots of chatter last night and this morning about Melania Trump's "I Really Don't Care. Do U?" jacket.
• • • • •
[adrotate group="2″]
• • • • •

What Paul did last night: Had a really good time at last night's Superchunk/Aimee Mann show in Prospect Park. Arrived early, had a swell picnic with the Tugboat Captain and our friends Rob and Jamie (the latter of whom is the author of the definitive travel tome Road Trip USA, don'tcha know), bumped into other friends — a great night.
But purple porta-johns? Ugh.