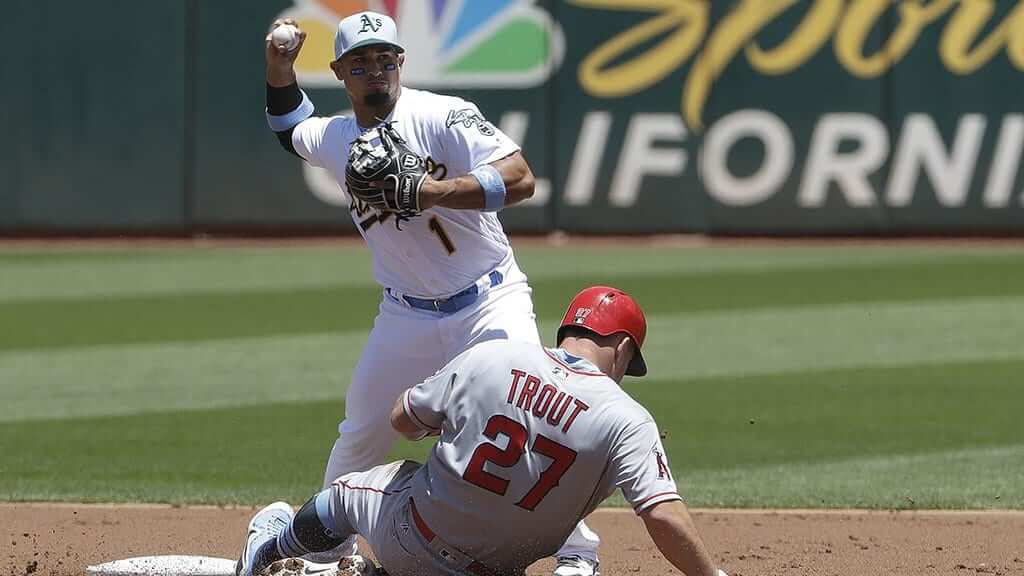 For all photos, click to enlarge
Yesterday was Father's Day, so MLB teams wear blue caps and accessories, including undersleeves, wristbands, socks, and more.
The accessories were a bit inconsistent. Let's take the two teams shown above — the A's and Angels. The A's wore blue belts, but the Angels wore their regular red belts: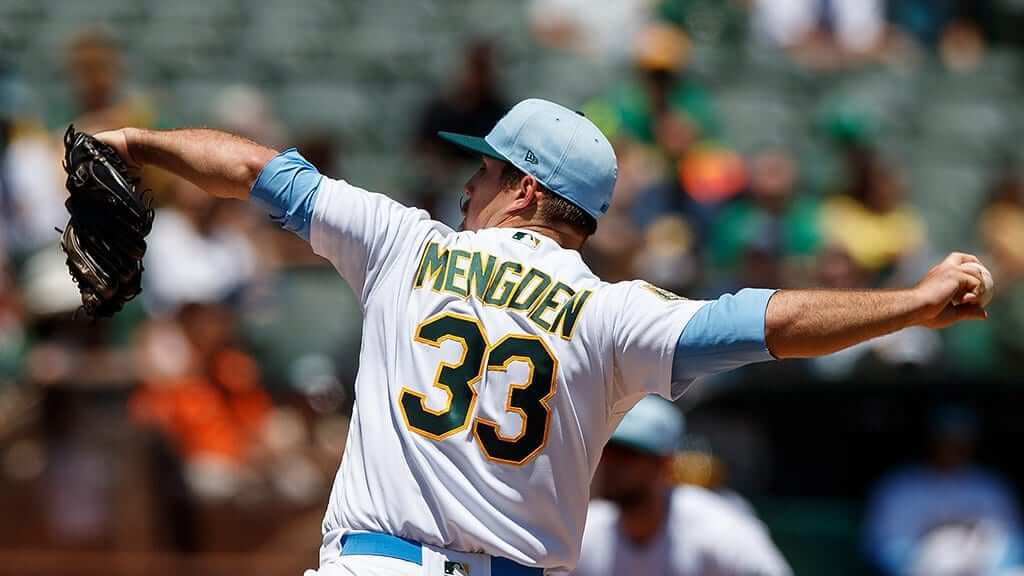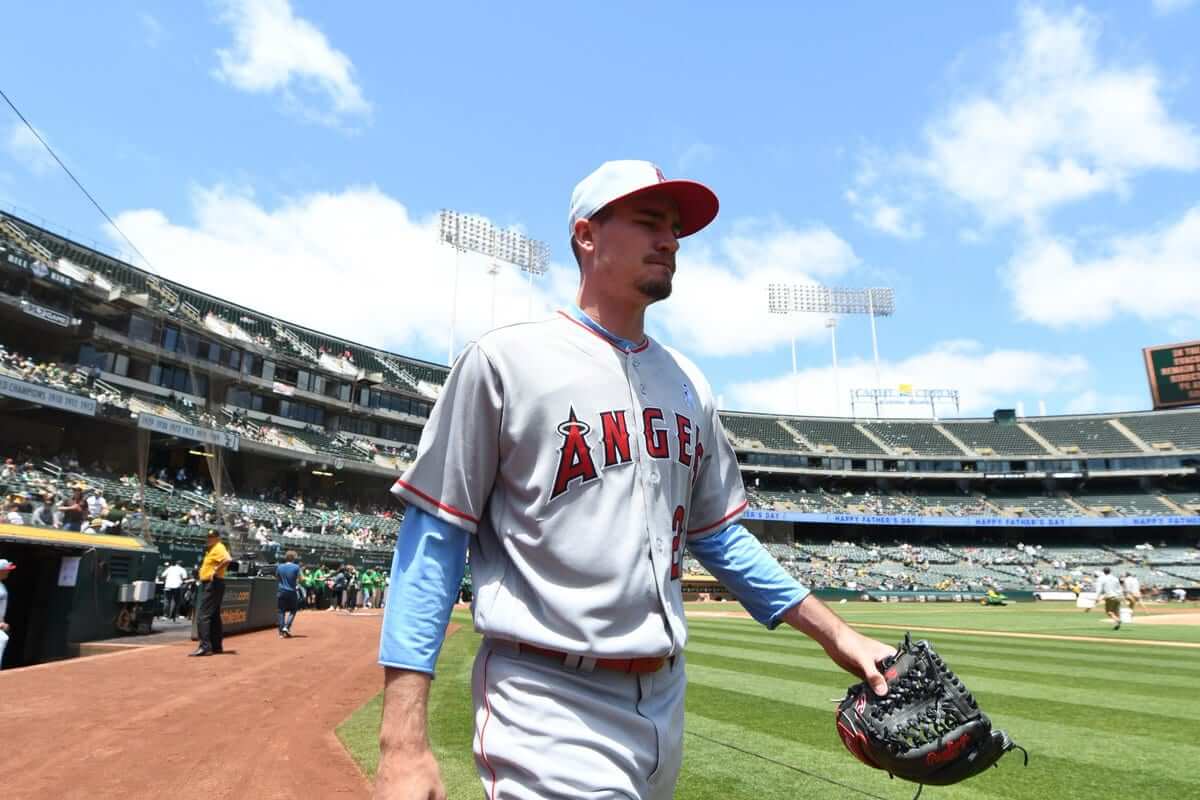 It mostly looked ridiculous, but whaddaya gonna do.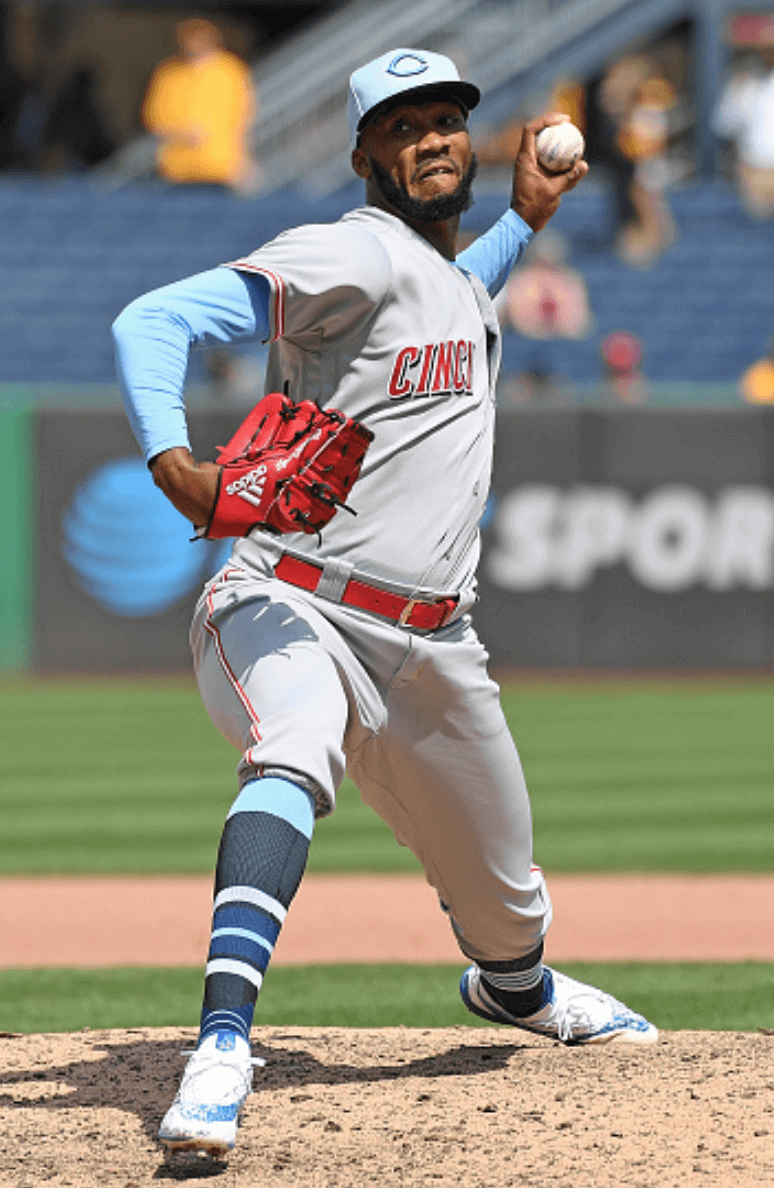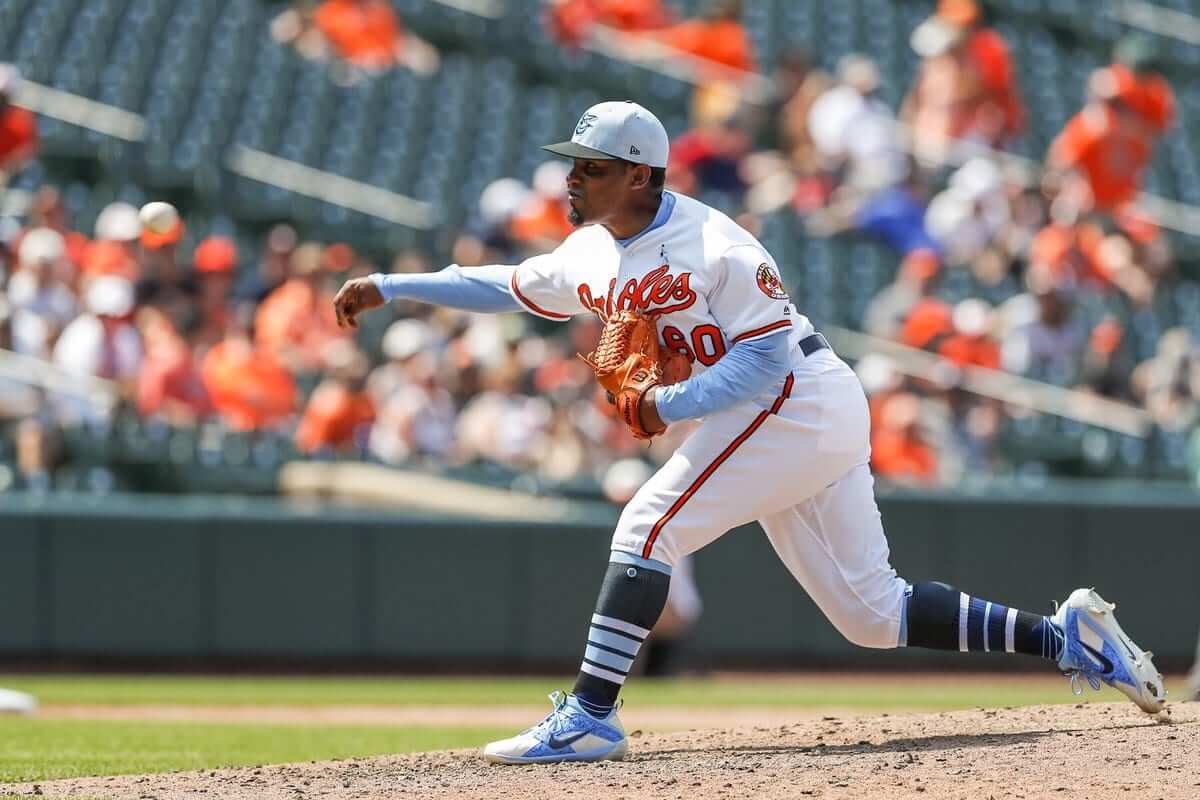 In addition, several catchers wore light-blue catching gear: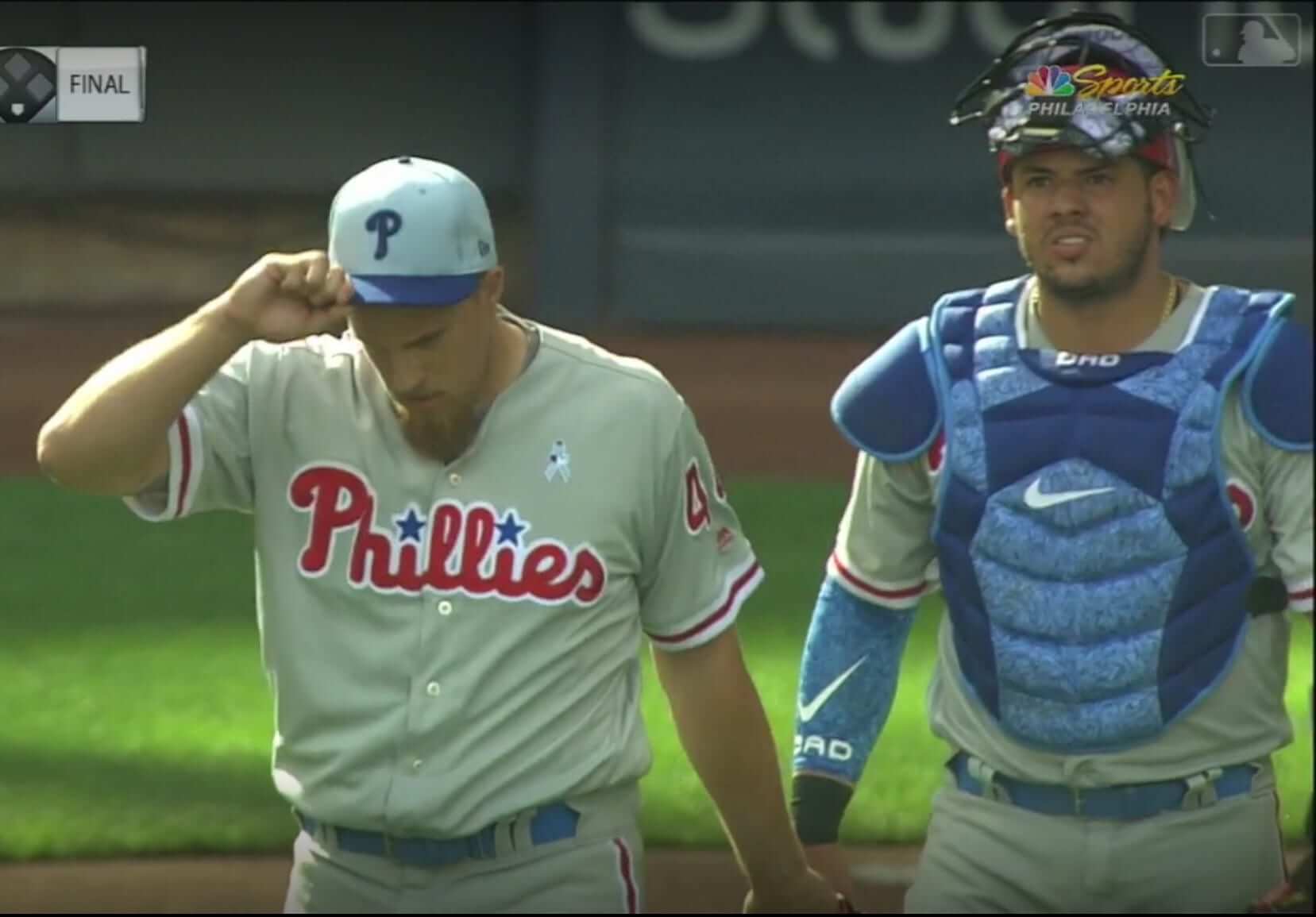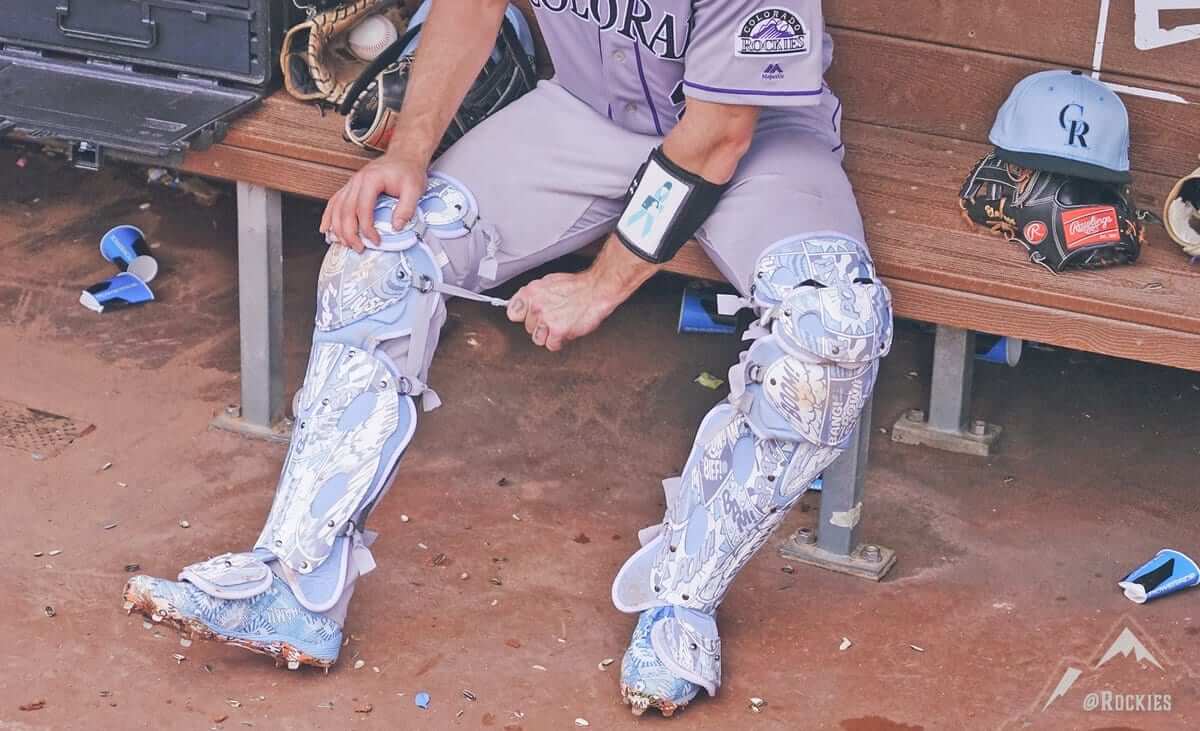 (That last photo, incidentally, shows Rockies catcher Tom Murphy wearing comic book-themed gear. Cubs catcher Wilson Contreras had the same thing. I have no idea what that was about or what it had to do with Father's Day. Anyone..?)
The umpires also wore blue caps and accessories. It looked okay on the umps who were wearing blue jerseys, but not so good on the ones wearing black jerseys: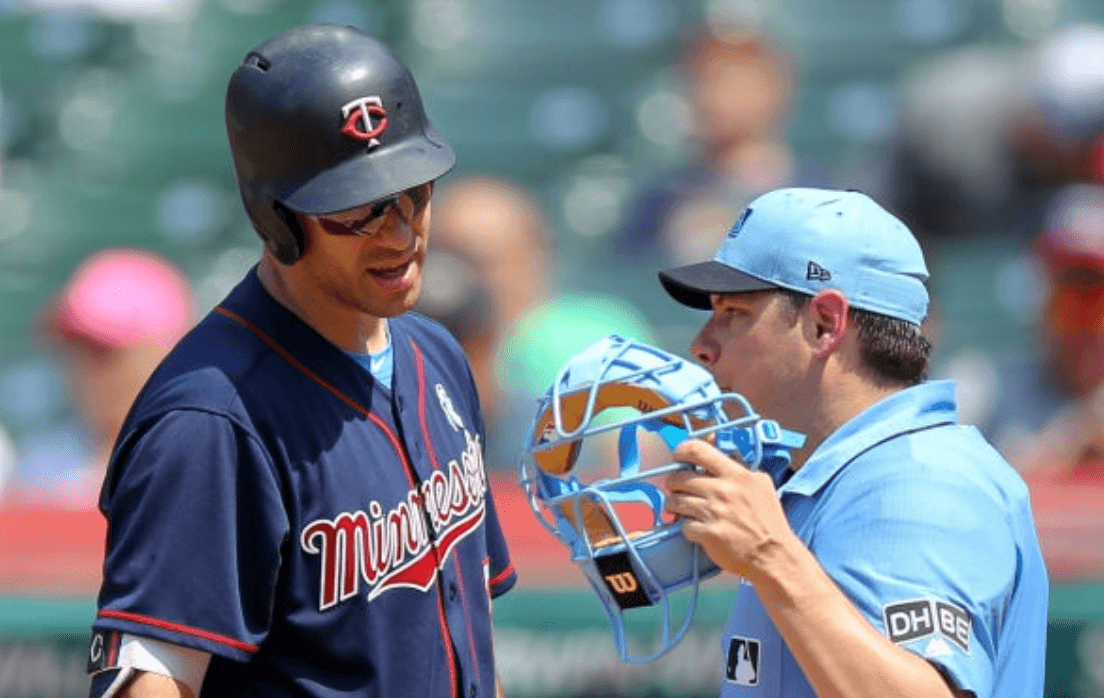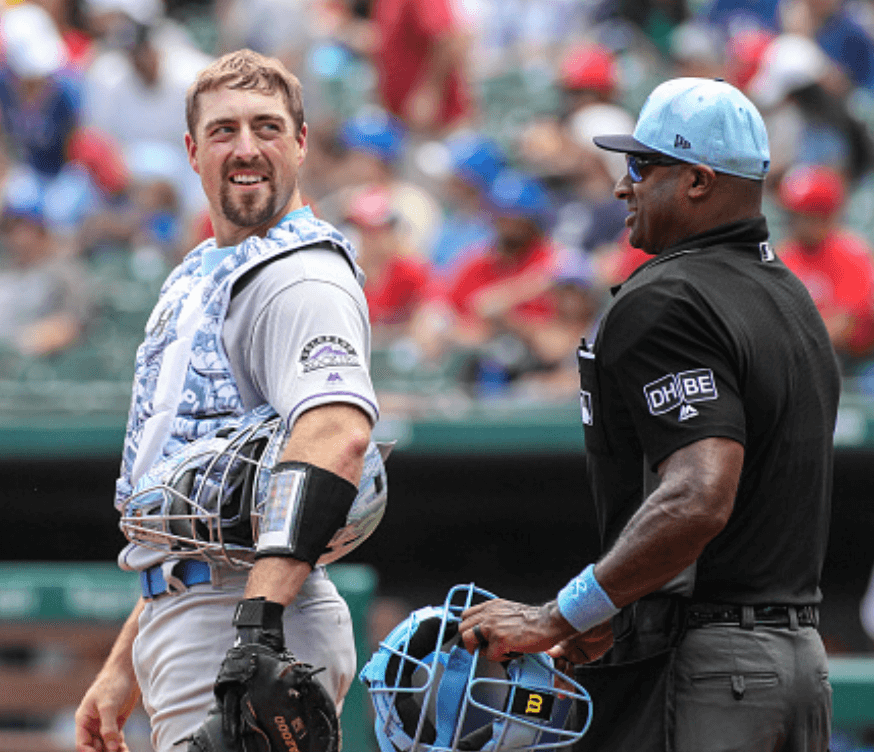 Only one more uni-related holiday to go, thankfully. Oh, and Players Weekend. Sigh.
(My thanks to Mike Chamernik, Mike McMunn, and Brad DeMay for the catcher's gear pics.)
• • • • •
[adrotate group="2″]
• • • • •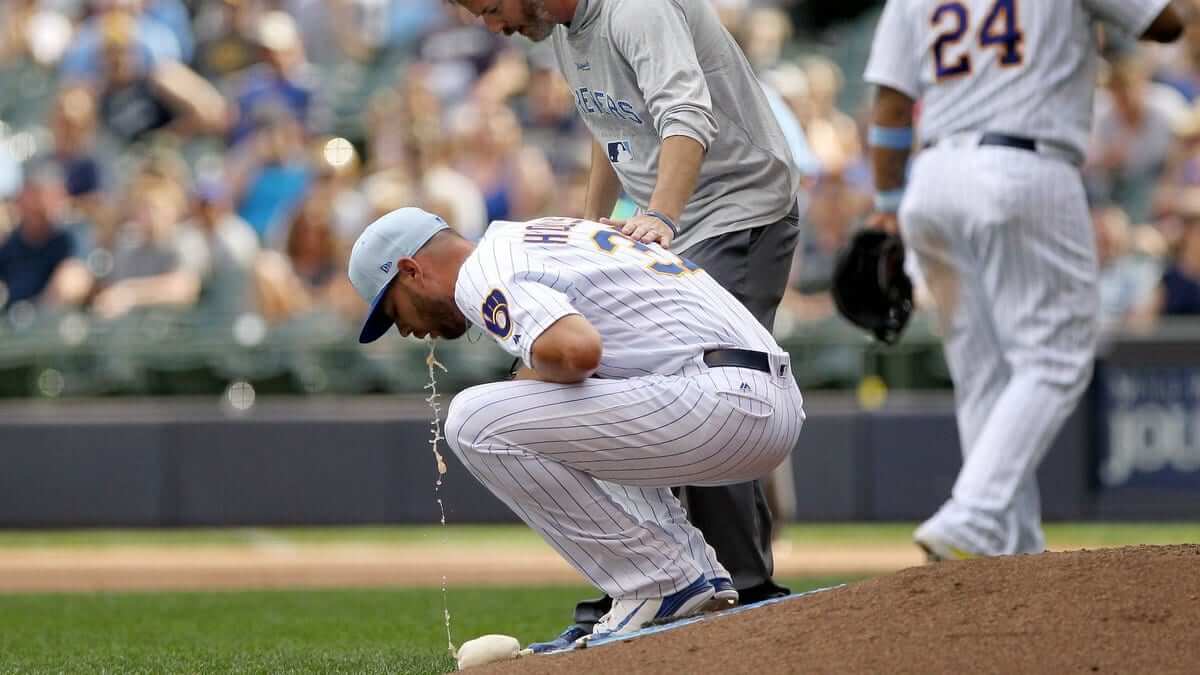 Click to enlarge
No word on the exit velocity: Quite a scene yesterday in Milwaukee, as Brewers reliever Adrian Houser vomited behind the mound — twice! — and still kept pitching (although not particularly well). Full details here.
Pitchers lose their lunch more often than you might think. Indians reliever Chris Perez did it after getting the final out in a 2012 game; Dodgers pitcher Tim Crews did it in 1988; a college pitcher did it just last month; and Twins reliever Ryan O'Rourke does it before most of his appearances (which admittedly isn't the same as doing it on the field, but still). I also recall a pitcher doing it around 2007 or '08 — a Dodger, I think — but I can't seem to find any evidence of that.
• • • • •
[adrotate group="2″]
• • • • •
Click to enlarge
Overseas cap sighting: This is Theo, the two-year-old son of Uni Watch reader James MacNeil. They live in Broome, Western Australia. Theo, whose favorite team is the West Coast Eagles, looks sharp in his new Uni Watch cap, wouldn't you agree?
• • • • •
[adrotate group="2″]
• • • • •
Culinary Corner: This past weekend featured some epic cooking and eating. It began on Friday night, when I attended a beefsteak at the home of a chef named Josh Stokes. He had catered the beefsteak a few months back at the Museum of Food and Drink, where I was a featured "guest expert" speaker, and he was mortified when they ran out of beef. So he decided to hold a beefsteak at his own house with waaaaay more beef than his guests could possibly eat.
It was a great time — massive amounts of meat, plenty of beer, lots of interesting new people to meet, and an incredible wood-burning grill. Check this out (for all photos, you can click to enlarge):
It was quite a scene. We stumbled home in a protein-induced stupor.
The next day — the very next day, people! — the Tugboat Captain's brother and sis-in-law were in town for a visit, so we decided to celebrate by making a paella on the grill, using the paella pan that I'd found on the street on my birthday two years ago. I've shared this method on the site before, but it's worth repeating because it's so much fun:
1. First we lightly grilled some chicken thighs (not enough to cook them all the way through) and set them aside.
2. We put some olive oil in the paella pan, heated it on the grill, and added some chopped onions and roasted red peppers:
3. When the onions and peppers were browned, we added three cups of arborio rice:
4. Then we took the partially cooked chicken thighs and added them to the pan:
5. Before we took everything out to the grill, the Captain made some cooking liquid, which consisted of garlic, tomato paste, smoked paprika, saffron, clam juice, chicken stock, and dry sherry. We now poured that liquid into the pan:
6. We added a pound of shrimps that had been marinating in garlic and smoked paprika, along with a dozen clams:
7. The next step would normally be to add chopped chorizo, but the Captain's brother has a rule about not eating animals that are smarter than his cat, so we substituted chicken andouille:
8. The final ingredient is a scattering of peas:
9. We let everything cook until the liquid was fully absorbed by the rice and the a nice crust had developed on the bottom. Here I am with the finished dish, flanked by the Captain's brother and sis-in-law:
We had plenty of leftover paella, which we used for a picnic in Prospect Park yesterday afternoon:
And that, my friends, is the recipe for a sensational weekend of eating and socializing. Hope your weekend was every bit as tasty and fun.
• • • • •
[adrotate group="2″]
• • • • •
The Ticker
By Jamie Rathjen

Baseball News: Yankees manager Aaron Boone wears No. 17. But for yesterday's Old Timers' Day festivities, he wore the No. 19 he had worn as a player (from Eric Hoey). … Reader Greg Brown's son graduated from high school wearing New York Giants stirrups, which were also the school's colors, sourced several years ago from Uni Watch stirrups dealer Comrade Robert Marshall. … Austin Gillis noticed that somewhere in the SunTrust Field concourse is a banner featuring former Braves pitcher John Sain wearing the team's 1945 one-year-only pinstriped uniform. "Hadn't seen that uniform depicted much in Braves archives," he says. … Vintage baseball: the 1879 Brown University team (from Bud Brooks). … Here's a weird one: Check out this footage from a 1956 Giants/Indians exhibition game. It looks like the infield dirt is grey or even blue — yet the mound and other dirt areas are the normal brown, so it doesn't appear to be a film-processing issue. Anyone know more? (From Bob Gassel.) … An architecture student at Kent State specializes in making very intricate models of ballparks (from Jason Hillyer).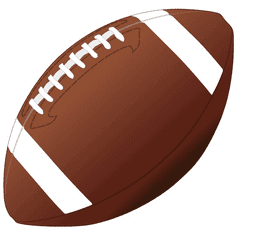 CFL News: Uni-notables from the first week of the CFL season, all from Wade Heidt: The Montréal Alouettes wore the first of their throwback helmet designs for each month of the season. … The Hamilton Tiger-Cats wore alternate white pants, which now feature numbers at the right hip. Another picture here (from Moe Khan). … The Ticats' opponents, the Calgary Stampeders, added the team name to the back bumper of their helmets.

Soccer News: New kits for Premier League Southampton (first kit and second kit), the Scottish Premiership's St. Mirren (first shirt and second kit) and Heart of Midlothian (first and goalkeeper), the English Championship's Nottingham Forest (first), the Scottish Championship's Dunfermline Athletic (first and second), German 2. Bundesliga team Arminia Bielefeld (first and second), and Russian team FC Rostov (from left to right: goalkeeper, first, third, second, and goalkeeper), the last from Josh Hinton. … At the World Cup, Argentina and Iceland both changed on Saturday. … The referee in the same game, Poland's Szymon Marciniak, had his patches attached with staples (from @IV159QZ). … A fan of the South Korean team has made a South Korean flag out of pieces of replica jerseys. Jerseys from 31 of the 32 World Cup teams are incorporated into the flag (from our own Anthony Emerson). … New second kit for the Scottish Premiership's Aberdeen. … Back to Josh from here until the end: Arsenal's third shirt has appeared. … Here's a breakdown of the boot manufacturers present at the World Cup. … Denmark striker Yussuf Poulsen is wearing his middle name at the tournament, something he doesn't do when playing for RB Leipzig. … The World Cup's man-of-the-match award has Budweiser as an advertiser, so Egypt goalkeeper Mohamed El-Shenawy declined to accept it owing to Islam's prohibition of alcohol. … From several readers: Some of Germany's world champion patches were falling off yesterday.

Grab Bag: Porsche ran two 911 RSRs with throwback liveries in the LMGTE Pro class at this weekend's 24 Hours of Le Mans (from Dave Kottler). Here are more pictures; two of the drivers of the "Pink Pig" car, Laurens Vanthoor and Michael Christensen, had matching helmets (from John Annino). … Two players on the Western Lacrosse Association's New Westminster (B.C.) Salmonbellies have been wearing an older away uniform, distinguished by an "NW" shoulder patch (from Wade Heidt). … Australia cricketers Jhye and Kane Richardson (not related) and Shaun Marsh (who has a brother on the team) all wore double-decker FNOBs during Saturday's One Day International against England (from Chris Roberts). … New blue and red kits — more specifically, gold was removed from the side striping — debuted for U.S. women's field hockey in a five-game series against Argentina. … Here's a detailed look at the design history of Lowell, Mass., including some of the local sports teams.